Gift Guides | Craftsmanship | Culture
Introducing Our First Ski Goggle, OP Aspen
5 Min Reading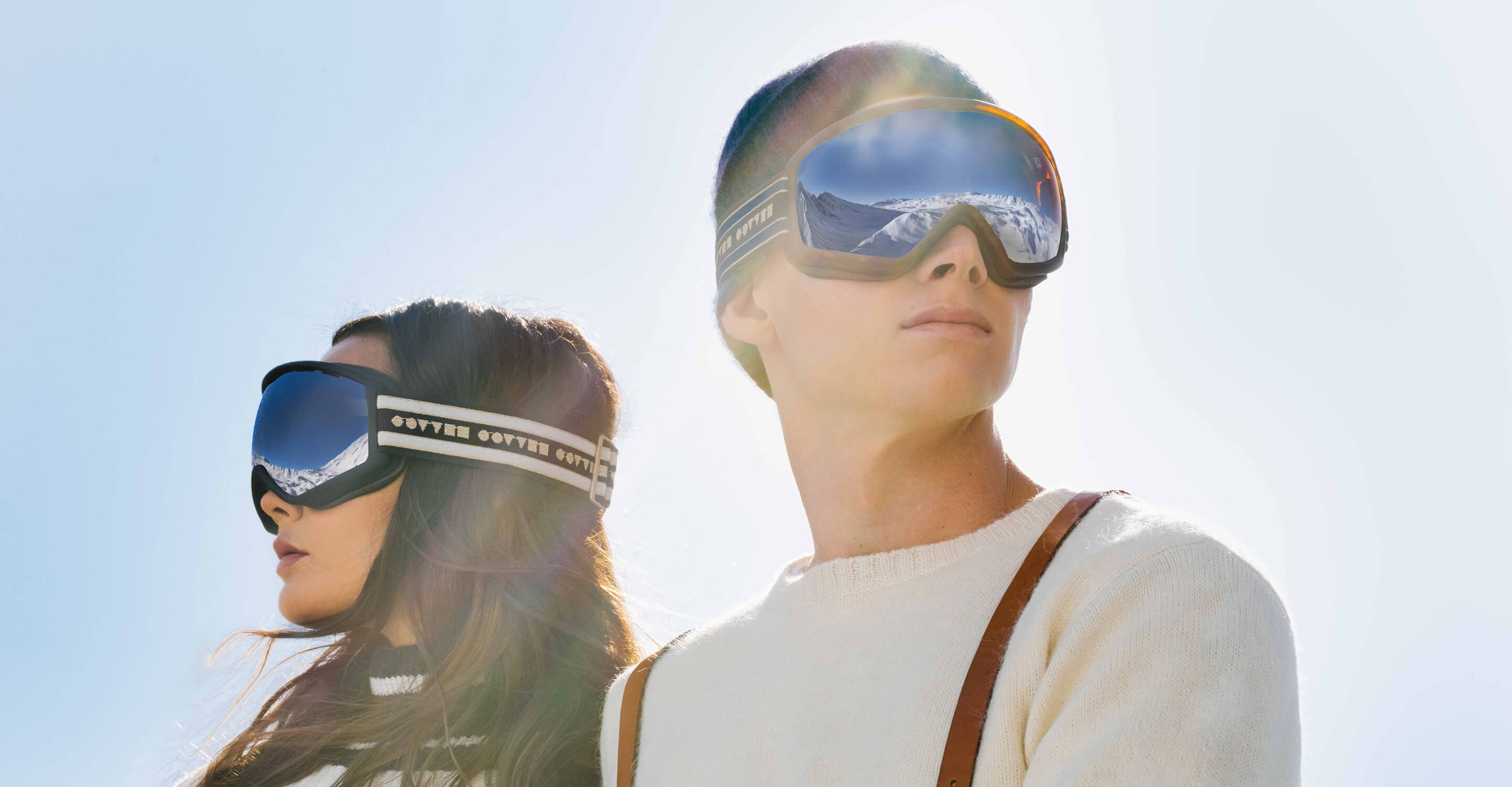 The OP Aspen is a stylish ski goggle combining advanced technology with vintage aesthetics; the perfect gift for this holiday season.
Imagine being on a mountainside in the European Alps circa 1965. The sound of laughter and champagne glasses clinking, fabulous people in chic attire soaking up the sun while they take a break from gracefully navigating the slopes. As the sun goes down and the cable cars stop turning, the village at the foot of the mountain comes alive as the off-hill après scene kicks into high gear at centuries-old grand dame hotels and newly constructed resorts alike. Now, there is a new kind of energy in town, more vibrant and diverse than the olden days when few would brave adverse travel conditions to reach these far-flung places.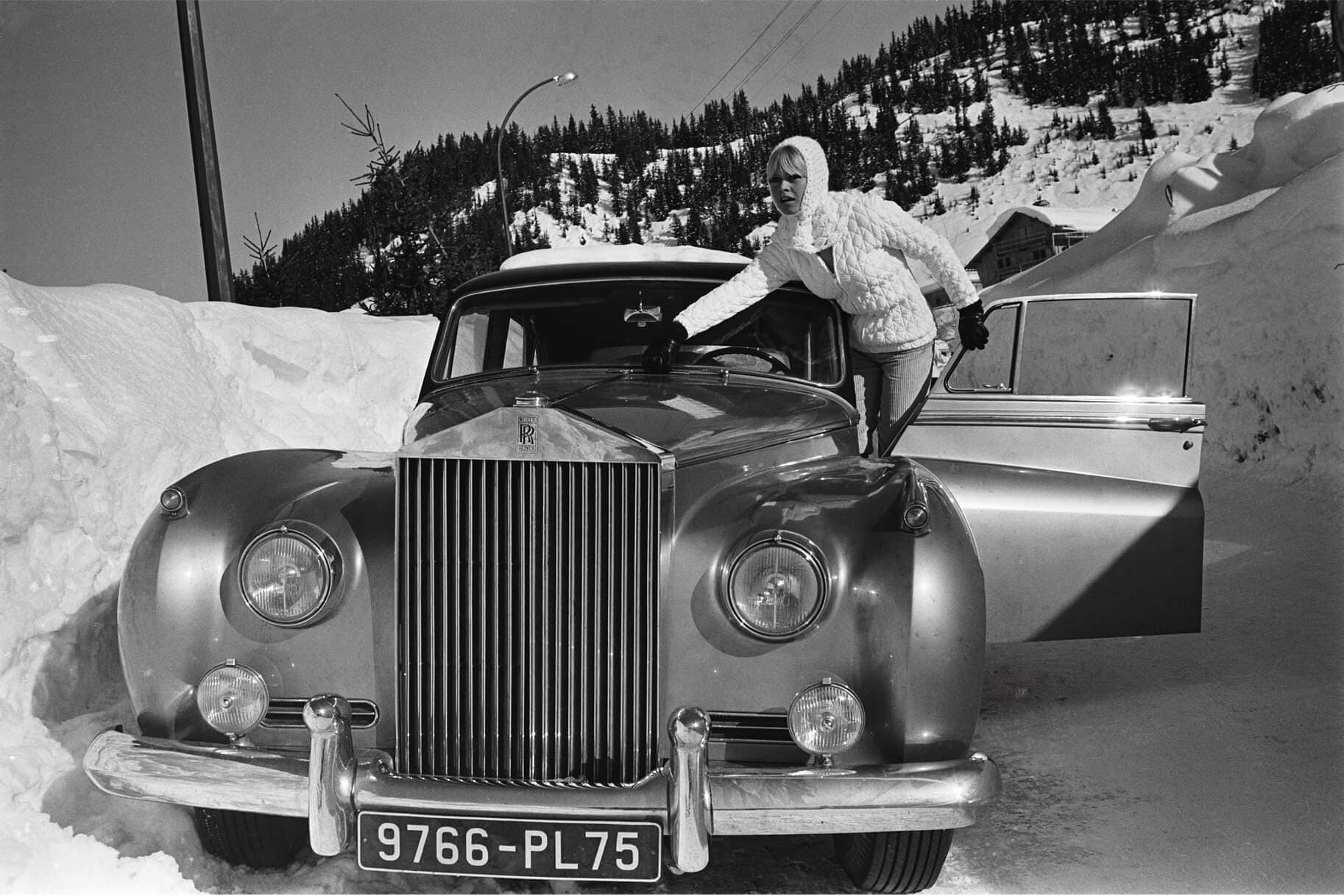 Brigitte Bardot on her way to her chalet in her Rolls Royce Silver Cloud II, Méribel, 1966. Photo by Francois Gragnon/Paris Match via Getty Images.
Nowhere is this energy so apparent as in the style choices of this well-heeled crowd. Gone are the sharp silhouettes and fitted knitwear, instead replaced by bold prints on space-age style outfits made of stretchable, water-resistant fabrics. "La couture Sportif" is now mainstream. Europe's glitterati and Hollywood's stars embrace the latest looks, modifying them to suit their personal tastes and subsequently defining the era that is considered the sport's most stylish.
With the jet-age making travel easier than ever before, more people flocked to remote mountain regions like Verbier, Courchevel, Chamonix, and Zermatt. The scenes were exported to the world in brilliantly saturated Kodachrome photos, creating a grand vision of what it was to be a stylish traveler in these places, not just on the mountain, but in the resort towns springing up at the foot of them as well.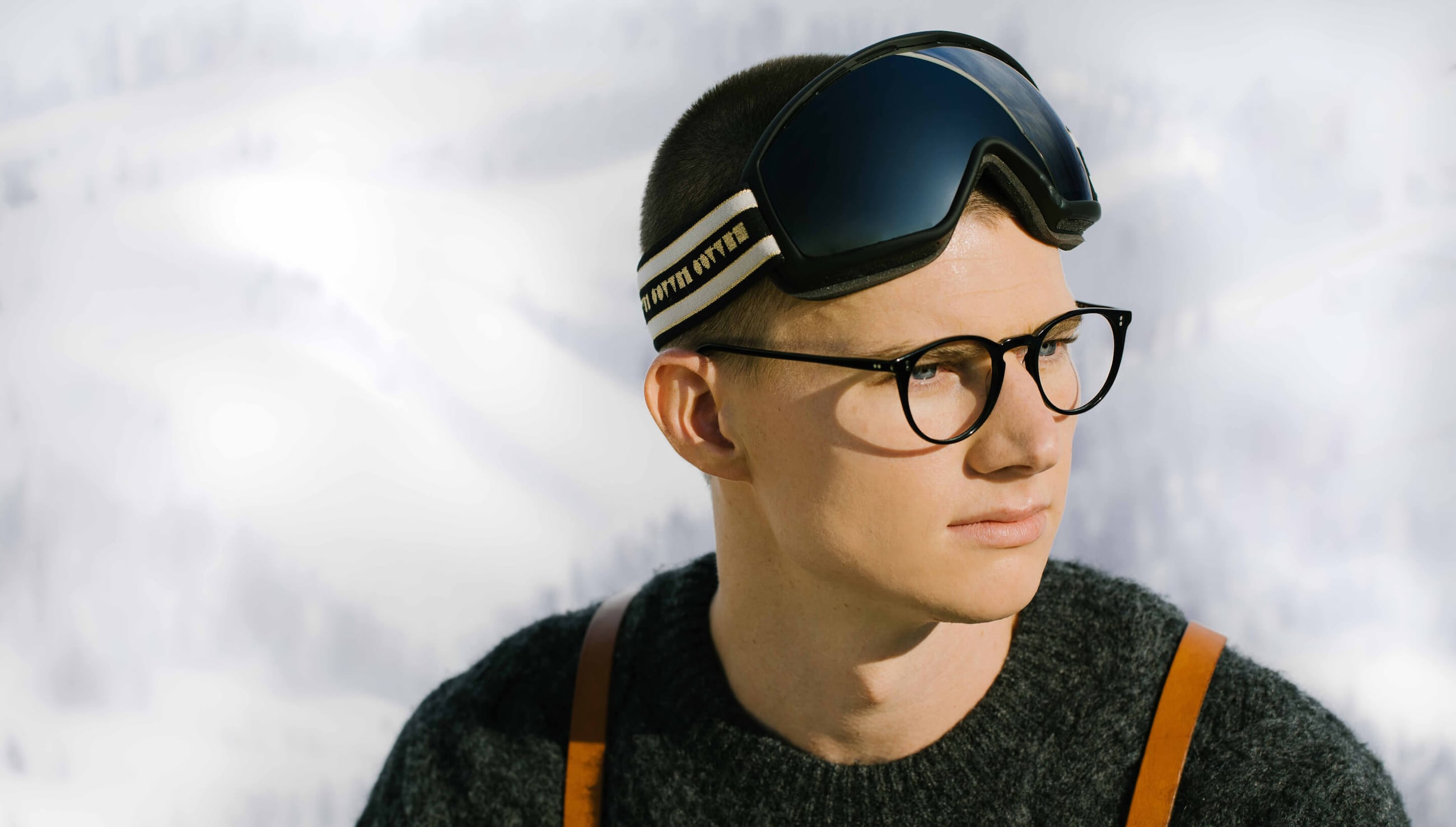 The OP Aspen fits over optical frames and a notch in the foam at each side allows it to do so with unique comfort.
Improvements to on-hill apparel helped grow participation in the sport, but the off-hill attire becoming increasingly fashionable was also an important driving force for skiing to become a go-to pastime of a generation with spare time and money.
As the popularity of skiing boomed, it began to permeate pop culture, particularly in cinema where mountain towns became the go-to backdrop for films' big sweeping plots. Classics like The Pink Panther or On Her Majesty's Secret Service provide the viewer with a hyperreal vision of the era as the backdrop. To this day, films or television series focused on characters of intrigue often feature an Alpine setting at some point and that's due in part to the undeniable "cool factor" these places possess.
However, it wasn't just the grand tales featuring remote locales that drew people to the slopes, but more so the larger than life icons that inhabited them. Throughout the golden era of globetrotting, when the personalities were mysterious and the getaways grandiose, mountain-town-chic entered the fashion sphere thanks to well-dressed persons of interest putting their spin on the look both on and off the hill. From movie stars to royalty, fashionistas to industrialist playboys, you'd be hard-pressed to argue that there was a more stylish era of alpine fashion than that of the late 1950s into the early 1970s. Think Audrey Hepburn's monochromatic mod look in Charade or the colorful "swinging sixties" scenes of Slim Aaron's après ski photos. If there was a style movement out in the world, it was going to find representation on the slopes.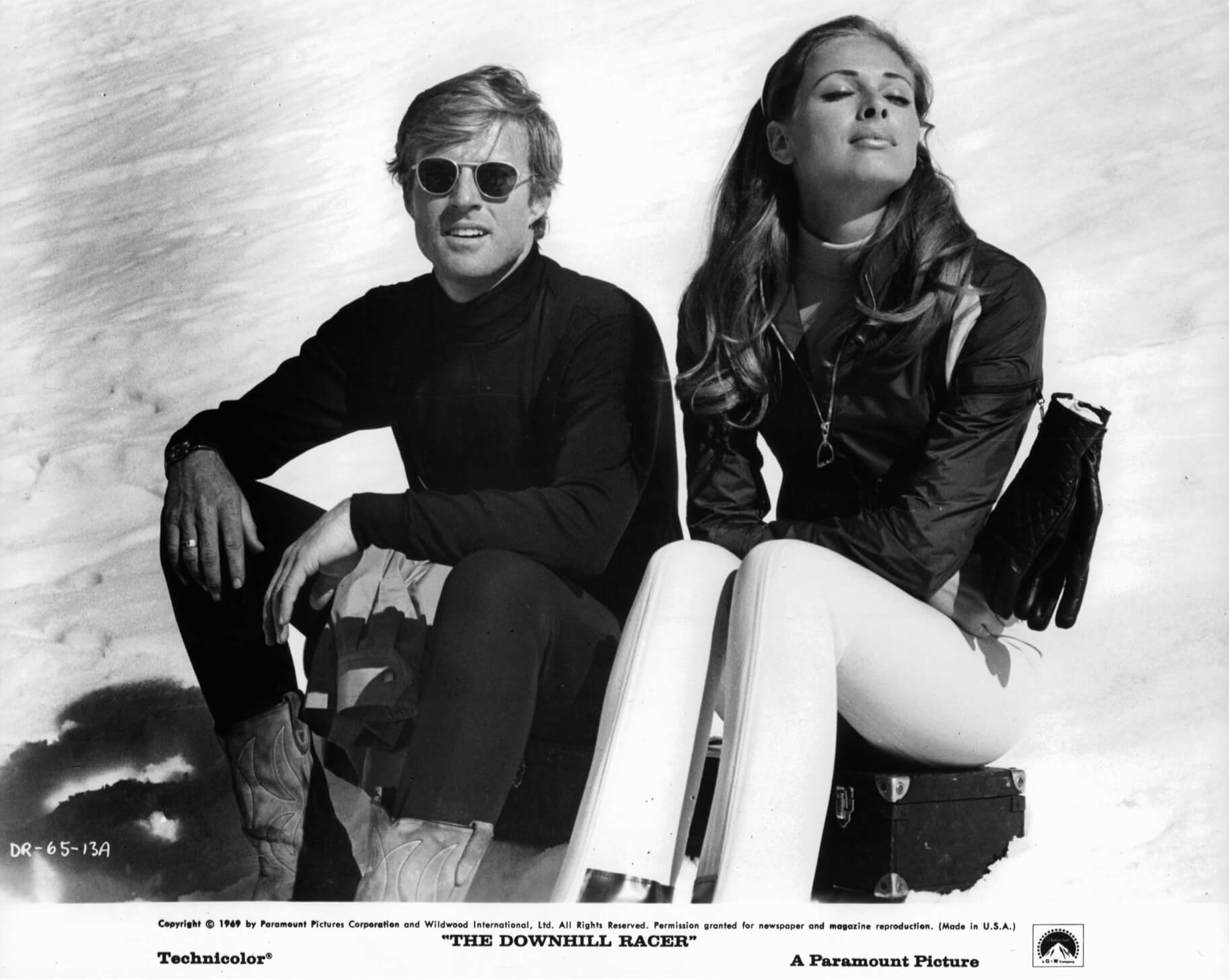 Robert Redford and Camilla Sparv in Downhill Racer, 1969. Photo by Stringer via Getty Images.
The Ski Bum gave us Charlotte Rampling's freewheeling look that pulled inspiration from California counterculture, and Downhill Racer introduced the world to the impeccable style of Robert Redford in the mountains. If there is a north star for timeless, male ski fashion, it is Mr. Redford in the late '60s and early '70s. Of course, he didn't pull his refined look out of thin air but rather adapted the clean cuts popularised by a triumvirate of French fashion icons, Alain Delon, Serge Gainsborough, and Jean-Paul Belmondo. Looking to the sharp European flair with which these men dressed on and off-hill in the 1960s, it's easy to understand why Redford would take a page out of their book before adding some Americana to the equation to create an enduring style of his own.
Opposite Redford's refined rustic style is the tailored metropolitan look from perhaps the suavest businessman who ever lived, Gianni Agnelli. Agnelli is famous for many things, buying Ferrari and a love of sailing in particular, but the two helicopters he kept on his front lawn in Turin certainly turned a few heads too. One for quickly reaching the Mediterranian to sail and the for quickly getting to the mountains to ski. Few photos encapsulate the glamour of mid-century alpine-style than Mr. Agnelli walking away from his helicopter atop a mountain. However, if we had to choose a couple more moments frozen in time that make us want to don a roll-neck sweater and woolen trousers, they would feature the real world looks of Brigitte Bardot in France and Jackie and Caroline Kennedy in Switzerland, or those of Camilla Sparv opposite Redford in Downhill Racer.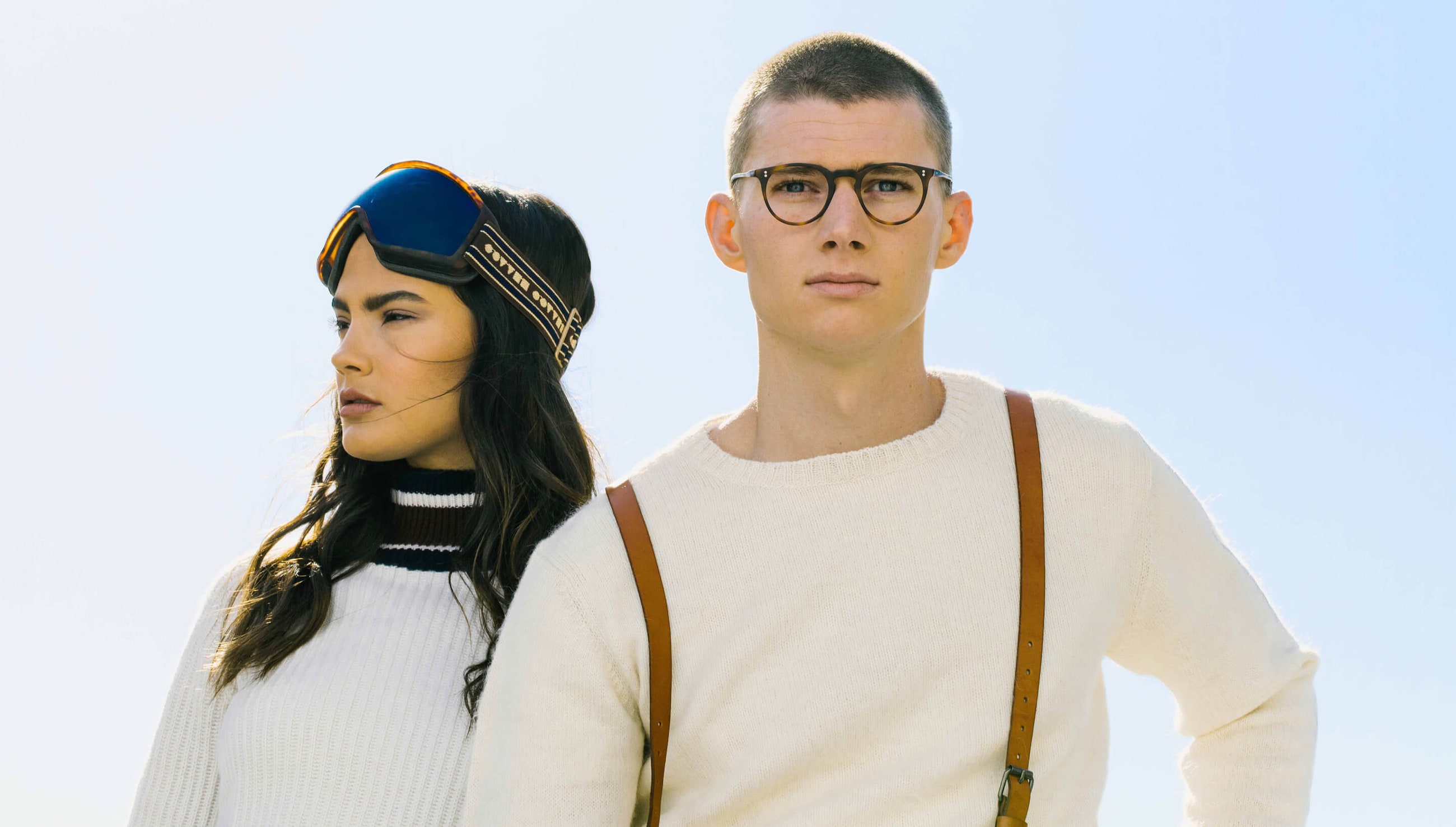 By adding a goggle to the Oliver Peoples line, they're inviting people to see the mountains the way they see the mountains—as a place with great opportunity for self-expression.
As the jet-age drew to a close and air travel became less novel, so too did the fashions associated with the destinations. As water-proof fabrics and better insulation became more prevalent in the mid-1970s, function overtook fashion as the main concern for on-hill apparel and "classic ski style" became more about the après scene. This line of thought had a strong foothold through the '80s and '90s where bright colors and loud prints paired with unflattering cuts resulted in some questionable looks. Until recently, the closer consumer apparel was in appearance to a professional athlete's apparel the better, and sponsors understandably want their athletes to stand out.
However, with technology having caught up to tastes, winter sports enthusiasts no longer have to choose between fashion and function. Oliver Peoples' first goggle is an expression of this appreciation for the timeless looks of the past, integrated with premium optical quality. Inspired by their new boutique in Aspen, Colorado, the OP Aspen is a luxury goggle as only Oliver Peoples can do it. Offered in Matte Black with Black/Ivory strap or Matte Tortoise with a Brown/Navy strap, each goggle comes with two interchangeable lenses: one mirrored for sunny days and one yellow for when the clouds roll in and snow begins to fall.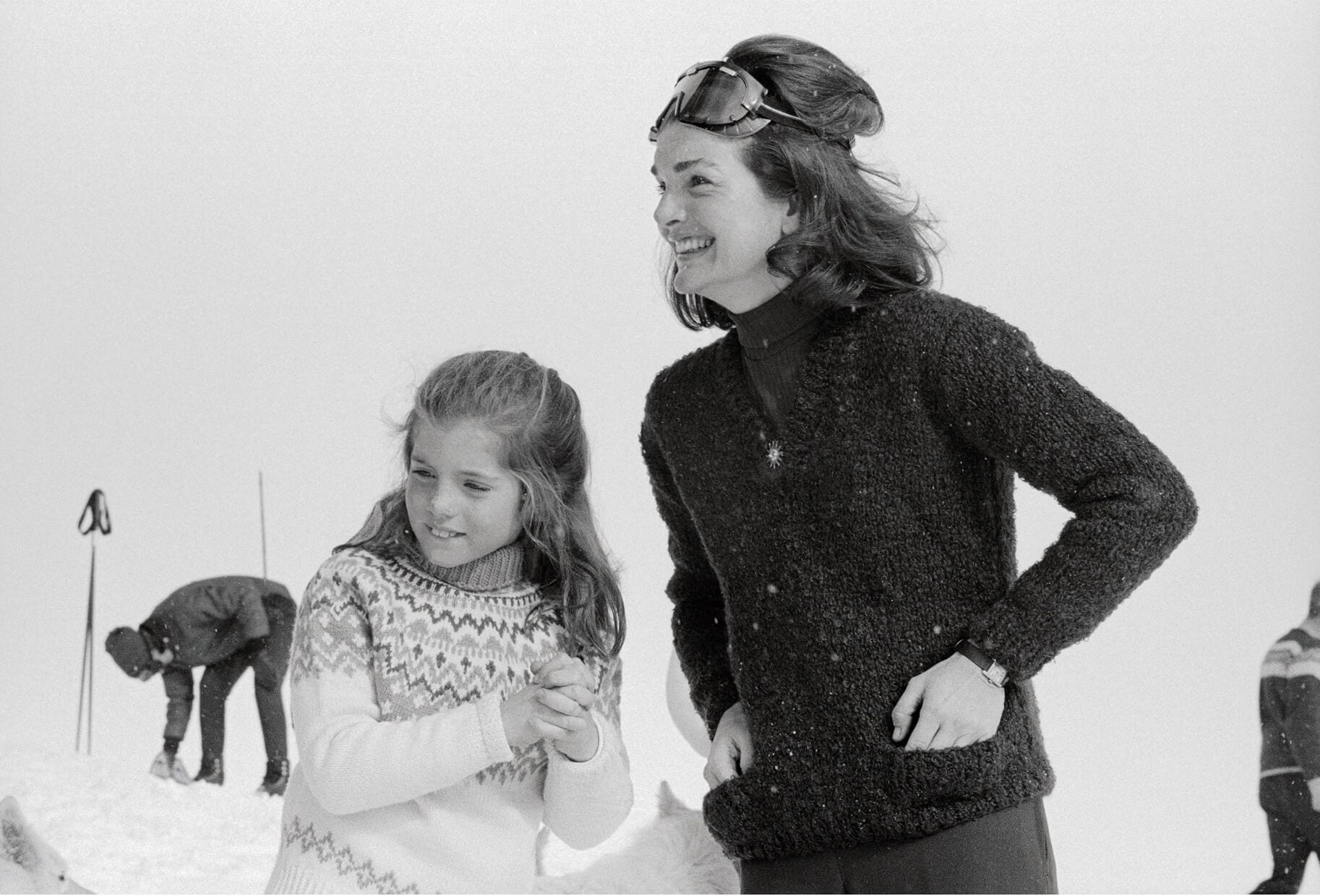 Jacqueline and Caroline Kennedy skiing, 1966. Photo by Bettmann via Getty Images.
An Aspen boutique exclusive goggle, limited to 20 units, will feature a precious platinum lens and strap color unique to the style. All three-strap colorways feature a custom design with a repeating embroidered pattern that utilizes the Oliver Peoples' logo.
Staying true to their roots, the OP Aspen fits over optical frames and a notch in the foam at each side allows it to do so with unique comfort. Styled with apparel that draws inspiration from the mid-century ski scene or actual vintage pieces, the OP Aspen fits right in.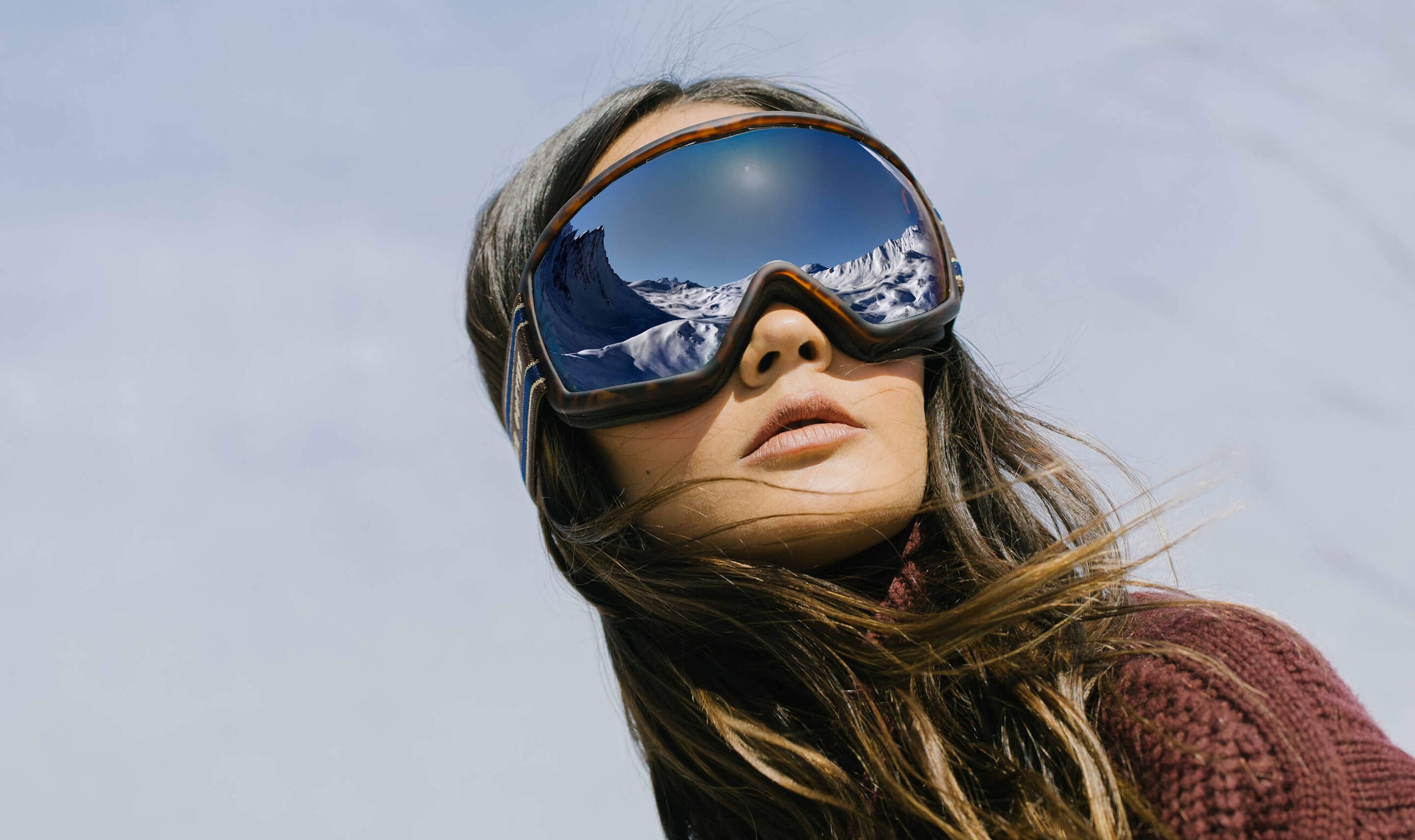 Each goggle comes with two interchangeable lenses: one mirrored for sunny days and one yellow for when the clouds roll in.
The understated colorways are a departure from more aggressive looks seen everywhere on the slopes, instead gravitating towards an aesthetic that they imagine would have been favored by any of the aforementioned icons. By adding a goggle to the Oliver Peoples line, they're inviting people to see the mountains the way they see the mountains—as a place with great opportunity for self-expression. Skiing, in and of itself, is an art form—one which anyone who dabbles in it can adapt to suit their tastes. Some people are in it for the outright speed, some are in it for the perfect turn, while others simply for the opportunity to get out in nature. Oliver Peoples' hope is that regardless of what draws a person to the slopes, every time they strap on the OP Aspen, they will find themselves transported back to the romantic era of Alpine skiing. OP Aspen goggle is a tribute of sorts to a special period in history, with fully modern technology and premium features carefully worked in. By doing so, Oliver Peoples hopes to create an on hill experience that's effortlessly stylish and wholly enjoyable, allowing you to just enjoy the ride.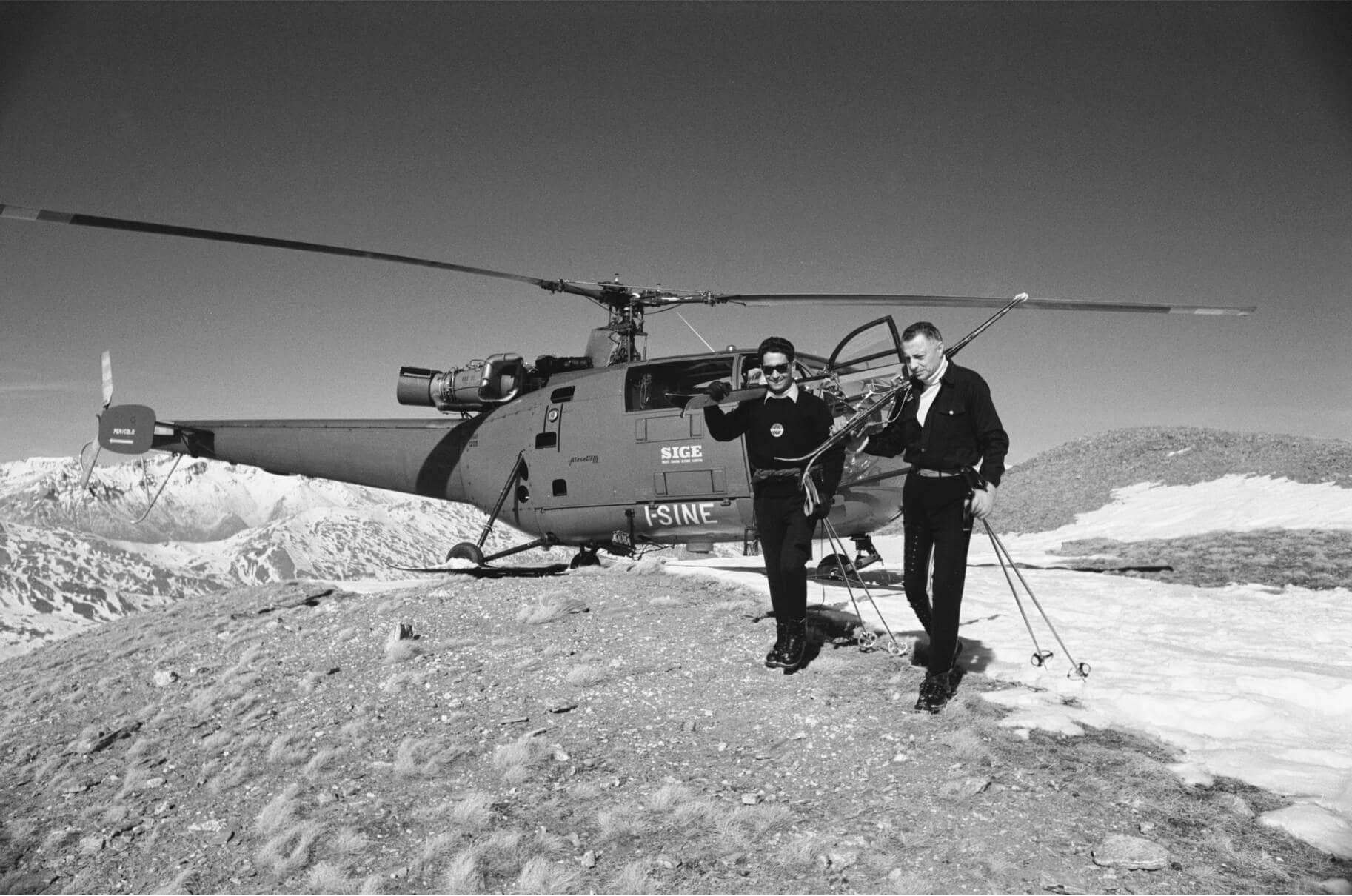 Gianni Agnelli takes a private helicopter to the slopes near Sestrière ski resort in Italy, 1967. Photo by David Lees/The LIFE Picture Collection via Getty Images.
PHOTOS: Meghan Kay Sadler