Gift Guides | Culture
OP Five | Five Timeless Records and the Frames to Match
4 Min Reading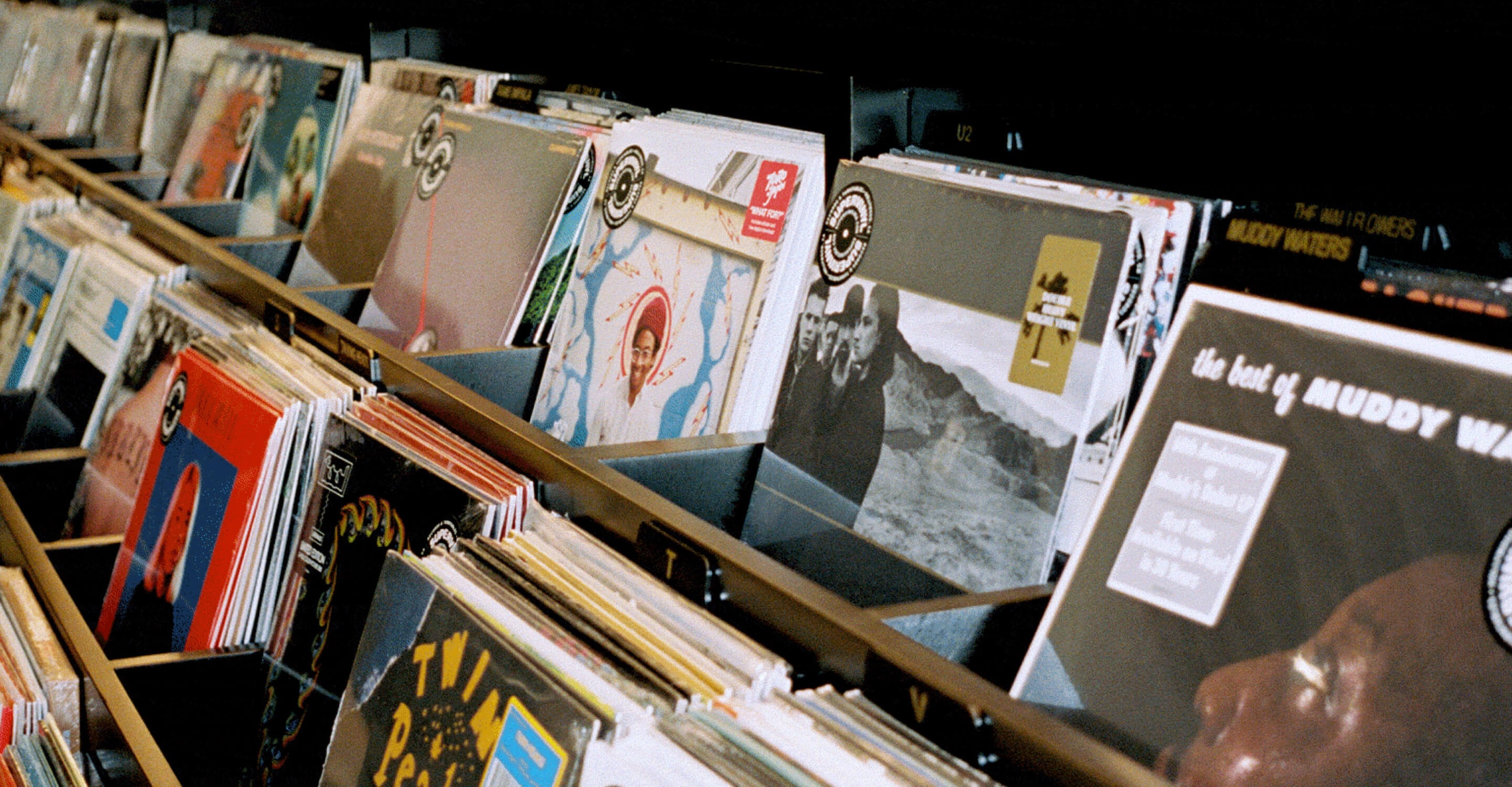 Oliver Peoples and Supervinyl owner, Barry Perlman, pair five classic frames with five iconic vinyls to guide your gift-giving this holiday for any music enthusiast.
A longtime wearer of Oliver Peoples glasses, Barry curates five albums and five frames that stand the test of the time. These records and frames are classics in their own right and will continue to be relevant throughout the years.
The White Album by The Beatles and The Row After Midnight: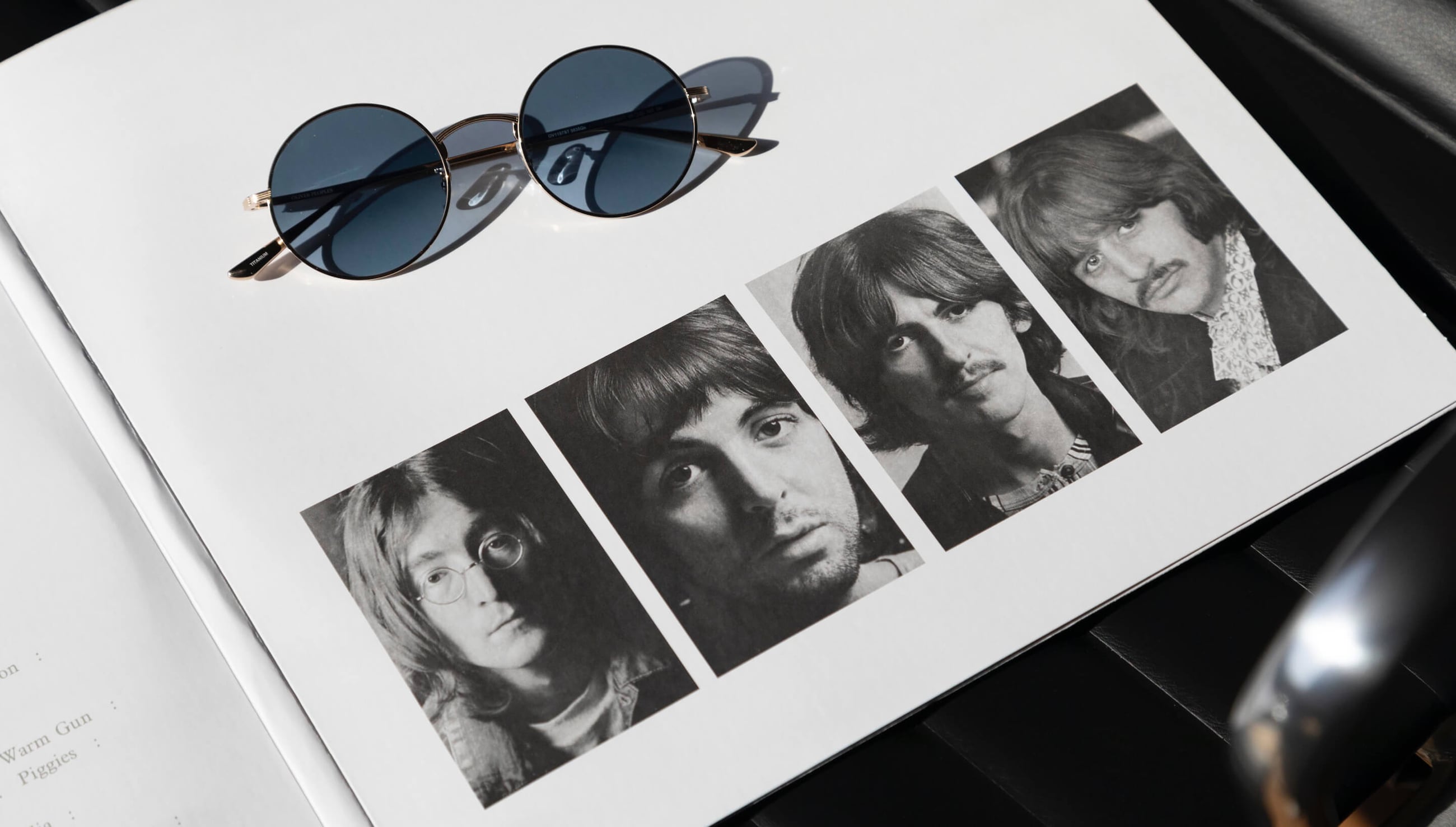 The White Album by The Beatles and The Row After Midnight in Gold with Marine Gradient lenses.
As far as these frame and album pairings go, one look at The Row After Midnight and The White Album and the connection is clear. John Lennon is iconically recognized for his eyewear choices, specifically wearing round glasses with colored lenses. However, the pairing goes far beyond fashion. The White Album was the first time that fans got to see the world through the eyes of the band without any filters.
The album arrived in 1967 and has a strong claim being the most important rock album in the history of the genre, simultaneously redefining the sound of the biggest band in the world and providing stylistic paths for peers of the era and generations of musicians to follow. Much like The White Album, The Row After Midnight generated a buzz in the fashion world and is still recognized as a new icon to Oliver Peoples.
Court and Spark by Joni Mitchell and M-4 30th: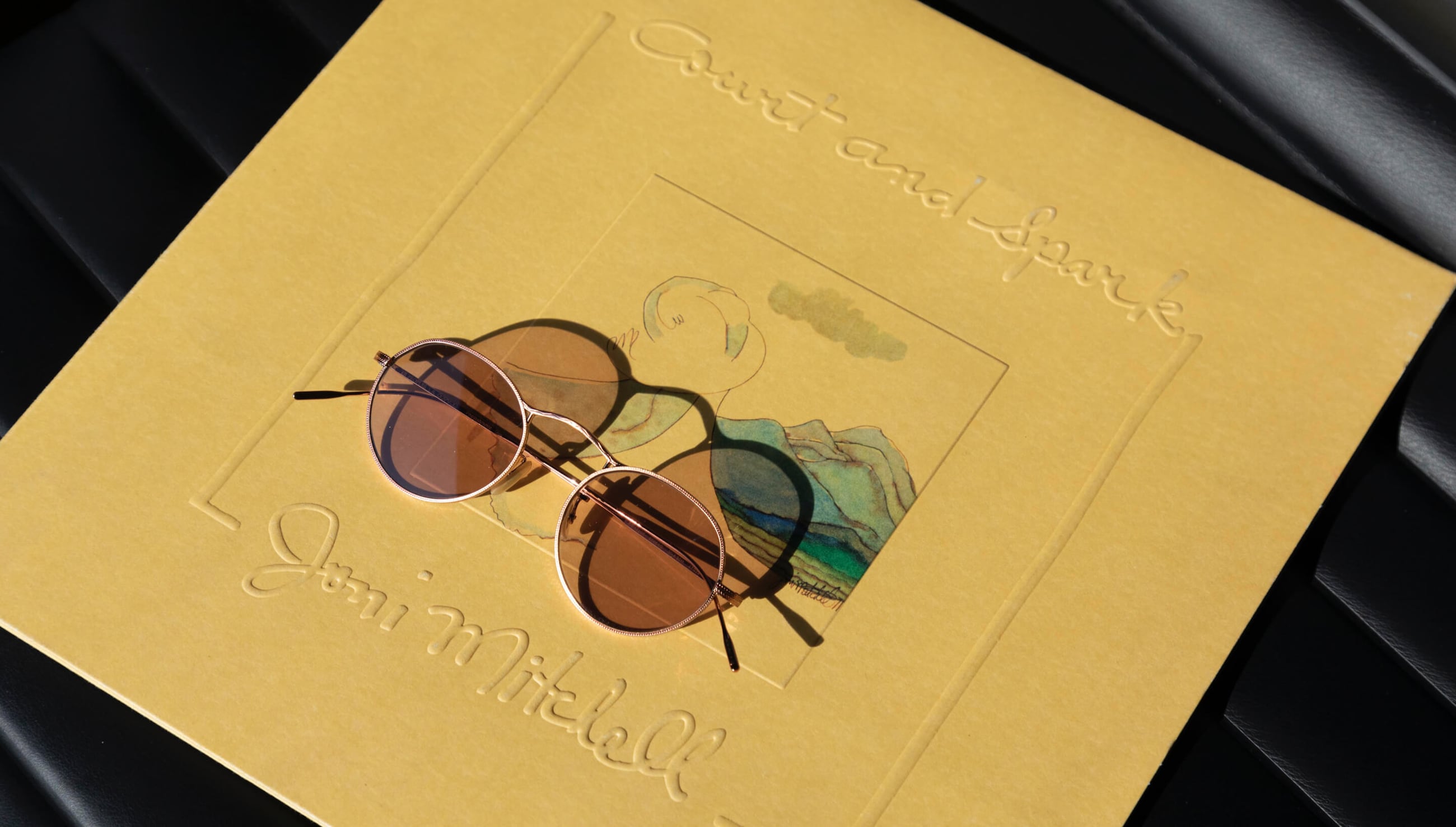 Court and Spark by Joni Mitchell and M-4 30th in Brushed Rose Gold with Pink Wash Photochromic lenses.
All it takes is one glance at this heritage frame to understand the inspiration behind it. The M-4 was one of Oliver Peoples first styles introduced around 1987 and this updated version features demi-flat glass lenses and a hand-engraved feather pattern specifically designed for the 30th Anniversary Collection. Particularly in Brushed Rose Gold with Pink Wash Photochromic lenses, the M-4 30th evokes visions of the Los Angeles music scene in the late 1960s and early 1970s. Jam sessions at a house off Laurel Canyon, cruising down Sunset Boulevard at dusk, late nights at Doug Weston's Troubadour, you can imagine seeing it all through these lenses. Fittingly, Barry chose to pair the M-4 30th with Joni Mitchell's hit album, Court and Spark which serves as a marker for when the singer-songwriter style that was born in the canyons of Los Angeles reached its peak. Mitchell's songwriting prowess remained front and center though, as it would throughout her illustrious career in which she continued to experiment and refused to be easily categorized. The M-4 30th transcends a singular style preference similar to all music lovers' admiration for Mitchell's Court and Spark.
What's Going On by Marvin Gaye and Rikson: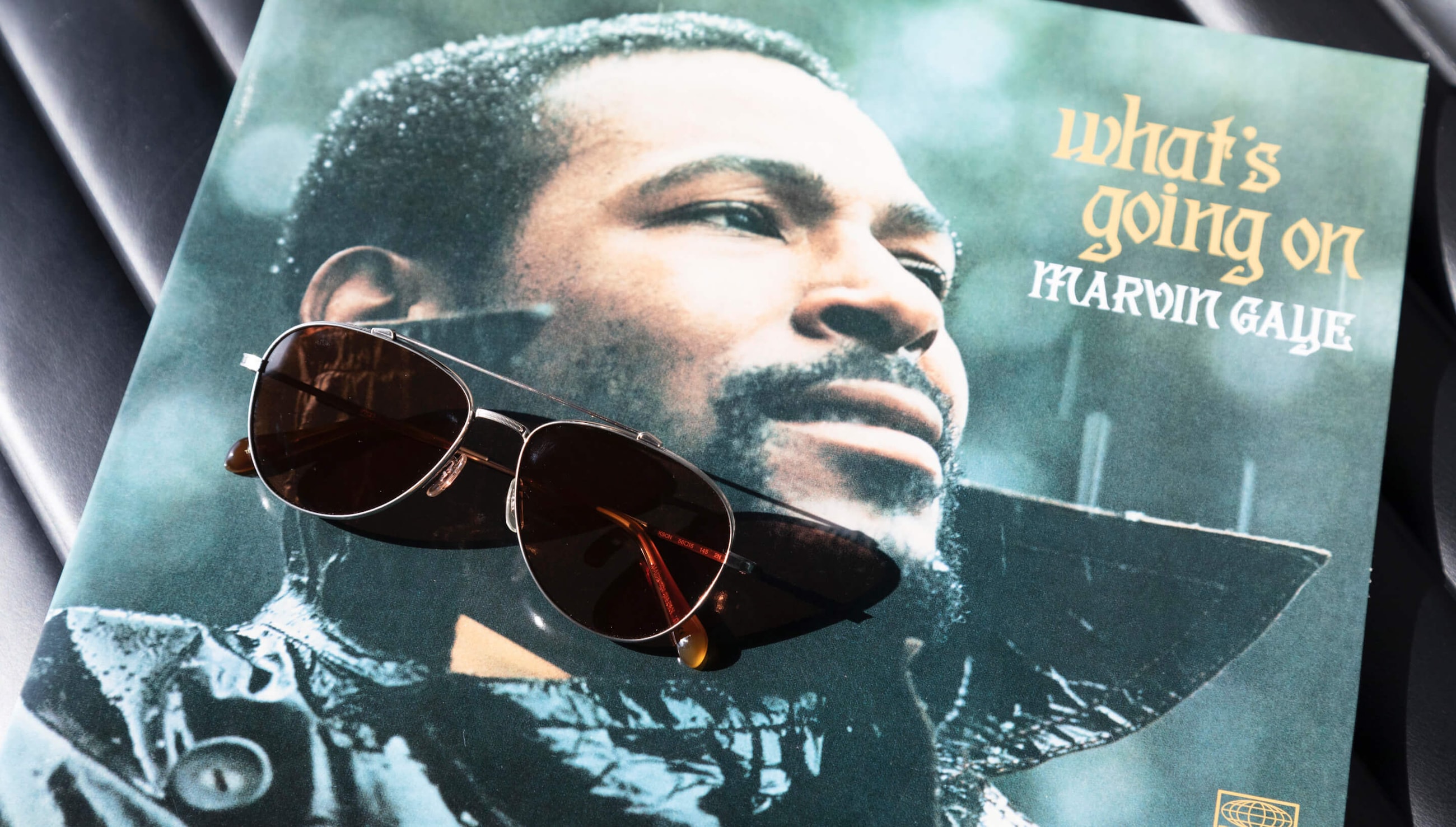 What's Going On by Marvin Gaye and Rikson in Brushed Silver with Persimmon lenses.
The Rikson is a teardrop sunglass that carries a modern streamlined design inspired by a globally beloved silhouette. Rikson is a true testament to Oliver Peoples attention to detail from the uniquely thick eyewire that can be seen from the side view to the custom filigree pattern engraved on the bridge, eyewire, and temples. This elevation of a long-running style makes them a clear choice to pair with Marvin Gaye's 1971 album, What's Going On, which firmly cemented Gaye's status as a music icon after just ten years as a solo artist. From his arrival in Detroit in 1960 to the release of What's Going On, Gaye's thumbprints are all over the music charts of the decade both as a singer and as a songwriter. Often imitated, never duplicated, it's impossible to hear Gaye's music and not immediately transcend into a different state of mind. Throw on What's Going On or Rikson no matter the occasion or time, and it'll feel just right.
OK Computer by Radiohead and Jaye: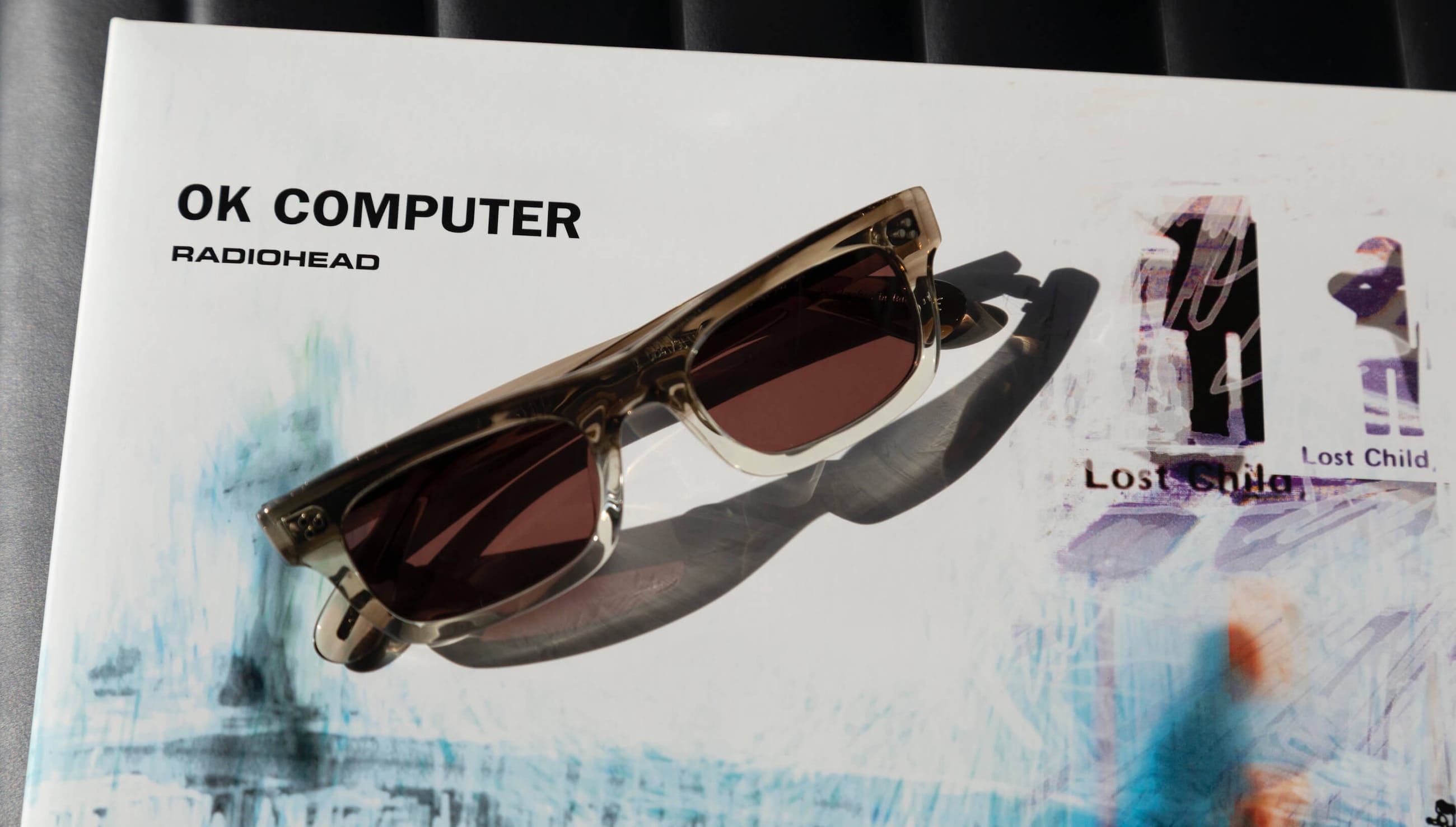 OK Computer by Radiohead and Jaye in Military VSB with Rosewood lenses.
The Jaye perfectly mixes a classic aesthetic and a stylized look to deliver an edgy sunglass that evokes visions of the past, present, and future. By mixing genres and tossing norms aside, these daring frames make a sensible pairing for Radiohead's paradigm-shifting album, OK Computer. This album deftly mixes progressive rock and electronica while remaining full of anthemic arena weight.
From start to finish, there's never a dull moment and with every listen, there is something new to discover. It's the kind of album that still sounds fresh over twenty years after it arrived, a true testament to Radiohead's vision and the quality of their work. The Military VSB patterned acetate of Jaye uniquely paired with Rosewood lenses make it an unexpected combination, much like how the album mixes multiple genres.
Birth of the Cool by Miles Davis and Cary Grant Sun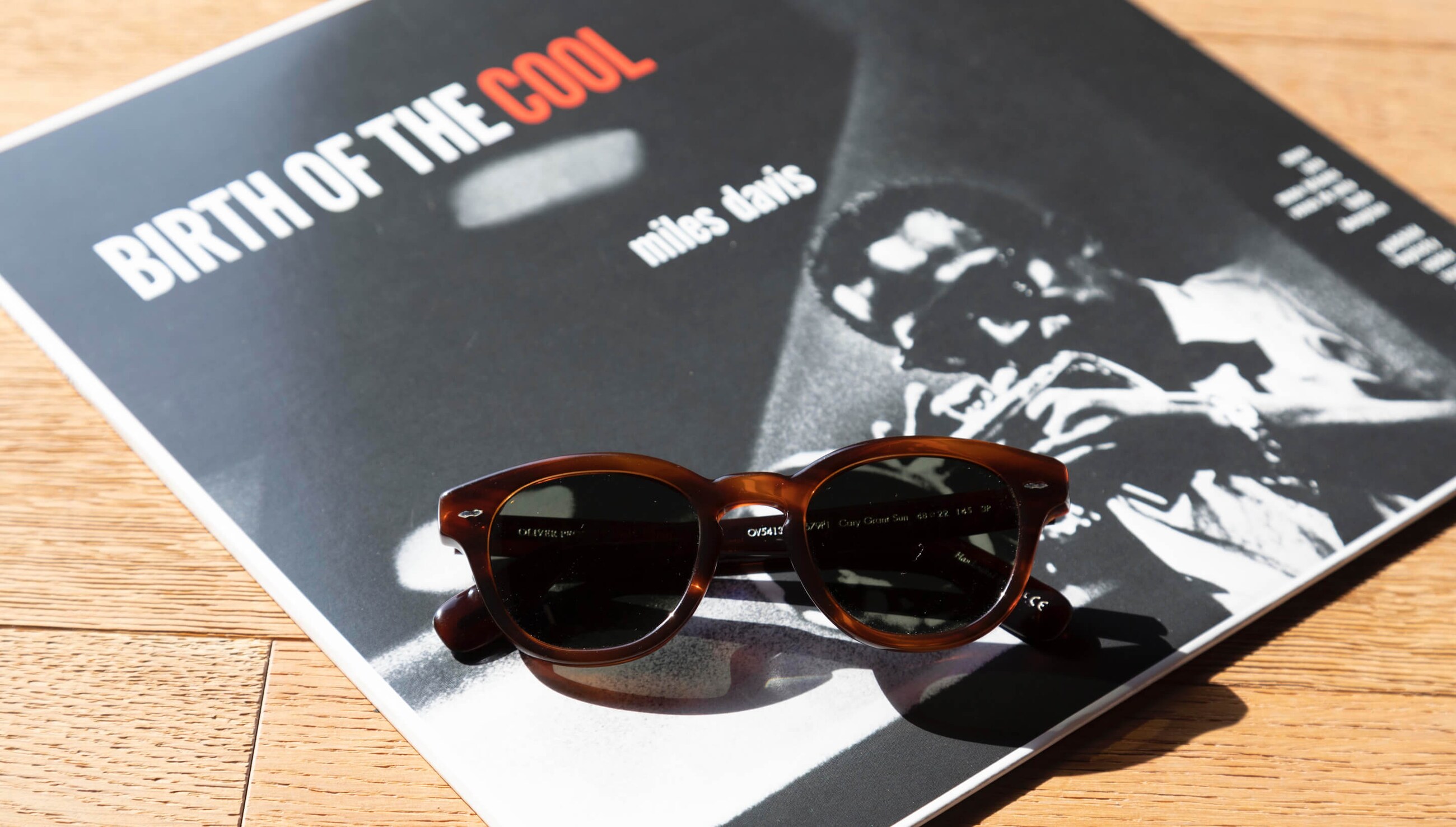 Birth of the Cool by Miles Davis and Cary Grant Sun in Grant Tortoise with G-15 Polar lenses.
Inspired by the signature style worn by its namesake in the 1959 Hollywood classic, North by Northwest, the Cary Grant Sun is a modern take on a timeless look. The bold acetate sunglass is distinctive in its aesthetic and features custom details designed to preserve the integrity of Grant's personal style. The frames evoke a distinct time and place in culture, as does the album Barry chose to pair them with, Miles Davis' first LP, Birth of the Cool.
The arrival of the iconic jazz album in February of 1957 heralded the rise of the relaxed jazz style that became synonymous with the West Coast during the 1960s. The signature effortless style with which Davis led a band that included pianist John Lewis and trombonist J.J. Johnson that amounted to a smooth album that brings its own vibe with it whenever and wherever it is played. The style of Cary Grant Sun evokes an understated elegance much like the sound of Miles Davis.
Read our feature on Supervinyl
and its owner, Barry Perlman.