Campaigns | Craftsmanship
Oliver Peoples Takumi: An Homage to the Brand's Heritage and Japanese Craft
6 Min Reading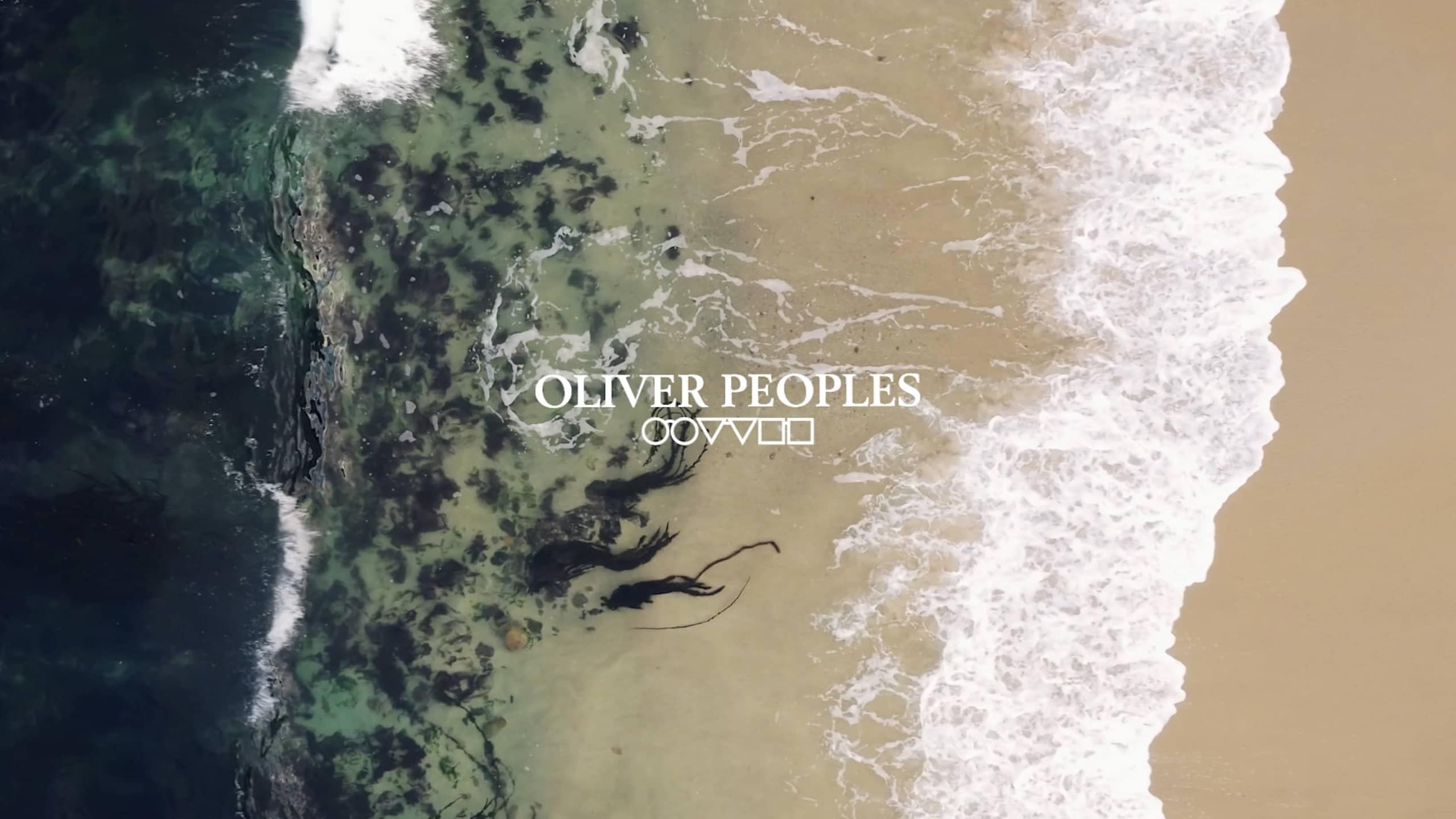 Oliver Peoples' decades-long connection to Japanese artisanry reaches its zenith in its latest capsule collection.
The word Takumi, in Japanese, translates to "artisan." To be a Takumi, one must master the skills of their trade through years of dedication and a devotional work ethic. The philosophy of the Takumi, though, is far from simply achieving technical supremacy in the material world; it's a spiritual and social obligation to deliver one's very best, no matter what the endeavor. To deserve this revered designation, a true Takumi knows no step can be skipped, no detail left unconsidered. The work must be perfect in its totality.
It is this rare obsession with craftsmanship that compelled the founders of Oliver Peoples to collaborate with Japanese producers from the very beginning. The relationship between company and country was forged in 1987, supported, in those days, by fax machines and frequent flights to Japan. This formative era would come to influence the Oliver Peoples brand and product philosophy in ways that reverberate to this very day. Japan—its fashion, its architecture, its culture, its art—remains inherent to the Oliver Peoples brand, and its Japanese partners continue to be instrumental in helping OP create enduring eyewear, meticulously made and beautifully designed. This inseparable, decades-long connection to Japanese artisanry reaches its zenith in Oliver Peoples' latest capsule collection, Takumi. Designed in Los Angeles and manufactured in Japan, Takumi is both a sophisticated study in the Japanese art of eyewear and a fresh, relevant homage to the heritage of Oliver Peoples.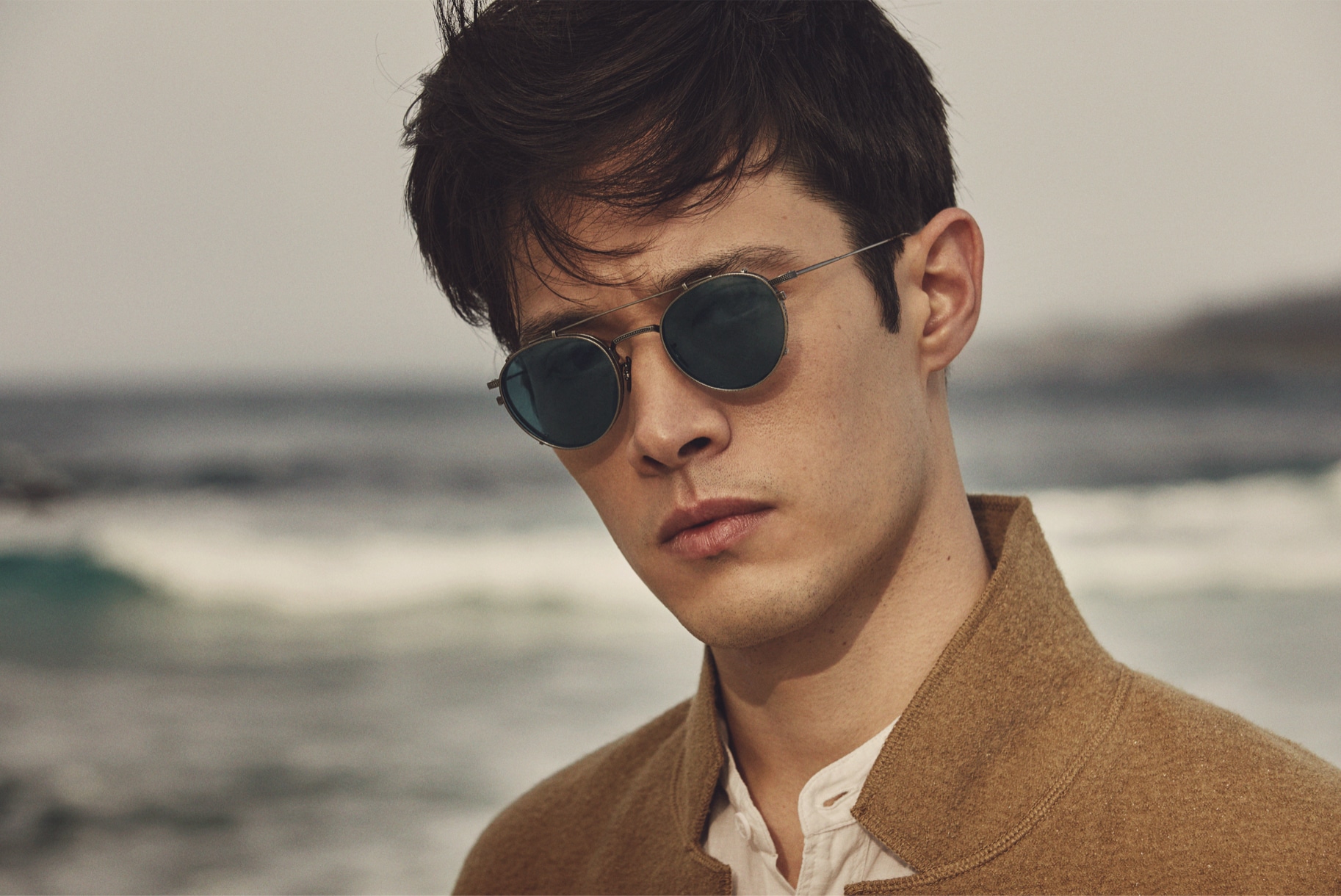 A nod to Japan's long-standing heritage of indigo can be found in the Blue lenses of the Takumi 1 Clip.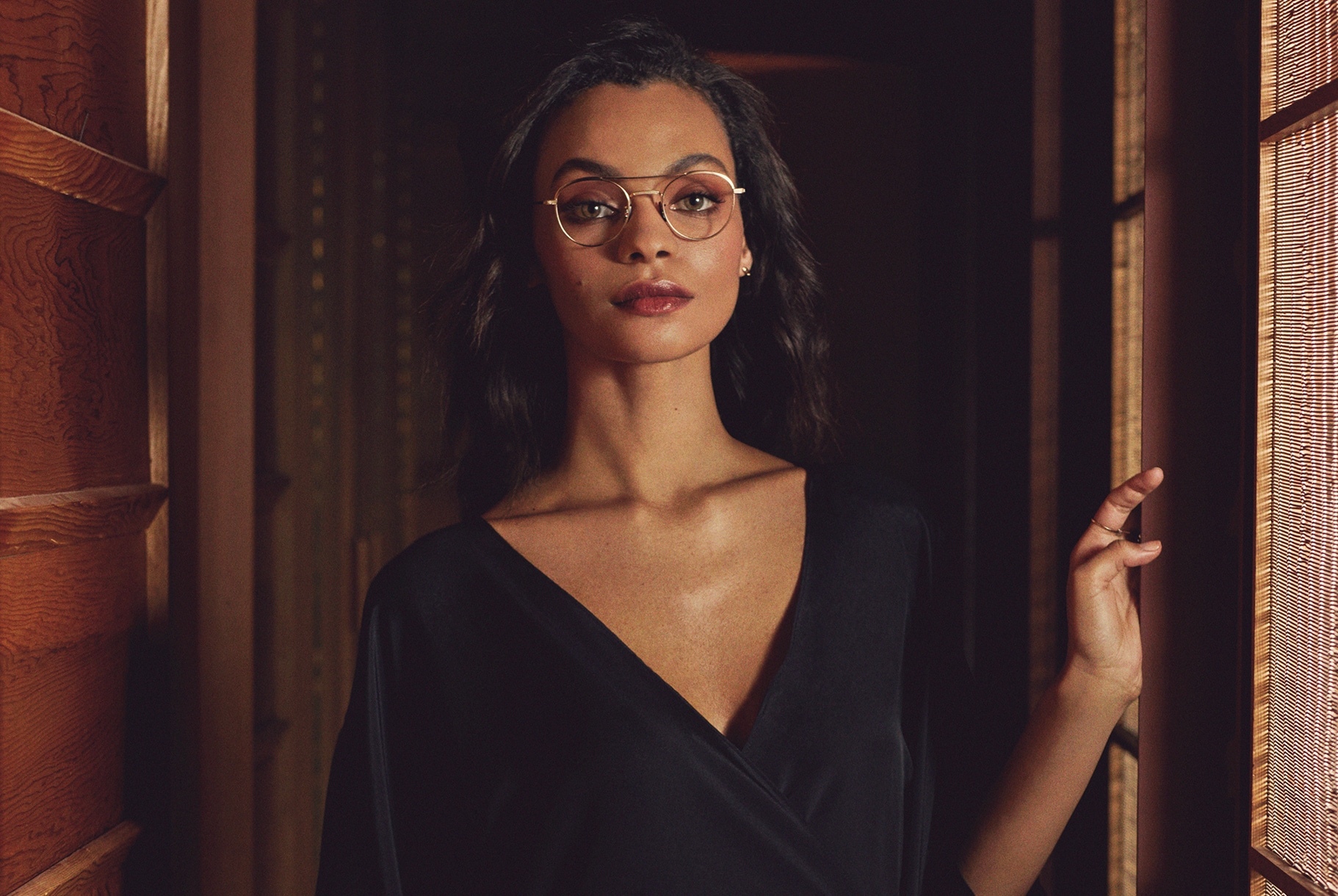 A modern feel meets vintage design in Takumi 2 in Brushed Gold.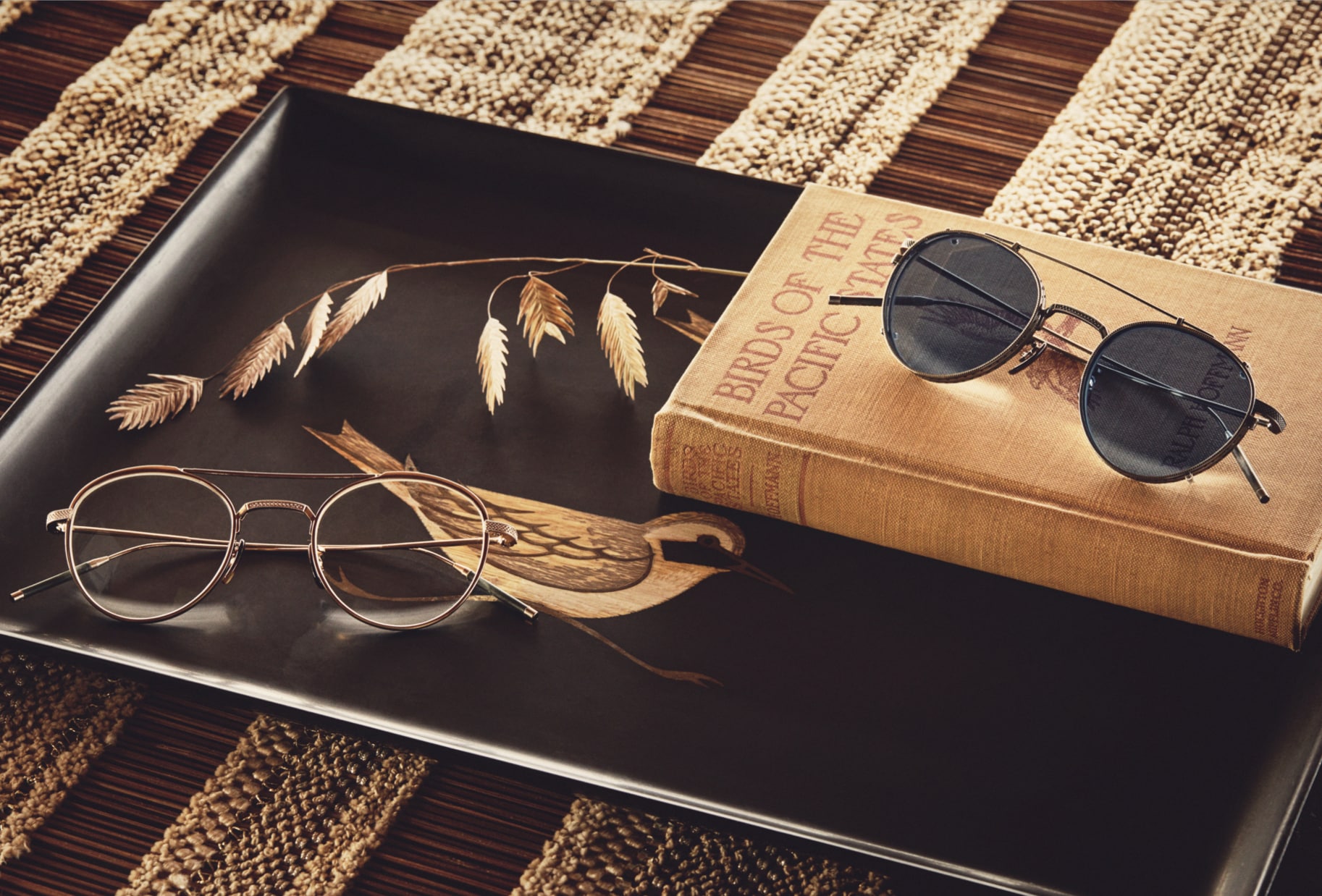 Takumi 2 in Antique Gold and Takumi 1 in Pewter with dedicated clip at home amongst the Walker House's original mid-century decor.
The collection—which consists of two optical styles, one sunglass, and one clip-on sunglass—offers modern takes on time-honored looks, with nods to Japanese craft and aesthetics throughout.
When creating Takumi, Oliver Peoples saw every surface as an opportunity to demonstrate thoughtfulness in design and exceptionalism in craft. A custom filigree, artfully pressed into titanium, appears on all styles. Its design is a celebration of Japanese minimalism and architecture and features a multi-dimensional pattern of raised diamonds and dots.
As the eye absorbs, the mind wanders to the works of architects like Kengo Kuma and Tadao Ando, contemporary masters who used their materials to spartan yet elaborate effect. One might also find parallels in the striking specificity of artists Nobuo Sekine and Lee Ufan, pioneers of the Mono-ha art movement of the mid-century.
This sense of simple intricacy pervades. Subtle details are found in the perforated design along the eyewire of Takumi 1 and continued along the eyewire of its sunglass clip.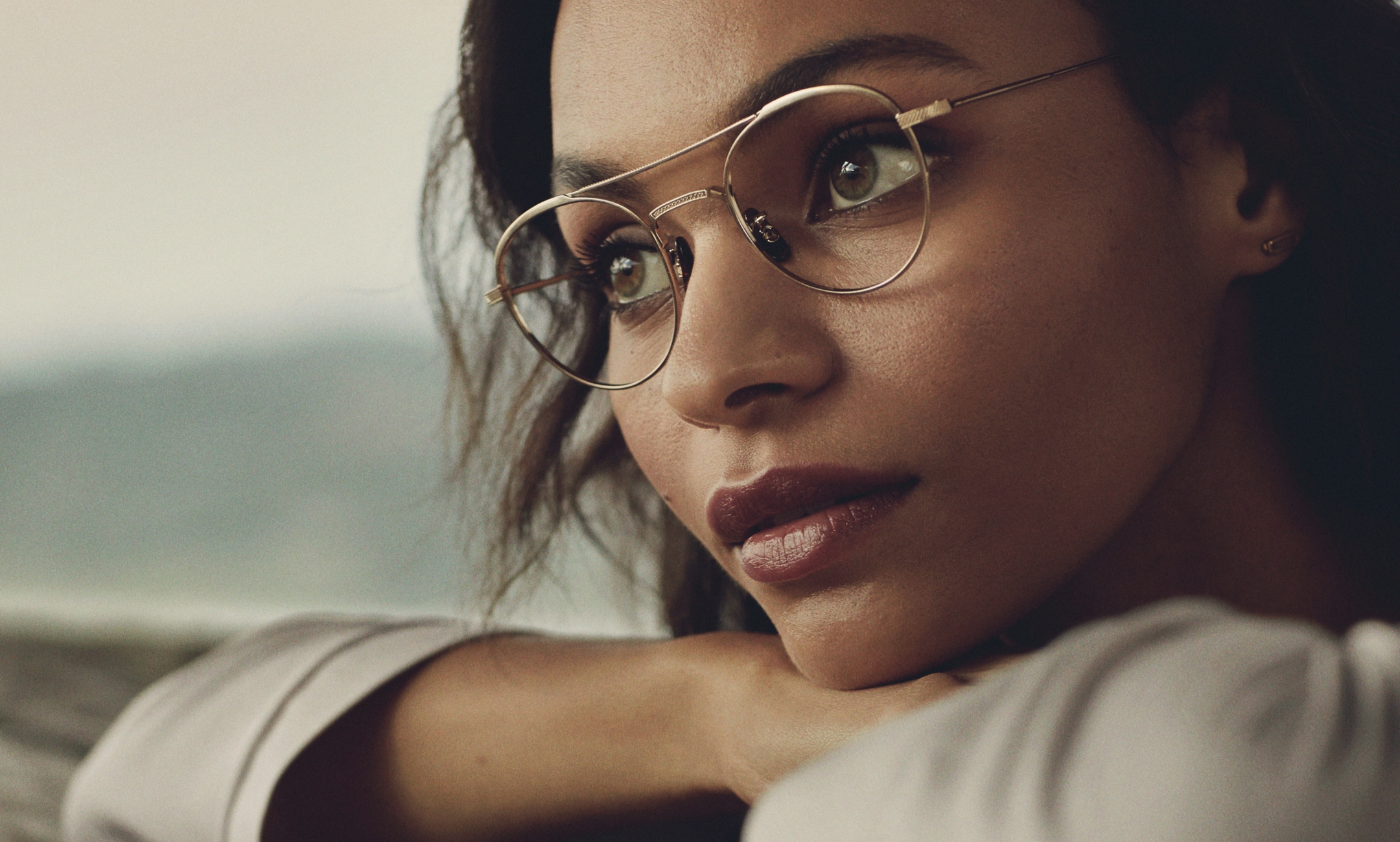 Custom filigree, inspired by the architecture of Japan, can be found on the endpiece and topbar of Takumi 2 in Antique Gold.
The smart geometric pattern of circles and triangles was found within the Oliver Peoples archive, on a pair of glasses made thirty years ago in Japan. Elsewhere, a cylindrical weighted temple tip, available in tortoiseshell and solid colors, adds an improvement of form and the invaluable unseen function of resting more nicely on the face. Its inclusion is seamless and elegant, flush with the surrounding titanium. Such small details, taken in aggregate, deliver immense enjoyment to the wearer.
The Takumi collection is truly a marriage of Japanese craftsmanship and design principles core to the Oliver Peoples brand. Take, for instance, tortoiseshell. When Oliver Peoples first opened, it was known to launch one frame in eight different tortoise colors. The pattern—and OP's clever applications of it—became something of a calling card, making unforgettable pop culture cameos over the years. Within Takumi, tortoiseshell appears, as mentioned, on the weighted tip, and can also be found on the adjustable acetate nose pads, available in a light tortoise, a dark tortoise, and other shades chosen to complement the lens.
OP's history of tortoise shell appears on acetate nose pads throughout the collection, as seen here on Takumi 2 in Antique Gold.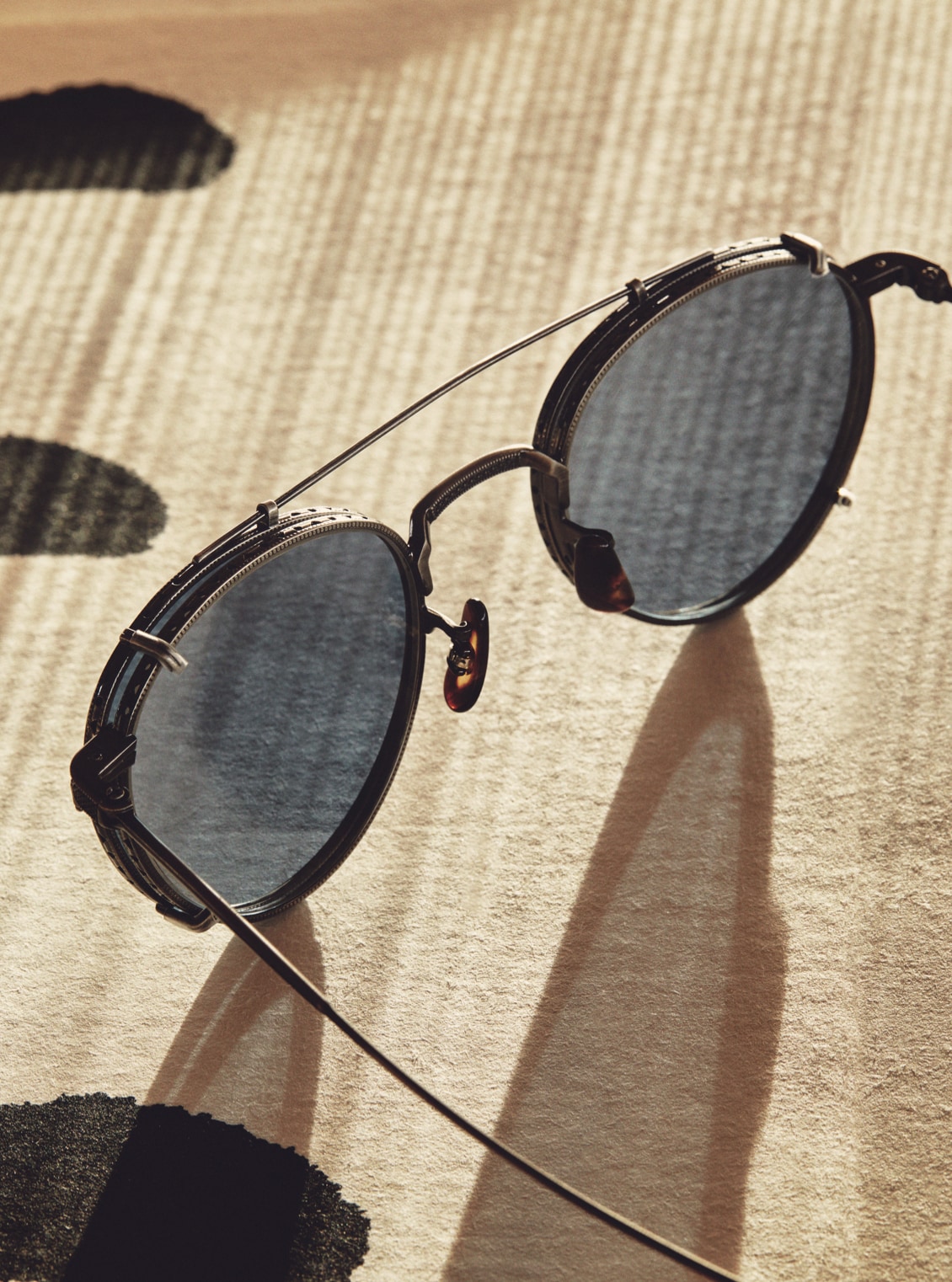 The richly-hued lenses of the Takumi 1 Clip add a striking versatility to the Takumi 1 optical frame.
Within each small space, a world of color: the blush of a Kyoto sunset, the smoke-gray of Tokyo concrete. Each bit of tortoise works in harmony with the frame while telling its own story.
For the frame colors themselves, Oliver Peoples turned to the past. Takumi's titanium frames are rendered in flattering warm and cool tones: Pewter, Brushed Silver, Brushed Gold, and Antique Gold. Aged finishes like Pewter and Antique Gold were far less common when Oliver Peoples began employing them in the late-1980s, a time when subtlety was oft shunned and neon plastic de rigueur.
Today, Pewter and Antique Gold are longstanding icons within the Oliver Peoples catalog and remain collection mainstays. Their use within Takumi is a tip of the hat to the special elements that helped solidify OP's reputation as an innovative—and elegant—force over the last thirty years.
Complementing the frames are custom lenses rendered in vintage-inspired colors of varying saturation. Every element—from the acetate nose pad to the metal eyewire—was taken into account when selecting a corresponding lens color and density.
Classic Grey and Brown offer a sense of everlasting cool, while a rich Blue lens pays homage to Japan's heritage of indigo and Persimmon provides a fresh medium-density alternative. A Japanese love for washed lenses informed the colors for the Takumi 2 eyeglasses, which come in three light-colored transparencies. Finishing off each lens: a custom Takumi breath logo—yet another detail for the wearer.
The Takumi Collection, from the frames to the bespoke packaging, is the physical manifestation of some of the higher ideals found within Japanese craft and Oliver Peoples' design legacy.
Here, the artisanal is favored over the mass-produced, and each choice—no matter how seemingly small—is made with intention.
This extraordinary attention to detail is fully apparent in the small Kanji symbol printed on the front of the rice paper box that houses each frame. Designed by a master of Japanese calligraphy specifically for the collection, the symbol, which means Takumi, went through several iterations. Every line, every curve, every sweep of black ink: each minute component of the symbol was tweaked until just right. Perfect in its entirety, inarguably complete.
Words: Jenny Bahn
Video: Yong Kim
The Walker House & California's Intrinsic Connection to Japanese Design