PRODUCT DNA
The Cary Grant Sunは、1959年のハリウッドの名俳優ケーリー・グラントが名作映画「北北西に進路を取れ」の中で着用していたアイウェアのスタイルから着想を得ています。今シーズンは太めのアセテートフレームがコンビネーションのデザインに作り替えられました。The Cary Grant 2はメタルブリッジとメタルのアイワイヤーをデザインに起用し、Grantの限定色であるグラント・トータス(べっ甲)も含め伝統に忠実なディテールすべてを取り入れたフレームとなっています。
{"hasSingleSKU":false,"catalogEntryTypeCode":"ProductBean","parentCatalogGroupID":["3074457345616683318_3074457345616686168","3074457345616683368_3074457345616714169","3074457345616683368_3074457345616714172","3074457345616683368_3074457345616714176","3074457345616683368_3074457345616714183","3074457345616683368_3074457345616714184","3074457345616683368_3074457345616714192","3074457345616683368_3074457345616714205","3074457345616683368_3074457345616714207","3074457345616684418_3074457345616714169","3074457345616684418_3074457345616714172","3074457345616684418_3074457345616714176","3074457345616684418_3074457345616714183","3074457345616684418_3074457345616714184","3074457345616684418_3074457345616714192","3074457345616684418_3074457345616714205","3074457345616684418_3074457345616714207","3074457345616684918_3074457345616714169","3074457345616684918_3074457345616714172","3074457345616684918_3074457345616714176","3074457345616684918_3074457345616714183","3074457345616684918_3074457345616714184","3074457345616684918_3074457345616714192","3074457345616684918_3074457345616714205","3074457345616684918_3074457345616714207"],"price_USD":"551.0","manifest":{"payload":{"imagesCount":7,"packageType":"360","images":[{"order":1,"path":"https:\/\/assets2.oliverpeoples.com\/cdn-record-files-pi\/b97601b3-de9e-44e6-aeb8-ab6700aecb73\/6bdc9860-70a4-4053-a453-ab6700c84179\/0OV5436S__1679P1_000A.png","usage":"PLP","view":"PLP1"},{"order":2,"path":"https:\/\/assets2.oliverpeoples.com\/cdn-record-files-pi\/b97601b3-de9e-44e6-aeb8-ab6700aecb73\/8a2629bd-4c02-4ec6-bcde-ab6700c843b3\/0OV5436S__1679P1_030A.png","usage":"PLP","view":"PLP2"},{"order":1,"path":"https:\/\/assets2.oliverpeoples.com\/cdn-record-files-pi\/b97601b3-de9e-44e6-aeb8-ab6700aecb73\/8a2629bd-4c02-4ec6-bcde-ab6700c843b3\/0OV5436S__1679P1_030A.png","usage":"PDP Carousel","view":"PDP"},{"order":2,"path":"https:\/\/assets2.oliverpeoples.com\/cdn-record-files-pi\/b97601b3-de9e-44e6-aeb8-ab6700aecb73\/6bdc9860-70a4-4053-a453-ab6700c84179\/0OV5436S__1679P1_000A.png","usage":"PDP Carousel","view":"PDP"},{"order":3,"path":"https:\/\/assets2.oliverpeoples.com\/cdn-record-files-pi\/b97601b3-de9e-44e6-aeb8-ab6700aecb73\/10bde98c-dacb-4e36-a9cb-ab6700c8487f\/0OV5436S__1679P1_090A.png","usage":"PDP Carousel","view":"PDP"},{"order":4,"path":"https:\/\/assets2.oliverpeoples.com\/cdn-record-files-pi\/b97601b3-de9e-44e6-aeb8-ab6700aecb73\/d159d87c-1808-4e0d-9bc6-ab6700c84f82\/0OV5436S__1679P1_180A.png","usage":"PDP Carousel","view":"PDP"},{"order":5,"path":"https:\/\/assets2.oliverpeoples.com\/cdn-record-files\/packaging\/61a5230f-c05d-4124-a138-ae94007f800e\/PACK__OV__CaryGrant.jpg","usage":"PDP Carousel","view":"Packaging"}]},"eventTime":"2022-12-02T21:32:17.791932349Z","channel":"OP","key":{"path":"PACK__OV__CaryGrant","gender":"Man","clen":"L688C","mocoId":{"model":"0OV5436S","colorCode":"1679P1"},"upc":"827934450547","geoFit":"High Bridge Fit"}},"uniqueID":"3074457345616792721","sKUs":[{"hasSingleSKU":false,"catalogEntryTypeCode":"ItemBean","parentCatalogGroupID":["3074457345616683318_3074457345616686168","3074457345616683368_3074457345616714169","3074457345616683368_3074457345616714172","3074457345616683368_3074457345616714176","3074457345616683368_3074457345616714183","3074457345616683368_3074457345616714184","3074457345616683368_3074457345616714192","3074457345616683368_3074457345616714205","3074457345616683368_3074457345616714207","3074457345616684418_3074457345616714169","3074457345616684418_3074457345616714172","3074457345616684418_3074457345616714176","3074457345616684418_3074457345616714183","3074457345616684418_3074457345616714184","3074457345616684418_3074457345616714192","3074457345616684418_3074457345616714205","3074457345616684418_3074457345616714207","3074457345616684918_3074457345616714169","3074457345616684918_3074457345616714172","3074457345616684918_3074457345616714176","3074457345616684918_3074457345616714183","3074457345616684918_3074457345616714184","3074457345616684918_3074457345616714192","3074457345616684918_3074457345616714205","3074457345616684918_3074457345616714207"],"uniqueID":"3074457345616793245","resourceId":"http:\/\/lrhsbrdilbp01.luxgroup.net:3737\/search\/resources\/store\/715840684\/productview\/byId\/3074457345616793245","price":[{"description":"L","value":"","usage":"Display","currency":"USD"},{"description":"O","value":"","usage":"Offer","currency":"USD"}],"thumbnail":"https:\/\/assets2.oliverpeoples.com\/cdn-record-files-pi\/b97601b3-de9e-44e6-aeb8-ab6700aecb73\/6bdc9860-70a4-4053-a453-ab6700c84179\/0OV5436S__1679P1_000A.png?impolicy=OV_OpPlp","mfPartNumber_ntk":"0OV5436S","manufacturer":"Oliver Peoples","name":"Cary Grant 2 Sun","buyable":"true","storeID":"715838934","attributes":[{"storeDisplay":false,"values":[{"sequence":"1","value":"0OV5436S--1679P1","uniqueID":"7741124012287136343","unitOfMeasure":"","unitID":"","identifier":"0OV5436S--1679P1"}],"sequence":"1","name":"Moco","usage":"Descriptive","uniqueID":"7741124012283379884","displayable":false,"comparable":false,"identifier":"MOCO","searchable":false,"facetable":false},{"storeDisplay":false,"values":[{"sequence":"0","value":"0","uniqueID":"7741124012285120101","unitOfMeasure":"","unitID":"","identifier":"OV5436S 1679P1 50-20"}],"sequence":"10000","name":"DISPLAYSKU","usage":"Descriptive","uniqueID":"7741124012283379878","displayable":false,"comparable":true,"identifier":"DISPLAYSKU","searchable":false,"facetable":false},{"storeDisplay":false,"values":[{"sequence":"0","value":"131","uniqueID":"7741124012286407539","unitOfMeasure":"","unitID":"","identifier":"131"}],"sequence":"10000","name":"HINGE_DISTANCE","usage":"Descriptive","uniqueID":"7741124012285060349","displayable":false,"comparable":true,"identifier":"HINGE_DISTANCE","searchable":true,"facetable":false},{"storeDisplay":false,"values":[{"sequence":"0","value":"0","uniqueID":"7741124012283378429","unitOfMeasure":"","unitID":"","identifier":"50"}],"sequence":"10000","name":"MODEL_SIZE","usage":"Descriptive","uniqueID":"7741124012283379858","displayable":false,"comparable":true,"identifier":"MODEL_SIZE","searchable":false,"facetable":false},{"storeDisplay":false,"values":[{"sequence":"0","value":"0","uniqueID":"7741124012283382067","unitOfMeasure":"","unitID":"","identifier":"43.9"}],"sequence":"10000","name":"LENSHEIGHT","usage":"Descriptive","uniqueID":"7741124012283379885","displayable":false,"comparable":true,"identifier":"LENSHEIGHT","searchable":false,"facetable":false},{"storeDisplay":false,"values":[{"sequence":"1","value":"23","uniqueID":"7741124012283758089","unitOfMeasure":"","unitID":"","identifier":"23"}],"sequence":"10000","name":"SEG_HEIGHT","usage":"Descriptive","uniqueID":"7741124012283591335","displayable":false,"comparable":true,"identifier":"SEG_HEIGHT","searchable":false,"facetable":false},{"storeDisplay":false,"values":[{"sequence":"0","value":"49.6","uniqueID":"7741124012286208143","unitOfMeasure":"","unitID":"","identifier":"49.6"}],"sequence":"10000","name":"LENS_WIDTH","usage":"Descriptive","uniqueID":"7741124012285060340","displayable":false,"comparable":false,"identifier":"LENS_WIDTH","searchable":true,"facetable":false},{"storeDisplay":false,"values":[{"sequence":"1","value":"145","uniqueID":"7741124012283379037","unitOfMeasure":"","unitID":"","identifier":"145"}],"sequence":"10000","name":"TEMPLE_LENGTH","usage":"Descriptive","uniqueID":"7741124012283379863","displayable":false,"comparable":true,"identifier":"TEMPLE_LENGTH","searchable":false,"facetable":false},{"storeDisplay":false,"values":[{"sequence":"0","value":"20","uniqueID":"7741124012286200646","unitOfMeasure":"","unitID":"","identifier":"20"}],"sequence":"10000","name":"BRIDGE","usage":"Descriptive","uniqueID":"7741124012285060347","displayable":false,"comparable":true,"identifier":"BRIDGE","searchable":true,"facetable":false},{"storeDisplay":false,"values":[{"sequence":"0","value":"1679P150","uniqueID":"7741124012286208190","unitOfMeasure":"","unitID":"","identifier":"1679P150"}],"sequence":"10000","name":"GRID","usage":"Descriptive","uniqueID":"7741124012283591836","displayable":false,"comparable":true,"identifier":"GRID","searchable":false,"facetable":false},{"storeDisplay":false,"values":[{"sequence":"0","value":"5020","uniqueID":"7741124012286208058","unitOfMeasure":"","unitID":"","identifier":"5020"}],"sequence":"10000","name":"LENS_BRIDGE","usage":"Descriptive","uniqueID":"7741124012283379862","displayable":false,"comparable":true,"identifier":"LENS_BRIDGE","searchable":false,"facetable":false},{"storeDisplay":false,"values":[{"sequence":"0","value":"M","uniqueID":"7741124012287859786","unitOfMeasure":"","unitID":"","identifier":"M"}],"sequence":"10000","name":"\u30b5\u30a4\u30ba","usage":"Defining","uniqueID":"7741124012283379859","displayable":true,"comparable":true,"identifier":"MODEL_SIZE_DISPLAY","searchable":false,"facetable":false},{"storeDisplay":false,"values":[{"sequence":"0","value":"0ov5436s 50 1679p1","uniqueID":"7741124012287473118","unitOfMeasure":"","unitID":"","identifier":"0ov5436s 50 1679p1"}],"sequence":"10000","name":"SKU","usage":"Descriptive","uniqueID":"7741124012283391835","displayable":false,"comparable":true,"identifier":"SKU","searchable":false,"facetable":false}],"partNumber":"827934450547"},{"hasSingleSKU":false,"catalogEntryTypeCode":"ItemBean","parentCatalogGroupID":["3074457345616683318_3074457345616686168","3074457345616683368_3074457345616714169","3074457345616683368_3074457345616714172","3074457345616683368_3074457345616714176","3074457345616683368_3074457345616714183","3074457345616683368_3074457345616714184","3074457345616683368_3074457345616714192","3074457345616683368_3074457345616714205","3074457345616683368_3074457345616714207","3074457345616684418_3074457345616714169","3074457345616684418_3074457345616714172","3074457345616684418_3074457345616714176","3074457345616684418_3074457345616714183","3074457345616684418_3074457345616714184","3074457345616684418_3074457345616714192","3074457345616684418_3074457345616714205","3074457345616684418_3074457345616714207","3074457345616684918_3074457345616714169","3074457345616684918_3074457345616714172","3074457345616684918_3074457345616714176","3074457345616684918_3074457345616714183","3074457345616684918_3074457345616714184","3074457345616684918_3074457345616714192","3074457345616684918_3074457345616714205","3074457345616684918_3074457345616714207"],"uniqueID":"3074457345616793246","resourceId":"http:\/\/lrhsbrdilbp01.luxgroup.net:3737\/search\/resources\/store\/715840684\/productview\/byId\/3074457345616793246","price":[{"description":"L","value":"","usage":"Display","currency":"USD"},{"description":"O","value":"","usage":"Offer","currency":"USD"}],"thumbnail":"https:\/\/assets2.oliverpeoples.com\/cdn-record-files-pi\/b97601b3-de9e-44e6-aeb8-ab6700aecb73\/6bdc9860-70a4-4053-a453-ab6700c84179\/0OV5436S__1679P1_000A.png?impolicy=OV_OpPlp","mfPartNumber_ntk":"0OV5436S","manufacturer":"Oliver Peoples","name":"Cary Grant 2 Sun","buyable":"true","storeID":"715838934","attributes":[{"storeDisplay":false,"values":[{"sequence":"1","value":"0OV5436S--1679P1","uniqueID":"7741124012287136343","unitOfMeasure":"","unitID":"","identifier":"0OV5436S--1679P1"}],"sequence":"1","name":"Moco","usage":"Descriptive","uniqueID":"7741124012283379884","displayable":false,"comparable":false,"identifier":"MOCO","searchable":false,"facetable":false},{"storeDisplay":false,"values":[{"sequence":"0","value":"0","uniqueID":"7741124012285120009","unitOfMeasure":"","unitID":"","identifier":"OV5436S 1679P1 52-20"}],"sequence":"10000","name":"DISPLAYSKU","usage":"Descriptive","uniqueID":"7741124012283379878","displayable":false,"comparable":true,"identifier":"DISPLAYSKU","searchable":false,"facetable":false},{"storeDisplay":false,"values":[{"sequence":"0","value":"46.1","uniqueID":"7741124012287416166","unitOfMeasure":"","unitID":"","identifier":"46.1"}],"sequence":"10000","name":"LENSHEIGHT","usage":"Descriptive","uniqueID":"7741124012283379885","displayable":false,"comparable":true,"identifier":"LENSHEIGHT","searchable":false,"facetable":false},{"storeDisplay":false,"values":[{"sequence":"1","value":"150","uniqueID":"7741124012283379039","unitOfMeasure":"","unitID":"","identifier":"150"}],"sequence":"10000","name":"TEMPLE_LENGTH","usage":"Descriptive","uniqueID":"7741124012283379863","displayable":false,"comparable":true,"identifier":"TEMPLE_LENGTH","searchable":false,"facetable":false},{"storeDisplay":false,"values":[{"sequence":"0","value":"0ov5436s 52 1679p1","uniqueID":"7741124012287473095","unitOfMeasure":"","unitID":"","identifier":"0ov5436s 52 1679p1"}],"sequence":"10000","name":"SKU","usage":"Descriptive","uniqueID":"7741124012283391835","displayable":false,"comparable":true,"identifier":"SKU","searchable":false,"facetable":false},{"storeDisplay":false,"values":[{"sequence":"0","value":"25","uniqueID":"7741124012286897752","unitOfMeasure":"","unitID":"","identifier":"25"}],"sequence":"10000","name":"SEG_HEIGHT","usage":"Descriptive","uniqueID":"7741124012283591335","displayable":false,"comparable":true,"identifier":"SEG_HEIGHT","searchable":false,"facetable":false},{"storeDisplay":false,"values":[{"sequence":"0","value":"0","uniqueID":"7741124012283378431","unitOfMeasure":"","unitID":"","identifier":"52"}],"sequence":"10000","name":"MODEL_SIZE","usage":"Descriptive","uniqueID":"7741124012283379858","displayable":false,"comparable":true,"identifier":"MODEL_SIZE","searchable":false,"facetable":false},{"storeDisplay":false,"values":[{"sequence":"0","value":"52","uniqueID":"7741124012287472388","unitOfMeasure":"","unitID":"","identifier":"52"}],"sequence":"10000","name":"LENS_WIDTH","usage":"Descriptive","uniqueID":"7741124012285060340","displayable":false,"comparable":false,"identifier":"LENS_WIDTH","searchable":true,"facetable":false},{"storeDisplay":false,"values":[{"sequence":"0","value":"1679P152","uniqueID":"7741124012286209169","unitOfMeasure":"","unitID":"","identifier":"1679P152"}],"sequence":"10000","name":"GRID","usage":"Descriptive","uniqueID":"7741124012283591836","displayable":false,"comparable":true,"identifier":"GRID","searchable":false,"facetable":false},{"storeDisplay":false,"values":[{"sequence":"0","value":"20","uniqueID":"7741124012286200646","unitOfMeasure":"","unitID":"","identifier":"20"}],"sequence":"10000","name":"BRIDGE","usage":"Descriptive","uniqueID":"7741124012285060347","displayable":false,"comparable":true,"identifier":"BRIDGE","searchable":true,"facetable":false},{"storeDisplay":false,"values":[{"sequence":"0","value":"5220","uniqueID":"7741124012286210125","unitOfMeasure":"","unitID":"","identifier":"5220"}],"sequence":"10000","name":"LENS_BRIDGE","usage":"Descriptive","uniqueID":"7741124012283379862","displayable":false,"comparable":true,"identifier":"LENS_BRIDGE","searchable":false,"facetable":false},{"storeDisplay":false,"values":[{"sequence":"0","value":"L","uniqueID":"7741124012287859789","unitOfMeasure":"","unitID":"","identifier":"L"}],"sequence":"10000","name":"\u30b5\u30a4\u30ba","usage":"Defining","uniqueID":"7741124012283379859","displayable":true,"comparable":true,"identifier":"MODEL_SIZE_DISPLAY","searchable":false,"facetable":false},{"storeDisplay":false,"values":[{"sequence":"0","value":"135","uniqueID":"7741124012286209177","unitOfMeasure":"","unitID":"","identifier":"135"}],"sequence":"10000","name":"HINGE_DISTANCE","usage":"Descriptive","uniqueID":"7741124012285060349","displayable":false,"comparable":true,"identifier":"HINGE_DISTANCE","searchable":true,"facetable":false}],"partNumber":"827934450530"}],"merchandisingAssociations":[{"hasSingleSKU":false,"catalogEntryTypeCode":"ProductBean","associationType":"REPLACEMENT","parentCatalogGroupID":["3074457345616683318_3074457345616686168","3074457345616683368_3074457345616714169","3074457345616683368_3074457345616714172","3074457345616683368_3074457345616714176","3074457345616683368_3074457345616714183","3074457345616683368_3074457345616714184","3074457345616683368_3074457345616714192","3074457345616683368_3074457345616714205","3074457345616683368_3074457345616714207","3074457345616684418_3074457345616714169","3074457345616684418_3074457345616714172","3074457345616684418_3074457345616714176","3074457345616684418_3074457345616714183","3074457345616684418_3074457345616714184","3074457345616684418_3074457345616714192","3074457345616684418_3074457345616714205","3074457345616684418_3074457345616714207","3074457345616684918_3074457345616714169","3074457345616684918_3074457345616714172","3074457345616684918_3074457345616714176","3074457345616684918_3074457345616714183","3074457345616684918_3074457345616714184","3074457345616684918_3074457345616714192","3074457345616684918_3074457345616714205","3074457345616684918_3074457345616714207"],"price_USD":"551.0","uniqueID":"3074457345616792719","sKUs":[{"hasSingleSKU":false,"catalogEntryTypeCode":"ItemBean","parentCatalogGroupID":["3074457345616683318_3074457345616686168","3074457345616683368_3074457345616714169","3074457345616683368_3074457345616714172","3074457345616683368_3074457345616714176","3074457345616683368_3074457345616714183","3074457345616683368_3074457345616714184","3074457345616683368_3074457345616714192","3074457345616683368_3074457345616714205","3074457345616683368_3074457345616714207","3074457345616684418_3074457345616714169","3074457345616684418_3074457345616714172","3074457345616684418_3074457345616714176","3074457345616684418_3074457345616714183","3074457345616684418_3074457345616714184","3074457345616684418_3074457345616714192","3074457345616684418_3074457345616714205","3074457345616684418_3074457345616714207","3074457345616684918_3074457345616714169","3074457345616684918_3074457345616714172","3074457345616684918_3074457345616714176","3074457345616684918_3074457345616714183","3074457345616684918_3074457345616714184","3074457345616684918_3074457345616714192","3074457345616684918_3074457345616714205","3074457345616684918_3074457345616714207"],"uniqueID":"3074457345616793241","resourceId":"http:\/\/lrhsbrdilbp01.luxgroup.net:3737\/search\/resources\/store\/715840684\/productview\/byId\/3074457345616793241","price":[{"description":"L","value":"","usage":"Display","currency":"USD"},{"description":"O","value":"","usage":"Offer","currency":"USD"}],"thumbnail":"https:\/\/assets2.oliverpeoples.com\/cdn-record-files-pi\/dffe141b-cdd9-457f-89c6-ab6700aec028\/c7896309-dd27-4339-bbd6-ab6700c7f13e\/0OV5436S__1670P2_000A.png?impolicy=OV_OpPlp","mfPartNumber_ntk":"0OV5436S","manufacturer":"Oliver Peoples","name":"Cary Grant 2 Sun","buyable":"true","storeID":"715838934","attributes":[{"storeDisplay":false,"values":[{"sequence":"1","value":"0OV5436S--1670P2","uniqueID":"7741124012287136091","unitOfMeasure":"","unitID":"","identifier":"0OV5436S--1670P2"}],"sequence":"1","name":"Moco","usage":"Descriptive","uniqueID":"7741124012283379884","displayable":false,"comparable":false,"identifier":"MOCO","searchable":false,"facetable":false},{"storeDisplay":false,"values":[{"sequence":"0","value":"0","uniqueID":"7741124012283378429","unitOfMeasure":"","unitID":"","identifier":"50"}],"sequence":"10000","name":"MODEL_SIZE","usage":"Descriptive","uniqueID":"7741124012283379858","displayable":false,"comparable":true,"identifier":"MODEL_SIZE","searchable":false,"facetable":false},{"storeDisplay":false,"values":[{"sequence":"0","value":"49.6","uniqueID":"7741124012286208143","unitOfMeasure":"","unitID":"","identifier":"49.6"}],"sequence":"10000","name":"LENS_WIDTH","usage":"Descriptive","uniqueID":"7741124012285060340","displayable":false,"comparable":false,"identifier":"LENS_WIDTH","searchable":true,"facetable":false},{"storeDisplay":false,"values":[{"sequence":"0","value":"0","uniqueID":"7741124012283382067","unitOfMeasure":"","unitID":"","identifier":"43.9"}],"sequence":"10000","name":"LENSHEIGHT","usage":"Descriptive","uniqueID":"7741124012283379885","displayable":false,"comparable":true,"identifier":"LENSHEIGHT","searchable":false,"facetable":false},{"storeDisplay":false,"values":[{"sequence":"0","value":"0ov5436s 50 1670p2","uniqueID":"7741124012287473153","unitOfMeasure":"","unitID":"","identifier":"0ov5436s 50 1670p2"}],"sequence":"10000","name":"SKU","usage":"Descriptive","uniqueID":"7741124012283391835","displayable":false,"comparable":true,"identifier":"SKU","searchable":false,"facetable":false},{"storeDisplay":false,"values":[{"sequence":"0","value":"131","uniqueID":"7741124012286407539","unitOfMeasure":"","unitID":"","identifier":"131"}],"sequence":"10000","name":"HINGE_DISTANCE","usage":"Descriptive","uniqueID":"7741124012285060349","displayable":false,"comparable":true,"identifier":"HINGE_DISTANCE","searchable":true,"facetable":false},{"storeDisplay":false,"values":[{"sequence":"0","value":"20","uniqueID":"7741124012286200646","unitOfMeasure":"","unitID":"","identifier":"20"}],"sequence":"10000","name":"BRIDGE","usage":"Descriptive","uniqueID":"7741124012285060347","displayable":false,"comparable":true,"identifier":"BRIDGE","searchable":true,"facetable":false},{"storeDisplay":false,"values":[{"sequence":"0","value":"5020","uniqueID":"7741124012286208058","unitOfMeasure":"","unitID":"","identifier":"5020"}],"sequence":"10000","name":"LENS_BRIDGE","usage":"Descriptive","uniqueID":"7741124012283379862","displayable":false,"comparable":true,"identifier":"LENS_BRIDGE","searchable":false,"facetable":false},{"storeDisplay":false,"values":[{"sequence":"1","value":"23","uniqueID":"7741124012283758089","unitOfMeasure":"","unitID":"","identifier":"23"}],"sequence":"10000","name":"SEG_HEIGHT","usage":"Descriptive","uniqueID":"7741124012283591335","displayable":false,"comparable":true,"identifier":"SEG_HEIGHT","searchable":false,"facetable":false},{"storeDisplay":false,"values":[{"sequence":"0","value":"M","uniqueID":"7741124012287859786","unitOfMeasure":"","unitID":"","identifier":"M"}],"sequence":"10000","name":"\u30b5\u30a4\u30ba","usage":"Defining","uniqueID":"7741124012283379859","displayable":true,"comparable":true,"identifier":"MODEL_SIZE_DISPLAY","searchable":false,"facetable":false},{"storeDisplay":false,"values":[{"sequence":"0","value":"0","uniqueID":"7741124012285120007","unitOfMeasure":"","unitID":"","identifier":"OV5436S 1670P2 50-20"}],"sequence":"10000","name":"DISPLAYSKU","usage":"Descriptive","uniqueID":"7741124012283379878","displayable":false,"comparable":true,"identifier":"DISPLAYSKU","searchable":false,"facetable":false},{"storeDisplay":false,"values":[{"sequence":"1","value":"145","uniqueID":"7741124012283379037","unitOfMeasure":"","unitID":"","identifier":"145"}],"sequence":"10000","name":"TEMPLE_LENGTH","usage":"Descriptive","uniqueID":"7741124012283379863","displayable":false,"comparable":true,"identifier":"TEMPLE_LENGTH","searchable":false,"facetable":false},{"storeDisplay":false,"values":[{"sequence":"0","value":"1670P250","uniqueID":"7741124012286208167","unitOfMeasure":"","unitID":"","identifier":"1670P250"}],"sequence":"10000","name":"GRID","usage":"Descriptive","uniqueID":"7741124012283591836","displayable":false,"comparable":true,"identifier":"GRID","searchable":false,"facetable":false}],"partNumber":"827934450585"},{"hasSingleSKU":false,"catalogEntryTypeCode":"ItemBean","parentCatalogGroupID":["3074457345616683318_3074457345616686168","3074457345616683368_3074457345616714169","3074457345616683368_3074457345616714172","3074457345616683368_3074457345616714176","3074457345616683368_3074457345616714183","3074457345616683368_3074457345616714184","3074457345616683368_3074457345616714192","3074457345616683368_3074457345616714205","3074457345616683368_3074457345616714207","3074457345616684418_3074457345616714169","3074457345616684418_3074457345616714172","3074457345616684418_3074457345616714176","3074457345616684418_3074457345616714183","3074457345616684418_3074457345616714184","3074457345616684418_3074457345616714192","3074457345616684418_3074457345616714205","3074457345616684418_3074457345616714207","3074457345616684918_3074457345616714169","3074457345616684918_3074457345616714172","3074457345616684918_3074457345616714176","3074457345616684918_3074457345616714183","3074457345616684918_3074457345616714184","3074457345616684918_3074457345616714192","3074457345616684918_3074457345616714205","3074457345616684918_3074457345616714207"],"uniqueID":"3074457345616793242","resourceId":"http:\/\/lrhsbrdilbp01.luxgroup.net:3737\/search\/resources\/store\/715840684\/productview\/byId\/3074457345616793242","price":[{"description":"L","value":"","usage":"Display","currency":"USD"},{"description":"O","value":"","usage":"Offer","currency":"USD"}],"thumbnail":"https:\/\/assets2.oliverpeoples.com\/cdn-record-files-pi\/dffe141b-cdd9-457f-89c6-ab6700aec028\/c7896309-dd27-4339-bbd6-ab6700c7f13e\/0OV5436S__1670P2_000A.png?impolicy=OV_OpPlp","mfPartNumber_ntk":"0OV5436S","manufacturer":"Oliver Peoples","name":"Cary Grant 2 Sun","buyable":"true","storeID":"715838934","attributes":[{"storeDisplay":false,"values":[{"sequence":"1","value":"0OV5436S--1670P2","uniqueID":"7741124012287136091","unitOfMeasure":"","unitID":"","identifier":"0OV5436S--1670P2"}],"sequence":"1","name":"Moco","usage":"Descriptive","uniqueID":"7741124012283379884","displayable":false,"comparable":false,"identifier":"MOCO","searchable":false,"facetable":false},{"storeDisplay":false,"values":[{"sequence":"0","value":"0","uniqueID":"7741124012285120040","unitOfMeasure":"","unitID":"","identifier":"OV5436S 1670P2 52-20"}],"sequence":"10000","name":"DISPLAYSKU","usage":"Descriptive","uniqueID":"7741124012283379878","displayable":false,"comparable":true,"identifier":"DISPLAYSKU","searchable":false,"facetable":false},{"storeDisplay":false,"values":[{"sequence":"0","value":"135","uniqueID":"7741124012286209177","unitOfMeasure":"","unitID":"","identifier":"135"}],"sequence":"10000","name":"HINGE_DISTANCE","usage":"Descriptive","uniqueID":"7741124012285060349","displayable":false,"comparable":true,"identifier":"HINGE_DISTANCE","searchable":true,"facetable":false},{"storeDisplay":false,"values":[{"sequence":"0","value":"46.1","uniqueID":"7741124012287416166","unitOfMeasure":"","unitID":"","identifier":"46.1"}],"sequence":"10000","name":"LENSHEIGHT","usage":"Descriptive","uniqueID":"7741124012283379885","displayable":false,"comparable":true,"identifier":"LENSHEIGHT","searchable":false,"facetable":false},{"storeDisplay":false,"values":[{"sequence":"0","value":"0","uniqueID":"7741124012283378431","unitOfMeasure":"","unitID":"","identifier":"52"}],"sequence":"10000","name":"MODEL_SIZE","usage":"Descriptive","uniqueID":"7741124012283379858","displayable":false,"comparable":true,"identifier":"MODEL_SIZE","searchable":false,"facetable":false},{"storeDisplay":false,"values":[{"sequence":"0","value":"25","uniqueID":"7741124012286897752","unitOfMeasure":"","unitID":"","identifier":"25"}],"sequence":"10000","name":"SEG_HEIGHT","usage":"Descriptive","uniqueID":"7741124012283591335","displayable":false,"comparable":true,"identifier":"SEG_HEIGHT","searchable":false,"facetable":false},{"storeDisplay":false,"values":[{"sequence":"1","value":"150","uniqueID":"7741124012283379039","unitOfMeasure":"","unitID":"","identifier":"150"}],"sequence":"10000","name":"TEMPLE_LENGTH","usage":"Descriptive","uniqueID":"7741124012283379863","displayable":false,"comparable":true,"identifier":"TEMPLE_LENGTH","searchable":false,"facetable":false},{"storeDisplay":false,"values":[{"sequence":"0","value":"52","uniqueID":"7741124012287472388","unitOfMeasure":"","unitID":"","identifier":"52"}],"sequence":"10000","name":"LENS_WIDTH","usage":"Descriptive","uniqueID":"7741124012285060340","displayable":false,"comparable":false,"identifier":"LENS_WIDTH","searchable":true,"facetable":false},{"storeDisplay":false,"values":[{"sequence":"0","value":"20","uniqueID":"7741124012286200646","unitOfMeasure":"","unitID":"","identifier":"20"}],"sequence":"10000","name":"BRIDGE","usage":"Descriptive","uniqueID":"7741124012285060347","displayable":false,"comparable":true,"identifier":"BRIDGE","searchable":true,"facetable":false},{"storeDisplay":false,"values":[{"sequence":"0","value":"1670P252","uniqueID":"7741124012286209202","unitOfMeasure":"","unitID":"","identifier":"1670P252"}],"sequence":"10000","name":"GRID","usage":"Descriptive","uniqueID":"7741124012283591836","displayable":false,"comparable":true,"identifier":"GRID","searchable":false,"facetable":false},{"storeDisplay":false,"values":[{"sequence":"0","value":"5220","uniqueID":"7741124012286210125","unitOfMeasure":"","unitID":"","identifier":"5220"}],"sequence":"10000","name":"LENS_BRIDGE","usage":"Descriptive","uniqueID":"7741124012283379862","displayable":false,"comparable":true,"identifier":"LENS_BRIDGE","searchable":false,"facetable":false},{"storeDisplay":false,"values":[{"sequence":"0","value":"L","uniqueID":"7741124012287859789","unitOfMeasure":"","unitID":"","identifier":"L"}],"sequence":"10000","name":"\u30b5\u30a4\u30ba","usage":"Defining","uniqueID":"7741124012283379859","displayable":true,"comparable":true,"identifier":"MODEL_SIZE_DISPLAY","searchable":false,"facetable":false},{"storeDisplay":false,"values":[{"sequence":"0","value":"0ov5436s 52 1670p2","uniqueID":"7741124012287473140","unitOfMeasure":"","unitID":"","identifier":"0ov5436s 52 1670p2"}],"sequence":"10000","name":"SKU","usage":"Descriptive","uniqueID":"7741124012283391835","displayable":false,"comparable":true,"identifier":"SKU","searchable":false,"facetable":false}],"partNumber":"827934450578"}],"resourceId":"http:\/\/lrhsbrdilbp01.luxgroup.net:3737\/search\/resources\/store\/715840684\/productview\/byId\/3074457345616792719","price":[{"description":"L","value":"551.0","usage":"Display","currency":"USD"},{"description":"O","value":"","usage":"Offer","currency":"USD"}],"thumbnail":"https:\/\/assets2.oliverpeoples.com\/cdn-record-files-pi\/dffe141b-cdd9-457f-89c6-ab6700aec028\/c7896309-dd27-4339-bbd6-ab6700c7f13e\/0OV5436S__1670P2_000A.png?impolicy=OV_OpPlp","shortDescription":"OV5436S","manufacturer":"Oliver Peoples","name":"Cary Grant 2 Sun","buyable":"true","quantity":1,"attributes":[{"storeDisplay":false,"values":[{"sequence":"0","value":"OV5436S","uniqueID":"7741124012285120183","unitOfMeasure":"","unitID":"","identifier":"OV5436S"}],"sequence":"0","name":"\u30e2\u30c7\u30eb\u30b3\u30fc\u30c9","associatedKeyword":"-","usage":"Descriptive","uniqueID":"7741124012283379873","displayable":true,"comparable":true,"identifier":"MODEL_CODE_DISPLAY","searchable":false,"facetable":false},{"storeDisplay":false,"values":[{"sequence":"0","value":"Deep Blue","uniqueID":"7741124012283944622","unitOfMeasure":"","unitID":"","identifier":"Deep Blue"}],"sequence":"1","name":"\u30d5\u30ed\u30f3\u30c8\u30ab\u30e9\u30fc","associatedKeyword":"-","usage":"Descriptive","uniqueID":"7741124012283379839","displayable":true,"comparable":true,"identifier":"FRONT_COLOR","searchable":false,"facetable":false},{"storeDisplay":false,"values":[{"sequence":"0","value":"Graphite Polar","uniqueID":"7741124012283944661","unitOfMeasure":"","unitID":"","identifier":"Graphite Polar"}],"sequence":"2","name":"\u30ec\u30f3\u30ba\u30ab\u30e9\u30fc","associatedKeyword":"-","usage":"Descriptive","uniqueID":"7741124012283379846","displayable":true,"comparable":true,"identifier":"LENS_COLOR","searchable":false,"facetable":false},{"storeDisplay":false,"values":[{"sequence":"0","value":"\u5b9a\u756a","uniqueID":"7741124012283379043","unitOfMeasure":"","unitID":"","identifier":"Classic"}],"sequence":"3","name":"LENS_TREATMENT","associatedKeyword":"-","usage":"Descriptive","uniqueID":"7741124012283379864","displayable":false,"comparable":true,"identifier":"LENS_TREATMENT","searchable":false,"facetable":false},{"storeDisplay":false,"values":[{"sequence":"0","value":"\u30af\u30ea\u30b9\u30bf\u30eb","uniqueID":"7741124012286177448","unitOfMeasure":"","unitID":"","identifier":"Crystal"}],"sequence":"5","name":"\u30ec\u30f3\u30ba\u7d20\u6750","associatedKeyword":"-","usage":"Descriptive","uniqueID":"7741124012285060339","displayable":false,"comparable":false,"identifier":"LENS_MATERIAL","searchable":true,"facetable":false},{"storeDisplay":false,"values":[{"sequence":"0","value":"\u30a2\u30bb\u30c6\u30fc\u30c8","uniqueID":"7741124012283377366","unitOfMeasure":"","unitID":"","identifier":"Acetate"}],"sequence":"6","name":"\u30d5\u30ec\u30fc\u30e0\u7d20\u6750","associatedKeyword":"-","usage":"Descriptive","uniqueID":"7741124012283379837","displayable":true,"comparable":true,"identifier":"FRAMEMATERIAL","searchable":false,"facetable":false},{"storeDisplay":false,"values":[{"sequence":"1","value":"1","uniqueID":"7741124012284932835","unitOfMeasure":"","unitID":"","identifier":"1"}],"sequence":"8","name":"PLACEHOLDER_SIZE","associatedKeyword":"-","usage":"Descriptive","uniqueID":"7741124012284296836","displayable":true,"comparable":false,"identifier":"PLACEHOLDER_SIZE","searchable":false,"facetable":false},{"storeDisplay":false,"values":[{"sequence":"0","value":"\u30ec\u30ae\u30e5\u30e9\u30fc","uniqueID":"7741124012286177339","unitOfMeasure":"","unitID":"","identifier":"Regular"}],"sequence":"10","name":"\u30d5\u30a3\u30c3\u30c8","associatedKeyword":"-","usage":"Descriptive","uniqueID":"7741124012285060351","displayable":true,"comparable":true,"identifier":"FRAME_FIT","searchable":true,"facetable":true},{"storeDisplay":false,"values":[{"sequence":"0","value":"\u30cf\u30a4\u30d6\u30ea\u30c3\u30b8\u30d5\u30a3\u30c3\u30c8","uniqueID":"7741124012287859725","unitOfMeasure":"","unitID":"","identifier":"High Bridge Fit"}],"sequence":"11","name":"\u30d6\u30ea\u30c3\u30b8\u306e\u7a2e\u985e\uff06\u30ce\u30fc\u30ba\u30d1\u30c3\u30c9","associatedKeyword":"-","usage":"Descriptive","uniqueID":"7741124012283379869","displayable":true,"comparable":true,"identifier":"GEO_FIT","searchable":true,"facetable":true},{"storeDisplay":false,"values":[{"sequence":"1","value":"False","uniqueID":"7741124012284934128","unitOfMeasure":"","unitID":"","identifier":"False"}],"sequence":"10000","name":"ENGRAVINGELIGIBLE","associatedKeyword":"-","usage":"Descriptive","uniqueID":"7741124012284296835","displayable":false,"comparable":true,"identifier":"ENGRAVINGELIGIBLE","searchable":false,"facetable":false},{"storeDisplay":false,"values":[{"sequence":"0","value":"0","uniqueID":"7741124012285168336","unitOfMeasure":"","unitID":"","identifier":"Plaque-3;logo-3;nosepads-1"}],"sequence":"10000","name":"FEATURES","associatedKeyword":"-","usage":"Descriptive","uniqueID":"7741124012283379879","displayable":false,"comparable":false,"identifier":"FEATURES","searchable":false,"facetable":false},{"storeDisplay":false,"values":[{"sequence":"0","value":"True","uniqueID":"7741124012287884290","unitOfMeasure":"","unitID":"","identifier":"True"}],"sequence":"10000","name":"CLICK_AND_COLLECT","associatedKeyword":"-","usage":"Descriptive","uniqueID":"7741124012285260835","displayable":false,"comparable":false,"identifier":"CLICK_AND_COLLECT","searchable":false,"facetable":false},{"storeDisplay":false,"values":[{"sequence":"0","value":"True","uniqueID":"7741124012287886329","unitOfMeasure":"","unitID":"","identifier":"True"}],"sequence":"10000","name":"REAL_TIME_INVENTORY","associatedKeyword":"-","usage":"Descriptive","uniqueID":"7741124012285260836","displayable":false,"comparable":false,"identifier":"REAL_TIME_INVENTORY","searchable":false,"facetable":false},{"storeDisplay":false,"values":[{"sequence":"0","value":"True","uniqueID":"7741124012287875997","unitOfMeasure":"","unitID":"","identifier":"True"}],"sequence":"10000","name":"SHIP_FROM_STORE","associatedKeyword":"-","usage":"Descriptive","uniqueID":"7741124012285260837","displayable":false,"comparable":false,"identifier":"SHIP_FROM_STORE","searchable":false,"facetable":false},{"storeDisplay":false,"values":[{"sequence":"0","value":"True","uniqueID":"7741124012287887125","unitOfMeasure":"","unitID":"","identifier":"True"}],"sequence":"10000","name":"SHIP_TO_STORE","associatedKeyword":"-","usage":"Descriptive","uniqueID":"7741124012285260838","displayable":false,"comparable":false,"identifier":"SHIP_TO_STORE","searchable":false,"facetable":false},{"storeDisplay":false,"values":[{"sequence":"549","value":"False","uniqueID":"7741124012283377364","unitOfMeasure":"","unitID":"","identifier":"False"}],"sequence":"10000","name":"\u9650\u5b9a","associatedKeyword":"-","usage":"Descriptive","uniqueID":"7741124012283379836","displayable":false,"comparable":true,"identifier":"EXCLUSIVE","searchable":true,"facetable":true},{"storeDisplay":false,"values":[{"sequence":"0","value":"False\uff08\u507d\uff09","uniqueID":"7741124012286389837","unitOfMeasure":"","unitID":"","identifier":"FALSE"}],"sequence":"10000","name":"\u8abf\u5149","associatedKeyword":"-","usage":"Descriptive","uniqueID":"7741124012285148835","displayable":false,"comparable":true,"identifier":"PHOTOCHROMIC","searchable":true,"facetable":true},{"storeDisplay":false,"values":[{"sequence":"4","value":"M","uniqueID":"7741124012287791996","unitOfMeasure":"","unitID":"","identifier":"M"},{"sequence":"5","value":"L","uniqueID":"7741124012287791999","unitOfMeasure":"","unitID":"","identifier":"L"}],"sequence":"10000","name":"\u30b5\u30a4\u30ba","associatedKeyword":"-","usage":"Descriptive","uniqueID":"7741124012285273337","displayable":false,"comparable":true,"identifier":"MODEL_SIZE_DISPLAY_PLP","searchable":true,"facetable":true},{"storeDisplay":false,"values":[{"sequence":"0","value":"False\uff08\u507d\uff09","uniqueID":"7741124012287388847","unitOfMeasure":"","unitID":"","identifier":"FALSE"}],"sequence":"10000","name":"FLEX","associatedKeyword":"-","usage":"Descriptive","uniqueID":"7741124012283379877","displayable":false,"comparable":true,"identifier":"FLEX","searchable":false,"facetable":false},{"storeDisplay":false,"values":[{"sequence":"0","value":"Zpfn","uniqueID":"7741124012286177452","unitOfMeasure":"","unitID":"","identifier":"ZPFN"}],"sequence":"10000","name":"MATERIALTYPE","associatedKeyword":"-","usage":"Descriptive","uniqueID":"7741124012283379872","displayable":false,"comparable":true,"identifier":"MATERIALTYPE","searchable":false,"facetable":false},{"storeDisplay":false,"values":[{"sequence":"0","value":"Classic","uniqueID":"7741124012288148974","unitOfMeasure":"","unitID":"","identifier":"Classic"}],"sequence":"10000","name":"PROGRESSIVE_FRIENDLY","associatedKeyword":"-","usage":"Descriptive","uniqueID":"7741124012285300835","displayable":false,"comparable":true,"identifier":"PROGRESSIVE_FRIENDLY","searchable":true,"facetable":false},{"storeDisplay":false,"values":[{"sequence":"0","value":"False","uniqueID":"7741124012286878836","unitOfMeasure":"","unitID":"","identifier":"FALSE"}],"sequence":"10000","name":"FOLDABLE","associatedKeyword":"-","usage":"Descriptive","uniqueID":"7741124012283379866","displayable":false,"comparable":true,"identifier":"FOLDABLE","searchable":false,"facetable":false},{"storeDisplay":false,"values":[],"sequence":"10000","name":"IS_ASIAN","associatedKeyword":"-","usage":"Defining","uniqueID":"7741124012285274335","displayable":false,"comparable":true,"identifier":"IS_ASIAN","searchable":true,"facetable":true},{"storeDisplay":false,"values":[{"sequence":"0","value":"\u30d5\u30eb\u30ea\u30e0","uniqueID":"7741124012283379070","unitOfMeasure":"","unitID":"","identifier":"Full Rim"}],"sequence":"10000","name":"\u30d5\u30ec\u30fc\u30e0\u7a2e\u985e","associatedKeyword":"-","usage":"Descriptive","uniqueID":"7741124012283379870","displayable":false,"comparable":true,"identifier":"FRAMETYPE","searchable":true,"facetable":true},{"storeDisplay":false,"values":[{"sequence":"0","value":"\u30d4\u30ed\u30fc","uniqueID":"7741124012283379059","unitOfMeasure":"","unitID":"","identifier":"Pillow"}],"sequence":"10000","name":"\u30d5\u30ec\u30fc\u30e0\u5f62","associatedKeyword":"-","usage":"Descriptive","uniqueID":"7741124012283379867","displayable":false,"comparable":true,"identifier":"FRAME_SHAPE","searchable":false,"facetable":false},{"storeDisplay":false,"values":[{"sequence":"0","value":"\u30b9\u30af\u30a8\u30a2","uniqueID":"7741124012283379062","unitOfMeasure":"","unitID":"","identifier":"Square"}],"sequence":"10000","name":"\u30d5\u30ec\u30fc\u30e0\u5f62","associatedKeyword":"-","usage":"Descriptive","uniqueID":"7741124012283379868","displayable":false,"comparable":true,"identifier":"FRAME_SHAPE_FACET","searchable":true,"facetable":true},{"storeDisplay":false,"values":[{"sequence":"0","value":"Sunglasses","uniqueID":"7741124012287487327","unitOfMeasure":"","unitID":"","identifier":"Sunglasses"}],"sequence":"10000","name":"PROD_HIERARCHY_1","associatedKeyword":"-","usage":"Descriptive","uniqueID":"7741124012285060344","displayable":false,"comparable":false,"identifier":"PROD_HIERARCHY_1","searchable":true,"facetable":false},{"storeDisplay":false,"values":[{"sequence":"0","value":"67","uniqueID":"7741124012287479669","unitOfMeasure":"","unitID":"","identifier":"67"}],"sequence":"10000","name":"WIDTH","associatedKeyword":"-","usage":"Descriptive","uniqueID":"7741124012285060338","displayable":false,"comparable":false,"identifier":"WIDTH","searchable":true,"facetable":false},{"storeDisplay":false,"values":[{"sequence":"1","value":"Collaboration","uniqueID":"7741124012283379073","unitOfMeasure":"","unitID":"","identifier":"Collaboration"}],"sequence":"10000","name":"RANGE","associatedKeyword":"-","usage":"Descriptive","uniqueID":"7741124012283379871","displayable":false,"comparable":true,"identifier":"RANGE","searchable":true,"facetable":true},{"storeDisplay":false,"values":[{"sequence":"0","value":"314","uniqueID":"7741124012287867268","unitOfMeasure":"","unitID":"","identifier":"314"}],"sequence":"10000","name":"GROSSWEIGHT","associatedKeyword":"-","usage":"Descriptive","uniqueID":"7741124012283379861","displayable":false,"comparable":true,"identifier":"GROSSWEIGHT","searchable":false,"facetable":false},{"storeDisplay":false,"values":[{"sequence":"2","value":"Sun","uniqueID":"7741124012283379213","unitOfMeasure":"","unitID":"","identifier":"Sun"}],"sequence":"10000","name":"PRODUCTTYPE","associatedKeyword":"-","usage":"Descriptive","uniqueID":"7741124012283379876","displayable":false,"comparable":true,"identifier":"PRODUCTTYPE","searchable":true,"facetable":true},{"storeDisplay":false,"values":[{"sequence":"0","value":"Eyewear","uniqueID":"7741124012287777028","unitOfMeasure":"","unitID":"","identifier":"Eyewear"}],"sequence":"10000","name":"PROD_HIERARCHY_0","associatedKeyword":"-","usage":"Descriptive","uniqueID":"7741124012285060343","displayable":false,"comparable":false,"identifier":"PROD_HIERARCHY_0","searchable":true,"facetable":false},{"storeDisplay":false,"values":[{"sequence":"0","value":"52","uniqueID":"7741124012287860695","unitOfMeasure":"","unitID":"","identifier":"52"}],"sequence":"10000","name":"MOST_SOLD_SIZE","associatedKeyword":"-","usage":"Descriptive","uniqueID":"7741124012285274336","displayable":false,"comparable":true,"identifier":"MOST_SOLD_SIZE","searchable":false,"facetable":false},{"storeDisplay":false,"values":[{"sequence":"0","value":"L","uniqueID":"7741124012287859789","unitOfMeasure":"","unitID":"","identifier":"L"},{"sequence":"0","value":"M","uniqueID":"7741124012287859786","unitOfMeasure":"","unitID":"","identifier":"M"}],"sequence":"10000","name":"\u30b5\u30a4\u30ba","associatedKeyword":"-","usage":"Defining","uniqueID":"7741124012283379859","displayable":true,"comparable":true,"identifier":"MODEL_SIZE_DISPLAY","searchable":false,"facetable":false},{"storeDisplay":false,"values":[{"sequence":"0","value":"3P","uniqueID":"7741124012283381081","unitOfMeasure":"","unitID":"","identifier":"3P"}],"sequence":"10000","name":"NOTAINFORMATIVA","associatedKeyword":"-","usage":"Descriptive","uniqueID":"7741124012283379850","displayable":false,"comparable":true,"identifier":"NOTAINFORMATIVA","searchable":false,"facetable":false},{"storeDisplay":false,"values":[{"sequence":"0","value":"\u771f\u5b9f","uniqueID":"7741124012288148975","unitOfMeasure":"","unitID":"","identifier":"True"}],"sequence":"10000","name":"DRIVING_ASNZS","associatedKeyword":"-","usage":"Descriptive","uniqueID":"7741124012285300847","displayable":false,"comparable":true,"identifier":"DRIVING_ASNZS","searchable":true,"facetable":false},{"storeDisplay":false,"values":[{"sequence":"0","value":"202002","uniqueID":"7741124012285094411","unitOfMeasure":"","unitID":"","identifier":"202002"}],"sequence":"10000","name":"COLLECTION","associatedKeyword":"-","usage":"Descriptive","uniqueID":"7741124012283379835","displayable":false,"comparable":true,"identifier":"COLLECTION","searchable":true,"facetable":false},{"storeDisplay":false,"values":[{"sequence":"0","value":"0","uniqueID":"7741124012288249361","unitOfMeasure":"","unitID":"","identifier":"True"}],"sequence":"10000","name":"\u30dd\u30e9\u30e9\u30a4\u30ba\u30c9","associatedKeyword":"-","usage":"Descriptive","uniqueID":"7741124012283379852","displayable":false,"comparable":true,"identifier":"POLARIZED","searchable":true,"facetable":true},{"storeDisplay":false,"values":[{"sequence":"0","value":"\u30dd\u30ea\u30c3\u30b7\u30e5","uniqueID":"7741124012286177346","unitOfMeasure":"","unitID":"","identifier":"Polished"}],"sequence":"10000","name":"FINISHING","associatedKeyword":"-","usage":"Descriptive","uniqueID":"7741124012285060335","displayable":false,"comparable":true,"identifier":"FINISHING","searchable":true,"facetable":false},{"storeDisplay":false,"values":[{"sequence":"0","value":"\u30a2\u30bb\u30c6\u30fc\u30c8","uniqueID":"7741124012287412811","unitOfMeasure":"","unitID":"","identifier":"Acetate"}],"sequence":"10000","name":"FRAME_MATERIAL_PERCEIVED","associatedKeyword":"-","usage":"Descriptive","uniqueID":"7741124012285060336","displayable":false,"comparable":true,"identifier":"FRAME_MATERIAL_PERCEIVED","searchable":true,"facetable":false},{"storeDisplay":false,"values":[{"sequence":"0","value":"\u7537\u6027","uniqueID":"7741124012288319560","unitOfMeasure":"","unitID":"","identifier":"MALE"}],"sequence":"10000","name":"\u6027\u5225","associatedKeyword":"-","usage":"Descriptive","uniqueID":"7741124012283379843","displayable":false,"comparable":true,"identifier":"GENDER","searchable":true,"facetable":true},{"storeDisplay":false,"values":[{"sequence":"0","value":"\u30b0\u30ec\u30fc","uniqueID":"7741124012286177439","unitOfMeasure":"","unitID":"","identifier":"Grey"}],"sequence":"10000","name":"LENSCOLOR_FAMILY","associatedKeyword":"-","usage":"Descriptive","uniqueID":"7741124012283591844","displayable":false,"comparable":true,"identifier":"LENSCOLOR_FAMILY","searchable":false,"facetable":false},{"storeDisplay":false,"values":[{"sequence":"0","value":"False","uniqueID":"7741124012286328838","unitOfMeasure":"","unitID":"","identifier":"FALSE"}],"sequence":"10000","name":"NEWRELEASES","associatedKeyword":"-","usage":"Descriptive","uniqueID":"7741124012283379849","displayable":false,"comparable":true,"identifier":"NEWRELEASES","searchable":true,"facetable":true},{"storeDisplay":false,"values":[{"sequence":"0","value":"Collaboration","uniqueID":"7741124012286177336","unitOfMeasure":"","unitID":"","identifier":"Collaboration"}],"sequence":"10000","name":"COLLECTION_TYPE","associatedKeyword":"-","usage":"Descriptive","uniqueID":"7741124012285060353","displayable":false,"comparable":false,"identifier":"COLLECTION_TYPE","searchable":true,"facetable":false},{"storeDisplay":false,"values":[{"sequence":"0","value":"\u30d6\u30eb\u30fc","uniqueID":"7741124012283821349","unitOfMeasure":"","unitID":"","identifier":"Blue"}],"sequence":"10000","name":"TEMPLE_INNER_COLOR","associatedKeyword":"-","usage":"Descriptive","uniqueID":"7741124012283379856","displayable":false,"comparable":true,"identifier":"TEMPLE_INNER_COLOR","searchable":false,"facetable":false},{"storeDisplay":false,"values":[{"sequence":"0","value":"\u30c7\u30a3\u30fc\u30d7\u30d6\u30eb\u30fc","uniqueID":"7741124012283944698","unitOfMeasure":"","unitID":"","identifier":"Deep Blue"}],"sequence":"10000","name":"TEMPLE_COLOR","associatedKeyword":"-","usage":"Descriptive","uniqueID":"7741124012283379854","displayable":false,"comparable":true,"identifier":"TEMPLE_COLOR","searchable":false,"facetable":false},{"storeDisplay":false,"values":[{"sequence":"0","value":"\u30d6\u30eb\u30fc","uniqueID":"7741124012284273188","unitOfMeasure":"","unitID":"","identifier":"Blue"}],"sequence":"10000","name":"FRONT_INNER_COLOR","associatedKeyword":"-","usage":"Descriptive","uniqueID":"7741124012283379841","displayable":false,"comparable":true,"identifier":"FRONT_INNER_COLOR","searchable":false,"facetable":false},{"storeDisplay":false,"values":[{"sequence":"0","value":"Low","uniqueID":"7741124012287859741","unitOfMeasure":"","unitID":"","identifier":"Low"}],"sequence":"10000","name":"ML_FRAME_BRIDGE_POSITION","associatedKeyword":"-","usage":"Descriptive","uniqueID":"7741124012285274345","displayable":false,"comparable":true,"identifier":"ML_FRAME_BRIDGE_POSITION","searchable":true,"facetable":false},{"storeDisplay":false,"values":[{"sequence":"0","value":"Sunglass","uniqueID":"7741124012287859735","unitOfMeasure":"","unitID":"","identifier":"Sunglass"}],"sequence":"10000","name":"ML_PRODUCT_TYPE","associatedKeyword":"-","usage":"Descriptive","uniqueID":"7741124012285274347","displayable":false,"comparable":true,"identifier":"ML_PRODUCT_TYPE","searchable":true,"facetable":false},{"storeDisplay":false,"values":[{"sequence":"0","value":"\u30aa\u30fc\u30d0\u30eb","uniqueID":"7741124012287859742","unitOfMeasure":"","unitID":"","identifier":"Oval"}],"sequence":"10000","name":"ML_FRAME_SHAPE","associatedKeyword":"-","usage":"Descriptive","uniqueID":"7741124012285274343","displayable":false,"comparable":true,"identifier":"ML_FRAME_SHAPE","searchable":true,"facetable":false},{"storeDisplay":false,"values":[{"sequence":"0","value":"Gun_metals","uniqueID":"7741124012287859740","unitOfMeasure":"","unitID":"","identifier":"Gun_metals"}],"sequence":"10000","name":"ML_FRAME_COLOR","associatedKeyword":"-","usage":"Descriptive","uniqueID":"7741124012285274346","displayable":false,"comparable":true,"identifier":"ML_FRAME_COLOR","searchable":true,"facetable":false},{"storeDisplay":false,"values":[{"sequence":"0","value":"\u30e1\u30bf\u30eb","uniqueID":"7741124012287859734","unitOfMeasure":"","unitID":"","identifier":"Metal"}],"sequence":"10000","name":"ML_FRAME_FRONT_MATERIAL","associatedKeyword":"-","usage":"Descriptive","uniqueID":"7741124012285274348","displayable":false,"comparable":true,"identifier":"ML_FRAME_FRONT_MATERIAL","searchable":true,"facetable":false},{"storeDisplay":false,"values":[{"sequence":"0","value":"Thin","uniqueID":"7741124012287859729","unitOfMeasure":"","unitID":"","identifier":"Thin"}],"sequence":"10000","name":"ML_FRAME_TEMPLE_THICKNESS","associatedKeyword":"-","usage":"Descriptive","uniqueID":"7741124012285274339","displayable":false,"comparable":true,"identifier":"ML_FRAME_TEMPLE_THICKNESS","searchable":true,"facetable":false},{"storeDisplay":false,"values":[{"sequence":"0","value":"\u30ea\u30e0\u30ec\u30b9","uniqueID":"7741124012287859763","unitOfMeasure":"","unitID":"","identifier":"Rimless"}],"sequence":"10000","name":"ML_FRAME_RIM","associatedKeyword":"-","usage":"Descriptive","uniqueID":"7741124012285274342","displayable":false,"comparable":true,"identifier":"ML_FRAME_RIM","searchable":true,"facetable":false},{"storeDisplay":false,"values":[{"sequence":"0","value":"Winter","uniqueID":"7741124012287859732","unitOfMeasure":"","unitID":"","identifier":"Winter"}],"sequence":"10000","name":"ML_FRAME_COLOR_PALETTE","associatedKeyword":"-","usage":"Descriptive","uniqueID":"7741124012285274337","displayable":false,"comparable":true,"identifier":"ML_FRAME_COLOR_PALETTE","searchable":true,"facetable":false},{"storeDisplay":false,"values":[{"sequence":"0","value":"High","uniqueID":"7741124012287859736","unitOfMeasure":"","unitID":"","identifier":"High"}],"sequence":"10000","name":"ML_FRAME_TEMPLE_FITTING","associatedKeyword":"-","usage":"Descriptive","uniqueID":"7741124012285274338","displayable":false,"comparable":true,"identifier":"ML_FRAME_TEMPLE_FITTING","searchable":true,"facetable":false},{"storeDisplay":false,"values":[{"sequence":"0","value":"\u5973\u6027","uniqueID":"7741124012287859737","unitOfMeasure":"","unitID":"","identifier":"Female"}],"sequence":"10000","name":"ML_GLASS_GENDER","associatedKeyword":"-","usage":"Descriptive","uniqueID":"7741124012285274344","displayable":false,"comparable":true,"identifier":"ML_GLASS_GENDER","searchable":true,"facetable":false},{"storeDisplay":false,"values":[{"sequence":"0","value":"Grey","uniqueID":"7741124012283377838","unitOfMeasure":"","unitID":"","identifier":"Grey"}],"sequence":"10000","name":"\u30ec\u30f3\u30ba\u30ab\u30e9\u30fc","associatedKeyword":"-","usage":"Descriptive","uniqueID":"7741124012283379845","displayable":false,"comparable":true,"identifier":"LENS_COLOR_FACET","searchable":true,"facetable":true},{"storeDisplay":false,"values":[{"sequence":"0","value":"\u30a2\u30bb\u30c6\u30fc\u30c8","uniqueID":"7741124012283377370","unitOfMeasure":"","unitID":"","identifier":"Acetate"}],"sequence":"10000","name":"\u30d5\u30ec\u30fc\u30e0\u7d20\u6750","associatedKeyword":"-","usage":"Descriptive","uniqueID":"7741124012283379838","displayable":false,"comparable":true,"identifier":"FRAMEMATERIAL_FACET","searchable":true,"facetable":true},{"storeDisplay":false,"values":[{"sequence":"0","value":"\u30d6\u30eb\u30fc","uniqueID":"7741124012283378401","unitOfMeasure":"","unitID":"","identifier":"Blue"}],"sequence":"10000","name":"TEMPLE_INNER_COLOR_FACET","associatedKeyword":"-","usage":"Descriptive","uniqueID":"7741124012283379857","displayable":false,"comparable":true,"identifier":"TEMPLE_INNER_COLOR_FACET","searchable":true,"facetable":false},{"storeDisplay":false,"values":[{"sequence":"0","value":"\u30d6\u30eb\u30fc","uniqueID":"7741124012283378218","unitOfMeasure":"","unitID":"","identifier":"Blue"}],"sequence":"10000","name":"TEMPLE_COLOR_FACET","associatedKeyword":"-","usage":"Descriptive","uniqueID":"7741124012283379855","displayable":false,"comparable":true,"identifier":"TEMPLE_COLOR_FACET","searchable":true,"facetable":false},{"storeDisplay":false,"values":[{"sequence":"0","value":"\u30d6\u30eb\u30fc","uniqueID":"7741124012283377716","unitOfMeasure":"","unitID":"","identifier":"Blue"}],"sequence":"10000","name":"FRONT_INNER_COLOR_FACET","associatedKeyword":"-","usage":"Descriptive","uniqueID":"7741124012283379842","displayable":false,"comparable":true,"identifier":"FRONT_INNER_COLOR_FACET","searchable":true,"facetable":false},{"storeDisplay":false,"values":[{"sequence":"0","value":"\u5b9a\u756a","uniqueID":"7741124012283379047","unitOfMeasure":"","unitID":"","identifier":"Classic"}],"sequence":"10000","name":"\u30ec\u30f3\u30ba\u7a2e\u985e","associatedKeyword":"-","usage":"Descriptive","uniqueID":"7741124012283379865","displayable":false,"comparable":true,"identifier":"LENS_TREATMENT_FACET","searchable":true,"facetable":true},{"storeDisplay":false,"values":[{"sequence":"0","value":"Blue","uniqueID":"7741124012283377536","unitOfMeasure":"","unitID":"","identifier":"Blue"}],"sequence":"10000","name":"\u30d5\u30ec\u30fc\u30e0\u30ab\u30e9\u30fc","associatedKeyword":"-","usage":"Descriptive","uniqueID":"7741124012283379840","displayable":false,"comparable":true,"identifier":"FRONT_COLOR_FACET","searchable":true,"facetable":true},{"storeDisplay":false,"values":[{"sequence":"0","value":"\u30b0\u30ec\u30fc","uniqueID":"7741124012287387463","unitOfMeasure":"","unitID":"","identifier":"Grey"}],"sequence":"10000","name":"PREDOMINANT_COLOR_FACET","associatedKeyword":"-","usage":"Descriptive","uniqueID":"7741124012285060342","displayable":false,"comparable":false,"identifier":"PREDOMINANT_COLOR_FACET","searchable":true,"facetable":false},{"storeDisplay":false,"values":[{"sequence":"0","value":"Cary Grant 2 Sun","uniqueID":"7741124012285468752","unitOfMeasure":"","unitID":"","identifier":"Cary Grant 2 Sun"}],"sequence":"10000","name":"MODELNAME","associatedKeyword":"-","usage":"Descriptive","uniqueID":"7741124012283379853","displayable":false,"comparable":true,"identifier":"MODELNAME","searchable":true,"facetable":false},{"storeDisplay":false,"values":[{"sequence":"0","value":"Off","uniqueID":"7741124012286182429","unitOfMeasure":"","unitID":"","identifier":"True"}],"sequence":"10000","name":"IS_ROXABLE","associatedKeyword":"-","usage":"Descriptive","uniqueID":"7741124012285060337","displayable":false,"comparable":true,"identifier":"IS_ROXABLE","searchable":true,"facetable":true},{"storeDisplay":false,"values":[{"sequence":"0","value":"0","uniqueID":"7741124012283377741","unitOfMeasure":"","unitID":"","identifier":"L690c"}],"sequence":"10000","name":"CLEN","associatedKeyword":"-","usage":"Descriptive","uniqueID":"7741124012283379844","displayable":false,"comparable":true,"identifier":"CLEN","searchable":false,"facetable":false},{"storeDisplay":false,"values":[{"sequence":"0","value":"1670p2","uniqueID":"7741124012286193199","unitOfMeasure":"","unitID":"","identifier":"1670p2"}],"sequence":"10000","name":"COLOR_CODE","associatedKeyword":"-","usage":"Descriptive","uniqueID":"7741124012285059838","displayable":false,"comparable":false,"identifier":"COLOR_CODE","searchable":true,"facetable":false},{"storeDisplay":false,"values":[{"sequence":"13","value":"False","uniqueID":"7741124012283944664","unitOfMeasure":"","unitID":"","identifier":"False"}],"sequence":"10000","name":"LIMITED_EDITION","associatedKeyword":"-","usage":"Descriptive","uniqueID":"7741124012283379847","displayable":false,"comparable":true,"identifier":"LIMITED_EDITION","searchable":true,"facetable":true},{"storeDisplay":false,"values":[{"sequence":"0","value":"True","uniqueID":"7741124012287218513","unitOfMeasure":"","unitID":"","identifier":"True"}],"sequence":"10000","name":"IS_ROX_FRIENDLY","associatedKeyword":"-","usage":"Descriptive","uniqueID":"7741124012285060355","displayable":false,"comparable":true,"identifier":"IS_ROX_FRIENDLY","searchable":true,"facetable":false},{"storeDisplay":false,"values":[{"sequence":"0","value":"PACK__OV__CaryGrant","uniqueID":"7741124012287791411","unitOfMeasure":"","unitID":"","identifier":"PACK__OV__CaryGrant"}],"sequence":"10000","name":"CASE","associatedKeyword":"-","usage":"Descriptive","uniqueID":"7741124012283439835","displayable":false,"comparable":false,"identifier":"CASE","searchable":true,"facetable":true}],"storeID":"715838934","numberOfSKUs":2,"partNumber":"0OV5436S__1670P2"},{"hasSingleSKU":false,"catalogEntryTypeCode":"ProductBean","associationType":"REPLACEMENT","parentCatalogGroupID":["3074457345616683318_3074457345616686168","3074457345616683368_3074457345616714169","3074457345616683368_3074457345616714172","3074457345616683368_3074457345616714176","3074457345616683368_3074457345616714183","3074457345616683368_3074457345616714184","3074457345616683368_3074457345616714192","3074457345616683368_3074457345616714205","3074457345616683368_3074457345616714207","3074457345616684418_3074457345616714169","3074457345616684418_3074457345616714172","3074457345616684418_3074457345616714176","3074457345616684418_3074457345616714183","3074457345616684418_3074457345616714184","3074457345616684418_3074457345616714192","3074457345616684418_3074457345616714205","3074457345616684418_3074457345616714207","3074457345616684918_3074457345616714169","3074457345616684918_3074457345616714172","3074457345616684918_3074457345616714176","3074457345616684918_3074457345616714183","3074457345616684918_3074457345616714184","3074457345616684918_3074457345616714192","3074457345616684918_3074457345616714205","3074457345616684918_3074457345616714207"],"price_USD":"551.0","uniqueID":"3074457345616792718","sKUs":[{"hasSingleSKU":false,"catalogEntryTypeCode":"ItemBean","parentCatalogGroupID":["3074457345616683318_3074457345616686168","3074457345616683368_3074457345616714169","3074457345616683368_3074457345616714172","3074457345616683368_3074457345616714176","3074457345616683368_3074457345616714183","3074457345616683368_3074457345616714184","3074457345616683368_3074457345616714192","3074457345616683368_3074457345616714205","3074457345616683368_3074457345616714207","3074457345616684418_3074457345616714169","3074457345616684418_3074457345616714172","3074457345616684418_3074457345616714176","3074457345616684418_3074457345616714183","3074457345616684418_3074457345616714184","3074457345616684418_3074457345616714192","3074457345616684418_3074457345616714205","3074457345616684418_3074457345616714207","3074457345616684918_3074457345616714169","3074457345616684918_3074457345616714172","3074457345616684918_3074457345616714176","3074457345616684918_3074457345616714183","3074457345616684918_3074457345616714184","3074457345616684918_3074457345616714192","3074457345616684918_3074457345616714205","3074457345616684918_3074457345616714207"],"uniqueID":"3074457345616793239","resourceId":"http:\/\/lrhsbrdilbp01.luxgroup.net:3737\/search\/resources\/store\/715840684\/productview\/byId\/3074457345616793239","price":[{"description":"L","value":"","usage":"Display","currency":"USD"},{"description":"O","value":"","usage":"Offer","currency":"USD"}],"thumbnail":"https:\/\/assets2.oliverpeoples.com\/cdn-record-files-pi\/5f8ce105-3f13-400a-8f0c-ab6700aebc80\/9f911642-8834-4017-a5a0-ab6700c7ca70\/0OV5436S__10053R_000A.png?impolicy=OV_OpPlp","mfPartNumber_ntk":"0OV5436S","manufacturer":"Oliver Peoples","name":"Cary Grant 2 Sun","buyable":"true","storeID":"715838934","attributes":[{"storeDisplay":false,"values":[{"sequence":"1","value":"0OV5436S--10053R","uniqueID":"7741124012287136342","unitOfMeasure":"","unitID":"","identifier":"0OV5436S--10053R"}],"sequence":"1","name":"Moco","usage":"Descriptive","uniqueID":"7741124012283379884","displayable":false,"comparable":false,"identifier":"MOCO","searchable":false,"facetable":false},{"storeDisplay":false,"values":[{"sequence":"0","value":"0","uniqueID":"7741124012285120033","unitOfMeasure":"","unitID":"","identifier":"OV5436S 10053R 50-20"}],"sequence":"10000","name":"DISPLAYSKU","usage":"Descriptive","uniqueID":"7741124012283379878","displayable":false,"comparable":true,"identifier":"DISPLAYSKU","searchable":false,"facetable":false},{"storeDisplay":false,"values":[{"sequence":"0","value":"0ov5436s 50 10053r","uniqueID":"7741124012287511179","unitOfMeasure":"","unitID":"","identifier":"0ov5436s 50 10053r"}],"sequence":"10000","name":"SKU","usage":"Descriptive","uniqueID":"7741124012283391835","displayable":false,"comparable":true,"identifier":"SKU","searchable":false,"facetable":false},{"storeDisplay":false,"values":[{"sequence":"0","value":"0","uniqueID":"7741124012283382067","unitOfMeasure":"","unitID":"","identifier":"43.9"}],"sequence":"10000","name":"LENSHEIGHT","usage":"Descriptive","uniqueID":"7741124012283379885","displayable":false,"comparable":true,"identifier":"LENSHEIGHT","searchable":false,"facetable":false},{"storeDisplay":false,"values":[{"sequence":"1","value":"145","uniqueID":"7741124012283379037","unitOfMeasure":"","unitID":"","identifier":"145"}],"sequence":"10000","name":"TEMPLE_LENGTH","usage":"Descriptive","uniqueID":"7741124012283379863","displayable":false,"comparable":true,"identifier":"TEMPLE_LENGTH","searchable":false,"facetable":false},{"storeDisplay":false,"values":[{"sequence":"1","value":"23","uniqueID":"7741124012283758089","unitOfMeasure":"","unitID":"","identifier":"23"}],"sequence":"10000","name":"SEG_HEIGHT","usage":"Descriptive","uniqueID":"7741124012283591335","displayable":false,"comparable":true,"identifier":"SEG_HEIGHT","searchable":false,"facetable":false},{"storeDisplay":false,"values":[{"sequence":"0","value":"0","uniqueID":"7741124012283378429","unitOfMeasure":"","unitID":"","identifier":"50"}],"sequence":"10000","name":"MODEL_SIZE","usage":"Descriptive","uniqueID":"7741124012283379858","displayable":false,"comparable":true,"identifier":"MODEL_SIZE","searchable":false,"facetable":false},{"storeDisplay":false,"values":[{"sequence":"0","value":"131","uniqueID":"7741124012286407539","unitOfMeasure":"","unitID":"","identifier":"131"}],"sequence":"10000","name":"HINGE_DISTANCE","usage":"Descriptive","uniqueID":"7741124012285060349","displayable":false,"comparable":true,"identifier":"HINGE_DISTANCE","searchable":true,"facetable":false},{"storeDisplay":false,"values":[{"sequence":"0","value":"10053R50","uniqueID":"7741124012286208147","unitOfMeasure":"","unitID":"","identifier":"10053R50"}],"sequence":"10000","name":"GRID","usage":"Descriptive","uniqueID":"7741124012283591836","displayable":false,"comparable":true,"identifier":"GRID","searchable":false,"facetable":false},{"storeDisplay":false,"values":[{"sequence":"0","value":"20","uniqueID":"7741124012286200646","unitOfMeasure":"","unitID":"","identifier":"20"}],"sequence":"10000","name":"BRIDGE","usage":"Descriptive","uniqueID":"7741124012285060347","displayable":false,"comparable":true,"identifier":"BRIDGE","searchable":true,"facetable":false},{"storeDisplay":false,"values":[{"sequence":"0","value":"5020","uniqueID":"7741124012286208058","unitOfMeasure":"","unitID":"","identifier":"5020"}],"sequence":"10000","name":"LENS_BRIDGE","usage":"Descriptive","uniqueID":"7741124012283379862","displayable":false,"comparable":true,"identifier":"LENS_BRIDGE","searchable":false,"facetable":false},{"storeDisplay":false,"values":[{"sequence":"0","value":"M","uniqueID":"7741124012287859786","unitOfMeasure":"","unitID":"","identifier":"M"}],"sequence":"10000","name":"\u30b5\u30a4\u30ba","usage":"Defining","uniqueID":"7741124012283379859","displayable":true,"comparable":true,"identifier":"MODEL_SIZE_DISPLAY","searchable":false,"facetable":false},{"storeDisplay":false,"values":[{"sequence":"0","value":"49.6","uniqueID":"7741124012286208143","unitOfMeasure":"","unitID":"","identifier":"49.6"}],"sequence":"10000","name":"LENS_WIDTH","usage":"Descriptive","uniqueID":"7741124012285060340","displayable":false,"comparable":false,"identifier":"LENS_WIDTH","searchable":true,"facetable":false}],"partNumber":"827934450561"},{"hasSingleSKU":false,"catalogEntryTypeCode":"ItemBean","parentCatalogGroupID":["3074457345616683318_3074457345616686168","3074457345616683368_3074457345616714169","3074457345616683368_3074457345616714172","3074457345616683368_3074457345616714176","3074457345616683368_3074457345616714183","3074457345616683368_3074457345616714184","3074457345616683368_3074457345616714192","3074457345616683368_3074457345616714205","3074457345616683368_3074457345616714207","3074457345616684418_3074457345616714169","3074457345616684418_3074457345616714172","3074457345616684418_3074457345616714176","3074457345616684418_3074457345616714183","3074457345616684418_3074457345616714184","3074457345616684418_3074457345616714192","3074457345616684418_3074457345616714205","3074457345616684418_3074457345616714207","3074457345616684918_3074457345616714169","3074457345616684918_3074457345616714172","3074457345616684918_3074457345616714176","3074457345616684918_3074457345616714183","3074457345616684918_3074457345616714184","3074457345616684918_3074457345616714192","3074457345616684918_3074457345616714205","3074457345616684918_3074457345616714207"],"uniqueID":"3074457345616793240","resourceId":"http:\/\/lrhsbrdilbp01.luxgroup.net:3737\/search\/resources\/store\/715840684\/productview\/byId\/3074457345616793240","price":[{"description":"L","value":"","usage":"Display","currency":"USD"},{"description":"O","value":"","usage":"Offer","currency":"USD"}],"thumbnail":"https:\/\/assets2.oliverpeoples.com\/cdn-record-files-pi\/5f8ce105-3f13-400a-8f0c-ab6700aebc80\/9f911642-8834-4017-a5a0-ab6700c7ca70\/0OV5436S__10053R_000A.png?impolicy=OV_OpPlp","mfPartNumber_ntk":"0OV5436S","manufacturer":"Oliver Peoples","name":"Cary Grant 2 Sun","buyable":"true","storeID":"715838934","attributes":[{"storeDisplay":false,"values":[{"sequence":"1","value":"0OV5436S--10053R","uniqueID":"7741124012287136342","unitOfMeasure":"","unitID":"","identifier":"0OV5436S--10053R"}],"sequence":"1","name":"Moco","usage":"Descriptive","uniqueID":"7741124012283379884","displayable":false,"comparable":false,"identifier":"MOCO","searchable":false,"facetable":false},{"storeDisplay":false,"values":[{"sequence":"0","value":"0","uniqueID":"7741124012285120000","unitOfMeasure":"","unitID":"","identifier":"OV5436S 10053R 52-20"}],"sequence":"10000","name":"DISPLAYSKU","usage":"Descriptive","uniqueID":"7741124012283379878","displayable":false,"comparable":true,"identifier":"DISPLAYSKU","searchable":false,"facetable":false},{"storeDisplay":false,"values":[{"sequence":"0","value":"46.1","uniqueID":"7741124012287416166","unitOfMeasure":"","unitID":"","identifier":"46.1"}],"sequence":"10000","name":"LENSHEIGHT","usage":"Descriptive","uniqueID":"7741124012283379885","displayable":false,"comparable":true,"identifier":"LENSHEIGHT","searchable":false,"facetable":false},{"storeDisplay":false,"values":[{"sequence":"0","value":"135","uniqueID":"7741124012286209177","unitOfMeasure":"","unitID":"","identifier":"135"}],"sequence":"10000","name":"HINGE_DISTANCE","usage":"Descriptive","uniqueID":"7741124012285060349","displayable":false,"comparable":true,"identifier":"HINGE_DISTANCE","searchable":true,"facetable":false},{"storeDisplay":false,"values":[{"sequence":"0","value":"52","uniqueID":"7741124012287472388","unitOfMeasure":"","unitID":"","identifier":"52"}],"sequence":"10000","name":"LENS_WIDTH","usage":"Descriptive","uniqueID":"7741124012285060340","displayable":false,"comparable":false,"identifier":"LENS_WIDTH","searchable":true,"facetable":false},{"storeDisplay":false,"values":[{"sequence":"0","value":"25","uniqueID":"7741124012286897752","unitOfMeasure":"","unitID":"","identifier":"25"}],"sequence":"10000","name":"SEG_HEIGHT","usage":"Descriptive","uniqueID":"7741124012283591335","displayable":false,"comparable":true,"identifier":"SEG_HEIGHT","searchable":false,"facetable":false},{"storeDisplay":false,"values":[{"sequence":"0","value":"0ov5436s 52 10053r","uniqueID":"7741124012287511172","unitOfMeasure":"","unitID":"","identifier":"0ov5436s 52 10053r"}],"sequence":"10000","name":"SKU","usage":"Descriptive","uniqueID":"7741124012283391835","displayable":false,"comparable":true,"identifier":"SKU","searchable":false,"facetable":false},{"storeDisplay":false,"values":[{"sequence":"0","value":"0","uniqueID":"7741124012283378431","unitOfMeasure":"","unitID":"","identifier":"52"}],"sequence":"10000","name":"MODEL_SIZE","usage":"Descriptive","uniqueID":"7741124012283379858","displayable":false,"comparable":true,"identifier":"MODEL_SIZE","searchable":false,"facetable":false},{"storeDisplay":false,"values":[{"sequence":"0","value":"20","uniqueID":"7741124012286200646","unitOfMeasure":"","unitID":"","identifier":"20"}],"sequence":"10000","name":"BRIDGE","usage":"Descriptive","uniqueID":"7741124012285060347","displayable":false,"comparable":true,"identifier":"BRIDGE","searchable":true,"facetable":false},{"storeDisplay":false,"values":[{"sequence":"0","value":"10053R52","uniqueID":"7741124012286209179","unitOfMeasure":"","unitID":"","identifier":"10053R52"}],"sequence":"10000","name":"GRID","usage":"Descriptive","uniqueID":"7741124012283591836","displayable":false,"comparable":true,"identifier":"GRID","searchable":false,"facetable":false},{"storeDisplay":false,"values":[{"sequence":"0","value":"5220","uniqueID":"7741124012286210125","unitOfMeasure":"","unitID":"","identifier":"5220"}],"sequence":"10000","name":"LENS_BRIDGE","usage":"Descriptive","uniqueID":"7741124012283379862","displayable":false,"comparable":true,"identifier":"LENS_BRIDGE","searchable":false,"facetable":false},{"storeDisplay":false,"values":[{"sequence":"0","value":"L","uniqueID":"7741124012287859789","unitOfMeasure":"","unitID":"","identifier":"L"}],"sequence":"10000","name":"\u30b5\u30a4\u30ba","usage":"Defining","uniqueID":"7741124012283379859","displayable":true,"comparable":true,"identifier":"MODEL_SIZE_DISPLAY","searchable":false,"facetable":false},{"storeDisplay":false,"values":[{"sequence":"1","value":"150","uniqueID":"7741124012283379039","unitOfMeasure":"","unitID":"","identifier":"150"}],"sequence":"10000","name":"TEMPLE_LENGTH","usage":"Descriptive","uniqueID":"7741124012283379863","displayable":false,"comparable":true,"identifier":"TEMPLE_LENGTH","searchable":false,"facetable":false}],"partNumber":"827934450554"}],"resourceId":"http:\/\/lrhsbrdilbp01.luxgroup.net:3737\/search\/resources\/store\/715840684\/productview\/byId\/3074457345616792718","price":[{"description":"L","value":"551.0","usage":"Display","currency":"USD"},{"description":"O","value":"","usage":"Offer","currency":"USD"}],"thumbnail":"https:\/\/assets2.oliverpeoples.com\/cdn-record-files-pi\/5f8ce105-3f13-400a-8f0c-ab6700aebc80\/9f911642-8834-4017-a5a0-ab6700c7ca70\/0OV5436S__10053R_000A.png?impolicy=OV_OpPlp","shortDescription":"OV5436S","manufacturer":"Oliver Peoples","name":"Cary Grant 2 Sun","buyable":"true","quantity":1,"attributes":[{"storeDisplay":false,"values":[{"sequence":"0","value":"OV5436S","uniqueID":"7741124012285120183","unitOfMeasure":"","unitID":"","identifier":"OV5436S"}],"sequence":"0","name":"\u30e2\u30c7\u30eb\u30b3\u30fc\u30c9","associatedKeyword":"-","usage":"Descriptive","uniqueID":"7741124012283379873","displayable":true,"comparable":true,"identifier":"MODEL_CODE_DISPLAY","searchable":false,"facetable":false},{"storeDisplay":false,"values":[{"sequence":"0","value":"Black","uniqueID":"7741124012283377375","unitOfMeasure":"","unitID":"","identifier":"Black"}],"sequence":"1","name":"\u30d5\u30ed\u30f3\u30c8\u30ab\u30e9\u30fc","associatedKeyword":"-","usage":"Descriptive","uniqueID":"7741124012283379839","displayable":true,"comparable":true,"identifier":"FRONT_COLOR","searchable":false,"facetable":false},{"storeDisplay":false,"values":[{"sequence":"0","value":"Blue Polar","uniqueID":"7741124012283579174","unitOfMeasure":"","unitID":"","identifier":"Blue Polar"}],"sequence":"2","name":"\u30ec\u30f3\u30ba\u30ab\u30e9\u30fc","associatedKeyword":"-","usage":"Descriptive","uniqueID":"7741124012283379846","displayable":true,"comparable":true,"identifier":"LENS_COLOR","searchable":false,"facetable":false},{"storeDisplay":false,"values":[{"sequence":"0","value":"\u5b9a\u756a","uniqueID":"7741124012283379043","unitOfMeasure":"","unitID":"","identifier":"Classic"}],"sequence":"3","name":"LENS_TREATMENT","associatedKeyword":"-","usage":"Descriptive","uniqueID":"7741124012283379864","displayable":false,"comparable":true,"identifier":"LENS_TREATMENT","searchable":false,"facetable":false},{"storeDisplay":false,"values":[{"sequence":"0","value":"\u30af\u30ea\u30b9\u30bf\u30eb","uniqueID":"7741124012286177448","unitOfMeasure":"","unitID":"","identifier":"Crystal"}],"sequence":"5","name":"\u30ec\u30f3\u30ba\u7d20\u6750","associatedKeyword":"-","usage":"Descriptive","uniqueID":"7741124012285060339","displayable":false,"comparable":false,"identifier":"LENS_MATERIAL","searchable":true,"facetable":false},{"storeDisplay":false,"values":[{"sequence":"0","value":"\u30a2\u30bb\u30c6\u30fc\u30c8","uniqueID":"7741124012283377366","unitOfMeasure":"","unitID":"","identifier":"Acetate"}],"sequence":"6","name":"\u30d5\u30ec\u30fc\u30e0\u7d20\u6750","associatedKeyword":"-","usage":"Descriptive","uniqueID":"7741124012283379837","displayable":true,"comparable":true,"identifier":"FRAMEMATERIAL","searchable":false,"facetable":false},{"storeDisplay":false,"values":[{"sequence":"1","value":"1","uniqueID":"7741124012284932835","unitOfMeasure":"","unitID":"","identifier":"1"}],"sequence":"8","name":"PLACEHOLDER_SIZE","associatedKeyword":"-","usage":"Descriptive","uniqueID":"7741124012284296836","displayable":true,"comparable":false,"identifier":"PLACEHOLDER_SIZE","searchable":false,"facetable":false},{"storeDisplay":false,"values":[{"sequence":"0","value":"\u30ec\u30ae\u30e5\u30e9\u30fc","uniqueID":"7741124012286177339","unitOfMeasure":"","unitID":"","identifier":"Regular"}],"sequence":"10","name":"\u30d5\u30a3\u30c3\u30c8","associatedKeyword":"-","usage":"Descriptive","uniqueID":"7741124012285060351","displayable":true,"comparable":true,"identifier":"FRAME_FIT","searchable":true,"facetable":true},{"storeDisplay":false,"values":[{"sequence":"0","value":"\u30cf\u30a4\u30d6\u30ea\u30c3\u30b8\u30d5\u30a3\u30c3\u30c8","uniqueID":"7741124012287859725","unitOfMeasure":"","unitID":"","identifier":"High Bridge Fit"}],"sequence":"11","name":"\u30d6\u30ea\u30c3\u30b8\u306e\u7a2e\u985e\uff06\u30ce\u30fc\u30ba\u30d1\u30c3\u30c9","associatedKeyword":"-","usage":"Descriptive","uniqueID":"7741124012283379869","displayable":true,"comparable":true,"identifier":"GEO_FIT","searchable":true,"facetable":true},{"storeDisplay":false,"values":[{"sequence":"0","value":"PACK__OV__CaryGrant","uniqueID":"7741124012287791411","unitOfMeasure":"","unitID":"","identifier":"PACK__OV__CaryGrant"}],"sequence":"10000","name":"CASE","associatedKeyword":"-","usage":"Descriptive","uniqueID":"7741124012283439835","displayable":false,"comparable":false,"identifier":"CASE","searchable":true,"facetable":true},{"storeDisplay":false,"values":[{"sequence":"1","value":"False","uniqueID":"7741124012284934128","unitOfMeasure":"","unitID":"","identifier":"False"}],"sequence":"10000","name":"ENGRAVINGELIGIBLE","associatedKeyword":"-","usage":"Descriptive","uniqueID":"7741124012284296835","displayable":false,"comparable":true,"identifier":"ENGRAVINGELIGIBLE","searchable":false,"facetable":false},{"storeDisplay":false,"values":[{"sequence":"0","value":"0","uniqueID":"7741124012285168336","unitOfMeasure":"","unitID":"","identifier":"Plaque-3;logo-3;nosepads-1"}],"sequence":"10000","name":"FEATURES","associatedKeyword":"-","usage":"Descriptive","uniqueID":"7741124012283379879","displayable":false,"comparable":false,"identifier":"FEATURES","searchable":false,"facetable":false},{"storeDisplay":false,"values":[{"sequence":"0","value":"True","uniqueID":"7741124012287884290","unitOfMeasure":"","unitID":"","identifier":"True"}],"sequence":"10000","name":"CLICK_AND_COLLECT","associatedKeyword":"-","usage":"Descriptive","uniqueID":"7741124012285260835","displayable":false,"comparable":false,"identifier":"CLICK_AND_COLLECT","searchable":false,"facetable":false},{"storeDisplay":false,"values":[{"sequence":"0","value":"True","uniqueID":"7741124012287886329","unitOfMeasure":"","unitID":"","identifier":"True"}],"sequence":"10000","name":"REAL_TIME_INVENTORY","associatedKeyword":"-","usage":"Descriptive","uniqueID":"7741124012285260836","displayable":false,"comparable":false,"identifier":"REAL_TIME_INVENTORY","searchable":false,"facetable":false},{"storeDisplay":false,"values":[{"sequence":"0","value":"True","uniqueID":"7741124012287875997","unitOfMeasure":"","unitID":"","identifier":"True"}],"sequence":"10000","name":"SHIP_FROM_STORE","associatedKeyword":"-","usage":"Descriptive","uniqueID":"7741124012285260837","displayable":false,"comparable":false,"identifier":"SHIP_FROM_STORE","searchable":false,"facetable":false},{"storeDisplay":false,"values":[{"sequence":"0","value":"True","uniqueID":"7741124012287887125","unitOfMeasure":"","unitID":"","identifier":"True"}],"sequence":"10000","name":"SHIP_TO_STORE","associatedKeyword":"-","usage":"Descriptive","uniqueID":"7741124012285260838","displayable":false,"comparable":false,"identifier":"SHIP_TO_STORE","searchable":false,"facetable":false},{"storeDisplay":false,"values":[{"sequence":"549","value":"False","uniqueID":"7741124012283377364","unitOfMeasure":"","unitID":"","identifier":"False"}],"sequence":"10000","name":"\u9650\u5b9a","associatedKeyword":"-","usage":"Descriptive","uniqueID":"7741124012283379836","displayable":false,"comparable":true,"identifier":"EXCLUSIVE","searchable":true,"facetable":true},{"storeDisplay":false,"values":[{"sequence":"4","value":"M","uniqueID":"7741124012287791996","unitOfMeasure":"","unitID":"","identifier":"M"},{"sequence":"5","value":"L","uniqueID":"7741124012287791999","unitOfMeasure":"","unitID":"","identifier":"L"}],"sequence":"10000","name":"\u30b5\u30a4\u30ba","associatedKeyword":"-","usage":"Descriptive","uniqueID":"7741124012285273337","displayable":false,"comparable":true,"identifier":"MODEL_SIZE_DISPLAY_PLP","searchable":true,"facetable":true},{"storeDisplay":false,"values":[{"sequence":"0","value":"Classic","uniqueID":"7741124012288148974","unitOfMeasure":"","unitID":"","identifier":"Classic"}],"sequence":"10000","name":"PROGRESSIVE_FRIENDLY","associatedKeyword":"-","usage":"Descriptive","uniqueID":"7741124012285300835","displayable":false,"comparable":true,"identifier":"PROGRESSIVE_FRIENDLY","searchable":true,"facetable":false},{"storeDisplay":false,"values":[{"sequence":"0","value":"False","uniqueID":"7741124012286878836","unitOfMeasure":"","unitID":"","identifier":"FALSE"}],"sequence":"10000","name":"FOLDABLE","associatedKeyword":"-","usage":"Descriptive","uniqueID":"7741124012283379866","displayable":false,"comparable":true,"identifier":"FOLDABLE","searchable":false,"facetable":false},{"storeDisplay":false,"values":[],"sequence":"10000","name":"IS_ASIAN","associatedKeyword":"-","usage":"Defining","uniqueID":"7741124012285274335","displayable":false,"comparable":true,"identifier":"IS_ASIAN","searchable":true,"facetable":true},{"storeDisplay":false,"values":[{"sequence":"0","value":"\u30d5\u30eb\u30ea\u30e0","uniqueID":"7741124012283379070","unitOfMeasure":"","unitID":"","identifier":"Full Rim"}],"sequence":"10000","name":"\u30d5\u30ec\u30fc\u30e0\u7a2e\u985e","associatedKeyword":"-","usage":"Descriptive","uniqueID":"7741124012283379870","displayable":false,"comparable":true,"identifier":"FRAMETYPE","searchable":true,"facetable":true},{"storeDisplay":false,"values":[{"sequence":"0","value":"\u30d4\u30ed\u30fc","uniqueID":"7741124012283379059","unitOfMeasure":"","unitID":"","identifier":"Pillow"}],"sequence":"10000","name":"\u30d5\u30ec\u30fc\u30e0\u5f62","associatedKeyword":"-","usage":"Descriptive","uniqueID":"7741124012283379867","displayable":false,"comparable":true,"identifier":"FRAME_SHAPE","searchable":false,"facetable":false},{"storeDisplay":false,"values":[{"sequence":"0","value":"\u30b9\u30af\u30a8\u30a2","uniqueID":"7741124012283379062","unitOfMeasure":"","unitID":"","identifier":"Square"}],"sequence":"10000","name":"\u30d5\u30ec\u30fc\u30e0\u5f62","associatedKeyword":"-","usage":"Descriptive","uniqueID":"7741124012283379868","displayable":false,"comparable":true,"identifier":"FRAME_SHAPE_FACET","searchable":true,"facetable":true},{"storeDisplay":false,"values":[{"sequence":"0","value":"Sunglasses","uniqueID":"7741124012287487327","unitOfMeasure":"","unitID":"","identifier":"Sunglasses"}],"sequence":"10000","name":"PROD_HIERARCHY_1","associatedKeyword":"-","usage":"Descriptive","uniqueID":"7741124012285060344","displayable":false,"comparable":false,"identifier":"PROD_HIERARCHY_1","searchable":true,"facetable":false},{"storeDisplay":false,"values":[{"sequence":"0","value":"67","uniqueID":"7741124012287479669","unitOfMeasure":"","unitID":"","identifier":"67"}],"sequence":"10000","name":"WIDTH","associatedKeyword":"-","usage":"Descriptive","uniqueID":"7741124012285060338","displayable":false,"comparable":false,"identifier":"WIDTH","searchable":true,"facetable":false},{"storeDisplay":false,"values":[{"sequence":"1","value":"Collaboration","uniqueID":"7741124012283379073","unitOfMeasure":"","unitID":"","identifier":"Collaboration"}],"sequence":"10000","name":"RANGE","associatedKeyword":"-","usage":"Descriptive","uniqueID":"7741124012283379871","displayable":false,"comparable":true,"identifier":"RANGE","searchable":true,"facetable":true},{"storeDisplay":false,"values":[{"sequence":"0","value":"314","uniqueID":"7741124012287867268","unitOfMeasure":"","unitID":"","identifier":"314"}],"sequence":"10000","name":"GROSSWEIGHT","associatedKeyword":"-","usage":"Descriptive","uniqueID":"7741124012283379861","displayable":false,"comparable":true,"identifier":"GROSSWEIGHT","searchable":false,"facetable":false},{"storeDisplay":false,"values":[{"sequence":"2","value":"Sun","uniqueID":"7741124012283379213","unitOfMeasure":"","unitID":"","identifier":"Sun"}],"sequence":"10000","name":"PRODUCTTYPE","associatedKeyword":"-","usage":"Descriptive","uniqueID":"7741124012283379876","displayable":false,"comparable":true,"identifier":"PRODUCTTYPE","searchable":true,"facetable":true},{"storeDisplay":false,"values":[{"sequence":"0","value":"Eyewear","uniqueID":"7741124012287777028","unitOfMeasure":"","unitID":"","identifier":"Eyewear"}],"sequence":"10000","name":"PROD_HIERARCHY_0","associatedKeyword":"-","usage":"Descriptive","uniqueID":"7741124012285060343","displayable":false,"comparable":false,"identifier":"PROD_HIERARCHY_0","searchable":true,"facetable":false},{"storeDisplay":false,"values":[{"sequence":"0","value":"52","uniqueID":"7741124012287860695","unitOfMeasure":"","unitID":"","identifier":"52"}],"sequence":"10000","name":"MOST_SOLD_SIZE","associatedKeyword":"-","usage":"Descriptive","uniqueID":"7741124012285274336","displayable":false,"comparable":true,"identifier":"MOST_SOLD_SIZE","searchable":false,"facetable":false},{"storeDisplay":false,"values":[{"sequence":"0","value":"False\uff08\u507d\uff09","uniqueID":"7741124012287388847","unitOfMeasure":"","unitID":"","identifier":"FALSE"}],"sequence":"10000","name":"FLEX","associatedKeyword":"-","usage":"Descriptive","uniqueID":"7741124012283379877","displayable":false,"comparable":true,"identifier":"FLEX","searchable":false,"facetable":false},{"storeDisplay":false,"values":[{"sequence":"0","value":"Zpfn","uniqueID":"7741124012286177452","unitOfMeasure":"","unitID":"","identifier":"ZPFN"}],"sequence":"10000","name":"MATERIALTYPE","associatedKeyword":"-","usage":"Descriptive","uniqueID":"7741124012283379872","displayable":false,"comparable":true,"identifier":"MATERIALTYPE","searchable":false,"facetable":false},{"storeDisplay":false,"values":[{"sequence":"0","value":"L","uniqueID":"7741124012287859789","unitOfMeasure":"","unitID":"","identifier":"L"},{"sequence":"0","value":"M","uniqueID":"7741124012287859786","unitOfMeasure":"","unitID":"","identifier":"M"}],"sequence":"10000","name":"\u30b5\u30a4\u30ba","associatedKeyword":"-","usage":"Defining","uniqueID":"7741124012283379859","displayable":true,"comparable":true,"identifier":"MODEL_SIZE_DISPLAY","searchable":false,"facetable":false},{"storeDisplay":false,"values":[{"sequence":"0","value":"False\uff08\u507d\uff09","uniqueID":"7741124012286389837","unitOfMeasure":"","unitID":"","identifier":"FALSE"}],"sequence":"10000","name":"\u8abf\u5149","associatedKeyword":"-","usage":"Descriptive","uniqueID":"7741124012285148835","displayable":false,"comparable":true,"identifier":"PHOTOCHROMIC","searchable":true,"facetable":true},{"storeDisplay":false,"values":[{"sequence":"0","value":"3P","uniqueID":"7741124012283381081","unitOfMeasure":"","unitID":"","identifier":"3P"}],"sequence":"10000","name":"NOTAINFORMATIVA","associatedKeyword":"-","usage":"Descriptive","uniqueID":"7741124012283379850","displayable":false,"comparable":true,"identifier":"NOTAINFORMATIVA","searchable":false,"facetable":false},{"storeDisplay":false,"values":[{"sequence":"0","value":"\u771f\u5b9f","uniqueID":"7741124012288148975","unitOfMeasure":"","unitID":"","identifier":"True"}],"sequence":"10000","name":"DRIVING_ASNZS","associatedKeyword":"-","usage":"Descriptive","uniqueID":"7741124012285300847","displayable":false,"comparable":true,"identifier":"DRIVING_ASNZS","searchable":true,"facetable":false},{"storeDisplay":false,"values":[{"sequence":"0","value":"202002","uniqueID":"7741124012285094411","unitOfMeasure":"","unitID":"","identifier":"202002"}],"sequence":"10000","name":"COLLECTION","associatedKeyword":"-","usage":"Descriptive","uniqueID":"7741124012283379835","displayable":false,"comparable":true,"identifier":"COLLECTION","searchable":true,"facetable":false},{"storeDisplay":false,"values":[{"sequence":"0","value":"0","uniqueID":"7741124012288249361","unitOfMeasure":"","unitID":"","identifier":"True"}],"sequence":"10000","name":"\u30dd\u30e9\u30e9\u30a4\u30ba\u30c9","associatedKeyword":"-","usage":"Descriptive","uniqueID":"7741124012283379852","displayable":false,"comparable":true,"identifier":"POLARIZED","searchable":true,"facetable":true},{"storeDisplay":false,"values":[{"sequence":"0","value":"\u30dd\u30ea\u30c3\u30b7\u30e5","uniqueID":"7741124012286177346","unitOfMeasure":"","unitID":"","identifier":"Polished"}],"sequence":"10000","name":"FINISHING","associatedKeyword":"-","usage":"Descriptive","uniqueID":"7741124012285060335","displayable":false,"comparable":true,"identifier":"FINISHING","searchable":true,"facetable":false},{"storeDisplay":false,"values":[{"sequence":"0","value":"\u30a2\u30bb\u30c6\u30fc\u30c8","uniqueID":"7741124012287412811","unitOfMeasure":"","unitID":"","identifier":"Acetate"}],"sequence":"10000","name":"FRAME_MATERIAL_PERCEIVED","associatedKeyword":"-","usage":"Descriptive","uniqueID":"7741124012285060336","displayable":false,"comparable":true,"identifier":"FRAME_MATERIAL_PERCEIVED","searchable":true,"facetable":false},{"storeDisplay":false,"values":[{"sequence":"0","value":"\u7537\u6027","uniqueID":"7741124012288319560","unitOfMeasure":"","unitID":"","identifier":"MALE"}],"sequence":"10000","name":"\u6027\u5225","associatedKeyword":"-","usage":"Descriptive","uniqueID":"7741124012283379843","displayable":false,"comparable":true,"identifier":"GENDER","searchable":true,"facetable":true},{"storeDisplay":false,"values":[{"sequence":"0","value":"\u30d6\u30eb\u30fc","uniqueID":"7741124012286177433","unitOfMeasure":"","unitID":"","identifier":"Blue"}],"sequence":"10000","name":"LENSCOLOR_FAMILY","associatedKeyword":"-","usage":"Descriptive","uniqueID":"7741124012283591844","displayable":false,"comparable":true,"identifier":"LENSCOLOR_FAMILY","searchable":false,"facetable":false},{"storeDisplay":false,"values":[{"sequence":"0","value":"False","uniqueID":"7741124012286328838","unitOfMeasure":"","unitID":"","identifier":"FALSE"}],"sequence":"10000","name":"NEWRELEASES","associatedKeyword":"-","usage":"Descriptive","uniqueID":"7741124012283379849","displayable":false,"comparable":true,"identifier":"NEWRELEASES","searchable":true,"facetable":true},{"storeDisplay":false,"values":[{"sequence":"0","value":"Collaboration","uniqueID":"7741124012286177336","unitOfMeasure":"","unitID":"","identifier":"Collaboration"}],"sequence":"10000","name":"COLLECTION_TYPE","associatedKeyword":"-","usage":"Descriptive","uniqueID":"7741124012285060353","displayable":false,"comparable":false,"identifier":"COLLECTION_TYPE","searchable":true,"facetable":false},{"storeDisplay":false,"values":[{"sequence":"0","value":"\u30d6\u30e9\u30c3\u30af","uniqueID":"7741124012283378059","unitOfMeasure":"","unitID":"","identifier":"Black"}],"sequence":"10000","name":"TEMPLE_COLOR","associatedKeyword":"-","usage":"Descriptive","uniqueID":"7741124012283379854","displayable":false,"comparable":true,"identifier":"TEMPLE_COLOR","searchable":false,"facetable":false},{"storeDisplay":false,"values":[{"sequence":"0","value":"\u30d6\u30e9\u30c3\u30af","uniqueID":"7741124012283377555","unitOfMeasure":"","unitID":"","identifier":"Black"}],"sequence":"10000","name":"FRONT_INNER_COLOR","associatedKeyword":"-","usage":"Descriptive","uniqueID":"7741124012283379841","displayable":false,"comparable":true,"identifier":"FRONT_INNER_COLOR","searchable":false,"facetable":false},{"storeDisplay":false,"values":[{"sequence":"0","value":"\u30d6\u30e9\u30c3\u30af","uniqueID":"7741124012283378242","unitOfMeasure":"","unitID":"","identifier":"Black"}],"sequence":"10000","name":"TEMPLE_INNER_COLOR","associatedKeyword":"-","usage":"Descriptive","uniqueID":"7741124012283379856","displayable":false,"comparable":true,"identifier":"TEMPLE_INNER_COLOR","searchable":false,"facetable":false},{"storeDisplay":false,"values":[{"sequence":"0","value":"Thin","uniqueID":"7741124012287859729","unitOfMeasure":"","unitID":"","identifier":"Thin"}],"sequence":"10000","name":"ML_FRAME_TEMPLE_THICKNESS","associatedKeyword":"-","usage":"Descriptive","uniqueID":"7741124012285274339","displayable":false,"comparable":true,"identifier":"ML_FRAME_TEMPLE_THICKNESS","searchable":true,"facetable":false},{"storeDisplay":false,"values":[{"sequence":"0","value":"High","uniqueID":"7741124012287859736","unitOfMeasure":"","unitID":"","identifier":"High"}],"sequence":"10000","name":"ML_FRAME_TEMPLE_FITTING","associatedKeyword":"-","usage":"Descriptive","uniqueID":"7741124012285274338","displayable":false,"comparable":true,"identifier":"ML_FRAME_TEMPLE_FITTING","searchable":true,"facetable":false},{"storeDisplay":false,"values":[{"sequence":"0","value":"Winter","uniqueID":"7741124012287859732","unitOfMeasure":"","unitID":"","identifier":"Winter"}],"sequence":"10000","name":"ML_FRAME_COLOR_PALETTE","associatedKeyword":"-","usage":"Descriptive","uniqueID":"7741124012285274337","displayable":false,"comparable":true,"identifier":"ML_FRAME_COLOR_PALETTE","searchable":true,"facetable":false},{"storeDisplay":false,"values":[{"sequence":"0","value":"Sunglass","uniqueID":"7741124012287859735","unitOfMeasure":"","unitID":"","identifier":"Sunglass"}],"sequence":"10000","name":"ML_PRODUCT_TYPE","associatedKeyword":"-","usage":"Descriptive","uniqueID":"7741124012285274347","displayable":false,"comparable":true,"identifier":"ML_PRODUCT_TYPE","searchable":true,"facetable":false},{"storeDisplay":false,"values":[{"sequence":"0","value":"\u5973\u6027","uniqueID":"7741124012287859737","unitOfMeasure":"","unitID":"","identifier":"Female"}],"sequence":"10000","name":"ML_GLASS_GENDER","associatedKeyword":"-","usage":"Descriptive","uniqueID":"7741124012285274344","displayable":false,"comparable":true,"identifier":"ML_GLASS_GENDER","searchable":true,"facetable":false},{"storeDisplay":false,"values":[{"sequence":"0","value":"Low","uniqueID":"7741124012287859741","unitOfMeasure":"","unitID":"","identifier":"Low"}],"sequence":"10000","name":"ML_FRAME_BRIDGE_POSITION","associatedKeyword":"-","usage":"Descriptive","uniqueID":"7741124012285274345","displayable":false,"comparable":true,"identifier":"ML_FRAME_BRIDGE_POSITION","searchable":true,"facetable":false},{"storeDisplay":false,"values":[{"sequence":"0","value":"\u30aa\u30fc\u30d0\u30eb","uniqueID":"7741124012287859742","unitOfMeasure":"","unitID":"","identifier":"Oval"}],"sequence":"10000","name":"ML_FRAME_SHAPE","associatedKeyword":"-","usage":"Descriptive","uniqueID":"7741124012285274343","displayable":false,"comparable":true,"identifier":"ML_FRAME_SHAPE","searchable":true,"facetable":false},{"storeDisplay":false,"values":[{"sequence":"0","value":"Semi_rim","uniqueID":"7741124012287859731","unitOfMeasure":"","unitID":"","identifier":"Semi_rim"}],"sequence":"10000","name":"ML_FRAME_RIM","associatedKeyword":"-","usage":"Descriptive","uniqueID":"7741124012285274342","displayable":false,"comparable":true,"identifier":"ML_FRAME_RIM","searchable":true,"facetable":false},{"storeDisplay":false,"values":[{"sequence":"0","value":"Gun_metals","uniqueID":"7741124012287859740","unitOfMeasure":"","unitID":"","identifier":"Gun_metals"}],"sequence":"10000","name":"ML_FRAME_COLOR","associatedKeyword":"-","usage":"Descriptive","uniqueID":"7741124012285274346","displayable":false,"comparable":true,"identifier":"ML_FRAME_COLOR","searchable":true,"facetable":false},{"storeDisplay":false,"values":[{"sequence":"0","value":"\u30e1\u30bf\u30eb","uniqueID":"7741124012287859734","unitOfMeasure":"","unitID":"","identifier":"Metal"}],"sequence":"10000","name":"ML_FRAME_FRONT_MATERIAL","associatedKeyword":"-","usage":"Descriptive","uniqueID":"7741124012285274348","displayable":false,"comparable":true,"identifier":"ML_FRAME_FRONT_MATERIAL","searchable":true,"facetable":false},{"storeDisplay":false,"values":[{"sequence":"0","value":"\u30a2\u30bb\u30c6\u30fc\u30c8","uniqueID":"7741124012283377370","unitOfMeasure":"","unitID":"","identifier":"Acetate"}],"sequence":"10000","name":"\u30d5\u30ec\u30fc\u30e0\u7d20\u6750","associatedKeyword":"-","usage":"Descriptive","uniqueID":"7741124012283379838","displayable":false,"comparable":true,"identifier":"FRAMEMATERIAL_FACET","searchable":true,"facetable":true},{"storeDisplay":false,"values":[{"sequence":"0","value":"\u30d6\u30e9\u30c3\u30af","uniqueID":"7741124012283378216","unitOfMeasure":"","unitID":"","identifier":"Black"}],"sequence":"10000","name":"TEMPLE_COLOR_FACET","associatedKeyword":"-","usage":"Descriptive","uniqueID":"7741124012283379855","displayable":false,"comparable":true,"identifier":"TEMPLE_COLOR_FACET","searchable":true,"facetable":false},{"storeDisplay":false,"values":[{"sequence":"0","value":"\u30d6\u30e9\u30c3\u30af","uniqueID":"7741124012283377714","unitOfMeasure":"","unitID":"","identifier":"Black"}],"sequence":"10000","name":"FRONT_INNER_COLOR_FACET","associatedKeyword":"-","usage":"Descriptive","uniqueID":"7741124012283379842","displayable":false,"comparable":true,"identifier":"FRONT_INNER_COLOR_FACET","searchable":true,"facetable":false},{"storeDisplay":false,"values":[{"sequence":"0","value":"Blue","uniqueID":"7741124012283377828","unitOfMeasure":"","unitID":"","identifier":"Blue"}],"sequence":"10000","name":"\u30ec\u30f3\u30ba\u30ab\u30e9\u30fc","associatedKeyword":"-","usage":"Descriptive","uniqueID":"7741124012283379845","displayable":false,"comparable":true,"identifier":"LENS_COLOR_FACET","searchable":true,"facetable":true},{"storeDisplay":false,"values":[{"sequence":"0","value":"\u30d6\u30e9\u30c3\u30af","uniqueID":"7741124012283378399","unitOfMeasure":"","unitID":"","identifier":"Black"}],"sequence":"10000","name":"TEMPLE_INNER_COLOR_FACET","associatedKeyword":"-","usage":"Descriptive","uniqueID":"7741124012283379857","displayable":false,"comparable":true,"identifier":"TEMPLE_INNER_COLOR_FACET","searchable":true,"facetable":false},{"storeDisplay":false,"values":[{"sequence":"0","value":"\u5b9a\u756a","uniqueID":"7741124012283379047","unitOfMeasure":"","unitID":"","identifier":"Classic"}],"sequence":"10000","name":"\u30ec\u30f3\u30ba\u7a2e\u985e","associatedKeyword":"-","usage":"Descriptive","uniqueID":"7741124012283379865","displayable":false,"comparable":true,"identifier":"LENS_TREATMENT_FACET","searchable":true,"facetable":true},{"storeDisplay":false,"values":[{"sequence":"0","value":"Black","uniqueID":"7741124012283377534","unitOfMeasure":"","unitID":"","identifier":"Black"}],"sequence":"10000","name":"\u30d5\u30ec\u30fc\u30e0\u30ab\u30e9\u30fc","associatedKeyword":"-","usage":"Descriptive","uniqueID":"7741124012283379840","displayable":false,"comparable":true,"identifier":"FRONT_COLOR_FACET","searchable":true,"facetable":true},{"storeDisplay":false,"values":[{"sequence":"0","value":"\u30d6\u30eb\u30fc","uniqueID":"7741124012287399087","unitOfMeasure":"","unitID":"","identifier":"Blue"}],"sequence":"10000","name":"PREDOMINANT_COLOR_FACET","associatedKeyword":"-","usage":"Descriptive","uniqueID":"7741124012285060342","displayable":false,"comparable":false,"identifier":"PREDOMINANT_COLOR_FACET","searchable":true,"facetable":false},{"storeDisplay":false,"values":[{"sequence":"0","value":"Cary Grant 2 Sun","uniqueID":"7741124012285468752","unitOfMeasure":"","unitID":"","identifier":"Cary Grant 2 Sun"}],"sequence":"10000","name":"MODELNAME","associatedKeyword":"-","usage":"Descriptive","uniqueID":"7741124012283379853","displayable":false,"comparable":true,"identifier":"MODELNAME","searchable":true,"facetable":false},{"storeDisplay":false,"values":[{"sequence":"0","value":"Off","uniqueID":"7741124012286182429","unitOfMeasure":"","unitID":"","identifier":"True"}],"sequence":"10000","name":"IS_ROXABLE","associatedKeyword":"-","usage":"Descriptive","uniqueID":"7741124012285060337","displayable":false,"comparable":true,"identifier":"IS_ROXABLE","searchable":true,"facetable":true},{"storeDisplay":false,"values":[{"sequence":"0","value":"0","uniqueID":"7741124012283579168","unitOfMeasure":"","unitID":"","identifier":"L813c"}],"sequence":"10000","name":"CLEN","associatedKeyword":"-","usage":"Descriptive","uniqueID":"7741124012283379844","displayable":false,"comparable":true,"identifier":"CLEN","searchable":false,"facetable":false},{"storeDisplay":false,"values":[{"sequence":"0","value":"10053r","uniqueID":"7741124012286193183","unitOfMeasure":"","unitID":"","identifier":"10053r"}],"sequence":"10000","name":"COLOR_CODE","associatedKeyword":"-","usage":"Descriptive","uniqueID":"7741124012285059838","displayable":false,"comparable":false,"identifier":"COLOR_CODE","searchable":true,"facetable":false},{"storeDisplay":false,"values":[{"sequence":"13","value":"False","uniqueID":"7741124012283944664","unitOfMeasure":"","unitID":"","identifier":"False"}],"sequence":"10000","name":"LIMITED_EDITION","associatedKeyword":"-","usage":"Descriptive","uniqueID":"7741124012283379847","displayable":false,"comparable":true,"identifier":"LIMITED_EDITION","searchable":true,"facetable":true},{"storeDisplay":false,"values":[{"sequence":"0","value":"True","uniqueID":"7741124012287218513","unitOfMeasure":"","unitID":"","identifier":"True"}],"sequence":"10000","name":"IS_ROX_FRIENDLY","associatedKeyword":"-","usage":"Descriptive","uniqueID":"7741124012285060355","displayable":false,"comparable":true,"identifier":"IS_ROX_FRIENDLY","searchable":true,"facetable":false}],"storeID":"715838934","numberOfSKUs":2,"partNumber":"0OV5436S__10053R"},{"hasSingleSKU":false,"catalogEntryTypeCode":"ProductBean","associationType":"REPLACEMENT","parentCatalogGroupID":["3074457345616683318_3074457345616686168","3074457345616683368_3074457345616714169","3074457345616683368_3074457345616714172","3074457345616683368_3074457345616714176","3074457345616683368_3074457345616714183","3074457345616683368_3074457345616714184","3074457345616683368_3074457345616714192","3074457345616683368_3074457345616714205","3074457345616683368_3074457345616714207","3074457345616684418_3074457345616714169","3074457345616684418_3074457345616714172","3074457345616684418_3074457345616714176","3074457345616684418_3074457345616714183","3074457345616684418_3074457345616714184","3074457345616684418_3074457345616714192","3074457345616684418_3074457345616714205","3074457345616684418_3074457345616714207","3074457345616684918_3074457345616714169","3074457345616684918_3074457345616714172","3074457345616684918_3074457345616714176","3074457345616684918_3074457345616714183","3074457345616684918_3074457345616714184","3074457345616684918_3074457345616714192","3074457345616684918_3074457345616714205","3074457345616684918_3074457345616714207"],"price_USD":"491.0","uniqueID":"3074457345616792722","sKUs":[{"hasSingleSKU":false,"catalogEntryTypeCode":"ItemBean","parentCatalogGroupID":["3074457345616683318_3074457345616686168","3074457345616683368_3074457345616714169","3074457345616683368_3074457345616714172","3074457345616683368_3074457345616714176","3074457345616683368_3074457345616714183","3074457345616683368_3074457345616714184","3074457345616683368_3074457345616714192","3074457345616683368_3074457345616714205","3074457345616683368_3074457345616714207","3074457345616684418_3074457345616714169","3074457345616684418_3074457345616714172","3074457345616684418_3074457345616714176","3074457345616684418_3074457345616714183","3074457345616684418_3074457345616714184","3074457345616684418_3074457345616714192","3074457345616684418_3074457345616714205","3074457345616684418_3074457345616714207","3074457345616684918_3074457345616714169","3074457345616684918_3074457345616714172","3074457345616684918_3074457345616714176","3074457345616684918_3074457345616714183","3074457345616684918_3074457345616714184","3074457345616684918_3074457345616714192","3074457345616684918_3074457345616714205","3074457345616684918_3074457345616714207"],"uniqueID":"3074457345616793247","resourceId":"http:\/\/lrhsbrdilbp01.luxgroup.net:3737\/search\/resources\/store\/715840684\/productview\/byId\/3074457345616793247","price":[{"description":"L","value":"","usage":"Display","currency":"USD"},{"description":"O","value":"","usage":"Offer","currency":"USD"}],"thumbnail":"https:\/\/assets2.oliverpeoples.com\/cdn-record-files-pi\/1597bc55-9b29-4614-ae17-ab6700aecfd0\/22704c4e-3321-4596-8671-ab6700c86765\/0OV5436S__169952_000A.png?impolicy=OV_OpPlp","mfPartNumber_ntk":"0OV5436S","manufacturer":"Oliver Peoples","name":"Cary Grant 2 Sun","buyable":"true","storeID":"715838934","attributes":[{"storeDisplay":false,"values":[{"sequence":"1","value":"0OV5436S--169952","uniqueID":"7741124012287136866","unitOfMeasure":"","unitID":"","identifier":"0OV5436S--169952"}],"sequence":"1","name":"Moco","usage":"Descriptive","uniqueID":"7741124012283379884","displayable":false,"comparable":false,"identifier":"MOCO","searchable":false,"facetable":false},{"storeDisplay":false,"values":[{"sequence":"0","value":"0","uniqueID":"7741124012283378429","unitOfMeasure":"","unitID":"","identifier":"50"}],"sequence":"10000","name":"MODEL_SIZE","usage":"Descriptive","uniqueID":"7741124012283379858","displayable":false,"comparable":true,"identifier":"MODEL_SIZE","searchable":false,"facetable":false},{"storeDisplay":false,"values":[{"sequence":"0","value":"131","uniqueID":"7741124012286407539","unitOfMeasure":"","unitID":"","identifier":"131"}],"sequence":"10000","name":"HINGE_DISTANCE","usage":"Descriptive","uniqueID":"7741124012285060349","displayable":false,"comparable":true,"identifier":"HINGE_DISTANCE","searchable":true,"facetable":false},{"storeDisplay":false,"values":[{"sequence":"0","value":"0","uniqueID":"7741124012283382067","unitOfMeasure":"","unitID":"","identifier":"43.9"}],"sequence":"10000","name":"LENSHEIGHT","usage":"Descriptive","uniqueID":"7741124012283379885","displayable":false,"comparable":true,"identifier":"LENSHEIGHT","searchable":false,"facetable":false},{"storeDisplay":false,"values":[{"sequence":"1","value":"145","uniqueID":"7741124012283379037","unitOfMeasure":"","unitID":"","identifier":"145"}],"sequence":"10000","name":"TEMPLE_LENGTH","usage":"Descriptive","uniqueID":"7741124012283379863","displayable":false,"comparable":true,"identifier":"TEMPLE_LENGTH","searchable":false,"facetable":false},{"storeDisplay":false,"values":[{"sequence":"0","value":"49.6","uniqueID":"7741124012286208143","unitOfMeasure":"","unitID":"","identifier":"49.6"}],"sequence":"10000","name":"LENS_WIDTH","usage":"Descriptive","uniqueID":"7741124012285060340","displayable":false,"comparable":false,"identifier":"LENS_WIDTH","searchable":true,"facetable":false},{"storeDisplay":false,"values":[{"sequence":"0","value":"16995250","uniqueID":"7741124012286208196","unitOfMeasure":"","unitID":"","identifier":"16995250"}],"sequence":"10000","name":"GRID","usage":"Descriptive","uniqueID":"7741124012283591836","displayable":false,"comparable":true,"identifier":"GRID","searchable":false,"facetable":false},{"storeDisplay":false,"values":[{"sequence":"0","value":"5020","uniqueID":"7741124012286208058","unitOfMeasure":"","unitID":"","identifier":"5020"}],"sequence":"10000","name":"LENS_BRIDGE","usage":"Descriptive","uniqueID":"7741124012283379862","displayable":false,"comparable":true,"identifier":"LENS_BRIDGE","searchable":false,"facetable":false},{"storeDisplay":false,"values":[{"sequence":"1","value":"23","uniqueID":"7741124012283758089","unitOfMeasure":"","unitID":"","identifier":"23"}],"sequence":"10000","name":"SEG_HEIGHT","usage":"Descriptive","uniqueID":"7741124012283591335","displayable":false,"comparable":true,"identifier":"SEG_HEIGHT","searchable":false,"facetable":false},{"storeDisplay":false,"values":[{"sequence":"0","value":"M","uniqueID":"7741124012287859786","unitOfMeasure":"","unitID":"","identifier":"M"}],"sequence":"10000","name":"\u30b5\u30a4\u30ba","usage":"Defining","uniqueID":"7741124012283379859","displayable":true,"comparable":true,"identifier":"MODEL_SIZE_DISPLAY","searchable":false,"facetable":false},{"storeDisplay":false,"values":[{"sequence":"0","value":"0","uniqueID":"7741124012285120059","unitOfMeasure":"","unitID":"","identifier":"OV5436S 169952 50-20"}],"sequence":"10000","name":"DISPLAYSKU","usage":"Descriptive","uniqueID":"7741124012283379878","displayable":false,"comparable":true,"identifier":"DISPLAYSKU","searchable":false,"facetable":false},{"storeDisplay":false,"values":[{"sequence":"0","value":"0ov5436s 50 169952","uniqueID":"7741124012287511254","unitOfMeasure":"","unitID":"","identifier":"0ov5436s 50 169952"}],"sequence":"10000","name":"SKU","usage":"Descriptive","uniqueID":"7741124012283391835","displayable":false,"comparable":true,"identifier":"SKU","searchable":false,"facetable":false},{"storeDisplay":false,"values":[{"sequence":"0","value":"20","uniqueID":"7741124012286200646","unitOfMeasure":"","unitID":"","identifier":"20"}],"sequence":"10000","name":"BRIDGE","usage":"Descriptive","uniqueID":"7741124012285060347","displayable":false,"comparable":true,"identifier":"BRIDGE","searchable":true,"facetable":false}],"partNumber":"827934450608"},{"hasSingleSKU":false,"catalogEntryTypeCode":"ItemBean","parentCatalogGroupID":["3074457345616683318_3074457345616686168","3074457345616683368_3074457345616714169","3074457345616683368_3074457345616714172","3074457345616683368_3074457345616714176","3074457345616683368_3074457345616714183","3074457345616683368_3074457345616714184","3074457345616683368_3074457345616714192","3074457345616683368_3074457345616714205","3074457345616683368_3074457345616714207","3074457345616684418_3074457345616714169","3074457345616684418_3074457345616714172","3074457345616684418_3074457345616714176","3074457345616684418_3074457345616714183","3074457345616684418_3074457345616714184","3074457345616684418_3074457345616714192","3074457345616684418_3074457345616714205","3074457345616684418_3074457345616714207","3074457345616684918_3074457345616714169","3074457345616684918_3074457345616714172","3074457345616684918_3074457345616714176","3074457345616684918_3074457345616714183","3074457345616684918_3074457345616714184","3074457345616684918_3074457345616714192","3074457345616684918_3074457345616714205","3074457345616684918_3074457345616714207"],"uniqueID":"3074457345616793248","resourceId":"http:\/\/lrhsbrdilbp01.luxgroup.net:3737\/search\/resources\/store\/715840684\/productview\/byId\/3074457345616793248","price":[{"description":"L","value":"","usage":"Display","currency":"USD"},{"description":"O","value":"","usage":"Offer","currency":"USD"}],"thumbnail":"https:\/\/assets2.oliverpeoples.com\/cdn-record-files-pi\/1597bc55-9b29-4614-ae17-ab6700aecfd0\/22704c4e-3321-4596-8671-ab6700c86765\/0OV5436S__169952_000A.png?impolicy=OV_OpPlp","mfPartNumber_ntk":"0OV5436S","manufacturer":"Oliver Peoples","name":"Cary Grant 2 Sun","buyable":"true","storeID":"715838934","attributes":[{"storeDisplay":false,"values":[{"sequence":"1","value":"0OV5436S--169952","uniqueID":"7741124012287136866","unitOfMeasure":"","unitID":"","identifier":"0OV5436S--169952"}],"sequence":"1","name":"Moco","usage":"Descriptive","uniqueID":"7741124012283379884","displayable":false,"comparable":false,"identifier":"MOCO","searchable":false,"facetable":false},{"storeDisplay":false,"values":[{"sequence":"0","value":"0","uniqueID":"7741124012285120034","unitOfMeasure":"","unitID":"","identifier":"OV5436S 169952 52-20"}],"sequence":"10000","name":"DISPLAYSKU","usage":"Descriptive","uniqueID":"7741124012283379878","displayable":false,"comparable":true,"identifier":"DISPLAYSKU","searchable":false,"facetable":false},{"storeDisplay":false,"values":[{"sequence":"0","value":"0ov5436s 52 169952","uniqueID":"7741124012287511232","unitOfMeasure":"","unitID":"","identifier":"0ov5436s 52 169952"}],"sequence":"10000","name":"SKU","usage":"Descriptive","uniqueID":"7741124012283391835","displayable":false,"comparable":true,"identifier":"SKU","searchable":false,"facetable":false},{"storeDisplay":false,"values":[{"sequence":"1","value":"150","uniqueID":"7741124012283379039","unitOfMeasure":"","unitID":"","identifier":"150"}],"sequence":"10000","name":"TEMPLE_LENGTH","usage":"Descriptive","uniqueID":"7741124012283379863","displayable":false,"comparable":true,"identifier":"TEMPLE_LENGTH","searchable":false,"facetable":false},{"storeDisplay":false,"values":[{"sequence":"0","value":"52","uniqueID":"7741124012287472388","unitOfMeasure":"","unitID":"","identifier":"52"}],"sequence":"10000","name":"LENS_WIDTH","usage":"Descriptive","uniqueID":"7741124012285060340","displayable":false,"comparable":false,"identifier":"LENS_WIDTH","searchable":true,"facetable":false},{"storeDisplay":false,"values":[{"sequence":"0","value":"25","uniqueID":"7741124012286897752","unitOfMeasure":"","unitID":"","identifier":"25"}],"sequence":"10000","name":"SEG_HEIGHT","usage":"Descriptive","uniqueID":"7741124012283591335","displayable":false,"comparable":true,"identifier":"SEG_HEIGHT","searchable":false,"facetable":false},{"storeDisplay":false,"values":[{"sequence":"0","value":"0","uniqueID":"7741124012283378431","unitOfMeasure":"","unitID":"","identifier":"52"}],"sequence":"10000","name":"MODEL_SIZE","usage":"Descriptive","uniqueID":"7741124012283379858","displayable":false,"comparable":true,"identifier":"MODEL_SIZE","searchable":false,"facetable":false},{"storeDisplay":false,"values":[{"sequence":"0","value":"46.1","uniqueID":"7741124012287416166","unitOfMeasure":"","unitID":"","identifier":"46.1"}],"sequence":"10000","name":"LENSHEIGHT","usage":"Descriptive","uniqueID":"7741124012283379885","displayable":false,"comparable":true,"identifier":"LENSHEIGHT","searchable":false,"facetable":false},{"storeDisplay":false,"values":[{"sequence":"0","value":"20","uniqueID":"7741124012286200646","unitOfMeasure":"","unitID":"","identifier":"20"}],"sequence":"10000","name":"BRIDGE","usage":"Descriptive","uniqueID":"7741124012285060347","displayable":false,"comparable":true,"identifier":"BRIDGE","searchable":true,"facetable":false},{"storeDisplay":false,"values":[{"sequence":"0","value":"16995252","uniqueID":"7741124012286208176","unitOfMeasure":"","unitID":"","identifier":"16995252"}],"sequence":"10000","name":"GRID","usage":"Descriptive","uniqueID":"7741124012283591836","displayable":false,"comparable":true,"identifier":"GRID","searchable":false,"facetable":false},{"storeDisplay":false,"values":[{"sequence":"0","value":"5220","uniqueID":"7741124012286210125","unitOfMeasure":"","unitID":"","identifier":"5220"}],"sequence":"10000","name":"LENS_BRIDGE","usage":"Descriptive","uniqueID":"7741124012283379862","displayable":false,"comparable":true,"identifier":"LENS_BRIDGE","searchable":false,"facetable":false},{"storeDisplay":false,"values":[{"sequence":"0","value":"L","uniqueID":"7741124012287859789","unitOfMeasure":"","unitID":"","identifier":"L"}],"sequence":"10000","name":"\u30b5\u30a4\u30ba","usage":"Defining","uniqueID":"7741124012283379859","displayable":true,"comparable":true,"identifier":"MODEL_SIZE_DISPLAY","searchable":false,"facetable":false},{"storeDisplay":false,"values":[{"sequence":"0","value":"135","uniqueID":"7741124012286209177","unitOfMeasure":"","unitID":"","identifier":"135"}],"sequence":"10000","name":"HINGE_DISTANCE","usage":"Descriptive","uniqueID":"7741124012285060349","displayable":false,"comparable":true,"identifier":"HINGE_DISTANCE","searchable":true,"facetable":false}],"partNumber":"827934450592"}],"resourceId":"http:\/\/lrhsbrdilbp01.luxgroup.net:3737\/search\/resources\/store\/715840684\/productview\/byId\/3074457345616792722","price":[{"description":"L","value":"491.0","usage":"Display","currency":"USD"},{"description":"O","value":"","usage":"Offer","currency":"USD"}],"thumbnail":"https:\/\/assets2.oliverpeoples.com\/cdn-record-files-pi\/1597bc55-9b29-4614-ae17-ab6700aecfd0\/22704c4e-3321-4596-8671-ab6700c86765\/0OV5436S__169952_000A.png?impolicy=OV_OpPlp","shortDescription":"OV5436S","manufacturer":"Oliver Peoples","name":"Cary Grant 2 Sun","buyable":"true","quantity":1,"attributes":[{"storeDisplay":false,"values":[{"sequence":"0","value":"OV5436S","uniqueID":"7741124012285120183","unitOfMeasure":"","unitID":"","identifier":"OV5436S"}],"sequence":"0","name":"\u30e2\u30c7\u30eb\u30b3\u30fc\u30c9","associatedKeyword":"-","usage":"Descriptive","uniqueID":"7741124012283379873","displayable":true,"comparable":true,"identifier":"MODEL_CODE_DISPLAY","searchable":false,"facetable":false},{"storeDisplay":false,"values":[{"sequence":"0","value":"Semi-Matte Amber Tortoise","uniqueID":"7741124012287642896","unitOfMeasure":"","unitID":"","identifier":"Semi-Matte Amber Tortoise"}],"sequence":"1","name":"\u30d5\u30ed\u30f3\u30c8\u30ab\u30e9\u30fc","associatedKeyword":"-","usage":"Descriptive","uniqueID":"7741124012283379839","displayable":true,"comparable":true,"identifier":"FRONT_COLOR","searchable":false,"facetable":false},{"storeDisplay":false,"values":[{"sequence":"0","value":"Green C","uniqueID":"7741124012283507485","unitOfMeasure":"","unitID":"","identifier":"Green C"}],"sequence":"2","name":"\u30ec\u30f3\u30ba\u30ab\u30e9\u30fc","associatedKeyword":"-","usage":"Descriptive","uniqueID":"7741124012283379846","displayable":true,"comparable":true,"identifier":"LENS_COLOR","searchable":false,"facetable":false},{"storeDisplay":false,"values":[{"sequence":"0","value":"\u5b9a\u756a","uniqueID":"7741124012283379043","unitOfMeasure":"","unitID":"","identifier":"Classic"}],"sequence":"3","name":"LENS_TREATMENT","associatedKeyword":"-","usage":"Descriptive","uniqueID":"7741124012283379864","displayable":false,"comparable":true,"identifier":"LENS_TREATMENT","searchable":false,"facetable":false},{"storeDisplay":false,"values":[{"sequence":"0","value":"\u30af\u30ea\u30b9\u30bf\u30eb","uniqueID":"7741124012286177448","unitOfMeasure":"","unitID":"","identifier":"Crystal"}],"sequence":"5","name":"\u30ec\u30f3\u30ba\u7d20\u6750","associatedKeyword":"-","usage":"Descriptive","uniqueID":"7741124012285060339","displayable":false,"comparable":false,"identifier":"LENS_MATERIAL","searchable":true,"facetable":false},{"storeDisplay":false,"values":[{"sequence":"0","value":"\u30a2\u30bb\u30c6\u30fc\u30c8","uniqueID":"7741124012283377366","unitOfMeasure":"","unitID":"","identifier":"Acetate"}],"sequence":"6","name":"\u30d5\u30ec\u30fc\u30e0\u7d20\u6750","associatedKeyword":"-","usage":"Descriptive","uniqueID":"7741124012283379837","displayable":true,"comparable":true,"identifier":"FRAMEMATERIAL","searchable":false,"facetable":false},{"storeDisplay":false,"values":[{"sequence":"1","value":"1","uniqueID":"7741124012284932835","unitOfMeasure":"","unitID":"","identifier":"1"}],"sequence":"8","name":"PLACEHOLDER_SIZE","associatedKeyword":"-","usage":"Descriptive","uniqueID":"7741124012284296836","displayable":true,"comparable":false,"identifier":"PLACEHOLDER_SIZE","searchable":false,"facetable":false},{"storeDisplay":false,"values":[{"sequence":"0","value":"\u30ec\u30ae\u30e5\u30e9\u30fc","uniqueID":"7741124012286177339","unitOfMeasure":"","unitID":"","identifier":"Regular"}],"sequence":"10","name":"\u30d5\u30a3\u30c3\u30c8","associatedKeyword":"-","usage":"Descriptive","uniqueID":"7741124012285060351","displayable":true,"comparable":true,"identifier":"FRAME_FIT","searchable":true,"facetable":true},{"storeDisplay":false,"values":[{"sequence":"0","value":"\u30cf\u30a4\u30d6\u30ea\u30c3\u30b8\u30d5\u30a3\u30c3\u30c8","uniqueID":"7741124012287859725","unitOfMeasure":"","unitID":"","identifier":"High Bridge Fit"}],"sequence":"11","name":"\u30d6\u30ea\u30c3\u30b8\u306e\u7a2e\u985e\uff06\u30ce\u30fc\u30ba\u30d1\u30c3\u30c9","associatedKeyword":"-","usage":"Descriptive","uniqueID":"7741124012283379869","displayable":true,"comparable":true,"identifier":"GEO_FIT","searchable":true,"facetable":true},{"storeDisplay":false,"values":[{"sequence":"1","value":"False","uniqueID":"7741124012284934128","unitOfMeasure":"","unitID":"","identifier":"False"}],"sequence":"10000","name":"ENGRAVINGELIGIBLE","associatedKeyword":"-","usage":"Descriptive","uniqueID":"7741124012284296835","displayable":false,"comparable":true,"identifier":"ENGRAVINGELIGIBLE","searchable":false,"facetable":false},{"storeDisplay":false,"values":[{"sequence":"0","value":"0","uniqueID":"7741124012285168336","unitOfMeasure":"","unitID":"","identifier":"Plaque-3;logo-3;nosepads-1"}],"sequence":"10000","name":"FEATURES","associatedKeyword":"-","usage":"Descriptive","uniqueID":"7741124012283379879","displayable":false,"comparable":false,"identifier":"FEATURES","searchable":false,"facetable":false},{"storeDisplay":false,"values":[{"sequence":"0","value":"True","uniqueID":"7741124012287884290","unitOfMeasure":"","unitID":"","identifier":"True"}],"sequence":"10000","name":"CLICK_AND_COLLECT","associatedKeyword":"-","usage":"Descriptive","uniqueID":"7741124012285260835","displayable":false,"comparable":false,"identifier":"CLICK_AND_COLLECT","searchable":false,"facetable":false},{"storeDisplay":false,"values":[{"sequence":"0","value":"True","uniqueID":"7741124012287886329","unitOfMeasure":"","unitID":"","identifier":"True"}],"sequence":"10000","name":"REAL_TIME_INVENTORY","associatedKeyword":"-","usage":"Descriptive","uniqueID":"7741124012285260836","displayable":false,"comparable":false,"identifier":"REAL_TIME_INVENTORY","searchable":false,"facetable":false},{"storeDisplay":false,"values":[{"sequence":"0","value":"True","uniqueID":"7741124012287875997","unitOfMeasure":"","unitID":"","identifier":"True"}],"sequence":"10000","name":"SHIP_FROM_STORE","associatedKeyword":"-","usage":"Descriptive","uniqueID":"7741124012285260837","displayable":false,"comparable":false,"identifier":"SHIP_FROM_STORE","searchable":false,"facetable":false},{"storeDisplay":false,"values":[{"sequence":"0","value":"True","uniqueID":"7741124012287887125","unitOfMeasure":"","unitID":"","identifier":"True"}],"sequence":"10000","name":"SHIP_TO_STORE","associatedKeyword":"-","usage":"Descriptive","uniqueID":"7741124012285260838","displayable":false,"comparable":false,"identifier":"SHIP_TO_STORE","searchable":false,"facetable":false},{"storeDisplay":false,"values":[{"sequence":"549","value":"False","uniqueID":"7741124012283377364","unitOfMeasure":"","unitID":"","identifier":"False"}],"sequence":"10000","name":"\u9650\u5b9a","associatedKeyword":"-","usage":"Descriptive","uniqueID":"7741124012283379836","displayable":false,"comparable":true,"identifier":"EXCLUSIVE","searchable":true,"facetable":true},{"storeDisplay":false,"values":[{"sequence":"4","value":"M","uniqueID":"7741124012287791996","unitOfMeasure":"","unitID":"","identifier":"M"},{"sequence":"5","value":"L","uniqueID":"7741124012287791999","unitOfMeasure":"","unitID":"","identifier":"L"}],"sequence":"10000","name":"\u30b5\u30a4\u30ba","associatedKeyword":"-","usage":"Descriptive","uniqueID":"7741124012285273337","displayable":false,"comparable":true,"identifier":"MODEL_SIZE_DISPLAY_PLP","searchable":true,"facetable":true},{"storeDisplay":false,"values":[{"sequence":"0","value":"Eyewear","uniqueID":"7741124012287777028","unitOfMeasure":"","unitID":"","identifier":"Eyewear"}],"sequence":"10000","name":"PROD_HIERARCHY_0","associatedKeyword":"-","usage":"Descriptive","uniqueID":"7741124012285060343","displayable":false,"comparable":false,"identifier":"PROD_HIERARCHY_0","searchable":true,"facetable":false},{"storeDisplay":false,"values":[{"sequence":"0","value":"52","uniqueID":"7741124012287860695","unitOfMeasure":"","unitID":"","identifier":"52"}],"sequence":"10000","name":"MOST_SOLD_SIZE","associatedKeyword":"-","usage":"Descriptive","uniqueID":"7741124012285274336","displayable":false,"comparable":true,"identifier":"MOST_SOLD_SIZE","searchable":false,"facetable":false},{"storeDisplay":false,"values":[{"sequence":"0","value":"False\uff08\u507d\uff09","uniqueID":"7741124012287388847","unitOfMeasure":"","unitID":"","identifier":"FALSE"}],"sequence":"10000","name":"FLEX","associatedKeyword":"-","usage":"Descriptive","uniqueID":"7741124012283379877","displayable":false,"comparable":true,"identifier":"FLEX","searchable":false,"facetable":false},{"storeDisplay":false,"values":[{"sequence":"0","value":"Zpfn","uniqueID":"7741124012286177452","unitOfMeasure":"","unitID":"","identifier":"ZPFN"}],"sequence":"10000","name":"MATERIALTYPE","associatedKeyword":"-","usage":"Descriptive","uniqueID":"7741124012283379872","displayable":false,"comparable":true,"identifier":"MATERIALTYPE","searchable":false,"facetable":false},{"storeDisplay":false,"values":[{"sequence":"0","value":"Classic","uniqueID":"7741124012288148974","unitOfMeasure":"","unitID":"","identifier":"Classic"}],"sequence":"10000","name":"PROGRESSIVE_FRIENDLY","associatedKeyword":"-","usage":"Descriptive","uniqueID":"7741124012285300835","displayable":false,"comparable":true,"identifier":"PROGRESSIVE_FRIENDLY","searchable":true,"facetable":false},{"storeDisplay":false,"values":[{"sequence":"0","value":"False","uniqueID":"7741124012286878836","unitOfMeasure":"","unitID":"","identifier":"FALSE"}],"sequence":"10000","name":"FOLDABLE","associatedKeyword":"-","usage":"Descriptive","uniqueID":"7741124012283379866","displayable":false,"comparable":true,"identifier":"FOLDABLE","searchable":false,"facetable":false},{"storeDisplay":false,"values":[],"sequence":"10000","name":"IS_ASIAN","associatedKeyword":"-","usage":"Defining","uniqueID":"7741124012285274335","displayable":false,"comparable":true,"identifier":"IS_ASIAN","searchable":true,"facetable":true},{"storeDisplay":false,"values":[{"sequence":"0","value":"\u30d5\u30eb\u30ea\u30e0","uniqueID":"7741124012283379070","unitOfMeasure":"","unitID":"","identifier":"Full Rim"}],"sequence":"10000","name":"\u30d5\u30ec\u30fc\u30e0\u7a2e\u985e","associatedKeyword":"-","usage":"Descriptive","uniqueID":"7741124012283379870","displayable":false,"comparable":true,"identifier":"FRAMETYPE","searchable":true,"facetable":true},{"storeDisplay":false,"values":[{"sequence":"0","value":"\u30d4\u30ed\u30fc","uniqueID":"7741124012283379059","unitOfMeasure":"","unitID":"","identifier":"Pillow"}],"sequence":"10000","name":"\u30d5\u30ec\u30fc\u30e0\u5f62","associatedKeyword":"-","usage":"Descriptive","uniqueID":"7741124012283379867","displayable":false,"comparable":true,"identifier":"FRAME_SHAPE","searchable":false,"facetable":false},{"storeDisplay":false,"values":[{"sequence":"0","value":"\u30b9\u30af\u30a8\u30a2","uniqueID":"7741124012283379062","unitOfMeasure":"","unitID":"","identifier":"Square"}],"sequence":"10000","name":"\u30d5\u30ec\u30fc\u30e0\u5f62","associatedKeyword":"-","usage":"Descriptive","uniqueID":"7741124012283379868","displayable":false,"comparable":true,"identifier":"FRAME_SHAPE_FACET","searchable":true,"facetable":true},{"storeDisplay":false,"values":[{"sequence":"0","value":"Sunglasses","uniqueID":"7741124012287487327","unitOfMeasure":"","unitID":"","identifier":"Sunglasses"}],"sequence":"10000","name":"PROD_HIERARCHY_1","associatedKeyword":"-","usage":"Descriptive","uniqueID":"7741124012285060344","displayable":false,"comparable":false,"identifier":"PROD_HIERARCHY_1","searchable":true,"facetable":false},{"storeDisplay":false,"values":[{"sequence":"0","value":"67","uniqueID":"7741124012287479669","unitOfMeasure":"","unitID":"","identifier":"67"}],"sequence":"10000","name":"WIDTH","associatedKeyword":"-","usage":"Descriptive","uniqueID":"7741124012285060338","displayable":false,"comparable":false,"identifier":"WIDTH","searchable":true,"facetable":false},{"storeDisplay":false,"values":[{"sequence":"1","value":"Collaboration","uniqueID":"7741124012283379073","unitOfMeasure":"","unitID":"","identifier":"Collaboration"}],"sequence":"10000","name":"RANGE","associatedKeyword":"-","usage":"Descriptive","uniqueID":"7741124012283379871","displayable":false,"comparable":true,"identifier":"RANGE","searchable":true,"facetable":true},{"storeDisplay":false,"values":[{"sequence":"0","value":"314","uniqueID":"7741124012287867268","unitOfMeasure":"","unitID":"","identifier":"314"}],"sequence":"10000","name":"GROSSWEIGHT","associatedKeyword":"-","usage":"Descriptive","uniqueID":"7741124012283379861","displayable":false,"comparable":true,"identifier":"GROSSWEIGHT","searchable":false,"facetable":false},{"storeDisplay":false,"values":[{"sequence":"2","value":"Sun","uniqueID":"7741124012283379213","unitOfMeasure":"","unitID":"","identifier":"Sun"}],"sequence":"10000","name":"PRODUCTTYPE","associatedKeyword":"-","usage":"Descriptive","uniqueID":"7741124012283379876","displayable":false,"comparable":true,"identifier":"PRODUCTTYPE","searchable":true,"facetable":true},{"storeDisplay":false,"values":[{"sequence":"0","value":"L","uniqueID":"7741124012287859789","unitOfMeasure":"","unitID":"","identifier":"L"},{"sequence":"0","value":"M","uniqueID":"7741124012287859786","unitOfMeasure":"","unitID":"","identifier":"M"}],"sequence":"10000","name":"\u30b5\u30a4\u30ba","associatedKeyword":"-","usage":"Defining","uniqueID":"7741124012283379859","displayable":true,"comparable":true,"identifier":"MODEL_SIZE_DISPLAY","searchable":false,"facetable":false},{"storeDisplay":false,"values":[{"sequence":"0","value":"2N","uniqueID":"7741124012283381078","unitOfMeasure":"","unitID":"","identifier":"2N"}],"sequence":"10000","name":"NOTAINFORMATIVA","associatedKeyword":"-","usage":"Descriptive","uniqueID":"7741124012283379850","displayable":false,"comparable":true,"identifier":"NOTAINFORMATIVA","searchable":false,"facetable":false},{"storeDisplay":false,"values":[{"sequence":"0","value":"False\uff08\u507d\uff09","uniqueID":"7741124012286389837","unitOfMeasure":"","unitID":"","identifier":"FALSE"}],"sequence":"10000","name":"\u8abf\u5149","associatedKeyword":"-","usage":"Descriptive","uniqueID":"7741124012285148835","displayable":false,"comparable":true,"identifier":"PHOTOCHROMIC","searchable":true,"facetable":true},{"storeDisplay":false,"values":[{"sequence":"0","value":"\u771f\u5b9f","uniqueID":"7741124012288148975","unitOfMeasure":"","unitID":"","identifier":"True"}],"sequence":"10000","name":"DRIVING_ASNZS","associatedKeyword":"-","usage":"Descriptive","uniqueID":"7741124012285300847","displayable":false,"comparable":true,"identifier":"DRIVING_ASNZS","searchable":true,"facetable":false},{"storeDisplay":false,"values":[{"sequence":"0","value":"202002","uniqueID":"7741124012285094411","unitOfMeasure":"","unitID":"","identifier":"202002"}],"sequence":"10000","name":"COLLECTION","associatedKeyword":"-","usage":"Descriptive","uniqueID":"7741124012283379835","displayable":false,"comparable":true,"identifier":"COLLECTION","searchable":true,"facetable":false},{"storeDisplay":false,"values":[{"sequence":"0","value":"False\uff08\u507d\uff09","uniqueID":"7741124012286328840","unitOfMeasure":"","unitID":"","identifier":"FALSE"}],"sequence":"10000","name":"\u30dd\u30e9\u30e9\u30a4\u30ba\u30c9","associatedKeyword":"-","usage":"Descriptive","uniqueID":"7741124012283379852","displayable":false,"comparable":true,"identifier":"POLARIZED","searchable":true,"facetable":true},{"storeDisplay":false,"values":[{"sequence":"0","value":"\u30dd\u30ea\u30c3\u30b7\u30e5","uniqueID":"7741124012286177346","unitOfMeasure":"","unitID":"","identifier":"Polished"}],"sequence":"10000","name":"FINISHING","associatedKeyword":"-","usage":"Descriptive","uniqueID":"7741124012285060335","displayable":false,"comparable":true,"identifier":"FINISHING","searchable":true,"facetable":false},{"storeDisplay":false,"values":[{"sequence":"0","value":"\u30d7\u30e9\u30b9\u30c1\u30c3\u30af","uniqueID":"7741124012286948835","unitOfMeasure":"","unitID":"","identifier":"Plastic"}],"sequence":"10000","name":"FRAME_MATERIAL_PERCEIVED","associatedKeyword":"-","usage":"Descriptive","uniqueID":"7741124012285060336","displayable":false,"comparable":true,"identifier":"FRAME_MATERIAL_PERCEIVED","searchable":true,"facetable":false},{"storeDisplay":false,"values":[{"sequence":"0","value":"\u7537\u6027","uniqueID":"7741124012288319560","unitOfMeasure":"","unitID":"","identifier":"MALE"}],"sequence":"10000","name":"\u6027\u5225","associatedKeyword":"-","usage":"Descriptive","uniqueID":"7741124012283379843","displayable":false,"comparable":true,"identifier":"GENDER","searchable":true,"facetable":true},{"storeDisplay":false,"values":[{"sequence":"0","value":"\u30b0\u30ea\u30fc\u30f3","uniqueID":"7741124012286177438","unitOfMeasure":"","unitID":"","identifier":"Green"}],"sequence":"10000","name":"LENSCOLOR_FAMILY","associatedKeyword":"-","usage":"Descriptive","uniqueID":"7741124012283591844","displayable":false,"comparable":true,"identifier":"LENSCOLOR_FAMILY","searchable":false,"facetable":false},{"storeDisplay":false,"values":[{"sequence":"0","value":"False","uniqueID":"7741124012286328838","unitOfMeasure":"","unitID":"","identifier":"FALSE"}],"sequence":"10000","name":"NEWRELEASES","associatedKeyword":"-","usage":"Descriptive","uniqueID":"7741124012283379849","displayable":false,"comparable":true,"identifier":"NEWRELEASES","searchable":true,"facetable":true},{"storeDisplay":false,"values":[{"sequence":"0","value":"Collaboration","uniqueID":"7741124012286177336","unitOfMeasure":"","unitID":"","identifier":"Collaboration"}],"sequence":"10000","name":"COLLECTION_TYPE","associatedKeyword":"-","usage":"Descriptive","uniqueID":"7741124012285060353","displayable":false,"comparable":false,"identifier":"COLLECTION_TYPE","searchable":true,"facetable":false},{"storeDisplay":false,"values":[{"sequence":"0","value":"\u30d6\u30e9\u30a6\u30f3","uniqueID":"7741124012284273551","unitOfMeasure":"","unitID":"","identifier":"Brown"}],"sequence":"10000","name":"TEMPLE_INNER_COLOR","associatedKeyword":"-","usage":"Descriptive","uniqueID":"7741124012283379856","displayable":false,"comparable":true,"identifier":"TEMPLE_INNER_COLOR","searchable":false,"facetable":false},{"storeDisplay":false,"values":[{"sequence":"0","value":"\u30d6\u30e9\u30a6\u30f3","uniqueID":"7741124012284273184","unitOfMeasure":"","unitID":"","identifier":"Brown"}],"sequence":"10000","name":"FRONT_INNER_COLOR","associatedKeyword":"-","usage":"Descriptive","uniqueID":"7741124012283379841","displayable":false,"comparable":true,"identifier":"FRONT_INNER_COLOR","searchable":false,"facetable":false},{"storeDisplay":false,"values":[{"sequence":"0","value":"\u30bb\u30df\u30de\u30c3\u30c8\u30a2\u30f3\u30d0\u30fc\u30c8\u30fc\u30bf\u30b9","uniqueID":"7741124012287646109","unitOfMeasure":"","unitID":"","identifier":"Semi-Matte Amber Tortoise"}],"sequence":"10000","name":"TEMPLE_COLOR","associatedKeyword":"-","usage":"Descriptive","uniqueID":"7741124012283379854","displayable":false,"comparable":true,"identifier":"TEMPLE_COLOR","searchable":false,"facetable":false},{"storeDisplay":false,"values":[{"sequence":"0","value":"High","uniqueID":"7741124012287859736","unitOfMeasure":"","unitID":"","identifier":"High"}],"sequence":"10000","name":"ML_FRAME_TEMPLE_FITTING","associatedKeyword":"-","usage":"Descriptive","uniqueID":"7741124012285274338","displayable":false,"comparable":true,"identifier":"ML_FRAME_TEMPLE_FITTING","searchable":true,"facetable":false},{"storeDisplay":false,"values":[{"sequence":"0","value":"\u30aa\u30fc\u30d0\u30eb","uniqueID":"7741124012287859742","unitOfMeasure":"","unitID":"","identifier":"Oval"}],"sequence":"10000","name":"ML_FRAME_SHAPE","associatedKeyword":"-","usage":"Descriptive","uniqueID":"7741124012285274343","displayable":false,"comparable":true,"identifier":"ML_FRAME_SHAPE","searchable":true,"facetable":false},{"storeDisplay":false,"values":[{"sequence":"0","value":"Spring","uniqueID":"7741124012287859739","unitOfMeasure":"","unitID":"","identifier":"Spring"}],"sequence":"10000","name":"ML_FRAME_COLOR_PALETTE","associatedKeyword":"-","usage":"Descriptive","uniqueID":"7741124012285274337","displayable":false,"comparable":true,"identifier":"ML_FRAME_COLOR_PALETTE","searchable":true,"facetable":false},{"storeDisplay":false,"values":[{"sequence":"0","value":"Sunglass","uniqueID":"7741124012287859735","unitOfMeasure":"","unitID":"","identifier":"Sunglass"}],"sequence":"10000","name":"ML_PRODUCT_TYPE","associatedKeyword":"-","usage":"Descriptive","uniqueID":"7741124012285274347","displayable":false,"comparable":true,"identifier":"ML_PRODUCT_TYPE","searchable":true,"facetable":false},{"storeDisplay":false,"values":[{"sequence":"0","value":"\u30e1\u30bf\u30eb","uniqueID":"7741124012287859734","unitOfMeasure":"","unitID":"","identifier":"Metal"}],"sequence":"10000","name":"ML_FRAME_FRONT_MATERIAL","associatedKeyword":"-","usage":"Descriptive","uniqueID":"7741124012285274348","displayable":false,"comparable":true,"identifier":"ML_FRAME_FRONT_MATERIAL","searchable":true,"facetable":false},{"storeDisplay":false,"values":[{"sequence":"0","value":"Gun_metals","uniqueID":"7741124012287859740","unitOfMeasure":"","unitID":"","identifier":"Gun_metals"}],"sequence":"10000","name":"ML_FRAME_COLOR","associatedKeyword":"-","usage":"Descriptive","uniqueID":"7741124012285274346","displayable":false,"comparable":true,"identifier":"ML_FRAME_COLOR","searchable":true,"facetable":false},{"storeDisplay":false,"values":[{"sequence":"0","value":"Low","uniqueID":"7741124012287859741","unitOfMeasure":"","unitID":"","identifier":"Low"}],"sequence":"10000","name":"ML_FRAME_BRIDGE_POSITION","associatedKeyword":"-","usage":"Descriptive","uniqueID":"7741124012285274345","displayable":false,"comparable":true,"identifier":"ML_FRAME_BRIDGE_POSITION","searchable":true,"facetable":false},{"storeDisplay":false,"values":[{"sequence":"0","value":"Full_rim","uniqueID":"7741124012287859749","unitOfMeasure":"","unitID":"","identifier":"Full_rim"}],"sequence":"10000","name":"ML_FRAME_RIM","associatedKeyword":"-","usage":"Descriptive","uniqueID":"7741124012285274342","displayable":false,"comparable":true,"identifier":"ML_FRAME_RIM","searchable":true,"facetable":false},{"storeDisplay":false,"values":[{"sequence":"0","value":"Thin","uniqueID":"7741124012287859729","unitOfMeasure":"","unitID":"","identifier":"Thin"}],"sequence":"10000","name":"ML_FRAME_TEMPLE_THICKNESS","associatedKeyword":"-","usage":"Descriptive","uniqueID":"7741124012285274339","displayable":false,"comparable":true,"identifier":"ML_FRAME_TEMPLE_THICKNESS","searchable":true,"facetable":false},{"storeDisplay":false,"values":[{"sequence":"0","value":"\u5973\u6027","uniqueID":"7741124012287859737","unitOfMeasure":"","unitID":"","identifier":"Female"}],"sequence":"10000","name":"ML_GLASS_GENDER","associatedKeyword":"-","usage":"Descriptive","uniqueID":"7741124012285274344","displayable":false,"comparable":true,"identifier":"ML_GLASS_GENDER","searchable":true,"facetable":false},{"storeDisplay":false,"values":[{"sequence":"0","value":"Green","uniqueID":"7741124012283377839","unitOfMeasure":"","unitID":"","identifier":"Green"}],"sequence":"10000","name":"\u30ec\u30f3\u30ba\u30ab\u30e9\u30fc","associatedKeyword":"-","usage":"Descriptive","uniqueID":"7741124012283379845","displayable":false,"comparable":true,"identifier":"LENS_COLOR_FACET","searchable":true,"facetable":true},{"storeDisplay":false,"values":[{"sequence":"0","value":"\u30d6\u30e9\u30a6\u30f3","uniqueID":"7741124012283378415","unitOfMeasure":"","unitID":"","identifier":"Brown"}],"sequence":"10000","name":"TEMPLE_INNER_COLOR_FACET","associatedKeyword":"-","usage":"Descriptive","uniqueID":"7741124012283379857","displayable":false,"comparable":true,"identifier":"TEMPLE_INNER_COLOR_FACET","searchable":true,"facetable":false},{"storeDisplay":false,"values":[{"sequence":"0","value":"\u30d6\u30e9\u30a6\u30f3","uniqueID":"7741124012283377727","unitOfMeasure":"","unitID":"","identifier":"Brown"}],"sequence":"10000","name":"FRONT_INNER_COLOR_FACET","associatedKeyword":"-","usage":"Descriptive","uniqueID":"7741124012283379842","displayable":false,"comparable":true,"identifier":"FRONT_INNER_COLOR_FACET","searchable":true,"facetable":false},{"storeDisplay":false,"values":[{"sequence":"0","value":"\u30a2\u30bb\u30c6\u30fc\u30c8","uniqueID":"7741124012283377370","unitOfMeasure":"","unitID":"","identifier":"Acetate"}],"sequence":"10000","name":"\u30d5\u30ec\u30fc\u30e0\u7d20\u6750","associatedKeyword":"-","usage":"Descriptive","uniqueID":"7741124012283379838","displayable":false,"comparable":true,"identifier":"FRAMEMATERIAL_FACET","searchable":true,"facetable":true},{"storeDisplay":false,"values":[{"sequence":"0","value":"\u30d6\u30e9\u30a6\u30f3","uniqueID":"7741124012283378231","unitOfMeasure":"","unitID":"","identifier":"Brown"}],"sequence":"10000","name":"TEMPLE_COLOR_FACET","associatedKeyword":"-","usage":"Descriptive","uniqueID":"7741124012283379855","displayable":false,"comparable":true,"identifier":"TEMPLE_COLOR_FACET","searchable":true,"facetable":false},{"storeDisplay":false,"values":[{"sequence":"0","value":"\u5b9a\u756a","uniqueID":"7741124012283379047","unitOfMeasure":"","unitID":"","identifier":"Classic"}],"sequence":"10000","name":"\u30ec\u30f3\u30ba\u7a2e\u985e","associatedKeyword":"-","usage":"Descriptive","uniqueID":"7741124012283379865","displayable":false,"comparable":true,"identifier":"LENS_TREATMENT_FACET","searchable":true,"facetable":true},{"storeDisplay":false,"values":[{"sequence":"0","value":"Brown","uniqueID":"7741124012283377547","unitOfMeasure":"","unitID":"","identifier":"Brown"}],"sequence":"10000","name":"\u30d5\u30ec\u30fc\u30e0\u30ab\u30e9\u30fc","associatedKeyword":"-","usage":"Descriptive","uniqueID":"7741124012283379840","displayable":false,"comparable":true,"identifier":"FRONT_COLOR_FACET","searchable":true,"facetable":true},{"storeDisplay":false,"values":[{"sequence":"0","value":"\u30b0\u30ea\u30fc\u30f3","uniqueID":"7741124012287387461","unitOfMeasure":"","unitID":"","identifier":"Green"}],"sequence":"10000","name":"PREDOMINANT_COLOR_FACET","associatedKeyword":"-","usage":"Descriptive","uniqueID":"7741124012285060342","displayable":false,"comparable":false,"identifier":"PREDOMINANT_COLOR_FACET","searchable":true,"facetable":false},{"storeDisplay":false,"values":[{"sequence":"0","value":"Cary Grant 2 Sun","uniqueID":"7741124012285468752","unitOfMeasure":"","unitID":"","identifier":"Cary Grant 2 Sun"}],"sequence":"10000","name":"MODELNAME","associatedKeyword":"-","usage":"Descriptive","uniqueID":"7741124012283379853","displayable":false,"comparable":true,"identifier":"MODELNAME","searchable":true,"facetable":false},{"storeDisplay":false,"values":[{"sequence":"0","value":"Off","uniqueID":"7741124012286182429","unitOfMeasure":"","unitID":"","identifier":"True"}],"sequence":"10000","name":"IS_ROXABLE","associatedKeyword":"-","usage":"Descriptive","uniqueID":"7741124012285060337","displayable":false,"comparable":true,"identifier":"IS_ROXABLE","searchable":true,"facetable":true},{"storeDisplay":false,"values":[{"sequence":"0","value":"0","uniqueID":"7741124012283377775","unitOfMeasure":"","unitID":"","identifier":"0666c"}],"sequence":"10000","name":"CLEN","associatedKeyword":"-","usage":"Descriptive","uniqueID":"7741124012283379844","displayable":false,"comparable":true,"identifier":"CLEN","searchable":false,"facetable":false},{"storeDisplay":false,"values":[{"sequence":"0","value":"169952","uniqueID":"7741124012286193227","unitOfMeasure":"","unitID":"","identifier":"169952"}],"sequence":"10000","name":"COLOR_CODE","associatedKeyword":"-","usage":"Descriptive","uniqueID":"7741124012285059838","displayable":false,"comparable":false,"identifier":"COLOR_CODE","searchable":true,"facetable":false},{"storeDisplay":false,"values":[{"sequence":"13","value":"False","uniqueID":"7741124012283944664","unitOfMeasure":"","unitID":"","identifier":"False"}],"sequence":"10000","name":"LIMITED_EDITION","associatedKeyword":"-","usage":"Descriptive","uniqueID":"7741124012283379847","displayable":false,"comparable":true,"identifier":"LIMITED_EDITION","searchable":true,"facetable":true},{"storeDisplay":false,"values":[{"sequence":"0","value":"True","uniqueID":"7741124012287218513","unitOfMeasure":"","unitID":"","identifier":"True"}],"sequence":"10000","name":"IS_ROX_FRIENDLY","associatedKeyword":"-","usage":"Descriptive","uniqueID":"7741124012285060355","displayable":false,"comparable":true,"identifier":"IS_ROX_FRIENDLY","searchable":true,"facetable":false},{"storeDisplay":false,"values":[{"sequence":"0","value":"PACK__OV__CaryGrant","uniqueID":"7741124012287791411","unitOfMeasure":"","unitID":"","identifier":"PACK__OV__CaryGrant"}],"sequence":"10000","name":"CASE","associatedKeyword":"-","usage":"Descriptive","uniqueID":"7741124012283439835","displayable":false,"comparable":false,"identifier":"CASE","searchable":true,"facetable":true}],"storeID":"715838934","numberOfSKUs":2,"partNumber":"0OV5436S__169952"},{"hasSingleSKU":false,"catalogEntryTypeCode":"ProductBean","associationType":"REPLACEMENT","parentCatalogGroupID":["3074457345616683318_3074457345616686168","3074457345616683368_3074457345616714169","3074457345616683368_3074457345616714172","3074457345616683368_3074457345616714176","3074457345616683368_3074457345616714183","3074457345616683368_3074457345616714184","3074457345616683368_3074457345616714192","3074457345616683368_3074457345616714205","3074457345616683368_3074457345616714207","3074457345616684418_3074457345616714169","3074457345616684418_3074457345616714172","3074457345616684418_3074457345616714176","3074457345616684418_3074457345616714183","3074457345616684418_3074457345616714184","3074457345616684418_3074457345616714192","3074457345616684418_3074457345616714205","3074457345616684418_3074457345616714207","3074457345616684918_3074457345616714169","3074457345616684918_3074457345616714172","3074457345616684918_3074457345616714176","3074457345616684918_3074457345616714183","3074457345616684918_3074457345616714184","3074457345616684918_3074457345616714192","3074457345616684918_3074457345616714205","3074457345616684918_3074457345616714207"],"price_USD":"491.0","uniqueID":"3074457345616792720","sKUs":[{"hasSingleSKU":false,"catalogEntryTypeCode":"ItemBean","parentCatalogGroupID":["3074457345616683318_3074457345616686168","3074457345616683368_3074457345616714169","3074457345616683368_3074457345616714172","3074457345616683368_3074457345616714176","3074457345616683368_3074457345616714183","3074457345616683368_3074457345616714184","3074457345616683368_3074457345616714192","3074457345616683368_3074457345616714205","3074457345616683368_3074457345616714207","3074457345616684418_3074457345616714169","3074457345616684418_3074457345616714172","3074457345616684418_3074457345616714176","3074457345616684418_3074457345616714183","3074457345616684418_3074457345616714184","3074457345616684418_3074457345616714192","3074457345616684418_3074457345616714205","3074457345616684418_3074457345616714207","3074457345616684918_3074457345616714169","3074457345616684918_3074457345616714172","3074457345616684918_3074457345616714176","3074457345616684918_3074457345616714183","3074457345616684918_3074457345616714184","3074457345616684918_3074457345616714192","3074457345616684918_3074457345616714205","3074457345616684918_3074457345616714207"],"uniqueID":"3074457345616793243","resourceId":"http:\/\/lrhsbrdilbp01.luxgroup.net:3737\/search\/resources\/store\/715840684\/productview\/byId\/3074457345616793243","price":[{"description":"L","value":"","usage":"Display","currency":"USD"},{"description":"O","value":"","usage":"Offer","currency":"USD"}],"thumbnail":"https:\/\/assets2.oliverpeoples.com\/cdn-record-files-pi\/28a80fe6-735f-4780-b166-ab6700aec5e9\/19f14fb7-daa1-42a4-96e0-ab6700c819f1\/0OV5436S__1675R5_000A.png?impolicy=OV_OpPlp","mfPartNumber_ntk":"0OV5436S","manufacturer":"Oliver Peoples","name":"Cary Grant 2 Sun","buyable":"true","storeID":"715838934","attributes":[{"storeDisplay":false,"values":[{"sequence":"1","value":"0OV5436S--1675R5","uniqueID":"7741124012287135534","unitOfMeasure":"","unitID":"","identifier":"0OV5436S--1675R5"}],"sequence":"1","name":"Moco","usage":"Descriptive","uniqueID":"7741124012283379884","displayable":false,"comparable":false,"identifier":"MOCO","searchable":false,"facetable":false},{"storeDisplay":false,"values":[{"sequence":"0","value":"0","uniqueID":"7741124012285120096","unitOfMeasure":"","unitID":"","identifier":"OV5436S 1675R5 50-20"}],"sequence":"10000","name":"DISPLAYSKU","usage":"Descriptive","uniqueID":"7741124012283379878","displayable":false,"comparable":true,"identifier":"DISPLAYSKU","searchable":false,"facetable":false},{"storeDisplay":false,"values":[{"sequence":"0","value":"49.6","uniqueID":"7741124012286208143","unitOfMeasure":"","unitID":"","identifier":"49.6"}],"sequence":"10000","name":"LENS_WIDTH","usage":"Descriptive","uniqueID":"7741124012285060340","displayable":false,"comparable":false,"identifier":"LENS_WIDTH","searchable":true,"facetable":false},{"storeDisplay":false,"values":[{"sequence":"0","value":"0","uniqueID":"7741124012283382067","unitOfMeasure":"","unitID":"","identifier":"43.9"}],"sequence":"10000","name":"LENSHEIGHT","usage":"Descriptive","uniqueID":"7741124012283379885","displayable":false,"comparable":true,"identifier":"LENSHEIGHT","searchable":false,"facetable":false},{"storeDisplay":false,"values":[{"sequence":"0","value":"131","uniqueID":"7741124012286407539","unitOfMeasure":"","unitID":"","identifier":"131"}],"sequence":"10000","name":"HINGE_DISTANCE","usage":"Descriptive","uniqueID":"7741124012285060349","displayable":false,"comparable":true,"identifier":"HINGE_DISTANCE","searchable":true,"facetable":false},{"storeDisplay":false,"values":[{"sequence":"1","value":"23","uniqueID":"7741124012283758089","unitOfMeasure":"","unitID":"","identifier":"23"}],"sequence":"10000","name":"SEG_HEIGHT","usage":"Descriptive","uniqueID":"7741124012283591335","displayable":false,"comparable":true,"identifier":"SEG_HEIGHT","searchable":false,"facetable":false},{"storeDisplay":false,"values":[{"sequence":"0","value":"0ov5436s 50 1675r5","uniqueID":"7741124012287511300","unitOfMeasure":"","unitID":"","identifier":"0ov5436s 50 1675r5"}],"sequence":"10000","name":"SKU","usage":"Descriptive","uniqueID":"7741124012283391835","displayable":false,"comparable":true,"identifier":"SKU","searchable":false,"facetable":false},{"storeDisplay":false,"values":[{"sequence":"0","value":"0","uniqueID":"7741124012283378429","unitOfMeasure":"","unitID":"","identifier":"50"}],"sequence":"10000","name":"MODEL_SIZE","usage":"Descriptive","uniqueID":"7741124012283379858","displayable":false,"comparable":true,"identifier":"MODEL_SIZE","searchable":false,"facetable":false},{"storeDisplay":false,"values":[{"sequence":"0","value":"20","uniqueID":"7741124012286200646","unitOfMeasure":"","unitID":"","identifier":"20"}],"sequence":"10000","name":"BRIDGE","usage":"Descriptive","uniqueID":"7741124012285060347","displayable":false,"comparable":true,"identifier":"BRIDGE","searchable":true,"facetable":false},{"storeDisplay":false,"values":[{"sequence":"0","value":"1675R550","uniqueID":"7741124012286207932","unitOfMeasure":"","unitID":"","identifier":"1675R550"}],"sequence":"10000","name":"GRID","usage":"Descriptive","uniqueID":"7741124012283591836","displayable":false,"comparable":true,"identifier":"GRID","searchable":false,"facetable":false},{"storeDisplay":false,"values":[{"sequence":"0","value":"5020","uniqueID":"7741124012286208058","unitOfMeasure":"","unitID":"","identifier":"5020"}],"sequence":"10000","name":"LENS_BRIDGE","usage":"Descriptive","uniqueID":"7741124012283379862","displayable":false,"comparable":true,"identifier":"LENS_BRIDGE","searchable":false,"facetable":false},{"storeDisplay":false,"values":[{"sequence":"0","value":"M","uniqueID":"7741124012287859786","unitOfMeasure":"","unitID":"","identifier":"M"}],"sequence":"10000","name":"\u30b5\u30a4\u30ba","usage":"Defining","uniqueID":"7741124012283379859","displayable":true,"comparable":true,"identifier":"MODEL_SIZE_DISPLAY","searchable":false,"facetable":false},{"storeDisplay":false,"values":[{"sequence":"1","value":"145","uniqueID":"7741124012283379037","unitOfMeasure":"","unitID":"","identifier":"145"}],"sequence":"10000","name":"TEMPLE_LENGTH","usage":"Descriptive","uniqueID":"7741124012283379863","displayable":false,"comparable":true,"identifier":"TEMPLE_LENGTH","searchable":false,"facetable":false}],"partNumber":"827934450622"},{"hasSingleSKU":false,"catalogEntryTypeCode":"ItemBean","parentCatalogGroupID":["3074457345616683318_3074457345616686168","3074457345616683368_3074457345616714169","3074457345616683368_3074457345616714172","3074457345616683368_3074457345616714176","3074457345616683368_3074457345616714183","3074457345616683368_3074457345616714184","3074457345616683368_3074457345616714192","3074457345616683368_3074457345616714205","3074457345616683368_3074457345616714207","3074457345616684418_3074457345616714169","3074457345616684418_3074457345616714172","3074457345616684418_3074457345616714176","3074457345616684418_3074457345616714183","3074457345616684418_3074457345616714184","3074457345616684418_3074457345616714192","3074457345616684418_3074457345616714205","3074457345616684418_3074457345616714207","3074457345616684918_3074457345616714169","3074457345616684918_3074457345616714172","3074457345616684918_3074457345616714176","3074457345616684918_3074457345616714183","3074457345616684918_3074457345616714184","3074457345616684918_3074457345616714192","3074457345616684918_3074457345616714205","3074457345616684918_3074457345616714207"],"uniqueID":"3074457345616793244","resourceId":"http:\/\/lrhsbrdilbp01.luxgroup.net:3737\/search\/resources\/store\/715840684\/productview\/byId\/3074457345616793244","price":[{"description":"L","value":"","usage":"Display","currency":"USD"},{"description":"O","value":"","usage":"Offer","currency":"USD"}],"thumbnail":"https:\/\/assets2.oliverpeoples.com\/cdn-record-files-pi\/28a80fe6-735f-4780-b166-ab6700aec5e9\/19f14fb7-daa1-42a4-96e0-ab6700c819f1\/0OV5436S__1675R5_000A.png?impolicy=OV_OpPlp","mfPartNumber_ntk":"0OV5436S","manufacturer":"Oliver Peoples","name":"Cary Grant 2 Sun","buyable":"true","storeID":"715838934","attributes":[{"storeDisplay":false,"values":[{"sequence":"1","value":"0OV5436S--1675R5","uniqueID":"7741124012287135534","unitOfMeasure":"","unitID":"","identifier":"0OV5436S--1675R5"}],"sequence":"1","name":"Moco","usage":"Descriptive","uniqueID":"7741124012283379884","displayable":false,"comparable":false,"identifier":"MOCO","searchable":false,"facetable":false},{"storeDisplay":false,"values":[{"sequence":"0","value":"0","uniqueID":"7741124012285120070","unitOfMeasure":"","unitID":"","identifier":"OV5436S 1675R5 52-20"}],"sequence":"10000","name":"DISPLAYSKU","usage":"Descriptive","uniqueID":"7741124012283379878","displayable":false,"comparable":true,"identifier":"DISPLAYSKU","searchable":false,"facetable":false},{"storeDisplay":false,"values":[{"sequence":"0","value":"0","uniqueID":"7741124012283378431","unitOfMeasure":"","unitID":"","identifier":"52"}],"sequence":"10000","name":"MODEL_SIZE","usage":"Descriptive","uniqueID":"7741124012283379858","displayable":false,"comparable":true,"identifier":"MODEL_SIZE","searchable":false,"facetable":false},{"storeDisplay":false,"values":[{"sequence":"1","value":"150","uniqueID":"7741124012283379039","unitOfMeasure":"","unitID":"","identifier":"150"}],"sequence":"10000","name":"TEMPLE_LENGTH","usage":"Descriptive","uniqueID":"7741124012283379863","displayable":false,"comparable":true,"identifier":"TEMPLE_LENGTH","searchable":false,"facetable":false},{"storeDisplay":false,"values":[{"sequence":"0","value":"46.1","uniqueID":"7741124012287416166","unitOfMeasure":"","unitID":"","identifier":"46.1"}],"sequence":"10000","name":"LENSHEIGHT","usage":"Descriptive","uniqueID":"7741124012283379885","displayable":false,"comparable":true,"identifier":"LENSHEIGHT","searchable":false,"facetable":false},{"storeDisplay":false,"values":[{"sequence":"0","value":"25","uniqueID":"7741124012286897752","unitOfMeasure":"","unitID":"","identifier":"25"}],"sequence":"10000","name":"SEG_HEIGHT","usage":"Descriptive","uniqueID":"7741124012283591335","displayable":false,"comparable":true,"identifier":"SEG_HEIGHT","searchable":false,"facetable":false},{"storeDisplay":false,"values":[{"sequence":"0","value":"135","uniqueID":"7741124012286209177","unitOfMeasure":"","unitID":"","identifier":"135"}],"sequence":"10000","name":"HINGE_DISTANCE","usage":"Descriptive","uniqueID":"7741124012285060349","displayable":false,"comparable":true,"identifier":"HINGE_DISTANCE","searchable":true,"facetable":false},{"storeDisplay":false,"values":[{"sequence":"0","value":"0ov5436s 52 1675r5","uniqueID":"7741124012287511280","unitOfMeasure":"","unitID":"","identifier":"0ov5436s 52 1675r5"}],"sequence":"10000","name":"SKU","usage":"Descriptive","uniqueID":"7741124012283391835","displayable":false,"comparable":true,"identifier":"SKU","searchable":false,"facetable":false},{"storeDisplay":false,"values":[{"sequence":"0","value":"20","uniqueID":"7741124012286200646","unitOfMeasure":"","unitID":"","identifier":"20"}],"sequence":"10000","name":"BRIDGE","usage":"Descriptive","uniqueID":"7741124012285060347","displayable":false,"comparable":true,"identifier":"BRIDGE","searchable":true,"facetable":false},{"storeDisplay":false,"values":[{"sequence":"0","value":"1675R552","uniqueID":"7741124012286208208","unitOfMeasure":"","unitID":"","identifier":"1675R552"}],"sequence":"10000","name":"GRID","usage":"Descriptive","uniqueID":"7741124012283591836","displayable":false,"comparable":true,"identifier":"GRID","searchable":false,"facetable":false},{"storeDisplay":false,"values":[{"sequence":"0","value":"5220","uniqueID":"7741124012286210125","unitOfMeasure":"","unitID":"","identifier":"5220"}],"sequence":"10000","name":"LENS_BRIDGE","usage":"Descriptive","uniqueID":"7741124012283379862","displayable":false,"comparable":true,"identifier":"LENS_BRIDGE","searchable":false,"facetable":false},{"storeDisplay":false,"values":[{"sequence":"0","value":"L","uniqueID":"7741124012287859789","unitOfMeasure":"","unitID":"","identifier":"L"}],"sequence":"10000","name":"\u30b5\u30a4\u30ba","usage":"Defining","uniqueID":"7741124012283379859","displayable":true,"comparable":true,"identifier":"MODEL_SIZE_DISPLAY","searchable":false,"facetable":false},{"storeDisplay":false,"values":[{"sequence":"0","value":"52","uniqueID":"7741124012287472388","unitOfMeasure":"","unitID":"","identifier":"52"}],"sequence":"10000","name":"LENS_WIDTH","usage":"Descriptive","uniqueID":"7741124012285060340","displayable":false,"comparable":false,"identifier":"LENS_WIDTH","searchable":true,"facetable":false}],"partNumber":"827934450615"}],"resourceId":"http:\/\/lrhsbrdilbp01.luxgroup.net:3737\/search\/resources\/store\/715840684\/productview\/byId\/3074457345616792720","price":[{"description":"L","value":"491.0","usage":"Display","currency":"USD"},{"description":"O","value":"","usage":"Offer","currency":"USD"}],"thumbnail":"https:\/\/assets2.oliverpeoples.com\/cdn-record-files-pi\/28a80fe6-735f-4780-b166-ab6700aec5e9\/19f14fb7-daa1-42a4-96e0-ab6700c819f1\/0OV5436S__1675R5_000A.png?impolicy=OV_OpPlp","shortDescription":"OV5436S","manufacturer":"Oliver Peoples","name":"Cary Grant 2 Sun","buyable":"true","quantity":1,"attributes":[{"storeDisplay":false,"values":[{"sequence":"0","value":"OV5436S","uniqueID":"7741124012285120183","unitOfMeasure":"","unitID":"","identifier":"OV5436S"}],"sequence":"0","name":"\u30e2\u30c7\u30eb\u30b3\u30fc\u30c9","associatedKeyword":"-","usage":"Descriptive","uniqueID":"7741124012283379873","displayable":true,"comparable":true,"identifier":"MODEL_CODE_DISPLAY","searchable":false,"facetable":false},{"storeDisplay":false,"values":[{"sequence":"0","value":"Bordeaux Bark","uniqueID":"7741124012284270667","unitOfMeasure":"","unitID":"","identifier":"Bordeaux Bark"}],"sequence":"1","name":"\u30d5\u30ed\u30f3\u30c8\u30ab\u30e9\u30fc","associatedKeyword":"-","usage":"Descriptive","uniqueID":"7741124012283379839","displayable":true,"comparable":true,"identifier":"FRONT_COLOR","searchable":false,"facetable":false},{"storeDisplay":false,"values":[{"sequence":"0","value":"Carbon Grey","uniqueID":"7741124012283507487","unitOfMeasure":"","unitID":"","identifier":"Carbon Grey"}],"sequence":"2","name":"\u30ec\u30f3\u30ba\u30ab\u30e9\u30fc","associatedKeyword":"-","usage":"Descriptive","uniqueID":"7741124012283379846","displayable":true,"comparable":true,"identifier":"LENS_COLOR","searchable":false,"facetable":false},{"storeDisplay":false,"values":[{"sequence":"0","value":"\u5b9a\u756a","uniqueID":"7741124012283379043","unitOfMeasure":"","unitID":"","identifier":"Classic"}],"sequence":"3","name":"LENS_TREATMENT","associatedKeyword":"-","usage":"Descriptive","uniqueID":"7741124012283379864","displayable":false,"comparable":true,"identifier":"LENS_TREATMENT","searchable":false,"facetable":false},{"storeDisplay":false,"values":[{"sequence":"0","value":"\u30af\u30ea\u30b9\u30bf\u30eb","uniqueID":"7741124012286177448","unitOfMeasure":"","unitID":"","identifier":"Crystal"}],"sequence":"5","name":"\u30ec\u30f3\u30ba\u7d20\u6750","associatedKeyword":"-","usage":"Descriptive","uniqueID":"7741124012285060339","displayable":false,"comparable":false,"identifier":"LENS_MATERIAL","searchable":true,"facetable":false},{"storeDisplay":false,"values":[{"sequence":"0","value":"\u30a2\u30bb\u30c6\u30fc\u30c8","uniqueID":"7741124012283377366","unitOfMeasure":"","unitID":"","identifier":"Acetate"}],"sequence":"6","name":"\u30d5\u30ec\u30fc\u30e0\u7d20\u6750","associatedKeyword":"-","usage":"Descriptive","uniqueID":"7741124012283379837","displayable":true,"comparable":true,"identifier":"FRAMEMATERIAL","searchable":false,"facetable":false},{"storeDisplay":false,"values":[{"sequence":"1","value":"1","uniqueID":"7741124012284932835","unitOfMeasure":"","unitID":"","identifier":"1"}],"sequence":"8","name":"PLACEHOLDER_SIZE","associatedKeyword":"-","usage":"Descriptive","uniqueID":"7741124012284296836","displayable":true,"comparable":false,"identifier":"PLACEHOLDER_SIZE","searchable":false,"facetable":false},{"storeDisplay":false,"values":[{"sequence":"0","value":"\u30ec\u30ae\u30e5\u30e9\u30fc","uniqueID":"7741124012286177339","unitOfMeasure":"","unitID":"","identifier":"Regular"}],"sequence":"10","name":"\u30d5\u30a3\u30c3\u30c8","associatedKeyword":"-","usage":"Descriptive","uniqueID":"7741124012285060351","displayable":true,"comparable":true,"identifier":"FRAME_FIT","searchable":true,"facetable":true},{"storeDisplay":false,"values":[{"sequence":"0","value":"\u30cf\u30a4\u30d6\u30ea\u30c3\u30b8\u30d5\u30a3\u30c3\u30c8","uniqueID":"7741124012287859725","unitOfMeasure":"","unitID":"","identifier":"High Bridge Fit"}],"sequence":"11","name":"\u30d6\u30ea\u30c3\u30b8\u306e\u7a2e\u985e\uff06\u30ce\u30fc\u30ba\u30d1\u30c3\u30c9","associatedKeyword":"-","usage":"Descriptive","uniqueID":"7741124012283379869","displayable":true,"comparable":true,"identifier":"GEO_FIT","searchable":true,"facetable":true},{"storeDisplay":false,"values":[{"sequence":"0","value":"\u30b0\u30ec\u30fc","uniqueID":"7741124012287387463","unitOfMeasure":"","unitID":"","identifier":"Grey"}],"sequence":"10000","name":"PREDOMINANT_COLOR_FACET","associatedKeyword":"-","usage":"Descriptive","uniqueID":"7741124012285060342","displayable":false,"comparable":false,"identifier":"PREDOMINANT_COLOR_FACET","searchable":true,"facetable":false},{"storeDisplay":false,"values":[{"sequence":"0","value":"Cary Grant 2 Sun","uniqueID":"7741124012285468752","unitOfMeasure":"","unitID":"","identifier":"Cary Grant 2 Sun"}],"sequence":"10000","name":"MODELNAME","associatedKeyword":"-","usage":"Descriptive","uniqueID":"7741124012283379853","displayable":false,"comparable":true,"identifier":"MODELNAME","searchable":true,"facetable":false},{"storeDisplay":false,"values":[{"sequence":"0","value":"Off","uniqueID":"7741124012286182429","unitOfMeasure":"","unitID":"","identifier":"True"}],"sequence":"10000","name":"IS_ROXABLE","associatedKeyword":"-","usage":"Descriptive","uniqueID":"7741124012285060337","displayable":false,"comparable":true,"identifier":"IS_ROXABLE","searchable":true,"facetable":true},{"storeDisplay":false,"values":[{"sequence":"0","value":"0","uniqueID":"7741124012283377787","unitOfMeasure":"","unitID":"","identifier":"0706c"}],"sequence":"10000","name":"CLEN","associatedKeyword":"-","usage":"Descriptive","uniqueID":"7741124012283379844","displayable":false,"comparable":true,"identifier":"CLEN","searchable":false,"facetable":false},{"storeDisplay":false,"values":[{"sequence":"0","value":"1675r5","uniqueID":"7741124012286193188","unitOfMeasure":"","unitID":"","identifier":"1675r5"}],"sequence":"10000","name":"COLOR_CODE","associatedKeyword":"-","usage":"Descriptive","uniqueID":"7741124012285059838","displayable":false,"comparable":false,"identifier":"COLOR_CODE","searchable":true,"facetable":false},{"storeDisplay":false,"values":[{"sequence":"0","value":"L","uniqueID":"7741124012287859789","unitOfMeasure":"","unitID":"","identifier":"L"},{"sequence":"0","value":"M","uniqueID":"7741124012287859786","unitOfMeasure":"","unitID":"","identifier":"M"}],"sequence":"10000","name":"\u30b5\u30a4\u30ba","associatedKeyword":"-","usage":"Defining","uniqueID":"7741124012283379859","displayable":true,"comparable":true,"identifier":"MODEL_SIZE_DISPLAY","searchable":false,"facetable":false},{"storeDisplay":false,"values":[{"sequence":"4","value":"M","uniqueID":"7741124012287791996","unitOfMeasure":"","unitID":"","identifier":"M"},{"sequence":"5","value":"L","uniqueID":"7741124012287791999","unitOfMeasure":"","unitID":"","identifier":"L"}],"sequence":"10000","name":"\u30b5\u30a4\u30ba","associatedKeyword":"-","usage":"Descriptive","uniqueID":"7741124012285273337","displayable":false,"comparable":true,"identifier":"MODEL_SIZE_DISPLAY_PLP","searchable":true,"facetable":true},{"storeDisplay":false,"values":[{"sequence":"0","value":"False\uff08\u507d\uff09","uniqueID":"7741124012287388847","unitOfMeasure":"","unitID":"","identifier":"FALSE"}],"sequence":"10000","name":"FLEX","associatedKeyword":"-","usage":"Descriptive","uniqueID":"7741124012283379877","displayable":false,"comparable":true,"identifier":"FLEX","searchable":false,"facetable":false},{"storeDisplay":false,"values":[{"sequence":"0","value":"Zpfn","uniqueID":"7741124012286177452","unitOfMeasure":"","unitID":"","identifier":"ZPFN"}],"sequence":"10000","name":"MATERIALTYPE","associatedKeyword":"-","usage":"Descriptive","uniqueID":"7741124012283379872","displayable":false,"comparable":true,"identifier":"MATERIALTYPE","searchable":false,"facetable":false},{"storeDisplay":false,"values":[{"sequence":"0","value":"Classic","uniqueID":"7741124012288148974","unitOfMeasure":"","unitID":"","identifier":"Classic"}],"sequence":"10000","name":"PROGRESSIVE_FRIENDLY","associatedKeyword":"-","usage":"Descriptive","uniqueID":"7741124012285300835","displayable":false,"comparable":true,"identifier":"PROGRESSIVE_FRIENDLY","searchable":true,"facetable":false},{"storeDisplay":false,"values":[{"sequence":"0","value":"False","uniqueID":"7741124012286878836","unitOfMeasure":"","unitID":"","identifier":"FALSE"}],"sequence":"10000","name":"FOLDABLE","associatedKeyword":"-","usage":"Descriptive","uniqueID":"7741124012283379866","displayable":false,"comparable":true,"identifier":"FOLDABLE","searchable":false,"facetable":false},{"storeDisplay":false,"values":[],"sequence":"10000","name":"IS_ASIAN","associatedKeyword":"-","usage":"Defining","uniqueID":"7741124012285274335","displayable":false,"comparable":true,"identifier":"IS_ASIAN","searchable":true,"facetable":true},{"storeDisplay":false,"values":[{"sequence":"0","value":"\u30d5\u30eb\u30ea\u30e0","uniqueID":"7741124012283379070","unitOfMeasure":"","unitID":"","identifier":"Full Rim"}],"sequence":"10000","name":"\u30d5\u30ec\u30fc\u30e0\u7a2e\u985e","associatedKeyword":"-","usage":"Descriptive","uniqueID":"7741124012283379870","displayable":false,"comparable":true,"identifier":"FRAMETYPE","searchable":true,"facetable":true},{"storeDisplay":false,"values":[{"sequence":"0","value":"\u30d4\u30ed\u30fc","uniqueID":"7741124012283379059","unitOfMeasure":"","unitID":"","identifier":"Pillow"}],"sequence":"10000","name":"\u30d5\u30ec\u30fc\u30e0\u5f62","associatedKeyword":"-","usage":"Descriptive","uniqueID":"7741124012283379867","displayable":false,"comparable":true,"identifier":"FRAME_SHAPE","searchable":false,"facetable":false},{"storeDisplay":false,"values":[{"sequence":"0","value":"\u30b9\u30af\u30a8\u30a2","uniqueID":"7741124012283379062","unitOfMeasure":"","unitID":"","identifier":"Square"}],"sequence":"10000","name":"\u30d5\u30ec\u30fc\u30e0\u5f62","associatedKeyword":"-","usage":"Descriptive","uniqueID":"7741124012283379868","displayable":false,"comparable":true,"identifier":"FRAME_SHAPE_FACET","searchable":true,"facetable":true},{"storeDisplay":false,"values":[{"sequence":"0","value":"Sunglasses","uniqueID":"7741124012287487327","unitOfMeasure":"","unitID":"","identifier":"Sunglasses"}],"sequence":"10000","name":"PROD_HIERARCHY_1","associatedKeyword":"-","usage":"Descriptive","uniqueID":"7741124012285060344","displayable":false,"comparable":false,"identifier":"PROD_HIERARCHY_1","searchable":true,"facetable":false},{"storeDisplay":false,"values":[{"sequence":"0","value":"67","uniqueID":"7741124012287479669","unitOfMeasure":"","unitID":"","identifier":"67"}],"sequence":"10000","name":"WIDTH","associatedKeyword":"-","usage":"Descriptive","uniqueID":"7741124012285060338","displayable":false,"comparable":false,"identifier":"WIDTH","searchable":true,"facetable":false},{"storeDisplay":false,"values":[{"sequence":"1","value":"Collaboration","uniqueID":"7741124012283379073","unitOfMeasure":"","unitID":"","identifier":"Collaboration"}],"sequence":"10000","name":"RANGE","associatedKeyword":"-","usage":"Descriptive","uniqueID":"7741124012283379871","displayable":false,"comparable":true,"identifier":"RANGE","searchable":true,"facetable":true},{"storeDisplay":false,"values":[{"sequence":"0","value":"314","uniqueID":"7741124012287867268","unitOfMeasure":"","unitID":"","identifier":"314"}],"sequence":"10000","name":"GROSSWEIGHT","associatedKeyword":"-","usage":"Descriptive","uniqueID":"7741124012283379861","displayable":false,"comparable":true,"identifier":"GROSSWEIGHT","searchable":false,"facetable":false},{"storeDisplay":false,"values":[{"sequence":"2","value":"Sun","uniqueID":"7741124012283379213","unitOfMeasure":"","unitID":"","identifier":"Sun"}],"sequence":"10000","name":"PRODUCTTYPE","associatedKeyword":"-","usage":"Descriptive","uniqueID":"7741124012283379876","displayable":false,"comparable":true,"identifier":"PRODUCTTYPE","searchable":true,"facetable":true},{"storeDisplay":false,"values":[{"sequence":"0","value":"Eyewear","uniqueID":"7741124012287777028","unitOfMeasure":"","unitID":"","identifier":"Eyewear"}],"sequence":"10000","name":"PROD_HIERARCHY_0","associatedKeyword":"-","usage":"Descriptive","uniqueID":"7741124012285060343","displayable":false,"comparable":false,"identifier":"PROD_HIERARCHY_0","searchable":true,"facetable":false},{"storeDisplay":false,"values":[{"sequence":"0","value":"52","uniqueID":"7741124012287860695","unitOfMeasure":"","unitID":"","identifier":"52"}],"sequence":"10000","name":"MOST_SOLD_SIZE","associatedKeyword":"-","usage":"Descriptive","uniqueID":"7741124012285274336","displayable":false,"comparable":true,"identifier":"MOST_SOLD_SIZE","searchable":false,"facetable":false},{"storeDisplay":false,"values":[{"sequence":"13","value":"False","uniqueID":"7741124012283944664","unitOfMeasure":"","unitID":"","identifier":"False"}],"sequence":"10000","name":"LIMITED_EDITION","associatedKeyword":"-","usage":"Descriptive","uniqueID":"7741124012283379847","displayable":false,"comparable":true,"identifier":"LIMITED_EDITION","searchable":true,"facetable":true},{"storeDisplay":false,"values":[{"sequence":"0","value":"True","uniqueID":"7741124012287218513","unitOfMeasure":"","unitID":"","identifier":"True"}],"sequence":"10000","name":"IS_ROX_FRIENDLY","associatedKeyword":"-","usage":"Descriptive","uniqueID":"7741124012285060355","displayable":false,"comparable":true,"identifier":"IS_ROX_FRIENDLY","searchable":true,"facetable":false},{"storeDisplay":false,"values":[{"sequence":"0","value":"PACK__OV__CaryGrant","uniqueID":"7741124012287791411","unitOfMeasure":"","unitID":"","identifier":"PACK__OV__CaryGrant"}],"sequence":"10000","name":"CASE","associatedKeyword":"-","usage":"Descriptive","uniqueID":"7741124012283439835","displayable":false,"comparable":false,"identifier":"CASE","searchable":true,"facetable":true},{"storeDisplay":false,"values":[{"sequence":"1","value":"False","uniqueID":"7741124012284934128","unitOfMeasure":"","unitID":"","identifier":"False"}],"sequence":"10000","name":"ENGRAVINGELIGIBLE","associatedKeyword":"-","usage":"Descriptive","uniqueID":"7741124012284296835","displayable":false,"comparable":true,"identifier":"ENGRAVINGELIGIBLE","searchable":false,"facetable":false},{"storeDisplay":false,"values":[{"sequence":"0","value":"0","uniqueID":"7741124012285168336","unitOfMeasure":"","unitID":"","identifier":"Plaque-3;logo-3;nosepads-1"}],"sequence":"10000","name":"FEATURES","associatedKeyword":"-","usage":"Descriptive","uniqueID":"7741124012283379879","displayable":false,"comparable":false,"identifier":"FEATURES","searchable":false,"facetable":false},{"storeDisplay":false,"values":[{"sequence":"0","value":"True","uniqueID":"7741124012287884290","unitOfMeasure":"","unitID":"","identifier":"True"}],"sequence":"10000","name":"CLICK_AND_COLLECT","associatedKeyword":"-","usage":"Descriptive","uniqueID":"7741124012285260835","displayable":false,"comparable":false,"identifier":"CLICK_AND_COLLECT","searchable":false,"facetable":false},{"storeDisplay":false,"values":[{"sequence":"0","value":"True","uniqueID":"7741124012287886329","unitOfMeasure":"","unitID":"","identifier":"True"}],"sequence":"10000","name":"REAL_TIME_INVENTORY","associatedKeyword":"-","usage":"Descriptive","uniqueID":"7741124012285260836","displayable":false,"comparable":false,"identifier":"REAL_TIME_INVENTORY","searchable":false,"facetable":false},{"storeDisplay":false,"values":[{"sequence":"0","value":"True","uniqueID":"7741124012287875997","unitOfMeasure":"","unitID":"","identifier":"True"}],"sequence":"10000","name":"SHIP_FROM_STORE","associatedKeyword":"-","usage":"Descriptive","uniqueID":"7741124012285260837","displayable":false,"comparable":false,"identifier":"SHIP_FROM_STORE","searchable":false,"facetable":false},{"storeDisplay":false,"values":[{"sequence":"549","value":"False","uniqueID":"7741124012283377364","unitOfMeasure":"","unitID":"","identifier":"False"}],"sequence":"10000","name":"\u9650\u5b9a","associatedKeyword":"-","usage":"Descriptive","uniqueID":"7741124012283379836","displayable":false,"comparable":true,"identifier":"EXCLUSIVE","searchable":true,"facetable":true},{"storeDisplay":false,"values":[{"sequence":"0","value":"True","uniqueID":"7741124012287887125","unitOfMeasure":"","unitID":"","identifier":"True"}],"sequence":"10000","name":"SHIP_TO_STORE","associatedKeyword":"-","usage":"Descriptive","uniqueID":"7741124012285260838","displayable":false,"comparable":false,"identifier":"SHIP_TO_STORE","searchable":false,"facetable":false},{"storeDisplay":false,"values":[{"sequence":"0","value":"False\uff08\u507d\uff09","uniqueID":"7741124012286389837","unitOfMeasure":"","unitID":"","identifier":"FALSE"}],"sequence":"10000","name":"\u8abf\u5149","associatedKeyword":"-","usage":"Descriptive","uniqueID":"7741124012285148835","displayable":false,"comparable":true,"identifier":"PHOTOCHROMIC","searchable":true,"facetable":true},{"storeDisplay":false,"values":[{"sequence":"0","value":"3N","uniqueID":"7741124012283381080","unitOfMeasure":"","unitID":"","identifier":"3N"}],"sequence":"10000","name":"NOTAINFORMATIVA","associatedKeyword":"-","usage":"Descriptive","uniqueID":"7741124012283379850","displayable":false,"comparable":true,"identifier":"NOTAINFORMATIVA","searchable":false,"facetable":false},{"storeDisplay":false,"values":[{"sequence":"0","value":"\u771f\u5b9f","uniqueID":"7741124012288148975","unitOfMeasure":"","unitID":"","identifier":"True"}],"sequence":"10000","name":"DRIVING_ASNZS","associatedKeyword":"-","usage":"Descriptive","uniqueID":"7741124012285300847","displayable":false,"comparable":true,"identifier":"DRIVING_ASNZS","searchable":true,"facetable":false},{"storeDisplay":false,"values":[{"sequence":"0","value":"202002","uniqueID":"7741124012285094411","unitOfMeasure":"","unitID":"","identifier":"202002"}],"sequence":"10000","name":"COLLECTION","associatedKeyword":"-","usage":"Descriptive","uniqueID":"7741124012283379835","displayable":false,"comparable":true,"identifier":"COLLECTION","searchable":true,"facetable":false},{"storeDisplay":false,"values":[{"sequence":"0","value":"False\uff08\u507d\uff09","uniqueID":"7741124012286328840","unitOfMeasure":"","unitID":"","identifier":"FALSE"}],"sequence":"10000","name":"\u30dd\u30e9\u30e9\u30a4\u30ba\u30c9","associatedKeyword":"-","usage":"Descriptive","uniqueID":"7741124012283379852","displayable":false,"comparable":true,"identifier":"POLARIZED","searchable":true,"facetable":true},{"storeDisplay":false,"values":[{"sequence":"0","value":"\u30dd\u30ea\u30c3\u30b7\u30e5","uniqueID":"7741124012286177346","unitOfMeasure":"","unitID":"","identifier":"Polished"}],"sequence":"10000","name":"FINISHING","associatedKeyword":"-","usage":"Descriptive","uniqueID":"7741124012285060335","displayable":false,"comparable":true,"identifier":"FINISHING","searchable":true,"facetable":false},{"storeDisplay":false,"values":[{"sequence":"0","value":"\u30d7\u30e9\u30b9\u30c1\u30c3\u30af","uniqueID":"7741124012286948835","unitOfMeasure":"","unitID":"","identifier":"Plastic"}],"sequence":"10000","name":"FRAME_MATERIAL_PERCEIVED","associatedKeyword":"-","usage":"Descriptive","uniqueID":"7741124012285060336","displayable":false,"comparable":true,"identifier":"FRAME_MATERIAL_PERCEIVED","searchable":true,"facetable":false},{"storeDisplay":false,"values":[{"sequence":"0","value":"\u7537\u6027","uniqueID":"7741124012288319560","unitOfMeasure":"","unitID":"","identifier":"MALE"}],"sequence":"10000","name":"\u6027\u5225","associatedKeyword":"-","usage":"Descriptive","uniqueID":"7741124012283379843","displayable":false,"comparable":true,"identifier":"GENDER","searchable":true,"facetable":true},{"storeDisplay":false,"values":[{"sequence":"0","value":"\u30b0\u30ec\u30fc","uniqueID":"7741124012286177439","unitOfMeasure":"","unitID":"","identifier":"Grey"}],"sequence":"10000","name":"LENSCOLOR_FAMILY","associatedKeyword":"-","usage":"Descriptive","uniqueID":"7741124012283591844","displayable":false,"comparable":true,"identifier":"LENSCOLOR_FAMILY","searchable":false,"facetable":false},{"storeDisplay":false,"values":[{"sequence":"0","value":"False","uniqueID":"7741124012286328838","unitOfMeasure":"","unitID":"","identifier":"FALSE"}],"sequence":"10000","name":"NEWRELEASES","associatedKeyword":"-","usage":"Descriptive","uniqueID":"7741124012283379849","displayable":false,"comparable":true,"identifier":"NEWRELEASES","searchable":true,"facetable":true},{"storeDisplay":false,"values":[{"sequence":"0","value":"Collaboration","uniqueID":"7741124012286177336","unitOfMeasure":"","unitID":"","identifier":"Collaboration"}],"sequence":"10000","name":"COLLECTION_TYPE","associatedKeyword":"-","usage":"Descriptive","uniqueID":"7741124012285060353","displayable":false,"comparable":false,"identifier":"COLLECTION_TYPE","searchable":true,"facetable":false},{"storeDisplay":false,"values":[{"sequence":"0","value":"\u30dc\u30eb\u30c9\u30fc","uniqueID":"7741124012286394338","unitOfMeasure":"","unitID":"","identifier":"Bordeaux"}],"sequence":"10000","name":"FRONT_INNER_COLOR","associatedKeyword":"-","usage":"Descriptive","uniqueID":"7741124012283379841","displayable":false,"comparable":true,"identifier":"FRONT_INNER_COLOR","searchable":false,"facetable":false},{"storeDisplay":false,"values":[{"sequence":"0","value":"\u30dc\u30eb\u30c9\u30fc","uniqueID":"7741124012286394339","unitOfMeasure":"","unitID":"","identifier":"Bordeaux"}],"sequence":"10000","name":"TEMPLE_INNER_COLOR","associatedKeyword":"-","usage":"Descriptive","uniqueID":"7741124012283379856","displayable":false,"comparable":true,"identifier":"TEMPLE_INNER_COLOR","searchable":false,"facetable":false},{"storeDisplay":false,"values":[{"sequence":"0","value":"\u30dc\u30eb\u30c9\u30fc\u30d0\u30fc\u30af","uniqueID":"7741124012284270723","unitOfMeasure":"","unitID":"","identifier":"Bordeaux Bark"}],"sequence":"10000","name":"TEMPLE_COLOR","associatedKeyword":"-","usage":"Descriptive","uniqueID":"7741124012283379854","displayable":false,"comparable":true,"identifier":"TEMPLE_COLOR","searchable":false,"facetable":false},{"storeDisplay":false,"values":[{"sequence":"0","value":"\u30e1\u30bf\u30eb","uniqueID":"7741124012287859734","unitOfMeasure":"","unitID":"","identifier":"Metal"}],"sequence":"10000","name":"ML_FRAME_FRONT_MATERIAL","associatedKeyword":"-","usage":"Descriptive","uniqueID":"7741124012285274348","displayable":false,"comparable":true,"identifier":"ML_FRAME_FRONT_MATERIAL","searchable":true,"facetable":false},{"storeDisplay":false,"values":[{"sequence":"0","value":"Semi_rim","uniqueID":"7741124012287859731","unitOfMeasure":"","unitID":"","identifier":"Semi_rim"}],"sequence":"10000","name":"ML_FRAME_RIM","associatedKeyword":"-","usage":"Descriptive","uniqueID":"7741124012285274342","displayable":false,"comparable":true,"identifier":"ML_FRAME_RIM","searchable":true,"facetable":false},{"storeDisplay":false,"values":[{"sequence":"0","value":"High","uniqueID":"7741124012287859736","unitOfMeasure":"","unitID":"","identifier":"High"}],"sequence":"10000","name":"ML_FRAME_TEMPLE_FITTING","associatedKeyword":"-","usage":"Descriptive","uniqueID":"7741124012285274338","displayable":false,"comparable":true,"identifier":"ML_FRAME_TEMPLE_FITTING","searchable":true,"facetable":false},{"storeDisplay":false,"values":[{"sequence":"0","value":"Spring","uniqueID":"7741124012287859739","unitOfMeasure":"","unitID":"","identifier":"Spring"}],"sequence":"10000","name":"ML_FRAME_COLOR_PALETTE","associatedKeyword":"-","usage":"Descriptive","uniqueID":"7741124012285274337","displayable":false,"comparable":true,"identifier":"ML_FRAME_COLOR_PALETTE","searchable":true,"facetable":false},{"storeDisplay":false,"values":[{"sequence":"0","value":"Gun_metals","uniqueID":"7741124012287859740","unitOfMeasure":"","unitID":"","identifier":"Gun_metals"}],"sequence":"10000","name":"ML_FRAME_COLOR","associatedKeyword":"-","usage":"Descriptive","uniqueID":"7741124012285274346","displayable":false,"comparable":true,"identifier":"ML_FRAME_COLOR","searchable":true,"facetable":false},{"storeDisplay":false,"values":[{"sequence":"0","value":"Thin","uniqueID":"7741124012287859729","unitOfMeasure":"","unitID":"","identifier":"Thin"}],"sequence":"10000","name":"ML_FRAME_TEMPLE_THICKNESS","associatedKeyword":"-","usage":"Descriptive","uniqueID":"7741124012285274339","displayable":false,"comparable":true,"identifier":"ML_FRAME_TEMPLE_THICKNESS","searchable":true,"facetable":false},{"storeDisplay":false,"values":[{"sequence":"0","value":"\u5973\u6027","uniqueID":"7741124012287859737","unitOfMeasure":"","unitID":"","identifier":"Female"}],"sequence":"10000","name":"ML_GLASS_GENDER","associatedKeyword":"-","usage":"Descriptive","uniqueID":"7741124012285274344","displayable":false,"comparable":true,"identifier":"ML_GLASS_GENDER","searchable":true,"facetable":false},{"storeDisplay":false,"values":[{"sequence":"0","value":"Sunglass","uniqueID":"7741124012287859735","unitOfMeasure":"","unitID":"","identifier":"Sunglass"}],"sequence":"10000","name":"ML_PRODUCT_TYPE","associatedKeyword":"-","usage":"Descriptive","uniqueID":"7741124012285274347","displayable":false,"comparable":true,"identifier":"ML_PRODUCT_TYPE","searchable":true,"facetable":false},{"storeDisplay":false,"values":[{"sequence":"0","value":"Low","uniqueID":"7741124012287859741","unitOfMeasure":"","unitID":"","identifier":"Low"}],"sequence":"10000","name":"ML_FRAME_BRIDGE_POSITION","associatedKeyword":"-","usage":"Descriptive","uniqueID":"7741124012285274345","displayable":false,"comparable":true,"identifier":"ML_FRAME_BRIDGE_POSITION","searchable":true,"facetable":false},{"storeDisplay":false,"values":[{"sequence":"0","value":"\u30aa\u30fc\u30d0\u30eb","uniqueID":"7741124012287859742","unitOfMeasure":"","unitID":"","identifier":"Oval"}],"sequence":"10000","name":"ML_FRAME_SHAPE","associatedKeyword":"-","usage":"Descriptive","uniqueID":"7741124012285274343","displayable":false,"comparable":true,"identifier":"ML_FRAME_SHAPE","searchable":true,"facetable":false},{"storeDisplay":false,"values":[{"sequence":"0","value":"\u30ec\u30c3\u30c9","uniqueID":"7741124012283377717","unitOfMeasure":"","unitID":"","identifier":"Red"}],"sequence":"10000","name":"FRONT_INNER_COLOR_FACET","associatedKeyword":"-","usage":"Descriptive","uniqueID":"7741124012283379842","displayable":false,"comparable":true,"identifier":"FRONT_INNER_COLOR_FACET","searchable":true,"facetable":false},{"storeDisplay":false,"values":[{"sequence":"0","value":"\u30ec\u30c3\u30c9","uniqueID":"7741124012283378402","unitOfMeasure":"","unitID":"","identifier":"Red"}],"sequence":"10000","name":"TEMPLE_INNER_COLOR_FACET","associatedKeyword":"-","usage":"Descriptive","uniqueID":"7741124012283379857","displayable":false,"comparable":true,"identifier":"TEMPLE_INNER_COLOR_FACET","searchable":true,"facetable":false},{"storeDisplay":false,"values":[{"sequence":"0","value":"Grey","uniqueID":"7741124012283377838","unitOfMeasure":"","unitID":"","identifier":"Grey"}],"sequence":"10000","name":"\u30ec\u30f3\u30ba\u30ab\u30e9\u30fc","associatedKeyword":"-","usage":"Descriptive","uniqueID":"7741124012283379845","displayable":false,"comparable":true,"identifier":"LENS_COLOR_FACET","searchable":true,"facetable":true},{"storeDisplay":false,"values":[{"sequence":"0","value":"\u30a2\u30bb\u30c6\u30fc\u30c8","uniqueID":"7741124012283377370","unitOfMeasure":"","unitID":"","identifier":"Acetate"}],"sequence":"10000","name":"\u30d5\u30ec\u30fc\u30e0\u7d20\u6750","associatedKeyword":"-","usage":"Descriptive","uniqueID":"7741124012283379838","displayable":false,"comparable":true,"identifier":"FRAMEMATERIAL_FACET","searchable":true,"facetable":true},{"storeDisplay":false,"values":[{"sequence":"0","value":"\u5b9a\u756a","uniqueID":"7741124012283379047","unitOfMeasure":"","unitID":"","identifier":"Classic"}],"sequence":"10000","name":"\u30ec\u30f3\u30ba\u7a2e\u985e","associatedKeyword":"-","usage":"Descriptive","uniqueID":"7741124012283379865","displayable":false,"comparable":true,"identifier":"LENS_TREATMENT_FACET","searchable":true,"facetable":true},{"storeDisplay":false,"values":[{"sequence":"0","value":"Red","uniqueID":"7741124012283377537","unitOfMeasure":"","unitID":"","identifier":"Red"}],"sequence":"10000","name":"\u30d5\u30ec\u30fc\u30e0\u30ab\u30e9\u30fc","associatedKeyword":"-","usage":"Descriptive","uniqueID":"7741124012283379840","displayable":false,"comparable":true,"identifier":"FRONT_COLOR_FACET","searchable":true,"facetable":true},{"storeDisplay":false,"values":[{"sequence":"0","value":"\u30ec\u30c3\u30c9","uniqueID":"7741124012283378219","unitOfMeasure":"","unitID":"","identifier":"Red"}],"sequence":"10000","name":"TEMPLE_COLOR_FACET","associatedKeyword":"-","usage":"Descriptive","uniqueID":"7741124012283379855","displayable":false,"comparable":true,"identifier":"TEMPLE_COLOR_FACET","searchable":true,"facetable":false}],"storeID":"715838934","numberOfSKUs":2,"partNumber":"0OV5436S__1675R5"},{"hasSingleSKU":true,"catalogEntryTypeCode":"ProductBean","associationType":"UPSELL","parentCatalogGroupID":["3074457345616683318_3074457345616691170","3074457345616683368_3074457345616714168","3074457345616683368_3074457345616714180","3074457345616684418_3074457345616714168","3074457345616684418_3074457345616714180","3074457345616684918_3074457345616714168","3074457345616684918_3074457345616714180"],"price_USD":"30.0","uniqueID":"3074457345616919757","singleSKUCatalogEntryID":"3074457345616919850","sKUs":[{"hasSingleSKU":false,"catalogEntryTypeCode":"ItemBean","parentCatalogGroupID":["3074457345616683318_3074457345616691170","3074457345616683368_3074457345616714168","3074457345616683368_3074457345616714180","3074457345616684418_3074457345616714168","3074457345616684418_3074457345616714180","3074457345616684918_3074457345616714168","3074457345616684918_3074457345616714180"],"uniqueID":"3074457345616919850","resourceId":"http:\/\/lrhsbrdilbp01.luxgroup.net:3737\/search\/resources\/store\/715840684\/productview\/byId\/3074457345616919850","price":[{"description":"L","value":"","usage":"Display","currency":"USD"},{"description":"O","value":"","usage":"Offer","currency":"USD"}],"thumbnail":"https:\/\/assets2.oliverpeoples.com\/cdn-record-files-pi\/789f46be-7c44-4810-a051-af3300f1640b\/e297929f-d28d-4670-8828-af39008eafd3\/AOV0001CK__000002_fr.png?impolicy=OV_OpPlp","mfPartNumber_ntk":"AOV0001CK","manufacturer":"Oliver Peoples","name":"Oliver Peoples Care Kit","buyable":"true","storeID":"715838934","attributes":[{"storeDisplay":false,"values":[{"sequence":"1","value":"AOV0001CK--000002","uniqueID":"7741124012288257260","unitOfMeasure":"","unitID":"","identifier":"AOV0001CK--000002"}],"sequence":"1","name":"Moco","usage":"Descriptive","uniqueID":"7741124012283379884","displayable":false,"comparable":false,"identifier":"MOCO","searchable":false,"facetable":false},{"storeDisplay":false,"values":[{"sequence":"0","value":"Aov0001ck 00 000002","uniqueID":"7741124012288254193","unitOfMeasure":"","unitID":"","identifier":"Aov0001ck 00 000002"}],"sequence":"10000","name":"SKU","usage":"Descriptive","uniqueID":"7741124012283391835","displayable":false,"comparable":true,"identifier":"SKU","searchable":false,"facetable":false},{"storeDisplay":false,"values":[{"sequence":"0","value":"AOV0001CK 000002","uniqueID":"7741124012288254190","unitOfMeasure":"","unitID":"","identifier":"AOV0001CK 000002"}],"sequence":"10000","name":"DISPLAYSKU","usage":"Descriptive","uniqueID":"7741124012283379878","displayable":false,"comparable":true,"identifier":"DISPLAYSKU","searchable":false,"facetable":false},{"storeDisplay":false,"values":[{"sequence":"0","value":"00000200","uniqueID":"7741124012286392992","unitOfMeasure":"","unitID":"","identifier":"00000200"}],"sequence":"10000","name":"GRID","usage":"Descriptive","uniqueID":"7741124012283591836","displayable":false,"comparable":true,"identifier":"GRID","searchable":false,"facetable":false}],"partNumber":"827934481411"}],"resourceId":"http:\/\/lrhsbrdilbp01.luxgroup.net:3737\/search\/resources\/store\/715840684\/productview\/byId\/3074457345616919757","price":[{"description":"L","value":"30.0","usage":"Display","currency":"USD"},{"description":"O","value":"","usage":"Offer","currency":"USD"}],"thumbnail":"https:\/\/assets2.oliverpeoples.com\/cdn-record-files-pi\/789f46be-7c44-4810-a051-af3300f1640b\/e297929f-d28d-4670-8828-af39008eafd3\/AOV0001CK__000002_fr.png?impolicy=OV_OpPlp","shortDescription":"OV0001CK","manufacturer":"Oliver Peoples","name":"Oliver Peoples Care Kit","buyable":"true","quantity":1,"attributes":[{"storeDisplay":false,"values":[{"sequence":"0","value":"AOV0001CK","uniqueID":"7741124012286177453","unitOfMeasure":"","unitID":"","identifier":"AOV0001CK"}],"sequence":"0","name":"\u30e2\u30c7\u30eb\u30b3\u30fc\u30c9","associatedKeyword":"-","usage":"Descriptive","uniqueID":"7741124012283379873","displayable":true,"comparable":true,"identifier":"MODEL_CODE_DISPLAY","searchable":false,"facetable":false},{"storeDisplay":false,"values":[{"sequence":"13","value":"False","uniqueID":"7741124012283944664","unitOfMeasure":"","unitID":"","identifier":"False"}],"sequence":"10000","name":"LIMITED_EDITION","associatedKeyword":"-","usage":"Descriptive","uniqueID":"7741124012283379847","displayable":false,"comparable":true,"identifier":"LIMITED_EDITION","searchable":true,"facetable":true},{"storeDisplay":false,"values":[{"sequence":"0","value":"Accessories","uniqueID":"7741124012287789224","unitOfMeasure":"","unitID":"","identifier":"Accessories"}],"sequence":"10000","name":"PROD_HIERARCHY_0","associatedKeyword":"-","usage":"Descriptive","uniqueID":"7741124012285060343","displayable":false,"comparable":false,"identifier":"PROD_HIERARCHY_0","searchable":true,"facetable":false},{"storeDisplay":false,"values":[{"sequence":"0","value":"00","uniqueID":"7741124012287872409","unitOfMeasure":"","unitID":"","identifier":"00"}],"sequence":"10000","name":"MOST_SOLD_SIZE","associatedKeyword":"-","usage":"Descriptive","uniqueID":"7741124012285274336","displayable":false,"comparable":true,"identifier":"MOST_SOLD_SIZE","searchable":false,"facetable":false},{"storeDisplay":false,"values":[{"sequence":"0","value":"Cleaning Kits","uniqueID":"7741124012287872402","unitOfMeasure":"","unitID":"","identifier":"Cleaning Kits"}],"sequence":"10000","name":"PROD_HIERARCHY_3","associatedKeyword":"-","usage":"Descriptive","uniqueID":"7741124012285060346","displayable":false,"comparable":true,"identifier":"PROD_HIERARCHY_3","searchable":true,"facetable":false},{"storeDisplay":false,"values":[{"sequence":"0","value":"Not Classified","uniqueID":"7741124012286179499","unitOfMeasure":"","unitID":"","identifier":"Not Classified"}],"sequence":"10000","name":"MARKETING_THEME_STORY","associatedKeyword":"-","usage":"Descriptive","uniqueID":"7741124012285060348","displayable":false,"comparable":true,"identifier":"MARKETING_THEME_STORY","searchable":true,"facetable":false},{"storeDisplay":false,"values":[{"sequence":"0","value":"35","uniqueID":"7741124012287413481","unitOfMeasure":"","unitID":"","identifier":"35"}],"sequence":"10000","name":"WIDTH","associatedKeyword":"-","usage":"Descriptive","uniqueID":"7741124012285060338","displayable":false,"comparable":false,"identifier":"WIDTH","searchable":true,"facetable":false},{"storeDisplay":false,"values":[{"sequence":"0","value":"Not Classified","uniqueID":"7741124012287611532","unitOfMeasure":"","unitID":"","identifier":"Not Classified"}],"sequence":"10000","name":"RANGE","associatedKeyword":"-","usage":"Descriptive","uniqueID":"7741124012283379871","displayable":false,"comparable":true,"identifier":"RANGE","searchable":true,"facetable":true},{"storeDisplay":false,"values":[{"sequence":"0","value":"Zacc","uniqueID":"7741124012286385836","unitOfMeasure":"","unitID":"","identifier":"ZACC"}],"sequence":"10000","name":"MATERIALTYPE","associatedKeyword":"-","usage":"Descriptive","uniqueID":"7741124012283379872","displayable":false,"comparable":true,"identifier":"MATERIALTYPE","searchable":false,"facetable":false},{"storeDisplay":false,"values":[{"sequence":"0","value":"Eyewear Accessories","uniqueID":"7741124012287771051","unitOfMeasure":"","unitID":"","identifier":"Eyewear Accessories"}],"sequence":"10000","name":"PROD_HIERARCHY_1","associatedKeyword":"-","usage":"Descriptive","uniqueID":"7741124012285060344","displayable":false,"comparable":false,"identifier":"PROD_HIERARCHY_1","searchable":true,"facetable":false},{"storeDisplay":false,"values":[{"sequence":"0","value":"Cleaning Kits & Cases","uniqueID":"7741124012287997071","unitOfMeasure":"","unitID":"","identifier":"Cleaning Kits & Cases"}],"sequence":"10000","name":"PROD_HIERARCHY_2","associatedKeyword":"-","usage":"Descriptive","uniqueID":"7741124012285060345","displayable":false,"comparable":false,"identifier":"PROD_HIERARCHY_2","searchable":true,"facetable":false},{"storeDisplay":false,"values":[{"sequence":"0","value":"202207","uniqueID":"7741124012287778534","unitOfMeasure":"","unitID":"","identifier":"202207"}],"sequence":"10000","name":"COLLECTION","associatedKeyword":"-","usage":"Descriptive","uniqueID":"7741124012283379835","displayable":false,"comparable":true,"identifier":"COLLECTION","searchable":true,"facetable":false},{"storeDisplay":false,"values":[{"sequence":"0","value":"False\uff08\u507d\uff09","uniqueID":"7741124012286328840","unitOfMeasure":"","unitID":"","identifier":"FALSE"}],"sequence":"10000","name":"\u30dd\u30e9\u30e9\u30a4\u30ba\u30c9","associatedKeyword":"-","usage":"Descriptive","uniqueID":"7741124012283379852","displayable":false,"comparable":true,"identifier":"POLARIZED","searchable":true,"facetable":true},{"storeDisplay":false,"values":[{"sequence":"0","value":"False","uniqueID":"7741124012286328838","unitOfMeasure":"","unitID":"","identifier":"FALSE"}],"sequence":"10000","name":"NEWRELEASES","associatedKeyword":"-","usage":"Descriptive","uniqueID":"7741124012283379849","displayable":false,"comparable":true,"identifier":"NEWRELEASES","searchable":true,"facetable":true},{"storeDisplay":false,"values":[{"sequence":"0","value":"Oliver Peoples Care Kit","uniqueID":"7741124012286177841","unitOfMeasure":"","unitID":"","identifier":"Oliver Peoples Care Kit"}],"sequence":"10000","name":"MODELNAME","associatedKeyword":"-","usage":"Descriptive","uniqueID":"7741124012283379853","displayable":false,"comparable":true,"identifier":"MODELNAME","searchable":true,"facetable":false},{"storeDisplay":false,"values":[{"sequence":"0","value":"False","uniqueID":"7741124012286432529","unitOfMeasure":"","unitID":"","identifier":"False"}],"sequence":"10000","name":"IS_ROXABLE","associatedKeyword":"-","usage":"Descriptive","uniqueID":"7741124012285060337","displayable":false,"comparable":true,"identifier":"IS_ROXABLE","searchable":true,"facetable":true},{"storeDisplay":false,"values":[{"sequence":"0","value":"000002","uniqueID":"7741124012286392930","unitOfMeasure":"","unitID":"","identifier":"000002"}],"sequence":"10000","name":"COLOR_CODE","associatedKeyword":"-","usage":"Descriptive","uniqueID":"7741124012285059838","displayable":false,"comparable":false,"identifier":"COLOR_CODE","searchable":true,"facetable":false},{"storeDisplay":false,"values":[{"sequence":"0","value":"True","uniqueID":"7741124012287884290","unitOfMeasure":"","unitID":"","identifier":"True"}],"sequence":"10000","name":"CLICK_AND_COLLECT","associatedKeyword":"-","usage":"Descriptive","uniqueID":"7741124012285260835","displayable":false,"comparable":false,"identifier":"CLICK_AND_COLLECT","searchable":false,"facetable":false},{"storeDisplay":false,"values":[{"sequence":"0","value":"True","uniqueID":"7741124012287886329","unitOfMeasure":"","unitID":"","identifier":"True"}],"sequence":"10000","name":"REAL_TIME_INVENTORY","associatedKeyword":"-","usage":"Descriptive","uniqueID":"7741124012285260836","displayable":false,"comparable":false,"identifier":"REAL_TIME_INVENTORY","searchable":false,"facetable":false},{"storeDisplay":false,"values":[{"sequence":"0","value":"True","uniqueID":"7741124012287875997","unitOfMeasure":"","unitID":"","identifier":"True"}],"sequence":"10000","name":"SHIP_FROM_STORE","associatedKeyword":"-","usage":"Descriptive","uniqueID":"7741124012285260837","displayable":false,"comparable":false,"identifier":"SHIP_FROM_STORE","searchable":false,"facetable":false},{"storeDisplay":false,"values":[{"sequence":"0","value":"True","uniqueID":"7741124012287887125","unitOfMeasure":"","unitID":"","identifier":"True"}],"sequence":"10000","name":"SHIP_TO_STORE","associatedKeyword":"-","usage":"Descriptive","uniqueID":"7741124012285260838","displayable":false,"comparable":false,"identifier":"SHIP_TO_STORE","searchable":false,"facetable":false},{"storeDisplay":false,"values":[{"sequence":"549","value":"False","uniqueID":"7741124012283377364","unitOfMeasure":"","unitID":"","identifier":"False"}],"sequence":"10000","name":"\u9650\u5b9a","associatedKeyword":"-","usage":"Descriptive","uniqueID":"7741124012283379836","displayable":false,"comparable":true,"identifier":"EXCLUSIVE","searchable":true,"facetable":true},{"storeDisplay":false,"values":[{"sequence":"0","value":"\u7537\u6027","uniqueID":"7741124012288319560","unitOfMeasure":"","unitID":"","identifier":"MALE"}],"sequence":"10000","name":"\u6027\u5225","associatedKeyword":"-","usage":"Descriptive","uniqueID":"7741124012283379843","displayable":false,"comparable":true,"identifier":"GENDER","searchable":true,"facetable":true},{"storeDisplay":false,"values":[{"sequence":"0","value":"10","uniqueID":"7741124012287488516","unitOfMeasure":"","unitID":"","identifier":"10"}],"sequence":"10000","name":"GROSSWEIGHT","associatedKeyword":"-","usage":"Descriptive","uniqueID":"7741124012283379861","displayable":false,"comparable":true,"identifier":"GROSSWEIGHT","searchable":false,"facetable":false},{"storeDisplay":false,"values":[{"sequence":"1","value":"Accessories","uniqueID":"7741124012283875339","unitOfMeasure":"","unitID":"","identifier":"Accessories"}],"sequence":"10000","name":"PRODUCTTYPE","associatedKeyword":"-","usage":"Descriptive","uniqueID":"7741124012283379876","displayable":false,"comparable":true,"identifier":"PRODUCTTYPE","searchable":true,"facetable":true}],"storeID":"715838934","numberOfSKUs":1,"partNumber":"AOV0001CK__000002"},{"hasSingleSKU":false,"catalogEntryTypeCode":"ProductBean","associationType":"X-SELL","parentCatalogGroupID":["3074457345616683318_3074457345616686168","3074457345616683368_3074457345616714177","3074457345616684418_3074457345616714177","3074457345616684918_3074457345616714177"],"price_USD":"560.0","uniqueID":"3074457345616723719","sKUs":[{"hasSingleSKU":false,"catalogEntryTypeCode":"ItemBean","parentCatalogGroupID":["3074457345616683318_3074457345616686168","3074457345616683368_3074457345616714177","3074457345616684418_3074457345616714177","3074457345616684918_3074457345616714177"],"uniqueID":"3074457345616725228","resourceId":"http:\/\/lrhsbrdilbp01.luxgroup.net:3737\/search\/resources\/store\/715840684\/productview\/byId\/3074457345616725228","price":[{"description":"L","value":"","usage":"Display","currency":"USD"},{"description":"O","value":"","usage":"Offer","currency":"USD"}],"thumbnail":"https:\/\/assets2.oliverpeoples.com\/cdn-record-files-pi\/6d46a238-7f08-48ce-91ce-a9930154c9ee\/f0aaf32b-32ab-4a1a-bda2-a9a100c7e503\/0OV5393SU__1492P1_000A.png?impolicy=OV_OpPlp","mfPartNumber_ntk":"0OV5393SU","manufacturer":"Oliver Peoples","name":"Oliver Sun","buyable":"true","storeID":"715838934","attributes":[{"storeDisplay":false,"values":[{"sequence":"1","value":"0OV5393SU--1492P1","uniqueID":"7741124012287135728","unitOfMeasure":"","unitID":"","identifier":"0OV5393SU--1492P1"}],"sequence":"1","name":"Moco","usage":"Descriptive","uniqueID":"7741124012283379884","displayable":false,"comparable":false,"identifier":"MOCO","searchable":false,"facetable":false},{"storeDisplay":false,"values":[{"sequence":"0","value":"0","uniqueID":"7741124012284933695","unitOfMeasure":"","unitID":"","identifier":"OV5393SU 1492P1 51-19"}],"sequence":"10000","name":"DISPLAYSKU","usage":"Descriptive","uniqueID":"7741124012283379878","displayable":false,"comparable":true,"identifier":"DISPLAYSKU","searchable":false,"facetable":false},{"storeDisplay":false,"values":[{"sequence":"0","value":"0","uniqueID":"7741124012283378430","unitOfMeasure":"","unitID":"","identifier":"51"}],"sequence":"10000","name":"MODEL_SIZE","usage":"Descriptive","uniqueID":"7741124012283379858","displayable":false,"comparable":true,"identifier":"MODEL_SIZE","searchable":false,"facetable":false},{"storeDisplay":false,"values":[{"sequence":"0","value":"51.1","uniqueID":"7741124012286199173","unitOfMeasure":"","unitID":"","identifier":"51.1"}],"sequence":"10000","name":"LENS_WIDTH","usage":"Descriptive","uniqueID":"7741124012285060340","displayable":false,"comparable":false,"identifier":"LENS_WIDTH","searchable":true,"facetable":false},{"storeDisplay":false,"values":[{"sequence":"1","value":"145","uniqueID":"7741124012283379037","unitOfMeasure":"","unitID":"","identifier":"145"}],"sequence":"10000","name":"TEMPLE_LENGTH","usage":"Descriptive","uniqueID":"7741124012283379863","displayable":false,"comparable":true,"identifier":"TEMPLE_LENGTH","searchable":false,"facetable":false},{"storeDisplay":false,"values":[{"sequence":"1","value":"21","uniqueID":"7741124012283758087","unitOfMeasure":"","unitID":"","identifier":"21"}],"sequence":"10000","name":"SEG_HEIGHT","usage":"Descriptive","uniqueID":"7741124012283591335","displayable":false,"comparable":true,"identifier":"SEG_HEIGHT","searchable":false,"facetable":false},{"storeDisplay":false,"values":[{"sequence":"0","value":"0ov5393su 51 1492p1","uniqueID":"7741124012287469589","unitOfMeasure":"","unitID":"","identifier":"0ov5393su 51 1492p1"}],"sequence":"10000","name":"SKU","usage":"Descriptive","uniqueID":"7741124012283391835","displayable":false,"comparable":true,"identifier":"SKU","searchable":false,"facetable":false},{"storeDisplay":false,"values":[{"sequence":"0","value":"0","uniqueID":"7741124012284453897","unitOfMeasure":"","unitID":"","identifier":"40.3"}],"sequence":"10000","name":"LENSHEIGHT","usage":"Descriptive","uniqueID":"7741124012283379885","displayable":false,"comparable":true,"identifier":"LENSHEIGHT","searchable":false,"facetable":false},{"storeDisplay":false,"values":[{"sequence":"0","value":"19","uniqueID":"7741124012286197412","unitOfMeasure":"","unitID":"","identifier":"19"}],"sequence":"10000","name":"BRIDGE","usage":"Descriptive","uniqueID":"7741124012285060347","displayable":false,"comparable":true,"identifier":"BRIDGE","searchable":true,"facetable":false},{"storeDisplay":false,"values":[{"sequence":"0","value":"1492P151","uniqueID":"7741124012286199131","unitOfMeasure":"","unitID":"","identifier":"1492P151"}],"sequence":"10000","name":"GRID","usage":"Descriptive","uniqueID":"7741124012283591836","displayable":false,"comparable":true,"identifier":"GRID","searchable":false,"facetable":false},{"storeDisplay":false,"values":[{"sequence":"0","value":"5119","uniqueID":"7741124012286199839","unitOfMeasure":"","unitID":"","identifier":"5119"}],"sequence":"10000","name":"LENS_BRIDGE","usage":"Descriptive","uniqueID":"7741124012283379862","displayable":false,"comparable":true,"identifier":"LENS_BRIDGE","searchable":false,"facetable":false},{"storeDisplay":false,"values":[{"sequence":"0","value":"M","uniqueID":"7741124012287859786","unitOfMeasure":"","unitID":"","identifier":"M"}],"sequence":"10000","name":"\u30b5\u30a4\u30ba","usage":"Defining","uniqueID":"7741124012283379859","displayable":true,"comparable":true,"identifier":"MODEL_SIZE_DISPLAY","searchable":false,"facetable":false},{"storeDisplay":false,"values":[{"sequence":"0","value":"132","uniqueID":"7741124012286433855","unitOfMeasure":"","unitID":"","identifier":"132"}],"sequence":"10000","name":"HINGE_DISTANCE","usage":"Descriptive","uniqueID":"7741124012285060349","displayable":false,"comparable":true,"identifier":"HINGE_DISTANCE","searchable":true,"facetable":false}],"partNumber":"827934427808"},{"hasSingleSKU":false,"catalogEntryTypeCode":"ItemBean","parentCatalogGroupID":["3074457345616683318_3074457345616686168","3074457345616683368_3074457345616714177","3074457345616684418_3074457345616714177","3074457345616684918_3074457345616714177"],"uniqueID":"3074457345616725234","resourceId":"http:\/\/lrhsbrdilbp01.luxgroup.net:3737\/search\/resources\/store\/715840684\/productview\/byId\/3074457345616725234","price":[{"description":"L","value":"","usage":"Display","currency":"USD"},{"description":"O","value":"","usage":"Offer","currency":"USD"}],"thumbnail":"https:\/\/assets2.oliverpeoples.com\/cdn-record-files-pi\/6d46a238-7f08-48ce-91ce-a9930154c9ee\/f0aaf32b-32ab-4a1a-bda2-a9a100c7e503\/0OV5393SU__1492P1_000A.png?impolicy=OV_OpPlp","mfPartNumber_ntk":"0OV5393SU","manufacturer":"Oliver Peoples","name":"Oliver Sun","buyable":"true","storeID":"715838934","attributes":[{"storeDisplay":false,"values":[{"sequence":"1","value":"0OV5393SU--1492P1","uniqueID":"7741124012287135728","unitOfMeasure":"","unitID":"","identifier":"0OV5393SU--1492P1"}],"sequence":"1","name":"Moco","usage":"Descriptive","uniqueID":"7741124012283379884","displayable":false,"comparable":false,"identifier":"MOCO","searchable":false,"facetable":false},{"storeDisplay":false,"values":[{"sequence":"1","value":"23","uniqueID":"7741124012283758089","unitOfMeasure":"","unitID":"","identifier":"23"}],"sequence":"10000","name":"SEG_HEIGHT","usage":"Descriptive","uniqueID":"7741124012283591335","displayable":false,"comparable":true,"identifier":"SEG_HEIGHT","searchable":false,"facetable":false},{"storeDisplay":false,"values":[{"sequence":"0","value":"XL","uniqueID":"7741124012287859785","unitOfMeasure":"","unitID":"","identifier":"XL"}],"sequence":"10000","name":"\u30b5\u30a4\u30ba","usage":"Defining","uniqueID":"7741124012283379859","displayable":true,"comparable":true,"identifier":"MODEL_SIZE_DISPLAY","searchable":false,"facetable":false},{"storeDisplay":false,"values":[{"sequence":"0","value":"0","uniqueID":"7741124012284933571","unitOfMeasure":"","unitID":"","identifier":"OV5393SU 1492P1 54-19"}],"sequence":"10000","name":"DISPLAYSKU","usage":"Descriptive","uniqueID":"7741124012283379878","displayable":false,"comparable":true,"identifier":"DISPLAYSKU","searchable":false,"facetable":false},{"storeDisplay":false,"values":[{"sequence":"0","value":"0ov5393su 54 1492p1","uniqueID":"7741124012287469595","unitOfMeasure":"","unitID":"","identifier":"0ov5393su 54 1492p1"}],"sequence":"10000","name":"SKU","usage":"Descriptive","uniqueID":"7741124012283391835","displayable":false,"comparable":true,"identifier":"SKU","searchable":false,"facetable":false},{"storeDisplay":false,"values":[{"sequence":"0","value":"138","uniqueID":"7741124012286203086","unitOfMeasure":"","unitID":"","identifier":"138"}],"sequence":"10000","name":"HINGE_DISTANCE","usage":"Descriptive","uniqueID":"7741124012285060349","displayable":false,"comparable":true,"identifier":"HINGE_DISTANCE","searchable":true,"facetable":false},{"storeDisplay":false,"values":[{"sequence":"0","value":"0","uniqueID":"7741124012283382082","unitOfMeasure":"","unitID":"","identifier":"42.7"}],"sequence":"10000","name":"LENSHEIGHT","usage":"Descriptive","uniqueID":"7741124012283379885","displayable":false,"comparable":true,"identifier":"LENSHEIGHT","searchable":false,"facetable":false},{"storeDisplay":false,"values":[{"sequence":"0","value":"0","uniqueID":"7741124012283378433","unitOfMeasure":"","unitID":"","identifier":"54"}],"sequence":"10000","name":"MODEL_SIZE","usage":"Descriptive","uniqueID":"7741124012283379858","displayable":false,"comparable":true,"identifier":"MODEL_SIZE","searchable":false,"facetable":false},{"storeDisplay":false,"values":[{"sequence":"0","value":"54.1","uniqueID":"7741124012286197782","unitOfMeasure":"","unitID":"","identifier":"54.1"}],"sequence":"10000","name":"LENS_WIDTH","usage":"Descriptive","uniqueID":"7741124012285060340","displayable":false,"comparable":false,"identifier":"LENS_WIDTH","searchable":true,"facetable":false},{"storeDisplay":false,"values":[{"sequence":"1","value":"150","uniqueID":"7741124012283379039","unitOfMeasure":"","unitID":"","identifier":"150"}],"sequence":"10000","name":"TEMPLE_LENGTH","usage":"Descriptive","uniqueID":"7741124012283379863","displayable":false,"comparable":true,"identifier":"TEMPLE_LENGTH","searchable":false,"facetable":false},{"storeDisplay":false,"values":[{"sequence":"0","value":"1492P154","uniqueID":"7741124012286197816","unitOfMeasure":"","unitID":"","identifier":"1492P154"}],"sequence":"10000","name":"GRID","usage":"Descriptive","uniqueID":"7741124012283591836","displayable":false,"comparable":true,"identifier":"GRID","searchable":false,"facetable":false},{"storeDisplay":false,"values":[{"sequence":"0","value":"19","uniqueID":"7741124012286197412","unitOfMeasure":"","unitID":"","identifier":"19"}],"sequence":"10000","name":"BRIDGE","usage":"Descriptive","uniqueID":"7741124012285060347","displayable":false,"comparable":true,"identifier":"BRIDGE","searchable":true,"facetable":false},{"storeDisplay":false,"values":[{"sequence":"0","value":"5419","uniqueID":"7741124012286204401","unitOfMeasure":"","unitID":"","identifier":"5419"}],"sequence":"10000","name":"LENS_BRIDGE","usage":"Descriptive","uniqueID":"7741124012283379862","displayable":false,"comparable":true,"identifier":"LENS_BRIDGE","searchable":false,"facetable":false}],"partNumber":"827934427914"},{"hasSingleSKU":false,"catalogEntryTypeCode":"ItemBean","parentCatalogGroupID":["3074457345616683318_3074457345616686168","3074457345616683368_3074457345616714177","3074457345616684418_3074457345616714177","3074457345616684918_3074457345616714177"],"uniqueID":"3074457345616792238","resourceId":"http:\/\/lrhsbrdilbp01.luxgroup.net:3737\/search\/resources\/store\/715840684\/productview\/byId\/3074457345616792238","price":[{"description":"L","value":"","usage":"Display","currency":"USD"},{"description":"O","value":"","usage":"Offer","currency":"USD"}],"thumbnail":"https:\/\/assets2.oliverpeoples.com\/cdn-record-files-pi\/6d46a238-7f08-48ce-91ce-a9930154c9ee\/f0aaf32b-32ab-4a1a-bda2-a9a100c7e503\/0OV5393SU__1492P1_000A.png?impolicy=OV_OpPlp","mfPartNumber_ntk":"0OV5393SU","manufacturer":"Oliver Peoples","name":"Oliver Sun","buyable":"true","storeID":"715838934","attributes":[{"storeDisplay":false,"values":[{"sequence":"1","value":"0OV5393SU--1492P1","uniqueID":"7741124012287135728","unitOfMeasure":"","unitID":"","identifier":"0OV5393SU--1492P1"}],"sequence":"1","name":"Moco","usage":"Descriptive","uniqueID":"7741124012283379884","displayable":false,"comparable":false,"identifier":"MOCO","searchable":false,"facetable":false},{"storeDisplay":false,"values":[{"sequence":"0","value":"0","uniqueID":"7741124012283378428","unitOfMeasure":"","unitID":"","identifier":"49"}],"sequence":"10000","name":"MODEL_SIZE","usage":"Descriptive","uniqueID":"7741124012283379858","displayable":false,"comparable":true,"identifier":"MODEL_SIZE","searchable":false,"facetable":false},{"storeDisplay":false,"values":[{"sequence":"0","value":"0","uniqueID":"7741124012285094676","unitOfMeasure":"","unitID":"","identifier":"38.7"}],"sequence":"10000","name":"LENSHEIGHT","usage":"Descriptive","uniqueID":"7741124012283379885","displayable":false,"comparable":true,"identifier":"LENSHEIGHT","searchable":false,"facetable":false},{"storeDisplay":false,"values":[{"sequence":"0","value":"0ov5393su 49 1492p1","uniqueID":"7741124012287469688","unitOfMeasure":"","unitID":"","identifier":"0ov5393su 49 1492p1"}],"sequence":"10000","name":"SKU","usage":"Descriptive","uniqueID":"7741124012283391835","displayable":false,"comparable":true,"identifier":"SKU","searchable":false,"facetable":false},{"storeDisplay":false,"values":[{"sequence":"1","value":"145","uniqueID":"7741124012283379037","unitOfMeasure":"","unitID":"","identifier":"145"}],"sequence":"10000","name":"TEMPLE_LENGTH","usage":"Descriptive","uniqueID":"7741124012283379863","displayable":false,"comparable":true,"identifier":"TEMPLE_LENGTH","searchable":false,"facetable":false},{"storeDisplay":false,"values":[{"sequence":"0","value":"19","uniqueID":"7741124012286197412","unitOfMeasure":"","unitID":"","identifier":"19"}],"sequence":"10000","name":"BRIDGE","usage":"Descriptive","uniqueID":"7741124012285060347","displayable":false,"comparable":true,"identifier":"BRIDGE","searchable":true,"facetable":false},{"storeDisplay":false,"values":[{"sequence":"0","value":"1492P149","uniqueID":"7741124012286517144","unitOfMeasure":"","unitID":"","identifier":"1492P149"}],"sequence":"10000","name":"GRID","usage":"Descriptive","uniqueID":"7741124012283591836","displayable":false,"comparable":true,"identifier":"GRID","searchable":false,"facetable":false},{"storeDisplay":false,"values":[{"sequence":"0","value":"4919","uniqueID":"7741124012286210151","unitOfMeasure":"","unitID":"","identifier":"4919"}],"sequence":"10000","name":"LENS_BRIDGE","usage":"Descriptive","uniqueID":"7741124012283379862","displayable":false,"comparable":true,"identifier":"LENS_BRIDGE","searchable":false,"facetable":false},{"storeDisplay":false,"values":[{"sequence":"1","value":"21","uniqueID":"7741124012283758087","unitOfMeasure":"","unitID":"","identifier":"21"}],"sequence":"10000","name":"SEG_HEIGHT","usage":"Descriptive","uniqueID":"7741124012283591335","displayable":false,"comparable":true,"identifier":"SEG_HEIGHT","searchable":false,"facetable":false},{"storeDisplay":false,"values":[{"sequence":"0","value":"S","uniqueID":"7741124012287859787","unitOfMeasure":"","unitID":"","identifier":"S"}],"sequence":"10000","name":"\u30b5\u30a4\u30ba","usage":"Defining","uniqueID":"7741124012283379859","displayable":true,"comparable":true,"identifier":"MODEL_SIZE_DISPLAY","searchable":false,"facetable":false},{"storeDisplay":false,"values":[{"sequence":"0","value":"OV5393SU 1492P1 49-19","uniqueID":"7741124012286517147","unitOfMeasure":"","unitID":"","identifier":"OV5393SU 1492P1 49-19"}],"sequence":"10000","name":"DISPLAYSKU","usage":"Descriptive","uniqueID":"7741124012283379878","displayable":false,"comparable":true,"identifier":"DISPLAYSKU","searchable":false,"facetable":false},{"storeDisplay":false,"values":[{"sequence":"0","value":"128","uniqueID":"7741124012286434069","unitOfMeasure":"","unitID":"","identifier":"128"}],"sequence":"10000","name":"HINGE_DISTANCE","usage":"Descriptive","uniqueID":"7741124012285060349","displayable":false,"comparable":true,"identifier":"HINGE_DISTANCE","searchable":true,"facetable":false},{"storeDisplay":false,"values":[{"sequence":"0","value":"49.1","uniqueID":"7741124012287469684","unitOfMeasure":"","unitID":"","identifier":"49.1"}],"sequence":"10000","name":"LENS_WIDTH","usage":"Descriptive","uniqueID":"7741124012285060340","displayable":false,"comparable":false,"identifier":"LENS_WIDTH","searchable":true,"facetable":false}],"partNumber":"827934449503"}],"resourceId":"http:\/\/lrhsbrdilbp01.luxgroup.net:3737\/search\/resources\/store\/715840684\/productview\/byId\/3074457345616723719","price":[{"description":"L","value":"560.0","usage":"Display","currency":"USD"},{"description":"O","value":"","usage":"Offer","currency":"USD"}],"thumbnail":"https:\/\/assets2.oliverpeoples.com\/cdn-record-files-pi\/6d46a238-7f08-48ce-91ce-a9930154c9ee\/f0aaf32b-32ab-4a1a-bda2-a9a100c7e503\/0OV5393SU__1492P1_000A.png?impolicy=OV_OpPlp","shortDescription":"OV5393SU","mfPartNumber_ntk":"OV5393SU MALE 001","manufacturer":"Oliver Peoples","name":"Oliver Sun","buyable":"true","quantity":1,"attributes":[{"storeDisplay":false,"values":[{"sequence":"0","value":"OV5393SU","uniqueID":"7741124012283944730","unitOfMeasure":"","unitID":"","identifier":"OV5393SU"}],"sequence":"0","name":"\u30e2\u30c7\u30eb\u30b3\u30fc\u30c9","associatedKeyword":"-","usage":"Descriptive","uniqueID":"7741124012283379873","displayable":true,"comparable":true,"identifier":"MODEL_CODE_DISPLAY","searchable":false,"facetable":false},{"storeDisplay":false,"values":[{"sequence":"0","value":"Black","uniqueID":"7741124012283377375","unitOfMeasure":"","unitID":"","identifier":"Black"}],"sequence":"1","name":"\u30d5\u30ed\u30f3\u30c8\u30ab\u30e9\u30fc","associatedKeyword":"-","usage":"Descriptive","uniqueID":"7741124012283379839","displayable":true,"comparable":true,"identifier":"FRONT_COLOR","searchable":false,"facetable":false},{"storeDisplay":false,"values":[{"sequence":"0","value":"G-15 Polar","uniqueID":"7741124012283579178","unitOfMeasure":"","unitID":"","identifier":"G-15 Polar"}],"sequence":"2","name":"\u30ec\u30f3\u30ba\u30ab\u30e9\u30fc","associatedKeyword":"-","usage":"Descriptive","uniqueID":"7741124012283379846","displayable":true,"comparable":true,"identifier":"LENS_COLOR","searchable":false,"facetable":false},{"storeDisplay":false,"values":[{"sequence":"0","value":"\u5b9a\u756a","uniqueID":"7741124012283379043","unitOfMeasure":"","unitID":"","identifier":"Classic"}],"sequence":"3","name":"LENS_TREATMENT","associatedKeyword":"-","usage":"Descriptive","uniqueID":"7741124012283379864","displayable":false,"comparable":true,"identifier":"LENS_TREATMENT","searchable":false,"facetable":false},{"storeDisplay":false,"values":[{"sequence":"0","value":"\u30af\u30ea\u30b9\u30bf\u30eb","uniqueID":"7741124012286177448","unitOfMeasure":"","unitID":"","identifier":"Crystal"}],"sequence":"5","name":"\u30ec\u30f3\u30ba\u7d20\u6750","associatedKeyword":"-","usage":"Descriptive","uniqueID":"7741124012285060339","displayable":false,"comparable":false,"identifier":"LENS_MATERIAL","searchable":true,"facetable":false},{"storeDisplay":false,"values":[{"sequence":"0","value":"\u30a2\u30bb\u30c6\u30fc\u30c8","uniqueID":"7741124012283377366","unitOfMeasure":"","unitID":"","identifier":"Acetate"}],"sequence":"6","name":"\u30d5\u30ec\u30fc\u30e0\u7d20\u6750","associatedKeyword":"-","usage":"Descriptive","uniqueID":"7741124012283379837","displayable":true,"comparable":true,"identifier":"FRAMEMATERIAL","searchable":false,"facetable":false},{"storeDisplay":false,"values":[{"sequence":"1","value":"1","uniqueID":"7741124012284932835","unitOfMeasure":"","unitID":"","identifier":"1"}],"sequence":"8","name":"PLACEHOLDER_SIZE","associatedKeyword":"-","usage":"Descriptive","uniqueID":"7741124012284296836","displayable":true,"comparable":false,"identifier":"PLACEHOLDER_SIZE","searchable":false,"facetable":false},{"storeDisplay":false,"values":[{"sequence":"0","value":"\u30ec\u30ae\u30e5\u30e9\u30fc","uniqueID":"7741124012286177339","unitOfMeasure":"","unitID":"","identifier":"Regular"}],"sequence":"10","name":"\u30d5\u30a3\u30c3\u30c8","associatedKeyword":"-","usage":"Descriptive","uniqueID":"7741124012285060351","displayable":true,"comparable":true,"identifier":"FRAME_FIT","searchable":true,"facetable":true},{"storeDisplay":false,"values":[{"sequence":"0","value":"\u30e6\u30cb\u30d0\u30fc\u30b5\u30eb\u30d5\u30a3\u30c3\u30c8","uniqueID":"7741124012287859724","unitOfMeasure":"","unitID":"","identifier":"Universal Fit"}],"sequence":"11","name":"\u30d6\u30ea\u30c3\u30b8\u306e\u7a2e\u985e\uff06\u30ce\u30fc\u30ba\u30d1\u30c3\u30c9","associatedKeyword":"-","usage":"Descriptive","uniqueID":"7741124012283379869","displayable":true,"comparable":true,"identifier":"GEO_FIT","searchable":true,"facetable":true},{"storeDisplay":false,"values":[{"sequence":"0","value":"201810","uniqueID":"7741124012283944422","unitOfMeasure":"","unitID":"","identifier":"201810"}],"sequence":"10000","name":"COLLECTION","associatedKeyword":"-","usage":"Descriptive","uniqueID":"7741124012283379835","displayable":false,"comparable":true,"identifier":"COLLECTION","searchable":true,"facetable":false},{"storeDisplay":false,"values":[{"sequence":"0","value":"0","uniqueID":"7741124012288249361","unitOfMeasure":"","unitID":"","identifier":"True"}],"sequence":"10000","name":"\u30dd\u30e9\u30e9\u30a4\u30ba\u30c9","associatedKeyword":"-","usage":"Descriptive","uniqueID":"7741124012283379852","displayable":false,"comparable":true,"identifier":"POLARIZED","searchable":true,"facetable":true},{"storeDisplay":false,"values":[{"sequence":"0","value":"\u30dd\u30ea\u30c3\u30b7\u30e5","uniqueID":"7741124012286177346","unitOfMeasure":"","unitID":"","identifier":"Polished"}],"sequence":"10000","name":"FINISHING","associatedKeyword":"-","usage":"Descriptive","uniqueID":"7741124012285060335","displayable":false,"comparable":true,"identifier":"FINISHING","searchable":true,"facetable":false},{"storeDisplay":false,"values":[{"sequence":"0","value":"\u30d7\u30e9\u30b9\u30c1\u30c3\u30af","uniqueID":"7741124012286948835","unitOfMeasure":"","unitID":"","identifier":"Plastic"}],"sequence":"10000","name":"FRAME_MATERIAL_PERCEIVED","associatedKeyword":"-","usage":"Descriptive","uniqueID":"7741124012285060336","displayable":false,"comparable":true,"identifier":"FRAME_MATERIAL_PERCEIVED","searchable":true,"facetable":false},{"storeDisplay":false,"values":[{"sequence":"0","value":"\u7537\u6027","uniqueID":"7741124012288319560","unitOfMeasure":"","unitID":"","identifier":"MALE"}],"sequence":"10000","name":"\u6027\u5225","associatedKeyword":"-","usage":"Descriptive","uniqueID":"7741124012283379843","displayable":false,"comparable":true,"identifier":"GENDER","searchable":true,"facetable":true},{"storeDisplay":false,"values":[{"sequence":"0","value":"\u30b0\u30ea\u30fc\u30f3","uniqueID":"7741124012286177438","unitOfMeasure":"","unitID":"","identifier":"Green"}],"sequence":"10000","name":"LENSCOLOR_FAMILY","associatedKeyword":"-","usage":"Descriptive","uniqueID":"7741124012283591844","displayable":false,"comparable":true,"identifier":"LENSCOLOR_FAMILY","searchable":false,"facetable":false},{"storeDisplay":false,"values":[{"sequence":"3","value":"S","uniqueID":"7741124012287791998","unitOfMeasure":"","unitID":"","identifier":"S"},{"sequence":"4","value":"M","uniqueID":"7741124012287791996","unitOfMeasure":"","unitID":"","identifier":"M"},{"sequence":"6","value":"XL","uniqueID":"7741124012287792000","unitOfMeasure":"","unitID":"","identifier":"XL"}],"sequence":"10000","name":"\u30b5\u30a4\u30ba","associatedKeyword":"-","usage":"Descriptive","uniqueID":"7741124012285273337","displayable":false,"comparable":true,"identifier":"MODEL_SIZE_DISPLAY_PLP","searchable":true,"facetable":true},{"storeDisplay":false,"values":[{"sequence":"0","value":"S","uniqueID":"7741124012287859787","unitOfMeasure":"","unitID":"","identifier":"S"},{"sequence":"0","value":"XL","uniqueID":"7741124012287859785","unitOfMeasure":"","unitID":"","identifier":"XL"},{"sequence":"0","value":"M","uniqueID":"7741124012287859786","unitOfMeasure":"","unitID":"","identifier":"M"}],"sequence":"10000","name":"\u30b5\u30a4\u30ba","associatedKeyword":"-","usage":"Defining","uniqueID":"7741124012283379859","displayable":true,"comparable":true,"identifier":"MODEL_SIZE_DISPLAY","searchable":false,"facetable":false},{"storeDisplay":false,"values":[{"sequence":"0","value":"False\uff08\u507d\uff09","uniqueID":"7741124012287388847","unitOfMeasure":"","unitID":"","identifier":"FALSE"}],"sequence":"10000","name":"FLEX","associatedKeyword":"-","usage":"Descriptive","uniqueID":"7741124012283379877","displayable":false,"comparable":true,"identifier":"FLEX","searchable":false,"facetable":false},{"storeDisplay":false,"values":[{"sequence":"0","value":"Zpfn","uniqueID":"7741124012286177452","unitOfMeasure":"","unitID":"","identifier":"ZPFN"}],"sequence":"10000","name":"MATERIALTYPE","associatedKeyword":"-","usage":"Descriptive","uniqueID":"7741124012283379872","displayable":false,"comparable":true,"identifier":"MATERIALTYPE","searchable":false,"facetable":false},{"storeDisplay":false,"values":[{"sequence":"0","value":"Classic","uniqueID":"7741124012288148974","unitOfMeasure":"","unitID":"","identifier":"Classic"}],"sequence":"10000","name":"PROGRESSIVE_FRIENDLY","associatedKeyword":"-","usage":"Descriptive","uniqueID":"7741124012285300835","displayable":false,"comparable":true,"identifier":"PROGRESSIVE_FRIENDLY","searchable":true,"facetable":false},{"storeDisplay":false,"values":[{"sequence":"0","value":"False","uniqueID":"7741124012286878836","unitOfMeasure":"","unitID":"","identifier":"FALSE"}],"sequence":"10000","name":"FOLDABLE","associatedKeyword":"-","usage":"Descriptive","uniqueID":"7741124012283379866","displayable":false,"comparable":true,"identifier":"FOLDABLE","searchable":false,"facetable":false},{"storeDisplay":false,"values":[{"sequence":"0","value":"\u30d5\u30eb\u30ea\u30e0","uniqueID":"7741124012283379070","unitOfMeasure":"","unitID":"","identifier":"Full Rim"}],"sequence":"10000","name":"\u30d5\u30ec\u30fc\u30e0\u7a2e\u985e","associatedKeyword":"-","usage":"Descriptive","uniqueID":"7741124012283379870","displayable":false,"comparable":true,"identifier":"FRAMETYPE","searchable":true,"facetable":true},{"storeDisplay":false,"values":[{"sequence":"0","value":"\u30ec\u30af\u30bf\u30f3\u30b0\u30eb","uniqueID":"7741124012283379058","unitOfMeasure":"","unitID":"","identifier":"Rectangle"}],"sequence":"10000","name":"\u30d5\u30ec\u30fc\u30e0\u5f62","associatedKeyword":"-","usage":"Descriptive","uniqueID":"7741124012283379867","displayable":false,"comparable":true,"identifier":"FRAME_SHAPE","searchable":false,"facetable":false},{"storeDisplay":false,"values":[{"sequence":"0","value":"\u30ec\u30af\u30bf\u30f3\u30b0\u30eb","uniqueID":"7741124012283379066","unitOfMeasure":"","unitID":"","identifier":"Rectangle"}],"sequence":"10000","name":"\u30d5\u30ec\u30fc\u30e0\u5f62","associatedKeyword":"-","usage":"Descriptive","uniqueID":"7741124012283379868","displayable":false,"comparable":true,"identifier":"FRAME_SHAPE_FACET","searchable":true,"facetable":true},{"storeDisplay":false,"values":[{"sequence":"0","value":"Sunglasses","uniqueID":"7741124012287487327","unitOfMeasure":"","unitID":"","identifier":"Sunglasses"}],"sequence":"10000","name":"PROD_HIERARCHY_1","associatedKeyword":"-","usage":"Descriptive","uniqueID":"7741124012285060344","displayable":false,"comparable":false,"identifier":"PROD_HIERARCHY_1","searchable":true,"facetable":false},{"storeDisplay":false,"values":[{"sequence":"0","value":"Essentials","uniqueID":"7741124012287128985","unitOfMeasure":"","unitID":"","identifier":"Essentials"}],"sequence":"10000","name":"RANGE","associatedKeyword":"-","usage":"Descriptive","uniqueID":"7741124012283379871","displayable":false,"comparable":true,"identifier":"RANGE","searchable":true,"facetable":true},{"storeDisplay":false,"values":[{"sequence":"0","value":"55","uniqueID":"7741124012286195051","unitOfMeasure":"","unitID":"","identifier":"55"}],"sequence":"10000","name":"WIDTH","associatedKeyword":"-","usage":"Descriptive","uniqueID":"7741124012285060338","displayable":false,"comparable":false,"identifier":"WIDTH","searchable":true,"facetable":false},{"storeDisplay":false,"values":[{"sequence":"0","value":"-","uniqueID":"7741124012287188128","unitOfMeasure":"","unitID":"","identifier":"-"}],"sequence":"10000","name":"MARKETING_THEME_STORY","associatedKeyword":"-","usage":"Descriptive","uniqueID":"7741124012285060348","displayable":false,"comparable":true,"identifier":"MARKETING_THEME_STORY","searchable":true,"facetable":false},{"storeDisplay":false,"values":[{"sequence":"0","value":"25","uniqueID":"7741124012287387961","unitOfMeasure":"","unitID":"","identifier":"25"}],"sequence":"10000","name":"GROSSWEIGHT","associatedKeyword":"-","usage":"Descriptive","uniqueID":"7741124012283379861","displayable":false,"comparable":true,"identifier":"GROSSWEIGHT","searchable":false,"facetable":false},{"storeDisplay":false,"values":[{"sequence":"2","value":"Sun","uniqueID":"7741124012283379213","unitOfMeasure":"","unitID":"","identifier":"Sun"}],"sequence":"10000","name":"PRODUCTTYPE","associatedKeyword":"-","usage":"Descriptive","uniqueID":"7741124012283379876","displayable":false,"comparable":true,"identifier":"PRODUCTTYPE","searchable":true,"facetable":true},{"storeDisplay":false,"values":[{"sequence":"1","value":"Oliver Sun","uniqueID":"7741124012284291524","unitOfMeasure":"","unitID":"","identifier":"OLIVER SUN"}],"sequence":"10000","name":"MODEL_FAMILY","associatedKeyword":"-","usage":"Descriptive","uniqueID":"7741124012283379874","displayable":false,"comparable":true,"identifier":"MODEL_FAMILY","searchable":true,"facetable":false},{"storeDisplay":false,"values":[{"sequence":"0","value":"Eyewear","uniqueID":"7741124012287777028","unitOfMeasure":"","unitID":"","identifier":"Eyewear"}],"sequence":"10000","name":"PROD_HIERARCHY_0","associatedKeyword":"-","usage":"Descriptive","uniqueID":"7741124012285060343","displayable":false,"comparable":false,"identifier":"PROD_HIERARCHY_0","searchable":true,"facetable":false},{"storeDisplay":false,"values":[{"sequence":"0","value":"54","uniqueID":"7741124012287869628","unitOfMeasure":"","unitID":"","identifier":"54"}],"sequence":"10000","name":"MOST_SOLD_SIZE","associatedKeyword":"-","usage":"Descriptive","uniqueID":"7741124012285274336","displayable":false,"comparable":true,"identifier":"MOST_SOLD_SIZE","searchable":false,"facetable":false},{"storeDisplay":false,"values":[{"sequence":"0","value":"True","uniqueID":"7741124012286181046","unitOfMeasure":"","unitID":"","identifier":"True"}],"sequence":"10000","name":"BESTSELLERS","associatedKeyword":"-","usage":"Descriptive","uniqueID":"7741124012285059837","displayable":false,"comparable":true,"identifier":"BESTSELLERS","searchable":true,"facetable":false},{"storeDisplay":false,"values":[{"sequence":"0","value":"False","uniqueID":"7741124012286328838","unitOfMeasure":"","unitID":"","identifier":"FALSE"}],"sequence":"10000","name":"NEWRELEASES","associatedKeyword":"-","usage":"Descriptive","uniqueID":"7741124012283379849","displayable":false,"comparable":true,"identifier":"NEWRELEASES","searchable":true,"facetable":true},{"storeDisplay":false,"values":[{"sequence":"0","value":"\u771f\u5b9f","uniqueID":"7741124012287412812","unitOfMeasure":"","unitID":"","identifier":"TRUE"}],"sequence":"10000","name":"LENS_LOGO","associatedKeyword":"-","usage":"Descriptive","uniqueID":"7741124012285060354","displayable":false,"comparable":true,"identifier":"LENS_LOGO","searchable":true,"facetable":false},{"storeDisplay":false,"values":[{"sequence":"0","value":"\u30d6\u30e9\u30c3\u30af","uniqueID":"7741124012283378242","unitOfMeasure":"","unitID":"","identifier":"Black"}],"sequence":"10000","name":"TEMPLE_INNER_COLOR","associatedKeyword":"-","usage":"Descriptive","uniqueID":"7741124012283379856","displayable":false,"comparable":true,"identifier":"TEMPLE_INNER_COLOR","searchable":false,"facetable":false},{"storeDisplay":false,"values":[{"sequence":"0","value":"\u30d6\u30e9\u30c3\u30af","uniqueID":"7741124012283377555","unitOfMeasure":"","unitID":"","identifier":"Black"}],"sequence":"10000","name":"FRONT_INNER_COLOR","associatedKeyword":"-","usage":"Descriptive","uniqueID":"7741124012283379841","displayable":false,"comparable":true,"identifier":"FRONT_INNER_COLOR","searchable":false,"facetable":false},{"storeDisplay":false,"values":[{"sequence":"0","value":"\u30d6\u30e9\u30c3\u30af","uniqueID":"7741124012283378059","unitOfMeasure":"","unitID":"","identifier":"Black"}],"sequence":"10000","name":"TEMPLE_COLOR","associatedKeyword":"-","usage":"Descriptive","uniqueID":"7741124012283379854","displayable":false,"comparable":true,"identifier":"TEMPLE_COLOR","searchable":false,"facetable":false},{"storeDisplay":false,"values":[{"sequence":"0","value":"\u30b9\u30af\u30a8\u30a2","uniqueID":"7741124012287859755","unitOfMeasure":"","unitID":"","identifier":"Square"}],"sequence":"10000","name":"ML_FRAME_SHAPE","associatedKeyword":"-","usage":"Descriptive","uniqueID":"7741124012285274343","displayable":false,"comparable":true,"identifier":"ML_FRAME_SHAPE","searchable":true,"facetable":false},{"storeDisplay":false,"values":[{"sequence":"0","value":"Full_rim","uniqueID":"7741124012287859749","unitOfMeasure":"","unitID":"","identifier":"Full_rim"}],"sequence":"10000","name":"ML_FRAME_RIM","associatedKeyword":"-","usage":"Descriptive","uniqueID":"7741124012285274342","displayable":false,"comparable":true,"identifier":"ML_FRAME_RIM","searchable":true,"facetable":false},{"storeDisplay":false,"values":[{"sequence":"0","value":"High","uniqueID":"7741124012287859733","unitOfMeasure":"","unitID":"","identifier":"High"}],"sequence":"10000","name":"ML_FRAME_BRIDGE_POSITION","associatedKeyword":"-","usage":"Descriptive","uniqueID":"7741124012285274345","displayable":false,"comparable":true,"identifier":"ML_FRAME_BRIDGE_POSITION","searchable":true,"facetable":false},{"storeDisplay":false,"values":[{"sequence":"0","value":"\u5973\u6027","uniqueID":"7741124012287859737","unitOfMeasure":"","unitID":"","identifier":"Female"}],"sequence":"10000","name":"ML_GLASS_GENDER","associatedKeyword":"-","usage":"Descriptive","uniqueID":"7741124012285274344","displayable":false,"comparable":true,"identifier":"ML_GLASS_GENDER","searchable":true,"facetable":false},{"storeDisplay":false,"values":[{"sequence":"0","value":"Black_metals","uniqueID":"7741124012287859754","unitOfMeasure":"","unitID":"","identifier":"Black_metals"}],"sequence":"10000","name":"ML_FRAME_COLOR","associatedKeyword":"-","usage":"Descriptive","uniqueID":"7741124012285274346","displayable":false,"comparable":true,"identifier":"ML_FRAME_COLOR","searchable":true,"facetable":false},{"storeDisplay":false,"values":[{"sequence":"0","value":"Winter","uniqueID":"7741124012287859732","unitOfMeasure":"","unitID":"","identifier":"Winter"}],"sequence":"10000","name":"ML_FRAME_COLOR_PALETTE","associatedKeyword":"-","usage":"Descriptive","uniqueID":"7741124012285274337","displayable":false,"comparable":true,"identifier":"ML_FRAME_COLOR_PALETTE","searchable":true,"facetable":false},{"storeDisplay":false,"values":[{"sequence":"0","value":"Sunglass","uniqueID":"7741124012287859735","unitOfMeasure":"","unitID":"","identifier":"Sunglass"}],"sequence":"10000","name":"ML_PRODUCT_TYPE","associatedKeyword":"-","usage":"Descriptive","uniqueID":"7741124012285274347","displayable":false,"comparable":true,"identifier":"ML_PRODUCT_TYPE","searchable":true,"facetable":false},{"storeDisplay":false,"values":[{"sequence":"0","value":"Thin","uniqueID":"7741124012287859729","unitOfMeasure":"","unitID":"","identifier":"Thin"}],"sequence":"10000","name":"ML_FRAME_TEMPLE_THICKNESS","associatedKeyword":"-","usage":"Descriptive","uniqueID":"7741124012285274339","displayable":false,"comparable":true,"identifier":"ML_FRAME_TEMPLE_THICKNESS","searchable":true,"facetable":false},{"storeDisplay":false,"values":[{"sequence":"0","value":"High","uniqueID":"7741124012287859736","unitOfMeasure":"","unitID":"","identifier":"High"}],"sequence":"10000","name":"ML_FRAME_TEMPLE_FITTING","associatedKeyword":"-","usage":"Descriptive","uniqueID":"7741124012285274338","displayable":false,"comparable":true,"identifier":"ML_FRAME_TEMPLE_FITTING","searchable":true,"facetable":false},{"storeDisplay":false,"values":[{"sequence":"0","value":"\u30d7\u30e9\u30b9\u30c1\u30c3\u30af","uniqueID":"7741124012287859750","unitOfMeasure":"","unitID":"","identifier":"Plastic"}],"sequence":"10000","name":"ML_FRAME_FRONT_MATERIAL","associatedKeyword":"-","usage":"Descriptive","uniqueID":"7741124012285274348","displayable":false,"comparable":true,"identifier":"ML_FRAME_FRONT_MATERIAL","searchable":true,"facetable":false},{"storeDisplay":false,"values":[{"sequence":"0","value":"\u30d6\u30e9\u30c3\u30af","uniqueID":"7741124012283378399","unitOfMeasure":"","unitID":"","identifier":"Black"}],"sequence":"10000","name":"TEMPLE_INNER_COLOR_FACET","associatedKeyword":"-","usage":"Descriptive","uniqueID":"7741124012283379857","displayable":false,"comparable":true,"identifier":"TEMPLE_INNER_COLOR_FACET","searchable":true,"facetable":false},{"storeDisplay":false,"values":[{"sequence":"0","value":"\u30d6\u30e9\u30c3\u30af","uniqueID":"7741124012283377714","unitOfMeasure":"","unitID":"","identifier":"Black"}],"sequence":"10000","name":"FRONT_INNER_COLOR_FACET","associatedKeyword":"-","usage":"Descriptive","uniqueID":"7741124012283379842","displayable":false,"comparable":true,"identifier":"FRONT_INNER_COLOR_FACET","searchable":true,"facetable":false},{"storeDisplay":false,"values":[{"sequence":"0","value":"\u30a2\u30bb\u30c6\u30fc\u30c8","uniqueID":"7741124012283377370","unitOfMeasure":"","unitID":"","identifier":"Acetate"}],"sequence":"10000","name":"\u30d5\u30ec\u30fc\u30e0\u7d20\u6750","associatedKeyword":"-","usage":"Descriptive","uniqueID":"7741124012283379838","displayable":false,"comparable":true,"identifier":"FRAMEMATERIAL_FACET","searchable":true,"facetable":true},{"storeDisplay":false,"values":[{"sequence":"0","value":"\u5b9a\u756a","uniqueID":"7741124012283379047","unitOfMeasure":"","unitID":"","identifier":"Classic"}],"sequence":"10000","name":"\u30ec\u30f3\u30ba\u7a2e\u985e","associatedKeyword":"-","usage":"Descriptive","uniqueID":"7741124012283379865","displayable":false,"comparable":true,"identifier":"LENS_TREATMENT_FACET","searchable":true,"facetable":true},{"storeDisplay":false,"values":[{"sequence":"0","value":"Black","uniqueID":"7741124012283377534","unitOfMeasure":"","unitID":"","identifier":"Black"}],"sequence":"10000","name":"\u30d5\u30ec\u30fc\u30e0\u30ab\u30e9\u30fc","associatedKeyword":"-","usage":"Descriptive","uniqueID":"7741124012283379840","displayable":false,"comparable":true,"identifier":"FRONT_COLOR_FACET","searchable":true,"facetable":true},{"storeDisplay":false,"values":[{"sequence":"0","value":"Green","uniqueID":"7741124012283377839","unitOfMeasure":"","unitID":"","identifier":"Green"}],"sequence":"10000","name":"\u30ec\u30f3\u30ba\u30ab\u30e9\u30fc","associatedKeyword":"-","usage":"Descriptive","uniqueID":"7741124012283379845","displayable":false,"comparable":true,"identifier":"LENS_COLOR_FACET","searchable":true,"facetable":true},{"storeDisplay":false,"values":[{"sequence":"0","value":"\u30d6\u30e9\u30c3\u30af","uniqueID":"7741124012283378216","unitOfMeasure":"","unitID":"","identifier":"Black"}],"sequence":"10000","name":"TEMPLE_COLOR_FACET","associatedKeyword":"-","usage":"Descriptive","uniqueID":"7741124012283379855","displayable":false,"comparable":true,"identifier":"TEMPLE_COLOR_FACET","searchable":true,"facetable":false},{"storeDisplay":false,"values":[{"sequence":"0","value":"\u30b0\u30ea\u30fc\u30f3","uniqueID":"7741124012287387461","unitOfMeasure":"","unitID":"","identifier":"Green"}],"sequence":"10000","name":"PREDOMINANT_COLOR_FACET","associatedKeyword":"-","usage":"Descriptive","uniqueID":"7741124012285060342","displayable":false,"comparable":false,"identifier":"PREDOMINANT_COLOR_FACET","searchable":true,"facetable":false},{"storeDisplay":false,"values":[{"sequence":"0","value":"Oliver Sun","uniqueID":"7741124012285468672","unitOfMeasure":"","unitID":"","identifier":"Oliver Sun"}],"sequence":"10000","name":"MODELNAME","associatedKeyword":"-","usage":"Descriptive","uniqueID":"7741124012283379853","displayable":false,"comparable":true,"identifier":"MODELNAME","searchable":true,"facetable":false},{"storeDisplay":false,"values":[{"sequence":"0","value":"Off","uniqueID":"7741124012286182429","unitOfMeasure":"","unitID":"","identifier":"True"}],"sequence":"10000","name":"IS_ROXABLE","associatedKeyword":"-","usage":"Descriptive","uniqueID":"7741124012285060337","displayable":false,"comparable":true,"identifier":"IS_ROXABLE","searchable":true,"facetable":true},{"storeDisplay":false,"values":[{"sequence":"0","value":"0","uniqueID":"7741124012283377773","unitOfMeasure":"","unitID":"","identifier":"L528c"}],"sequence":"10000","name":"CLEN","associatedKeyword":"-","usage":"Descriptive","uniqueID":"7741124012283379844","displayable":false,"comparable":true,"identifier":"CLEN","searchable":false,"facetable":false},{"storeDisplay":false,"values":[{"sequence":"0","value":"1492p1","uniqueID":"7741124012286185972","unitOfMeasure":"","unitID":"","identifier":"1492p1"}],"sequence":"10000","name":"COLOR_CODE","associatedKeyword":"-","usage":"Descriptive","uniqueID":"7741124012285059838","displayable":false,"comparable":false,"identifier":"COLOR_CODE","searchable":true,"facetable":false},{"storeDisplay":false,"values":[{"sequence":"13","value":"False","uniqueID":"7741124012283944664","unitOfMeasure":"","unitID":"","identifier":"False"}],"sequence":"10000","name":"LIMITED_EDITION","associatedKeyword":"-","usage":"Descriptive","uniqueID":"7741124012283379847","displayable":false,"comparable":true,"identifier":"LIMITED_EDITION","searchable":true,"facetable":true},{"storeDisplay":false,"values":[{"sequence":"0","value":"True","uniqueID":"7741124012287218513","unitOfMeasure":"","unitID":"","identifier":"True"}],"sequence":"10000","name":"IS_ROX_FRIENDLY","associatedKeyword":"-","usage":"Descriptive","uniqueID":"7741124012285060355","displayable":false,"comparable":true,"identifier":"IS_ROX_FRIENDLY","searchable":true,"facetable":false},{"storeDisplay":false,"values":[{"sequence":"0","value":"PACK__OV__InstitutionalSun2","uniqueID":"7741124012287771338","unitOfMeasure":"","unitID":"","identifier":"PACK__OV__InstitutionalSun2"}],"sequence":"10000","name":"CASE","associatedKeyword":"-","usage":"Descriptive","uniqueID":"7741124012283439835","displayable":false,"comparable":false,"identifier":"CASE","searchable":true,"facetable":true},{"storeDisplay":false,"values":[{"sequence":"1","value":"False","uniqueID":"7741124012284934128","unitOfMeasure":"","unitID":"","identifier":"False"}],"sequence":"10000","name":"ENGRAVINGELIGIBLE","associatedKeyword":"-","usage":"Descriptive","uniqueID":"7741124012284296835","displayable":false,"comparable":true,"identifier":"ENGRAVINGELIGIBLE","searchable":false,"facetable":false},{"storeDisplay":false,"values":[{"sequence":"0","value":"Lenses-polar-glass;frame-front-functional-plaques;temple-corewire;nosepads-universal-fitting;lenses-bc","uniqueID":"7741124012287879696","unitOfMeasure":"","unitID":"","identifier":"Lenses-polar-glass;frame-front-functional-plaques;temple-corewire;nosepads-universal-fitting;lenses-bc"}],"sequence":"10000","name":"FEATURES","associatedKeyword":"-","usage":"Descriptive","uniqueID":"7741124012283379879","displayable":false,"comparable":false,"identifier":"FEATURES","searchable":false,"facetable":false},{"storeDisplay":false,"values":[{"sequence":"0","value":"True","uniqueID":"7741124012287884290","unitOfMeasure":"","unitID":"","identifier":"True"}],"sequence":"10000","name":"CLICK_AND_COLLECT","associatedKeyword":"-","usage":"Descriptive","uniqueID":"7741124012285260835","displayable":false,"comparable":false,"identifier":"CLICK_AND_COLLECT","searchable":false,"facetable":false},{"storeDisplay":false,"values":[{"sequence":"0","value":"True","uniqueID":"7741124012287886329","unitOfMeasure":"","unitID":"","identifier":"True"}],"sequence":"10000","name":"REAL_TIME_INVENTORY","associatedKeyword":"-","usage":"Descriptive","uniqueID":"7741124012285260836","displayable":false,"comparable":false,"identifier":"REAL_TIME_INVENTORY","searchable":false,"facetable":false},{"storeDisplay":false,"values":[{"sequence":"0","value":"True","uniqueID":"7741124012287875997","unitOfMeasure":"","unitID":"","identifier":"True"}],"sequence":"10000","name":"SHIP_FROM_STORE","associatedKeyword":"-","usage":"Descriptive","uniqueID":"7741124012285260837","displayable":false,"comparable":false,"identifier":"SHIP_FROM_STORE","searchable":false,"facetable":false},{"storeDisplay":false,"values":[{"sequence":"0","value":"True","uniqueID":"7741124012287887125","unitOfMeasure":"","unitID":"","identifier":"True"}],"sequence":"10000","name":"SHIP_TO_STORE","associatedKeyword":"-","usage":"Descriptive","uniqueID":"7741124012285260838","displayable":false,"comparable":false,"identifier":"SHIP_TO_STORE","searchable":false,"facetable":false},{"storeDisplay":false,"values":[{"sequence":"549","value":"False","uniqueID":"7741124012283377364","unitOfMeasure":"","unitID":"","identifier":"False"}],"sequence":"10000","name":"\u9650\u5b9a","associatedKeyword":"-","usage":"Descriptive","uniqueID":"7741124012283379836","displayable":false,"comparable":true,"identifier":"EXCLUSIVE","searchable":true,"facetable":true},{"storeDisplay":false,"values":[{"sequence":"0","value":"3P","uniqueID":"7741124012283381081","unitOfMeasure":"","unitID":"","identifier":"3P"}],"sequence":"10000","name":"NOTAINFORMATIVA","associatedKeyword":"-","usage":"Descriptive","uniqueID":"7741124012283379850","displayable":false,"comparable":true,"identifier":"NOTAINFORMATIVA","searchable":false,"facetable":false},{"storeDisplay":false,"values":[{"sequence":"0","value":"False\uff08\u507d\uff09","uniqueID":"7741124012286389837","unitOfMeasure":"","unitID":"","identifier":"FALSE"}],"sequence":"10000","name":"\u8abf\u5149","associatedKeyword":"-","usage":"Descriptive","uniqueID":"7741124012285148835","displayable":false,"comparable":true,"identifier":"PHOTOCHROMIC","searchable":true,"facetable":true},{"storeDisplay":false,"values":[{"sequence":"0","value":"\u771f\u5b9f","uniqueID":"7741124012288148975","unitOfMeasure":"","unitID":"","identifier":"True"}],"sequence":"10000","name":"DRIVING_ASNZS","associatedKeyword":"-","usage":"Descriptive","uniqueID":"7741124012285300847","displayable":false,"comparable":true,"identifier":"DRIVING_ASNZS","searchable":true,"facetable":false}],"storeID":"715838934","numberOfSKUs":3,"partNumber":"0OV5393SU__1492P1"},{"hasSingleSKU":false,"catalogEntryTypeCode":"ProductBean","associationType":"X-SELL","parentCatalogGroupID":["3074457345616683318_3074457345616686168","3074457345616683368_3074457345616714169","3074457345616683368_3074457345616714172","3074457345616683368_3074457345616714176","3074457345616683368_3074457345616714184","3074457345616683368_3074457345616714192","3074457345616683368_3074457345616714193","3074457345616683368_3074457345616714204","3074457345616683368_3074457345616714205","3074457345616683368_3074457345616714207","3074457345616683368_3074457345616714208","3074457345616684418_3074457345616714169","3074457345616684418_3074457345616714172","3074457345616684418_3074457345616714176","3074457345616684418_3074457345616714184","3074457345616684418_3074457345616714192","3074457345616684418_3074457345616714193","3074457345616684418_3074457345616714204","3074457345616684418_3074457345616714205","3074457345616684418_3074457345616714207","3074457345616684418_3074457345616714208","3074457345616684918_3074457345616714169","3074457345616684918_3074457345616714172","3074457345616684918_3074457345616714176","3074457345616684918_3074457345616714184","3074457345616684918_3074457345616714192","3074457345616684918_3074457345616714193","3074457345616684918_3074457345616714204","3074457345616684918_3074457345616714205","3074457345616684918_3074457345616714207","3074457345616684918_3074457345616714208"],"price_USD":"458.0","uniqueID":"3074457345616792708","sKUs":[{"hasSingleSKU":false,"catalogEntryTypeCode":"ItemBean","parentCatalogGroupID":["3074457345616683318_3074457345616686168","3074457345616683368_3074457345616714169","3074457345616683368_3074457345616714172","3074457345616683368_3074457345616714176","3074457345616683368_3074457345616714184","3074457345616683368_3074457345616714192","3074457345616683368_3074457345616714193","3074457345616683368_3074457345616714204","3074457345616683368_3074457345616714205","3074457345616683368_3074457345616714207","3074457345616683368_3074457345616714208","3074457345616684418_3074457345616714169","3074457345616684418_3074457345616714172","3074457345616684418_3074457345616714176","3074457345616684418_3074457345616714184","3074457345616684418_3074457345616714192","3074457345616684418_3074457345616714193","3074457345616684418_3074457345616714204","3074457345616684418_3074457345616714205","3074457345616684418_3074457345616714207","3074457345616684418_3074457345616714208","3074457345616684918_3074457345616714169","3074457345616684918_3074457345616714172","3074457345616684918_3074457345616714176","3074457345616684918_3074457345616714184","3074457345616684918_3074457345616714192","3074457345616684918_3074457345616714193","3074457345616684918_3074457345616714204","3074457345616684918_3074457345616714205","3074457345616684918_3074457345616714207","3074457345616684918_3074457345616714208"],"uniqueID":"3074457345616793222","resourceId":"http:\/\/lrhsbrdilbp01.luxgroup.net:3737\/search\/resources\/store\/715840684\/productview\/byId\/3074457345616793222","price":[{"description":"L","value":"","usage":"Display","currency":"USD"},{"description":"O","value":"","usage":"Offer","currency":"USD"}],"thumbnail":"https:\/\/assets2.oliverpeoples.com\/cdn-record-files-pi\/67c79f2d-1dec-4738-aa94-ab6400b95a94\/11e5d8ea-5091-4d26-8eb3-ab6b00deeb0e\/0OV5413SU__167452_000A.png?impolicy=OV_OpPlp","mfPartNumber_ntk":"0OV5413SU","manufacturer":"Oliver Peoples","name":"Cary Grant Sun","buyable":"true","storeID":"715838934","attributes":[{"storeDisplay":false,"values":[{"sequence":"1","value":"0OV5413SU--167452","uniqueID":"7741124012287136087","unitOfMeasure":"","unitID":"","identifier":"0OV5413SU--167452"}],"sequence":"1","name":"Moco","usage":"Descriptive","uniqueID":"7741124012283379884","displayable":false,"comparable":false,"identifier":"MOCO","searchable":false,"facetable":false},{"storeDisplay":false,"values":[{"sequence":"0","value":"0","uniqueID":"7741124012285120052","unitOfMeasure":"","unitID":"","identifier":"OV5413SU 167452 48-22"}],"sequence":"10000","name":"DISPLAYSKU","usage":"Descriptive","uniqueID":"7741124012283379878","displayable":false,"comparable":true,"identifier":"DISPLAYSKU","searchable":false,"facetable":false},{"storeDisplay":false,"values":[{"sequence":"0","value":"0ov5413su 48 167452","uniqueID":"7741124012287507743","unitOfMeasure":"","unitID":"","identifier":"0ov5413su 48 167452"}],"sequence":"10000","name":"SKU","usage":"Descriptive","uniqueID":"7741124012283391835","displayable":false,"comparable":true,"identifier":"SKU","searchable":false,"facetable":false},{"storeDisplay":false,"values":[{"sequence":"0","value":"130","uniqueID":"7741124012286198053","unitOfMeasure":"","unitID":"","identifier":"130"}],"sequence":"10000","name":"HINGE_DISTANCE","usage":"Descriptive","uniqueID":"7741124012285060349","displayable":false,"comparable":true,"identifier":"HINGE_DISTANCE","searchable":true,"facetable":false},{"storeDisplay":false,"values":[{"sequence":"0","value":"0","uniqueID":"7741124012283378427","unitOfMeasure":"","unitID":"","identifier":"48"}],"sequence":"10000","name":"MODEL_SIZE","usage":"Descriptive","uniqueID":"7741124012283379858","displayable":false,"comparable":true,"identifier":"MODEL_SIZE","searchable":false,"facetable":false},{"storeDisplay":false,"values":[{"sequence":"1","value":"23","uniqueID":"7741124012283758089","unitOfMeasure":"","unitID":"","identifier":"23"}],"sequence":"10000","name":"SEG_HEIGHT","usage":"Descriptive","uniqueID":"7741124012283591335","displayable":false,"comparable":true,"identifier":"SEG_HEIGHT","searchable":false,"facetable":false},{"storeDisplay":false,"values":[{"sequence":"1","value":"145","uniqueID":"7741124012283379037","unitOfMeasure":"","unitID":"","identifier":"145"}],"sequence":"10000","name":"TEMPLE_LENGTH","usage":"Descriptive","uniqueID":"7741124012283379863","displayable":false,"comparable":true,"identifier":"TEMPLE_LENGTH","searchable":false,"facetable":false},{"storeDisplay":false,"values":[{"sequence":"0","value":"48.1","uniqueID":"7741124012286209884","unitOfMeasure":"","unitID":"","identifier":"48.1"}],"sequence":"10000","name":"LENS_WIDTH","usage":"Descriptive","uniqueID":"7741124012285060340","displayable":false,"comparable":false,"identifier":"LENS_WIDTH","searchable":true,"facetable":false},{"storeDisplay":false,"values":[{"sequence":"0","value":"16745248","uniqueID":"7741124012286207967","unitOfMeasure":"","unitID":"","identifier":"16745248"}],"sequence":"10000","name":"GRID","usage":"Descriptive","uniqueID":"7741124012283591836","displayable":false,"comparable":true,"identifier":"GRID","searchable":false,"facetable":false},{"storeDisplay":false,"values":[{"sequence":"0","value":"22","uniqueID":"7741124012286202599","unitOfMeasure":"","unitID":"","identifier":"22"}],"sequence":"10000","name":"BRIDGE","usage":"Descriptive","uniqueID":"7741124012285060347","displayable":false,"comparable":true,"identifier":"BRIDGE","searchable":true,"facetable":false},{"storeDisplay":false,"values":[{"sequence":"0","value":"4822","uniqueID":"7741124012286199608","unitOfMeasure":"","unitID":"","identifier":"4822"}],"sequence":"10000","name":"LENS_BRIDGE","usage":"Descriptive","uniqueID":"7741124012283379862","displayable":false,"comparable":true,"identifier":"LENS_BRIDGE","searchable":false,"facetable":false},{"storeDisplay":false,"values":[{"sequence":"0","value":"M","uniqueID":"7741124012287859786","unitOfMeasure":"","unitID":"","identifier":"M"}],"sequence":"10000","name":"\u30b5\u30a4\u30ba","usage":"Defining","uniqueID":"7741124012283379859","displayable":true,"comparable":true,"identifier":"MODEL_SIZE_DISPLAY","searchable":false,"facetable":false},{"storeDisplay":false,"values":[{"sequence":"0","value":"0","uniqueID":"7741124012283382081","unitOfMeasure":"","unitID":"","identifier":"42.6"}],"sequence":"10000","name":"LENSHEIGHT","usage":"Descriptive","uniqueID":"7741124012283379885","displayable":false,"comparable":true,"identifier":"LENSHEIGHT","searchable":false,"facetable":false}],"partNumber":"827934451346"},{"hasSingleSKU":false,"catalogEntryTypeCode":"ItemBean","parentCatalogGroupID":["3074457345616683318_3074457345616686168","3074457345616683368_3074457345616714169","3074457345616683368_3074457345616714172","3074457345616683368_3074457345616714176","3074457345616683368_3074457345616714184","3074457345616683368_3074457345616714192","3074457345616683368_3074457345616714193","3074457345616683368_3074457345616714204","3074457345616683368_3074457345616714205","3074457345616683368_3074457345616714207","3074457345616683368_3074457345616714208","3074457345616684418_3074457345616714169","3074457345616684418_3074457345616714172","3074457345616684418_3074457345616714176","3074457345616684418_3074457345616714184","3074457345616684418_3074457345616714192","3074457345616684418_3074457345616714193","3074457345616684418_3074457345616714204","3074457345616684418_3074457345616714205","3074457345616684418_3074457345616714207","3074457345616684418_3074457345616714208","3074457345616684918_3074457345616714169","3074457345616684918_3074457345616714172","3074457345616684918_3074457345616714176","3074457345616684918_3074457345616714184","3074457345616684918_3074457345616714192","3074457345616684918_3074457345616714193","3074457345616684918_3074457345616714204","3074457345616684918_3074457345616714205","3074457345616684918_3074457345616714207","3074457345616684918_3074457345616714208"],"uniqueID":"3074457345616793223","resourceId":"http:\/\/lrhsbrdilbp01.luxgroup.net:3737\/search\/resources\/store\/715840684\/productview\/byId\/3074457345616793223","price":[{"description":"L","value":"","usage":"Display","currency":"USD"},{"description":"O","value":"","usage":"Offer","currency":"USD"}],"thumbnail":"https:\/\/assets2.oliverpeoples.com\/cdn-record-files-pi\/67c79f2d-1dec-4738-aa94-ab6400b95a94\/11e5d8ea-5091-4d26-8eb3-ab6b00deeb0e\/0OV5413SU__167452_000A.png?impolicy=OV_OpPlp","mfPartNumber_ntk":"0OV5413SU","manufacturer":"Oliver Peoples","name":"Cary Grant Sun","buyable":"true","storeID":"715838934","attributes":[{"storeDisplay":false,"values":[{"sequence":"1","value":"0OV5413SU--167452","uniqueID":"7741124012287136087","unitOfMeasure":"","unitID":"","identifier":"0OV5413SU--167452"}],"sequence":"1","name":"Moco","usage":"Descriptive","uniqueID":"7741124012283379884","displayable":false,"comparable":false,"identifier":"MOCO","searchable":false,"facetable":false},{"storeDisplay":false,"values":[{"sequence":"0","value":"0","uniqueID":"7741124012285120069","unitOfMeasure":"","unitID":"","identifier":"OV5413SU 167452 50-22"}],"sequence":"10000","name":"DISPLAYSKU","usage":"Descriptive","uniqueID":"7741124012283379878","displayable":false,"comparable":true,"identifier":"DISPLAYSKU","searchable":false,"facetable":false},{"storeDisplay":false,"values":[{"sequence":"0","value":"50.1","uniqueID":"7741124012286199535","unitOfMeasure":"","unitID":"","identifier":"50.1"}],"sequence":"10000","name":"LENS_WIDTH","usage":"Descriptive","uniqueID":"7741124012285060340","displayable":false,"comparable":false,"identifier":"LENS_WIDTH","searchable":true,"facetable":false},{"storeDisplay":false,"values":[{"sequence":"0","value":"0","uniqueID":"7741124012283378429","unitOfMeasure":"","unitID":"","identifier":"50"}],"sequence":"10000","name":"MODEL_SIZE","usage":"Descriptive","uniqueID":"7741124012283379858","displayable":false,"comparable":true,"identifier":"MODEL_SIZE","searchable":false,"facetable":false},{"storeDisplay":false,"values":[{"sequence":"0","value":"0ov5413su 50 167452","uniqueID":"7741124012287507723","unitOfMeasure":"","unitID":"","identifier":"0ov5413su 50 167452"}],"sequence":"10000","name":"SKU","usage":"Descriptive","uniqueID":"7741124012283391835","displayable":false,"comparable":true,"identifier":"SKU","searchable":false,"facetable":false},{"storeDisplay":false,"values":[{"sequence":"1","value":"23","uniqueID":"7741124012283758089","unitOfMeasure":"","unitID":"","identifier":"23"}],"sequence":"10000","name":"SEG_HEIGHT","usage":"Descriptive","uniqueID":"7741124012283591335","displayable":false,"comparable":true,"identifier":"SEG_HEIGHT","searchable":false,"facetable":false},{"storeDisplay":false,"values":[{"sequence":"0","value":"0","uniqueID":"7741124012283382060","unitOfMeasure":"","unitID":"","identifier":"44.4"}],"sequence":"10000","name":"LENSHEIGHT","usage":"Descriptive","uniqueID":"7741124012283379885","displayable":false,"comparable":true,"identifier":"LENSHEIGHT","searchable":false,"facetable":false},{"storeDisplay":false,"values":[{"sequence":"1","value":"145","uniqueID":"7741124012283379037","unitOfMeasure":"","unitID":"","identifier":"145"}],"sequence":"10000","name":"TEMPLE_LENGTH","usage":"Descriptive","uniqueID":"7741124012283379863","displayable":false,"comparable":true,"identifier":"TEMPLE_LENGTH","searchable":false,"facetable":false},{"storeDisplay":false,"values":[{"sequence":"0","value":"16745250","uniqueID":"7741124012286207954","unitOfMeasure":"","unitID":"","identifier":"16745250"}],"sequence":"10000","name":"GRID","usage":"Descriptive","uniqueID":"7741124012283591836","displayable":false,"comparable":true,"identifier":"GRID","searchable":false,"facetable":false},{"storeDisplay":false,"values":[{"sequence":"0","value":"22","uniqueID":"7741124012286202599","unitOfMeasure":"","unitID":"","identifier":"22"}],"sequence":"10000","name":"BRIDGE","usage":"Descriptive","uniqueID":"7741124012285060347","displayable":false,"comparable":true,"identifier":"BRIDGE","searchable":true,"facetable":false},{"storeDisplay":false,"values":[{"sequence":"0","value":"5022","uniqueID":"7741124012286204198","unitOfMeasure":"","unitID":"","identifier":"5022"}],"sequence":"10000","name":"LENS_BRIDGE","usage":"Descriptive","uniqueID":"7741124012283379862","displayable":false,"comparable":true,"identifier":"LENS_BRIDGE","searchable":false,"facetable":false},{"storeDisplay":false,"values":[{"sequence":"0","value":"L","uniqueID":"7741124012287859789","unitOfMeasure":"","unitID":"","identifier":"L"}],"sequence":"10000","name":"\u30b5\u30a4\u30ba","usage":"Defining","uniqueID":"7741124012283379859","displayable":true,"comparable":true,"identifier":"MODEL_SIZE_DISPLAY","searchable":false,"facetable":false},{"storeDisplay":false,"values":[{"sequence":"0","value":"134","uniqueID":"7741124012286389397","unitOfMeasure":"","unitID":"","identifier":"134"}],"sequence":"10000","name":"HINGE_DISTANCE","usage":"Descriptive","uniqueID":"7741124012285060349","displayable":false,"comparable":true,"identifier":"HINGE_DISTANCE","searchable":true,"facetable":false}],"partNumber":"827934451339"}],"resourceId":"http:\/\/lrhsbrdilbp01.luxgroup.net:3737\/search\/resources\/store\/715840684\/productview\/byId\/3074457345616792708","price":[{"description":"L","value":"458.0","usage":"Display","currency":"USD"},{"description":"O","value":"","usage":"Offer","currency":"USD"}],"thumbnail":"https:\/\/assets2.oliverpeoples.com\/cdn-record-files-pi\/67c79f2d-1dec-4738-aa94-ab6400b95a94\/11e5d8ea-5091-4d26-8eb3-ab6b00deeb0e\/0OV5413SU__167452_000A.png?impolicy=OV_OpPlp","shortDescription":"OV5413SU","manufacturer":"Oliver Peoples","name":"Cary Grant Sun","buyable":"true","quantity":1,"attributes":[{"storeDisplay":false,"values":[{"sequence":"0","value":"OV5413SU","uniqueID":"7741124012284270748","unitOfMeasure":"","unitID":"","identifier":"OV5413SU"}],"sequence":"0","name":"\u30e2\u30c7\u30eb\u30b3\u30fc\u30c9","associatedKeyword":"-","usage":"Descriptive","uniqueID":"7741124012283379873","displayable":true,"comparable":true,"identifier":"MODEL_CODE_DISPLAY","searchable":false,"facetable":false},{"storeDisplay":false,"values":[{"sequence":"0","value":"Honey VSB","uniqueID":"7741124012283944612","unitOfMeasure":"","unitID":"","identifier":"Honey VSB"}],"sequence":"1","name":"\u30d5\u30ed\u30f3\u30c8\u30ab\u30e9\u30fc","associatedKeyword":"-","usage":"Descriptive","uniqueID":"7741124012283379839","displayable":true,"comparable":true,"identifier":"FRONT_COLOR","searchable":false,"facetable":false},{"storeDisplay":false,"values":[{"sequence":"0","value":"Green C","uniqueID":"7741124012283507485","unitOfMeasure":"","unitID":"","identifier":"Green C"}],"sequence":"2","name":"\u30ec\u30f3\u30ba\u30ab\u30e9\u30fc","associatedKeyword":"-","usage":"Descriptive","uniqueID":"7741124012283379846","displayable":true,"comparable":true,"identifier":"LENS_COLOR","searchable":false,"facetable":false},{"storeDisplay":false,"values":[{"sequence":"0","value":"\u5b9a\u756a","uniqueID":"7741124012283379043","unitOfMeasure":"","unitID":"","identifier":"Classic"}],"sequence":"3","name":"LENS_TREATMENT","associatedKeyword":"-","usage":"Descriptive","uniqueID":"7741124012283379864","displayable":false,"comparable":true,"identifier":"LENS_TREATMENT","searchable":false,"facetable":false},{"storeDisplay":false,"values":[{"sequence":"0","value":"\u30af\u30ea\u30b9\u30bf\u30eb","uniqueID":"7741124012286177448","unitOfMeasure":"","unitID":"","identifier":"Crystal"}],"sequence":"5","name":"\u30ec\u30f3\u30ba\u7d20\u6750","associatedKeyword":"-","usage":"Descriptive","uniqueID":"7741124012285060339","displayable":false,"comparable":false,"identifier":"LENS_MATERIAL","searchable":true,"facetable":false},{"storeDisplay":false,"values":[{"sequence":"0","value":"\u30a2\u30bb\u30c6\u30fc\u30c8","uniqueID":"7741124012283377366","unitOfMeasure":"","unitID":"","identifier":"Acetate"}],"sequence":"6","name":"\u30d5\u30ec\u30fc\u30e0\u7d20\u6750","associatedKeyword":"-","usage":"Descriptive","uniqueID":"7741124012283379837","displayable":true,"comparable":true,"identifier":"FRAMEMATERIAL","searchable":false,"facetable":false},{"storeDisplay":false,"values":[{"sequence":"1","value":"1","uniqueID":"7741124012284932835","unitOfMeasure":"","unitID":"","identifier":"1"}],"sequence":"8","name":"PLACEHOLDER_SIZE","associatedKeyword":"-","usage":"Descriptive","uniqueID":"7741124012284296836","displayable":true,"comparable":false,"identifier":"PLACEHOLDER_SIZE","searchable":false,"facetable":false},{"storeDisplay":false,"values":[{"sequence":"0","value":"\u30ec\u30ae\u30e5\u30e9\u30fc","uniqueID":"7741124012286177339","unitOfMeasure":"","unitID":"","identifier":"Regular"}],"sequence":"10","name":"\u30d5\u30a3\u30c3\u30c8","associatedKeyword":"-","usage":"Descriptive","uniqueID":"7741124012285060351","displayable":true,"comparable":true,"identifier":"FRAME_FIT","searchable":true,"facetable":true},{"storeDisplay":false,"values":[{"sequence":"0","value":"\u30cf\u30a4\u30d6\u30ea\u30c3\u30b8\u30d5\u30a3\u30c3\u30c8","uniqueID":"7741124012287859725","unitOfMeasure":"","unitID":"","identifier":"High Bridge Fit"}],"sequence":"11","name":"\u30d6\u30ea\u30c3\u30b8\u306e\u7a2e\u985e\uff06\u30ce\u30fc\u30ba\u30d1\u30c3\u30c9","associatedKeyword":"-","usage":"Descriptive","uniqueID":"7741124012283379869","displayable":true,"comparable":true,"identifier":"GEO_FIT","searchable":true,"facetable":true},{"storeDisplay":false,"values":[{"sequence":"0","value":"PACK__OV__CaryGrant","uniqueID":"7741124012287791411","unitOfMeasure":"","unitID":"","identifier":"PACK__OV__CaryGrant"}],"sequence":"10000","name":"CASE","associatedKeyword":"-","usage":"Descriptive","uniqueID":"7741124012283439835","displayable":false,"comparable":false,"identifier":"CASE","searchable":true,"facetable":true},{"storeDisplay":false,"values":[{"sequence":"1","value":"False","uniqueID":"7741124012284934128","unitOfMeasure":"","unitID":"","identifier":"False"}],"sequence":"10000","name":"ENGRAVINGELIGIBLE","associatedKeyword":"-","usage":"Descriptive","uniqueID":"7741124012284296835","displayable":false,"comparable":true,"identifier":"ENGRAVINGELIGIBLE","searchable":false,"facetable":false},{"storeDisplay":false,"values":[{"sequence":"0","value":"0","uniqueID":"7741124012284935835","unitOfMeasure":"","unitID":"","identifier":"Lenses-1;plaque-3;details-1;logo-3;nosepads-2"}],"sequence":"10000","name":"FEATURES","associatedKeyword":"-","usage":"Descriptive","uniqueID":"7741124012283379879","displayable":false,"comparable":false,"identifier":"FEATURES","searchable":false,"facetable":false},{"storeDisplay":false,"values":[{"sequence":"0","value":"True","uniqueID":"7741124012287884290","unitOfMeasure":"","unitID":"","identifier":"True"}],"sequence":"10000","name":"CLICK_AND_COLLECT","associatedKeyword":"-","usage":"Descriptive","uniqueID":"7741124012285260835","displayable":false,"comparable":false,"identifier":"CLICK_AND_COLLECT","searchable":false,"facetable":false},{"storeDisplay":false,"values":[{"sequence":"0","value":"True","uniqueID":"7741124012287886329","unitOfMeasure":"","unitID":"","identifier":"True"}],"sequence":"10000","name":"REAL_TIME_INVENTORY","associatedKeyword":"-","usage":"Descriptive","uniqueID":"7741124012285260836","displayable":false,"comparable":false,"identifier":"REAL_TIME_INVENTORY","searchable":false,"facetable":false},{"storeDisplay":false,"values":[{"sequence":"0","value":"True","uniqueID":"7741124012287875997","unitOfMeasure":"","unitID":"","identifier":"True"}],"sequence":"10000","name":"SHIP_FROM_STORE","associatedKeyword":"-","usage":"Descriptive","uniqueID":"7741124012285260837","displayable":false,"comparable":false,"identifier":"SHIP_FROM_STORE","searchable":false,"facetable":false},{"storeDisplay":false,"values":[{"sequence":"0","value":"True","uniqueID":"7741124012287887125","unitOfMeasure":"","unitID":"","identifier":"True"}],"sequence":"10000","name":"SHIP_TO_STORE","associatedKeyword":"-","usage":"Descriptive","uniqueID":"7741124012285260838","displayable":false,"comparable":false,"identifier":"SHIP_TO_STORE","searchable":false,"facetable":false},{"storeDisplay":false,"values":[{"sequence":"549","value":"False","uniqueID":"7741124012283377364","unitOfMeasure":"","unitID":"","identifier":"False"}],"sequence":"10000","name":"\u9650\u5b9a","associatedKeyword":"-","usage":"Descriptive","uniqueID":"7741124012283379836","displayable":false,"comparable":true,"identifier":"EXCLUSIVE","searchable":true,"facetable":true},{"storeDisplay":false,"values":[{"sequence":"4","value":"M","uniqueID":"7741124012287791996","unitOfMeasure":"","unitID":"","identifier":"M"},{"sequence":"5","value":"L","uniqueID":"7741124012287791999","unitOfMeasure":"","unitID":"","identifier":"L"}],"sequence":"10000","name":"\u30b5\u30a4\u30ba","associatedKeyword":"-","usage":"Descriptive","uniqueID":"7741124012285273337","displayable":false,"comparable":true,"identifier":"MODEL_SIZE_DISPLAY_PLP","searchable":true,"facetable":true},{"storeDisplay":false,"values":[{"sequence":"0","value":"\u7537\u6027","uniqueID":"7741124012288319560","unitOfMeasure":"","unitID":"","identifier":"MALE"}],"sequence":"10000","name":"\u6027\u5225","associatedKeyword":"-","usage":"Descriptive","uniqueID":"7741124012283379843","displayable":false,"comparable":true,"identifier":"GENDER","searchable":true,"facetable":true},{"storeDisplay":false,"values":[{"sequence":"0","value":"Eyewear","uniqueID":"7741124012287777028","unitOfMeasure":"","unitID":"","identifier":"Eyewear"}],"sequence":"10000","name":"PROD_HIERARCHY_0","associatedKeyword":"-","usage":"Descriptive","uniqueID":"7741124012285060343","displayable":false,"comparable":false,"identifier":"PROD_HIERARCHY_0","searchable":true,"facetable":false},{"storeDisplay":false,"values":[{"sequence":"0","value":"50","uniqueID":"7741124012287871114","unitOfMeasure":"","unitID":"","identifier":"50"}],"sequence":"10000","name":"MOST_SOLD_SIZE","associatedKeyword":"-","usage":"Descriptive","uniqueID":"7741124012285274336","displayable":false,"comparable":true,"identifier":"MOST_SOLD_SIZE","searchable":false,"facetable":false},{"storeDisplay":false,"values":[{"sequence":"0","value":"True","uniqueID":"7741124012286181046","unitOfMeasure":"","unitID":"","identifier":"True"}],"sequence":"10000","name":"BESTSELLERS","associatedKeyword":"-","usage":"Descriptive","uniqueID":"7741124012285059837","displayable":false,"comparable":true,"identifier":"BESTSELLERS","searchable":true,"facetable":false},{"storeDisplay":false,"values":[{"sequence":"0","value":"False\uff08\u507d\uff09","uniqueID":"7741124012287388847","unitOfMeasure":"","unitID":"","identifier":"FALSE"}],"sequence":"10000","name":"FLEX","associatedKeyword":"-","usage":"Descriptive","uniqueID":"7741124012283379877","displayable":false,"comparable":true,"identifier":"FLEX","searchable":false,"facetable":false},{"storeDisplay":false,"values":[{"sequence":"0","value":"Zpfn","uniqueID":"7741124012286177452","unitOfMeasure":"","unitID":"","identifier":"ZPFN"}],"sequence":"10000","name":"MATERIALTYPE","associatedKeyword":"-","usage":"Descriptive","uniqueID":"7741124012283379872","displayable":false,"comparable":true,"identifier":"MATERIALTYPE","searchable":false,"facetable":false},{"storeDisplay":false,"values":[{"sequence":"0","value":"Classic","uniqueID":"7741124012288148974","unitOfMeasure":"","unitID":"","identifier":"Classic"}],"sequence":"10000","name":"PROGRESSIVE_FRIENDLY","associatedKeyword":"-","usage":"Descriptive","uniqueID":"7741124012285300835","displayable":false,"comparable":true,"identifier":"PROGRESSIVE_FRIENDLY","searchable":true,"facetable":false},{"storeDisplay":false,"values":[{"sequence":"0","value":"False","uniqueID":"7741124012286878836","unitOfMeasure":"","unitID":"","identifier":"FALSE"}],"sequence":"10000","name":"FOLDABLE","associatedKeyword":"-","usage":"Descriptive","uniqueID":"7741124012283379866","displayable":false,"comparable":true,"identifier":"FOLDABLE","searchable":false,"facetable":false},{"storeDisplay":false,"values":[],"sequence":"10000","name":"IS_ASIAN","associatedKeyword":"-","usage":"Defining","uniqueID":"7741124012285274335","displayable":false,"comparable":true,"identifier":"IS_ASIAN","searchable":true,"facetable":true},{"storeDisplay":false,"values":[{"sequence":"0","value":"\u30d5\u30eb\u30ea\u30e0","uniqueID":"7741124012283379070","unitOfMeasure":"","unitID":"","identifier":"Full Rim"}],"sequence":"10000","name":"\u30d5\u30ec\u30fc\u30e0\u7a2e\u985e","associatedKeyword":"-","usage":"Descriptive","uniqueID":"7741124012283379870","displayable":false,"comparable":true,"identifier":"FRAMETYPE","searchable":true,"facetable":true},{"storeDisplay":false,"values":[{"sequence":"0","value":"\u30ec\u30af\u30bf\u30f3\u30b0\u30eb","uniqueID":"7741124012283379058","unitOfMeasure":"","unitID":"","identifier":"Rectangle"}],"sequence":"10000","name":"\u30d5\u30ec\u30fc\u30e0\u5f62","associatedKeyword":"-","usage":"Descriptive","uniqueID":"7741124012283379867","displayable":false,"comparable":true,"identifier":"FRAME_SHAPE","searchable":false,"facetable":false},{"storeDisplay":false,"values":[{"sequence":"0","value":"\u30ec\u30af\u30bf\u30f3\u30b0\u30eb","uniqueID":"7741124012283379066","unitOfMeasure":"","unitID":"","identifier":"Rectangle"}],"sequence":"10000","name":"\u30d5\u30ec\u30fc\u30e0\u5f62","associatedKeyword":"-","usage":"Descriptive","uniqueID":"7741124012283379868","displayable":false,"comparable":true,"identifier":"FRAME_SHAPE_FACET","searchable":true,"facetable":true},{"storeDisplay":false,"values":[{"sequence":"0","value":"Sunglasses","uniqueID":"7741124012287487327","unitOfMeasure":"","unitID":"","identifier":"Sunglasses"}],"sequence":"10000","name":"PROD_HIERARCHY_1","associatedKeyword":"-","usage":"Descriptive","uniqueID":"7741124012285060344","displayable":false,"comparable":false,"identifier":"PROD_HIERARCHY_1","searchable":true,"facetable":false},{"storeDisplay":false,"values":[{"sequence":"1","value":"Collaboration","uniqueID":"7741124012283379073","unitOfMeasure":"","unitID":"","identifier":"Collaboration"}],"sequence":"10000","name":"RANGE","associatedKeyword":"-","usage":"Descriptive","uniqueID":"7741124012283379871","displayable":false,"comparable":true,"identifier":"RANGE","searchable":true,"facetable":true},{"storeDisplay":false,"values":[{"sequence":"0","value":"85","uniqueID":"7741124012287388062","unitOfMeasure":"","unitID":"","identifier":"85"}],"sequence":"10000","name":"WIDTH","associatedKeyword":"-","usage":"Descriptive","uniqueID":"7741124012285060338","displayable":false,"comparable":false,"identifier":"WIDTH","searchable":true,"facetable":false},{"storeDisplay":false,"values":[{"sequence":"0","value":"-","uniqueID":"7741124012287188128","unitOfMeasure":"","unitID":"","identifier":"-"}],"sequence":"10000","name":"MARKETING_THEME_STORY","associatedKeyword":"-","usage":"Descriptive","uniqueID":"7741124012285060348","displayable":false,"comparable":true,"identifier":"MARKETING_THEME_STORY","searchable":true,"facetable":false},{"storeDisplay":false,"values":[{"sequence":"0","value":"25","uniqueID":"7741124012287387961","unitOfMeasure":"","unitID":"","identifier":"25"}],"sequence":"10000","name":"GROSSWEIGHT","associatedKeyword":"-","usage":"Descriptive","uniqueID":"7741124012283379861","displayable":false,"comparable":true,"identifier":"GROSSWEIGHT","searchable":false,"facetable":false},{"storeDisplay":false,"values":[{"sequence":"2","value":"Sun","uniqueID":"7741124012283379213","unitOfMeasure":"","unitID":"","identifier":"Sun"}],"sequence":"10000","name":"PRODUCTTYPE","associatedKeyword":"-","usage":"Descriptive","uniqueID":"7741124012283379876","displayable":false,"comparable":true,"identifier":"PRODUCTTYPE","searchable":true,"facetable":true},{"storeDisplay":false,"values":[{"sequence":"0","value":"\u771f\u5b9f","uniqueID":"7741124012288148975","unitOfMeasure":"","unitID":"","identifier":"True"}],"sequence":"10000","name":"DRIVING_ASNZS","associatedKeyword":"-","usage":"Descriptive","uniqueID":"7741124012285300847","displayable":false,"comparable":true,"identifier":"DRIVING_ASNZS","searchable":true,"facetable":false},{"storeDisplay":false,"values":[{"sequence":"0","value":"False\uff08\u507d\uff09","uniqueID":"7741124012286389837","unitOfMeasure":"","unitID":"","identifier":"FALSE"}],"sequence":"10000","name":"\u8abf\u5149","associatedKeyword":"-","usage":"Descriptive","uniqueID":"7741124012285148835","displayable":false,"comparable":true,"identifier":"PHOTOCHROMIC","searchable":true,"facetable":true},{"storeDisplay":false,"values":[{"sequence":"0","value":"2N","uniqueID":"7741124012283381078","unitOfMeasure":"","unitID":"","identifier":"2N"}],"sequence":"10000","name":"NOTAINFORMATIVA","associatedKeyword":"-","usage":"Descriptive","uniqueID":"7741124012283379850","displayable":false,"comparable":true,"identifier":"NOTAINFORMATIVA","searchable":false,"facetable":false},{"storeDisplay":false,"values":[{"sequence":"0","value":"202002","uniqueID":"7741124012285094411","unitOfMeasure":"","unitID":"","identifier":"202002"}],"sequence":"10000","name":"COLLECTION","associatedKeyword":"-","usage":"Descriptive","uniqueID":"7741124012283379835","displayable":false,"comparable":true,"identifier":"COLLECTION","searchable":true,"facetable":false},{"storeDisplay":false,"values":[{"sequence":"0","value":"False\uff08\u507d\uff09","uniqueID":"7741124012286328840","unitOfMeasure":"","unitID":"","identifier":"FALSE"}],"sequence":"10000","name":"\u30dd\u30e9\u30e9\u30a4\u30ba\u30c9","associatedKeyword":"-","usage":"Descriptive","uniqueID":"7741124012283379852","displayable":false,"comparable":true,"identifier":"POLARIZED","searchable":true,"facetable":true},{"storeDisplay":false,"values":[{"sequence":"0","value":"\u30dd\u30ea\u30c3\u30b7\u30e5","uniqueID":"7741124012286177346","unitOfMeasure":"","unitID":"","identifier":"Polished"}],"sequence":"10000","name":"FINISHING","associatedKeyword":"-","usage":"Descriptive","uniqueID":"7741124012285060335","displayable":false,"comparable":true,"identifier":"FINISHING","searchable":true,"facetable":false},{"storeDisplay":false,"values":[{"sequence":"0","value":"\u30d7\u30e9\u30b9\u30c1\u30c3\u30af","uniqueID":"7741124012286948835","unitOfMeasure":"","unitID":"","identifier":"Plastic"}],"sequence":"10000","name":"FRAME_MATERIAL_PERCEIVED","associatedKeyword":"-","usage":"Descriptive","uniqueID":"7741124012285060336","displayable":false,"comparable":true,"identifier":"FRAME_MATERIAL_PERCEIVED","searchable":true,"facetable":false},{"storeDisplay":false,"values":[{"sequence":"0","value":"\u30b0\u30ea\u30fc\u30f3","uniqueID":"7741124012286177438","unitOfMeasure":"","unitID":"","identifier":"Green"}],"sequence":"10000","name":"LENSCOLOR_FAMILY","associatedKeyword":"-","usage":"Descriptive","uniqueID":"7741124012283591844","displayable":false,"comparable":true,"identifier":"LENSCOLOR_FAMILY","searchable":false,"facetable":false},{"storeDisplay":false,"values":[{"sequence":"0","value":"False","uniqueID":"7741124012286328838","unitOfMeasure":"","unitID":"","identifier":"FALSE"}],"sequence":"10000","name":"NEWRELEASES","associatedKeyword":"-","usage":"Descriptive","uniqueID":"7741124012283379849","displayable":false,"comparable":true,"identifier":"NEWRELEASES","searchable":true,"facetable":true},{"storeDisplay":false,"values":[{"sequence":"0","value":"Collaboration","uniqueID":"7741124012286177336","unitOfMeasure":"","unitID":"","identifier":"Collaboration"}],"sequence":"10000","name":"COLLECTION_TYPE","associatedKeyword":"-","usage":"Descriptive","uniqueID":"7741124012285060353","displayable":false,"comparable":false,"identifier":"COLLECTION_TYPE","searchable":true,"facetable":false},{"storeDisplay":false,"values":[{"sequence":"0","value":"\u30cf\u30cb\u30fc","uniqueID":"7741124012286178022","unitOfMeasure":"","unitID":"","identifier":"Honey"}],"sequence":"10000","name":"TEMPLE_INNER_COLOR","associatedKeyword":"-","usage":"Descriptive","uniqueID":"7741124012283379856","displayable":false,"comparable":true,"identifier":"TEMPLE_INNER_COLOR","searchable":false,"facetable":false},{"storeDisplay":false,"values":[{"sequence":"0","value":"\u30cf\u30cb\u30fc","uniqueID":"7741124012286177395","unitOfMeasure":"","unitID":"","identifier":"Honey"}],"sequence":"10000","name":"FRONT_INNER_COLOR","associatedKeyword":"-","usage":"Descriptive","uniqueID":"7741124012283379841","displayable":false,"comparable":true,"identifier":"FRONT_INNER_COLOR","searchable":false,"facetable":false},{"storeDisplay":false,"values":[{"sequence":"0","value":"L","uniqueID":"7741124012287859789","unitOfMeasure":"","unitID":"","identifier":"L"},{"sequence":"0","value":"M","uniqueID":"7741124012287859786","unitOfMeasure":"","unitID":"","identifier":"M"}],"sequence":"10000","name":"\u30b5\u30a4\u30ba","associatedKeyword":"-","usage":"Defining","uniqueID":"7741124012283379859","displayable":true,"comparable":true,"identifier":"MODEL_SIZE_DISPLAY","searchable":false,"facetable":false},{"storeDisplay":false,"values":[{"sequence":"0","value":"Honey Vsb","uniqueID":"7741124012283944686","unitOfMeasure":"","unitID":"","identifier":"Honey VSB"}],"sequence":"10000","name":"TEMPLE_COLOR","associatedKeyword":"-","usage":"Descriptive","uniqueID":"7741124012283379854","displayable":false,"comparable":true,"identifier":"TEMPLE_COLOR","searchable":false,"facetable":false},{"storeDisplay":false,"values":[{"sequence":"0","value":"High","uniqueID":"7741124012287859736","unitOfMeasure":"","unitID":"","identifier":"High"}],"sequence":"10000","name":"ML_FRAME_TEMPLE_FITTING","associatedKeyword":"-","usage":"Descriptive","uniqueID":"7741124012285274338","displayable":false,"comparable":true,"identifier":"ML_FRAME_TEMPLE_FITTING","searchable":true,"facetable":false},{"storeDisplay":false,"values":[{"sequence":"0","value":"High","uniqueID":"7741124012287859733","unitOfMeasure":"","unitID":"","identifier":"High"}],"sequence":"10000","name":"ML_FRAME_BRIDGE_POSITION","associatedKeyword":"-","usage":"Descriptive","uniqueID":"7741124012285274345","displayable":false,"comparable":true,"identifier":"ML_FRAME_BRIDGE_POSITION","searchable":true,"facetable":false},{"storeDisplay":false,"values":[{"sequence":"0","value":"\u30d7\u30e9\u30b9\u30c1\u30c3\u30af","uniqueID":"7741124012287859750","unitOfMeasure":"","unitID":"","identifier":"Plastic"}],"sequence":"10000","name":"ML_FRAME_FRONT_MATERIAL","associatedKeyword":"-","usage":"Descriptive","uniqueID":"7741124012285274348","displayable":false,"comparable":true,"identifier":"ML_FRAME_FRONT_MATERIAL","searchable":true,"facetable":false},{"storeDisplay":false,"values":[{"sequence":"0","value":"\u30aa\u30fc\u30bf\u30e0\u30f3","uniqueID":"7741124012287859751","unitOfMeasure":"","unitID":"","identifier":"Autumn"}],"sequence":"10000","name":"ML_FRAME_COLOR_PALETTE","associatedKeyword":"-","usage":"Descriptive","uniqueID":"7741124012285274337","displayable":false,"comparable":true,"identifier":"ML_FRAME_COLOR_PALETTE","searchable":true,"facetable":false},{"storeDisplay":false,"values":[{"sequence":"0","value":"\u30aa\u30fc\u30d0\u30eb","uniqueID":"7741124012287859742","unitOfMeasure":"","unitID":"","identifier":"Oval"}],"sequence":"10000","name":"ML_FRAME_SHAPE","associatedKeyword":"-","usage":"Descriptive","uniqueID":"7741124012285274343","displayable":false,"comparable":true,"identifier":"ML_FRAME_SHAPE","searchable":true,"facetable":false},{"storeDisplay":false,"values":[{"sequence":"0","value":"\u305d\u306e\u4ed6","uniqueID":"7741124012287859745","unitOfMeasure":"","unitID":"","identifier":"Other"}],"sequence":"10000","name":"ML_FRAME_COLOR","associatedKeyword":"-","usage":"Descriptive","uniqueID":"7741124012285274346","displayable":false,"comparable":true,"identifier":"ML_FRAME_COLOR","searchable":true,"facetable":false},{"storeDisplay":false,"values":[{"sequence":"0","value":"Semi_rim","uniqueID":"7741124012287859731","unitOfMeasure":"","unitID":"","identifier":"Semi_rim"}],"sequence":"10000","name":"ML_FRAME_RIM","associatedKeyword":"-","usage":"Descriptive","uniqueID":"7741124012285274342","displayable":false,"comparable":true,"identifier":"ML_FRAME_RIM","searchable":true,"facetable":false},{"storeDisplay":false,"values":[{"sequence":"0","value":"Sunglass","uniqueID":"7741124012287859735","unitOfMeasure":"","unitID":"","identifier":"Sunglass"}],"sequence":"10000","name":"ML_PRODUCT_TYPE","associatedKeyword":"-","usage":"Descriptive","uniqueID":"7741124012285274347","displayable":false,"comparable":true,"identifier":"ML_PRODUCT_TYPE","searchable":true,"facetable":false},{"storeDisplay":false,"values":[{"sequence":"0","value":"\u5973\u6027","uniqueID":"7741124012287859737","unitOfMeasure":"","unitID":"","identifier":"Female"}],"sequence":"10000","name":"ML_GLASS_GENDER","associatedKeyword":"-","usage":"Descriptive","uniqueID":"7741124012285274344","displayable":false,"comparable":true,"identifier":"ML_GLASS_GENDER","searchable":true,"facetable":false},{"storeDisplay":false,"values":[{"sequence":"0","value":"Thin","uniqueID":"7741124012287859729","unitOfMeasure":"","unitID":"","identifier":"Thin"}],"sequence":"10000","name":"ML_FRAME_TEMPLE_THICKNESS","associatedKeyword":"-","usage":"Descriptive","uniqueID":"7741124012285274339","displayable":false,"comparable":true,"identifier":"ML_FRAME_TEMPLE_THICKNESS","searchable":true,"facetable":false},{"storeDisplay":false,"values":[{"sequence":"0","value":"Green","uniqueID":"7741124012283377839","unitOfMeasure":"","unitID":"","identifier":"Green"}],"sequence":"10000","name":"\u30ec\u30f3\u30ba\u30ab\u30e9\u30fc","associatedKeyword":"-","usage":"Descriptive","uniqueID":"7741124012283379845","displayable":false,"comparable":true,"identifier":"LENS_COLOR_FACET","searchable":true,"facetable":true},{"storeDisplay":false,"values":[{"sequence":"0","value":"\u30a4\u30a8\u30ed\u30fc","uniqueID":"7741124012283378406","unitOfMeasure":"","unitID":"","identifier":"Yellow"}],"sequence":"10000","name":"TEMPLE_INNER_COLOR_FACET","associatedKeyword":"-","usage":"Descriptive","uniqueID":"7741124012283379857","displayable":false,"comparable":true,"identifier":"TEMPLE_INNER_COLOR_FACET","searchable":true,"facetable":false},{"storeDisplay":false,"values":[{"sequence":"0","value":"\u30a4\u30a8\u30ed\u30fc","uniqueID":"7741124012283377721","unitOfMeasure":"","unitID":"","identifier":"Yellow"}],"sequence":"10000","name":"FRONT_INNER_COLOR_FACET","associatedKeyword":"-","usage":"Descriptive","uniqueID":"7741124012283379842","displayable":false,"comparable":true,"identifier":"FRONT_INNER_COLOR_FACET","searchable":true,"facetable":false},{"storeDisplay":false,"values":[{"sequence":"0","value":"\u30a2\u30bb\u30c6\u30fc\u30c8","uniqueID":"7741124012283377370","unitOfMeasure":"","unitID":"","identifier":"Acetate"}],"sequence":"10000","name":"\u30d5\u30ec\u30fc\u30e0\u7d20\u6750","associatedKeyword":"-","usage":"Descriptive","uniqueID":"7741124012283379838","displayable":false,"comparable":true,"identifier":"FRAMEMATERIAL_FACET","searchable":true,"facetable":true},{"storeDisplay":false,"values":[{"sequence":"0","value":"\u30a4\u30a8\u30ed\u30fc","uniqueID":"7741124012283378223","unitOfMeasure":"","unitID":"","identifier":"Yellow"}],"sequence":"10000","name":"TEMPLE_COLOR_FACET","associatedKeyword":"-","usage":"Descriptive","uniqueID":"7741124012283379855","displayable":false,"comparable":true,"identifier":"TEMPLE_COLOR_FACET","searchable":true,"facetable":false},{"storeDisplay":false,"values":[{"sequence":"0","value":"\u5b9a\u756a","uniqueID":"7741124012283379047","unitOfMeasure":"","unitID":"","identifier":"Classic"}],"sequence":"10000","name":"\u30ec\u30f3\u30ba\u7a2e\u985e","associatedKeyword":"-","usage":"Descriptive","uniqueID":"7741124012283379865","displayable":false,"comparable":true,"identifier":"LENS_TREATMENT_FACET","searchable":true,"facetable":true},{"storeDisplay":false,"values":[{"sequence":"0","value":"Yellow","uniqueID":"7741124012283377541","unitOfMeasure":"","unitID":"","identifier":"Yellow"}],"sequence":"10000","name":"\u30d5\u30ec\u30fc\u30e0\u30ab\u30e9\u30fc","associatedKeyword":"-","usage":"Descriptive","uniqueID":"7741124012283379840","displayable":false,"comparable":true,"identifier":"FRONT_COLOR_FACET","searchable":true,"facetable":true},{"storeDisplay":false,"values":[{"sequence":"0","value":"\u30b0\u30ea\u30fc\u30f3","uniqueID":"7741124012287387461","unitOfMeasure":"","unitID":"","identifier":"Green"}],"sequence":"10000","name":"PREDOMINANT_COLOR_FACET","associatedKeyword":"-","usage":"Descriptive","uniqueID":"7741124012285060342","displayable":false,"comparable":false,"identifier":"PREDOMINANT_COLOR_FACET","searchable":true,"facetable":false},{"storeDisplay":false,"values":[{"sequence":"0","value":"Cary Grant Sun","uniqueID":"7741124012285468706","unitOfMeasure":"","unitID":"","identifier":"Cary Grant Sun"}],"sequence":"10000","name":"MODELNAME","associatedKeyword":"-","usage":"Descriptive","uniqueID":"7741124012283379853","displayable":false,"comparable":true,"identifier":"MODELNAME","searchable":true,"facetable":false},{"storeDisplay":false,"values":[{"sequence":"0","value":"Off","uniqueID":"7741124012286182429","unitOfMeasure":"","unitID":"","identifier":"True"}],"sequence":"10000","name":"IS_ROXABLE","associatedKeyword":"-","usage":"Descriptive","uniqueID":"7741124012285060337","displayable":false,"comparable":true,"identifier":"IS_ROXABLE","searchable":true,"facetable":true},{"storeDisplay":false,"values":[{"sequence":"0","value":"0","uniqueID":"7741124012283377775","unitOfMeasure":"","unitID":"","identifier":"0666c"}],"sequence":"10000","name":"CLEN","associatedKeyword":"-","usage":"Descriptive","uniqueID":"7741124012283379844","displayable":false,"comparable":true,"identifier":"CLEN","searchable":false,"facetable":false},{"storeDisplay":false,"values":[{"sequence":"0","value":"167452","uniqueID":"7741124012286193078","unitOfMeasure":"","unitID":"","identifier":"167452"}],"sequence":"10000","name":"COLOR_CODE","associatedKeyword":"-","usage":"Descriptive","uniqueID":"7741124012285059838","displayable":false,"comparable":false,"identifier":"COLOR_CODE","searchable":true,"facetable":false},{"storeDisplay":false,"values":[{"sequence":"13","value":"False","uniqueID":"7741124012283944664","unitOfMeasure":"","unitID":"","identifier":"False"}],"sequence":"10000","name":"LIMITED_EDITION","associatedKeyword":"-","usage":"Descriptive","uniqueID":"7741124012283379847","displayable":false,"comparable":true,"identifier":"LIMITED_EDITION","searchable":true,"facetable":true},{"storeDisplay":false,"values":[{"sequence":"0","value":"True","uniqueID":"7741124012287218513","unitOfMeasure":"","unitID":"","identifier":"True"}],"sequence":"10000","name":"IS_ROX_FRIENDLY","associatedKeyword":"-","usage":"Descriptive","uniqueID":"7741124012285060355","displayable":false,"comparable":true,"identifier":"IS_ROX_FRIENDLY","searchable":true,"facetable":false}],"storeID":"715838934","numberOfSKUs":2,"partNumber":"0OV5413SU__167452"},{"hasSingleSKU":true,"catalogEntryTypeCode":"ProductBean","associationType":"X-SELL","parentCatalogGroupID":["3074457345616683318_3074457345616686168","3074457345616683368_3074457345616714172","3074457345616683368_3074457345616714173","3074457345616683368_3074457345616714176","3074457345616683368_3074457345616714192","3074457345616683368_3074457345616714194","3074457345616683368_3074457345616714205","3074457345616683368_3074457345616714207","3074457345616683368_3074457345616714210","3074457345616684418_3074457345616714172","3074457345616684418_3074457345616714173","3074457345616684418_3074457345616714176","3074457345616684418_3074457345616714192","3074457345616684418_3074457345616714194","3074457345616684418_3074457345616714205","3074457345616684418_3074457345616714207","3074457345616684418_3074457345616714210","3074457345616684918_3074457345616714172","3074457345616684918_3074457345616714173","3074457345616684918_3074457345616714176","3074457345616684918_3074457345616714192","3074457345616684918_3074457345616714194","3074457345616684918_3074457345616714205","3074457345616684918_3074457345616714207","3074457345616684918_3074457345616714210"],"price_USD":"486.0","uniqueID":"3074457345616878172","singleSKUCatalogEntryID":"3074457345616878184","sKUs":[{"hasSingleSKU":false,"catalogEntryTypeCode":"ItemBean","parentCatalogGroupID":["3074457345616683318_3074457345616686168","3074457345616683368_3074457345616714172","3074457345616683368_3074457345616714173","3074457345616683368_3074457345616714176","3074457345616683368_3074457345616714192","3074457345616683368_3074457345616714194","3074457345616683368_3074457345616714205","3074457345616683368_3074457345616714207","3074457345616683368_3074457345616714210","3074457345616684418_3074457345616714172","3074457345616684418_3074457345616714173","3074457345616684418_3074457345616714176","3074457345616684418_3074457345616714192","3074457345616684418_3074457345616714194","3074457345616684418_3074457345616714205","3074457345616684418_3074457345616714207","3074457345616684418_3074457345616714210","3074457345616684918_3074457345616714172","3074457345616684918_3074457345616714173","3074457345616684918_3074457345616714176","3074457345616684918_3074457345616714192","3074457345616684918_3074457345616714194","3074457345616684918_3074457345616714205","3074457345616684918_3074457345616714207","3074457345616684918_3074457345616714210"],"uniqueID":"3074457345616878184","resourceId":"http:\/\/lrhsbrdilbp01.luxgroup.net:3737\/search\/resources\/store\/715840684\/productview\/byId\/3074457345616878184","price":[{"description":"L","value":"","usage":"Display","currency":"USD"},{"description":"O","value":"","usage":"Offer","currency":"USD"}],"thumbnail":"https:\/\/assets2.oliverpeoples.com\/cdn-record-files-pi\/b680b6fc-d325-444b-b445-adc0015e54cf\/ead44337-1e31-40b1-9d91-adc0016d7027\/0OV5219S__172257__STD__noshad__fr.png?impolicy=OV_OpPlp","mfPartNumber_ntk":"0OV5219S","manufacturer":"Oliver Peoples","name":"Fairmont Sun","buyable":"true","storeID":"715838934","attributes":[{"storeDisplay":false,"values":[{"sequence":"1","value":"0OV5219S--172257","uniqueID":"7741124012287666098","unitOfMeasure":"","unitID":"","identifier":"0OV5219S--172257"}],"sequence":"1","name":"Moco","usage":"Descriptive","uniqueID":"7741124012283379884","displayable":false,"comparable":false,"identifier":"MOCO","searchable":false,"facetable":false},{"storeDisplay":false,"values":[{"sequence":"0","value":"OV5219S 172257 49-21","uniqueID":"7741124012287648703","unitOfMeasure":"","unitID":"","identifier":"OV5219S 172257 49-21"}],"sequence":"10000","name":"DISPLAYSKU","usage":"Descriptive","uniqueID":"7741124012283379878","displayable":false,"comparable":true,"identifier":"DISPLAYSKU","searchable":false,"facetable":false},{"storeDisplay":false,"values":[{"sequence":"0","value":"0","uniqueID":"7741124012283382117","unitOfMeasure":"","unitID":"","identifier":"37.4"}],"sequence":"10000","name":"LENSHEIGHT","usage":"Descriptive","uniqueID":"7741124012283379885","displayable":false,"comparable":true,"identifier":"LENSHEIGHT","searchable":false,"facetable":false},{"storeDisplay":false,"values":[{"sequence":"0","value":"17225749","uniqueID":"7741124012287648705","unitOfMeasure":"","unitID":"","identifier":"17225749"}],"sequence":"10000","name":"GRID","usage":"Descriptive","uniqueID":"7741124012283591836","displayable":false,"comparable":true,"identifier":"GRID","searchable":false,"facetable":false},{"storeDisplay":false,"values":[{"sequence":"0","value":"128","uniqueID":"7741124012286434069","unitOfMeasure":"","unitID":"","identifier":"128"}],"sequence":"10000","name":"HINGE_DISTANCE","usage":"Descriptive","uniqueID":"7741124012285060349","displayable":false,"comparable":true,"identifier":"HINGE_DISTANCE","searchable":true,"facetable":false},{"storeDisplay":false,"values":[{"sequence":"1","value":"20","uniqueID":"7741124012283758086","unitOfMeasure":"","unitID":"","identifier":"20"}],"sequence":"10000","name":"SEG_HEIGHT","usage":"Descriptive","uniqueID":"7741124012283591335","displayable":false,"comparable":true,"identifier":"SEG_HEIGHT","searchable":false,"facetable":false},{"storeDisplay":false,"values":[{"sequence":"1","value":"145","uniqueID":"7741124012283379037","unitOfMeasure":"","unitID":"","identifier":"145"}],"sequence":"10000","name":"TEMPLE_LENGTH","usage":"Descriptive","uniqueID":"7741124012283379863","displayable":false,"comparable":true,"identifier":"TEMPLE_LENGTH","searchable":false,"facetable":false},{"storeDisplay":false,"values":[{"sequence":"0","value":"45","uniqueID":"7741124012287468863","unitOfMeasure":"","unitID":"","identifier":"45"}],"sequence":"10000","name":"LENS_WIDTH","usage":"Descriptive","uniqueID":"7741124012285060340","displayable":false,"comparable":false,"identifier":"LENS_WIDTH","searchable":true,"facetable":false},{"storeDisplay":false,"values":[{"sequence":"0","value":"0ov5219s 49 172257","uniqueID":"7741124012287648710","unitOfMeasure":"","unitID":"","identifier":"0ov5219s 49 172257"}],"sequence":"10000","name":"SKU","usage":"Descriptive","uniqueID":"7741124012283391835","displayable":false,"comparable":true,"identifier":"SKU","searchable":false,"facetable":false},{"storeDisplay":false,"values":[{"sequence":"0","value":"21","uniqueID":"7741124012286195957","unitOfMeasure":"","unitID":"","identifier":"21"}],"sequence":"10000","name":"BRIDGE","usage":"Descriptive","uniqueID":"7741124012285060347","displayable":false,"comparable":true,"identifier":"BRIDGE","searchable":true,"facetable":false},{"storeDisplay":false,"values":[{"sequence":"0","value":"4921","uniqueID":"7741124012286204789","unitOfMeasure":"","unitID":"","identifier":"4921"}],"sequence":"10000","name":"LENS_BRIDGE","usage":"Descriptive","uniqueID":"7741124012283379862","displayable":false,"comparable":true,"identifier":"LENS_BRIDGE","searchable":false,"facetable":false},{"storeDisplay":false,"values":[{"sequence":"0","value":"S","uniqueID":"7741124012287859787","unitOfMeasure":"","unitID":"","identifier":"S"}],"sequence":"10000","name":"\u30b5\u30a4\u30ba","usage":"Defining","uniqueID":"7741124012283379859","displayable":true,"comparable":true,"identifier":"MODEL_SIZE_DISPLAY","searchable":false,"facetable":false},{"storeDisplay":false,"values":[{"sequence":"0","value":"0","uniqueID":"7741124012283378428","unitOfMeasure":"","unitID":"","identifier":"49"}],"sequence":"10000","name":"MODEL_SIZE","usage":"Descriptive","uniqueID":"7741124012283379858","displayable":false,"comparable":true,"identifier":"MODEL_SIZE","searchable":false,"facetable":false}],"partNumber":"827934470583"}],"resourceId":"http:\/\/lrhsbrdilbp01.luxgroup.net:3737\/search\/resources\/store\/715840684\/productview\/byId\/3074457345616878172","price":[{"description":"L","value":"486.0","usage":"Display","currency":"USD"},{"description":"O","value":"","usage":"Offer","currency":"USD"}],"thumbnail":"https:\/\/assets2.oliverpeoples.com\/cdn-record-files-pi\/b680b6fc-d325-444b-b445-adc0015e54cf\/ead44337-1e31-40b1-9d91-adc0016d7027\/0OV5219S__172257__STD__noshad__fr.png?impolicy=OV_OpPlp","shortDescription":"OV5219S","manufacturer":"Oliver Peoples","name":"Fairmont Sun","buyable":"true","quantity":1,"attributes":[{"storeDisplay":false,"values":[{"sequence":"0","value":"OV5219S","uniqueID":"7741124012283381254","unitOfMeasure":"","unitID":"","identifier":"OV5219S"}],"sequence":"0","name":"\u30e2\u30c7\u30eb\u30b3\u30fc\u30c9","associatedKeyword":"-","usage":"Descriptive","uniqueID":"7741124012283379873","displayable":true,"comparable":true,"identifier":"MODEL_CODE_DISPLAY","searchable":false,"facetable":false},{"storeDisplay":false,"values":[{"sequence":"0","value":"Black\/362 Gradient","uniqueID":"7741124012287646111","unitOfMeasure":"","unitID":"","identifier":"Black\/362 Gradient"}],"sequence":"1","name":"\u30d5\u30ed\u30f3\u30c8\u30ab\u30e9\u30fc","associatedKeyword":"-","usage":"Descriptive","uniqueID":"7741124012283379839","displayable":true,"comparable":true,"identifier":"FRONT_COLOR","searchable":false,"facetable":false},{"storeDisplay":false,"values":[{"sequence":"0","value":"True Brown Polar","uniqueID":"7741124012287859752","unitOfMeasure":"","unitID":"","identifier":"TRUE Brown Polar"}],"sequence":"2","name":"\u30ec\u30f3\u30ba\u30ab\u30e9\u30fc","associatedKeyword":"-","usage":"Descriptive","uniqueID":"7741124012283379846","displayable":true,"comparable":true,"identifier":"LENS_COLOR","searchable":false,"facetable":false},{"storeDisplay":false,"values":[{"sequence":"0","value":"\u5358\u8272","uniqueID":"7741124012286931347","unitOfMeasure":"","unitID":"","identifier":"Solid Color"}],"sequence":"3","name":"LENS_TREATMENT","associatedKeyword":"-","usage":"Descriptive","uniqueID":"7741124012283379864","displayable":false,"comparable":true,"identifier":"LENS_TREATMENT","searchable":false,"facetable":false},{"storeDisplay":false,"values":[{"sequence":"0","value":"\u30af\u30ea\u30b9\u30bf\u30eb","uniqueID":"7741124012286177448","unitOfMeasure":"","unitID":"","identifier":"Crystal"}],"sequence":"5","name":"\u30ec\u30f3\u30ba\u7d20\u6750","associatedKeyword":"-","usage":"Descriptive","uniqueID":"7741124012285060339","displayable":false,"comparable":false,"identifier":"LENS_MATERIAL","searchable":true,"facetable":false},{"storeDisplay":false,"values":[{"sequence":"0","value":"\u30a2\u30bb\u30c6\u30fc\u30c8","uniqueID":"7741124012283377366","unitOfMeasure":"","unitID":"","identifier":"Acetate"}],"sequence":"6","name":"\u30d5\u30ec\u30fc\u30e0\u7d20\u6750","associatedKeyword":"-","usage":"Descriptive","uniqueID":"7741124012283379837","displayable":true,"comparable":true,"identifier":"FRAMEMATERIAL","searchable":false,"facetable":false},{"storeDisplay":false,"values":[{"sequence":"1","value":"1","uniqueID":"7741124012284932835","unitOfMeasure":"","unitID":"","identifier":"1"}],"sequence":"8","name":"PLACEHOLDER_SIZE","associatedKeyword":"-","usage":"Descriptive","uniqueID":"7741124012284296836","displayable":true,"comparable":false,"identifier":"PLACEHOLDER_SIZE","searchable":false,"facetable":false},{"storeDisplay":false,"values":[{"sequence":"0","value":"\u7d30\u5e45","uniqueID":"7741124012287349181","unitOfMeasure":"","unitID":"","identifier":"Narrow"}],"sequence":"10","name":"\u30d5\u30a3\u30c3\u30c8","associatedKeyword":"-","usage":"Descriptive","uniqueID":"7741124012285060351","displayable":true,"comparable":true,"identifier":"FRAME_FIT","searchable":true,"facetable":true},{"storeDisplay":false,"values":[{"sequence":"0","value":"\u30cf\u30a4\u30d6\u30ea\u30c3\u30b8\u30d5\u30a3\u30c3\u30c8","uniqueID":"7741124012287859725","unitOfMeasure":"","unitID":"","identifier":"High Bridge Fit"}],"sequence":"11","name":"\u30d6\u30ea\u30c3\u30b8\u306e\u7a2e\u985e\uff06\u30ce\u30fc\u30ba\u30d1\u30c3\u30c9","associatedKeyword":"-","usage":"Descriptive","uniqueID":"7741124012283379869","displayable":true,"comparable":true,"identifier":"GEO_FIT","searchable":true,"facetable":true},{"storeDisplay":false,"values":[{"sequence":"0","value":"202201","uniqueID":"7741124012287399086","unitOfMeasure":"","unitID":"","identifier":"202201"}],"sequence":"10000","name":"COLLECTION","associatedKeyword":"-","usage":"Descriptive","uniqueID":"7741124012283379835","displayable":false,"comparable":true,"identifier":"COLLECTION","searchable":true,"facetable":false},{"storeDisplay":false,"values":[{"sequence":"0","value":"0","uniqueID":"7741124012288249361","unitOfMeasure":"","unitID":"","identifier":"True"}],"sequence":"10000","name":"\u30dd\u30e9\u30e9\u30a4\u30ba\u30c9","associatedKeyword":"-","usage":"Descriptive","uniqueID":"7741124012283379852","displayable":false,"comparable":true,"identifier":"POLARIZED","searchable":true,"facetable":true},{"storeDisplay":false,"values":[{"sequence":"0","value":"\u30dd\u30ea\u30c3\u30b7\u30e5","uniqueID":"7741124012286177346","unitOfMeasure":"","unitID":"","identifier":"Polished"}],"sequence":"10000","name":"FINISHING","associatedKeyword":"-","usage":"Descriptive","uniqueID":"7741124012285060335","displayable":false,"comparable":true,"identifier":"FINISHING","searchable":true,"facetable":false},{"storeDisplay":false,"values":[{"sequence":"0","value":"\u30a2\u30bb\u30c6\u30fc\u30c8","uniqueID":"7741124012287412811","unitOfMeasure":"","unitID":"","identifier":"Acetate"}],"sequence":"10000","name":"FRAME_MATERIAL_PERCEIVED","associatedKeyword":"-","usage":"Descriptive","uniqueID":"7741124012285060336","displayable":false,"comparable":true,"identifier":"FRAME_MATERIAL_PERCEIVED","searchable":true,"facetable":false},{"storeDisplay":false,"values":[{"sequence":"0","value":"\u7537\u6027","uniqueID":"7741124012288319560","unitOfMeasure":"","unitID":"","identifier":"MALE"}],"sequence":"10000","name":"\u6027\u5225","associatedKeyword":"-","usage":"Descriptive","uniqueID":"7741124012283379843","displayable":false,"comparable":true,"identifier":"GENDER","searchable":true,"facetable":true},{"storeDisplay":false,"values":[{"sequence":"0","value":"\u30b0\u30ec\u30fc","uniqueID":"7741124012286177439","unitOfMeasure":"","unitID":"","identifier":"Grey"}],"sequence":"10000","name":"LENSCOLOR_FAMILY","associatedKeyword":"-","usage":"Descriptive","uniqueID":"7741124012283591844","displayable":false,"comparable":true,"identifier":"LENSCOLOR_FAMILY","searchable":false,"facetable":false},{"storeDisplay":false,"values":[{"sequence":"549","value":"False","uniqueID":"7741124012283377364","unitOfMeasure":"","unitID":"","identifier":"False"}],"sequence":"10000","name":"\u9650\u5b9a","associatedKeyword":"-","usage":"Descriptive","uniqueID":"7741124012283379836","displayable":false,"comparable":true,"identifier":"EXCLUSIVE","searchable":true,"facetable":true},{"storeDisplay":false,"values":[{"sequence":"13","value":"False","uniqueID":"7741124012283944664","unitOfMeasure":"","unitID":"","identifier":"False"}],"sequence":"10000","name":"LIMITED_EDITION","associatedKeyword":"-","usage":"Descriptive","uniqueID":"7741124012283379847","displayable":false,"comparable":true,"identifier":"LIMITED_EDITION","searchable":true,"facetable":true},{"storeDisplay":false,"values":[{"sequence":"0","value":"False\uff08\u507d\uff09","uniqueID":"7741124012287388847","unitOfMeasure":"","unitID":"","identifier":"FALSE"}],"sequence":"10000","name":"FLEX","associatedKeyword":"-","usage":"Descriptive","uniqueID":"7741124012283379877","displayable":false,"comparable":true,"identifier":"FLEX","searchable":false,"facetable":false},{"storeDisplay":false,"values":[{"sequence":"0","value":"Zpfn","uniqueID":"7741124012286177452","unitOfMeasure":"","unitID":"","identifier":"ZPFN"}],"sequence":"10000","name":"MATERIALTYPE","associatedKeyword":"-","usage":"Descriptive","uniqueID":"7741124012283379872","displayable":false,"comparable":true,"identifier":"MATERIALTYPE","searchable":false,"facetable":false},{"storeDisplay":false,"values":[{"sequence":"0","value":"Classic","uniqueID":"7741124012288148974","unitOfMeasure":"","unitID":"","identifier":"Classic"}],"sequence":"10000","name":"PROGRESSIVE_FRIENDLY","associatedKeyword":"-","usage":"Descriptive","uniqueID":"7741124012285300835","displayable":false,"comparable":true,"identifier":"PROGRESSIVE_FRIENDLY","searchable":true,"facetable":false},{"storeDisplay":false,"values":[{"sequence":"0","value":"False","uniqueID":"7741124012286878836","unitOfMeasure":"","unitID":"","identifier":"FALSE"}],"sequence":"10000","name":"FOLDABLE","associatedKeyword":"-","usage":"Descriptive","uniqueID":"7741124012283379866","displayable":false,"comparable":true,"identifier":"FOLDABLE","searchable":false,"facetable":false},{"storeDisplay":false,"values":[],"sequence":"10000","name":"IS_ASIAN","associatedKeyword":"-","usage":"Defining","uniqueID":"7741124012285274335","displayable":false,"comparable":true,"identifier":"IS_ASIAN","searchable":true,"facetable":true},{"storeDisplay":false,"values":[{"sequence":"0","value":"\u30d5\u30eb\u30ea\u30e0","uniqueID":"7741124012283379070","unitOfMeasure":"","unitID":"","identifier":"Full Rim"}],"sequence":"10000","name":"\u30d5\u30ec\u30fc\u30e0\u7a2e\u985e","associatedKeyword":"-","usage":"Descriptive","uniqueID":"7741124012283379870","displayable":false,"comparable":true,"identifier":"FRAMETYPE","searchable":true,"facetable":true},{"storeDisplay":false,"values":[{"sequence":"0","value":"\u30e9\u30a6\u30f3\u30c9","uniqueID":"7741124012283379055","unitOfMeasure":"","unitID":"","identifier":"Round"}],"sequence":"10000","name":"\u30d5\u30ec\u30fc\u30e0\u5f62","associatedKeyword":"-","usage":"Descriptive","uniqueID":"7741124012283379867","displayable":false,"comparable":true,"identifier":"FRAME_SHAPE","searchable":false,"facetable":false},{"storeDisplay":false,"values":[{"sequence":"0","value":"\u30e9\u30a6\u30f3\u30c9","uniqueID":"7741124012283379063","unitOfMeasure":"","unitID":"","identifier":"Round"}],"sequence":"10000","name":"\u30d5\u30ec\u30fc\u30e0\u5f62","associatedKeyword":"-","usage":"Descriptive","uniqueID":"7741124012283379868","displayable":false,"comparable":true,"identifier":"FRAME_SHAPE_FACET","searchable":true,"facetable":true},{"storeDisplay":false,"values":[{"sequence":"0","value":"Sunglasses","uniqueID":"7741124012287487327","unitOfMeasure":"","unitID":"","identifier":"Sunglasses"}],"sequence":"10000","name":"PROD_HIERARCHY_1","associatedKeyword":"-","usage":"Descriptive","uniqueID":"7741124012285060344","displayable":false,"comparable":false,"identifier":"PROD_HIERARCHY_1","searchable":true,"facetable":false},{"storeDisplay":false,"values":[{"sequence":"0","value":"Essentials","uniqueID":"7741124012287128985","unitOfMeasure":"","unitID":"","identifier":"Essentials"}],"sequence":"10000","name":"RANGE","associatedKeyword":"-","usage":"Descriptive","uniqueID":"7741124012283379871","displayable":false,"comparable":true,"identifier":"RANGE","searchable":true,"facetable":true},{"storeDisplay":false,"values":[{"sequence":"0","value":"Essential","uniqueID":"7741124012286179197","unitOfMeasure":"","unitID":"","identifier":"Essential"}],"sequence":"10000","name":"MARKETING_THEME_STORY","associatedKeyword":"-","usage":"Descriptive","uniqueID":"7741124012285060348","displayable":false,"comparable":true,"identifier":"MARKETING_THEME_STORY","searchable":true,"facetable":false},{"storeDisplay":false,"values":[{"sequence":"0","value":"59","uniqueID":"7741124012287463179","unitOfMeasure":"","unitID":"","identifier":"59"}],"sequence":"10000","name":"WIDTH","associatedKeyword":"-","usage":"Descriptive","uniqueID":"7741124012285060338","displayable":false,"comparable":false,"identifier":"WIDTH","searchable":true,"facetable":false},{"storeDisplay":false,"values":[{"sequence":"0","value":"165","uniqueID":"7741124012287461833","unitOfMeasure":"","unitID":"","identifier":"165"}],"sequence":"10000","name":"GROSSWEIGHT","associatedKeyword":"-","usage":"Descriptive","uniqueID":"7741124012283379861","displayable":false,"comparable":true,"identifier":"GROSSWEIGHT","searchable":false,"facetable":false},{"storeDisplay":false,"values":[{"sequence":"2","value":"Sun","uniqueID":"7741124012283379213","unitOfMeasure":"","unitID":"","identifier":"Sun"}],"sequence":"10000","name":"PRODUCTTYPE","associatedKeyword":"-","usage":"Descriptive","uniqueID":"7741124012283379876","displayable":false,"comparable":true,"identifier":"PRODUCTTYPE","searchable":true,"facetable":true},{"storeDisplay":false,"values":[{"sequence":"0","value":"Eyewear","uniqueID":"7741124012287777028","unitOfMeasure":"","unitID":"","identifier":"Eyewear"}],"sequence":"10000","name":"PROD_HIERARCHY_0","associatedKeyword":"-","usage":"Descriptive","uniqueID":"7741124012285060343","displayable":false,"comparable":false,"identifier":"PROD_HIERARCHY_0","searchable":true,"facetable":false},{"storeDisplay":false,"values":[{"sequence":"0","value":"49","uniqueID":"7741124012287863692","unitOfMeasure":"","unitID":"","identifier":"49"}],"sequence":"10000","name":"MOST_SOLD_SIZE","associatedKeyword":"-","usage":"Descriptive","uniqueID":"7741124012285274336","displayable":false,"comparable":true,"identifier":"MOST_SOLD_SIZE","searchable":false,"facetable":false},{"storeDisplay":false,"values":[{"sequence":"0","value":"True","uniqueID":"7741124012286181046","unitOfMeasure":"","unitID":"","identifier":"True"}],"sequence":"10000","name":"BESTSELLERS","associatedKeyword":"-","usage":"Descriptive","uniqueID":"7741124012285059837","displayable":false,"comparable":true,"identifier":"BESTSELLERS","searchable":true,"facetable":false},{"storeDisplay":false,"values":[{"sequence":"0","value":"S","uniqueID":"7741124012287859787","unitOfMeasure":"","unitID":"","identifier":"S"}],"sequence":"10000","name":"\u30b5\u30a4\u30ba","associatedKeyword":"-","usage":"Defining","uniqueID":"7741124012283379859","displayable":true,"comparable":true,"identifier":"MODEL_SIZE_DISPLAY","searchable":false,"facetable":false},{"storeDisplay":false,"values":[{"sequence":"3","value":"S","uniqueID":"7741124012287791998","unitOfMeasure":"","unitID":"","identifier":"S"}],"sequence":"10000","name":"\u30b5\u30a4\u30ba","associatedKeyword":"-","usage":"Descriptive","uniqueID":"7741124012285273337","displayable":false,"comparable":true,"identifier":"MODEL_SIZE_DISPLAY_PLP","searchable":true,"facetable":true},{"storeDisplay":false,"values":[{"sequence":"0","value":"True","uniqueID":"7741124012286327836","unitOfMeasure":"","unitID":"","identifier":"TRUE"}],"sequence":"10000","name":"NEWRELEASES","associatedKeyword":"-","usage":"Descriptive","uniqueID":"7741124012283379849","displayable":false,"comparable":true,"identifier":"NEWRELEASES","searchable":true,"facetable":true},{"storeDisplay":false,"values":[{"sequence":"0","value":"\u30d6\u30e9\u30c3\u30af","uniqueID":"7741124012283378242","unitOfMeasure":"","unitID":"","identifier":"Black"}],"sequence":"10000","name":"TEMPLE_INNER_COLOR","associatedKeyword":"-","usage":"Descriptive","uniqueID":"7741124012283379856","displayable":false,"comparable":true,"identifier":"TEMPLE_INNER_COLOR","searchable":false,"facetable":false},{"storeDisplay":false,"values":[{"sequence":"0","value":"\u30d6\u30e9\u30c3\u30af","uniqueID":"7741124012283377555","unitOfMeasure":"","unitID":"","identifier":"Black"}],"sequence":"10000","name":"FRONT_INNER_COLOR","associatedKeyword":"-","usage":"Descriptive","uniqueID":"7741124012283379841","displayable":false,"comparable":true,"identifier":"FRONT_INNER_COLOR","searchable":false,"facetable":false},{"storeDisplay":false,"values":[{"sequence":"0","value":"\u30d6\u30e9\u30c3\u30af","uniqueID":"7741124012283378059","unitOfMeasure":"","unitID":"","identifier":"Black"}],"sequence":"10000","name":"TEMPLE_COLOR","associatedKeyword":"-","usage":"Descriptive","uniqueID":"7741124012283379854","displayable":false,"comparable":true,"identifier":"TEMPLE_COLOR","searchable":false,"facetable":false},{"storeDisplay":false,"values":[{"sequence":"0","value":"Low","uniqueID":"7741124012287859746","unitOfMeasure":"","unitID":"","identifier":"Low"}],"sequence":"10000","name":"ML_FRAME_TEMPLE_FITTING","associatedKeyword":"-","usage":"Descriptive","uniqueID":"7741124012285274338","displayable":false,"comparable":true,"identifier":"ML_FRAME_TEMPLE_FITTING","searchable":true,"facetable":false},{"storeDisplay":false,"values":[{"sequence":"0","value":"Full_rim","uniqueID":"7741124012287859749","unitOfMeasure":"","unitID":"","identifier":"Full_rim"}],"sequence":"10000","name":"ML_FRAME_RIM","associatedKeyword":"-","usage":"Descriptive","uniqueID":"7741124012285274342","displayable":false,"comparable":true,"identifier":"ML_FRAME_RIM","searchable":true,"facetable":false},{"storeDisplay":false,"values":[{"sequence":"0","value":"Thick","uniqueID":"7741124012287859743","unitOfMeasure":"","unitID":"","identifier":"Thick"}],"sequence":"10000","name":"ML_FRAME_TEMPLE_THICKNESS","associatedKeyword":"-","usage":"Descriptive","uniqueID":"7741124012285274339","displayable":false,"comparable":true,"identifier":"ML_FRAME_TEMPLE_THICKNESS","searchable":true,"facetable":false},{"storeDisplay":false,"values":[{"sequence":"0","value":"\u305d\u306e\u4ed6","uniqueID":"7741124012287859745","unitOfMeasure":"","unitID":"","identifier":"Other"}],"sequence":"10000","name":"ML_FRAME_COLOR","associatedKeyword":"-","usage":"Descriptive","uniqueID":"7741124012285274346","displayable":false,"comparable":true,"identifier":"ML_FRAME_COLOR","searchable":true,"facetable":false},{"storeDisplay":false,"values":[{"sequence":"0","value":"Sunglass","uniqueID":"7741124012287859735","unitOfMeasure":"","unitID":"","identifier":"Sunglass"}],"sequence":"10000","name":"ML_PRODUCT_TYPE","associatedKeyword":"-","usage":"Descriptive","uniqueID":"7741124012285274347","displayable":false,"comparable":true,"identifier":"ML_PRODUCT_TYPE","searchable":true,"facetable":false},{"storeDisplay":false,"values":[{"sequence":"0","value":"\u30e1\u30bf\u30eb","uniqueID":"7741124012287859734","unitOfMeasure":"","unitID":"","identifier":"Metal"}],"sequence":"10000","name":"ML_FRAME_FRONT_MATERIAL","associatedKeyword":"-","usage":"Descriptive","uniqueID":"7741124012285274348","displayable":false,"comparable":true,"identifier":"ML_FRAME_FRONT_MATERIAL","searchable":true,"facetable":false},{"storeDisplay":false,"values":[{"sequence":"0","value":"\u7537\u6027","uniqueID":"7741124012287859753","unitOfMeasure":"","unitID":"","identifier":"Male"}],"sequence":"10000","name":"ML_GLASS_GENDER","associatedKeyword":"-","usage":"Descriptive","uniqueID":"7741124012285274344","displayable":false,"comparable":true,"identifier":"ML_GLASS_GENDER","searchable":true,"facetable":false},{"storeDisplay":false,"values":[{"sequence":"0","value":"Summer","uniqueID":"7741124012287859744","unitOfMeasure":"","unitID":"","identifier":"Summer"}],"sequence":"10000","name":"ML_FRAME_COLOR_PALETTE","associatedKeyword":"-","usage":"Descriptive","uniqueID":"7741124012285274337","displayable":false,"comparable":true,"identifier":"ML_FRAME_COLOR_PALETTE","searchable":true,"facetable":false},{"storeDisplay":false,"values":[{"sequence":"0","value":"High","uniqueID":"7741124012287859733","unitOfMeasure":"","unitID":"","identifier":"High"}],"sequence":"10000","name":"ML_FRAME_BRIDGE_POSITION","associatedKeyword":"-","usage":"Descriptive","uniqueID":"7741124012285274345","displayable":false,"comparable":true,"identifier":"ML_FRAME_BRIDGE_POSITION","searchable":true,"facetable":false},{"storeDisplay":false,"values":[{"sequence":"0","value":"\u30e9\u30a6\u30f3\u30c9","uniqueID":"7741124012287859730","unitOfMeasure":"","unitID":"","identifier":"Round"}],"sequence":"10000","name":"ML_FRAME_SHAPE","associatedKeyword":"-","usage":"Descriptive","uniqueID":"7741124012285274343","displayable":false,"comparable":true,"identifier":"ML_FRAME_SHAPE","searchable":true,"facetable":false},{"storeDisplay":false,"values":[{"sequence":"0","value":"\u30d6\u30e9\u30c3\u30af","uniqueID":"7741124012283378399","unitOfMeasure":"","unitID":"","identifier":"Black"}],"sequence":"10000","name":"TEMPLE_INNER_COLOR_FACET","associatedKeyword":"-","usage":"Descriptive","uniqueID":"7741124012283379857","displayable":false,"comparable":true,"identifier":"TEMPLE_INNER_COLOR_FACET","searchable":true,"facetable":false},{"storeDisplay":false,"values":[{"sequence":"0","value":"\u30d6\u30e9\u30c3\u30af","uniqueID":"7741124012283377714","unitOfMeasure":"","unitID":"","identifier":"Black"}],"sequence":"10000","name":"FRONT_INNER_COLOR_FACET","associatedKeyword":"-","usage":"Descriptive","uniqueID":"7741124012283379842","displayable":false,"comparable":true,"identifier":"FRONT_INNER_COLOR_FACET","searchable":true,"facetable":false},{"storeDisplay":false,"values":[{"sequence":"0","value":"\u30a2\u30bb\u30c6\u30fc\u30c8","uniqueID":"7741124012283377370","unitOfMeasure":"","unitID":"","identifier":"Acetate"}],"sequence":"10000","name":"\u30d5\u30ec\u30fc\u30e0\u7d20\u6750","associatedKeyword":"-","usage":"Descriptive","uniqueID":"7741124012283379838","displayable":false,"comparable":true,"identifier":"FRAMEMATERIAL_FACET","searchable":true,"facetable":true},{"storeDisplay":false,"values":[{"sequence":"0","value":"Black","uniqueID":"7741124012283377534","unitOfMeasure":"","unitID":"","identifier":"Black"}],"sequence":"10000","name":"\u30d5\u30ec\u30fc\u30e0\u30ab\u30e9\u30fc","associatedKeyword":"-","usage":"Descriptive","uniqueID":"7741124012283379840","displayable":false,"comparable":true,"identifier":"FRONT_COLOR_FACET","searchable":true,"facetable":true},{"storeDisplay":false,"values":[{"sequence":"0","value":"\u5b9a\u756a","uniqueID":"7741124012283379047","unitOfMeasure":"","unitID":"","identifier":"Classic"}],"sequence":"10000","name":"\u30ec\u30f3\u30ba\u7a2e\u985e","associatedKeyword":"-","usage":"Descriptive","uniqueID":"7741124012283379865","displayable":false,"comparable":true,"identifier":"LENS_TREATMENT_FACET","searchable":true,"facetable":true},{"storeDisplay":false,"values":[{"sequence":"0","value":"\u30d6\u30e9\u30c3\u30af","uniqueID":"7741124012283378216","unitOfMeasure":"","unitID":"","identifier":"Black"}],"sequence":"10000","name":"TEMPLE_COLOR_FACET","associatedKeyword":"-","usage":"Descriptive","uniqueID":"7741124012283379855","displayable":false,"comparable":true,"identifier":"TEMPLE_COLOR_FACET","searchable":true,"facetable":false},{"storeDisplay":false,"values":[{"sequence":"0","value":"Brown","uniqueID":"7741124012283377837","unitOfMeasure":"","unitID":"","identifier":"Brown"}],"sequence":"10000","name":"\u30ec\u30f3\u30ba\u30ab\u30e9\u30fc","associatedKeyword":"-","usage":"Descriptive","uniqueID":"7741124012283379845","displayable":false,"comparable":true,"identifier":"LENS_COLOR_FACET","searchable":true,"facetable":true},{"storeDisplay":false,"values":[{"sequence":"0","value":"\u30c8\u30a5\u30eb\u30fc\u30d6\u30e9\u30a6\u30f3\u504f\u5149","uniqueID":"7741124012287859783","unitOfMeasure":"","unitID":"","identifier":"TRUE Brown Polar"}],"sequence":"10000","name":"PREDOMINANT_COLOR_FACET","associatedKeyword":"-","usage":"Descriptive","uniqueID":"7741124012285060342","displayable":false,"comparable":false,"identifier":"PREDOMINANT_COLOR_FACET","searchable":true,"facetable":false},{"storeDisplay":false,"values":[{"sequence":"0","value":"Fairmont Sun","uniqueID":"7741124012285468656","unitOfMeasure":"","unitID":"","identifier":"Fairmont Sun"}],"sequence":"10000","name":"MODELNAME","associatedKeyword":"-","usage":"Descriptive","uniqueID":"7741124012283379853","displayable":false,"comparable":true,"identifier":"MODELNAME","searchable":true,"facetable":false},{"storeDisplay":false,"values":[{"sequence":"0","value":"Off","uniqueID":"7741124012286182429","unitOfMeasure":"","unitID":"","identifier":"True"}],"sequence":"10000","name":"IS_ROXABLE","associatedKeyword":"-","usage":"Descriptive","uniqueID":"7741124012285060337","displayable":false,"comparable":true,"identifier":"IS_ROXABLE","searchable":true,"facetable":true},{"storeDisplay":false,"values":[{"sequence":"0","value":"172257","uniqueID":"7741124012287647757","unitOfMeasure":"","unitID":"","identifier":"172257"}],"sequence":"10000","name":"COLOR_CODE","associatedKeyword":"-","usage":"Descriptive","uniqueID":"7741124012285059838","displayable":false,"comparable":false,"identifier":"COLOR_CODE","searchable":true,"facetable":false},{"storeDisplay":false,"values":[{"sequence":"0","value":"0","uniqueID":"7741124012283579165","unitOfMeasure":"","unitID":"","identifier":"L019c"}],"sequence":"10000","name":"CLEN","associatedKeyword":"-","usage":"Descriptive","uniqueID":"7741124012283379844","displayable":false,"comparable":true,"identifier":"CLEN","searchable":false,"facetable":false},{"storeDisplay":false,"values":[{"sequence":"0","value":"True","uniqueID":"7741124012287218513","unitOfMeasure":"","unitID":"","identifier":"True"}],"sequence":"10000","name":"IS_ROX_FRIENDLY","associatedKeyword":"-","usage":"Descriptive","uniqueID":"7741124012285060355","displayable":false,"comparable":true,"identifier":"IS_ROX_FRIENDLY","searchable":true,"facetable":false},{"storeDisplay":false,"values":[{"sequence":"0","value":"PACK__OV__InstitutionalSun","uniqueID":"7741124012287762114","unitOfMeasure":"","unitID":"","identifier":"PACK__OV__InstitutionalSun"}],"sequence":"10000","name":"CASE","associatedKeyword":"-","usage":"Descriptive","uniqueID":"7741124012283439835","displayable":false,"comparable":false,"identifier":"CASE","searchable":true,"facetable":true},{"storeDisplay":false,"values":[{"sequence":"0","value":"Pins-2;filigree-custom-7;lenses-10;logo-4","uniqueID":"7741124012287647761","unitOfMeasure":"","unitID":"","identifier":"Pins-2;filigree-custom-7;lenses-10;logo-4"}],"sequence":"10000","name":"FEATURES","associatedKeyword":"-","usage":"Descriptive","uniqueID":"7741124012283379879","displayable":false,"comparable":false,"identifier":"FEATURES","searchable":false,"facetable":false},{"storeDisplay":false,"values":[{"sequence":"0","value":"True","uniqueID":"7741124012287884290","unitOfMeasure":"","unitID":"","identifier":"True"}],"sequence":"10000","name":"CLICK_AND_COLLECT","associatedKeyword":"-","usage":"Descriptive","uniqueID":"7741124012285260835","displayable":false,"comparable":false,"identifier":"CLICK_AND_COLLECT","searchable":false,"facetable":false},{"storeDisplay":false,"values":[{"sequence":"0","value":"True","uniqueID":"7741124012287886329","unitOfMeasure":"","unitID":"","identifier":"True"}],"sequence":"10000","name":"REAL_TIME_INVENTORY","associatedKeyword":"-","usage":"Descriptive","uniqueID":"7741124012285260836","displayable":false,"comparable":false,"identifier":"REAL_TIME_INVENTORY","searchable":false,"facetable":false},{"storeDisplay":false,"values":[{"sequence":"0","value":"True","uniqueID":"7741124012287875997","unitOfMeasure":"","unitID":"","identifier":"True"}],"sequence":"10000","name":"SHIP_FROM_STORE","associatedKeyword":"-","usage":"Descriptive","uniqueID":"7741124012285260837","displayable":false,"comparable":false,"identifier":"SHIP_FROM_STORE","searchable":false,"facetable":false},{"storeDisplay":false,"values":[{"sequence":"0","value":"True","uniqueID":"7741124012287887125","unitOfMeasure":"","unitID":"","identifier":"True"}],"sequence":"10000","name":"SHIP_TO_STORE","associatedKeyword":"-","usage":"Descriptive","uniqueID":"7741124012285260838","displayable":false,"comparable":false,"identifier":"SHIP_TO_STORE","searchable":false,"facetable":false},{"storeDisplay":false,"values":[{"sequence":"0","value":"False\uff08\u507d\uff09","uniqueID":"7741124012286389837","unitOfMeasure":"","unitID":"","identifier":"FALSE"}],"sequence":"10000","name":"\u8abf\u5149","associatedKeyword":"-","usage":"Descriptive","uniqueID":"7741124012285148835","displayable":false,"comparable":true,"identifier":"PHOTOCHROMIC","searchable":true,"facetable":true},{"storeDisplay":false,"values":[{"sequence":"0","value":"False\uff08\u507d\uff09","uniqueID":"7741124012288148976","unitOfMeasure":"","unitID":"","identifier":"False"}],"sequence":"10000","name":"DRIVING_ASNZS","associatedKeyword":"-","usage":"Descriptive","uniqueID":"7741124012285300847","displayable":false,"comparable":true,"identifier":"DRIVING_ASNZS","searchable":true,"facetable":false},{"storeDisplay":false,"values":[{"sequence":"0","value":"3P","uniqueID":"7741124012283381081","unitOfMeasure":"","unitID":"","identifier":"3P"}],"sequence":"10000","name":"NOTAINFORMATIVA","associatedKeyword":"-","usage":"Descriptive","uniqueID":"7741124012283379850","displayable":false,"comparable":true,"identifier":"NOTAINFORMATIVA","searchable":false,"facetable":false}],"storeID":"715838934","numberOfSKUs":1,"partNumber":"0OV5219S__172257"},{"hasSingleSKU":false,"catalogEntryTypeCode":"ProductBean","associationType":"X-SELL","parentCatalogGroupID":["3074457345616683318_3074457345616686168","3074457345616683368_3074457345616714172","3074457345616683368_3074457345616714173","3074457345616683368_3074457345616714176","3074457345616683368_3074457345616714192","3074457345616683368_3074457345616714193","3074457345616683368_3074457345616714194","3074457345616683368_3074457345616714204","3074457345616683368_3074457345616714205","3074457345616683368_3074457345616714207","3074457345616683368_3074457345616714208","3074457345616683368_3074457345616714215","3074457345616684418_3074457345616714172","3074457345616684418_3074457345616714173","3074457345616684418_3074457345616714176","3074457345616684418_3074457345616714192","3074457345616684418_3074457345616714193","3074457345616684418_3074457345616714194","3074457345616684418_3074457345616714204","3074457345616684418_3074457345616714205","3074457345616684418_3074457345616714207","3074457345616684418_3074457345616714208","3074457345616684418_3074457345616714215","3074457345616684918_3074457345616714172","3074457345616684918_3074457345616714173","3074457345616684918_3074457345616714176","3074457345616684918_3074457345616714192","3074457345616684918_3074457345616714193","3074457345616684918_3074457345616714194","3074457345616684918_3074457345616714204","3074457345616684918_3074457345616714205","3074457345616684918_3074457345616714207","3074457345616684918_3074457345616714208","3074457345616684918_3074457345616714215"],"price_USD":"442.0","uniqueID":"3074457345616686921","sKUs":[{"hasSingleSKU":false,"catalogEntryTypeCode":"ItemBean","parentCatalogGroupID":["3074457345616683318_3074457345616686168","3074457345616683368_3074457345616714172","3074457345616683368_3074457345616714173","3074457345616683368_3074457345616714176","3074457345616683368_3074457345616714192","3074457345616683368_3074457345616714193","3074457345616683368_3074457345616714194","3074457345616683368_3074457345616714204","3074457345616683368_3074457345616714205","3074457345616683368_3074457345616714207","3074457345616683368_3074457345616714208","3074457345616683368_3074457345616714215","3074457345616684418_3074457345616714172","3074457345616684418_3074457345616714173","3074457345616684418_3074457345616714176","3074457345616684418_3074457345616714192","3074457345616684418_3074457345616714193","3074457345616684418_3074457345616714194","3074457345616684418_3074457345616714204","3074457345616684418_3074457345616714205","3074457345616684418_3074457345616714207","3074457345616684418_3074457345616714208","3074457345616684418_3074457345616714215","3074457345616684918_3074457345616714172","3074457345616684918_3074457345616714173","3074457345616684918_3074457345616714176","3074457345616684918_3074457345616714192","3074457345616684918_3074457345616714193","3074457345616684918_3074457345616714194","3074457345616684918_3074457345616714204","3074457345616684918_3074457345616714205","3074457345616684918_3074457345616714207","3074457345616684918_3074457345616714208","3074457345616684918_3074457345616714215"],"uniqueID":"3074457345616687539","resourceId":"http:\/\/lrhsbrdilbp01.luxgroup.net:3737\/search\/resources\/store\/715840684\/productview\/byId\/3074457345616687539","price":[{"description":"L","value":"","usage":"Display","currency":"USD"},{"description":"O","value":"","usage":"Offer","currency":"USD"}],"thumbnail":"https:\/\/assets2.oliverpeoples.com\/cdn-record-files-pi\/4d8ed087-614a-45aa-8a3b-a42a00844c76\/24e31ccc-61df-402f-83d8-ac6b0114087a\/0OV5217S__1483R8__STD__noshad__fr.png?impolicy=OV_OpPlp","mfPartNumber_ntk":"0OV5217S","manufacturer":"Oliver Peoples","name":"Gregory Peck Sun","buyable":"true","storeID":"715838934","attributes":[{"storeDisplay":false,"values":[{"sequence":"1","value":"0OV5217S--1483R8","uniqueID":"7741124012287135294","unitOfMeasure":"","unitID":"","identifier":"0OV5217S--1483R8"}],"sequence":"1","name":"Moco","usage":"Descriptive","uniqueID":"7741124012283379884","displayable":false,"comparable":false,"identifier":"MOCO","searchable":false,"facetable":false},{"storeDisplay":false,"values":[{"sequence":"0","value":"0","uniqueID":"7741124012283437963","unitOfMeasure":"","unitID":"","identifier":"OV5217S 1483R8 47-23"}],"sequence":"10000","name":"DISPLAYSKU","usage":"Descriptive","uniqueID":"7741124012283379878","displayable":false,"comparable":true,"identifier":"DISPLAYSKU","searchable":false,"facetable":false},{"storeDisplay":false,"values":[{"sequence":"0","value":"0","uniqueID":"7741124012283378426","unitOfMeasure":"","unitID":"","identifier":"47"}],"sequence":"10000","name":"MODEL_SIZE","usage":"Descriptive","uniqueID":"7741124012283379858","displayable":false,"comparable":true,"identifier":"MODEL_SIZE","searchable":false,"facetable":false},{"storeDisplay":false,"values":[{"sequence":"0","value":"124","uniqueID":"7741124012286195068","unitOfMeasure":"","unitID":"","identifier":"124"}],"sequence":"10000","name":"HINGE_DISTANCE","usage":"Descriptive","uniqueID":"7741124012285060349","displayable":false,"comparable":true,"identifier":"HINGE_DISTANCE","searchable":true,"facetable":false},{"storeDisplay":false,"values":[{"sequence":"0","value":"0ov5217s 47 1483r8","uniqueID":"7741124012287512155","unitOfMeasure":"","unitID":"","identifier":"0ov5217s 47 1483r8"}],"sequence":"10000","name":"SKU","usage":"Descriptive","uniqueID":"7741124012283391835","displayable":false,"comparable":true,"identifier":"SKU","searchable":false,"facetable":false},{"storeDisplay":false,"values":[{"sequence":"1","value":"23","uniqueID":"7741124012283758089","unitOfMeasure":"","unitID":"","identifier":"23"}],"sequence":"10000","name":"SEG_HEIGHT","usage":"Descriptive","uniqueID":"7741124012283591335","displayable":false,"comparable":true,"identifier":"SEG_HEIGHT","searchable":false,"facetable":false},{"storeDisplay":false,"values":[{"sequence":"0","value":"47.2","uniqueID":"7741124012286195353","unitOfMeasure":"","unitID":"","identifier":"47.2"}],"sequence":"10000","name":"LENS_WIDTH","usage":"Descriptive","uniqueID":"7741124012285060340","displayable":false,"comparable":false,"identifier":"LENS_WIDTH","searchable":true,"facetable":false},{"storeDisplay":false,"values":[{"sequence":"1","value":"150","uniqueID":"7741124012283379039","unitOfMeasure":"","unitID":"","identifier":"150"}],"sequence":"10000","name":"TEMPLE_LENGTH","usage":"Descriptive","uniqueID":"7741124012283379863","displayable":false,"comparable":true,"identifier":"TEMPLE_LENGTH","searchable":false,"facetable":false},{"storeDisplay":false,"values":[{"sequence":"0","value":"1483R847","uniqueID":"7741124012286197606","unitOfMeasure":"","unitID":"","identifier":"1483R847"}],"sequence":"10000","name":"GRID","usage":"Descriptive","uniqueID":"7741124012283591836","displayable":false,"comparable":true,"identifier":"GRID","searchable":false,"facetable":false},{"storeDisplay":false,"values":[{"sequence":"0","value":"23","uniqueID":"7741124012286199714","unitOfMeasure":"","unitID":"","identifier":"23"}],"sequence":"10000","name":"BRIDGE","usage":"Descriptive","uniqueID":"7741124012285060347","displayable":false,"comparable":true,"identifier":"BRIDGE","searchable":true,"facetable":false},{"storeDisplay":false,"values":[{"sequence":"0","value":"4723","uniqueID":"7741124012286197734","unitOfMeasure":"","unitID":"","identifier":"4723"}],"sequence":"10000","name":"LENS_BRIDGE","usage":"Descriptive","uniqueID":"7741124012283379862","displayable":false,"comparable":true,"identifier":"LENS_BRIDGE","searchable":false,"facetable":false},{"storeDisplay":false,"values":[{"sequence":"0","value":"XS","uniqueID":"7741124012287859790","unitOfMeasure":"","unitID":"","identifier":"XS"}],"sequence":"10000","name":"\u30b5\u30a4\u30ba","usage":"Defining","uniqueID":"7741124012283379859","displayable":true,"comparable":true,"identifier":"MODEL_SIZE_DISPLAY","searchable":false,"facetable":false},{"storeDisplay":false,"values":[{"sequence":"0","value":"0","uniqueID":"7741124012283382074","unitOfMeasure":"","unitID":"","identifier":"42.8"}],"sequence":"10000","name":"LENSHEIGHT","usage":"Descriptive","uniqueID":"7741124012283379885","displayable":false,"comparable":true,"identifier":"LENSHEIGHT","searchable":false,"facetable":false}],"partNumber":"827934383098"},{"hasSingleSKU":false,"catalogEntryTypeCode":"ItemBean","parentCatalogGroupID":["3074457345616683318_3074457345616686168","3074457345616683368_3074457345616714172","3074457345616683368_3074457345616714173","3074457345616683368_3074457345616714176","3074457345616683368_3074457345616714192","3074457345616683368_3074457345616714193","3074457345616683368_3074457345616714194","3074457345616683368_3074457345616714204","3074457345616683368_3074457345616714205","3074457345616683368_3074457345616714207","3074457345616683368_3074457345616714208","3074457345616683368_3074457345616714215","3074457345616684418_3074457345616714172","3074457345616684418_3074457345616714173","3074457345616684418_3074457345616714176","3074457345616684418_3074457345616714192","3074457345616684418_3074457345616714193","3074457345616684418_3074457345616714194","3074457345616684418_3074457345616714204","3074457345616684418_3074457345616714205","3074457345616684418_3074457345616714207","3074457345616684418_3074457345616714208","3074457345616684418_3074457345616714215","3074457345616684918_3074457345616714172","3074457345616684918_3074457345616714173","3074457345616684918_3074457345616714176","3074457345616684918_3074457345616714192","3074457345616684918_3074457345616714193","3074457345616684918_3074457345616714194","3074457345616684918_3074457345616714204","3074457345616684918_3074457345616714205","3074457345616684918_3074457345616714207","3074457345616684918_3074457345616714208","3074457345616684918_3074457345616714215"],"uniqueID":"3074457345616824851","resourceId":"http:\/\/lrhsbrdilbp01.luxgroup.net:3737\/search\/resources\/store\/715840684\/productview\/byId\/3074457345616824851","price":[{"description":"L","value":"","usage":"Display","currency":"USD"},{"description":"O","value":"","usage":"Offer","currency":"USD"}],"thumbnail":"https:\/\/assets2.oliverpeoples.com\/cdn-record-files-pi\/4d8ed087-614a-45aa-8a3b-a42a00844c76\/24e31ccc-61df-402f-83d8-ac6b0114087a\/0OV5217S__1483R8__STD__noshad__fr.png?impolicy=OV_OpPlp","mfPartNumber_ntk":"0OV5217S","manufacturer":"Oliver Peoples","name":"Gregory Peck Sun","buyable":"true","storeID":"715838934","attributes":[{"storeDisplay":false,"values":[{"sequence":"1","value":"0OV5217S--1483R8","uniqueID":"7741124012287135294","unitOfMeasure":"","unitID":"","identifier":"0OV5217S--1483R8"}],"sequence":"1","name":"Moco","usage":"Descriptive","uniqueID":"7741124012283379884","displayable":false,"comparable":false,"identifier":"MOCO","searchable":false,"facetable":false},{"storeDisplay":false,"values":[{"sequence":"0","value":"OV5217S 1483R8 50-23","uniqueID":"7741124012286955503","unitOfMeasure":"","unitID":"","identifier":"OV5217S 1483R8 50-23"}],"sequence":"10000","name":"DISPLAYSKU","usage":"Descriptive","uniqueID":"7741124012283379878","displayable":false,"comparable":true,"identifier":"DISPLAYSKU","searchable":false,"facetable":false},{"storeDisplay":false,"values":[{"sequence":"0","value":"0","uniqueID":"7741124012283378429","unitOfMeasure":"","unitID":"","identifier":"50"}],"sequence":"10000","name":"MODEL_SIZE","usage":"Descriptive","uniqueID":"7741124012283379858","displayable":false,"comparable":true,"identifier":"MODEL_SIZE","searchable":false,"facetable":false},{"storeDisplay":false,"values":[{"sequence":"1","value":"150","uniqueID":"7741124012283379039","unitOfMeasure":"","unitID":"","identifier":"150"}],"sequence":"10000","name":"TEMPLE_LENGTH","usage":"Descriptive","uniqueID":"7741124012283379863","displayable":false,"comparable":true,"identifier":"TEMPLE_LENGTH","searchable":false,"facetable":false},{"storeDisplay":false,"values":[{"sequence":"0","value":"131","uniqueID":"7741124012286407539","unitOfMeasure":"","unitID":"","identifier":"131"}],"sequence":"10000","name":"HINGE_DISTANCE","usage":"Descriptive","uniqueID":"7741124012285060349","displayable":false,"comparable":true,"identifier":"HINGE_DISTANCE","searchable":true,"facetable":false},{"storeDisplay":false,"values":[{"sequence":"0","value":"25","uniqueID":"7741124012286897752","unitOfMeasure":"","unitID":"","identifier":"25"}],"sequence":"10000","name":"SEG_HEIGHT","usage":"Descriptive","uniqueID":"7741124012283591335","displayable":false,"comparable":true,"identifier":"SEG_HEIGHT","searchable":false,"facetable":false},{"storeDisplay":false,"values":[{"sequence":"0","value":"0ov5217s 50 1483r8","uniqueID":"7741124012287512377","unitOfMeasure":"","unitID":"","identifier":"0ov5217s 50 1483r8"}],"sequence":"10000","name":"SKU","usage":"Descriptive","uniqueID":"7741124012283391835","displayable":false,"comparable":true,"identifier":"SKU","searchable":false,"facetable":false},{"storeDisplay":false,"values":[{"sequence":"0","value":"50.2","uniqueID":"7741124012286206771","unitOfMeasure":"","unitID":"","identifier":"50.2"}],"sequence":"10000","name":"LENS_WIDTH","usage":"Descriptive","uniqueID":"7741124012285060340","displayable":false,"comparable":false,"identifier":"LENS_WIDTH","searchable":true,"facetable":false},{"storeDisplay":false,"values":[{"sequence":"0","value":"23","uniqueID":"7741124012286199714","unitOfMeasure":"","unitID":"","identifier":"23"}],"sequence":"10000","name":"BRIDGE","usage":"Descriptive","uniqueID":"7741124012285060347","displayable":false,"comparable":true,"identifier":"BRIDGE","searchable":true,"facetable":false},{"storeDisplay":false,"values":[{"sequence":"0","value":"1483R850","uniqueID":"7741124012286434157","unitOfMeasure":"","unitID":"","identifier":"1483R850"}],"sequence":"10000","name":"GRID","usage":"Descriptive","uniqueID":"7741124012283591836","displayable":false,"comparable":true,"identifier":"GRID","searchable":false,"facetable":false},{"storeDisplay":false,"values":[{"sequence":"0","value":"5023","uniqueID":"7741124012286198218","unitOfMeasure":"","unitID":"","identifier":"5023"}],"sequence":"10000","name":"LENS_BRIDGE","usage":"Descriptive","uniqueID":"7741124012283379862","displayable":false,"comparable":true,"identifier":"LENS_BRIDGE","searchable":false,"facetable":false},{"storeDisplay":false,"values":[{"sequence":"0","value":"M","uniqueID":"7741124012287859786","unitOfMeasure":"","unitID":"","identifier":"M"}],"sequence":"10000","name":"\u30b5\u30a4\u30ba","usage":"Defining","uniqueID":"7741124012283379859","displayable":true,"comparable":true,"identifier":"MODEL_SIZE_DISPLAY","searchable":false,"facetable":false},{"storeDisplay":false,"values":[{"sequence":"0","value":"0","uniqueID":"7741124012285120207","unitOfMeasure":"","unitID":"","identifier":"45.5"}],"sequence":"10000","name":"LENSHEIGHT","usage":"Descriptive","uniqueID":"7741124012283379885","displayable":false,"comparable":true,"identifier":"LENSHEIGHT","searchable":false,"facetable":false}],"partNumber":"827934459939"}],"resourceId":"http:\/\/lrhsbrdilbp01.luxgroup.net:3737\/search\/resources\/store\/715840684\/productview\/byId\/3074457345616686921","price":[{"description":"L","value":"442.0","usage":"Display","currency":"USD"},{"description":"O","value":"","usage":"Offer","currency":"USD"}],"thumbnail":"https:\/\/assets2.oliverpeoples.com\/cdn-record-files-pi\/4d8ed087-614a-45aa-8a3b-a42a00844c76\/24e31ccc-61df-402f-83d8-ac6b0114087a\/0OV5217S__1483R8__STD__noshad__fr.png?impolicy=OV_OpPlp","shortDescription":"OV5217S","manufacturer":"Oliver Peoples","name":"Gregory Peck Sun","buyable":"true","quantity":1,"attributes":[{"storeDisplay":false,"values":[{"sequence":"0","value":"OV5217S","uniqueID":"7741124012283381262","unitOfMeasure":"","unitID":"","identifier":"OV5217S"}],"sequence":"0","name":"\u30e2\u30c7\u30eb\u30b3\u30fc\u30c9","associatedKeyword":"-","usage":"Descriptive","uniqueID":"7741124012283379873","displayable":true,"comparable":true,"identifier":"MODEL_CODE_DISPLAY","searchable":false,"facetable":false},{"storeDisplay":false,"values":[{"sequence":"0","value":"Semi-Matte Lbr","uniqueID":"7741124012285468481","unitOfMeasure":"","unitID":"","identifier":"Semi-Matte Lbr"}],"sequence":"1","name":"\u30d5\u30ed\u30f3\u30c8\u30ab\u30e9\u30fc","associatedKeyword":"-","usage":"Descriptive","uniqueID":"7741124012283379839","displayable":true,"comparable":true,"identifier":"FRONT_COLOR","searchable":false,"facetable":false},{"storeDisplay":false,"values":[{"sequence":"0","value":"Blue Photocromic","uniqueID":"7741124012283377856","unitOfMeasure":"","unitID":"","identifier":"Blue Photocromic"}],"sequence":"2","name":"\u30ec\u30f3\u30ba\u30ab\u30e9\u30fc","associatedKeyword":"-","usage":"Descriptive","uniqueID":"7741124012283379846","displayable":true,"comparable":true,"identifier":"LENS_COLOR","searchable":false,"facetable":false},{"storeDisplay":false,"values":[{"sequence":"0","value":"\u5b9a\u756a","uniqueID":"7741124012283379043","unitOfMeasure":"","unitID":"","identifier":"Classic"}],"sequence":"3","name":"LENS_TREATMENT","associatedKeyword":"-","usage":"Descriptive","uniqueID":"7741124012283379864","displayable":false,"comparable":true,"identifier":"LENS_TREATMENT","searchable":false,"facetable":false},{"storeDisplay":false,"values":[{"sequence":"0","value":"\u30af\u30ea\u30b9\u30bf\u30eb","uniqueID":"7741124012286177448","unitOfMeasure":"","unitID":"","identifier":"Crystal"}],"sequence":"5","name":"\u30ec\u30f3\u30ba\u7d20\u6750","associatedKeyword":"-","usage":"Descriptive","uniqueID":"7741124012285060339","displayable":false,"comparable":false,"identifier":"LENS_MATERIAL","searchable":true,"facetable":false},{"storeDisplay":false,"values":[{"sequence":"0","value":"\u30a2\u30bb\u30c6\u30fc\u30c8","uniqueID":"7741124012283377366","unitOfMeasure":"","unitID":"","identifier":"Acetate"}],"sequence":"6","name":"\u30d5\u30ec\u30fc\u30e0\u7d20\u6750","associatedKeyword":"-","usage":"Descriptive","uniqueID":"7741124012283379837","displayable":true,"comparable":true,"identifier":"FRAMEMATERIAL","searchable":false,"facetable":false},{"storeDisplay":false,"values":[{"sequence":"1","value":"1","uniqueID":"7741124012284932835","unitOfMeasure":"","unitID":"","identifier":"1"}],"sequence":"8","name":"PLACEHOLDER_SIZE","associatedKeyword":"-","usage":"Descriptive","uniqueID":"7741124012284296836","displayable":true,"comparable":false,"identifier":"PLACEHOLDER_SIZE","searchable":false,"facetable":false},{"storeDisplay":false,"values":[{"sequence":"0","value":"\u7d30\u5e45","uniqueID":"7741124012287349181","unitOfMeasure":"","unitID":"","identifier":"Narrow"}],"sequence":"10","name":"\u30d5\u30a3\u30c3\u30c8","associatedKeyword":"-","usage":"Descriptive","uniqueID":"7741124012285060351","displayable":true,"comparable":true,"identifier":"FRAME_FIT","searchable":true,"facetable":true},{"storeDisplay":false,"values":[{"sequence":"0","value":"\u30cf\u30a4\u30d6\u30ea\u30c3\u30b8\u30d5\u30a3\u30c3\u30c8","uniqueID":"7741124012287859725","unitOfMeasure":"","unitID":"","identifier":"High Bridge Fit"}],"sequence":"11","name":"\u30d6\u30ea\u30c3\u30b8\u306e\u7a2e\u985e\uff06\u30ce\u30fc\u30ba\u30d1\u30c3\u30c9","associatedKeyword":"-","usage":"Descriptive","uniqueID":"7741124012283379869","displayable":true,"comparable":true,"identifier":"GEO_FIT","searchable":true,"facetable":true},{"storeDisplay":false,"values":[{"sequence":"0","value":"0","uniqueID":"7741124012284963875","unitOfMeasure":"","unitID":"","identifier":"Material-acetate;frame-front-functional-plaques;temple-functional-plaques;hinge-3-barrel;logo-inlaid-logo-plaque"}],"sequence":"10000","name":"FEATURES","associatedKeyword":"-","usage":"Descriptive","uniqueID":"7741124012283379879","displayable":false,"comparable":false,"identifier":"FEATURES","searchable":false,"facetable":false},{"storeDisplay":false,"values":[{"sequence":"0","value":"True","uniqueID":"7741124012287884290","unitOfMeasure":"","unitID":"","identifier":"True"}],"sequence":"10000","name":"CLICK_AND_COLLECT","associatedKeyword":"-","usage":"Descriptive","uniqueID":"7741124012285260835","displayable":false,"comparable":false,"identifier":"CLICK_AND_COLLECT","searchable":false,"facetable":false},{"storeDisplay":false,"values":[{"sequence":"0","value":"True","uniqueID":"7741124012287886329","unitOfMeasure":"","unitID":"","identifier":"True"}],"sequence":"10000","name":"REAL_TIME_INVENTORY","associatedKeyword":"-","usage":"Descriptive","uniqueID":"7741124012285260836","displayable":false,"comparable":false,"identifier":"REAL_TIME_INVENTORY","searchable":false,"facetable":false},{"storeDisplay":false,"values":[{"sequence":"0","value":"True","uniqueID":"7741124012287875997","unitOfMeasure":"","unitID":"","identifier":"True"}],"sequence":"10000","name":"SHIP_FROM_STORE","associatedKeyword":"-","usage":"Descriptive","uniqueID":"7741124012285260837","displayable":false,"comparable":false,"identifier":"SHIP_FROM_STORE","searchable":false,"facetable":false},{"storeDisplay":false,"values":[{"sequence":"0","value":"True","uniqueID":"7741124012287887125","unitOfMeasure":"","unitID":"","identifier":"True"}],"sequence":"10000","name":"SHIP_TO_STORE","associatedKeyword":"-","usage":"Descriptive","uniqueID":"7741124012285260838","displayable":false,"comparable":false,"identifier":"SHIP_TO_STORE","searchable":false,"facetable":false},{"storeDisplay":false,"values":[{"sequence":"549","value":"False","uniqueID":"7741124012283377364","unitOfMeasure":"","unitID":"","identifier":"False"}],"sequence":"10000","name":"\u9650\u5b9a","associatedKeyword":"-","usage":"Descriptive","uniqueID":"7741124012283379836","displayable":false,"comparable":true,"identifier":"EXCLUSIVE","searchable":true,"facetable":true},{"storeDisplay":false,"values":[{"sequence":"0","value":"M","uniqueID":"7741124012287859786","unitOfMeasure":"","unitID":"","identifier":"M"},{"sequence":"0","value":"XS","uniqueID":"7741124012287859790","unitOfMeasure":"","unitID":"","identifier":"XS"}],"sequence":"10000","name":"\u30b5\u30a4\u30ba","associatedKeyword":"-","usage":"Defining","uniqueID":"7741124012283379859","displayable":true,"comparable":true,"identifier":"MODEL_SIZE_DISPLAY","searchable":false,"facetable":false},{"storeDisplay":false,"values":[{"sequence":"1","value":"XXS","uniqueID":"7741124012287791997","unitOfMeasure":"","unitID":"","identifier":"XXS"},{"sequence":"2","value":"XS","uniqueID":"7741124012287791995","unitOfMeasure":"","unitID":"","identifier":"XS"},{"sequence":"4","value":"M","uniqueID":"7741124012287791996","unitOfMeasure":"","unitID":"","identifier":"M"}],"sequence":"10000","name":"\u30b5\u30a4\u30ba","associatedKeyword":"-","usage":"Descriptive","uniqueID":"7741124012285273337","displayable":false,"comparable":true,"identifier":"MODEL_SIZE_DISPLAY_PLP","searchable":true,"facetable":true},{"storeDisplay":false,"values":[{"sequence":"0","value":"\u7537\u6027","uniqueID":"7741124012288319560","unitOfMeasure":"","unitID":"","identifier":"MALE"}],"sequence":"10000","name":"\u6027\u5225","associatedKeyword":"-","usage":"Descriptive","uniqueID":"7741124012283379843","displayable":false,"comparable":true,"identifier":"GENDER","searchable":true,"facetable":true},{"storeDisplay":false,"values":[{"sequence":"0","value":"False\uff08\u507d\uff09","uniqueID":"7741124012287388847","unitOfMeasure":"","unitID":"","identifier":"FALSE"}],"sequence":"10000","name":"FLEX","associatedKeyword":"-","usage":"Descriptive","uniqueID":"7741124012283379877","displayable":false,"comparable":true,"identifier":"FLEX","searchable":false,"facetable":false},{"storeDisplay":false,"values":[{"sequence":"0","value":"Zpfn","uniqueID":"7741124012286177452","unitOfMeasure":"","unitID":"","identifier":"ZPFN"}],"sequence":"10000","name":"MATERIALTYPE","associatedKeyword":"-","usage":"Descriptive","uniqueID":"7741124012283379872","displayable":false,"comparable":true,"identifier":"MATERIALTYPE","searchable":false,"facetable":false},{"storeDisplay":false,"values":[{"sequence":"0","value":"Classic","uniqueID":"7741124012288183222","unitOfMeasure":"","unitID":"","identifier":"CLASSIC"}],"sequence":"10000","name":"PROGRESSIVE_FRIENDLY","associatedKeyword":"-","usage":"Descriptive","uniqueID":"7741124012285300835","displayable":false,"comparable":true,"identifier":"PROGRESSIVE_FRIENDLY","searchable":true,"facetable":false},{"storeDisplay":false,"values":[{"sequence":"0","value":"False","uniqueID":"7741124012286878836","unitOfMeasure":"","unitID":"","identifier":"FALSE"}],"sequence":"10000","name":"FOLDABLE","associatedKeyword":"-","usage":"Descriptive","uniqueID":"7741124012283379866","displayable":false,"comparable":true,"identifier":"FOLDABLE","searchable":false,"facetable":false},{"storeDisplay":false,"values":[],"sequence":"10000","name":"IS_ASIAN","associatedKeyword":"-","usage":"Defining","uniqueID":"7741124012285274335","displayable":false,"comparable":true,"identifier":"IS_ASIAN","searchable":true,"facetable":true},{"storeDisplay":false,"values":[{"sequence":"0","value":"\u30d5\u30eb\u30ea\u30e0","uniqueID":"7741124012283379070","unitOfMeasure":"","unitID":"","identifier":"Full Rim"}],"sequence":"10000","name":"\u30d5\u30ec\u30fc\u30e0\u7a2e\u985e","associatedKeyword":"-","usage":"Descriptive","uniqueID":"7741124012283379870","displayable":false,"comparable":true,"identifier":"FRAMETYPE","searchable":true,"facetable":true},{"storeDisplay":false,"values":[{"sequence":"0","value":"\u30d1\u30f3\u30c8\u30b9","uniqueID":"7741124012283379050","unitOfMeasure":"","unitID":"","identifier":"Phantos"}],"sequence":"10000","name":"\u30d5\u30ec\u30fc\u30e0\u5f62","associatedKeyword":"-","usage":"Descriptive","uniqueID":"7741124012283379867","displayable":false,"comparable":true,"identifier":"FRAME_SHAPE","searchable":false,"facetable":false},{"storeDisplay":false,"values":[{"sequence":"0","value":"\u30e9\u30a6\u30f3\u30c9","uniqueID":"7741124012283379063","unitOfMeasure":"","unitID":"","identifier":"Round"}],"sequence":"10000","name":"\u30d5\u30ec\u30fc\u30e0\u5f62","associatedKeyword":"-","usage":"Descriptive","uniqueID":"7741124012283379868","displayable":false,"comparable":true,"identifier":"FRAME_SHAPE_FACET","searchable":true,"facetable":true},{"storeDisplay":false,"values":[{"sequence":"0","value":"Sunglasses","uniqueID":"7741124012287487327","unitOfMeasure":"","unitID":"","identifier":"Sunglasses"}],"sequence":"10000","name":"PROD_HIERARCHY_1","associatedKeyword":"-","usage":"Descriptive","uniqueID":"7741124012285060344","displayable":false,"comparable":false,"identifier":"PROD_HIERARCHY_1","searchable":true,"facetable":false},{"storeDisplay":false,"values":[{"sequence":"0","value":"Essential","uniqueID":"7741124012286179197","unitOfMeasure":"","unitID":"","identifier":"Essential"}],"sequence":"10000","name":"MARKETING_THEME_STORY","associatedKeyword":"-","usage":"Descriptive","uniqueID":"7741124012285060348","displayable":false,"comparable":true,"identifier":"MARKETING_THEME_STORY","searchable":true,"facetable":false},{"storeDisplay":false,"values":[{"sequence":"1","value":"Collaboration","uniqueID":"7741124012283379073","unitOfMeasure":"","unitID":"","identifier":"Collaboration"}],"sequence":"10000","name":"RANGE","associatedKeyword":"-","usage":"Descriptive","uniqueID":"7741124012283379871","displayable":false,"comparable":true,"identifier":"RANGE","searchable":true,"facetable":true},{"storeDisplay":false,"values":[{"sequence":"0","value":"43","uniqueID":"7741124012287462850","unitOfMeasure":"","unitID":"","identifier":"43"}],"sequence":"10000","name":"WIDTH","associatedKeyword":"-","usage":"Descriptive","uniqueID":"7741124012285060338","displayable":false,"comparable":false,"identifier":"WIDTH","searchable":true,"facetable":false},{"storeDisplay":false,"values":[{"sequence":"0","value":"0","uniqueID":"7741124012284934126","unitOfMeasure":"","unitID":"","identifier":"150"}],"sequence":"10000","name":"GROSSWEIGHT","associatedKeyword":"-","usage":"Descriptive","uniqueID":"7741124012283379861","displayable":false,"comparable":true,"identifier":"GROSSWEIGHT","searchable":false,"facetable":false},{"storeDisplay":false,"values":[{"sequence":"2","value":"Sun","uniqueID":"7741124012283379213","unitOfMeasure":"","unitID":"","identifier":"Sun"}],"sequence":"10000","name":"PRODUCTTYPE","associatedKeyword":"-","usage":"Descriptive","uniqueID":"7741124012283379876","displayable":false,"comparable":true,"identifier":"PRODUCTTYPE","searchable":true,"facetable":true},{"storeDisplay":false,"values":[{"sequence":"0","value":"Eyewear","uniqueID":"7741124012287777028","unitOfMeasure":"","unitID":"","identifier":"Eyewear"}],"sequence":"10000","name":"PROD_HIERARCHY_0","associatedKeyword":"-","usage":"Descriptive","uniqueID":"7741124012285060343","displayable":false,"comparable":false,"identifier":"PROD_HIERARCHY_0","searchable":true,"facetable":false},{"storeDisplay":false,"values":[{"sequence":"0","value":"47","uniqueID":"7741124012287863427","unitOfMeasure":"","unitID":"","identifier":"47"}],"sequence":"10000","name":"MOST_SOLD_SIZE","associatedKeyword":"-","usage":"Descriptive","uniqueID":"7741124012285274336","displayable":false,"comparable":true,"identifier":"MOST_SOLD_SIZE","searchable":false,"facetable":false},{"storeDisplay":false,"values":[{"sequence":"0","value":"True","uniqueID":"7741124012286181046","unitOfMeasure":"","unitID":"","identifier":"True"}],"sequence":"10000","name":"BESTSELLERS","associatedKeyword":"-","usage":"Descriptive","uniqueID":"7741124012285059837","displayable":false,"comparable":true,"identifier":"BESTSELLERS","searchable":true,"facetable":false},{"storeDisplay":false,"values":[{"sequence":"0","value":"\u30d6\u30e9\u30a6\u30f3","uniqueID":"7741124012283378415","unitOfMeasure":"","unitID":"","identifier":"Brown"}],"sequence":"10000","name":"TEMPLE_INNER_COLOR_FACET","associatedKeyword":"-","usage":"Descriptive","uniqueID":"7741124012283379857","displayable":false,"comparable":true,"identifier":"TEMPLE_INNER_COLOR_FACET","searchable":true,"facetable":false},{"storeDisplay":false,"values":[{"sequence":"0","value":"\u30c8\u30fc\u30c8\u30b7\u30a7\u30eb","uniqueID":"7741124012284273685","unitOfMeasure":"","unitID":"","identifier":"Tortoise"}],"sequence":"10000","name":"TEMPLE_COLOR_FACET","associatedKeyword":"-","usage":"Descriptive","uniqueID":"7741124012283379855","displayable":false,"comparable":true,"identifier":"TEMPLE_COLOR_FACET","searchable":true,"facetable":false},{"storeDisplay":false,"values":[{"sequence":"0","value":"Blue","uniqueID":"7741124012283377828","unitOfMeasure":"","unitID":"","identifier":"Blue"}],"sequence":"10000","name":"\u30ec\u30f3\u30ba\u30ab\u30e9\u30fc","associatedKeyword":"-","usage":"Descriptive","uniqueID":"7741124012283379845","displayable":false,"comparable":true,"identifier":"LENS_COLOR_FACET","searchable":true,"facetable":true},{"storeDisplay":false,"values":[{"sequence":"0","value":"\u30a2\u30bb\u30c6\u30fc\u30c8","uniqueID":"7741124012283377370","unitOfMeasure":"","unitID":"","identifier":"Acetate"}],"sequence":"10000","name":"\u30d5\u30ec\u30fc\u30e0\u7d20\u6750","associatedKeyword":"-","usage":"Descriptive","uniqueID":"7741124012283379838","displayable":false,"comparable":true,"identifier":"FRAMEMATERIAL_FACET","searchable":true,"facetable":true},{"storeDisplay":false,"values":[{"sequence":"0","value":"\u30d6\u30e9\u30a6\u30f3","uniqueID":"7741124012283377727","unitOfMeasure":"","unitID":"","identifier":"Brown"}],"sequence":"10000","name":"FRONT_INNER_COLOR_FACET","associatedKeyword":"-","usage":"Descriptive","uniqueID":"7741124012283379842","displayable":false,"comparable":true,"identifier":"FRONT_INNER_COLOR_FACET","searchable":true,"facetable":false},{"storeDisplay":false,"values":[{"sequence":"0","value":"\u5b9a\u756a","uniqueID":"7741124012283379047","unitOfMeasure":"","unitID":"","identifier":"Classic"}],"sequence":"10000","name":"\u30ec\u30f3\u30ba\u7a2e\u985e","associatedKeyword":"-","usage":"Descriptive","uniqueID":"7741124012283379865","displayable":false,"comparable":true,"identifier":"LENS_TREATMENT_FACET","searchable":true,"facetable":true},{"storeDisplay":false,"values":[{"sequence":"0","value":"Tortoise","uniqueID":"7741124012283377552","unitOfMeasure":"","unitID":"","identifier":"Tortoise"}],"sequence":"10000","name":"\u30d5\u30ec\u30fc\u30e0\u30ab\u30e9\u30fc","associatedKeyword":"-","usage":"Descriptive","uniqueID":"7741124012283379840","displayable":false,"comparable":true,"identifier":"FRONT_COLOR_FACET","searchable":true,"facetable":true},{"storeDisplay":false,"values":[{"sequence":"0","value":"\u30d6\u30eb\u30fc","uniqueID":"7741124012287399087","unitOfMeasure":"","unitID":"","identifier":"Blue"}],"sequence":"10000","name":"PREDOMINANT_COLOR_FACET","associatedKeyword":"-","usage":"Descriptive","uniqueID":"7741124012285060342","displayable":false,"comparable":false,"identifier":"PREDOMINANT_COLOR_FACET","searchable":true,"facetable":false},{"storeDisplay":false,"values":[{"sequence":"0","value":"Gregory Peck Sun","uniqueID":"7741124012285468784","unitOfMeasure":"","unitID":"","identifier":"Gregory Peck Sun"}],"sequence":"10000","name":"MODELNAME","associatedKeyword":"-","usage":"Descriptive","uniqueID":"7741124012283379853","displayable":false,"comparable":true,"identifier":"MODELNAME","searchable":true,"facetable":false},{"storeDisplay":false,"values":[{"sequence":"0","value":"\u771f\u5b9f","uniqueID":"7741124012288183223","unitOfMeasure":"","unitID":"","identifier":"TRUE"}],"sequence":"10000","name":"DRIVING_ASNZS","associatedKeyword":"-","usage":"Descriptive","uniqueID":"7741124012285300847","displayable":false,"comparable":true,"identifier":"DRIVING_ASNZS","searchable":true,"facetable":false},{"storeDisplay":false,"values":[{"sequence":"0","value":"3F","uniqueID":"7741124012283381079","unitOfMeasure":"","unitID":"","identifier":"3F"}],"sequence":"10000","name":"NOTAINFORMATIVA","associatedKeyword":"-","usage":"Descriptive","uniqueID":"7741124012283379850","displayable":false,"comparable":true,"identifier":"NOTAINFORMATIVA","searchable":false,"facetable":false},{"storeDisplay":false,"values":[{"sequence":"0","value":"\u771f\u5b9f","uniqueID":"7741124012286431378","unitOfMeasure":"","unitID":"","identifier":"TRUE"}],"sequence":"10000","name":"\u8abf\u5149","associatedKeyword":"-","usage":"Descriptive","uniqueID":"7741124012285148835","displayable":false,"comparable":true,"identifier":"PHOTOCHROMIC","searchable":true,"facetable":true},{"storeDisplay":false,"values":[{"sequence":"0","value":"201502","uniqueID":"7741124012283377347","unitOfMeasure":"","unitID":"","identifier":"201502"}],"sequence":"10000","name":"COLLECTION","associatedKeyword":"-","usage":"Descriptive","uniqueID":"7741124012283379835","displayable":false,"comparable":true,"identifier":"COLLECTION","searchable":true,"facetable":false},{"storeDisplay":false,"values":[{"sequence":"0","value":"False\uff08\u507d\uff09","uniqueID":"7741124012286328840","unitOfMeasure":"","unitID":"","identifier":"FALSE"}],"sequence":"10000","name":"\u30dd\u30e9\u30e9\u30a4\u30ba\u30c9","associatedKeyword":"-","usage":"Descriptive","uniqueID":"7741124012283379852","displayable":false,"comparable":true,"identifier":"POLARIZED","searchable":true,"facetable":true},{"storeDisplay":false,"values":[{"sequence":"0","value":"\u30de\u30c3\u30c8","uniqueID":"7741124012286177344","unitOfMeasure":"","unitID":"","identifier":"Matte"}],"sequence":"10000","name":"FINISHING","associatedKeyword":"-","usage":"Descriptive","uniqueID":"7741124012285060335","displayable":false,"comparable":true,"identifier":"FINISHING","searchable":true,"facetable":false},{"storeDisplay":false,"values":[{"sequence":"0","value":"\u30a2\u30bb\u30c6\u30fc\u30c8","uniqueID":"7741124012287412811","unitOfMeasure":"","unitID":"","identifier":"Acetate"}],"sequence":"10000","name":"FRAME_MATERIAL_PERCEIVED","associatedKeyword":"-","usage":"Descriptive","uniqueID":"7741124012285060336","displayable":false,"comparable":true,"identifier":"FRAME_MATERIAL_PERCEIVED","searchable":true,"facetable":false},{"storeDisplay":false,"values":[{"sequence":"0","value":"\u30d6\u30eb\u30fc","uniqueID":"7741124012286177433","unitOfMeasure":"","unitID":"","identifier":"Blue"}],"sequence":"10000","name":"LENSCOLOR_FAMILY","associatedKeyword":"-","usage":"Descriptive","uniqueID":"7741124012283591844","displayable":false,"comparable":true,"identifier":"LENSCOLOR_FAMILY","searchable":false,"facetable":false},{"storeDisplay":false,"values":[{"sequence":"0","value":"False","uniqueID":"7741124012286328838","unitOfMeasure":"","unitID":"","identifier":"FALSE"}],"sequence":"10000","name":"NEWRELEASES","associatedKeyword":"-","usage":"Descriptive","uniqueID":"7741124012283379849","displayable":false,"comparable":true,"identifier":"NEWRELEASES","searchable":true,"facetable":true},{"storeDisplay":false,"values":[{"sequence":"0","value":"Collaboration","uniqueID":"7741124012286177336","unitOfMeasure":"","unitID":"","identifier":"Collaboration"}],"sequence":"10000","name":"COLLECTION_TYPE","associatedKeyword":"-","usage":"Descriptive","uniqueID":"7741124012285060353","displayable":false,"comparable":false,"identifier":"COLLECTION_TYPE","searchable":true,"facetable":false},{"storeDisplay":false,"values":[{"sequence":"0","value":"\u30cf\u30d0\u30ca","uniqueID":"7741124012284273553","unitOfMeasure":"","unitID":"","identifier":"Havana"}],"sequence":"10000","name":"TEMPLE_INNER_COLOR","associatedKeyword":"-","usage":"Descriptive","uniqueID":"7741124012283379856","displayable":false,"comparable":true,"identifier":"TEMPLE_INNER_COLOR","searchable":false,"facetable":false},{"storeDisplay":false,"values":[{"sequence":"0","value":"Semi-matte Lbr","uniqueID":"7741124012286177936","unitOfMeasure":"","unitID":"","identifier":"Semi-Matte Lbr"}],"sequence":"10000","name":"TEMPLE_COLOR","associatedKeyword":"-","usage":"Descriptive","uniqueID":"7741124012283379854","displayable":false,"comparable":true,"identifier":"TEMPLE_COLOR","searchable":false,"facetable":false},{"storeDisplay":false,"values":[{"sequence":"0","value":"\u30cf\u30d0\u30ca","uniqueID":"7741124012284273186","unitOfMeasure":"","unitID":"","identifier":"Havana"}],"sequence":"10000","name":"FRONT_INNER_COLOR","associatedKeyword":"-","usage":"Descriptive","uniqueID":"7741124012283379841","displayable":false,"comparable":true,"identifier":"FRONT_INNER_COLOR","searchable":false,"facetable":false},{"storeDisplay":false,"values":[{"sequence":"0","value":"Full_rim","uniqueID":"7741124012287859749","unitOfMeasure":"","unitID":"","identifier":"Full_rim"}],"sequence":"10000","name":"ML_FRAME_RIM","associatedKeyword":"-","usage":"Descriptive","uniqueID":"7741124012285274342","displayable":false,"comparable":true,"identifier":"ML_FRAME_RIM","searchable":true,"facetable":false},{"storeDisplay":false,"values":[{"sequence":"0","value":"Sunglass","uniqueID":"7741124012287859735","unitOfMeasure":"","unitID":"","identifier":"Sunglass"}],"sequence":"10000","name":"ML_PRODUCT_TYPE","associatedKeyword":"-","usage":"Descriptive","uniqueID":"7741124012285274347","displayable":false,"comparable":true,"identifier":"ML_PRODUCT_TYPE","searchable":true,"facetable":false},{"storeDisplay":false,"values":[{"sequence":"0","value":"Summer","uniqueID":"7741124012287859744","unitOfMeasure":"","unitID":"","identifier":"Summer"}],"sequence":"10000","name":"ML_FRAME_COLOR_PALETTE","associatedKeyword":"-","usage":"Descriptive","uniqueID":"7741124012285274337","displayable":false,"comparable":true,"identifier":"ML_FRAME_COLOR_PALETTE","searchable":true,"facetable":false},{"storeDisplay":false,"values":[{"sequence":"0","value":"\u30e6\u30cb\u30bb\u30c3\u30af\u30b9","uniqueID":"7741124012287859747","unitOfMeasure":"","unitID":"","identifier":"Unisex"}],"sequence":"10000","name":"ML_GLASS_GENDER","associatedKeyword":"-","usage":"Descriptive","uniqueID":"7741124012285274344","displayable":false,"comparable":true,"identifier":"ML_GLASS_GENDER","searchable":true,"facetable":false},{"storeDisplay":false,"values":[{"sequence":"0","value":"\u305d\u306e\u4ed6","uniqueID":"7741124012287859745","unitOfMeasure":"","unitID":"","identifier":"Other"}],"sequence":"10000","name":"ML_FRAME_COLOR","associatedKeyword":"-","usage":"Descriptive","uniqueID":"7741124012285274346","displayable":false,"comparable":true,"identifier":"ML_FRAME_COLOR","searchable":true,"facetable":false},{"storeDisplay":false,"values":[{"sequence":"0","value":"\u30aa\u30fc\u30d0\u30eb","uniqueID":"7741124012287859742","unitOfMeasure":"","unitID":"","identifier":"Oval"}],"sequence":"10000","name":"ML_FRAME_SHAPE","associatedKeyword":"-","usage":"Descriptive","uniqueID":"7741124012285274343","displayable":false,"comparable":true,"identifier":"ML_FRAME_SHAPE","searchable":true,"facetable":false},{"storeDisplay":false,"values":[{"sequence":"0","value":"\u30d7\u30e9\u30b9\u30c1\u30c3\u30af","uniqueID":"7741124012287859750","unitOfMeasure":"","unitID":"","identifier":"Plastic"}],"sequence":"10000","name":"ML_FRAME_FRONT_MATERIAL","associatedKeyword":"-","usage":"Descriptive","uniqueID":"7741124012285274348","displayable":false,"comparable":true,"identifier":"ML_FRAME_FRONT_MATERIAL","searchable":true,"facetable":false},{"storeDisplay":false,"values":[{"sequence":"0","value":"Thick","uniqueID":"7741124012287859743","unitOfMeasure":"","unitID":"","identifier":"Thick"}],"sequence":"10000","name":"ML_FRAME_TEMPLE_THICKNESS","associatedKeyword":"-","usage":"Descriptive","uniqueID":"7741124012285274339","displayable":false,"comparable":true,"identifier":"ML_FRAME_TEMPLE_THICKNESS","searchable":true,"facetable":false},{"storeDisplay":false,"values":[{"sequence":"0","value":"High","uniqueID":"7741124012287859733","unitOfMeasure":"","unitID":"","identifier":"High"}],"sequence":"10000","name":"ML_FRAME_BRIDGE_POSITION","associatedKeyword":"-","usage":"Descriptive","uniqueID":"7741124012285274345","displayable":false,"comparable":true,"identifier":"ML_FRAME_BRIDGE_POSITION","searchable":true,"facetable":false},{"storeDisplay":false,"values":[{"sequence":"0","value":"Low","uniqueID":"7741124012287859746","unitOfMeasure":"","unitID":"","identifier":"Low"}],"sequence":"10000","name":"ML_FRAME_TEMPLE_FITTING","associatedKeyword":"-","usage":"Descriptive","uniqueID":"7741124012285274338","displayable":false,"comparable":true,"identifier":"ML_FRAME_TEMPLE_FITTING","searchable":true,"facetable":false},{"storeDisplay":false,"values":[{"sequence":"0","value":"Off","uniqueID":"7741124012286182429","unitOfMeasure":"","unitID":"","identifier":"True"}],"sequence":"10000","name":"IS_ROXABLE","associatedKeyword":"-","usage":"Descriptive","uniqueID":"7741124012285060337","displayable":false,"comparable":true,"identifier":"IS_ROXABLE","searchable":true,"facetable":true},{"storeDisplay":false,"values":[{"sequence":"0","value":"0","uniqueID":"7741124012283377784","unitOfMeasure":"","unitID":"","identifier":"0568c"}],"sequence":"10000","name":"CLEN","associatedKeyword":"-","usage":"Descriptive","uniqueID":"7741124012283379844","displayable":false,"comparable":true,"identifier":"CLEN","searchable":false,"facetable":false},{"storeDisplay":false,"values":[{"sequence":"0","value":"1483r8","uniqueID":"7741124012286182281","unitOfMeasure":"","unitID":"","identifier":"1483r8"}],"sequence":"10000","name":"COLOR_CODE","associatedKeyword":"-","usage":"Descriptive","uniqueID":"7741124012285059838","displayable":false,"comparable":false,"identifier":"COLOR_CODE","searchable":true,"facetable":false},{"storeDisplay":false,"values":[{"sequence":"13","value":"False","uniqueID":"7741124012283944664","unitOfMeasure":"","unitID":"","identifier":"False"}],"sequence":"10000","name":"LIMITED_EDITION","associatedKeyword":"-","usage":"Descriptive","uniqueID":"7741124012283379847","displayable":false,"comparable":true,"identifier":"LIMITED_EDITION","searchable":true,"facetable":true},{"storeDisplay":false,"values":[{"sequence":"0","value":"True","uniqueID":"7741124012287218513","unitOfMeasure":"","unitID":"","identifier":"True"}],"sequence":"10000","name":"IS_ROX_FRIENDLY","associatedKeyword":"-","usage":"Descriptive","uniqueID":"7741124012285060355","displayable":false,"comparable":true,"identifier":"IS_ROX_FRIENDLY","searchable":true,"facetable":false},{"storeDisplay":false,"values":[{"sequence":"0","value":"PACK__OV__NewGregoryPeckoptical","uniqueID":"7741124012287883857","unitOfMeasure":"","unitID":"","identifier":"PACK__OV__NewGregoryPeckoptical"}],"sequence":"10000","name":"CASE","associatedKeyword":"-","usage":"Descriptive","uniqueID":"7741124012283439835","displayable":false,"comparable":false,"identifier":"CASE","searchable":true,"facetable":true},{"storeDisplay":false,"values":[{"sequence":"1","value":"False","uniqueID":"7741124012284934128","unitOfMeasure":"","unitID":"","identifier":"False"}],"sequence":"10000","name":"ENGRAVINGELIGIBLE","associatedKeyword":"-","usage":"Descriptive","uniqueID":"7741124012284296835","displayable":false,"comparable":true,"identifier":"ENGRAVINGELIGIBLE","searchable":false,"facetable":false}],"storeID":"715838934","numberOfSKUs":2,"partNumber":"0OV5217S__1483R8"},{"hasSingleSKU":true,"catalogEntryTypeCode":"ProductBean","associationType":"X-SELL","parentCatalogGroupID":["3074457345616683318_3074457345616691170","3074457345616683368_3074457345616714168","3074457345616683368_3074457345616714180","3074457345616683368_3074457345616730168","3074457345616684418_3074457345616714168","3074457345616684418_3074457345616714180","3074457345616684418_3074457345616730168","3074457345616684918_3074457345616714168","3074457345616684918_3074457345616714180","3074457345616684918_3074457345616730168"],"price_USD":"349.0","uniqueID":"3074457345616896670","singleSKUCatalogEntryID":"3074457345616896673","sKUs":[{"hasSingleSKU":false,"catalogEntryTypeCode":"ItemBean","parentCatalogGroupID":["3074457345616683318_3074457345616691170","3074457345616683368_3074457345616714168","3074457345616683368_3074457345616714180","3074457345616683368_3074457345616730168","3074457345616684418_3074457345616714168","3074457345616684418_3074457345616714180","3074457345616684418_3074457345616730168","3074457345616684918_3074457345616714168","3074457345616684918_3074457345616714180","3074457345616684918_3074457345616730168"],"uniqueID":"3074457345616896673","resourceId":"http:\/\/lrhsbrdilbp01.luxgroup.net:3737\/search\/resources\/store\/715840684\/productview\/byId\/3074457345616896673","price":[{"description":"L","value":"","usage":"Display","currency":"USD"},{"description":"O","value":"","usage":"Offer","currency":"USD"}],"thumbnail":"https:\/\/assets2.oliverpeoples.com\/cdn-record-files-pi\/0258ba5d-cf22-4cc4-99c9-ae7000e3dd2c\/0d9557ca-19a4-41fe-b55d-aec200860a54\/AOV0007AT__000003_fr.png?impolicy=OV_OpPlp","mfPartNumber_ntk":"AOV0007AT","manufacturer":"Oliver Peoples","name":"Genuine Leather Four Frame Case","buyable":"true","storeID":"715838934","attributes":[{"storeDisplay":false,"values":[{"sequence":"1","value":"AOV0007AT--000003","uniqueID":"7741124012287790263","unitOfMeasure":"","unitID":"","identifier":"AOV0007AT--000003"}],"sequence":"1","name":"Moco","usage":"Descriptive","uniqueID":"7741124012283379884","displayable":false,"comparable":false,"identifier":"MOCO","searchable":false,"facetable":false},{"storeDisplay":false,"values":[{"sequence":"0","value":"00000300","uniqueID":"7741124012286392991","unitOfMeasure":"","unitID":"","identifier":"00000300"}],"sequence":"10000","name":"GRID","usage":"Descriptive","uniqueID":"7741124012283591836","displayable":false,"comparable":true,"identifier":"GRID","searchable":false,"facetable":false},{"storeDisplay":false,"values":[{"sequence":"0","value":"Aov0007at 00 000003","uniqueID":"7741124012287789266","unitOfMeasure":"","unitID":"","identifier":"Aov0007at 00 000003"}],"sequence":"10000","name":"SKU","usage":"Descriptive","uniqueID":"7741124012283391835","displayable":false,"comparable":true,"identifier":"SKU","searchable":false,"facetable":false},{"storeDisplay":false,"values":[{"sequence":"0","value":"AOV0007AT 000003","uniqueID":"7741124012287789263","unitOfMeasure":"","unitID":"","identifier":"AOV0007AT 000003"}],"sequence":"10000","name":"DISPLAYSKU","usage":"Descriptive","uniqueID":"7741124012283379878","displayable":false,"comparable":true,"identifier":"DISPLAYSKU","searchable":false,"facetable":false}],"partNumber":"827934477674"}],"resourceId":"http:\/\/lrhsbrdilbp01.luxgroup.net:3737\/search\/resources\/store\/715840684\/productview\/byId\/3074457345616896670","price":[{"description":"L","value":"349.0","usage":"Display","currency":"USD"},{"description":"O","value":"","usage":"Offer","currency":"USD"}],"thumbnail":"https:\/\/assets2.oliverpeoples.com\/cdn-record-files-pi\/0258ba5d-cf22-4cc4-99c9-ae7000e3dd2c\/0d9557ca-19a4-41fe-b55d-aec200860a54\/AOV0007AT__000003_fr.png?impolicy=OV_OpPlp","shortDescription":"OV0007AT","manufacturer":"Oliver Peoples","name":"Genuine Leather Four Frame Case","buyable":"true","quantity":1,"attributes":[{"storeDisplay":false,"values":[{"sequence":"0","value":"AOV0007AT","uniqueID":"7741124012287788707","unitOfMeasure":"","unitID":"","identifier":"AOV0007AT"}],"sequence":"0","name":"\u30e2\u30c7\u30eb\u30b3\u30fc\u30c9","associatedKeyword":"-","usage":"Descriptive","uniqueID":"7741124012283379873","displayable":true,"comparable":true,"identifier":"MODEL_CODE_DISPLAY","searchable":false,"facetable":false},{"storeDisplay":false,"values":[{"sequence":"0","value":"Cognac","uniqueID":"7741124012286488337","unitOfMeasure":"","unitID":"","identifier":"Cognac"}],"sequence":"1","name":"\u30d5\u30ed\u30f3\u30c8\u30ab\u30e9\u30fc","associatedKeyword":"-","usage":"Descriptive","uniqueID":"7741124012283379839","displayable":true,"comparable":true,"identifier":"FRONT_COLOR","searchable":false,"facetable":false},{"storeDisplay":false,"values":[{"sequence":"0","value":"\u672c\u9769","uniqueID":"7741124012286488335","unitOfMeasure":"","unitID":"","identifier":"Genuine Leather"}],"sequence":"6","name":"\u30d5\u30ec\u30fc\u30e0\u7d20\u6750","associatedKeyword":"-","usage":"Descriptive","uniqueID":"7741124012283379837","displayable":true,"comparable":true,"identifier":"FRAMEMATERIAL","searchable":false,"facetable":false},{"storeDisplay":false,"values":[{"sequence":"0","value":"Cases","uniqueID":"7741124012287789209","unitOfMeasure":"","unitID":"","identifier":"Cases"}],"sequence":"10000","name":"PROD_HIERARCHY_3","associatedKeyword":"-","usage":"Descriptive","uniqueID":"7741124012285060346","displayable":false,"comparable":true,"identifier":"PROD_HIERARCHY_3","searchable":true,"facetable":false},{"storeDisplay":false,"values":[{"sequence":"0","value":"0","uniqueID":"7741124012286187811","unitOfMeasure":"","unitID":"","identifier":"0"}],"sequence":"10000","name":"WIDTH","associatedKeyword":"-","usage":"Descriptive","uniqueID":"7741124012285060338","displayable":false,"comparable":false,"identifier":"WIDTH","searchable":true,"facetable":false},{"storeDisplay":false,"values":[{"sequence":"0","value":"\u7537\u6027","uniqueID":"7741124012288319560","unitOfMeasure":"","unitID":"","identifier":"MALE"}],"sequence":"10000","name":"\u6027\u5225","associatedKeyword":"-","usage":"Descriptive","uniqueID":"7741124012283379843","displayable":false,"comparable":true,"identifier":"GENDER","searchable":true,"facetable":true},{"storeDisplay":false,"values":[{"sequence":"13","value":"False","uniqueID":"7741124012283944664","unitOfMeasure":"","unitID":"","identifier":"False"}],"sequence":"10000","name":"LIMITED_EDITION","associatedKeyword":"-","usage":"Descriptive","uniqueID":"7741124012283379847","displayable":false,"comparable":true,"identifier":"LIMITED_EDITION","searchable":true,"facetable":true},{"storeDisplay":false,"values":[{"sequence":"0","value":"100","uniqueID":"7741124012287488480","unitOfMeasure":"","unitID":"","identifier":"100"}],"sequence":"10000","name":"GROSSWEIGHT","associatedKeyword":"-","usage":"Descriptive","uniqueID":"7741124012283379861","displayable":false,"comparable":true,"identifier":"GROSSWEIGHT","searchable":false,"facetable":false},{"storeDisplay":false,"values":[{"sequence":"0","value":"Not Classified","uniqueID":"7741124012286179499","unitOfMeasure":"","unitID":"","identifier":"Not Classified"}],"sequence":"10000","name":"MARKETING_THEME_STORY","associatedKeyword":"-","usage":"Descriptive","uniqueID":"7741124012285060348","displayable":false,"comparable":true,"identifier":"MARKETING_THEME_STORY","searchable":true,"facetable":false},{"storeDisplay":false,"values":[{"sequence":"0","value":"Not Classified","uniqueID":"7741124012287611532","unitOfMeasure":"","unitID":"","identifier":"Not Classified"}],"sequence":"10000","name":"RANGE","associatedKeyword":"-","usage":"Descriptive","uniqueID":"7741124012283379871","displayable":false,"comparable":true,"identifier":"RANGE","searchable":true,"facetable":true},{"storeDisplay":false,"values":[{"sequence":"1","value":"Accessories","uniqueID":"7741124012283875339","unitOfMeasure":"","unitID":"","identifier":"Accessories"}],"sequence":"10000","name":"PRODUCTTYPE","associatedKeyword":"-","usage":"Descriptive","uniqueID":"7741124012283379876","displayable":false,"comparable":true,"identifier":"PRODUCTTYPE","searchable":true,"facetable":true},{"storeDisplay":false,"values":[{"sequence":"0","value":"Accessories","uniqueID":"7741124012287789224","unitOfMeasure":"","unitID":"","identifier":"Accessories"}],"sequence":"10000","name":"PROD_HIERARCHY_0","associatedKeyword":"-","usage":"Descriptive","uniqueID":"7741124012285060343","displayable":false,"comparable":false,"identifier":"PROD_HIERARCHY_0","searchable":true,"facetable":false},{"storeDisplay":false,"values":[{"sequence":"549","value":"False","uniqueID":"7741124012283377364","unitOfMeasure":"","unitID":"","identifier":"False"}],"sequence":"10000","name":"\u9650\u5b9a","associatedKeyword":"-","usage":"Descriptive","uniqueID":"7741124012283379836","displayable":false,"comparable":true,"identifier":"EXCLUSIVE","searchable":true,"facetable":true},{"storeDisplay":false,"values":[{"sequence":"0","value":"False\uff08\u507d\uff09","uniqueID":"7741124012286328840","unitOfMeasure":"","unitID":"","identifier":"FALSE"}],"sequence":"10000","name":"\u30dd\u30e9\u30e9\u30a4\u30ba\u30c9","associatedKeyword":"-","usage":"Descriptive","uniqueID":"7741124012283379852","displayable":false,"comparable":true,"identifier":"POLARIZED","searchable":true,"facetable":true},{"storeDisplay":false,"values":[{"sequence":"0","value":"True","uniqueID":"7741124012286327836","unitOfMeasure":"","unitID":"","identifier":"TRUE"}],"sequence":"10000","name":"NEWRELEASES","associatedKeyword":"-","usage":"Descriptive","uniqueID":"7741124012283379849","displayable":false,"comparable":true,"identifier":"NEWRELEASES","searchable":true,"facetable":true},{"storeDisplay":false,"values":[{"sequence":"0","value":"Brown","uniqueID":"7741124012283377547","unitOfMeasure":"","unitID":"","identifier":"Brown"}],"sequence":"10000","name":"\u30d5\u30ec\u30fc\u30e0\u30ab\u30e9\u30fc","associatedKeyword":"-","usage":"Descriptive","uniqueID":"7741124012283379840","displayable":false,"comparable":true,"identifier":"FRONT_COLOR_FACET","searchable":true,"facetable":true},{"storeDisplay":false,"values":[{"sequence":"0","value":"Genuine Leather Four Frame Case","uniqueID":"7741124012287788708","unitOfMeasure":"","unitID":"","identifier":"Genuine Leather Four Frame Case"}],"sequence":"10000","name":"MODELNAME","associatedKeyword":"-","usage":"Descriptive","uniqueID":"7741124012283379853","displayable":false,"comparable":true,"identifier":"MODELNAME","searchable":true,"facetable":false},{"storeDisplay":false,"values":[{"sequence":"0","value":"False","uniqueID":"7741124012286432529","unitOfMeasure":"","unitID":"","identifier":"False"}],"sequence":"10000","name":"IS_ROXABLE","associatedKeyword":"-","usage":"Descriptive","uniqueID":"7741124012285060337","displayable":false,"comparable":true,"identifier":"IS_ROXABLE","searchable":true,"facetable":true},{"storeDisplay":false,"values":[{"sequence":"0","value":"000003","uniqueID":"7741124012286392926","unitOfMeasure":"","unitID":"","identifier":"000003"}],"sequence":"10000","name":"COLOR_CODE","associatedKeyword":"-","usage":"Descriptive","uniqueID":"7741124012285059838","displayable":false,"comparable":false,"identifier":"COLOR_CODE","searchable":true,"facetable":false},{"storeDisplay":false,"values":[{"sequence":"0","value":"Material-leather;pack-leather-case","uniqueID":"7741124012286506063","unitOfMeasure":"","unitID":"","identifier":"Material-leather;pack-leather-case"}],"sequence":"10000","name":"FEATURES","associatedKeyword":"-","usage":"Descriptive","uniqueID":"7741124012283379879","displayable":false,"comparable":false,"identifier":"FEATURES","searchable":false,"facetable":false},{"storeDisplay":false,"values":[{"sequence":"0","value":"True","uniqueID":"7741124012287884290","unitOfMeasure":"","unitID":"","identifier":"True"}],"sequence":"10000","name":"CLICK_AND_COLLECT","associatedKeyword":"-","usage":"Descriptive","uniqueID":"7741124012285260835","displayable":false,"comparable":false,"identifier":"CLICK_AND_COLLECT","searchable":false,"facetable":false},{"storeDisplay":false,"values":[{"sequence":"0","value":"True","uniqueID":"7741124012287886329","unitOfMeasure":"","unitID":"","identifier":"True"}],"sequence":"10000","name":"REAL_TIME_INVENTORY","associatedKeyword":"-","usage":"Descriptive","uniqueID":"7741124012285260836","displayable":false,"comparable":false,"identifier":"REAL_TIME_INVENTORY","searchable":false,"facetable":false},{"storeDisplay":false,"values":[{"sequence":"0","value":"True","uniqueID":"7741124012287875997","unitOfMeasure":"","unitID":"","identifier":"True"}],"sequence":"10000","name":"SHIP_FROM_STORE","associatedKeyword":"-","usage":"Descriptive","uniqueID":"7741124012285260837","displayable":false,"comparable":false,"identifier":"SHIP_FROM_STORE","searchable":false,"facetable":false},{"storeDisplay":false,"values":[{"sequence":"0","value":"True","uniqueID":"7741124012287887125","unitOfMeasure":"","unitID":"","identifier":"True"}],"sequence":"10000","name":"SHIP_TO_STORE","associatedKeyword":"-","usage":"Descriptive","uniqueID":"7741124012285260838","displayable":false,"comparable":false,"identifier":"SHIP_TO_STORE","searchable":false,"facetable":false},{"storeDisplay":false,"values":[{"sequence":"0","value":"Cleaning Kits & Cases","uniqueID":"7741124012287997071","unitOfMeasure":"","unitID":"","identifier":"Cleaning Kits & Cases"}],"sequence":"10000","name":"PROD_HIERARCHY_2","associatedKeyword":"-","usage":"Descriptive","uniqueID":"7741124012285060345","displayable":false,"comparable":false,"identifier":"PROD_HIERARCHY_2","searchable":true,"facetable":false},{"storeDisplay":false,"values":[{"sequence":"0","value":"Eyewear Accessories","uniqueID":"7741124012287771051","unitOfMeasure":"","unitID":"","identifier":"Eyewear Accessories"}],"sequence":"10000","name":"PROD_HIERARCHY_1","associatedKeyword":"-","usage":"Descriptive","uniqueID":"7741124012285060344","displayable":false,"comparable":false,"identifier":"PROD_HIERARCHY_1","searchable":true,"facetable":false},{"storeDisplay":false,"values":[{"sequence":"0","value":"Zacc","uniqueID":"7741124012286385836","unitOfMeasure":"","unitID":"","identifier":"ZACC"}],"sequence":"10000","name":"MATERIALTYPE","associatedKeyword":"-","usage":"Descriptive","uniqueID":"7741124012283379872","displayable":false,"comparable":true,"identifier":"MATERIALTYPE","searchable":false,"facetable":false},{"storeDisplay":false,"values":[{"sequence":"0","value":"202201","uniqueID":"7741124012287399086","unitOfMeasure":"","unitID":"","identifier":"202201"}],"sequence":"10000","name":"COLLECTION","associatedKeyword":"-","usage":"Descriptive","uniqueID":"7741124012283379835","displayable":false,"comparable":true,"identifier":"COLLECTION","searchable":true,"facetable":false}],"storeID":"715838934","numberOfSKUs":1,"partNumber":"AOV0007AT__000003"},{"hasSingleSKU":true,"catalogEntryTypeCode":"ProductBean","associationType":"UPSELL","parentCatalogGroupID":["3074457345616683318_3074457345616691170","3074457345616683368_3074457345616714168","3074457345616683368_3074457345616714173","3074457345616683368_3074457345616714180","3074457345616683368_3074457345616715170","3074457345616683368_3074457345616730168","3074457345616684418_3074457345616714168","3074457345616684418_3074457345616714173","3074457345616684418_3074457345616714180","3074457345616684418_3074457345616715170","3074457345616684418_3074457345616730168","3074457345616684918_3074457345616714168","3074457345616684918_3074457345616714173","3074457345616684918_3074457345616714180","3074457345616684918_3074457345616715170","3074457345616684918_3074457345616730168"],"price_USD":"125.0","uniqueID":"3074457345616828178","singleSKUCatalogEntryID":"3074457345616828194","sKUs":[{"hasSingleSKU":false,"catalogEntryTypeCode":"ItemBean","parentCatalogGroupID":["3074457345616683318_3074457345616691170","3074457345616683368_3074457345616714168","3074457345616683368_3074457345616714173","3074457345616683368_3074457345616714180","3074457345616683368_3074457345616715170","3074457345616683368_3074457345616730168","3074457345616684418_3074457345616714168","3074457345616684418_3074457345616714173","3074457345616684418_3074457345616714180","3074457345616684418_3074457345616715170","3074457345616684418_3074457345616730168","3074457345616684918_3074457345616714168","3074457345616684918_3074457345616714173","3074457345616684918_3074457345616714180","3074457345616684918_3074457345616715170","3074457345616684918_3074457345616730168"],"uniqueID":"3074457345616828194","resourceId":"http:\/\/lrhsbrdilbp01.luxgroup.net:3737\/search\/resources\/store\/715840684\/productview\/byId\/3074457345616828194","price":[{"description":"L","value":"","usage":"Display","currency":"USD"},{"description":"O","value":"","usage":"Offer","currency":"USD"}],"thumbnail":"https:\/\/assets2.oliverpeoples.com\/cdn-record-files-pi\/e4b90634-6d8b-41f4-a694-ae1d00f3308f\/fe22962e-de64-476c-898f-aec20086255c\/AOV0003AT__000003_fr.png?impolicy=OV_OpPlp","mfPartNumber_ntk":"AOV0003AT","manufacturer":"Oliver Peoples","name":"Genuine Leather Case","buyable":"true","storeID":"715838934","attributes":[{"storeDisplay":false,"values":[{"sequence":"1","value":"AOV0003AT--000003","uniqueID":"7741124012287136649","unitOfMeasure":"","unitID":"","identifier":"AOV0003AT--000003"}],"sequence":"1","name":"Moco","usage":"Descriptive","uniqueID":"7741124012283379884","displayable":false,"comparable":false,"identifier":"MOCO","searchable":false,"facetable":false},{"storeDisplay":false,"values":[{"sequence":"0","value":"Aov0003at 00 000003","uniqueID":"7741124012287522531","unitOfMeasure":"","unitID":"","identifier":"Aov0003at 00 000003"}],"sequence":"10000","name":"SKU","usage":"Descriptive","uniqueID":"7741124012283391835","displayable":false,"comparable":true,"identifier":"SKU","searchable":false,"facetable":false},{"storeDisplay":false,"values":[{"sequence":"0","value":"00000300","uniqueID":"7741124012286392991","unitOfMeasure":"","unitID":"","identifier":"00000300"}],"sequence":"10000","name":"GRID","usage":"Descriptive","uniqueID":"7741124012283591836","displayable":false,"comparable":true,"identifier":"GRID","searchable":false,"facetable":false},{"storeDisplay":false,"values":[{"sequence":"0","value":"AOV0003AT 000003","uniqueID":"7741124012286954350","unitOfMeasure":"","unitID":"","identifier":"AOV0003AT 000003"}],"sequence":"10000","name":"DISPLAYSKU","usage":"Descriptive","uniqueID":"7741124012283379878","displayable":false,"comparable":true,"identifier":"DISPLAYSKU","searchable":false,"facetable":false}],"partNumber":"827934460416"}],"resourceId":"http:\/\/lrhsbrdilbp01.luxgroup.net:3737\/search\/resources\/store\/715840684\/productview\/byId\/3074457345616828178","price":[{"description":"L","value":"125.0","usage":"Display","currency":"USD"},{"description":"O","value":"","usage":"Offer","currency":"USD"}],"thumbnail":"https:\/\/assets2.oliverpeoples.com\/cdn-record-files-pi\/e4b90634-6d8b-41f4-a694-ae1d00f3308f\/fe22962e-de64-476c-898f-aec20086255c\/AOV0003AT__000003_fr.png?impolicy=OV_OpPlp","shortDescription":"OV0003AT","manufacturer":"Oliver Peoples","name":"Genuine Leather Case","buyable":"true","quantity":1,"attributes":[{"storeDisplay":false,"values":[{"sequence":"0","value":"AOV0003AT","uniqueID":"7741124012286488350","unitOfMeasure":"","unitID":"","identifier":"AOV0003AT"}],"sequence":"0","name":"\u30e2\u30c7\u30eb\u30b3\u30fc\u30c9","associatedKeyword":"-","usage":"Descriptive","uniqueID":"7741124012283379873","displayable":true,"comparable":true,"identifier":"MODEL_CODE_DISPLAY","searchable":false,"facetable":false},{"storeDisplay":false,"values":[{"sequence":"0","value":"Cognac","uniqueID":"7741124012286488337","unitOfMeasure":"","unitID":"","identifier":"Cognac"}],"sequence":"1","name":"\u30d5\u30ed\u30f3\u30c8\u30ab\u30e9\u30fc","associatedKeyword":"-","usage":"Descriptive","uniqueID":"7741124012283379839","displayable":true,"comparable":true,"identifier":"FRONT_COLOR","searchable":false,"facetable":false},{"storeDisplay":false,"values":[{"sequence":"0","value":"\u672c\u9769","uniqueID":"7741124012286488335","unitOfMeasure":"","unitID":"","identifier":"Genuine Leather"}],"sequence":"6","name":"\u30d5\u30ec\u30fc\u30e0\u7d20\u6750","associatedKeyword":"-","usage":"Descriptive","uniqueID":"7741124012283379837","displayable":true,"comparable":true,"identifier":"FRAMEMATERIAL","searchable":false,"facetable":false},{"storeDisplay":false,"values":[{"sequence":"0","value":"\u7537\u6027","uniqueID":"7741124012288319560","unitOfMeasure":"","unitID":"","identifier":"MALE"}],"sequence":"10000","name":"\u6027\u5225","associatedKeyword":"-","usage":"Descriptive","uniqueID":"7741124012283379843","displayable":false,"comparable":true,"identifier":"GENDER","searchable":true,"facetable":true},{"storeDisplay":false,"values":[{"sequence":"0","value":"Zacc","uniqueID":"7741124012286385836","unitOfMeasure":"","unitID":"","identifier":"ZACC"}],"sequence":"10000","name":"MATERIALTYPE","associatedKeyword":"-","usage":"Descriptive","uniqueID":"7741124012283379872","displayable":false,"comparable":true,"identifier":"MATERIALTYPE","searchable":false,"facetable":false},{"storeDisplay":false,"values":[{"sequence":"0","value":"Eyewear Accessories","uniqueID":"7741124012287771051","unitOfMeasure":"","unitID":"","identifier":"Eyewear Accessories"}],"sequence":"10000","name":"PROD_HIERARCHY_1","associatedKeyword":"-","usage":"Descriptive","uniqueID":"7741124012285060344","displayable":false,"comparable":false,"identifier":"PROD_HIERARCHY_1","searchable":true,"facetable":false},{"storeDisplay":false,"values":[{"sequence":"0","value":"Cleaning Kits & Cases","uniqueID":"7741124012287997071","unitOfMeasure":"","unitID":"","identifier":"Cleaning Kits & Cases"}],"sequence":"10000","name":"PROD_HIERARCHY_2","associatedKeyword":"-","usage":"Descriptive","uniqueID":"7741124012285060345","displayable":false,"comparable":false,"identifier":"PROD_HIERARCHY_2","searchable":true,"facetable":false},{"storeDisplay":false,"values":[{"sequence":"0","value":"Cases","uniqueID":"7741124012287789209","unitOfMeasure":"","unitID":"","identifier":"Cases"}],"sequence":"10000","name":"PROD_HIERARCHY_3","associatedKeyword":"-","usage":"Descriptive","uniqueID":"7741124012285060346","displayable":false,"comparable":true,"identifier":"PROD_HIERARCHY_3","searchable":true,"facetable":false},{"storeDisplay":false,"values":[{"sequence":"0","value":"195","uniqueID":"7741124012287488573","unitOfMeasure":"","unitID":"","identifier":"195"}],"sequence":"10000","name":"WIDTH","associatedKeyword":"-","usage":"Descriptive","uniqueID":"7741124012285060338","displayable":false,"comparable":false,"identifier":"WIDTH","searchable":true,"facetable":false},{"storeDisplay":false,"values":[{"sequence":"0","value":"Not Classified","uniqueID":"7741124012286179499","unitOfMeasure":"","unitID":"","identifier":"Not Classified"}],"sequence":"10000","name":"MARKETING_THEME_STORY","associatedKeyword":"-","usage":"Descriptive","uniqueID":"7741124012285060348","displayable":false,"comparable":true,"identifier":"MARKETING_THEME_STORY","searchable":true,"facetable":false},{"storeDisplay":false,"values":[{"sequence":"0","value":"Not Classified","uniqueID":"7741124012287611532","unitOfMeasure":"","unitID":"","identifier":"Not Classified"}],"sequence":"10000","name":"RANGE","associatedKeyword":"-","usage":"Descriptive","uniqueID":"7741124012283379871","displayable":false,"comparable":true,"identifier":"RANGE","searchable":true,"facetable":true},{"storeDisplay":false,"values":[{"sequence":"0","value":"100","uniqueID":"7741124012287488480","unitOfMeasure":"","unitID":"","identifier":"100"}],"sequence":"10000","name":"GROSSWEIGHT","associatedKeyword":"-","usage":"Descriptive","uniqueID":"7741124012283379861","displayable":false,"comparable":true,"identifier":"GROSSWEIGHT","searchable":false,"facetable":false},{"storeDisplay":false,"values":[{"sequence":"0","value":"202008","uniqueID":"7741124012285468359","unitOfMeasure":"","unitID":"","identifier":"202008"}],"sequence":"10000","name":"COLLECTION","associatedKeyword":"-","usage":"Descriptive","uniqueID":"7741124012283379835","displayable":false,"comparable":true,"identifier":"COLLECTION","searchable":true,"facetable":false},{"storeDisplay":false,"values":[{"sequence":"0","value":"False\uff08\u507d\uff09","uniqueID":"7741124012286328840","unitOfMeasure":"","unitID":"","identifier":"FALSE"}],"sequence":"10000","name":"\u30dd\u30e9\u30e9\u30a4\u30ba\u30c9","associatedKeyword":"-","usage":"Descriptive","uniqueID":"7741124012283379852","displayable":false,"comparable":true,"identifier":"POLARIZED","searchable":true,"facetable":true},{"storeDisplay":false,"values":[{"sequence":"0","value":"False","uniqueID":"7741124012286328838","unitOfMeasure":"","unitID":"","identifier":"FALSE"}],"sequence":"10000","name":"NEWRELEASES","associatedKeyword":"-","usage":"Descriptive","uniqueID":"7741124012283379849","displayable":false,"comparable":true,"identifier":"NEWRELEASES","searchable":true,"facetable":true},{"storeDisplay":false,"values":[{"sequence":"0","value":"True","uniqueID":"7741124012287887125","unitOfMeasure":"","unitID":"","identifier":"True"}],"sequence":"10000","name":"SHIP_TO_STORE","associatedKeyword":"-","usage":"Descriptive","uniqueID":"7741124012285260838","displayable":false,"comparable":false,"identifier":"SHIP_TO_STORE","searchable":false,"facetable":false},{"storeDisplay":false,"values":[{"sequence":"1","value":"False","uniqueID":"7741124012284934128","unitOfMeasure":"","unitID":"","identifier":"False"}],"sequence":"10000","name":"ENGRAVINGELIGIBLE","associatedKeyword":"-","usage":"Descriptive","uniqueID":"7741124012284296835","displayable":false,"comparable":true,"identifier":"ENGRAVINGELIGIBLE","searchable":false,"facetable":false},{"storeDisplay":false,"values":[{"sequence":"549","value":"False","uniqueID":"7741124012283377364","unitOfMeasure":"","unitID":"","identifier":"False"}],"sequence":"10000","name":"\u9650\u5b9a","associatedKeyword":"-","usage":"Descriptive","uniqueID":"7741124012283379836","displayable":false,"comparable":true,"identifier":"EXCLUSIVE","searchable":true,"facetable":true},{"storeDisplay":false,"values":[{"sequence":"0","value":"\u30b3\u30cb\u30e3\u30c3\u30af","uniqueID":"7741124012287478566","unitOfMeasure":"","unitID":"","identifier":"Cognac"}],"sequence":"10000","name":"FRONT_INNER_COLOR","associatedKeyword":"-","usage":"Descriptive","uniqueID":"7741124012283379841","displayable":false,"comparable":true,"identifier":"FRONT_INNER_COLOR","searchable":false,"facetable":false},{"storeDisplay":false,"values":[{"sequence":"0","value":"Brown","uniqueID":"7741124012283377547","unitOfMeasure":"","unitID":"","identifier":"Brown"}],"sequence":"10000","name":"\u30d5\u30ec\u30fc\u30e0\u30ab\u30e9\u30fc","associatedKeyword":"-","usage":"Descriptive","uniqueID":"7741124012283379840","displayable":false,"comparable":true,"identifier":"FRONT_COLOR_FACET","searchable":true,"facetable":true},{"storeDisplay":false,"values":[{"sequence":"0","value":"\u30d6\u30e9\u30a6\u30f3","uniqueID":"7741124012283377727","unitOfMeasure":"","unitID":"","identifier":"Brown"}],"sequence":"10000","name":"FRONT_INNER_COLOR_FACET","associatedKeyword":"-","usage":"Descriptive","uniqueID":"7741124012283379842","displayable":false,"comparable":true,"identifier":"FRONT_INNER_COLOR_FACET","searchable":true,"facetable":false},{"storeDisplay":false,"values":[{"sequence":"0","value":"Genuine Leather Case","uniqueID":"7741124012286488354","unitOfMeasure":"","unitID":"","identifier":"Genuine Leather Case"}],"sequence":"10000","name":"MODELNAME","associatedKeyword":"-","usage":"Descriptive","uniqueID":"7741124012283379853","displayable":false,"comparable":true,"identifier":"MODELNAME","searchable":true,"facetable":false},{"storeDisplay":false,"values":[{"sequence":"0","value":"Material-leather;pack-leather-case","uniqueID":"7741124012286506063","unitOfMeasure":"","unitID":"","identifier":"Material-leather;pack-leather-case"}],"sequence":"10000","name":"FEATURES","associatedKeyword":"-","usage":"Descriptive","uniqueID":"7741124012283379879","displayable":false,"comparable":false,"identifier":"FEATURES","searchable":false,"facetable":false},{"storeDisplay":false,"values":[{"sequence":"0","value":"True","uniqueID":"7741124012287884290","unitOfMeasure":"","unitID":"","identifier":"True"}],"sequence":"10000","name":"CLICK_AND_COLLECT","associatedKeyword":"-","usage":"Descriptive","uniqueID":"7741124012285260835","displayable":false,"comparable":false,"identifier":"CLICK_AND_COLLECT","searchable":false,"facetable":false},{"storeDisplay":false,"values":[{"sequence":"0","value":"True","uniqueID":"7741124012287886329","unitOfMeasure":"","unitID":"","identifier":"True"}],"sequence":"10000","name":"REAL_TIME_INVENTORY","associatedKeyword":"-","usage":"Descriptive","uniqueID":"7741124012285260836","displayable":false,"comparable":false,"identifier":"REAL_TIME_INVENTORY","searchable":false,"facetable":false},{"storeDisplay":false,"values":[{"sequence":"0","value":"True","uniqueID":"7741124012287875997","unitOfMeasure":"","unitID":"","identifier":"True"}],"sequence":"10000","name":"SHIP_FROM_STORE","associatedKeyword":"-","usage":"Descriptive","uniqueID":"7741124012285260837","displayable":false,"comparable":false,"identifier":"SHIP_FROM_STORE","searchable":false,"facetable":false},{"storeDisplay":false,"values":[{"sequence":"0","value":"False","uniqueID":"7741124012286432529","unitOfMeasure":"","unitID":"","identifier":"False"}],"sequence":"10000","name":"IS_ROXABLE","associatedKeyword":"-","usage":"Descriptive","uniqueID":"7741124012285060337","displayable":false,"comparable":true,"identifier":"IS_ROXABLE","searchable":true,"facetable":true},{"storeDisplay":false,"values":[{"sequence":"0","value":"000003","uniqueID":"7741124012286392926","unitOfMeasure":"","unitID":"","identifier":"000003"}],"sequence":"10000","name":"COLOR_CODE","associatedKeyword":"-","usage":"Descriptive","uniqueID":"7741124012285059838","displayable":false,"comparable":false,"identifier":"COLOR_CODE","searchable":true,"facetable":false},{"storeDisplay":false,"values":[{"sequence":"13","value":"False","uniqueID":"7741124012283944664","unitOfMeasure":"","unitID":"","identifier":"False"}],"sequence":"10000","name":"LIMITED_EDITION","associatedKeyword":"-","usage":"Descriptive","uniqueID":"7741124012283379847","displayable":false,"comparable":true,"identifier":"LIMITED_EDITION","searchable":true,"facetable":true},{"storeDisplay":false,"values":[{"sequence":"1","value":"Accessories","uniqueID":"7741124012283875339","unitOfMeasure":"","unitID":"","identifier":"Accessories"}],"sequence":"10000","name":"PRODUCTTYPE","associatedKeyword":"-","usage":"Descriptive","uniqueID":"7741124012283379876","displayable":false,"comparable":true,"identifier":"PRODUCTTYPE","searchable":true,"facetable":true},{"storeDisplay":false,"values":[{"sequence":"0","value":"Accessories","uniqueID":"7741124012287789224","unitOfMeasure":"","unitID":"","identifier":"Accessories"}],"sequence":"10000","name":"PROD_HIERARCHY_0","associatedKeyword":"-","usage":"Descriptive","uniqueID":"7741124012285060343","displayable":false,"comparable":false,"identifier":"PROD_HIERARCHY_0","searchable":true,"facetable":false}],"storeID":"715838934","numberOfSKUs":1,"partNumber":"AOV0003AT__000003"},{"hasSingleSKU":true,"catalogEntryTypeCode":"ProductBean","associationType":"UPSELL","parentCatalogGroupID":["3074457345616683318_3074457345616691170","3074457345616683368_3074457345616714168","3074457345616683368_3074457345616714180","3074457345616683368_3074457345616730168","3074457345616684418_3074457345616714168","3074457345616684418_3074457345616714180","3074457345616684418_3074457345616730168","3074457345616684918_3074457345616714168","3074457345616684918_3074457345616714180","3074457345616684918_3074457345616730168"],"price_USD":"349.0","uniqueID":"3074457345616896668","singleSKUCatalogEntryID":"3074457345616896671","sKUs":[{"hasSingleSKU":false,"catalogEntryTypeCode":"ItemBean","parentCatalogGroupID":["3074457345616683318_3074457345616691170","3074457345616683368_3074457345616714168","3074457345616683368_3074457345616714180","3074457345616683368_3074457345616730168","3074457345616684418_3074457345616714168","3074457345616684418_3074457345616714180","3074457345616684418_3074457345616730168","3074457345616684918_3074457345616714168","3074457345616684918_3074457345616714180","3074457345616684918_3074457345616730168"],"uniqueID":"3074457345616896671","resourceId":"http:\/\/lrhsbrdilbp01.luxgroup.net:3737\/search\/resources\/store\/715840684\/productview\/byId\/3074457345616896671","price":[{"description":"L","value":"","usage":"Display","currency":"USD"},{"description":"O","value":"","usage":"Offer","currency":"USD"}],"thumbnail":"https:\/\/assets2.oliverpeoples.com\/cdn-record-files-pi\/cb99d563-ea99-4a77-a18d-ae5801668598\/f27c7a8f-efa5-4287-8ad0-aec20086231d\/AOV0007AT__000001_fr.png?impolicy=OV_OpPlp","mfPartNumber_ntk":"AOV0007AT","manufacturer":"Oliver Peoples","name":"Genuine Leather Four Frame Case","buyable":"true","storeID":"715838934","attributes":[{"storeDisplay":false,"values":[{"sequence":"1","value":"AOV0007AT--000001","uniqueID":"7741124012287790262","unitOfMeasure":"","unitID":"","identifier":"AOV0007AT--000001"}],"sequence":"1","name":"Moco","usage":"Descriptive","uniqueID":"7741124012283379884","displayable":false,"comparable":false,"identifier":"MOCO","searchable":false,"facetable":false},{"storeDisplay":false,"values":[{"sequence":"0","value":"00000100","uniqueID":"7741124012286211391","unitOfMeasure":"","unitID":"","identifier":"00000100"}],"sequence":"10000","name":"GRID","usage":"Descriptive","uniqueID":"7741124012283591836","displayable":false,"comparable":true,"identifier":"GRID","searchable":false,"facetable":false},{"storeDisplay":false,"values":[{"sequence":"0","value":"Aov0007at 00 000001","uniqueID":"7741124012287789258","unitOfMeasure":"","unitID":"","identifier":"Aov0007at 00 000001"}],"sequence":"10000","name":"SKU","usage":"Descriptive","uniqueID":"7741124012283391835","displayable":false,"comparable":true,"identifier":"SKU","searchable":false,"facetable":false},{"storeDisplay":false,"values":[{"sequence":"0","value":"AOV0007AT 000001","uniqueID":"7741124012287789255","unitOfMeasure":"","unitID":"","identifier":"AOV0007AT 000001"}],"sequence":"10000","name":"DISPLAYSKU","usage":"Descriptive","uniqueID":"7741124012283379878","displayable":false,"comparable":true,"identifier":"DISPLAYSKU","searchable":false,"facetable":false}],"partNumber":"827934477650"}],"resourceId":"http:\/\/lrhsbrdilbp01.luxgroup.net:3737\/search\/resources\/store\/715840684\/productview\/byId\/3074457345616896668","price":[{"description":"L","value":"349.0","usage":"Display","currency":"USD"},{"description":"O","value":"","usage":"Offer","currency":"USD"}],"thumbnail":"https:\/\/assets2.oliverpeoples.com\/cdn-record-files-pi\/cb99d563-ea99-4a77-a18d-ae5801668598\/f27c7a8f-efa5-4287-8ad0-aec20086231d\/AOV0007AT__000001_fr.png?impolicy=OV_OpPlp","shortDescription":"OV0007AT","manufacturer":"Oliver Peoples","name":"Genuine Leather Four Frame Case","buyable":"true","quantity":1,"attributes":[{"storeDisplay":false,"values":[{"sequence":"0","value":"AOV0007AT","uniqueID":"7741124012287788707","unitOfMeasure":"","unitID":"","identifier":"AOV0007AT"}],"sequence":"0","name":"\u30e2\u30c7\u30eb\u30b3\u30fc\u30c9","associatedKeyword":"-","usage":"Descriptive","uniqueID":"7741124012283379873","displayable":true,"comparable":true,"identifier":"MODEL_CODE_DISPLAY","searchable":false,"facetable":false},{"storeDisplay":false,"values":[{"sequence":"0","value":"Black","uniqueID":"7741124012283377375","unitOfMeasure":"","unitID":"","identifier":"Black"}],"sequence":"1","name":"\u30d5\u30ed\u30f3\u30c8\u30ab\u30e9\u30fc","associatedKeyword":"-","usage":"Descriptive","uniqueID":"7741124012283379839","displayable":true,"comparable":true,"identifier":"FRONT_COLOR","searchable":false,"facetable":false},{"storeDisplay":false,"values":[{"sequence":"0","value":"\u672c\u9769","uniqueID":"7741124012286488335","unitOfMeasure":"","unitID":"","identifier":"Genuine Leather"}],"sequence":"6","name":"\u30d5\u30ec\u30fc\u30e0\u7d20\u6750","associatedKeyword":"-","usage":"Descriptive","uniqueID":"7741124012283379837","displayable":true,"comparable":true,"identifier":"FRAMEMATERIAL","searchable":false,"facetable":false},{"storeDisplay":false,"values":[{"sequence":"0","value":"0","uniqueID":"7741124012286187811","unitOfMeasure":"","unitID":"","identifier":"0"}],"sequence":"10000","name":"WIDTH","associatedKeyword":"-","usage":"Descriptive","uniqueID":"7741124012285060338","displayable":false,"comparable":false,"identifier":"WIDTH","searchable":true,"facetable":false},{"storeDisplay":false,"values":[{"sequence":"0","value":"100","uniqueID":"7741124012287488480","unitOfMeasure":"","unitID":"","identifier":"100"}],"sequence":"10000","name":"GROSSWEIGHT","associatedKeyword":"-","usage":"Descriptive","uniqueID":"7741124012283379861","displayable":false,"comparable":true,"identifier":"GROSSWEIGHT","searchable":false,"facetable":false},{"storeDisplay":false,"values":[{"sequence":"0","value":"Not Classified","uniqueID":"7741124012286179499","unitOfMeasure":"","unitID":"","identifier":"Not Classified"}],"sequence":"10000","name":"MARKETING_THEME_STORY","associatedKeyword":"-","usage":"Descriptive","uniqueID":"7741124012285060348","displayable":false,"comparable":true,"identifier":"MARKETING_THEME_STORY","searchable":true,"facetable":false},{"storeDisplay":false,"values":[{"sequence":"0","value":"Not Classified","uniqueID":"7741124012287611532","unitOfMeasure":"","unitID":"","identifier":"Not Classified"}],"sequence":"10000","name":"RANGE","associatedKeyword":"-","usage":"Descriptive","uniqueID":"7741124012283379871","displayable":false,"comparable":true,"identifier":"RANGE","searchable":true,"facetable":true},{"storeDisplay":false,"values":[{"sequence":"1","value":"Accessories","uniqueID":"7741124012283875339","unitOfMeasure":"","unitID":"","identifier":"Accessories"}],"sequence":"10000","name":"PRODUCTTYPE","associatedKeyword":"-","usage":"Descriptive","uniqueID":"7741124012283379876","displayable":false,"comparable":true,"identifier":"PRODUCTTYPE","searchable":true,"facetable":true},{"storeDisplay":false,"values":[{"sequence":"0","value":"Accessories","uniqueID":"7741124012287789224","unitOfMeasure":"","unitID":"","identifier":"Accessories"}],"sequence":"10000","name":"PROD_HIERARCHY_0","associatedKeyword":"-","usage":"Descriptive","uniqueID":"7741124012285060343","displayable":false,"comparable":false,"identifier":"PROD_HIERARCHY_0","searchable":true,"facetable":false},{"storeDisplay":false,"values":[{"sequence":"0","value":"\u7537\u6027","uniqueID":"7741124012288319560","unitOfMeasure":"","unitID":"","identifier":"MALE"}],"sequence":"10000","name":"\u6027\u5225","associatedKeyword":"-","usage":"Descriptive","uniqueID":"7741124012283379843","displayable":false,"comparable":true,"identifier":"GENDER","searchable":true,"facetable":true},{"storeDisplay":false,"values":[{"sequence":"13","value":"False","uniqueID":"7741124012283944664","unitOfMeasure":"","unitID":"","identifier":"False"}],"sequence":"10000","name":"LIMITED_EDITION","associatedKeyword":"-","usage":"Descriptive","uniqueID":"7741124012283379847","displayable":false,"comparable":true,"identifier":"LIMITED_EDITION","searchable":true,"facetable":true},{"storeDisplay":false,"values":[{"sequence":"0","value":"True","uniqueID":"7741124012286327836","unitOfMeasure":"","unitID":"","identifier":"TRUE"}],"sequence":"10000","name":"NEWRELEASES","associatedKeyword":"-","usage":"Descriptive","uniqueID":"7741124012283379849","displayable":false,"comparable":true,"identifier":"NEWRELEASES","searchable":true,"facetable":true},{"storeDisplay":false,"values":[{"sequence":"0","value":"Black","uniqueID":"7741124012283377534","unitOfMeasure":"","unitID":"","identifier":"Black"}],"sequence":"10000","name":"\u30d5\u30ec\u30fc\u30e0\u30ab\u30e9\u30fc","associatedKeyword":"-","usage":"Descriptive","uniqueID":"7741124012283379840","displayable":false,"comparable":true,"identifier":"FRONT_COLOR_FACET","searchable":true,"facetable":true},{"storeDisplay":false,"values":[{"sequence":"0","value":"Genuine Leather Four Frame Case","uniqueID":"7741124012287788708","unitOfMeasure":"","unitID":"","identifier":"Genuine Leather Four Frame Case"}],"sequence":"10000","name":"MODELNAME","associatedKeyword":"-","usage":"Descriptive","uniqueID":"7741124012283379853","displayable":false,"comparable":true,"identifier":"MODELNAME","searchable":true,"facetable":false},{"storeDisplay":false,"values":[{"sequence":"0","value":"False","uniqueID":"7741124012286432529","unitOfMeasure":"","unitID":"","identifier":"False"}],"sequence":"10000","name":"IS_ROXABLE","associatedKeyword":"-","usage":"Descriptive","uniqueID":"7741124012285060337","displayable":false,"comparable":true,"identifier":"IS_ROXABLE","searchable":true,"facetable":true},{"storeDisplay":false,"values":[{"sequence":"0","value":"000001","uniqueID":"7741124012286195054","unitOfMeasure":"","unitID":"","identifier":"000001"}],"sequence":"10000","name":"COLOR_CODE","associatedKeyword":"-","usage":"Descriptive","uniqueID":"7741124012285059838","displayable":false,"comparable":false,"identifier":"COLOR_CODE","searchable":true,"facetable":false},{"storeDisplay":false,"values":[{"sequence":"0","value":"Material-leather;pack-leather-case","uniqueID":"7741124012286506063","unitOfMeasure":"","unitID":"","identifier":"Material-leather;pack-leather-case"}],"sequence":"10000","name":"FEATURES","associatedKeyword":"-","usage":"Descriptive","uniqueID":"7741124012283379879","displayable":false,"comparable":false,"identifier":"FEATURES","searchable":false,"facetable":false},{"storeDisplay":false,"values":[{"sequence":"0","value":"True","uniqueID":"7741124012287884290","unitOfMeasure":"","unitID":"","identifier":"True"}],"sequence":"10000","name":"CLICK_AND_COLLECT","associatedKeyword":"-","usage":"Descriptive","uniqueID":"7741124012285260835","displayable":false,"comparable":false,"identifier":"CLICK_AND_COLLECT","searchable":false,"facetable":false},{"storeDisplay":false,"values":[{"sequence":"0","value":"True","uniqueID":"7741124012287886329","unitOfMeasure":"","unitID":"","identifier":"True"}],"sequence":"10000","name":"REAL_TIME_INVENTORY","associatedKeyword":"-","usage":"Descriptive","uniqueID":"7741124012285260836","displayable":false,"comparable":false,"identifier":"REAL_TIME_INVENTORY","searchable":false,"facetable":false},{"storeDisplay":false,"values":[{"sequence":"0","value":"True","uniqueID":"7741124012287875997","unitOfMeasure":"","unitID":"","identifier":"True"}],"sequence":"10000","name":"SHIP_FROM_STORE","associatedKeyword":"-","usage":"Descriptive","uniqueID":"7741124012285260837","displayable":false,"comparable":false,"identifier":"SHIP_FROM_STORE","searchable":false,"facetable":false},{"storeDisplay":false,"values":[{"sequence":"0","value":"True","uniqueID":"7741124012287887125","unitOfMeasure":"","unitID":"","identifier":"True"}],"sequence":"10000","name":"SHIP_TO_STORE","associatedKeyword":"-","usage":"Descriptive","uniqueID":"7741124012285260838","displayable":false,"comparable":false,"identifier":"SHIP_TO_STORE","searchable":false,"facetable":false},{"storeDisplay":false,"values":[{"sequence":"549","value":"False","uniqueID":"7741124012283377364","unitOfMeasure":"","unitID":"","identifier":"False"}],"sequence":"10000","name":"\u9650\u5b9a","associatedKeyword":"-","usage":"Descriptive","uniqueID":"7741124012283379836","displayable":false,"comparable":true,"identifier":"EXCLUSIVE","searchable":true,"facetable":true},{"storeDisplay":false,"values":[{"sequence":"0","value":"202201","uniqueID":"7741124012287399086","unitOfMeasure":"","unitID":"","identifier":"202201"}],"sequence":"10000","name":"COLLECTION","associatedKeyword":"-","usage":"Descriptive","uniqueID":"7741124012283379835","displayable":false,"comparable":true,"identifier":"COLLECTION","searchable":true,"facetable":false},{"storeDisplay":false,"values":[{"sequence":"0","value":"False\uff08\u507d\uff09","uniqueID":"7741124012286328840","unitOfMeasure":"","unitID":"","identifier":"FALSE"}],"sequence":"10000","name":"\u30dd\u30e9\u30e9\u30a4\u30ba\u30c9","associatedKeyword":"-","usage":"Descriptive","uniqueID":"7741124012283379852","displayable":false,"comparable":true,"identifier":"POLARIZED","searchable":true,"facetable":true},{"storeDisplay":false,"values":[{"sequence":"0","value":"Zacc","uniqueID":"7741124012286385836","unitOfMeasure":"","unitID":"","identifier":"ZACC"}],"sequence":"10000","name":"MATERIALTYPE","associatedKeyword":"-","usage":"Descriptive","uniqueID":"7741124012283379872","displayable":false,"comparable":true,"identifier":"MATERIALTYPE","searchable":false,"facetable":false},{"storeDisplay":false,"values":[{"sequence":"0","value":"Eyewear Accessories","uniqueID":"7741124012287771051","unitOfMeasure":"","unitID":"","identifier":"Eyewear Accessories"}],"sequence":"10000","name":"PROD_HIERARCHY_1","associatedKeyword":"-","usage":"Descriptive","uniqueID":"7741124012285060344","displayable":false,"comparable":false,"identifier":"PROD_HIERARCHY_1","searchable":true,"facetable":false},{"storeDisplay":false,"values":[{"sequence":"0","value":"Cleaning Kits & Cases","uniqueID":"7741124012287997071","unitOfMeasure":"","unitID":"","identifier":"Cleaning Kits & Cases"}],"sequence":"10000","name":"PROD_HIERARCHY_2","associatedKeyword":"-","usage":"Descriptive","uniqueID":"7741124012285060345","displayable":false,"comparable":false,"identifier":"PROD_HIERARCHY_2","searchable":true,"facetable":false},{"storeDisplay":false,"values":[{"sequence":"0","value":"Cases","uniqueID":"7741124012287789209","unitOfMeasure":"","unitID":"","identifier":"Cases"}],"sequence":"10000","name":"PROD_HIERARCHY_3","associatedKeyword":"-","usage":"Descriptive","uniqueID":"7741124012285060346","displayable":false,"comparable":true,"identifier":"PROD_HIERARCHY_3","searchable":true,"facetable":false}],"storeID":"715838934","numberOfSKUs":1,"partNumber":"AOV0007AT__000001"}],"resourceId":"http:\/\/lrhsbrdilbp01.luxgroup.net:3737\/search\/resources\/store\/715840684\/productview\/byId\/3074457345616792721","price":[{"description":"L","value":"551.0","usage":"Display","currency":"USD"},{"description":"O","value":"","usage":"Offer","currency":"USD"}],"thumbnail":"https:\/\/assets2.oliverpeoples.com\/cdn-record-files-pi\/b97601b3-de9e-44e6-aeb8-ab6700aecb73\/6bdc9860-70a4-4053-a453-ab6700c84179\/0OV5436S__1679P1_000A.png?impolicy=OV_OpPlp","shortDescription":"OV5436S","thumbnail2":"https:\/\/assets2.oliverpeoples.com\/cdn-record-files-pi\/b97601b3-de9e-44e6-aeb8-ab6700aecb73\/8a2629bd-4c02-4ec6-bcde-ab6700c843b3\/0OV5436S__1679P1_030A.png?impolicy=OV_OpPlp","manufacturer":"Oliver Peoples","name":"Cary Grant 2 Sun","longDescription":"The Cary Grant Sun\u306f\u30011959\u5e74\u306e\u30cf\u30ea\u30a6\u30c3\u30c9\u306e\u540d\u4ff3\u512a\u30b1\u30fc\u30ea\u30fc\u30fb\u30b0\u30e9\u30f3\u30c8\u304c\u540d\u4f5c\u6620\u753b\u300c\u5317\u5317\u897f\u306b\u9032\u8def\u3092\u53d6\u308c\u300d\u306e\u4e2d\u3067\u7740\u7528\u3057\u3066\u3044\u305f\u30a2\u30a4\u30a6\u30a7\u30a2\u306e\u30b9\u30bf\u30a4\u30eb\u304b\u3089\u7740\u60f3\u3092\u5f97\u3066\u3044\u307e\u3059\u3002\u4eca\u30b7\u30fc\u30ba\u30f3\u306f\u592a\u3081\u306e\u30a2\u30bb\u30c6\u30fc\u30c8\u30d5\u30ec\u30fc\u30e0\u304c\u30b3\u30f3\u30d3\u30cd\u30fc\u30b7\u30e7\u30f3\u306e\u30c7\u30b6\u30a4\u30f3\u306b\u4f5c\u308a\u66ff\u3048\u3089\u308c\u307e\u3057\u305f\u3002The Cary Grant 2\u306f\u30e1\u30bf\u30eb\u30d6\u30ea\u30c3\u30b8\u3068\u30e1\u30bf\u30eb\u306e\u30a2\u30a4\u30ef\u30a4\u30e4\u30fc\u3092\u30c7\u30b6\u30a4\u30f3\u306b\u8d77\u7528\u3057\u3001Grant\u306e\u9650\u5b9a\u8272\u3067\u3042\u308b\u30b0\u30e9\u30f3\u30c8\u30fb\u30c8\u30fc\u30bf\u30b9\uff08\u3079\u3063\u7532\uff09\u3082\u542b\u3081\u4f1d\u7d71\u306b\u5fe0\u5b9f\u306a\u30c7\u30a3\u30c6\u30fc\u30eb\u3059\u3079\u3066\u3092\u53d6\u308a\u5165\u308c\u305f\u30d5\u30ec\u30fc\u30e0\u3068\u306a\u3063\u3066\u3044\u307e\u3059\u3002","buyable":"true","storeID":"715838934","attributes":[{"storeDisplay":false,"values":[{"sequence":"0","value":"OV5436S","uniqueID":"7741124012285120183","unitOfMeasure":"","unitID":"","identifier":"OV5436S"}],"sequence":"0","name":"\u30e2\u30c7\u30eb\u30b3\u30fc\u30c9","associatedKeyword":"-","usage":"Descriptive","uniqueID":"7741124012283379873","displayable":true,"comparable":true,"identifier":"MODEL_CODE_DISPLAY","searchable":false,"facetable":false},{"storeDisplay":false,"values":[{"sequence":"0","value":"Grant Tortoise","uniqueID":"7741124012284270661","unitOfMeasure":"","unitID":"","identifier":"Grant Tortoise"}],"sequence":"1","name":"\u30d5\u30ed\u30f3\u30c8\u30ab\u30e9\u30fc","associatedKeyword":"-","usage":"Descriptive","uniqueID":"7741124012283379839","displayable":true,"comparable":true,"identifier":"FRONT_COLOR","searchable":false,"facetable":false},{"storeDisplay":false,"values":[{"sequence":"0","value":"G-15 Polar","uniqueID":"7741124012283579178","unitOfMeasure":"","unitID":"","identifier":"G-15 Polar"}],"sequence":"2","name":"\u30ec\u30f3\u30ba\u30ab\u30e9\u30fc","associatedKeyword":"-","usage":"Descriptive","uniqueID":"7741124012283379846","displayable":true,"comparable":true,"identifier":"LENS_COLOR","searchable":false,"facetable":false},{"storeDisplay":false,"values":[{"sequence":"0","value":"\u5b9a\u756a","uniqueID":"7741124012283379043","unitOfMeasure":"","unitID":"","identifier":"Classic"}],"sequence":"3","name":"LENS_TREATMENT","associatedKeyword":"-","usage":"Descriptive","uniqueID":"7741124012283379864","displayable":false,"comparable":true,"identifier":"LENS_TREATMENT","searchable":false,"facetable":false},{"storeDisplay":false,"values":[{"sequence":"0","value":"\u30af\u30ea\u30b9\u30bf\u30eb","uniqueID":"7741124012286177448","unitOfMeasure":"","unitID":"","identifier":"Crystal"}],"sequence":"5","name":"\u30ec\u30f3\u30ba\u7d20\u6750","associatedKeyword":"-","usage":"Descriptive","uniqueID":"7741124012285060339","displayable":false,"comparable":false,"identifier":"LENS_MATERIAL","searchable":true,"facetable":false},{"storeDisplay":false,"values":[{"sequence":"0","value":"\u30a2\u30bb\u30c6\u30fc\u30c8","uniqueID":"7741124012283377366","unitOfMeasure":"","unitID":"","identifier":"Acetate"}],"sequence":"6","name":"\u30d5\u30ec\u30fc\u30e0\u7d20\u6750","associatedKeyword":"-","usage":"Descriptive","uniqueID":"7741124012283379837","displayable":true,"comparable":true,"identifier":"FRAMEMATERIAL","searchable":false,"facetable":false},{"storeDisplay":false,"values":[{"sequence":"1","value":"1","uniqueID":"7741124012284932835","unitOfMeasure":"","unitID":"","identifier":"1"}],"sequence":"8","name":"PLACEHOLDER_SIZE","associatedKeyword":"-","usage":"Descriptive","uniqueID":"7741124012284296836","displayable":true,"comparable":false,"identifier":"PLACEHOLDER_SIZE","searchable":false,"facetable":false},{"storeDisplay":false,"values":[{"sequence":"0","value":"\u30ec\u30ae\u30e5\u30e9\u30fc","uniqueID":"7741124012286177339","unitOfMeasure":"","unitID":"","identifier":"Regular"}],"sequence":"10","name":"\u30d5\u30a3\u30c3\u30c8","associatedKeyword":"-","usage":"Descriptive","uniqueID":"7741124012285060351","displayable":true,"comparable":true,"identifier":"FRAME_FIT","searchable":true,"facetable":true},{"storeDisplay":false,"values":[{"sequence":"0","value":"\u30cf\u30a4\u30d6\u30ea\u30c3\u30b8\u30d5\u30a3\u30c3\u30c8","uniqueID":"7741124012287859725","unitOfMeasure":"","unitID":"","identifier":"High Bridge Fit"}],"sequence":"11","name":"\u30d6\u30ea\u30c3\u30b8\u306e\u7a2e\u985e\uff06\u30ce\u30fc\u30ba\u30d1\u30c3\u30c9","associatedKeyword":"-","usage":"Descriptive","uniqueID":"7741124012283379869","displayable":true,"comparable":true,"identifier":"GEO_FIT","searchable":true,"facetable":true},{"storeDisplay":false,"values":[{"sequence":"0","value":"Tortoise","uniqueID":"7741124012283377552","unitOfMeasure":"","unitID":"","identifier":"Tortoise"}],"sequence":"10000","name":"\u30d5\u30ec\u30fc\u30e0\u30ab\u30e9\u30fc","associatedKeyword":"-","usage":"Descriptive","uniqueID":"7741124012283379840","displayable":false,"comparable":true,"identifier":"FRONT_COLOR_FACET","searchable":true,"facetable":true},{"storeDisplay":false,"values":[{"sequence":"0","value":"Green","uniqueID":"7741124012283377839","unitOfMeasure":"","unitID":"","identifier":"Green"}],"sequence":"10000","name":"\u30ec\u30f3\u30ba\u30ab\u30e9\u30fc","associatedKeyword":"-","usage":"Descriptive","uniqueID":"7741124012283379845","displayable":false,"comparable":true,"identifier":"LENS_COLOR_FACET","searchable":true,"facetable":true},{"storeDisplay":false,"values":[{"sequence":"0","value":"\u30c8\u30fc\u30c8\u30b7\u30a7\u30eb","uniqueID":"7741124012284273685","unitOfMeasure":"","unitID":"","identifier":"Tortoise"}],"sequence":"10000","name":"TEMPLE_COLOR_FACET","associatedKeyword":"-","usage":"Descriptive","uniqueID":"7741124012283379855","displayable":false,"comparable":true,"identifier":"TEMPLE_COLOR_FACET","searchable":true,"facetable":false},{"storeDisplay":false,"values":[{"sequence":"0","value":"Cary Grant 2 Sun","uniqueID":"7741124012285468752","unitOfMeasure":"","unitID":"","identifier":"Cary Grant 2 Sun"}],"sequence":"10000","name":"MODELNAME","associatedKeyword":"-","usage":"Descriptive","uniqueID":"7741124012283379853","displayable":false,"comparable":true,"identifier":"MODELNAME","searchable":true,"facetable":false},{"storeDisplay":false,"values":[{"sequence":"0","value":"Off","uniqueID":"7741124012286182429","unitOfMeasure":"","unitID":"","identifier":"True"}],"sequence":"10000","name":"IS_ROXABLE","associatedKeyword":"-","usage":"Descriptive","uniqueID":"7741124012285060337","displayable":false,"comparable":true,"identifier":"IS_ROXABLE","searchable":true,"facetable":true},{"storeDisplay":false,"values":[{"sequence":"0","value":"1679p1","uniqueID":"7741124012286193212","unitOfMeasure":"","unitID":"","identifier":"1679p1"}],"sequence":"10000","name":"COLOR_CODE","associatedKeyword":"-","usage":"Descriptive","uniqueID":"7741124012285059838","displayable":false,"comparable":false,"identifier":"COLOR_CODE","searchable":true,"facetable":false},{"storeDisplay":false,"values":[{"sequence":"4","value":"M","uniqueID":"7741124012287791996","unitOfMeasure":"","unitID":"","identifier":"M"},{"sequence":"5","value":"L","uniqueID":"7741124012287791999","unitOfMeasure":"","unitID":"","identifier":"L"}],"sequence":"10000","name":"\u30b5\u30a4\u30ba","associatedKeyword":"-","usage":"Descriptive","uniqueID":"7741124012285273337","displayable":false,"comparable":true,"identifier":"MODEL_SIZE_DISPLAY_PLP","searchable":true,"facetable":true},{"storeDisplay":false,"values":[{"sequence":"0","value":"False\uff08\u507d\uff09","uniqueID":"7741124012287388847","unitOfMeasure":"","unitID":"","identifier":"FALSE"}],"sequence":"10000","name":"FLEX","associatedKeyword":"-","usage":"Descriptive","uniqueID":"7741124012283379877","displayable":false,"comparable":true,"identifier":"FLEX","searchable":false,"facetable":false},{"storeDisplay":false,"values":[{"sequence":"0","value":"Zpfn","uniqueID":"7741124012286177452","unitOfMeasure":"","unitID":"","identifier":"ZPFN"}],"sequence":"10000","name":"MATERIALTYPE","associatedKeyword":"-","usage":"Descriptive","uniqueID":"7741124012283379872","displayable":false,"comparable":true,"identifier":"MATERIALTYPE","searchable":false,"facetable":false},{"storeDisplay":false,"values":[{"sequence":"0","value":"Classic","uniqueID":"7741124012288148974","unitOfMeasure":"","unitID":"","identifier":"Classic"}],"sequence":"10000","name":"PROGRESSIVE_FRIENDLY","associatedKeyword":"-","usage":"Descriptive","uniqueID":"7741124012285300835","displayable":false,"comparable":true,"identifier":"PROGRESSIVE_FRIENDLY","searchable":true,"facetable":false},{"storeDisplay":false,"values":[{"sequence":"0","value":"False","uniqueID":"7741124012286878836","unitOfMeasure":"","unitID":"","identifier":"FALSE"}],"sequence":"10000","name":"FOLDABLE","associatedKeyword":"-","usage":"Descriptive","uniqueID":"7741124012283379866","displayable":false,"comparable":true,"identifier":"FOLDABLE","searchable":false,"facetable":false},{"storeDisplay":false,"values":[],"sequence":"10000","name":"IS_ASIAN","associatedKeyword":"-","usage":"Defining","uniqueID":"7741124012285274335","displayable":false,"comparable":true,"identifier":"IS_ASIAN","searchable":true,"facetable":true},{"storeDisplay":false,"values":[{"sequence":"0","value":"\u30d5\u30eb\u30ea\u30e0","uniqueID":"7741124012283379070","unitOfMeasure":"","unitID":"","identifier":"Full Rim"}],"sequence":"10000","name":"\u30d5\u30ec\u30fc\u30e0\u7a2e\u985e","associatedKeyword":"-","usage":"Descriptive","uniqueID":"7741124012283379870","displayable":false,"comparable":true,"identifier":"FRAMETYPE","searchable":true,"facetable":true},{"storeDisplay":false,"values":[{"sequence":"0","value":"\u30d4\u30ed\u30fc","uniqueID":"7741124012283379059","unitOfMeasure":"","unitID":"","identifier":"Pillow"}],"sequence":"10000","name":"\u30d5\u30ec\u30fc\u30e0\u5f62","associatedKeyword":"-","usage":"Descriptive","uniqueID":"7741124012283379867","displayable":false,"comparable":true,"identifier":"FRAME_SHAPE","searchable":false,"facetable":false},{"storeDisplay":false,"values":[{"sequence":"0","value":"\u30b9\u30af\u30a8\u30a2","uniqueID":"7741124012283379062","unitOfMeasure":"","unitID":"","identifier":"Square"}],"sequence":"10000","name":"\u30d5\u30ec\u30fc\u30e0\u5f62","associatedKeyword":"-","usage":"Descriptive","uniqueID":"7741124012283379868","displayable":false,"comparable":true,"identifier":"FRAME_SHAPE_FACET","searchable":true,"facetable":true},{"storeDisplay":false,"values":[{"sequence":"0","value":"Sunglasses","uniqueID":"7741124012287487327","unitOfMeasure":"","unitID":"","identifier":"Sunglasses"}],"sequence":"10000","name":"PROD_HIERARCHY_1","associatedKeyword":"-","usage":"Descriptive","uniqueID":"7741124012285060344","displayable":false,"comparable":false,"identifier":"PROD_HIERARCHY_1","searchable":true,"facetable":false},{"storeDisplay":false,"values":[{"sequence":"0","value":"67","uniqueID":"7741124012287479669","unitOfMeasure":"","unitID":"","identifier":"67"}],"sequence":"10000","name":"WIDTH","associatedKeyword":"-","usage":"Descriptive","uniqueID":"7741124012285060338","displayable":false,"comparable":false,"identifier":"WIDTH","searchable":true,"facetable":false},{"storeDisplay":false,"values":[{"sequence":"1","value":"Collaboration","uniqueID":"7741124012283379073","unitOfMeasure":"","unitID":"","identifier":"Collaboration"}],"sequence":"10000","name":"RANGE","associatedKeyword":"-","usage":"Descriptive","uniqueID":"7741124012283379871","displayable":false,"comparable":true,"identifier":"RANGE","searchable":true,"facetable":true},{"storeDisplay":false,"values":[{"sequence":"0","value":"314","uniqueID":"7741124012287867268","unitOfMeasure":"","unitID":"","identifier":"314"}],"sequence":"10000","name":"GROSSWEIGHT","associatedKeyword":"-","usage":"Descriptive","uniqueID":"7741124012283379861","displayable":false,"comparable":true,"identifier":"GROSSWEIGHT","searchable":false,"facetable":false},{"storeDisplay":false,"values":[{"sequence":"2","value":"Sun","uniqueID":"7741124012283379213","unitOfMeasure":"","unitID":"","identifier":"Sun"}],"sequence":"10000","name":"PRODUCTTYPE","associatedKeyword":"-","usage":"Descriptive","uniqueID":"7741124012283379876","displayable":false,"comparable":true,"identifier":"PRODUCTTYPE","searchable":true,"facetable":true},{"storeDisplay":false,"values":[{"sequence":"0","value":"Eyewear","uniqueID":"7741124012287777028","unitOfMeasure":"","unitID":"","identifier":"Eyewear"}],"sequence":"10000","name":"PROD_HIERARCHY_0","associatedKeyword":"-","usage":"Descriptive","uniqueID":"7741124012285060343","displayable":false,"comparable":false,"identifier":"PROD_HIERARCHY_0","searchable":true,"facetable":false},{"storeDisplay":false,"values":[{"sequence":"0","value":"52","uniqueID":"7741124012287860695","unitOfMeasure":"","unitID":"","identifier":"52"}],"sequence":"10000","name":"MOST_SOLD_SIZE","associatedKeyword":"-","usage":"Descriptive","uniqueID":"7741124012285274336","displayable":false,"comparable":true,"identifier":"MOST_SOLD_SIZE","searchable":false,"facetable":false},{"storeDisplay":false,"values":[{"sequence":"0","value":"L","uniqueID":"7741124012287859789","unitOfMeasure":"","unitID":"","identifier":"L"},{"sequence":"0","value":"M","uniqueID":"7741124012287859786","unitOfMeasure":"","unitID":"","identifier":"M"}],"sequence":"10000","name":"\u30b5\u30a4\u30ba","associatedKeyword":"-","usage":"Defining","uniqueID":"7741124012283379859","displayable":true,"comparable":true,"identifier":"MODEL_SIZE_DISPLAY","searchable":false,"facetable":false},{"storeDisplay":false,"values":[{"sequence":"0","value":"\u30a2\u30bb\u30c6\u30fc\u30c8","uniqueID":"7741124012287412811","unitOfMeasure":"","unitID":"","identifier":"Acetate"}],"sequence":"10000","name":"FRAME_MATERIAL_PERCEIVED","associatedKeyword":"-","usage":"Descriptive","uniqueID":"7741124012285060336","displayable":false,"comparable":true,"identifier":"FRAME_MATERIAL_PERCEIVED","searchable":true,"facetable":false},{"storeDisplay":false,"values":[{"sequence":"0","value":"\u7537\u6027","uniqueID":"7741124012288319560","unitOfMeasure":"","unitID":"","identifier":"MALE"}],"sequence":"10000","name":"\u6027\u5225","associatedKeyword":"-","usage":"Descriptive","uniqueID":"7741124012283379843","displayable":false,"comparable":true,"identifier":"GENDER","searchable":true,"facetable":true},{"storeDisplay":false,"values":[{"sequence":"0","value":"\u30b0\u30ea\u30fc\u30f3","uniqueID":"7741124012286177438","unitOfMeasure":"","unitID":"","identifier":"Green"}],"sequence":"10000","name":"LENSCOLOR_FAMILY","associatedKeyword":"-","usage":"Descriptive","uniqueID":"7741124012283591844","displayable":false,"comparable":true,"identifier":"LENSCOLOR_FAMILY","searchable":false,"facetable":false},{"storeDisplay":false,"values":[{"sequence":"0","value":"False","uniqueID":"7741124012286328838","unitOfMeasure":"","unitID":"","identifier":"FALSE"}],"sequence":"10000","name":"NEWRELEASES","associatedKeyword":"-","usage":"Descriptive","uniqueID":"7741124012283379849","displayable":false,"comparable":true,"identifier":"NEWRELEASES","searchable":true,"facetable":true},{"storeDisplay":false,"values":[{"sequence":"0","value":"Collaboration","uniqueID":"7741124012286177336","unitOfMeasure":"","unitID":"","identifier":"Collaboration"}],"sequence":"10000","name":"COLLECTION_TYPE","associatedKeyword":"-","usage":"Descriptive","uniqueID":"7741124012285060353","displayable":false,"comparable":false,"identifier":"COLLECTION_TYPE","searchable":true,"facetable":false},{"storeDisplay":false,"values":[{"sequence":"0","value":"\u30cf\u30d0\u30ca","uniqueID":"7741124012284273553","unitOfMeasure":"","unitID":"","identifier":"Havana"}],"sequence":"10000","name":"TEMPLE_INNER_COLOR","associatedKeyword":"-","usage":"Descriptive","uniqueID":"7741124012283379856","displayable":false,"comparable":true,"identifier":"TEMPLE_INNER_COLOR","searchable":false,"facetable":false},{"storeDisplay":false,"values":[{"sequence":"0","value":"\u30cf\u30d0\u30ca","uniqueID":"7741124012284273186","unitOfMeasure":"","unitID":"","identifier":"Havana"}],"sequence":"10000","name":"FRONT_INNER_COLOR","associatedKeyword":"-","usage":"Descriptive","uniqueID":"7741124012283379841","displayable":false,"comparable":true,"identifier":"FRONT_INNER_COLOR","searchable":false,"facetable":false},{"storeDisplay":false,"values":[{"sequence":"0","value":"\u30b0\u30e9\u30f3\u30c8\u30c8\u30fc\u30bf\u30b9","uniqueID":"7741124012284270715","unitOfMeasure":"","unitID":"","identifier":"Grant Tortoise"}],"sequence":"10000","name":"TEMPLE_COLOR","associatedKeyword":"-","usage":"Descriptive","uniqueID":"7741124012283379854","displayable":false,"comparable":true,"identifier":"TEMPLE_COLOR","searchable":false,"facetable":false},{"storeDisplay":false,"values":[{"sequence":"0","value":"Low","uniqueID":"7741124012287859741","unitOfMeasure":"","unitID":"","identifier":"Low"}],"sequence":"10000","name":"ML_FRAME_BRIDGE_POSITION","associatedKeyword":"-","usage":"Descriptive","uniqueID":"7741124012285274345","displayable":false,"comparable":true,"identifier":"ML_FRAME_BRIDGE_POSITION","searchable":true,"facetable":false},{"storeDisplay":false,"values":[{"sequence":"0","value":"\u5973\u6027","uniqueID":"7741124012287859737","unitOfMeasure":"","unitID":"","identifier":"Female"}],"sequence":"10000","name":"ML_GLASS_GENDER","associatedKeyword":"-","usage":"Descriptive","uniqueID":"7741124012285274344","displayable":false,"comparable":true,"identifier":"ML_GLASS_GENDER","searchable":true,"facetable":false},{"storeDisplay":false,"values":[{"sequence":"0","value":"\u30e1\u30bf\u30eb","uniqueID":"7741124012287859734","unitOfMeasure":"","unitID":"","identifier":"Metal"}],"sequence":"10000","name":"ML_FRAME_FRONT_MATERIAL","associatedKeyword":"-","usage":"Descriptive","uniqueID":"7741124012285274348","displayable":false,"comparable":true,"identifier":"ML_FRAME_FRONT_MATERIAL","searchable":true,"facetable":false},{"storeDisplay":false,"values":[{"sequence":"0","value":"Thin","uniqueID":"7741124012287859729","unitOfMeasure":"","unitID":"","identifier":"Thin"}],"sequence":"10000","name":"ML_FRAME_TEMPLE_THICKNESS","associatedKeyword":"-","usage":"Descriptive","uniqueID":"7741124012285274339","displayable":false,"comparable":true,"identifier":"ML_FRAME_TEMPLE_THICKNESS","searchable":true,"facetable":false},{"storeDisplay":false,"values":[{"sequence":"0","value":"Sunglass","uniqueID":"7741124012287859735","unitOfMeasure":"","unitID":"","identifier":"Sunglass"}],"sequence":"10000","name":"ML_PRODUCT_TYPE","associatedKeyword":"-","usage":"Descriptive","uniqueID":"7741124012285274347","displayable":false,"comparable":true,"identifier":"ML_PRODUCT_TYPE","searchable":true,"facetable":false},{"storeDisplay":false,"values":[{"sequence":"0","value":"\u30aa\u30fc\u30d0\u30eb","uniqueID":"7741124012287859742","unitOfMeasure":"","unitID":"","identifier":"Oval"}],"sequence":"10000","name":"ML_FRAME_SHAPE","associatedKeyword":"-","usage":"Descriptive","uniqueID":"7741124012285274343","displayable":false,"comparable":true,"identifier":"ML_FRAME_SHAPE","searchable":true,"facetable":false},{"storeDisplay":false,"values":[{"sequence":"0","value":"Winter","uniqueID":"7741124012287859732","unitOfMeasure":"","unitID":"","identifier":"Winter"}],"sequence":"10000","name":"ML_FRAME_COLOR_PALETTE","associatedKeyword":"-","usage":"Descriptive","uniqueID":"7741124012285274337","displayable":false,"comparable":true,"identifier":"ML_FRAME_COLOR_PALETTE","searchable":true,"facetable":false},{"storeDisplay":false,"values":[{"sequence":"0","value":"High","uniqueID":"7741124012287859736","unitOfMeasure":"","unitID":"","identifier":"High"}],"sequence":"10000","name":"ML_FRAME_TEMPLE_FITTING","associatedKeyword":"-","usage":"Descriptive","uniqueID":"7741124012285274338","displayable":false,"comparable":true,"identifier":"ML_FRAME_TEMPLE_FITTING","searchable":true,"facetable":false},{"storeDisplay":false,"values":[{"sequence":"0","value":"Gun_metals","uniqueID":"7741124012287859740","unitOfMeasure":"","unitID":"","identifier":"Gun_metals"}],"sequence":"10000","name":"ML_FRAME_COLOR","associatedKeyword":"-","usage":"Descriptive","uniqueID":"7741124012285274346","displayable":false,"comparable":true,"identifier":"ML_FRAME_COLOR","searchable":true,"facetable":false},{"storeDisplay":false,"values":[{"sequence":"0","value":"Semi_rim","uniqueID":"7741124012287859731","unitOfMeasure":"","unitID":"","identifier":"Semi_rim"}],"sequence":"10000","name":"ML_FRAME_RIM","associatedKeyword":"-","usage":"Descriptive","uniqueID":"7741124012285274342","displayable":false,"comparable":true,"identifier":"ML_FRAME_RIM","searchable":true,"facetable":false},{"storeDisplay":false,"values":[{"sequence":"0","value":"\u30a2\u30bb\u30c6\u30fc\u30c8","uniqueID":"7741124012283377370","unitOfMeasure":"","unitID":"","identifier":"Acetate"}],"sequence":"10000","name":"\u30d5\u30ec\u30fc\u30e0\u7d20\u6750","associatedKeyword":"-","usage":"Descriptive","uniqueID":"7741124012283379838","displayable":false,"comparable":true,"identifier":"FRAMEMATERIAL_FACET","searchable":true,"facetable":true},{"storeDisplay":false,"values":[{"sequence":"0","value":"\u30d6\u30e9\u30a6\u30f3","uniqueID":"7741124012283378415","unitOfMeasure":"","unitID":"","identifier":"Brown"}],"sequence":"10000","name":"TEMPLE_INNER_COLOR_FACET","associatedKeyword":"-","usage":"Descriptive","uniqueID":"7741124012283379857","displayable":false,"comparable":true,"identifier":"TEMPLE_INNER_COLOR_FACET","searchable":true,"facetable":false},{"storeDisplay":false,"values":[{"sequence":"0","value":"\u30d6\u30e9\u30a6\u30f3","uniqueID":"7741124012283377727","unitOfMeasure":"","unitID":"","identifier":"Brown"}],"sequence":"10000","name":"FRONT_INNER_COLOR_FACET","associatedKeyword":"-","usage":"Descriptive","uniqueID":"7741124012283379842","displayable":false,"comparable":true,"identifier":"FRONT_INNER_COLOR_FACET","searchable":true,"facetable":false},{"storeDisplay":false,"values":[{"sequence":"0","value":"\u5b9a\u756a","uniqueID":"7741124012283379047","unitOfMeasure":"","unitID":"","identifier":"Classic"}],"sequence":"10000","name":"\u30ec\u30f3\u30ba\u7a2e\u985e","associatedKeyword":"-","usage":"Descriptive","uniqueID":"7741124012283379865","displayable":false,"comparable":true,"identifier":"LENS_TREATMENT_FACET","searchable":true,"facetable":true},{"storeDisplay":false,"values":[{"sequence":"0","value":"0","uniqueID":"7741124012285120136","unitOfMeasure":"","unitID":"","identifier":"L688c"}],"sequence":"10000","name":"CLEN","associatedKeyword":"-","usage":"Descriptive","uniqueID":"7741124012283379844","displayable":false,"comparable":true,"identifier":"CLEN","searchable":false,"facetable":false},{"storeDisplay":false,"values":[{"sequence":"13","value":"False","uniqueID":"7741124012283944664","unitOfMeasure":"","unitID":"","identifier":"False"}],"sequence":"10000","name":"LIMITED_EDITION","associatedKeyword":"-","usage":"Descriptive","uniqueID":"7741124012283379847","displayable":false,"comparable":true,"identifier":"LIMITED_EDITION","searchable":true,"facetable":true},{"storeDisplay":false,"values":[{"sequence":"0","value":"True","uniqueID":"7741124012287218513","unitOfMeasure":"","unitID":"","identifier":"True"}],"sequence":"10000","name":"IS_ROX_FRIENDLY","associatedKeyword":"-","usage":"Descriptive","uniqueID":"7741124012285060355","displayable":false,"comparable":true,"identifier":"IS_ROX_FRIENDLY","searchable":true,"facetable":false},{"storeDisplay":false,"values":[{"sequence":"0","value":"PACK__OV__CaryGrant","uniqueID":"7741124012287791411","unitOfMeasure":"","unitID":"","identifier":"PACK__OV__CaryGrant"}],"sequence":"10000","name":"CASE","associatedKeyword":"-","usage":"Descriptive","uniqueID":"7741124012283439835","displayable":false,"comparable":false,"identifier":"CASE","searchable":true,"facetable":true},{"storeDisplay":false,"values":[{"sequence":"1","value":"False","uniqueID":"7741124012284934128","unitOfMeasure":"","unitID":"","identifier":"False"}],"sequence":"10000","name":"ENGRAVINGELIGIBLE","associatedKeyword":"-","usage":"Descriptive","uniqueID":"7741124012284296835","displayable":false,"comparable":true,"identifier":"ENGRAVINGELIGIBLE","searchable":false,"facetable":false},{"storeDisplay":false,"values":[{"sequence":"0","value":"0","uniqueID":"7741124012285168336","unitOfMeasure":"","unitID":"","identifier":"Plaque-3;logo-3;nosepads-1"}],"sequence":"10000","name":"FEATURES","associatedKeyword":"-","usage":"Descriptive","uniqueID":"7741124012283379879","displayable":false,"comparable":false,"identifier":"FEATURES","searchable":false,"facetable":false},{"storeDisplay":false,"values":[{"sequence":"0","value":"True","uniqueID":"7741124012287884290","unitOfMeasure":"","unitID":"","identifier":"True"}],"sequence":"10000","name":"CLICK_AND_COLLECT","associatedKeyword":"-","usage":"Descriptive","uniqueID":"7741124012285260835","displayable":false,"comparable":false,"identifier":"CLICK_AND_COLLECT","searchable":false,"facetable":false},{"storeDisplay":false,"values":[{"sequence":"0","value":"True","uniqueID":"7741124012287886329","unitOfMeasure":"","unitID":"","identifier":"True"}],"sequence":"10000","name":"REAL_TIME_INVENTORY","associatedKeyword":"-","usage":"Descriptive","uniqueID":"7741124012285260836","displayable":false,"comparable":false,"identifier":"REAL_TIME_INVENTORY","searchable":false,"facetable":false},{"storeDisplay":false,"values":[{"sequence":"0","value":"True","uniqueID":"7741124012287875997","unitOfMeasure":"","unitID":"","identifier":"True"}],"sequence":"10000","name":"SHIP_FROM_STORE","associatedKeyword":"-","usage":"Descriptive","uniqueID":"7741124012285260837","displayable":false,"comparable":false,"identifier":"SHIP_FROM_STORE","searchable":false,"facetable":false},{"storeDisplay":false,"values":[{"sequence":"0","value":"True","uniqueID":"7741124012287887125","unitOfMeasure":"","unitID":"","identifier":"True"}],"sequence":"10000","name":"SHIP_TO_STORE","associatedKeyword":"-","usage":"Descriptive","uniqueID":"7741124012285260838","displayable":false,"comparable":false,"identifier":"SHIP_TO_STORE","searchable":false,"facetable":false},{"storeDisplay":false,"values":[{"sequence":"549","value":"False","uniqueID":"7741124012283377364","unitOfMeasure":"","unitID":"","identifier":"False"}],"sequence":"10000","name":"\u9650\u5b9a","associatedKeyword":"-","usage":"Descriptive","uniqueID":"7741124012283379836","displayable":false,"comparable":true,"identifier":"EXCLUSIVE","searchable":true,"facetable":true},{"storeDisplay":false,"values":[{"sequence":"0","value":"False\uff08\u507d\uff09","uniqueID":"7741124012286389837","unitOfMeasure":"","unitID":"","identifier":"FALSE"}],"sequence":"10000","name":"\u8abf\u5149","associatedKeyword":"-","usage":"Descriptive","uniqueID":"7741124012285148835","displayable":false,"comparable":true,"identifier":"PHOTOCHROMIC","searchable":true,"facetable":true},{"storeDisplay":false,"values":[{"sequence":"0","value":"\u771f\u5b9f","uniqueID":"7741124012288148975","unitOfMeasure":"","unitID":"","identifier":"True"}],"sequence":"10000","name":"DRIVING_ASNZS","associatedKeyword":"-","usage":"Descriptive","uniqueID":"7741124012285300847","displayable":false,"comparable":true,"identifier":"DRIVING_ASNZS","searchable":true,"facetable":false},{"storeDisplay":false,"values":[{"sequence":"0","value":"2P","uniqueID":"7741124012283579246","unitOfMeasure":"","unitID":"","identifier":"2P"}],"sequence":"10000","name":"NOTAINFORMATIVA","associatedKeyword":"-","usage":"Descriptive","uniqueID":"7741124012283379850","displayable":false,"comparable":true,"identifier":"NOTAINFORMATIVA","searchable":false,"facetable":false},{"storeDisplay":false,"values":[{"sequence":"0","value":"202002","uniqueID":"7741124012285094411","unitOfMeasure":"","unitID":"","identifier":"202002"}],"sequence":"10000","name":"COLLECTION","associatedKeyword":"-","usage":"Descriptive","uniqueID":"7741124012283379835","displayable":false,"comparable":true,"identifier":"COLLECTION","searchable":true,"facetable":false},{"storeDisplay":false,"values":[{"sequence":"0","value":"0","uniqueID":"7741124012288249361","unitOfMeasure":"","unitID":"","identifier":"True"}],"sequence":"10000","name":"\u30dd\u30e9\u30e9\u30a4\u30ba\u30c9","associatedKeyword":"-","usage":"Descriptive","uniqueID":"7741124012283379852","displayable":false,"comparable":true,"identifier":"POLARIZED","searchable":true,"facetable":true},{"storeDisplay":false,"values":[{"sequence":"0","value":"\u30dd\u30ea\u30c3\u30b7\u30e5","uniqueID":"7741124012286177346","unitOfMeasure":"","unitID":"","identifier":"Polished"}],"sequence":"10000","name":"FINISHING","associatedKeyword":"-","usage":"Descriptive","uniqueID":"7741124012285060335","displayable":false,"comparable":true,"identifier":"FINISHING","searchable":true,"facetable":false}],"numberOfSKUs":2,"partNumber":"0OV5436S__1679P1"}
The Cary Grant Sunは、1959年のハリウッドの名俳優ケーリー・グラントが名作映画「北北西に進路を取れ」の中で着用していたアイウェアのスタイルから着想を得ています。今シーズンは太めのアセテートフレームがコンビネーションのデザインに作り替えられました。The Cary Grant 2はメタルブリッジとメタルのアイワイヤーをデザインに起用し、Grantの限定色であるグラント・トータス(べっ甲)も含め伝統に忠実なディテールすべてを取り入れたフレームとなっています。
Cary Grant 2 Sun
The Cary Grant Sunは、1959年のハリウッドの名俳優ケーリー・グラントが名作映画「北北西に進路を取れ」の中で着用していたアイウェアのスタイルから着想を得ています。今シーズンは太めのアセテートフレームがコンビネーションのデザインに作り替えられました。The Cary Grant 2はメタルブリッジとメタルのアイワイヤーをデザインに起用し、Grantの限定色であるグラント・トータス(べっ甲)も含め伝統に忠実なディテールすべてを取り入れたフレームとなっています。
商品詳細
モデルコード:

OV5436S 1679P1 52-20

フロントカラー:

Grant Tortoise

レンズカラー:

G-15 Polar

フレーム素材:

アセテート

Measurements

フィット:

レギュラー

ミディアムサイズのレンズを装着したデザインで、ある程度お顔がカバーされるタイプを好む方向けです。

ブリッジの種類&ノーズパッド:

ハイブリッジフィット

鼻が高くほお骨が低目の方に、しっかりと快適に装着するタイプです。鼻りょうが瞳孔より高い位置にある方に適したチョイスです。
モデルコード:

OV5436S

フロントカラー:

Grant Tortoise

レンズカラー:

G-15 Polar

フレーム素材:

アセテート

PLACEHOLDER_SIZE:

1

フィット:

レギュラー

ブリッジの種類&ノーズパッド:

ハイブリッジフィット

DISPLAYSKU:

OV5436S 1679P1 50-20

DISPLAYSKU:

OV5436S 1679P1 52-20

LENSES:

Prescription Lenses
The second release of the beloved Cary Grant frame is inspired by the actor's iconic off-duty style.
Scroll to read more
The Cary Grant 2 is an evolution of the initial design and continues to pay homage to the timeless style of one of the most iconic Hollywood actors of all time. For Oliver Peoples, a combination style frame became that evolution. The new design conveys the quintessential silhouette for film and TV in the '50s and '60s. It offers relaxed elegance in the same way Grant—and California—does elegance: effortlessly.
While the collection references a specific period of fashion, it does not feel pinned to the past. And even though Grant never wore these exact frames, Barbara offers that "the glasses are as Cary would have worn them." The pairing of acetate to a metal wire in the frame feels particularly well-proportioned.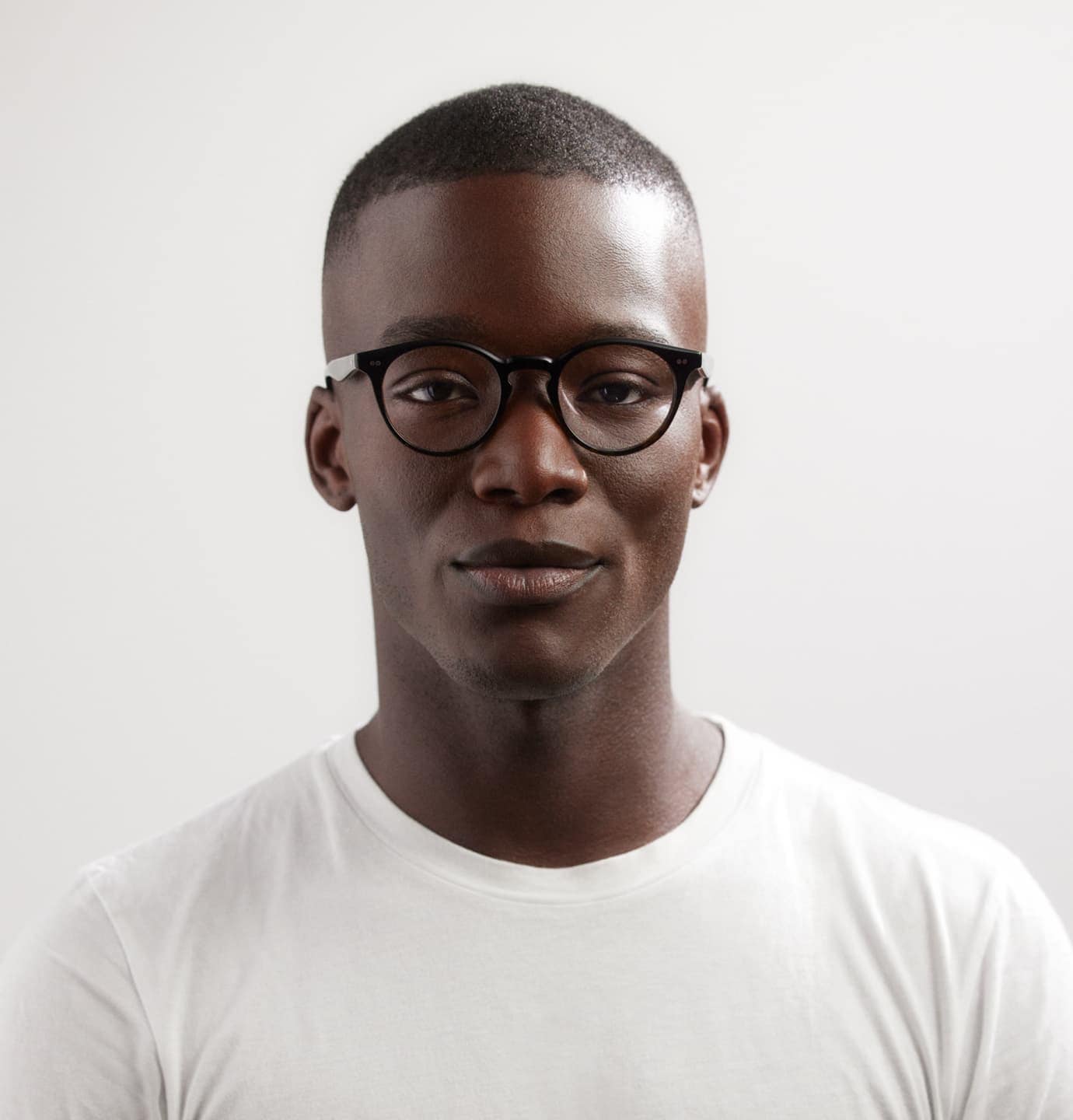 Try Your Gift On, Virtually
Treat yourself to an exquisite new pair.
See how your favorite Oliver Peoples will look on you.
Try now