Campaigns | Craftsmanship
THE "O" IN HOLLYWOOD
13 Min Reading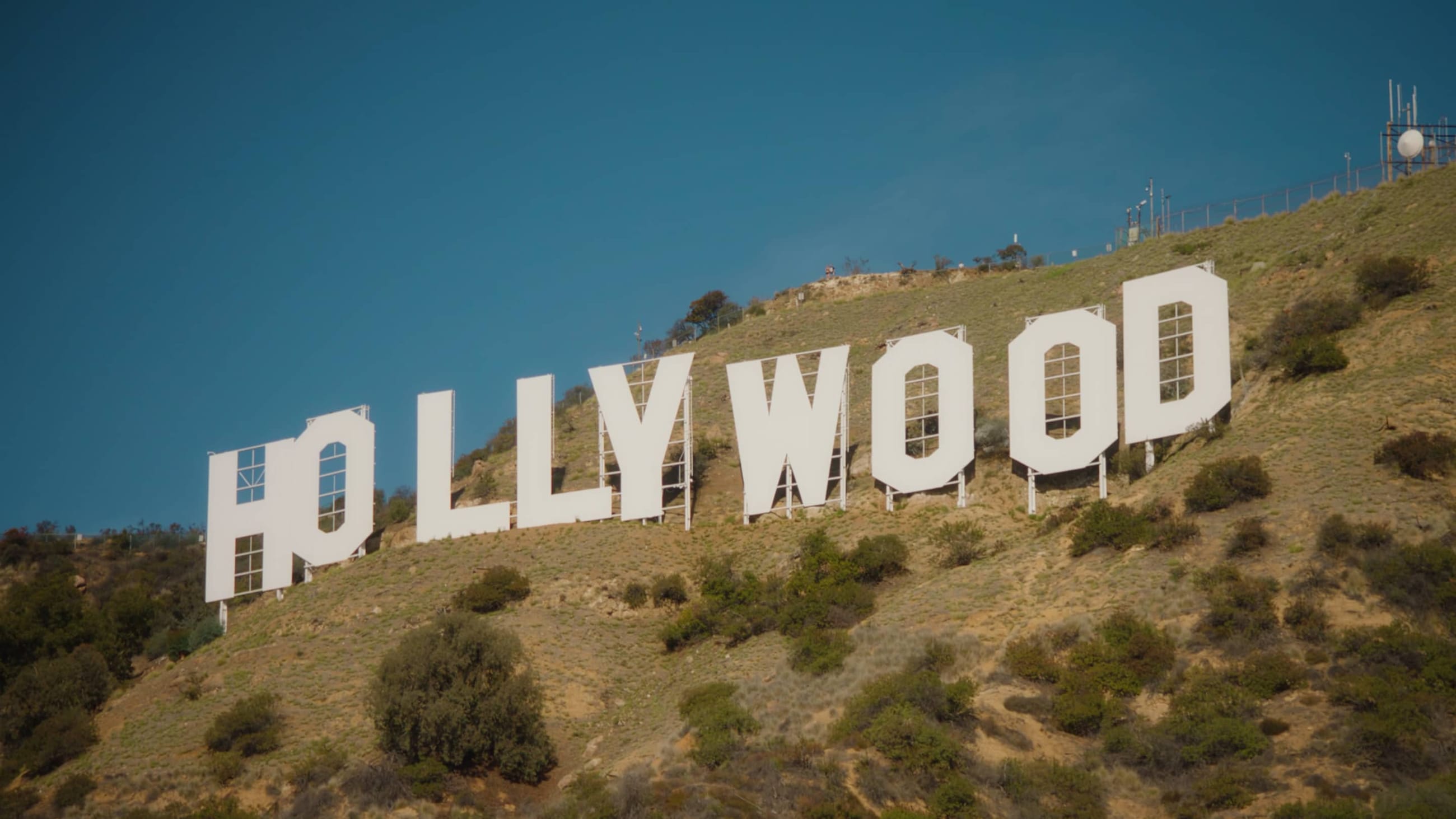 Play Video
Loading
Pause Video
A landmark heist for Oliver Peoples' Spring 2023 campaign.
From a peak atop the Santa Monica Mountains, the iconic Hollywood Sign represents the longstanding, larger-than-life reputation of the sunny, Southern Californian city. A glamorous greeting for all to see, its nine letters symbolize decades of dreams, success and stardom – for those in front of the camera, behind the scenes and all over town. This beloved landmark acts as a clever centerpiece to the madcap happenings of Oliver Peoples' Spring 2023 campaign, where a dashing cast takes off with an O from the iconic sign.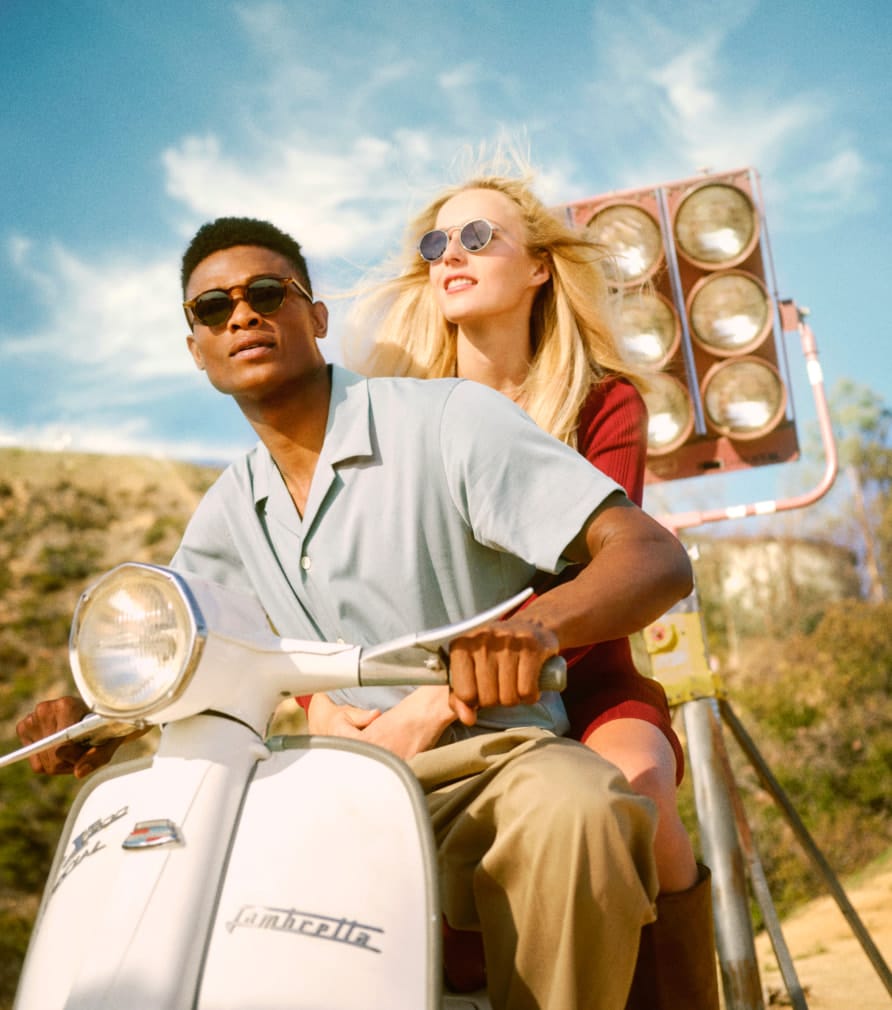 A getaway fit for the screen in OP-Sun 13 and M-4.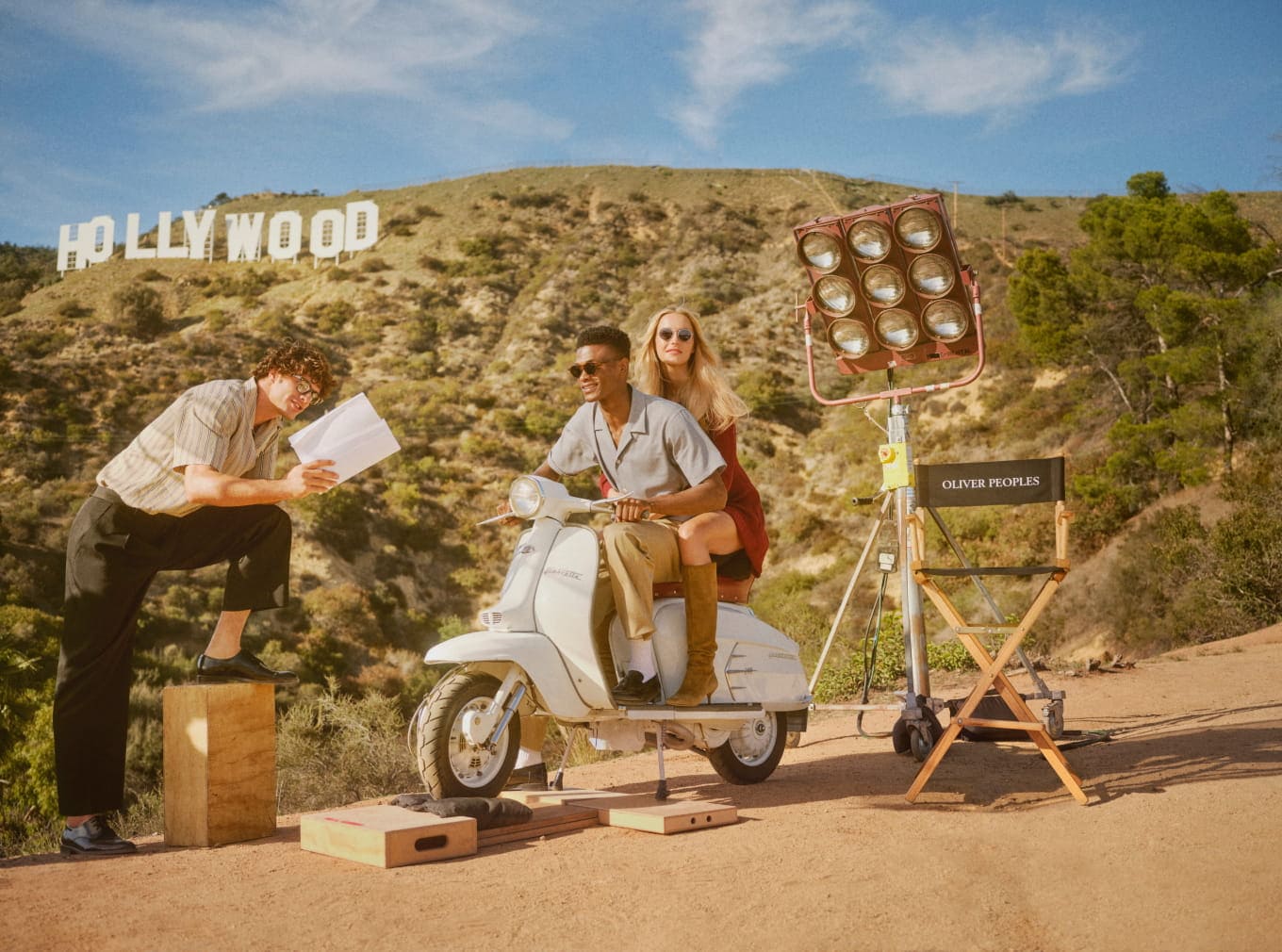 Greater perspective… Hollywood style.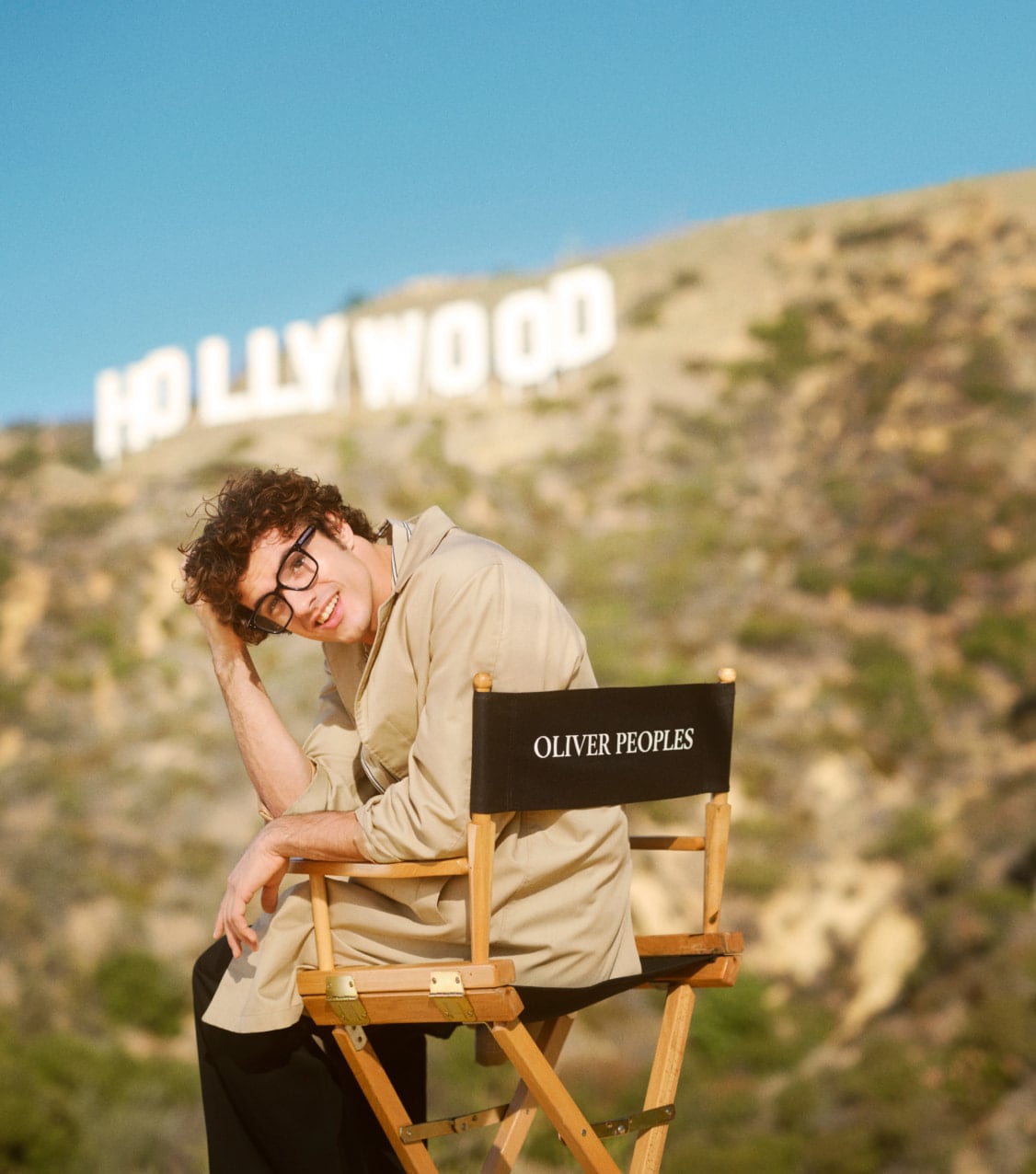 A director's cut in Parcell.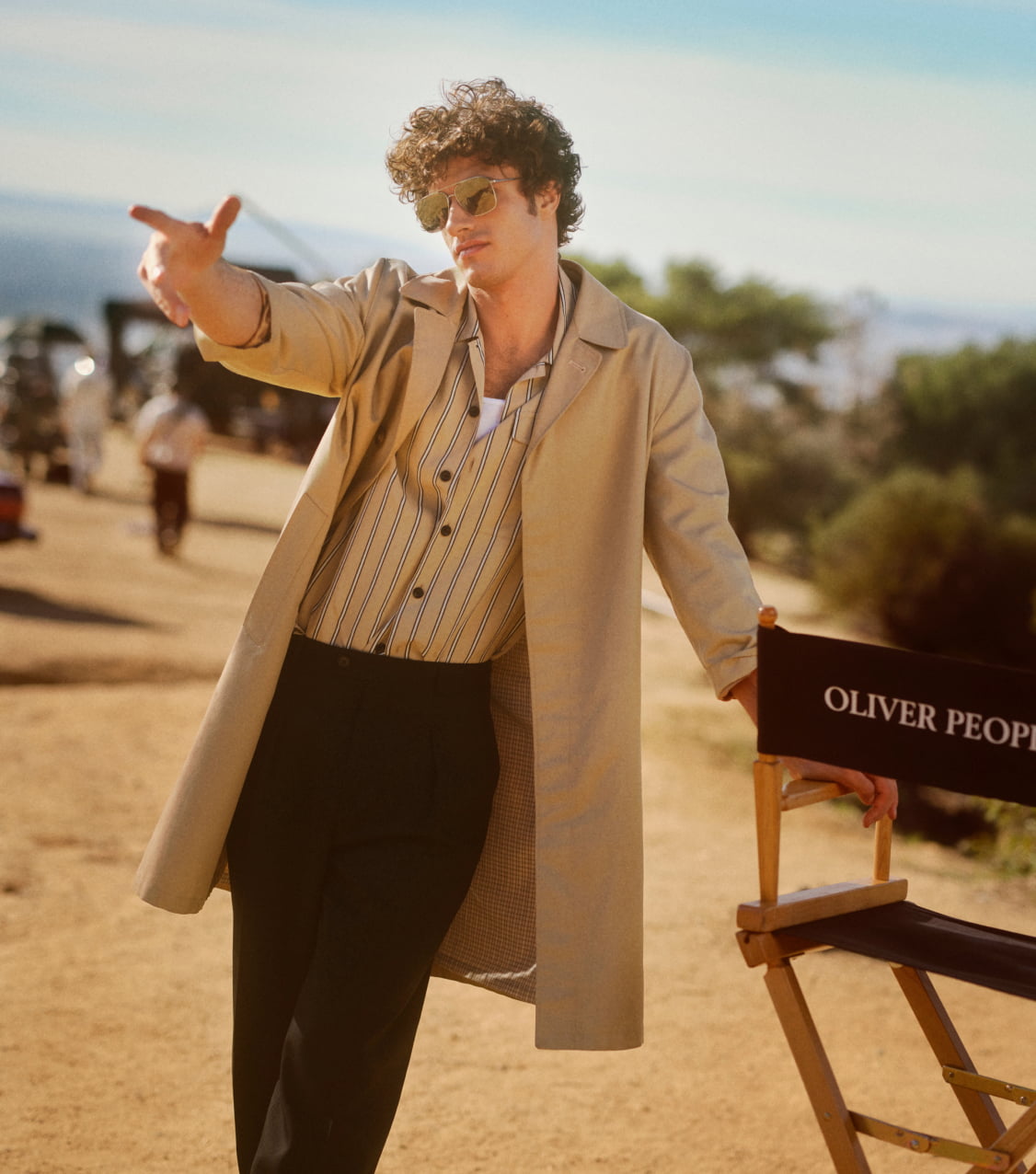 The filmmaker calls the shots in Dresner.
The monumental sign, originally unveiled in 1923 and thoughtfully restored in 1978, has become an emblem for the film industry, Hollywood's illustrious history and the culture of Los Angeles.

A glimpse at or even a recollection of the sign simultaneously inspires nostalgia and wanderlust. It's also an apt visual for Oliver Peoples, an eyewear brand born to complement the glow of LA's golden hour.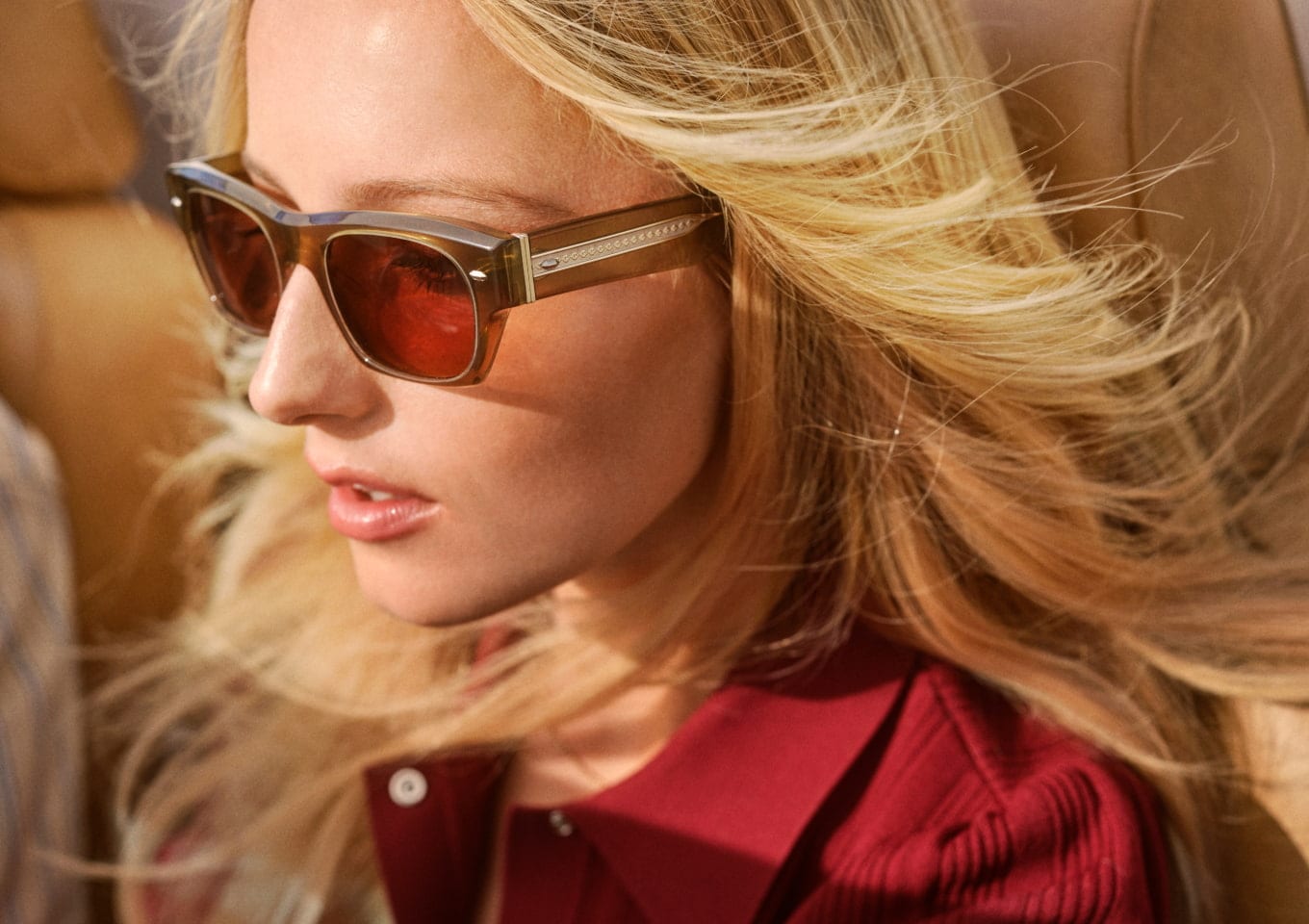 A view from the driver's seat.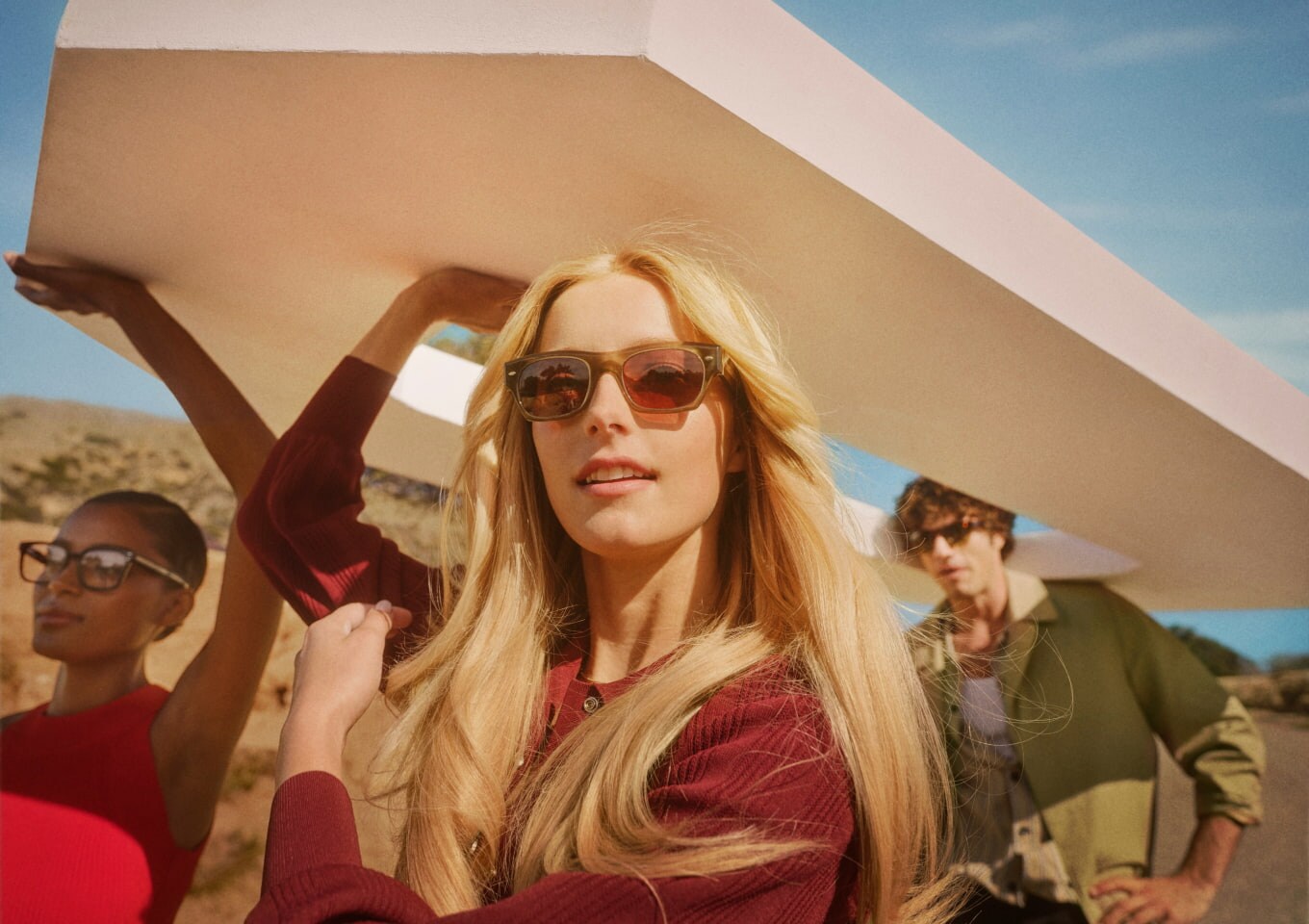 The 'O' is on the move with Kasdan and Parcel.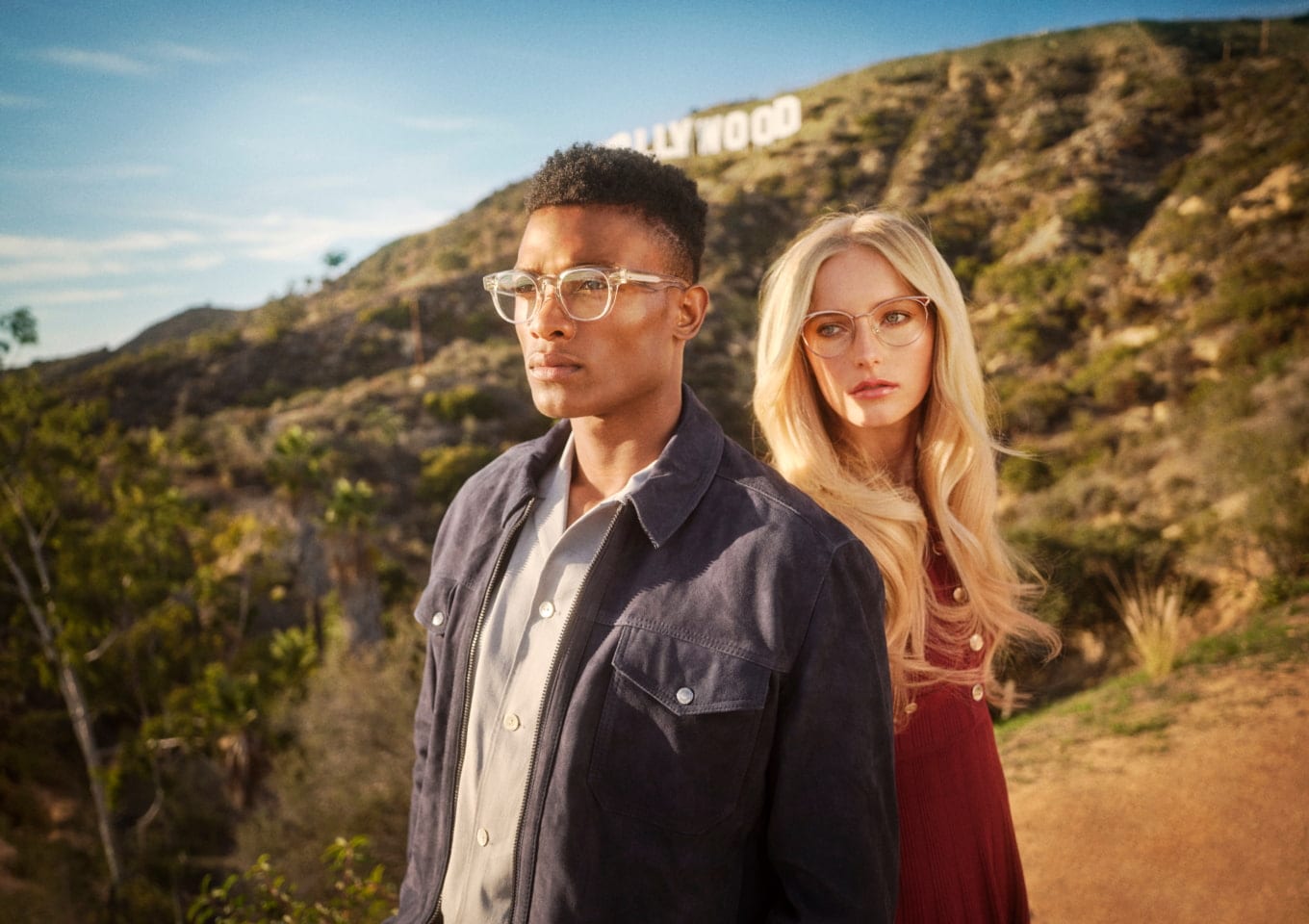 The bold details of Allenby and Aviara are seen amidst golden hour in Hollywood.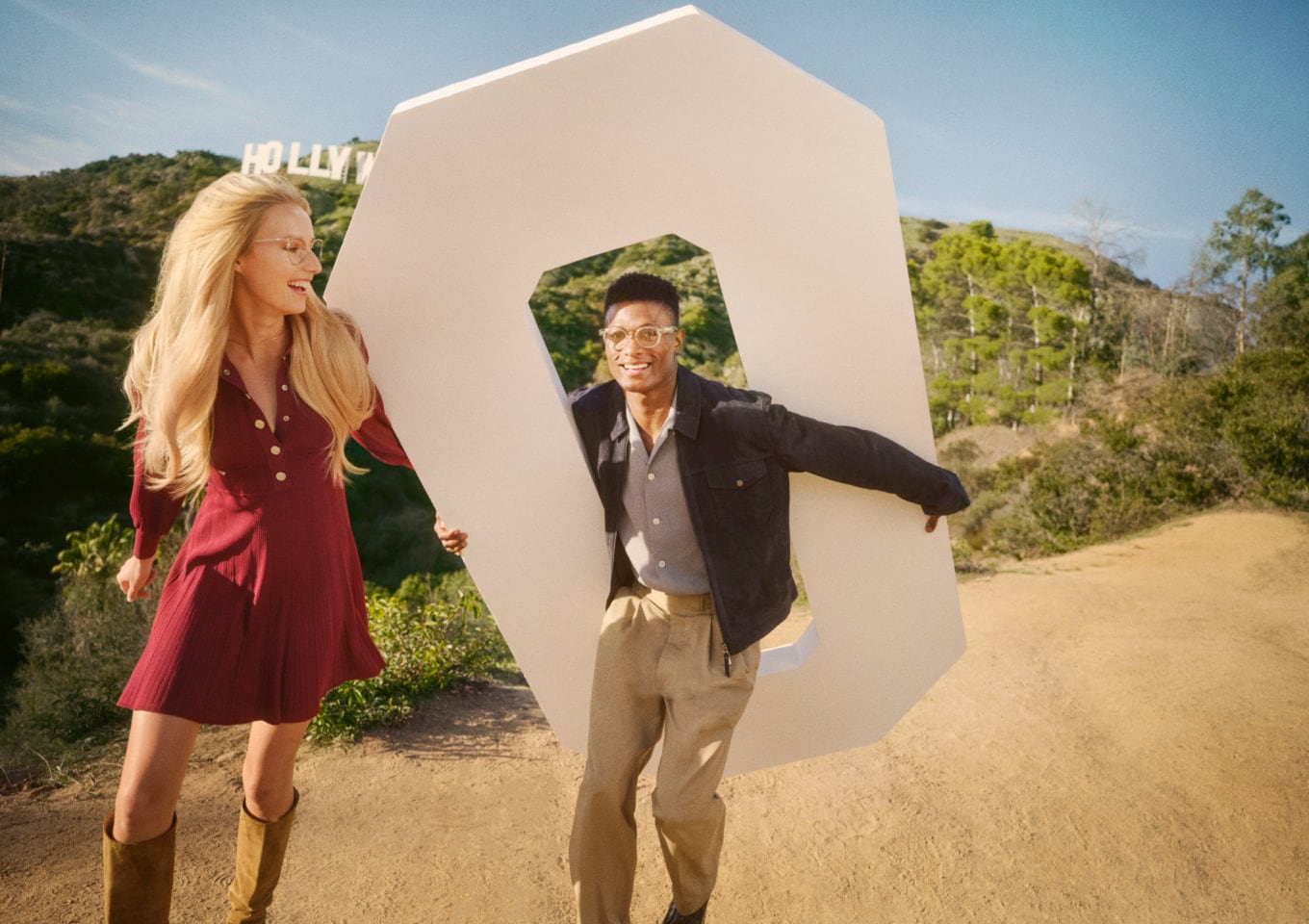 A grand getaway with "O" in tow.
One might even proclaim that Oliver Peoples puts the O in Hollywood. It's more than the brand's home, but part of its identity—from a star-studded roster of well-known wearers to prominent big picture screen time for the frames themselves.

Oliver Peoples has also pioneered official Old Hollywood collaborations that reference the timeless style of Cary Grant and Gregory Peck. On a tactile level, certain frames even incorporate elements of Hollywood iconography, like core wires that mirror the city's architecture and design.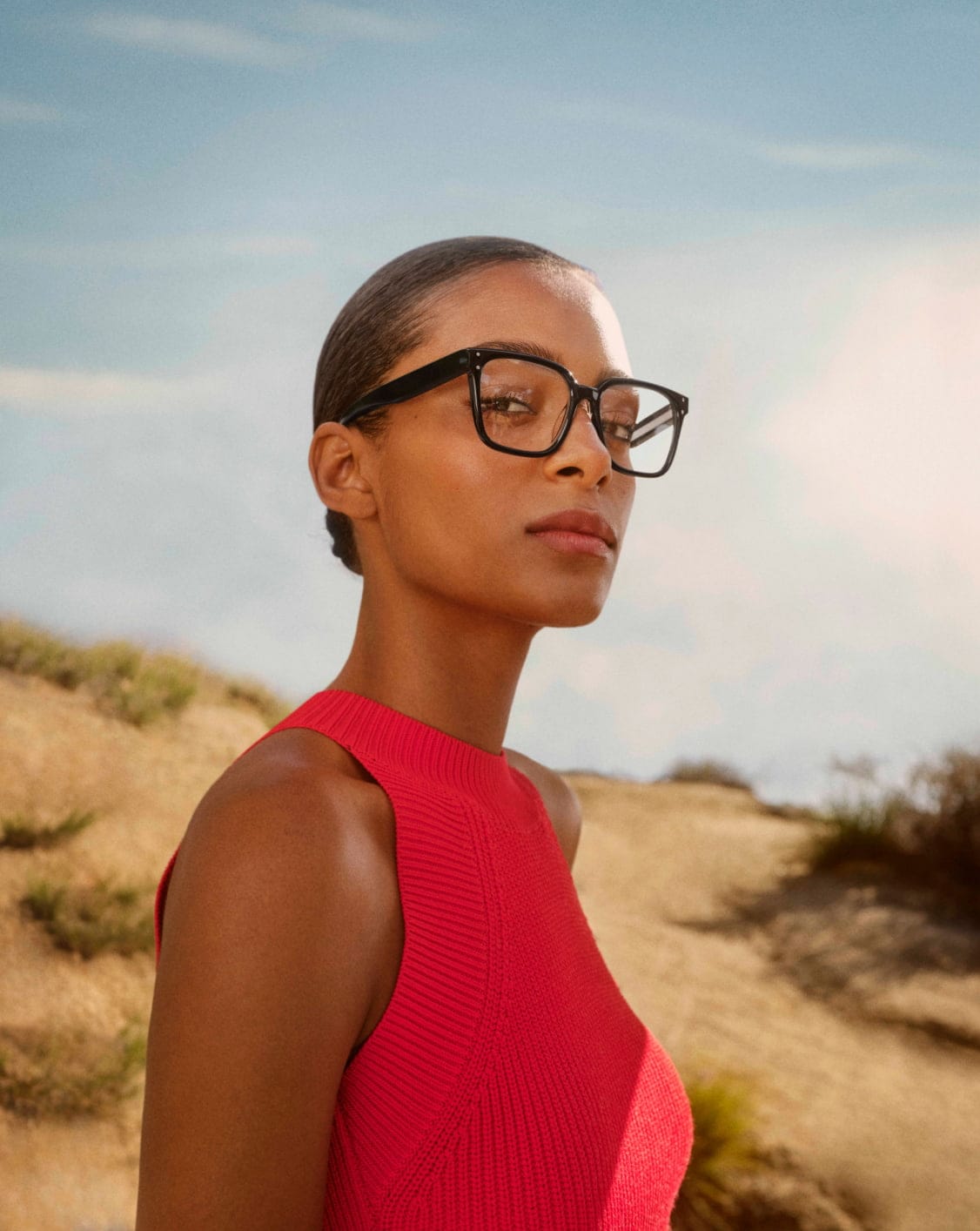 Parcell stands out with its oversized shape and Sunset Tower-inspired filigree.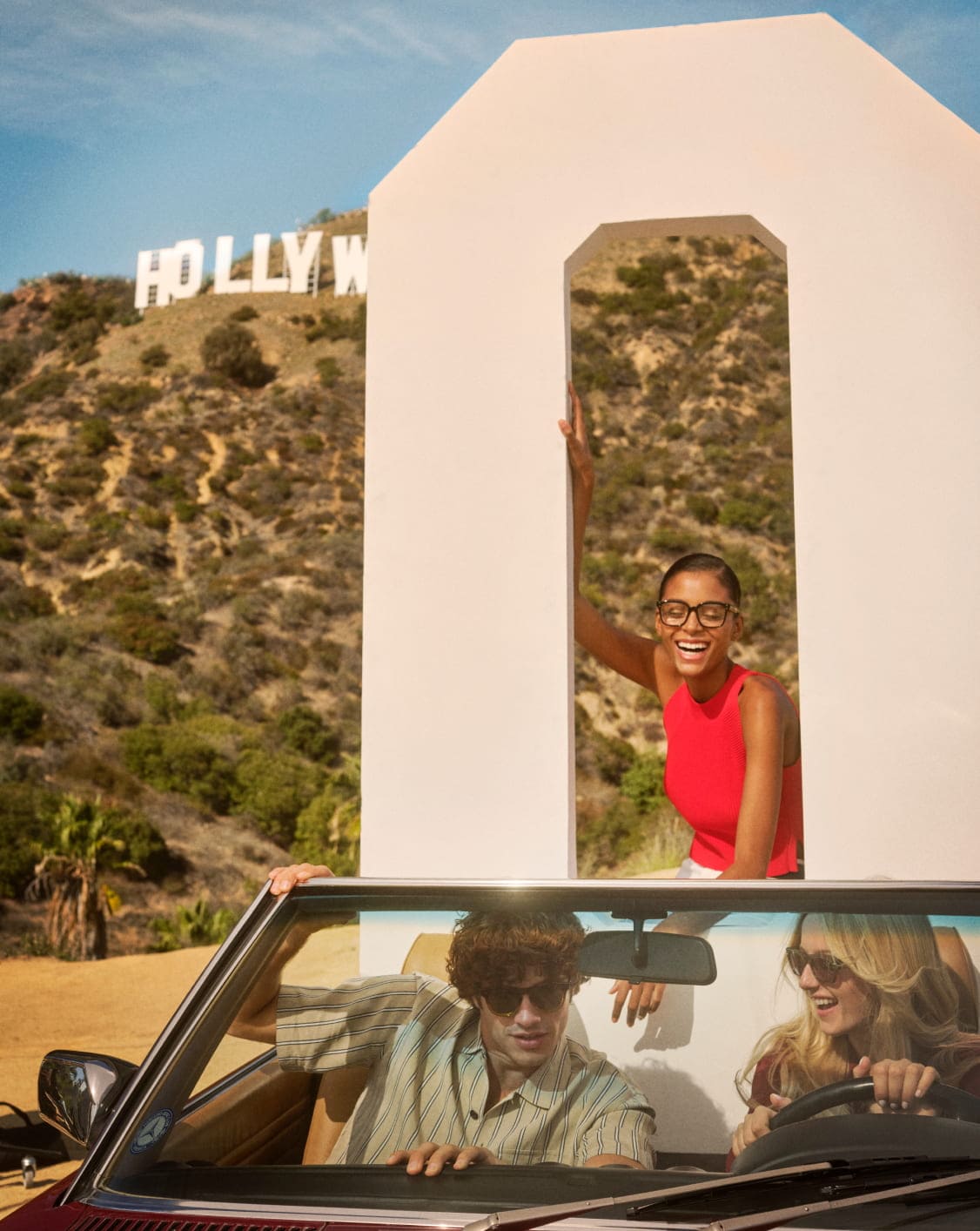 The filmmaker calls the shots in Dresner.
Within the Spring 2023 campaign, a charming trio of characters, all adorned in Oliver Peoples, runs off with the O on foot, only to be joined by friends after they hop into a getaway car—which happens to be a vintage Mercedes-Benz convertible. Soon after, the luscious red classic car slips onto Sunset Boulevard and makes its way to a spectacular home with a pool party unlike any other—where the purloined O bobs alongside those who absconded with it. The characters laze about on floats, soaking wet, in collared shirts and two-piece suits as if nothing out of the ordinary has occurred.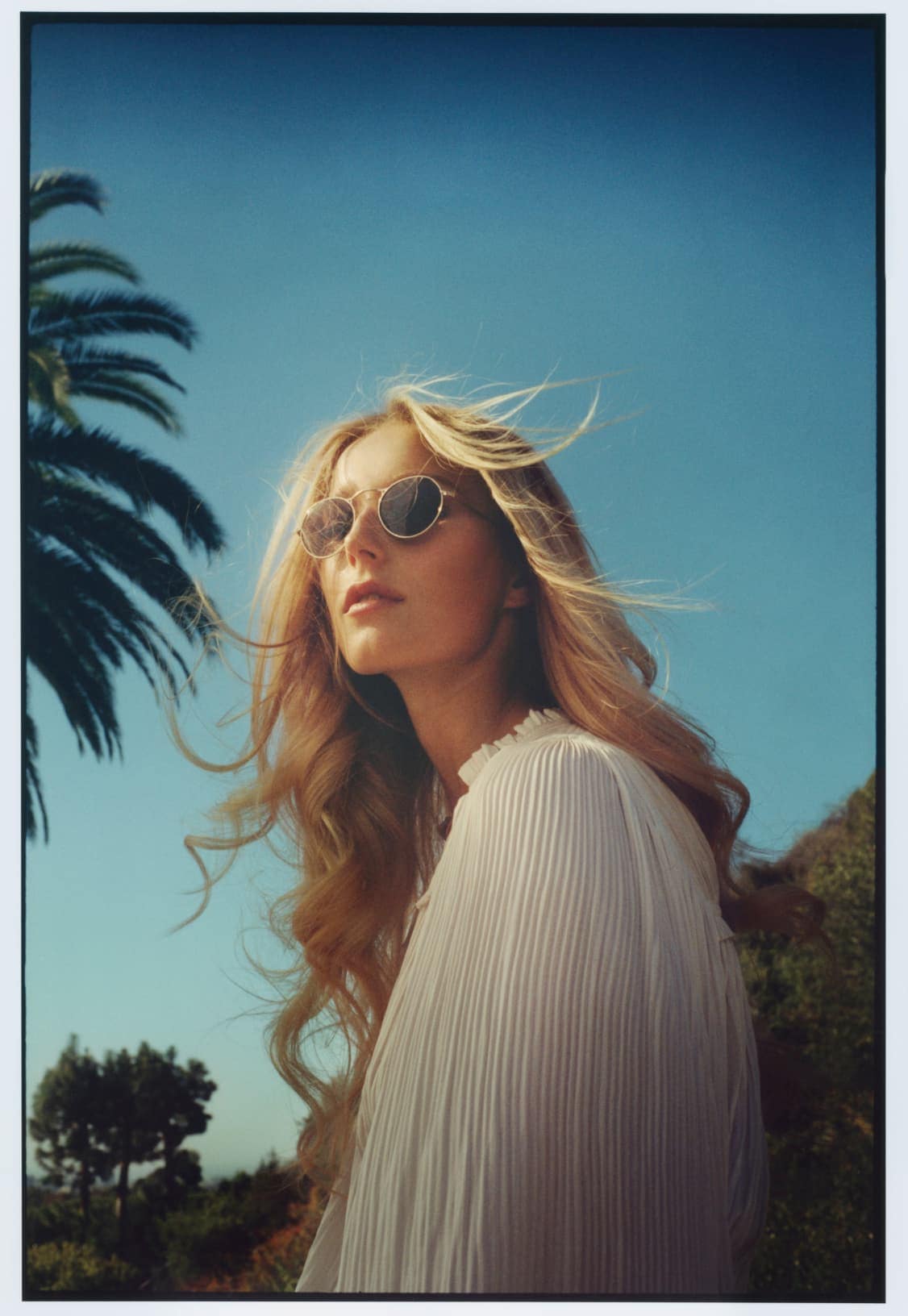 A standout classic, M-4, is seen in new Magenta Photochromic lenses.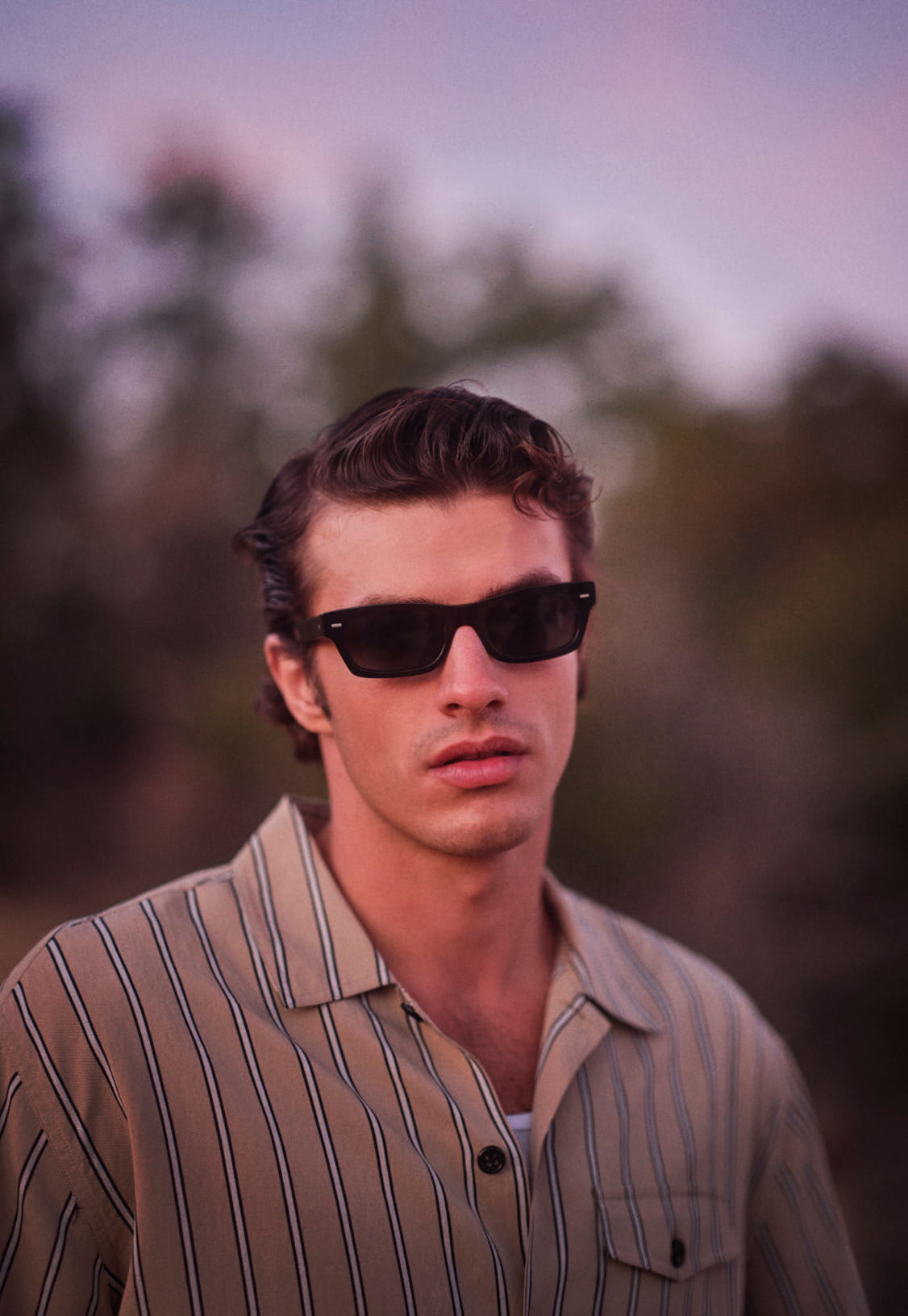 Made in Japan, Davri is a stylish, shallow sunglass.
An amalgam of retro aesthetics suffuses the clever campaign, which is composed of elements woven from the stylish stretch between the late 70s and the early 90s. British photographer, Tom Craig, captured it all and makes reference to an array of famous films and photographs.

There's a collision between high design, Warhol-like Pop Art sensibilities and cinematic action. Altogether, it's cast through the lens of Los Angeles and undeniably Oliver Peoples.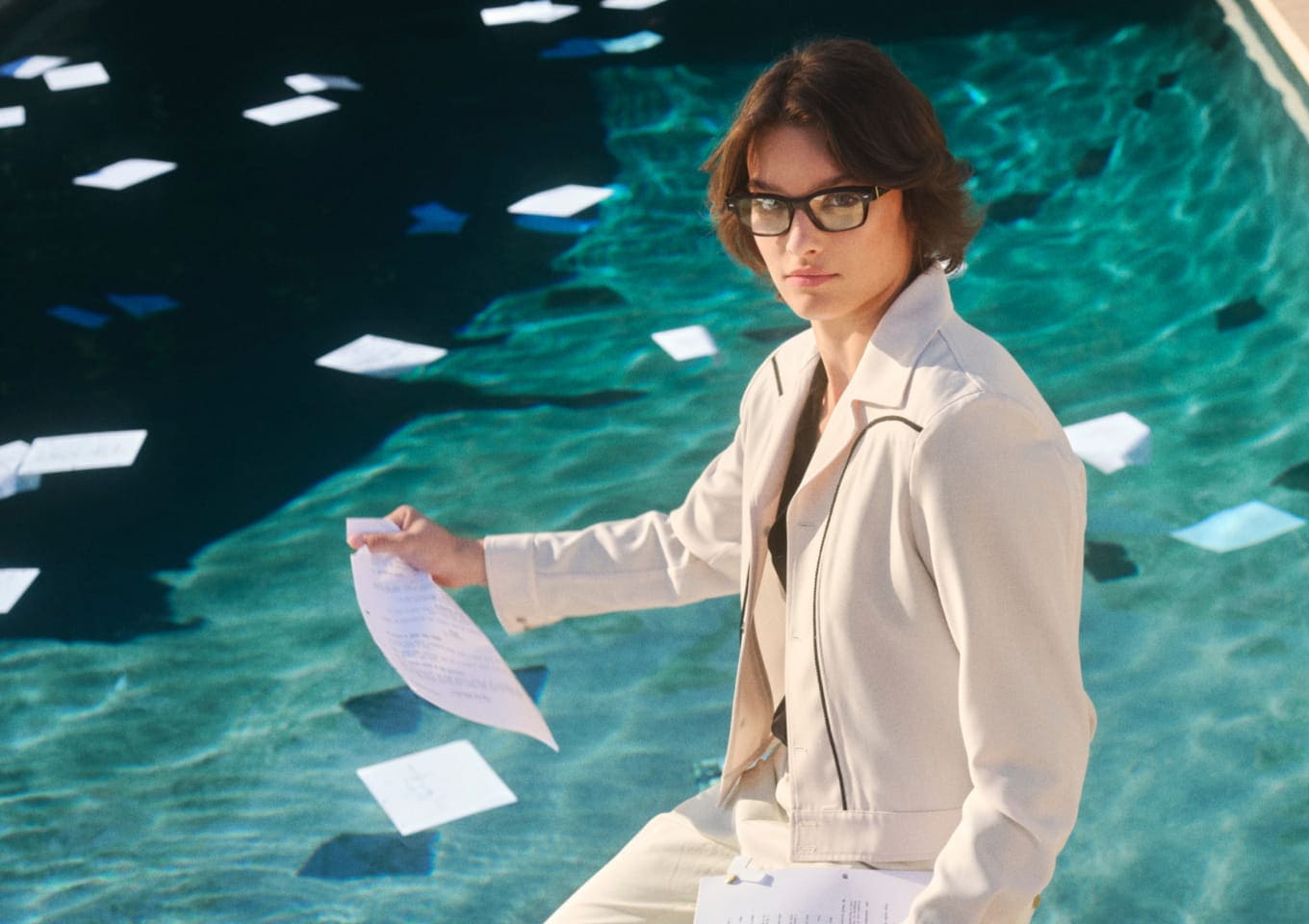 The poolside edit in Latimore.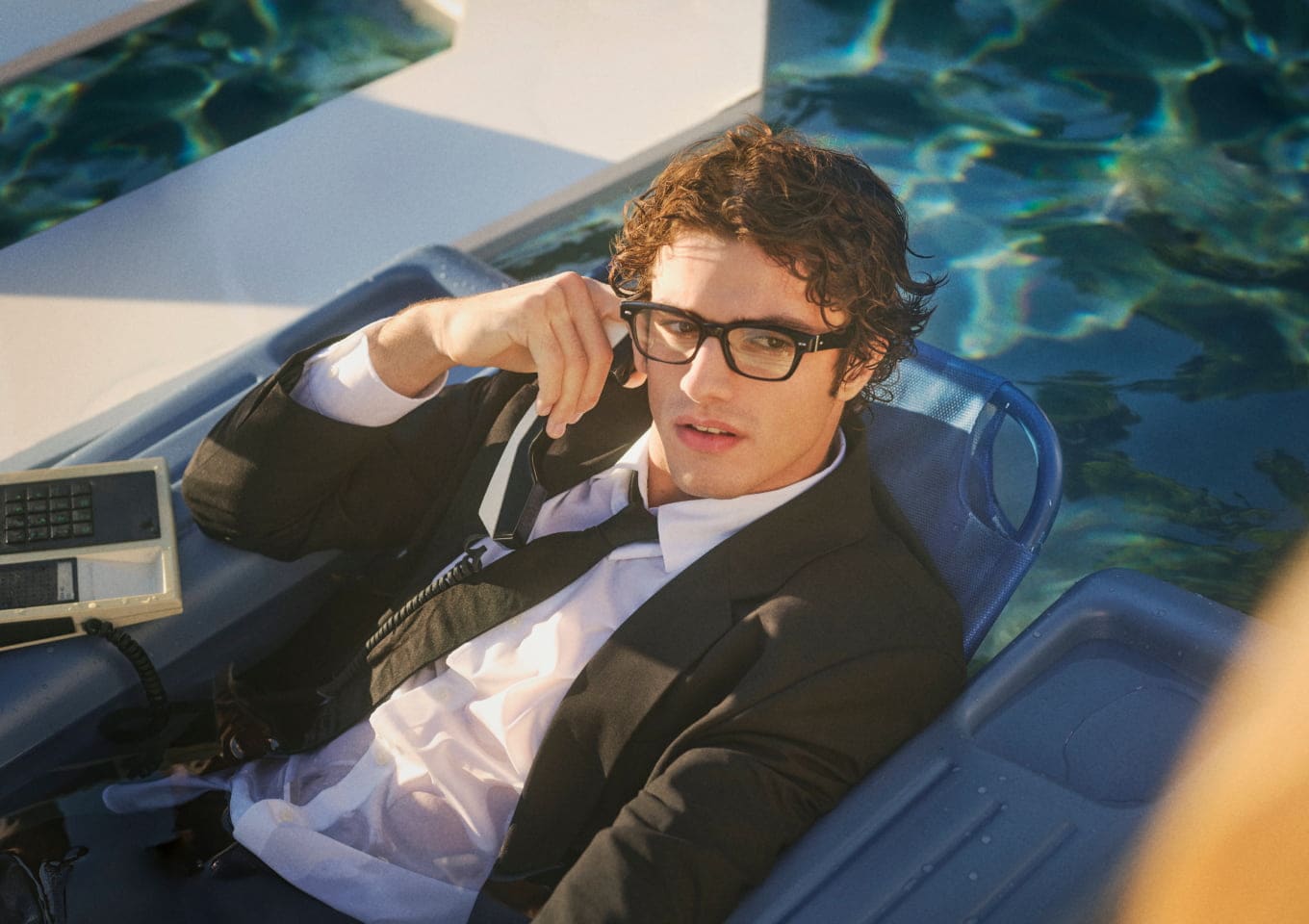 Floating meetings in Latimore.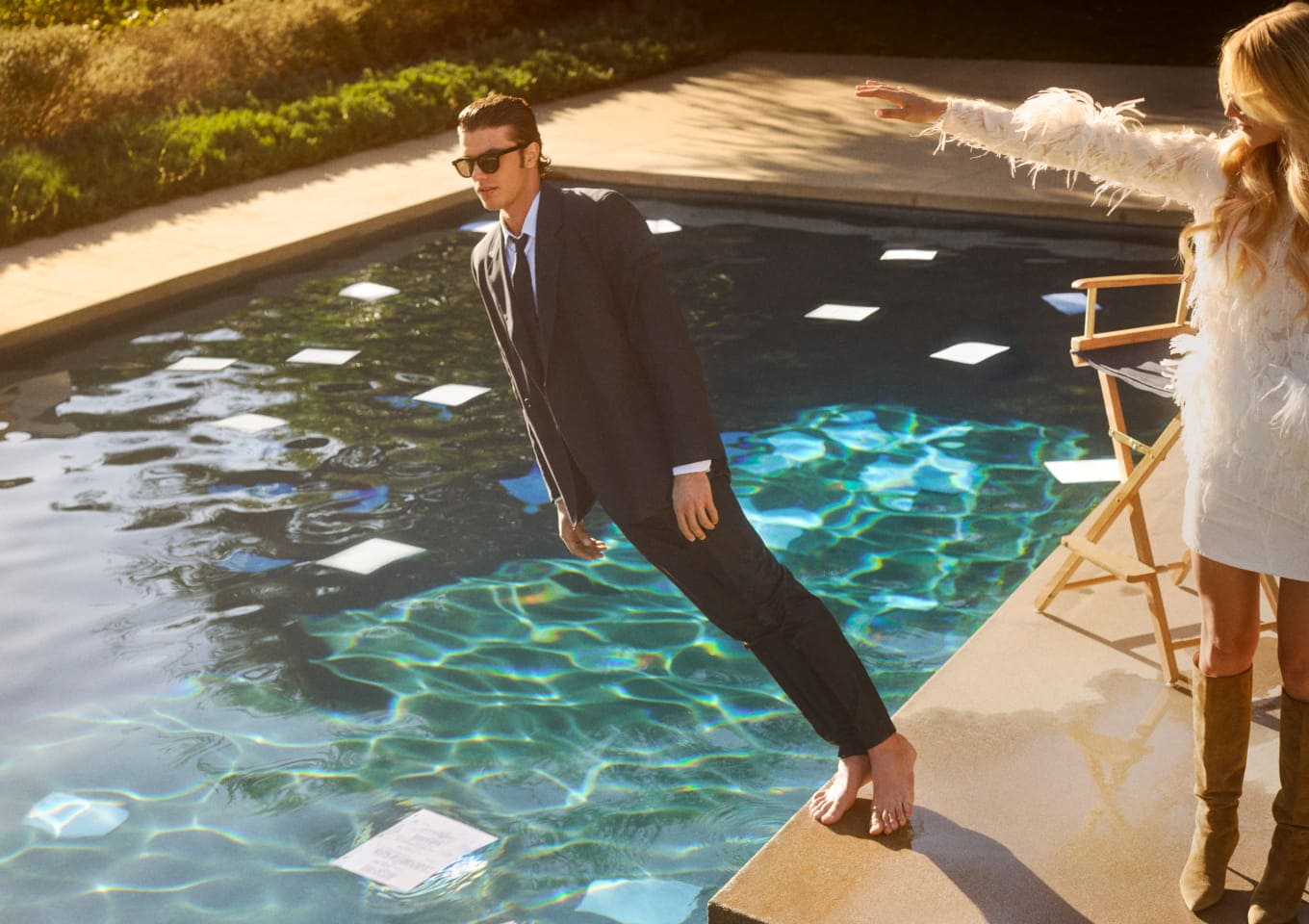 A movie star stunt in Rorke.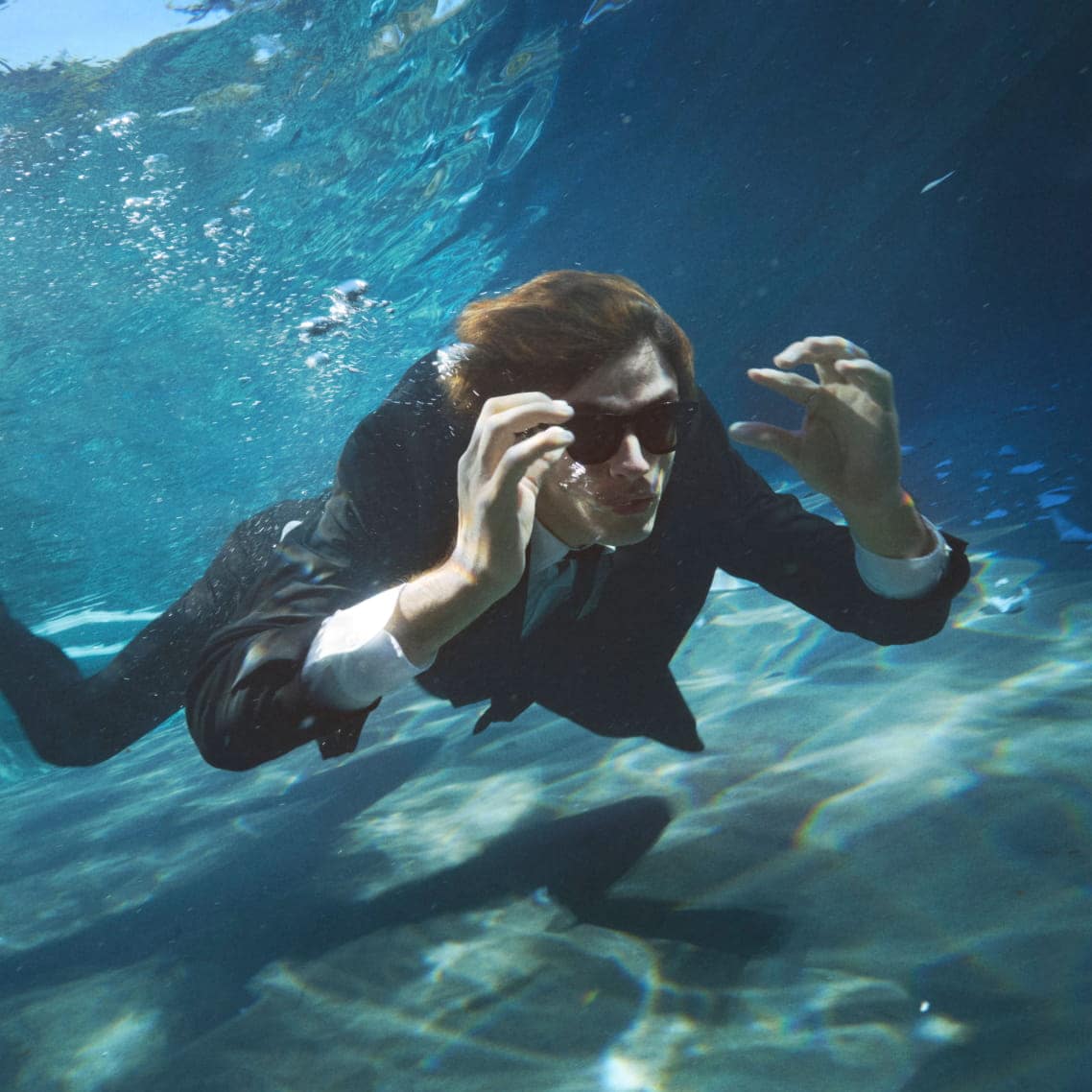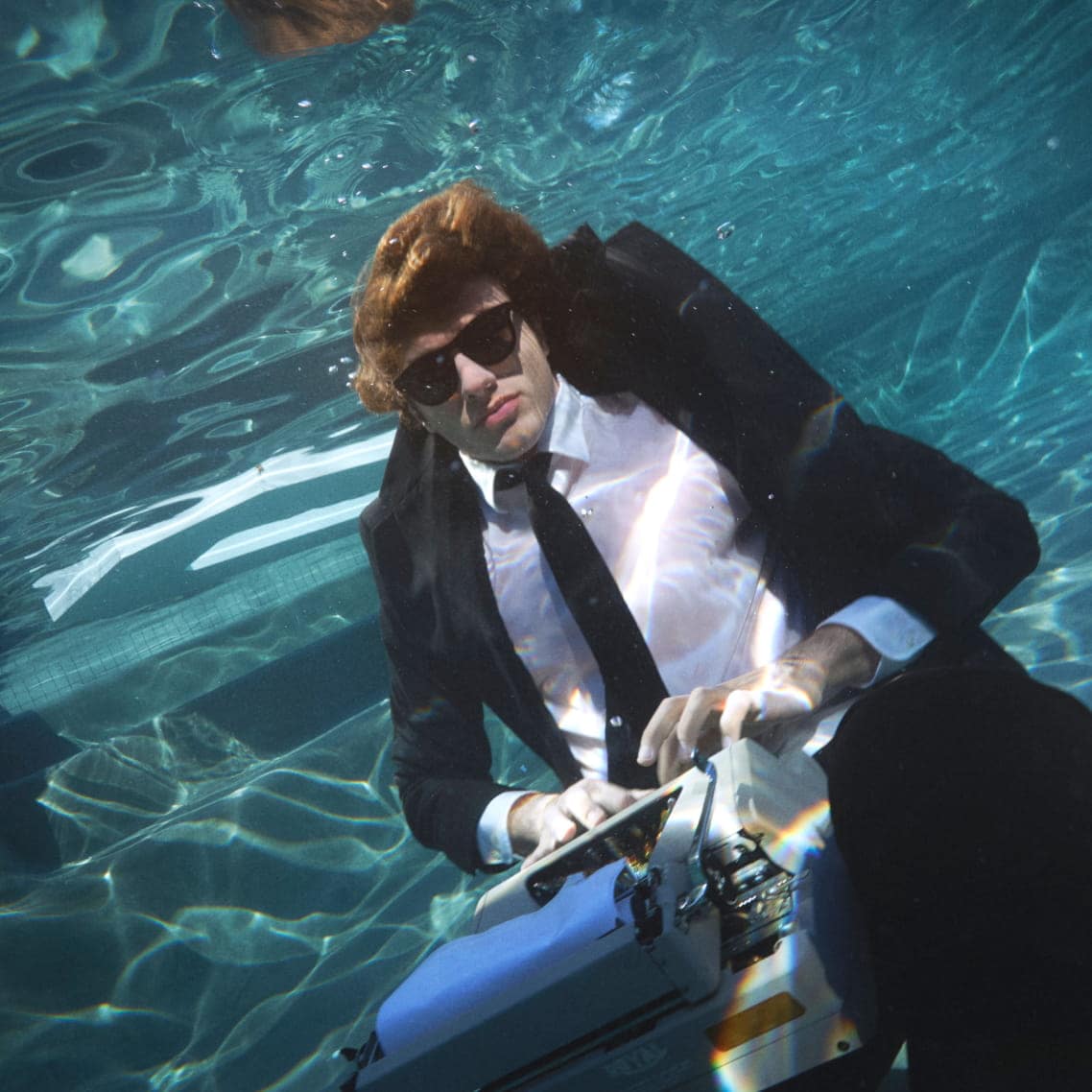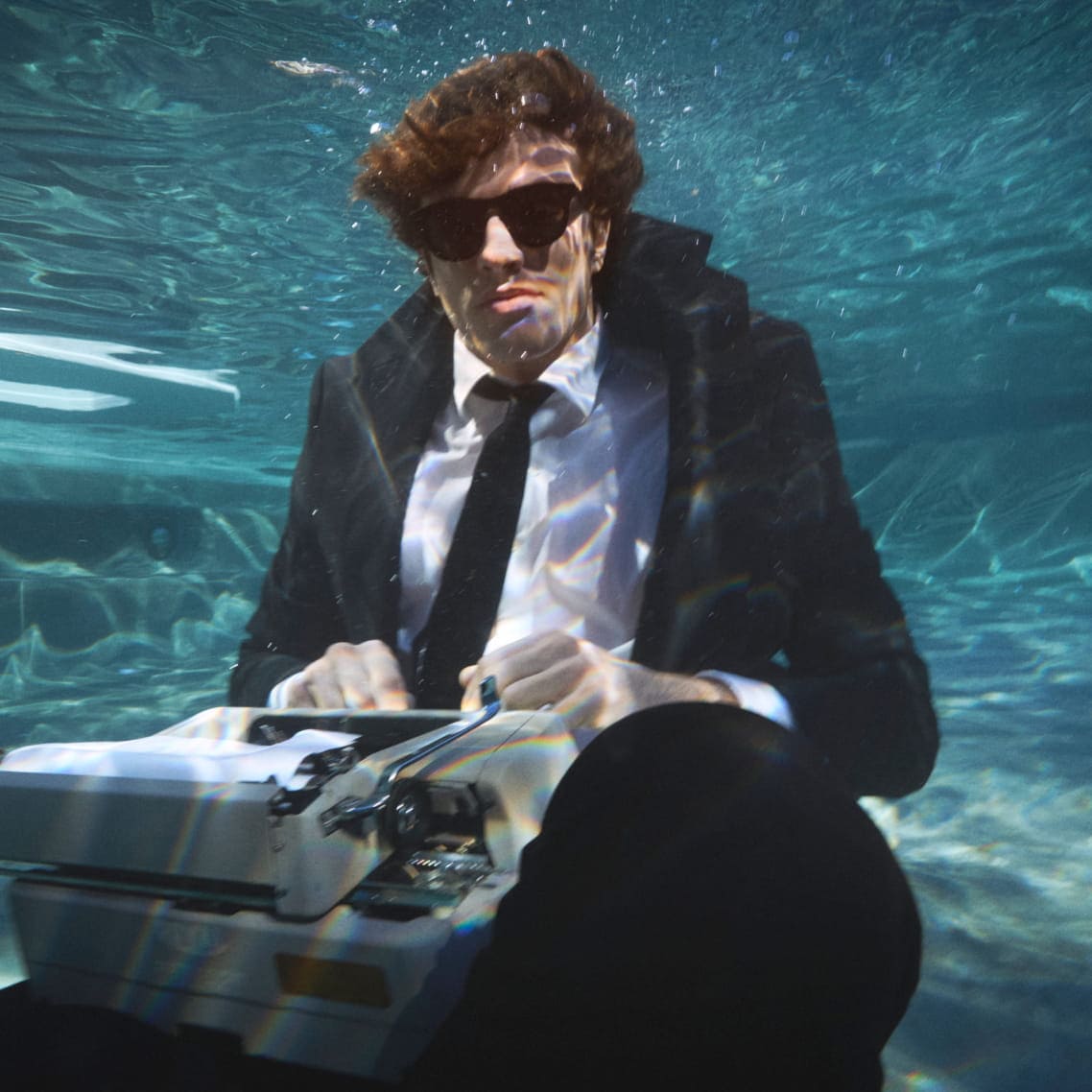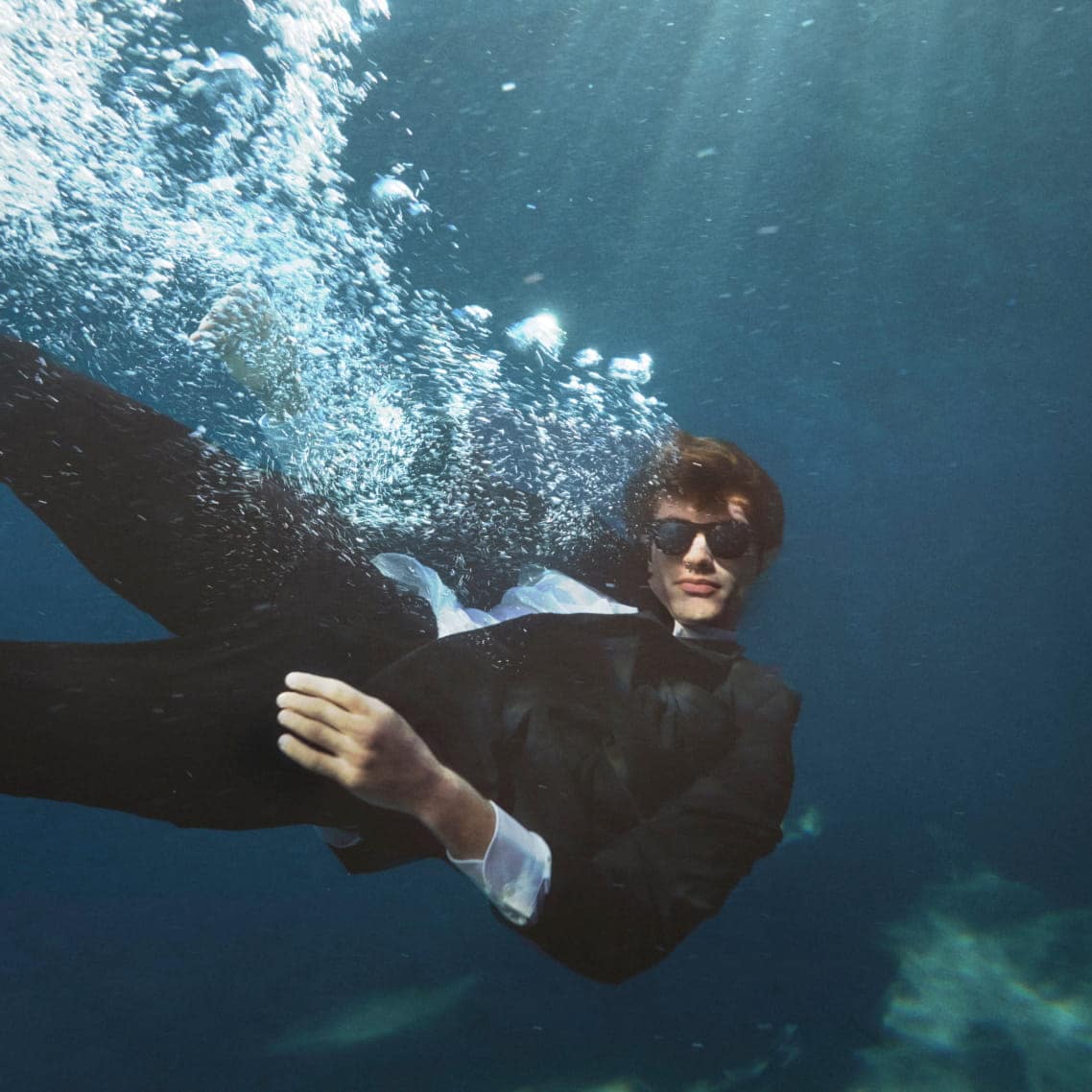 Though the elevated eyewear brand has always looked to celebrate its Southern California roots through its campaigns, the surreal Spring 2023 imagery and its upturned iconography marks the continuation of a nostalgia-powered, referential transformation for Oliver Peoples. An energized essence of the Los Angeles mood has been embraced here—and it offers a glimpse at Hollywood in a way that no one has ever seen before.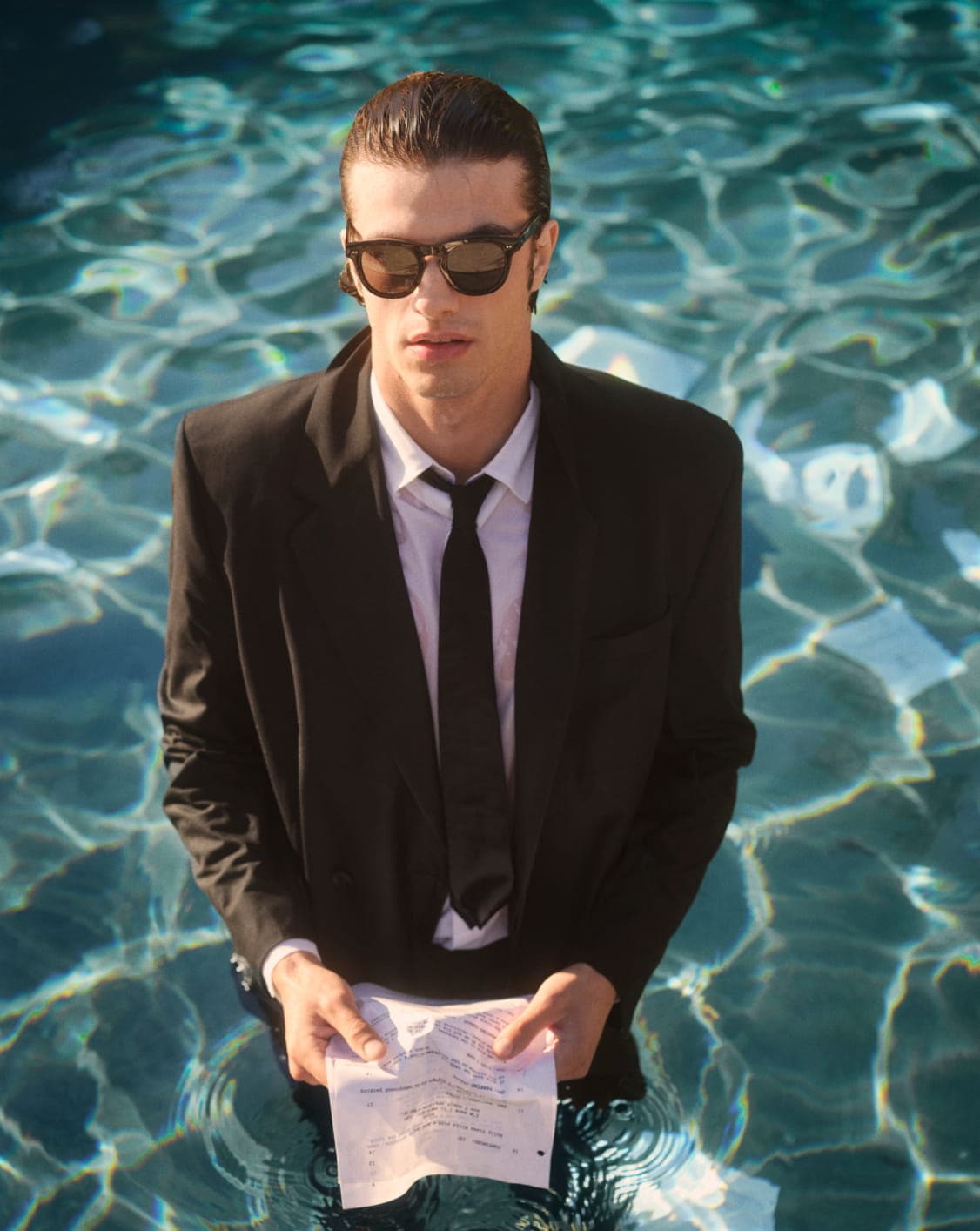 Our leading man in Rorke.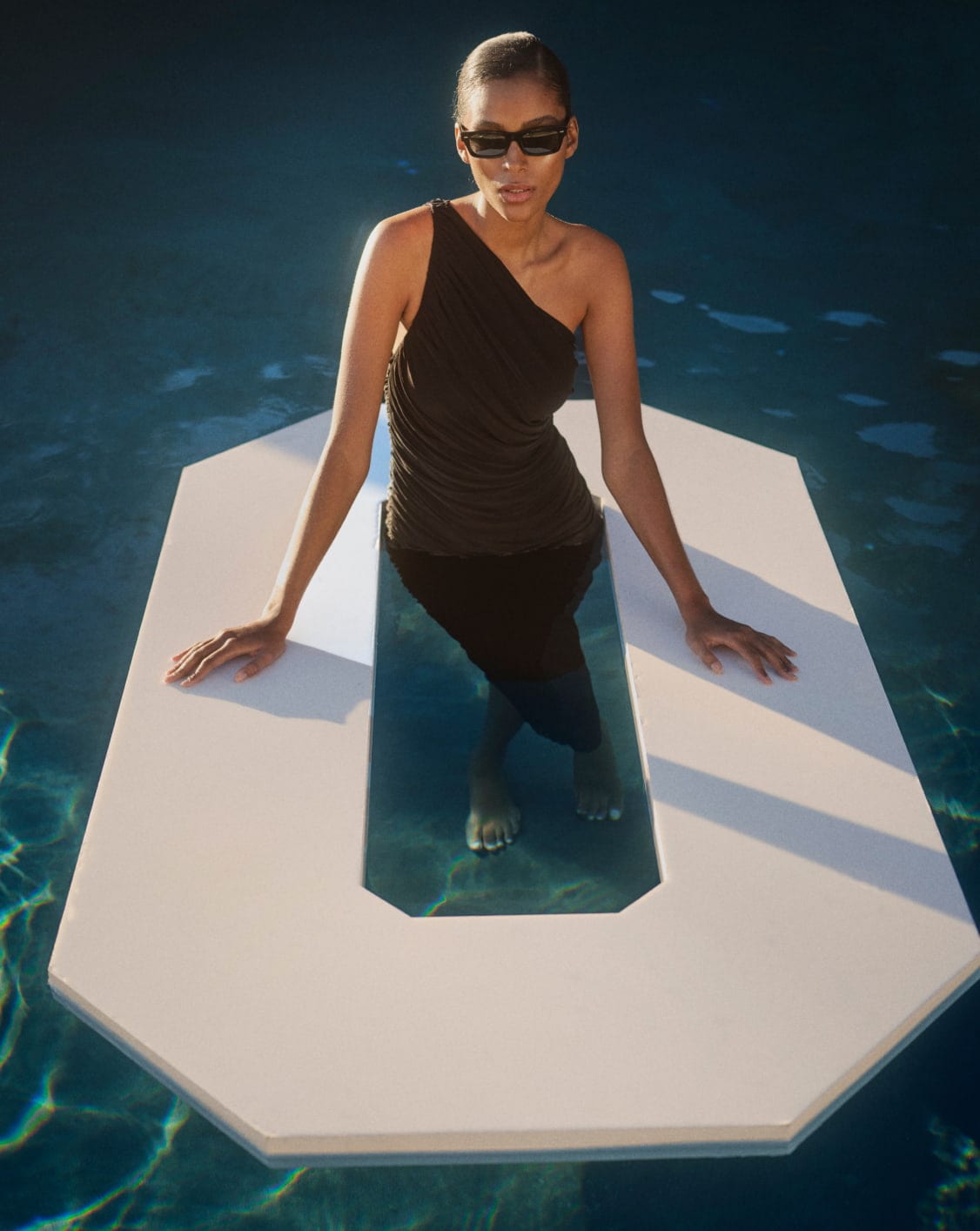 A grand finale for the "O" in Davri.
PHOTOS: Tom Craig
WORDS: David Graver
VIDEO: Tyler Weinberger