Craftsmanship | Campaigns | Collaborations

15 Min Reading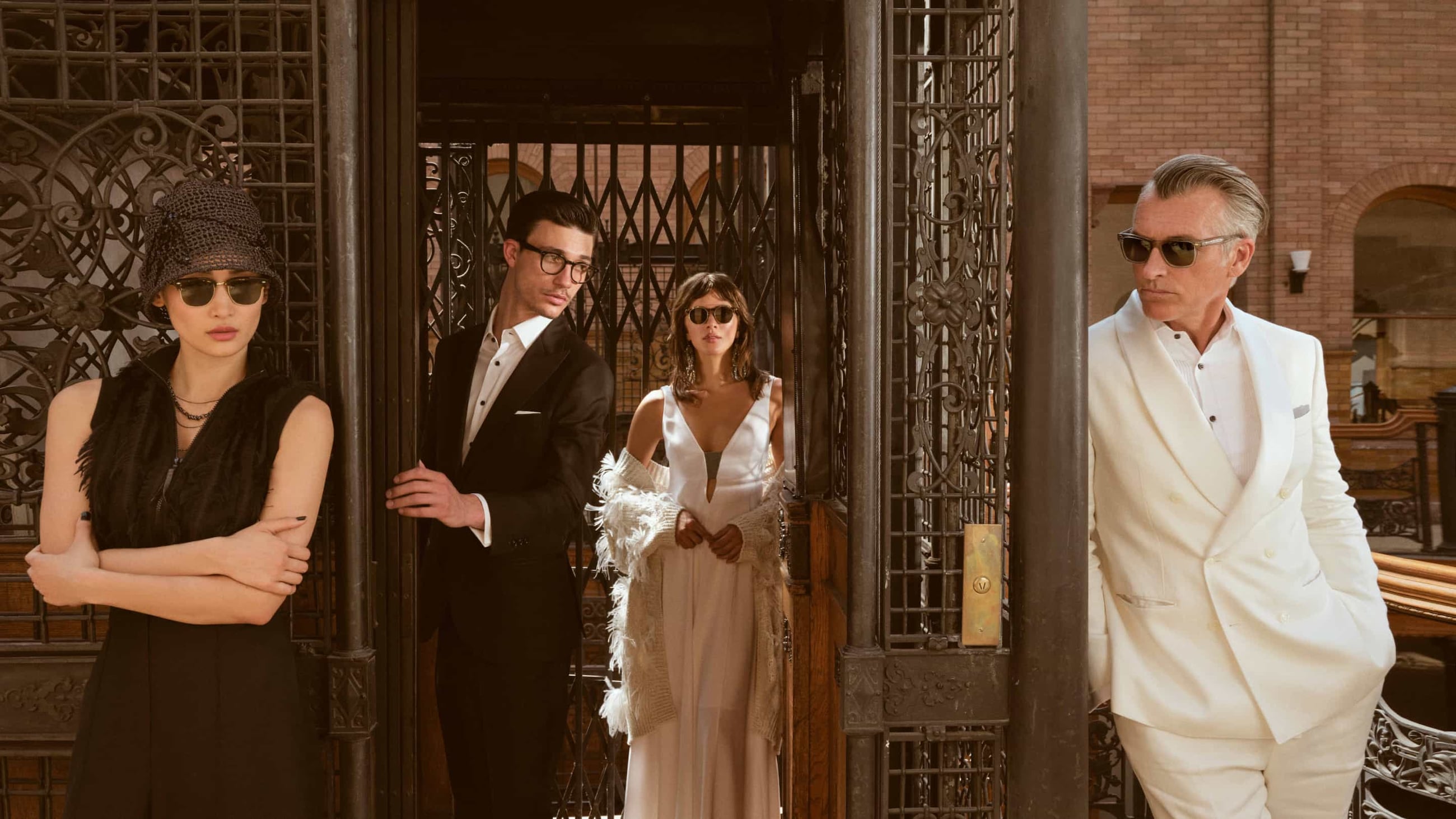 Play Video
Loading
Pause Video
Cinematic Style: Oliver Peoples and Brunello Cucinelli Spring 2022
Influenced by the Golden Age of Hollywood, the Oliver Peoples Brunello Cucinelli Spring 2022 collection is presented in a suspenseful campaign shot at the famed, Bradbury Building.
Setting is essential for both Oliver Peoples, with its luminous Southern California heritage, and Brunello Cucinelli, rooted in Solomeo, Italy. For the debut of their second collaboration, composed of meticulously crafted styles for Spring 2022, LA's Bradbury Building does more than host the campaign, it plays a central role in it. From the Golden Age of Hollywood onward, this architectural marvel has accumulated cinematic credits and underscored the influential power of location in film. Now, a cast of characters adorned with the collaborative eyewear collection is the latest to converse with the historic edifice.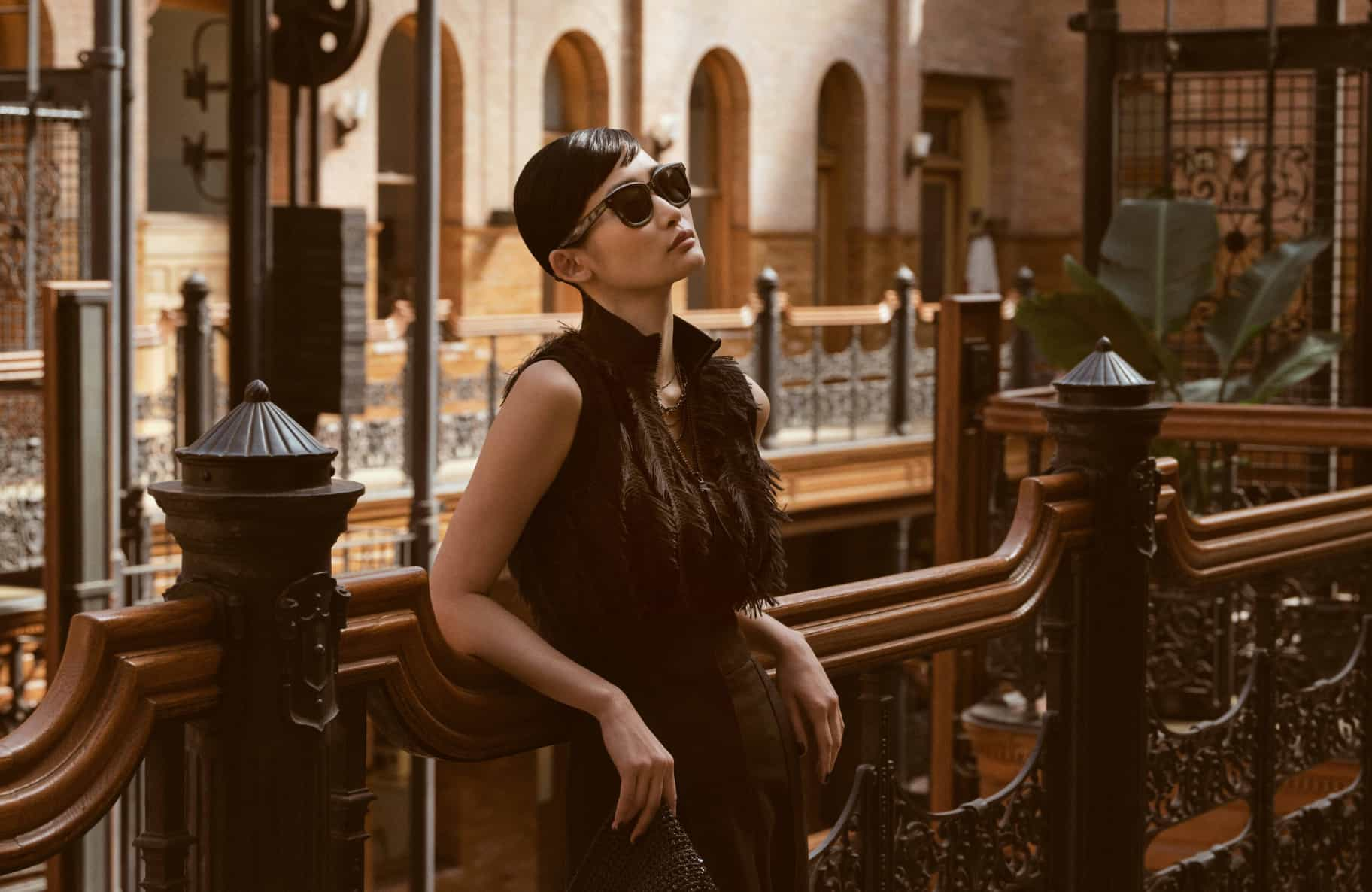 Against the intricate wood and iron details of the Bradbury Building, Filu' Horn is seen in Black Grey.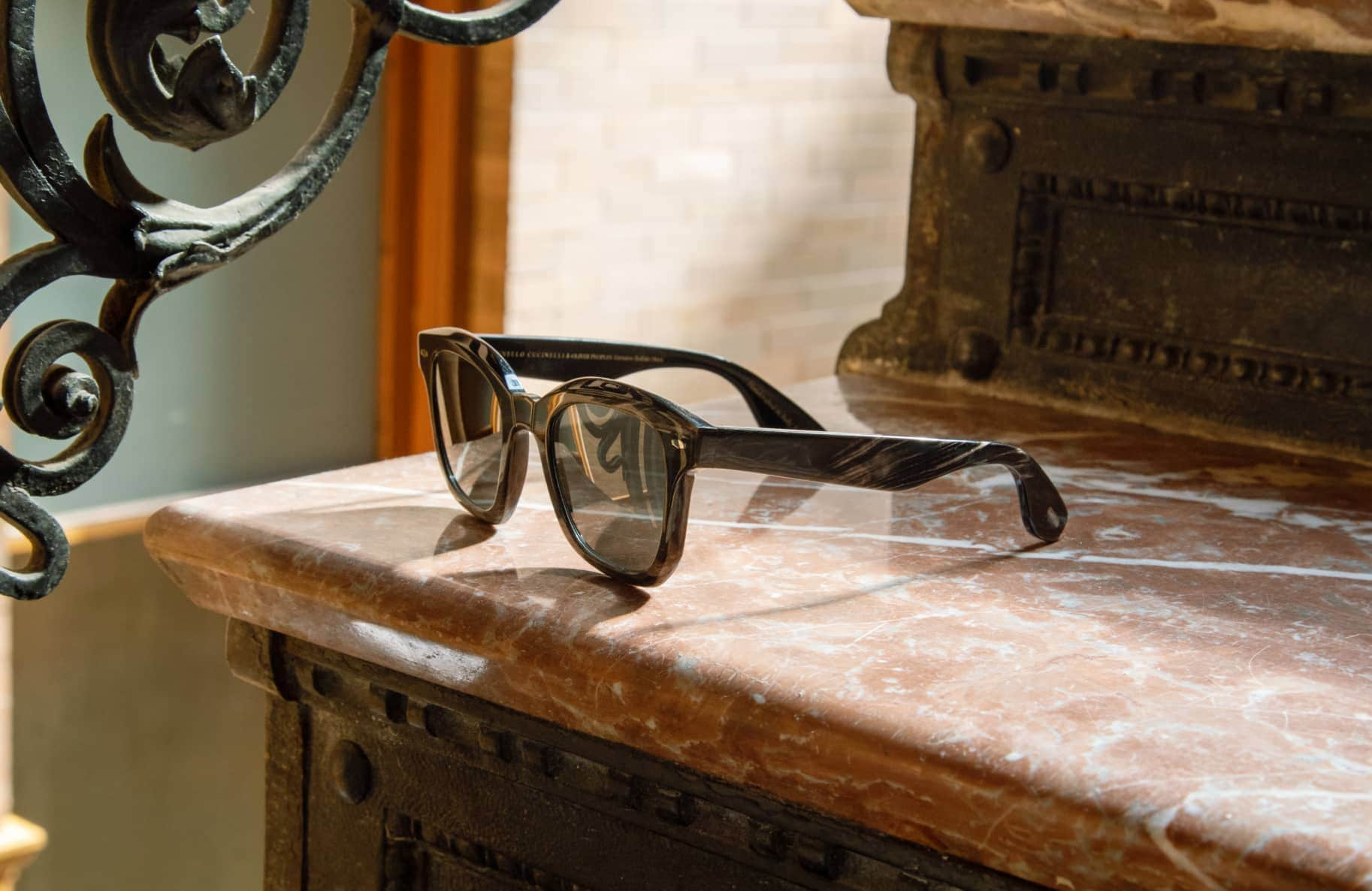 Commissioned by a 19th century scion and constructed by draftsman, George Wyman in 1893, the Bradbury Building's Italian Renaissance Revival exterior conceals an ornate and awe-inducing central courtyard. Rising five stories, the lavish interior pairs pristine Italian marble and decorative tiles with wrought-iron railings and polished wood. Mesmerizing staircases ascend to a skylight that floods the space with light. Unmatched in its particular expression of grandeur, this landmark joined the National Register of Historic Places in 1971.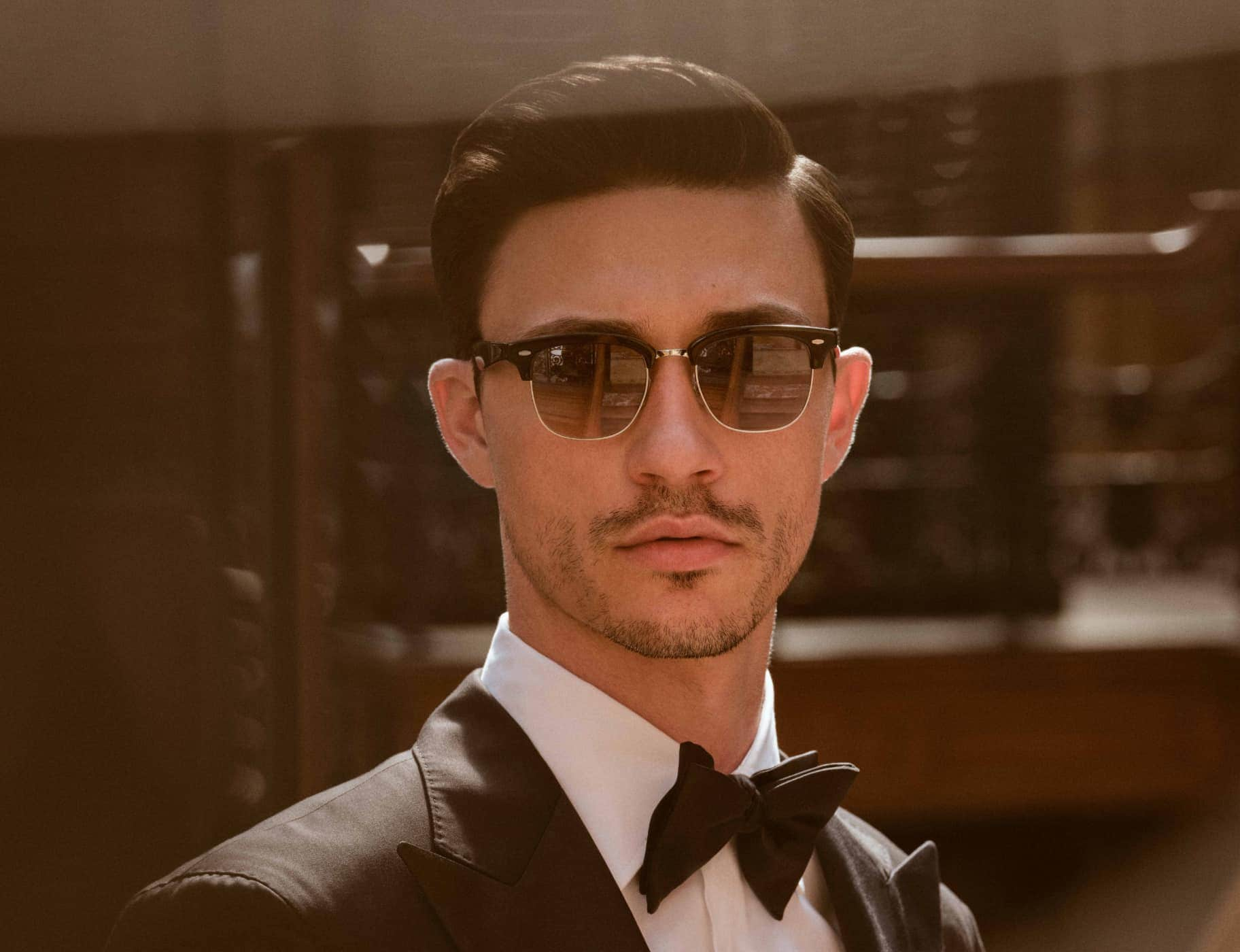 A timeless Brunello Cucinelli tuxedo is paired with the classic look of Capannelle in Dark Amber Smoke + Silver.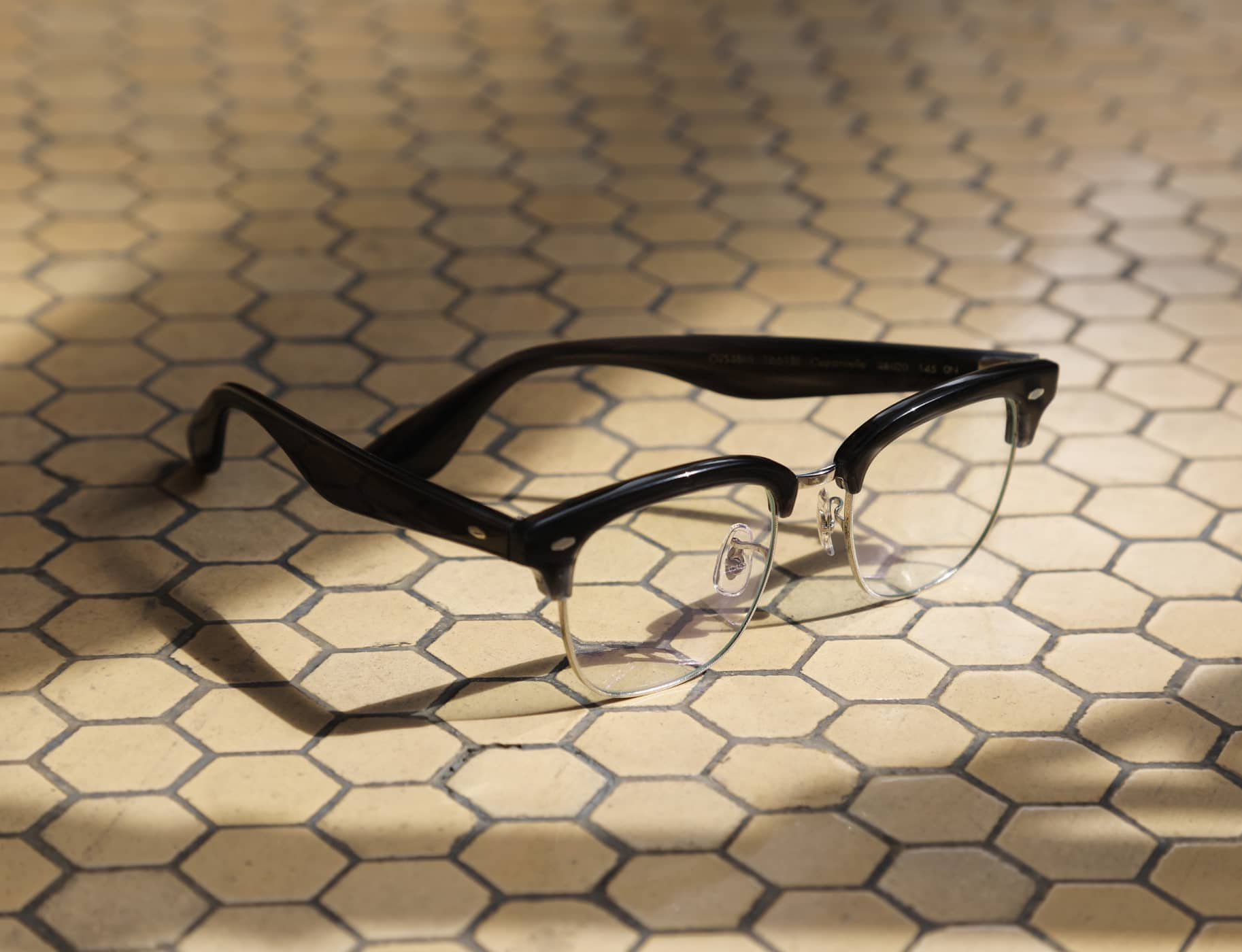 In addition to sun, the frame can also be found with blue light filter lenses.
For nearly a century, the Bradbury Building has been featured in films and influenced modern, cinematic style. Playing in period pieces, genre-defying movies, and pop culture darlings, the icon's interiors have adopted innumerable identities. The destination has welcomed archetypal characters that would define decades—and was the centerpiece of technical and storytelling innovation. As cinema developed, the Bradbury Building continued to meet its needs.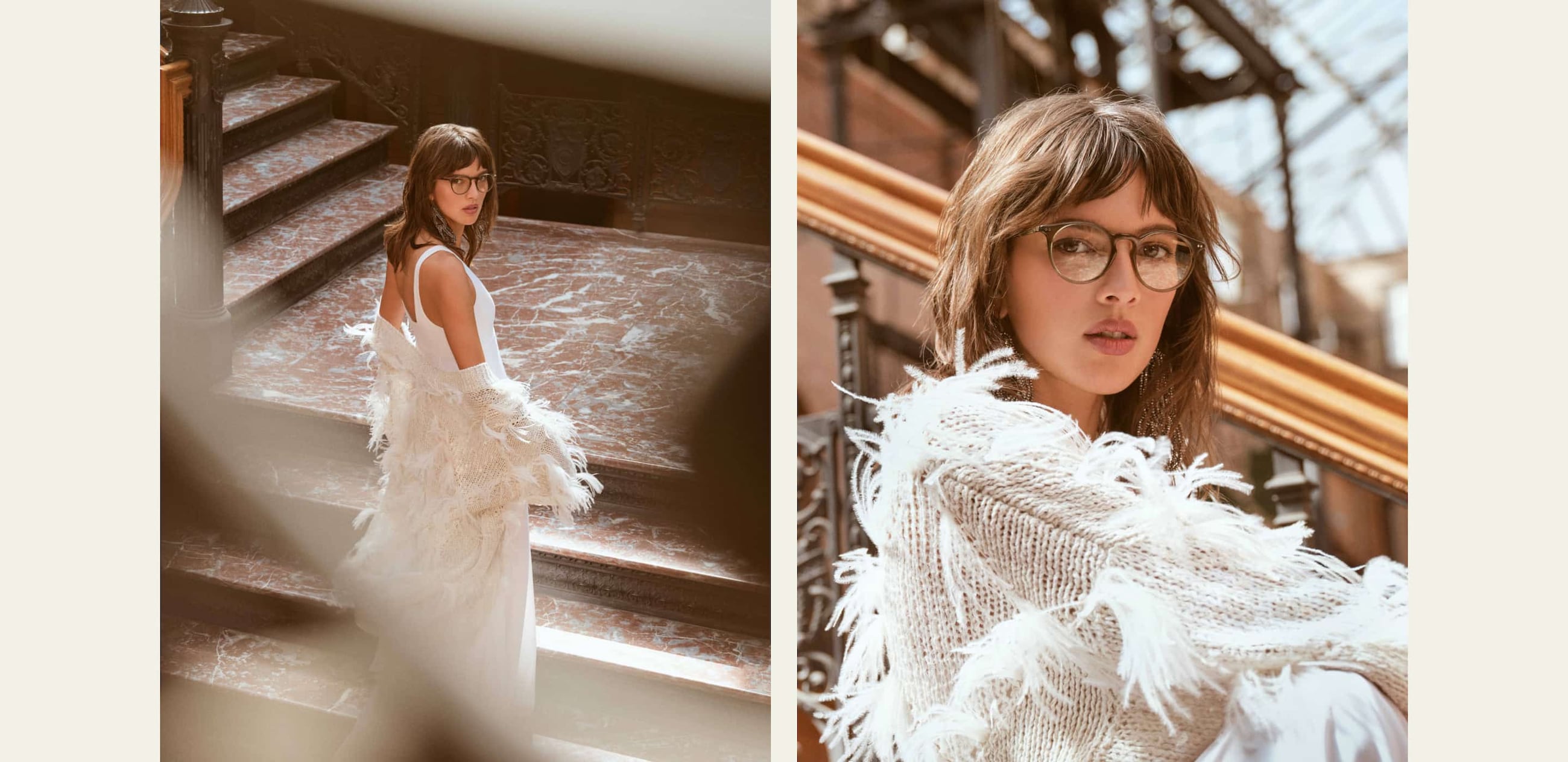 A modern moment of old Hollywood glamour, Eduardo-R is seen in Dusty Olive + Antique Gold with Blue Light Filter.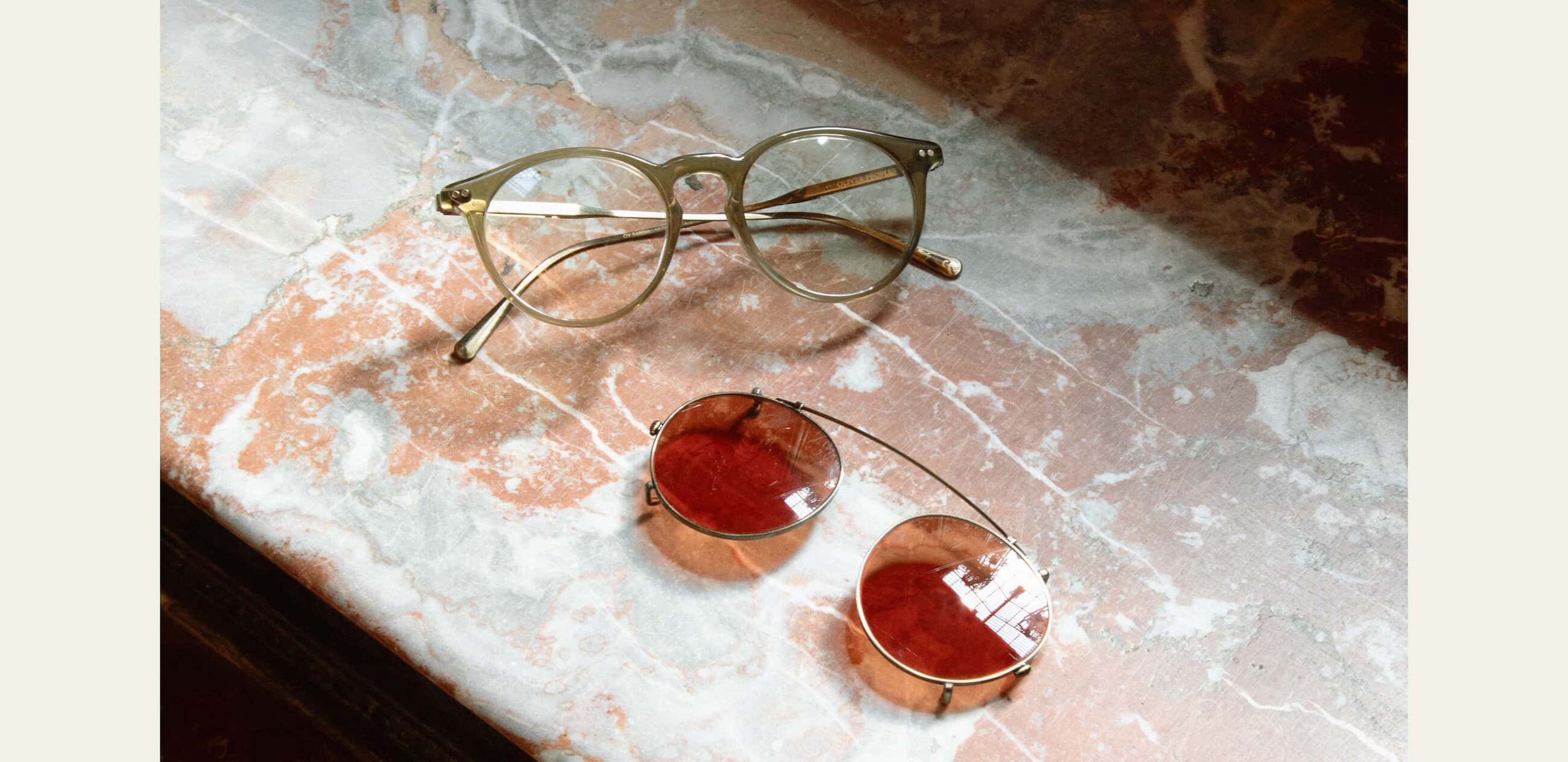 This vintage-inspired design can be worn with or without clip detail.
In addition to the site's sterling cinematic reputation, its ornate iron interiors feel directly connected to Oliver Peoples and Brunello Cucinelli—aligning with the former's custom filigree corewire and the latter's detailed crest and use of Solomeo's medieval skyline. This further emphasizes that it's an apt setting to honor the latest collection, which introduces four new designs: Capannelle, Gerardo, Eduardo, and Jep.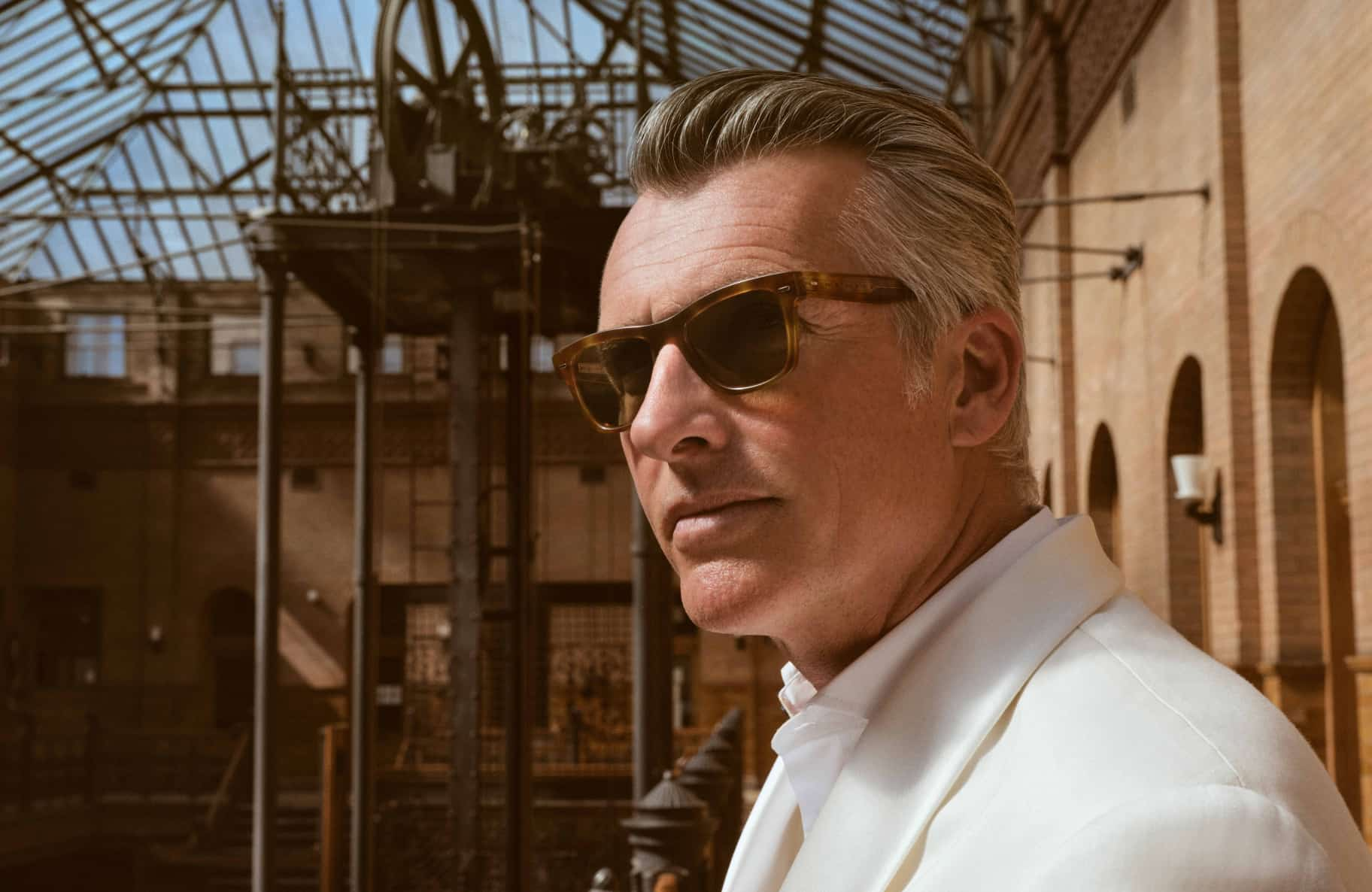 The best-selling Oliver Sun is relaunched in five color pairings exclusive to the collaboration. Featured above in Vintage LBR + Green Photochromic.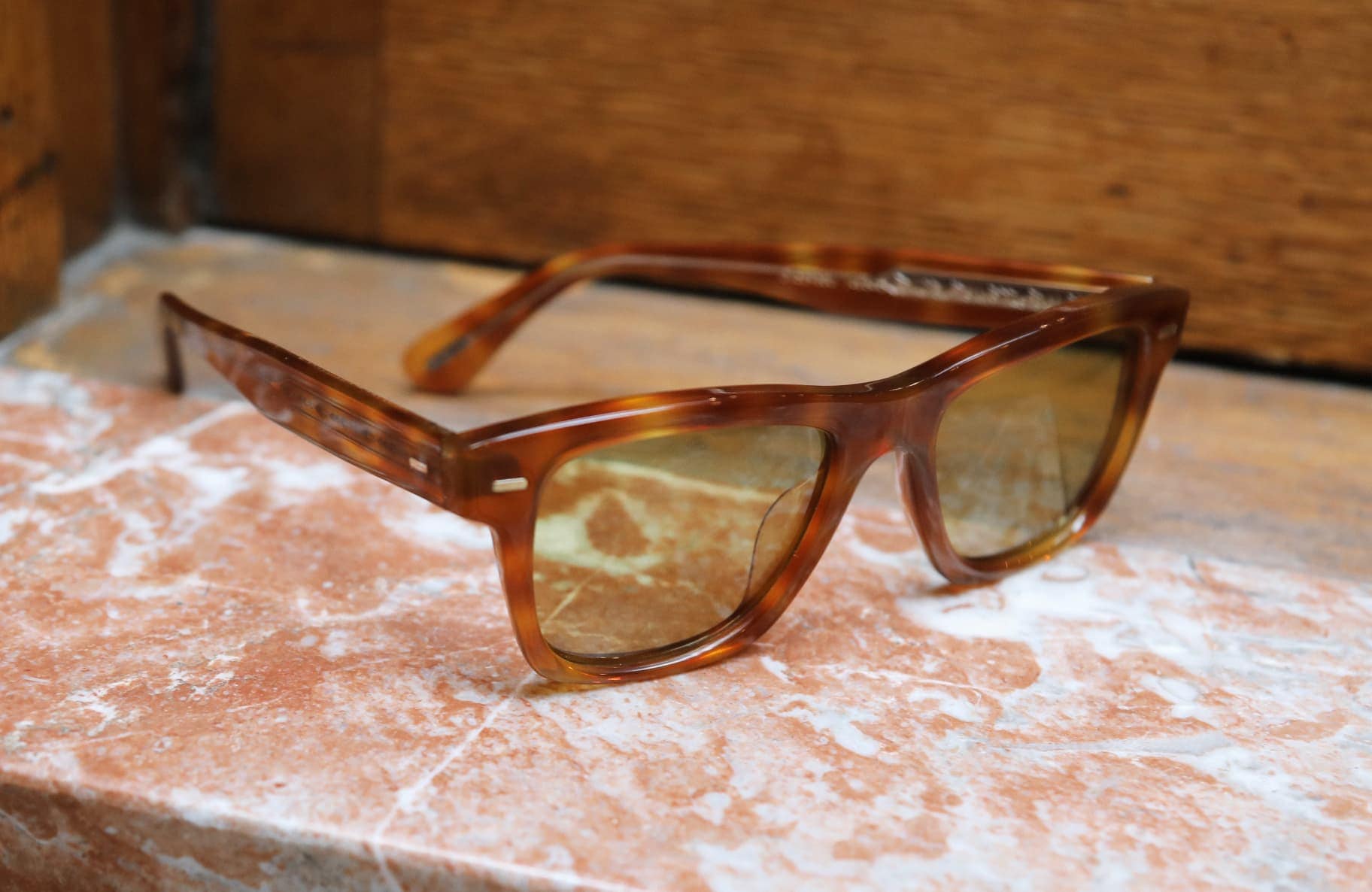 Each expressive style in this collection has been made in Italy and incorporates collaboration exclusive details. Capannelle's retro aesthetic nods to frames from the Golden Age of Hollywood, with a square lens shape and the pairing of acetate and metal detailing on the bridge and eyewire. It's offered with either sun or blue light filter lenses. Crafted with a thin acetate front and precisely proportioned metal temples, Gerardo's sophisticated design complements all face shapes.
Featuring a modern take on the classic panto lens shape, Eduardo incorporates a deep lens and distinct keyhole bridge. In contrast, the vintage-inspired Jep invokes a thick acetate to make a bold impression. Both of these options offer a matching clip-accessory detail as well. A stand-out from the inaugural collaboration, Filu' returns in a sustainably sourced, genuine horn iteration. Jep is also available in this ultra-premium material. Finally, the popular Oliver Sun and its timeless square acetate frame returns in five new exclusive Brunello Cucinelli colorways.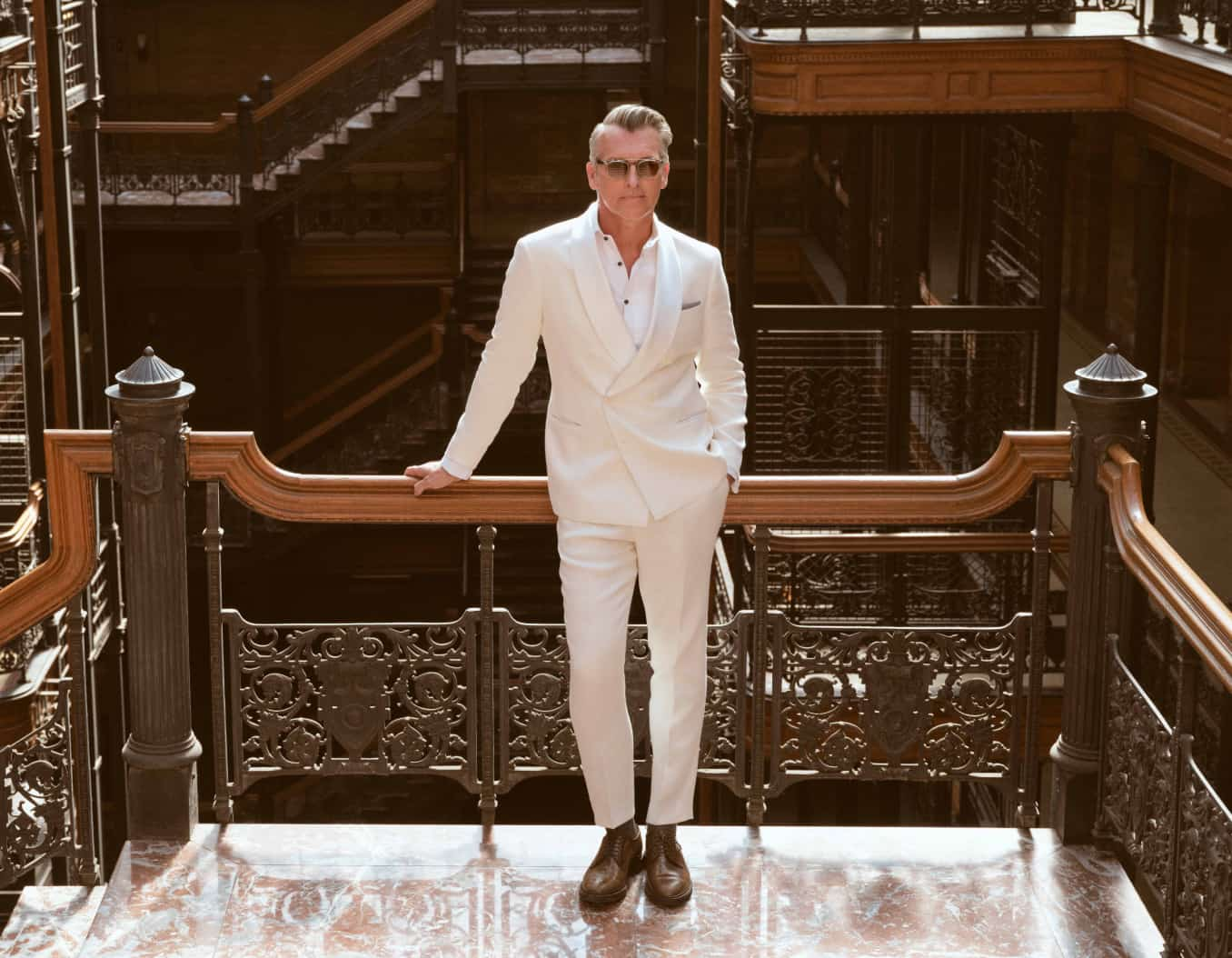 The exquisite look of Jep seen amidst the iconic staircases of the Bradbury Building.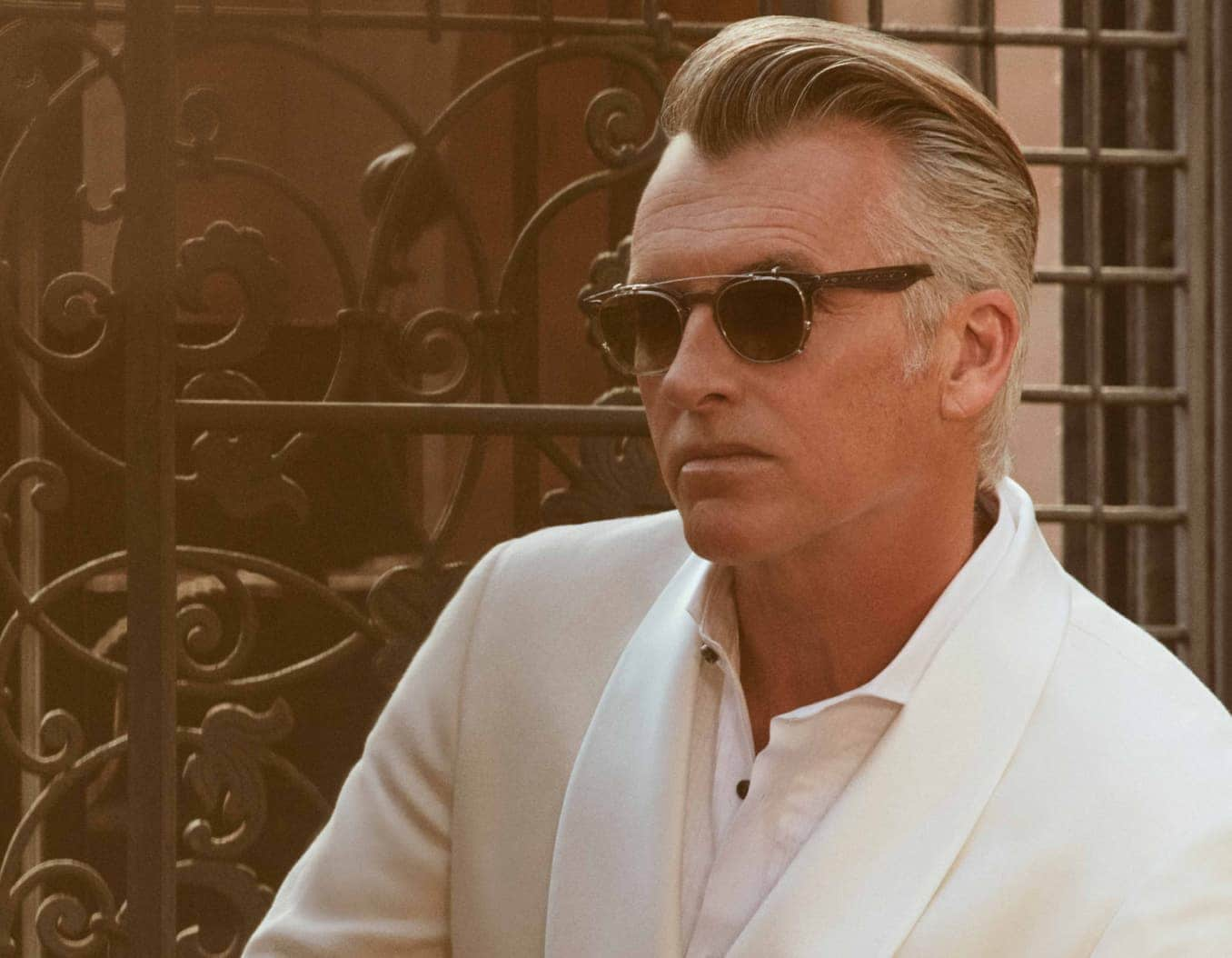 Worn with or without the clip, the frame is a quintessential shape influenced by vintage designs.
Once again, colors throughout the collaboration reference the natural elements that have long-inspired releases by Brunello Cucinelli. Celebrated Oliver Peoples colorways like LBR and Honey VSB, and the resurgence of Canarywood Gradient and Garnet Tortoise, speak to this. Eyewear featuring any of these colors could easily be incorporated into a head-to-toe Brunello Cucinelli ensemble.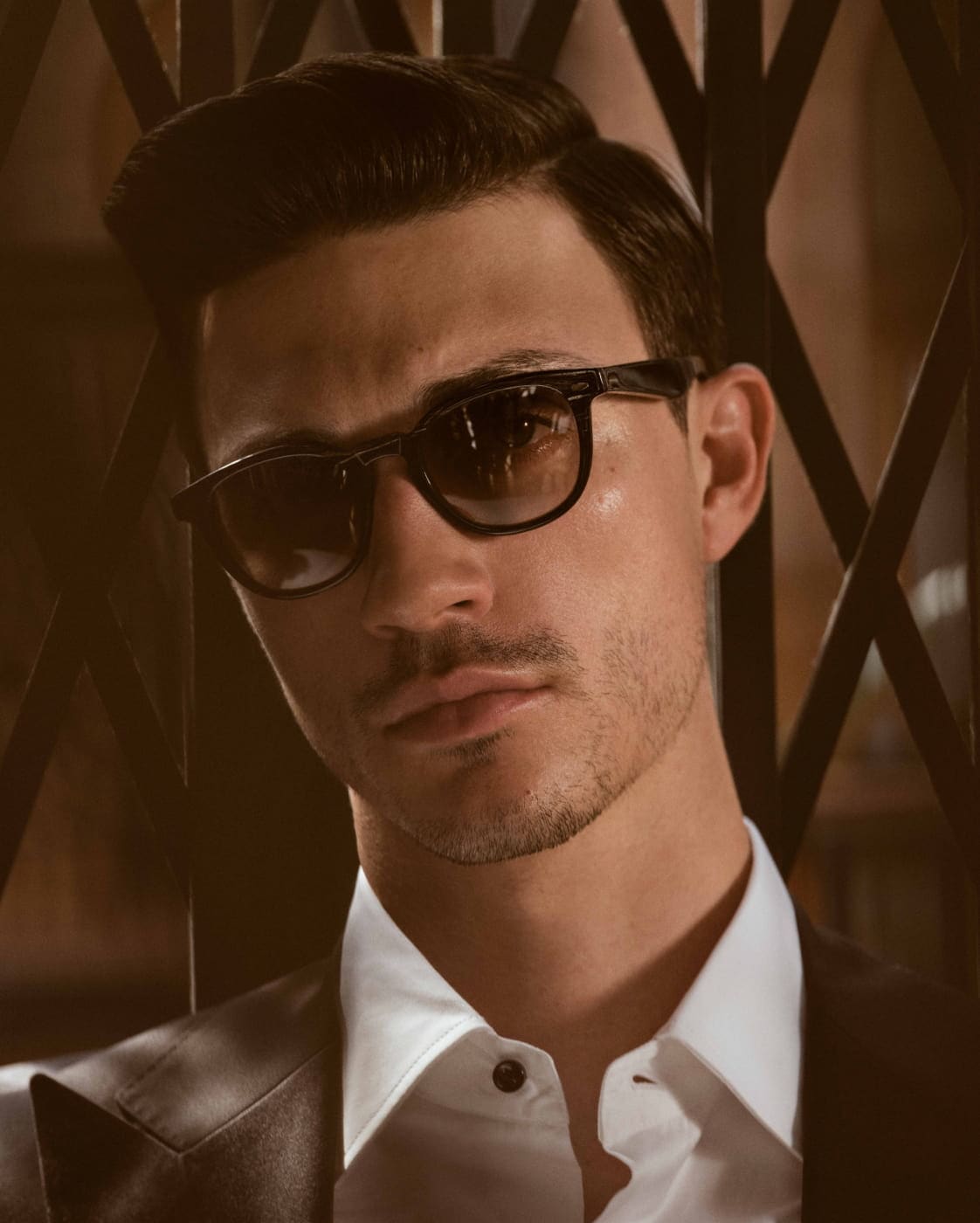 Geniune horn is offered in a few styles throughout the collection, including the above Jep Horn + Light Olive Gradient.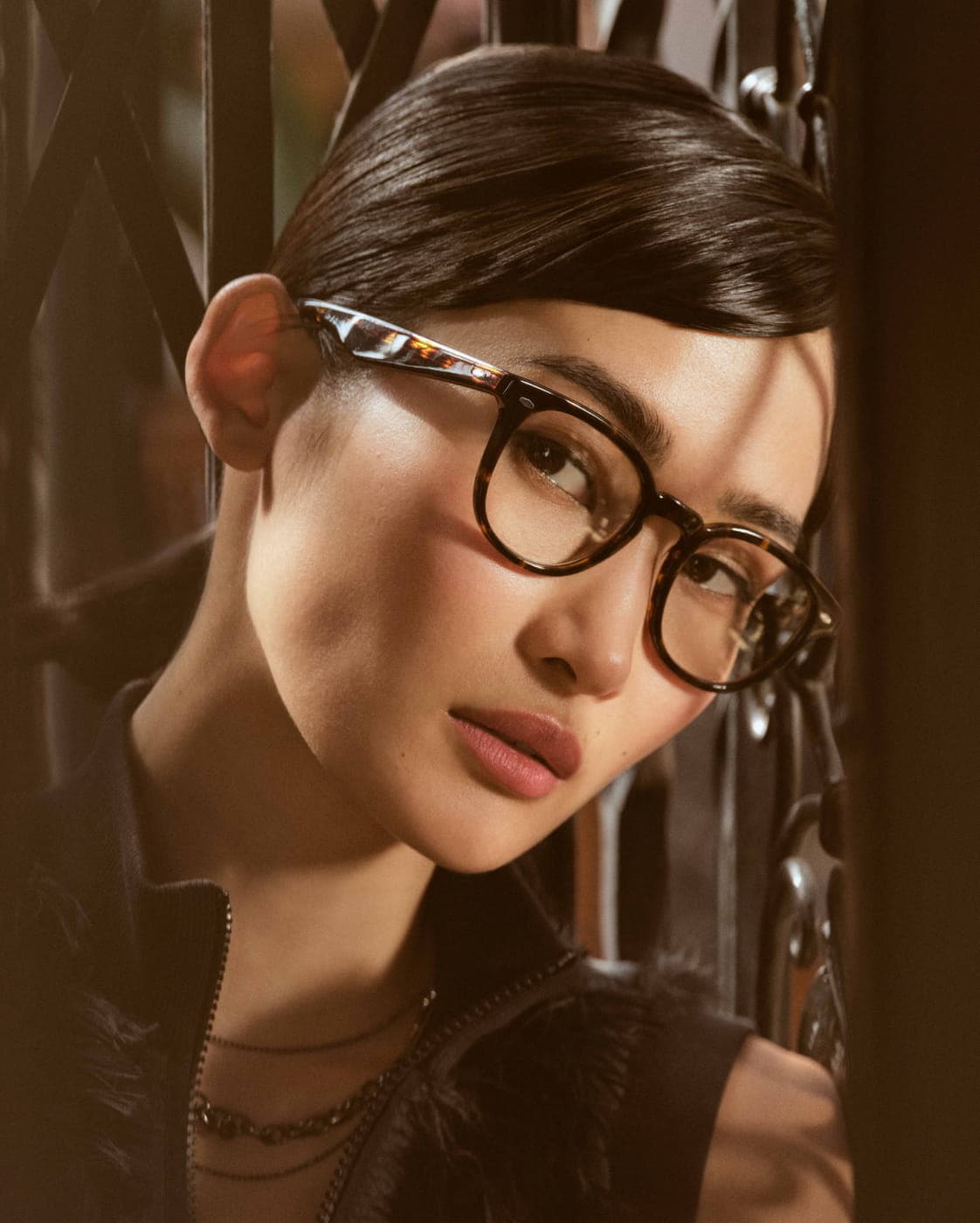 The optical style, Jep-R, is shown in DM2 with Blue Light Filter.
All of this comes to life in the Bradbury Building. With its riveting central atrium, the geometric structure invites viewers to imagine the possibilities within. For a cast of characters dressed in elevated, timeless attire, inspired by 1920s Hollywood glamour, it could very well be a train station hosting four extraordinary strangers as they pass through. Much like narratives of chance from classic films, this scene in the Bradbury Building is a mysterious crossroad, where the kismet can occur, encouraged by a touch of nostalgia and beguiling machine-age beauty.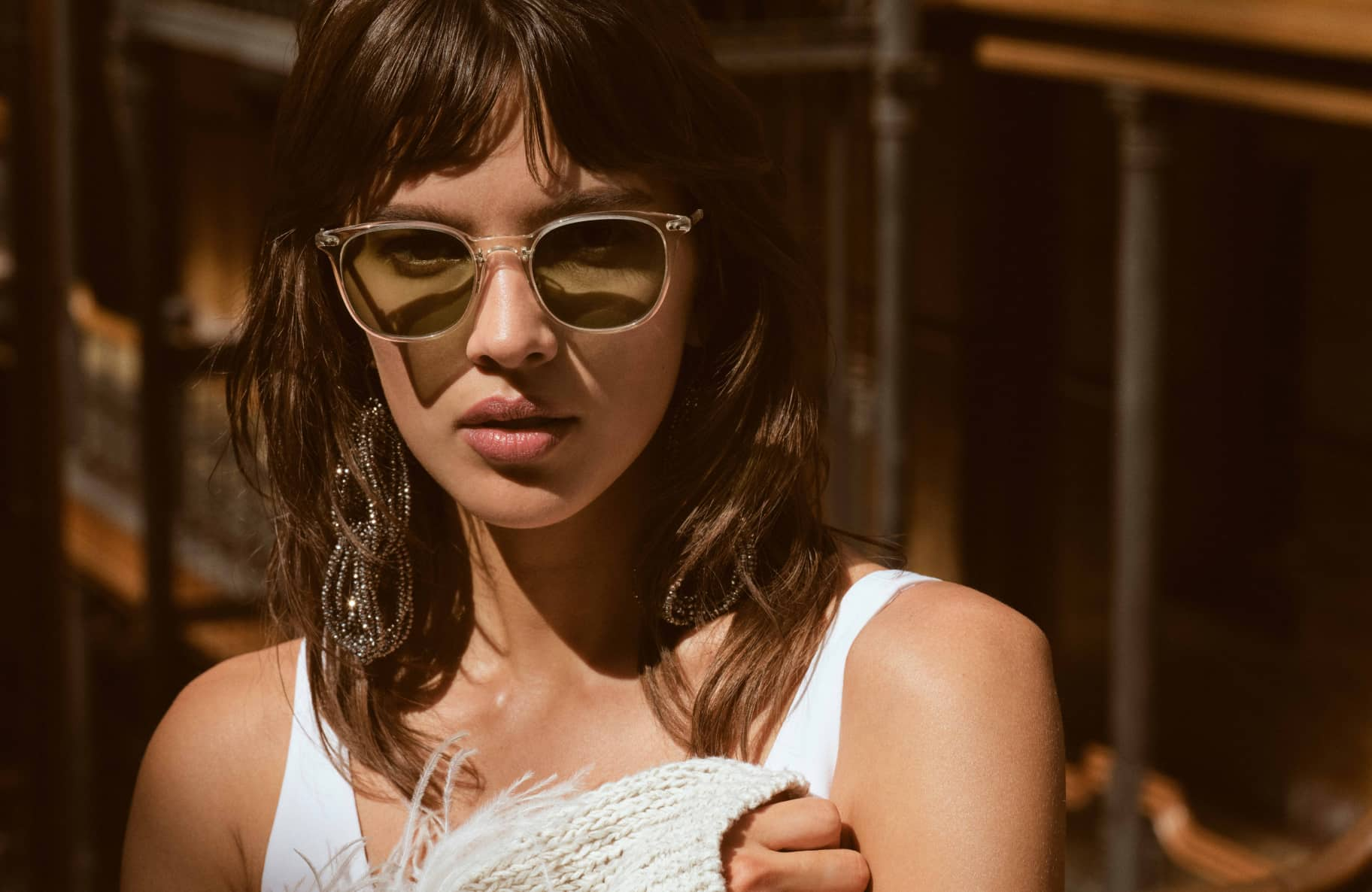 A sophisticated shape made to flatter every face, Gerado is shown in Buff/Silver + Green C lenses.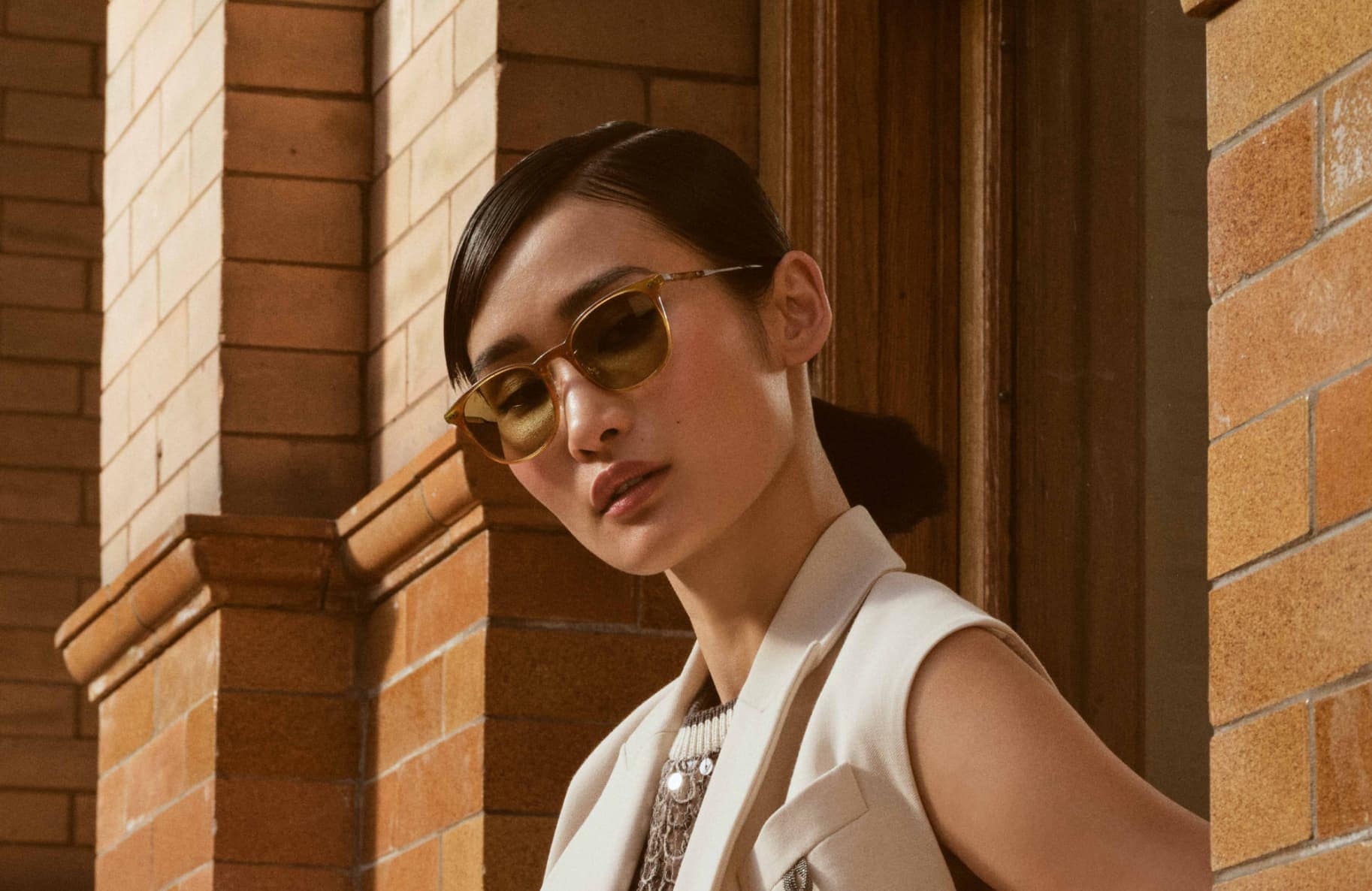 An iconic Oliver Peoples color story, discover Gerado in LBR with Green photochromic lenses.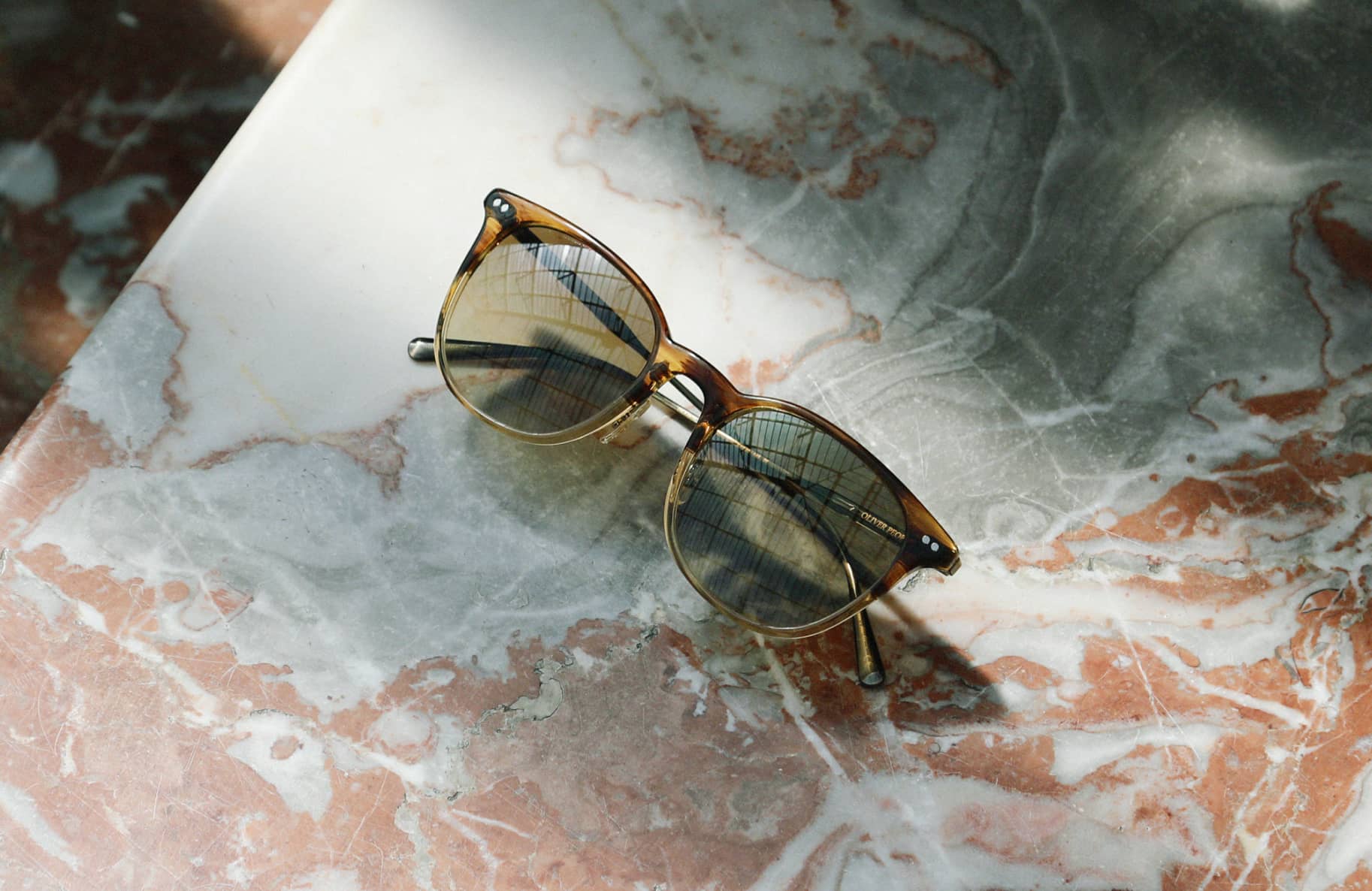 A gentleman perches in the Sky Parlor, wearing Jep. A woman pauses in the light, concealed behind the Filu' Horn; another glances over her shoulder, peering through Eduardo-R. A young man stands nearby, sporting Capannelle. They come together. An elevator is held open for their intriguing intersection. Close-up imagery draws a contrast between each person and their position in the profound space. The story tells itself. As with their first collaboration, the latest eyewear series from Oliver Peoples and Brunello Cucinelli emphasizes storytelling and artisanal craftsmanship. Heritage styles are imbued with contemporary influence and nuanced attention to detail. All of this adheres to the values of the Bradbury Building, and even its surroundings in Downtown LA, where a moment in history that birthed several spectacular buildings continues to contribute to the fabric of the city.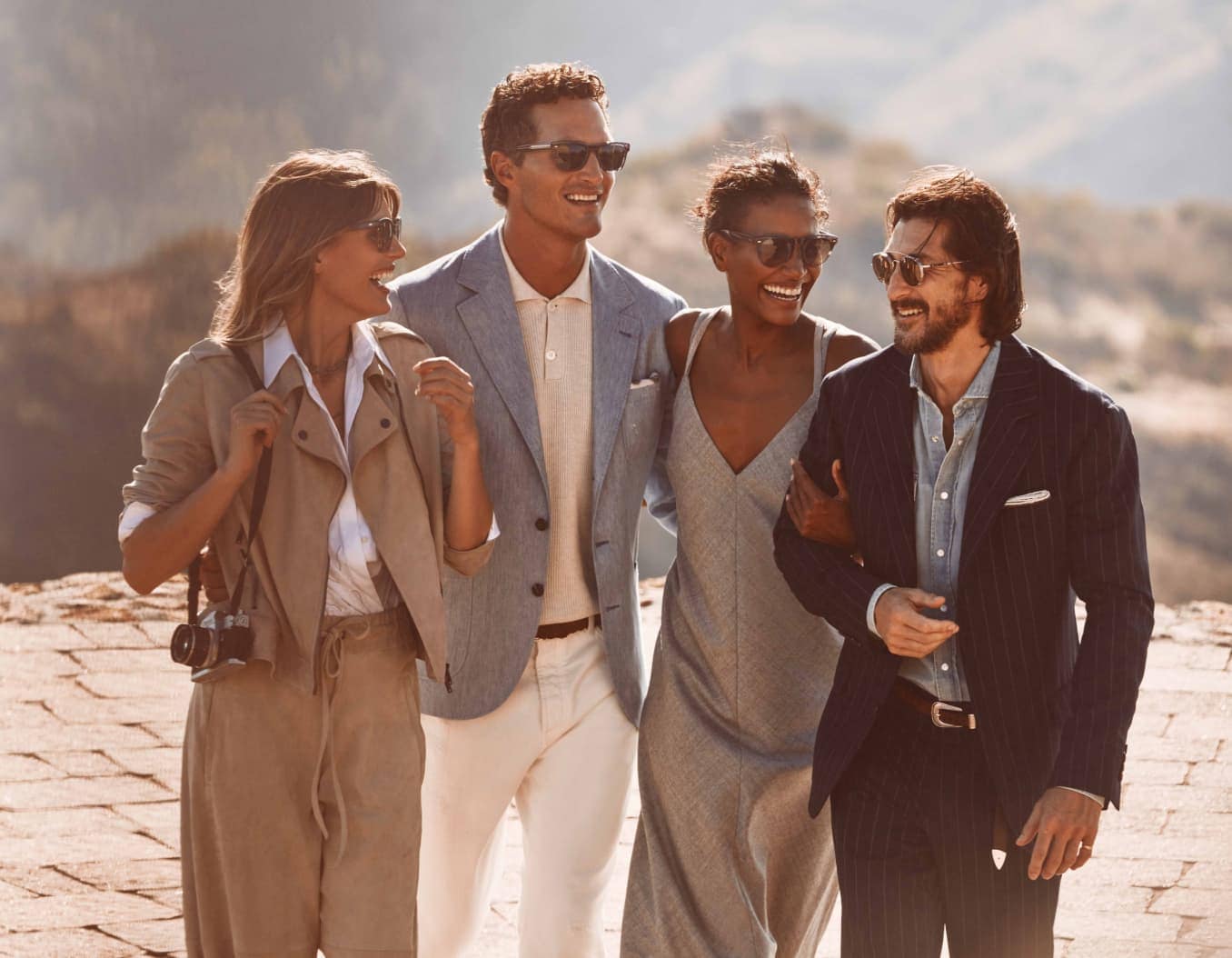 Oliver Peoples & Brunello Cucinelli present the Autumn 2021 Campaign.
read the op story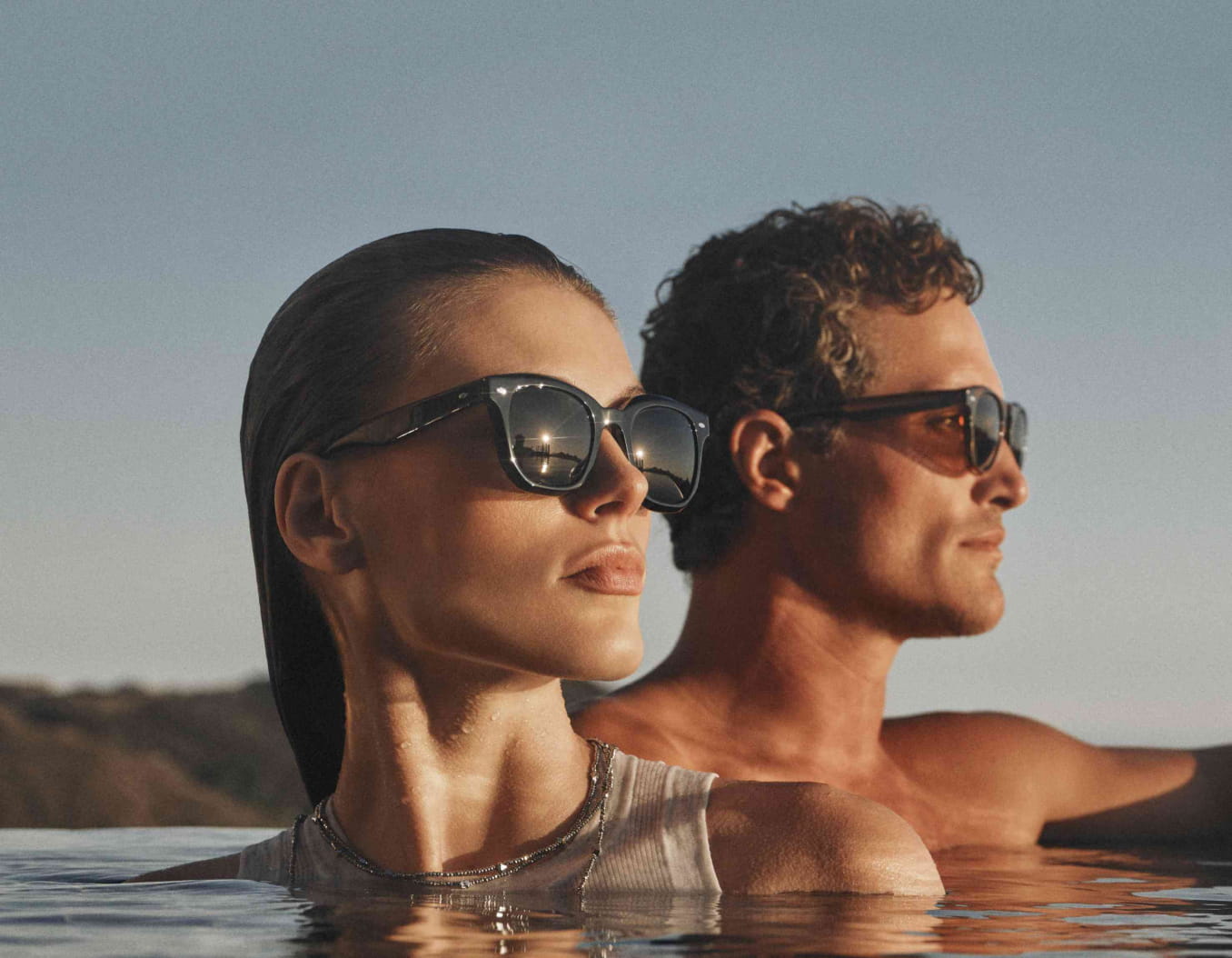 Oliver Peoples & Brunello Cucinelli Collaborate on an Exclusive Collection
read the op story