conversations | Culture
A True Original: J.G. Francis & The Art of Automotive Preservation
17 Min Reading
Oliver Peoples goes for a cruise with Mercedes Motoring founder, J.G. Francis in one of his favorite cars to experience his approach to craftsmanship first hand.
Some days it's the light, others it's the roads, most of the time it's a combination of the two. Winding canyon roads early in the morning when the fog is still burning off, and long stretches of desert highway after the sun has dipped behind the mountains are a few examples of essential elements that form the boundless enthusiasm for the automobile in Southern California. With diverse landscapes in close proximity and favorable weather year-round, there's no better place to be if you're a driving enthusiast. The best way to maximize that experience is to get behind the wheel of a classic car, and if you ask car preservation specialist J.G. Francis, founder of Mercedes Motoring, the vehicle best suited for the task is a classic Mercedes-Benz.
Among the steel and concrete of Los Angeles, a Benz holds its own, delivering a sense of calm and comfort. Where other cars' presence becomes lost in an urban center, a classic Mercedes takes an active role in its surroundings. The same goes for when the cars are in the shadow of the towering San Jacinto mountains, crossing a section of the Sonoran Desert or gliding along California Highway 1. A classic Mercedes-Benz isn't dominated by a particular environment. It simply manages to co-exist; this creates rare flexibility that applies to the models produced from the mid-1950s through the late 1980s. With the quality of these vehicles being so pronounced, it's no wonder they've become increasingly attractive in an era where physical durability and timeless design are highly valued once again.
The models that seem to have the greatest degree of flexibility across different environments were produced during the early to mid-1970s, the era that Francis regards as the peak of Mercedes-Benz vehicles.
Los Angeles' love affair with the automobile goes back to the early 1900s, it was a time when a healthy public distaste for corrupt governments tied to railroad companies like the Southern Pacific, pushed residents towards owning cars. For better or worse, public opinion benefitted the automobile and as they became more affordable, early public transportation systems disappeared from the streets and the number of vehicles on the roads rapidly increased. Throughout the early 20th-century, car ownership in Los Angeles was encouraged, and purchasing flourished thanks to perpetually pleasant weather and attractive destinations reachable by car.
With Southern California's romantic highways and scenic byways, that predated the mass transit-oriented freeways, the greater Los Angeles area became a pleasure cruise paradise. In addition to this "driving-for-pleasure culture," there was also the massive motorsports scene which was as old as the automobile itself.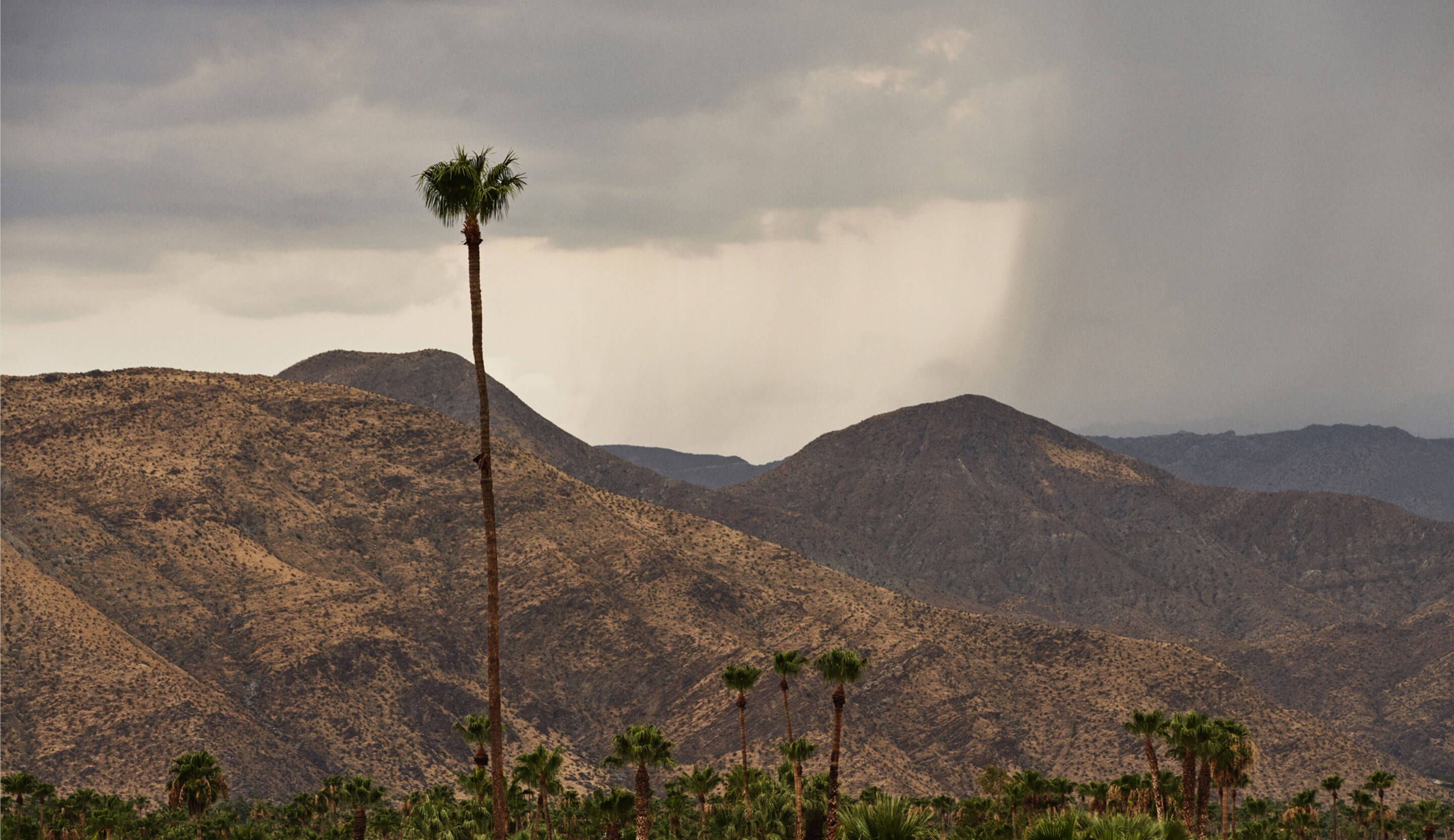 A storm rolls over the mountain bringing a welcome wave of cool to Palm Springs.
Specialty garages and speed shops serving hot rodders, dragsters, road racers, and desert runners could be found all across the Southland. If it was being raced anywhere, it was being raced in or around Los Angeles. In spite of bustling freeways and high fuel prices, the city became the center of car culture in America. If you were an automobile enthusiast then, just as if you are now, all roads lead to Los Angeles.
As the post-war years gave way to the Jet Age, many foreign automakers found themselves getting back on their feet due to the strong demand for exotic sports cars, particularly in Southern California. With the construction of a new freeway system underway in the early 1950s, the face of Los Angeles and the way in which Angelenos moved about their city would never be the same. These clogged motorways combined with newly offered vehicles engineered for use sustained at high speeds — encouraged driving for pleasure and escaping the city to places like the Coachella Valley.
The era of jet setting was in full swing and when well-heeled travelers got off a TWA or Pan-Am flight, the next step was often into something fast and German. The Benzes that first captured the imaginations of Southern California motorists began a love affair with a model line that continues to this day and remains distinctly "Californian". The exclusive 300 SL "Gull-wing" supercar and slightly smaller, more affordable 190 SL roadster debuted at the 1954 New York Auto Show to great acclaim. Of the 1,400 300 SL coupes built between 1954 and 1957, more than 80 percent were sold in the U.S. making it the first-time Mercedes-Benz was widely successful outside of Germany.
This growth is widely credited with changing Mercedes' image in the American market from a producer of straightforward luxury sedans to one capable of building lust-worthy, high-performance vehicles. With sales dragging after two years on the market, Mercedes-Benz had a decision to make — discontinue the exorbitantly expensive model, or change it to better suit the needs of the Californian market.
The decision to drop the iconic gull-wing doors in favor of a soft convertible top was all the evidence needed to show just how important California had become to Mercedes-Benz. It is with the "Pagoda" SL that the postcard-perfect dream of the golden west became intimately linked to Mercedes-Benz, and the SL model line began to make its case as the definitive Southern California lifestyle car. A car had long been necessary to get around Los Angeles and the most intimate way to explore the nearby regions, but by the time the Pagoda arrived it had also come to really come to serve as an extension of who a person was or at least who they wanted to be. Even if you weren't a bonafide member of the jet-setting elite, getting behind the wheel of a Mercedes-Benz could make you feel like you were.
The first thing you need to know about J.G. Francis is that he didn't set out to be a master craftsman. In fact, the affable Las Vegas native was just starting to climb the corporate ladder before founding Mercedes Motoring in 2003. What has grown into a booming and influential business started with what Francis calls, an "unromantic chance encounter". Fueled by rabid curiosity and a healthy fascination with diesel-powered Mercedes-Benz vehicles of the 1970s and 80s, Francis started his career in car preservation. Over the past sixteen years, Francis has seen over 1,000 classic Benzes come and go through his doors; first in Costa Mesa, California and more recently in Glendale, California. By his own estimation, he's no guru when it comes to Benzes, and there are far more talented individuals out there working in the preservation and restoration of classic cars. As he explains it, "I didn't even understand until I started meeting these master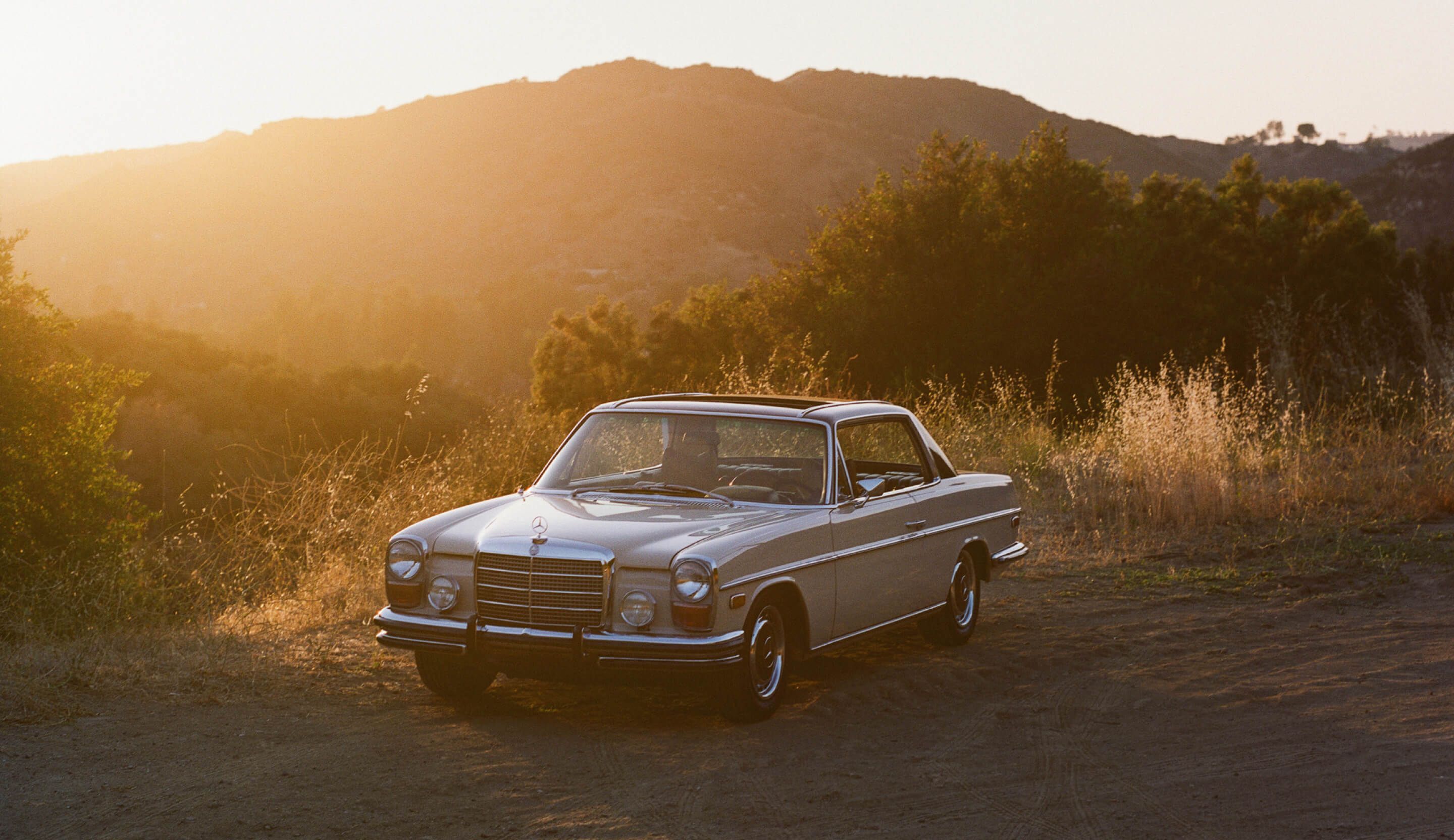 Francis' 1972 250C soaks up the late afternoon light on Mulholland Drive.
craftsmen that some of the most intelligent people on earth are car builders. I'm not putting myself in that category, but some of the people I know are for sure." Humble, yet confident in his abilities, Francis is happy to let his work speak for itself, and while the cars that go under the wrench at Mercedes Motoring are anything but loud, they command respect and grab the attention of anyone who lays eyes on one. As Francis told us, "I'm starting with an incredible canvas which I get to add to, but I didn't know that I'd be so intellectually challenged and stimulated from car building, and it's actually a life accomplishment for me." Also, incredibly fulfilling for Francis is the fact that he shares his shop with childhood friend and fellow builder Sean Johnston, who handles any interior tasks that involve a sewing machine on the Benzes in addition to building his own custom cars. With regard to Johnston and builders working in the same style, Francis says, "The traditional hot rod guys do it just the way it was done back in the 1940s, 50s, and 60s. They're often making the tool that makes the part and it's been fascinating seeing it.
It's on another level. I'm a purist, I do the same thing over and over again, so it's been nice being around that, and it's reflected in my own work. My overall view of craftsmanship has certainly evolved since I started the business. It's been a process of constant refinement, constant improvement and striving to take things to the next level." Modest as he is, there's no doubt that Francis was ahead of the curve and even he will admit that when it comes to these Benzes he was onto something nobody else was. "Back in the day, friends looked at what I was doing and were like Really? Those? Nobody had one yet." It's not so much that Francis pioneered anything, there has been a global enthusiast community focused on cars of this era for many decades, particularly in Europe. However, what Francis did was increase the overall bandwidth of the scene and put it on the radar for people, especially as he started to gain notoriety among larger media outlets. It comes as no surprise that as a growing number of people seek the authentic and veer away from the generic, that Francis' approach of preservation versus restoration would resonate with people.
A restored car might look better on the surface, but it won't retain the little quirks that make a preserved vehicle unique. On a macro level, these classic cars offer a reprieve from the noise of the modern world, the chance to step back and enjoy the simple pleasure of driving without distraction.
On an intimate level, they allow people to connect with the past, to create their own narrative while also adding a chapter to the story of the vehicle itself. This is where Francis finds real beauty in preserving a car, which means keeping it as close to original condition as possible, versus restoring it which can take a car beyond the original factory specifications, but often at the cost of authenticity. "The restored car will almost always present as the nicer vehicle, but a preserved car is exactly as it came from the factory and you can feel that they just have a certain presence".
Standing among the many cars under the roof of Mercedes Motoring, the amount of history in the room is palpable. As Francis pointed out to us, "The factory fit and finish can't be beat. Somebody's job everyday for ten years was snapping on door panels, so do I think I can do a better job than that person? No, of course not, I can't and that goes for the whole car." Such appreciation for the original handiwork adds another degree of difficulty to Francis' process, which in turn adds to the desirability of any Benz rolling out the shop doors at Mercedes Motoring.
A number of these classic Benzes are not particularly special at first glance, but there's more to them than meets the eye and although some might say they're rather pedestrian, there's an inherent charm to these cars.
All cars at Mercedes Motoring have their original paint colors.
Ultimately, cars and sunglasses are just "things" until an individual makes them part of their story.
This all but guarantees the satisfaction of a client even if they don't know exactly which model they want, because by being interested in these cars at all, they've already bought into one of the important aspects that underpins each of them. What Francis understands is that there is great value in knowing what a customer wants even before they do. "It kind of works two ways really. One process is I take a small search deposit and whatever parameters I'm given by a client, I'll go out hunting for the right car that ticks their boxes. What's less common is for someone to come to me with no real idea of what they want to drive, they just know they want a classic Mercedes that will fit their lifestyle. They might say this is how I drive, this is where I live, I think maybe I need a turbo, what should I drive?" Guiding people towards the right model of classic Benz is a hallmark of a buying process at Mercedes Motoring. The era of Mercedes-Benz vehicles that Francis focuses on requires a keen eye in order to fully appreciate the extent of the craftsmanship, as well as to select the right examples of these cars. Francis brings a wealth of knowledge to the table-- knowledge he enthusiastically shares with his customers, further enriching the entire ownership experience. Whether it's a classic Benz or pair of Oliver Peoples, quality is the foundation of the product. Just as eyewear typically appears generic until you begin to look at the process by which it was made, these cars become more attractive the more you learn about them. With a deeper understanding of how they were manufactured and why certain details appear as they do, the product begins to come to life. However, their construction is only part of what makes them interesting as tangible goods. "Ultimately, cars and sunglasses are just "things" until an individual makes them part of their story." Then, and only then, do they fully take on a life of their own with the potential to become more than a lifestyle accessory, possibly landing the designation of being Iconic. Neither Mercedes-Benz nor Oliver Peoples set out with the intention of making iconic products, they simply implemented a high standard of quality and paired them with functional design. Only time has shown these products to be the icons that they are, cars like a W123 series Mercedes and glasses like the O'malley from Oliver Peoples.
Francis' work is more than about the preservation of classic cars, it's the preservation of a certain way of doing things, of beliefs and a lifestyle. Nobody has built cars the way Mercedes-Benz manufactured during the W123 and W124 eras, not even Mercedes-Benz today. It was a time where the highest degree of craftsmanship was the only thing that would do, from the design of a vehicle to the materials used to the process by which it was manufactured. The mentality is quite different from the "planned obsolescence" approach that some automakers, such as GM, had implemented as far back as 1923. As American industrial designer Brooks Stevens defined it in 1954, planned obsolescence is the practice of "instilling in the buyer the desire to own something a little newer, a little better, a little sooner than is necessary". As you might imagine, it was not a concept that Mercedes-Benz or other German automakers were much interested in at the time. As rapidly changing technology has become an integral part of the automobile over the past twenty years, many forms of planned obsolescence can now be found in majority of modern vehicles. Starting with "contrived durability", which is the strategy of shortening a product's lifetime before it goes on sale by designing it to wear out quickly, to "perceived obsolescence" which occurs when designers alter the styling of a product with the intent to lessen the desirability of a product in hopes of increasing interest in a newer version. These ideas are in direct opposition to those that were the foundation of Mercedes-Benz throughout the production run of vehicles that Francis works on and indeed in opposition to Francis' views on consumer products as well. "Whether its cars, shoes or sunglasses, whatever it is, I'm all for buying the best version of a thing and enjoying it for as long as it lasts. What I get the most satisfaction from, is knowing that something was well-made." By first taking an interest in what made that certain era of Benzes mechanically solid and then going all-in on the lifestyle they're associated with, Francis has become one of the chief custodians of an entire subculture and the overarching values attached to it. He ensures that the vehicles coming through his shop are not only ready to serve someone well in their day-to-day life but to also be an integral part of their life story and facilitate the formation of lasting memories.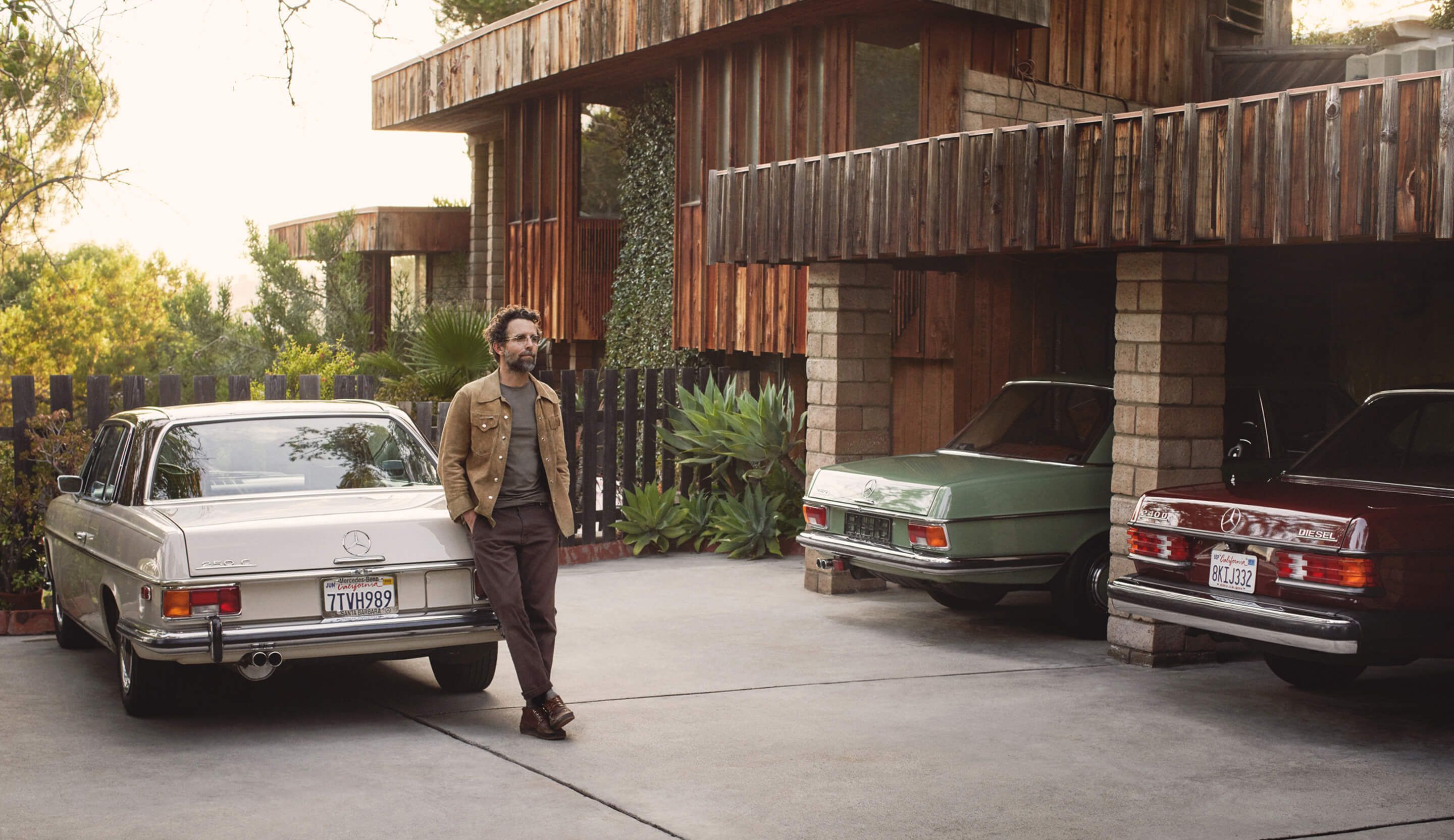 J.G. in front of his home in Los Angeles.
Francis himself has of course formed a vast amount of memories with these cars, retrieving vehicles from far off destinations like Alaska and northeast Maine, then driving them back to Los Angeles. However, there are places he's drawn to repeatedly, like the Pacific Northwest and the Coachella Valley that hold a special place in his heart. When it comes to the latter, it's safe to say that a certain familiarity with the environment and freedom to roam the open desert roads have made for a deep personal connection. That and Francis' strong affinity for mid-century modern design and architecture. Although separated by roughly a twenty-year gap, the mid-century modern architecture that Palm Springs is known for serves as an appropriate backdrop for the Benzes that Francis focuses on. This is surprising considering that mid-century modern architects came to work in this area specifically because of the freedom it gave them, while designers at Mercedes-Benz were part of a straight-laced corporate culture that thrived on conformity. Yet as Francis said in conversation, "my house is midcentury and when my cars are parked in the driveway it's like they were designed for that house". So how does Americana inspired contemporary eyewear pair well with cars designed and manufactured in Germany that find themselves well-suited to homes designed and manufactured in mid-century California? By Francis' estimation, it's a matter of good design knowing no boundaries and appreciation of common themes.
Oliver Peoples has long pulled from the world of mid-century modern architecture, even creating custom filigree inspired by recurring shapes associated with the mid-century modern design era. There's also an undeniable link between the color palettes typically found in these homes and the ones that Mercedes began to experiment with towards the end of the 1960s. For Francis, it's the various color combinations that have helped sustain his interest in working on the cars too. "I don't mean to make it sound like I'm bored of it or my job is repetitive, but to a certain degree, it is. I can take a W123 apart in my sleep and put it back together exactly as it came from the factory, so that part of it does get repetitive and what I get excited about is configuration and color". As you might expect, the joy of the hunt is a big part of it too, particularly for unique examples. "Color is what I went after because that was really the only way to express myself in terms of building the same thing over and over. I want to find the colors that basically didn't exist and that were special orders."
This attention to detail speaks volumes about who Francis is and what he stands for. It doesn't take more than a few minutes with him to realize the deep reverence he has for the effort that went into these vehicles, and the pride he feels being able to put that craftsmanship on display, with a touch of his style in there for good measure of course. As for the crucial element of craftsmanship that brings everything together, Francis, like any artisan, can only give his best guess as to what that is. "If I had to isolate a part of the process that's most essential, my gut feeling would be that it's the time. There are a lot of people that are good at a lot of things, but the time dedicated to every build and every aspect of it is what separates me from other builders.
Sometimes we get a car in with 4,000 original miles and we have to completely take it apart in order to ensure that it's thoroughly cleaned. There's not really that many shops that I know of that do that. Craftsmanship starts with time and effort and then it's all about the materials which in this case, are O.E.M.(Original Equipment Manufacturer) Mercedes-Benz parts for which there are substitutes. The process is highly individual from builder to builder, so of course, it's very personal. You can fix something like a map pocket in five minutes and sure it'll work for a while, or you can take an hour and fix it properly for the long run. Whatever I'm doing in my life I take pride in it, so it takes time which can be tedious, but so incredibly rewarding."
With that in mind, looking at a Mercedes-Benz from this era takes on a whole new meaning. Not only do they tell the story of the people who've driven and maintained them, but they tell the story of the people that designed and built them as well. The next time you put on a pair of Oliver Peoples, consider the effort that went into their production, the process by which they came to be the right choice for you. Even a brand new pair of frames already has a story behind them before they come off the shelf and it's been written by a belief in doing things a certain way. By choosing Oliver Peoples, a person is essentially saying that they hold the same beliefs regarding craftsmanship and authenticity, that they want to be a part of the brand story, and they want to add their own chapter to it. To restore a car is to not only break the seal of factory quality, but to effectively erase the story of the car up to that point. The intent of restoration is typically to make a car "better" than it was the day it rolled out of the factory, and this effectively makes it something altogether different. For those that are seeking authenticity, those that value story over perfection, a vehicle from Mercedes Motoring is as good as it gets.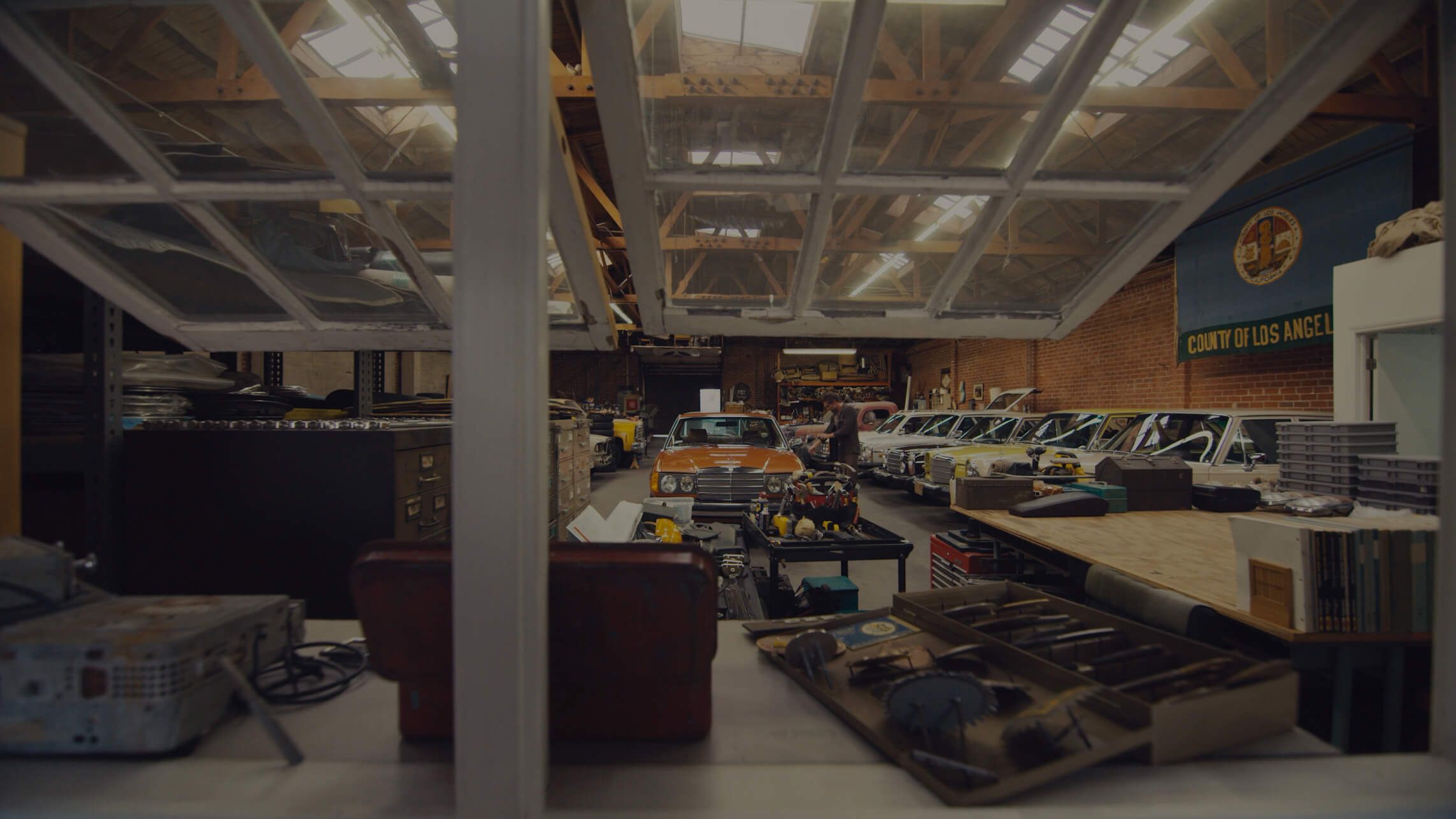 Words: Andrew Maness

Photos: Rich Stapleton