Craftsmanship
Washed Lenses: A Look of Their Own
7 Min Reading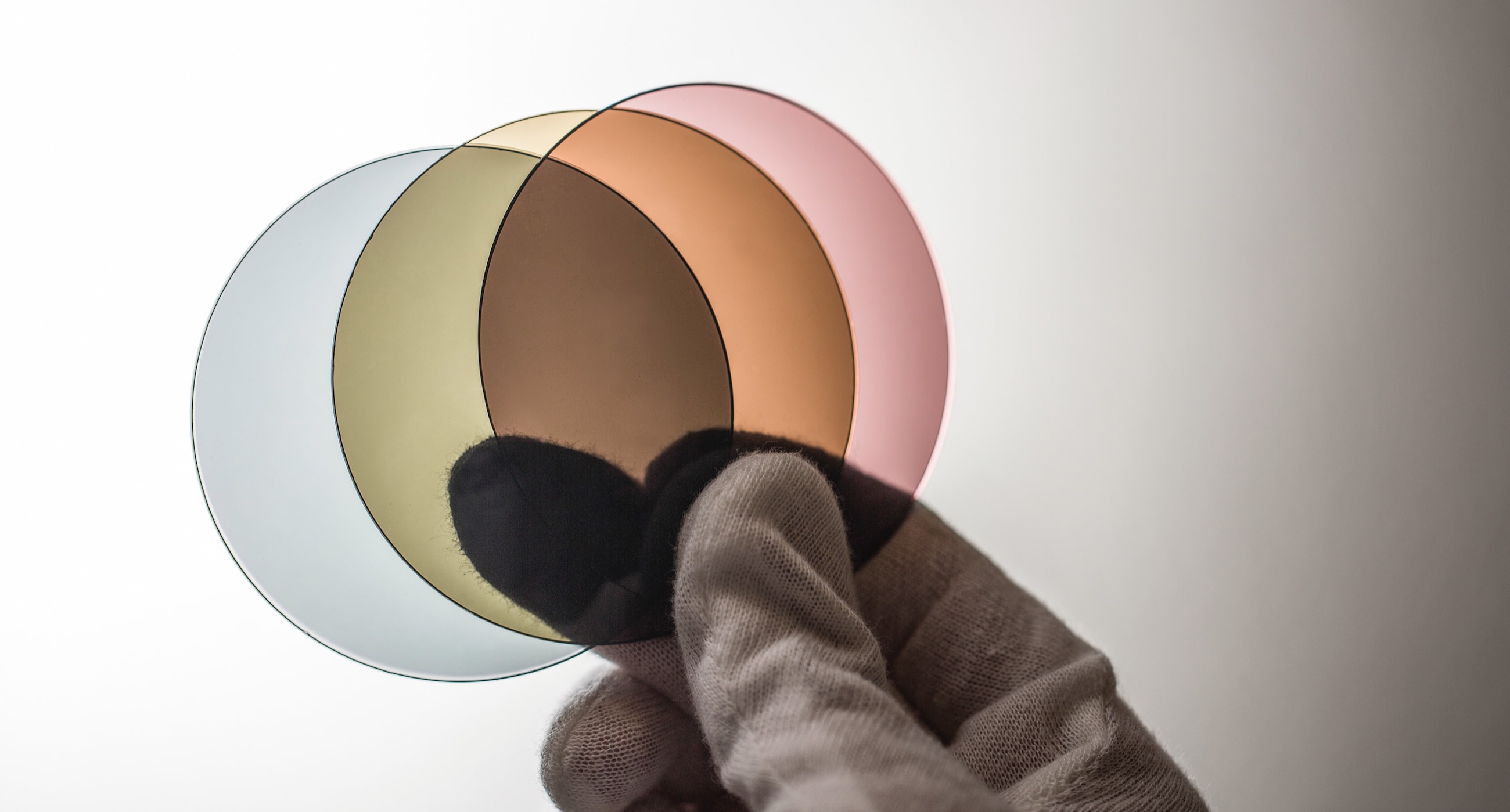 From customs to permanent fixtures in the collection, washed lenses are ingrained in the OP aesthetic.
There's something to be said about the feeling a new pair of glasses or sunglasses can give the wearer. With optical, an enhanced vision takes shape, and with sun, perhaps a renewed level of confidence unfolds or the world might be seen in a different light. But what about washed lenses? They are a perfect combination of the two looks, and something Oliver Peoples has offered since the early days.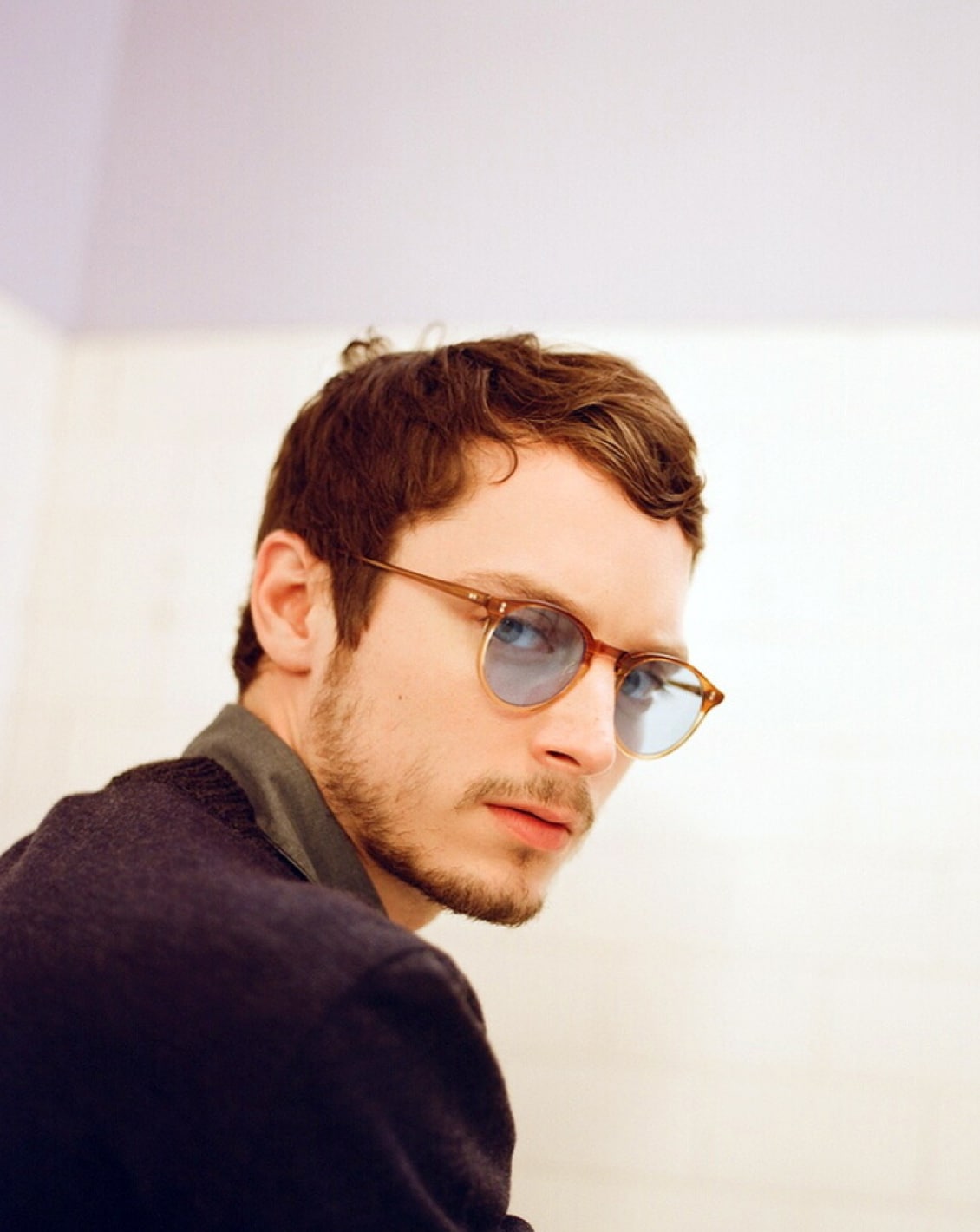 Actor, Elijah Wood, wears O'Malley Sun with Blue Wash in the Oliver Peoples 2010 campaign, "Les enfants s'ennuient le dimanche".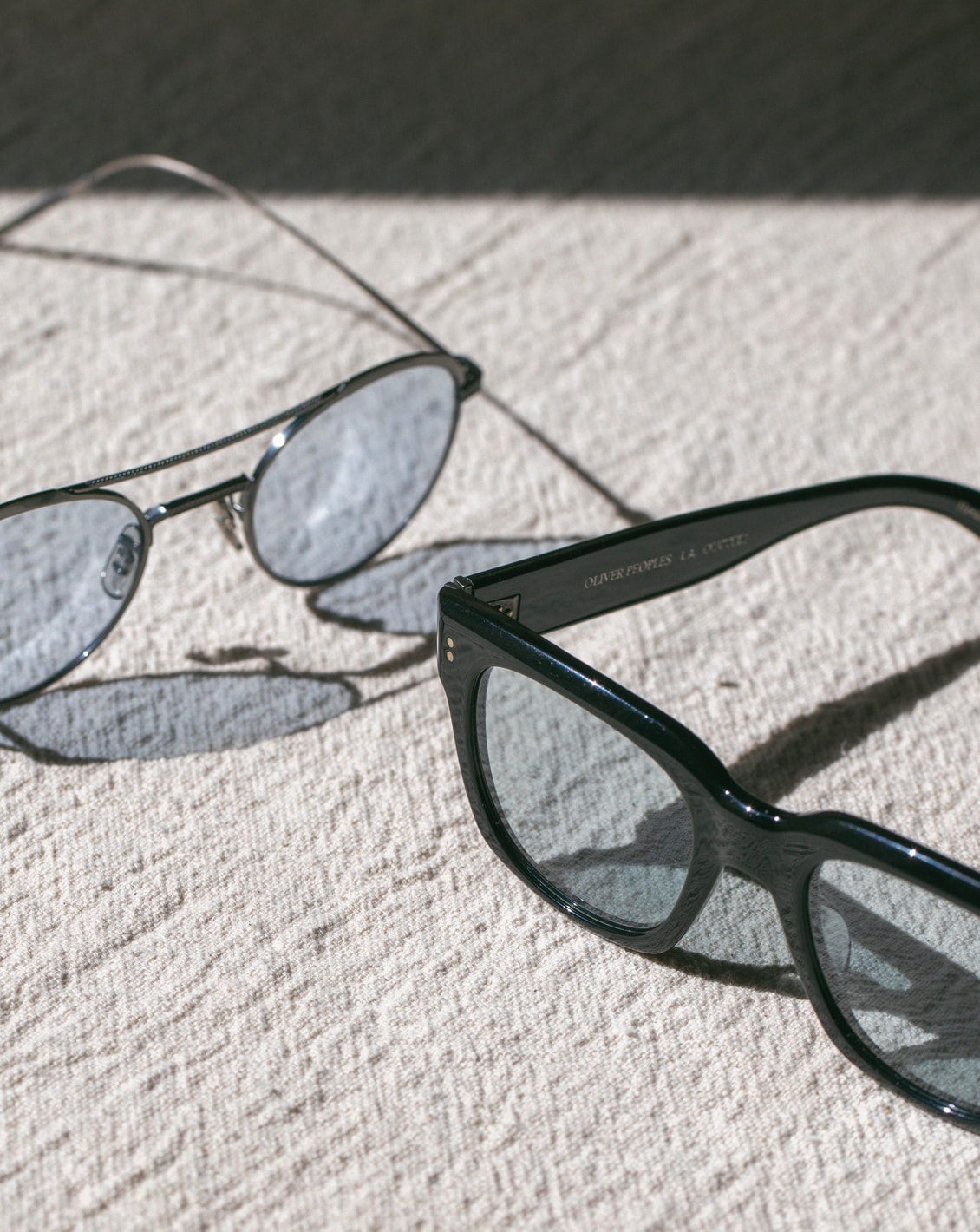 From the Takumi series, TK-2 optical sits alongside Shiller optical in Demo Blue tinted lenses.
Originally started as a customs program, a washed lens has since become a permanent fixture in the collections season after season, and there's a reason why. Washed lenses offer an immense amount of functionality and style. These subtly tinted lenses provide more protection from light than a clear look, while still being sheer enough to be worn indoors.
Alongside this level of practicality, a washed lens delivers the opportunity to convey personal style – whether it be through color selection or the ability to bring eyewear to a look where a classic sun lens or optical might not have felt quite right.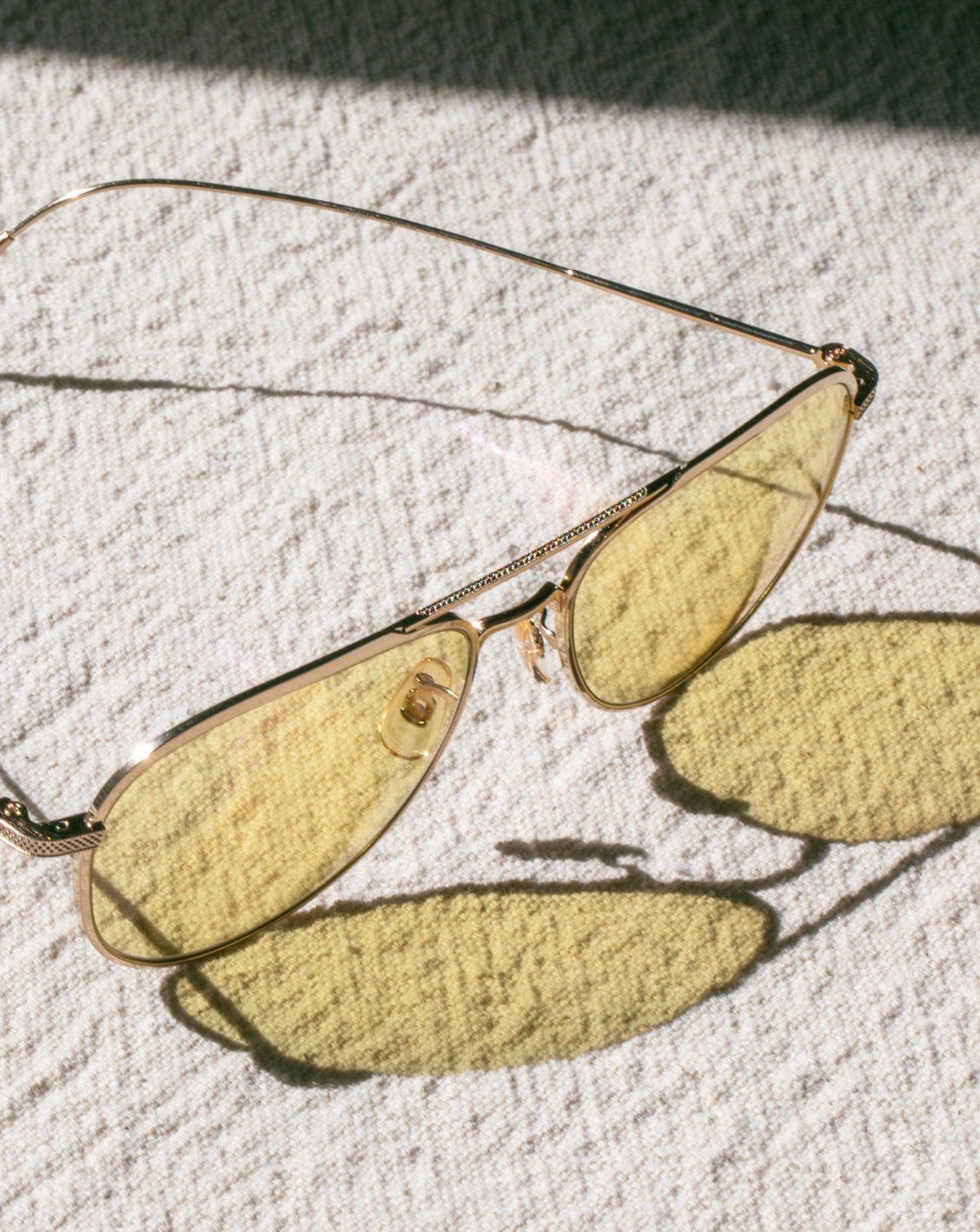 Takumi frame, TK-3 sunglass, stands out with a Yellow Wash.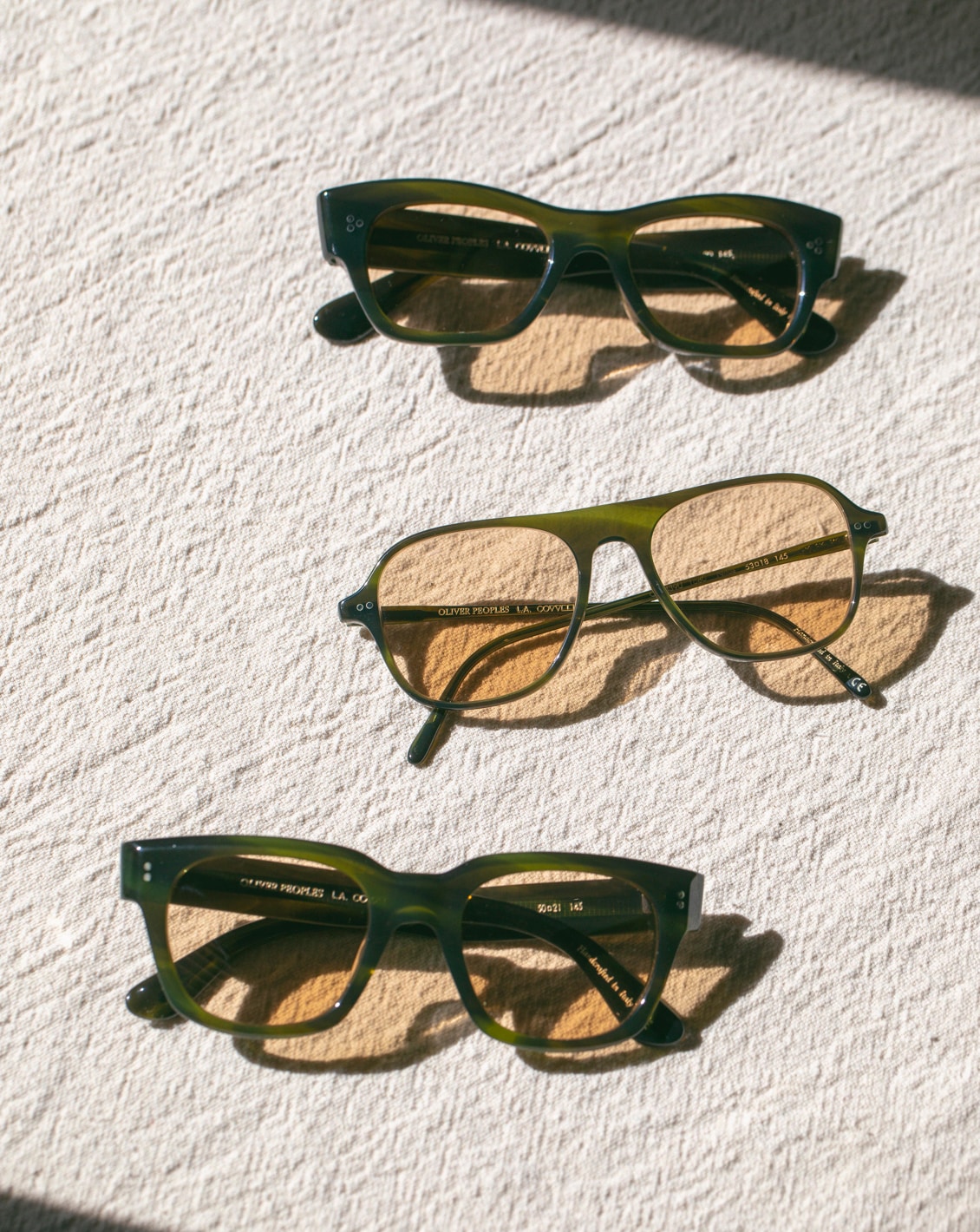 From our optical collection, seen from top to bottom, Stanfield, Nilos, and Shiller, in Demo Orange tinted lenses.
The history of washed lenses at Oliver Peoples is intertwined with the brand story. Since the 1987 launch, with the opening of the original boutique on Sunset Blvd. optical styles were the first frames offered. With this, customers had the opportunity (and still do today) to select beautiful, custom lenses for those styles. As the reach of the brand expanded, with frames being featured at premiere stores in Los Angeles, these fashion boutiques opted to customize lens colors using Oliver Peoples' own in-house lab. From the start, these custom lenses were available in an incredibly broad range across different densities for an original appeal. Fortunately, today a pair of custom washed lenses isn't limited to a trip to L.A., as all OP boutiques offer this program.
The latest washed colorways to join the collection found influence from OP's heritage and nature. Specially, the Green Wash and Sea Mist tones are a modern take on those 1950's crown glass lenses, and Pink Wash is a direct reference to original Oliver Peoples lenses from the archive. Classically, the Moondust and Sundust gradients were inspired by the beautiful sunrises and sunsets so often found in California. These gradients specifically feature a soft flash mirror to add depth and another layer to their subtle appearance.
Each season, color development is approached with a tremendous level of passion and attentiveness to ensure each custom color is exactly as imagined. Through a process of constant sampling, editing, and testing of various densities, the colors are achieved. For the dyeing application, density has a prominent effect on appearances and so does the type of lens. For a nylon lens, color is attained through a dip-dye procedure and soaked in a dye bath for a specific time frame. For glass, the color is in the material, so it's a quite different process to adjust exact shade and density. Yet, no matter the type of lens, each custom color is achieved with a level of excellence and superior craftsmanship.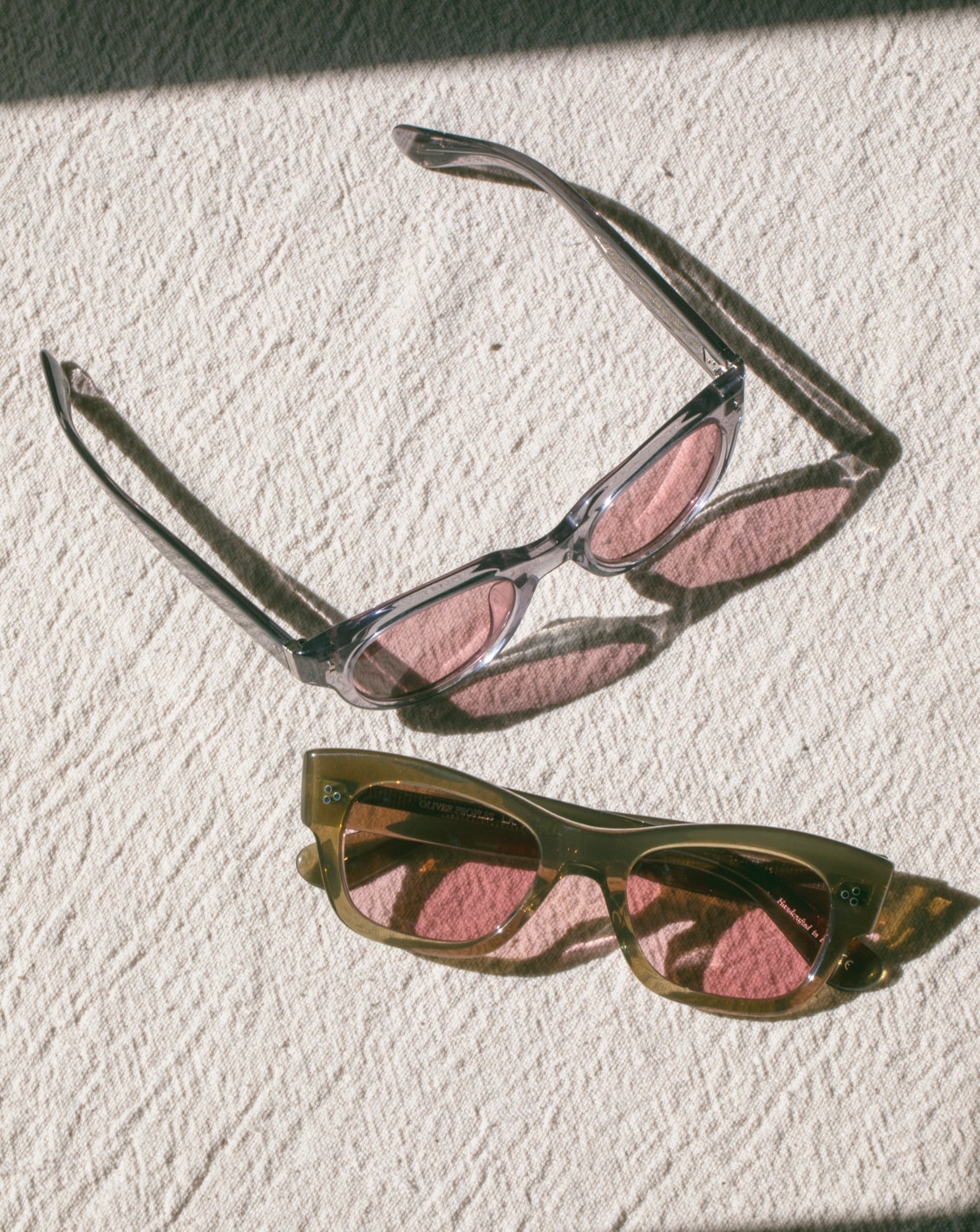 Optical styles, Stanfield and Tannen featured in Demo Pink tinted lenses.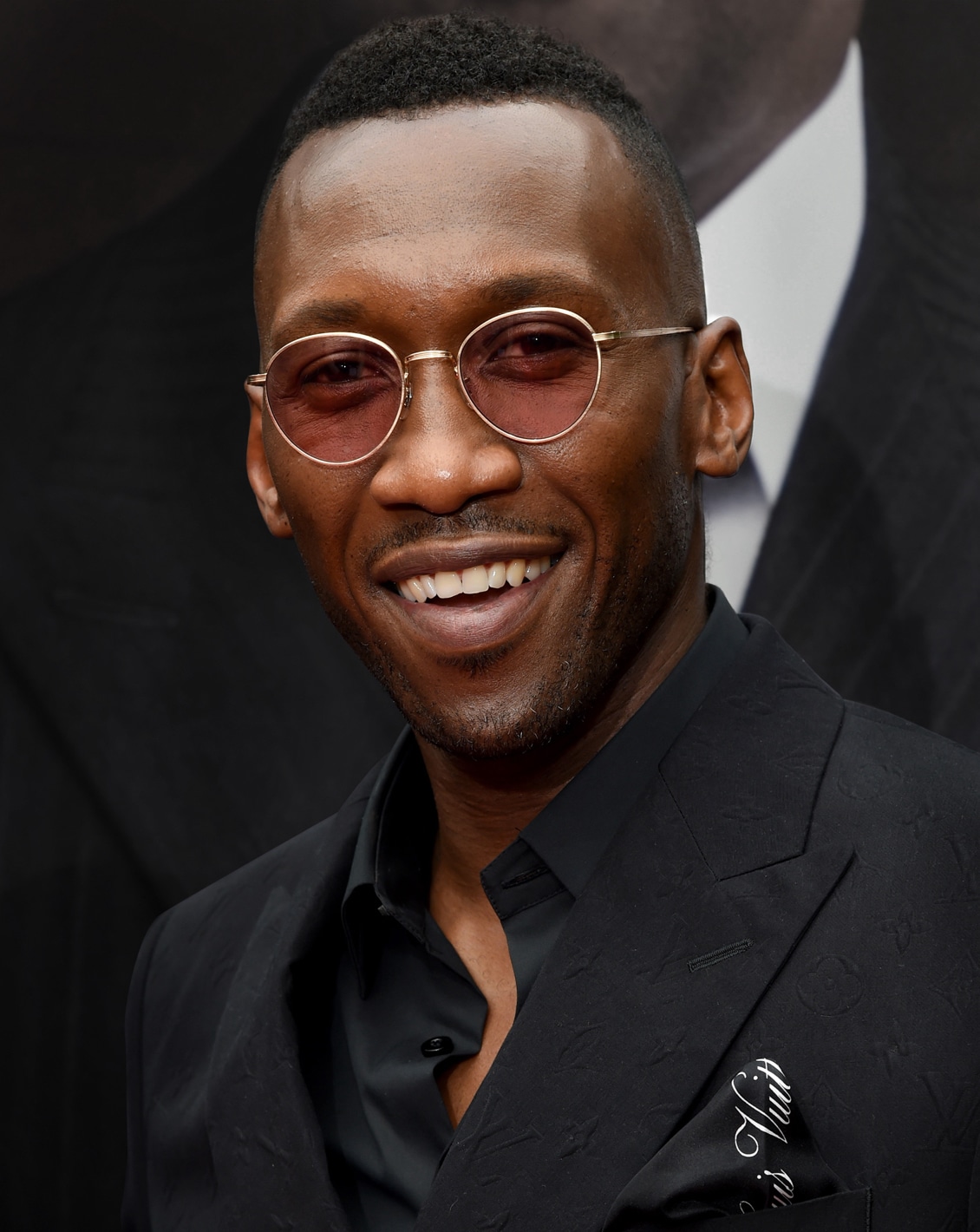 Actor, Mahershala Ali, wears a custom The Row Brownstone 2 in Pink Wash lenses.
These beautifully developed lenses are often an ever-recurring element in Hollywood. Actors tend to gravitate towards a washed lens for the same reason that makes it special – its functional and aesthetic capabilities. The lenses can help block the camera and bright lights that are so often in view, while still allowing the eyes of the stars to be seen.
Alongside this, they often might be the lens a celebrity is looking out of at the most prominent moments in their career. From an awards show to a film premiere, washed lenses are often the chosen look in eyewear as this feature can feel just as custom as the bespoke suit or couture gown worn on the red carpet.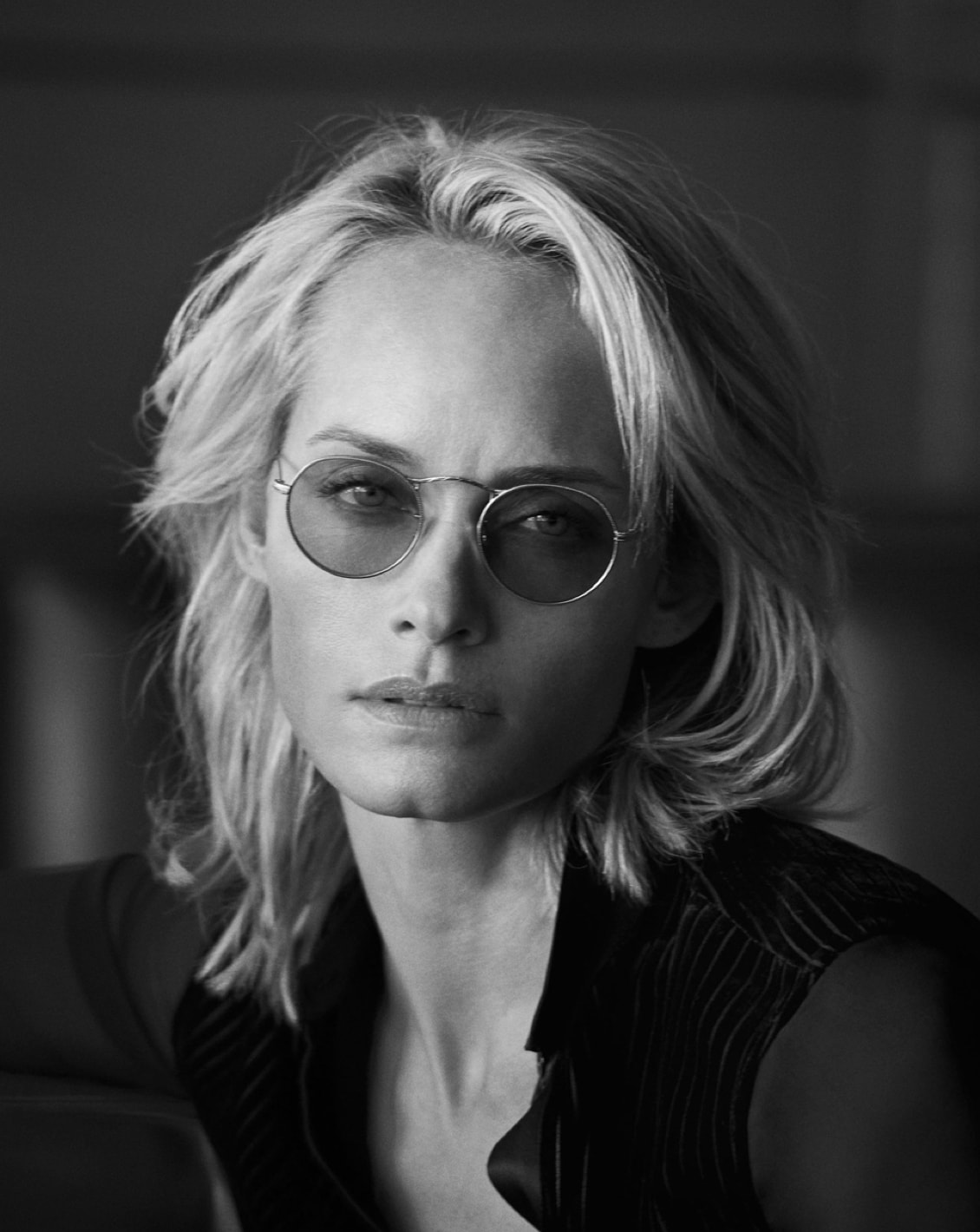 Fashion icon and supermodel, Amber Valletta, wears M-4 30th sunglasses with a washed lens for our 30th anniversary campaign, "Desert Stories."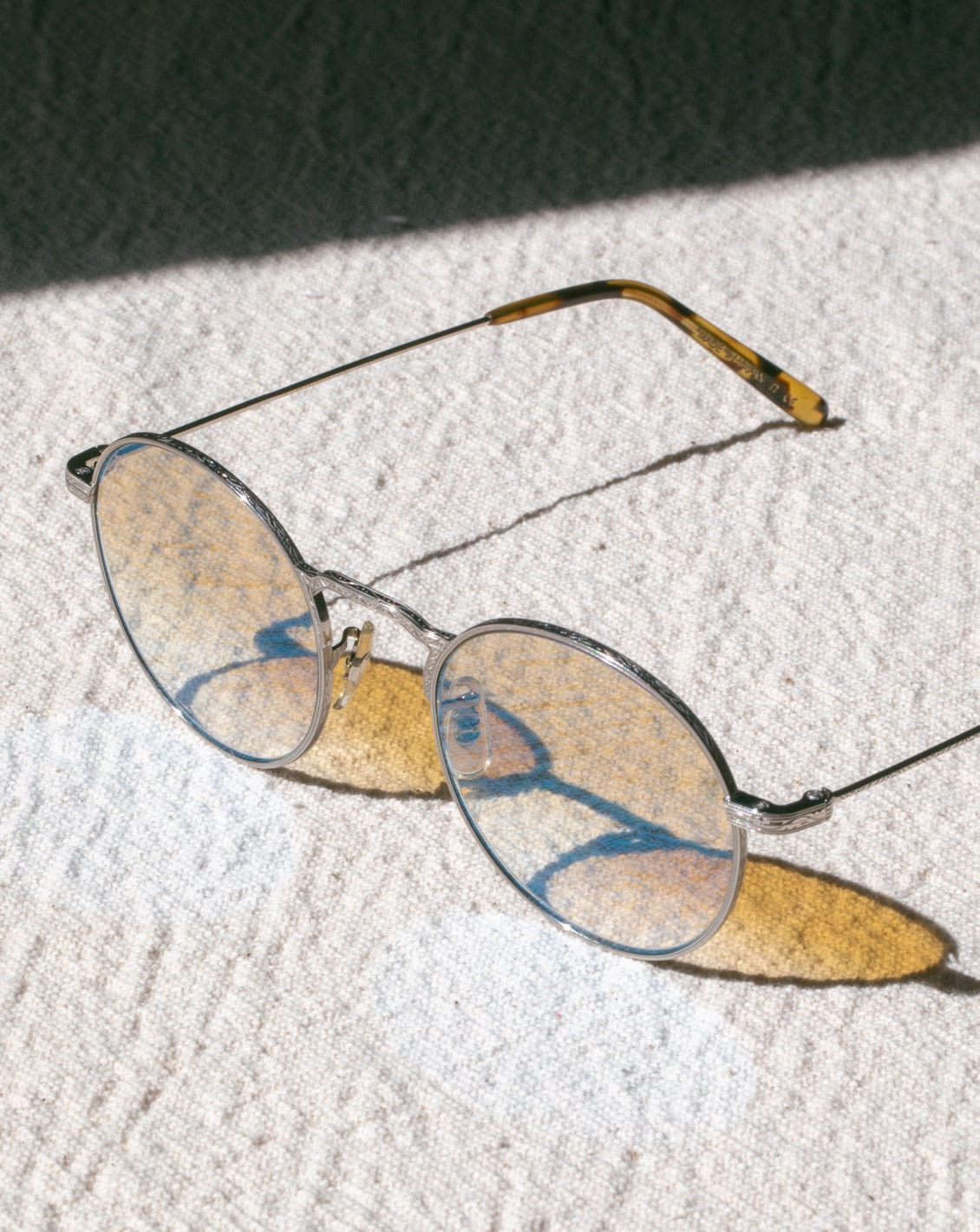 From the Spring 2021 collection, Weslie Sun is featured with a Sundust Gradient.
Yet, these high glamour moments aren't the only times a celebrity is seen in washed lenses. Whether it be Brad Pitt and Angelina Jolie wearing the look with vintage OP frames in a scene from Mr. and Mrs. Smith to Bono in an After Midnight pair with a custom washed lens on tour and off-stage, it's an aesthetic that feels effortlessly cool from set to off-duty life.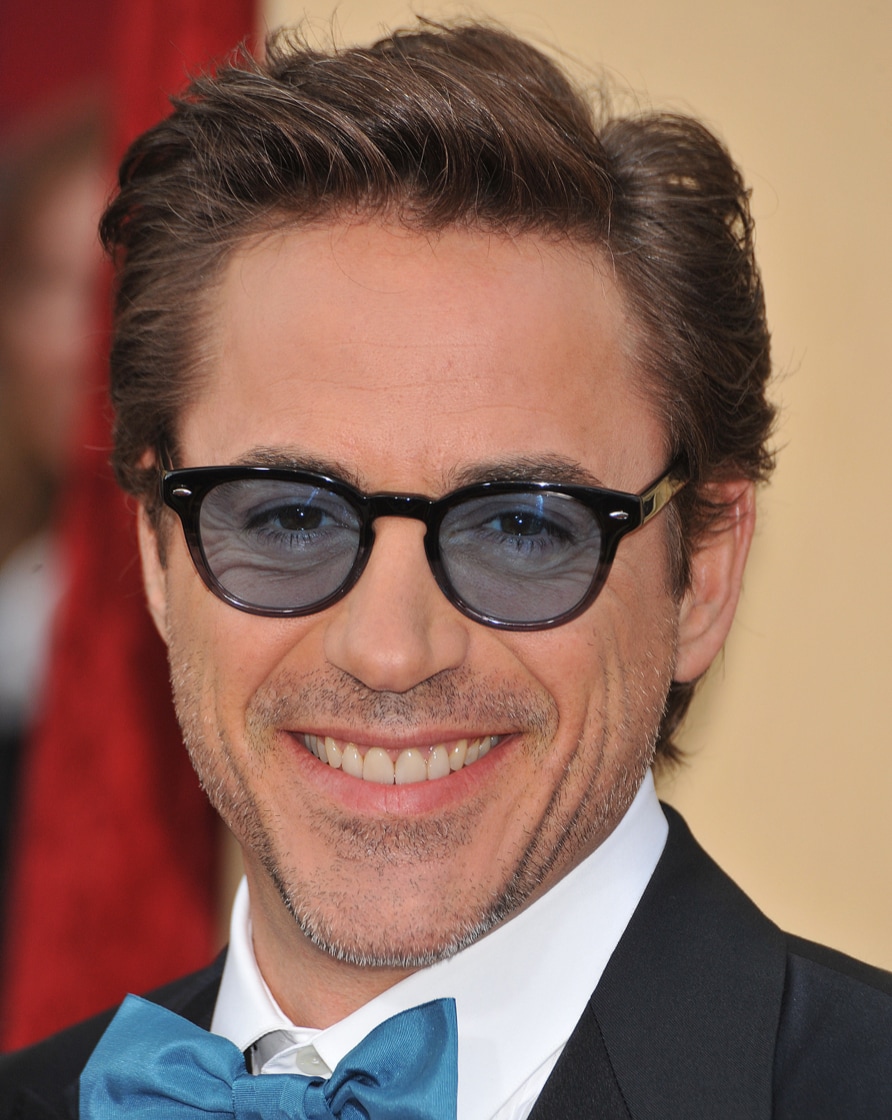 Robert Downey Jr. wears Sheldrake Sun with custom Blue Wash lenses at the 82nd Annual Academy Awards.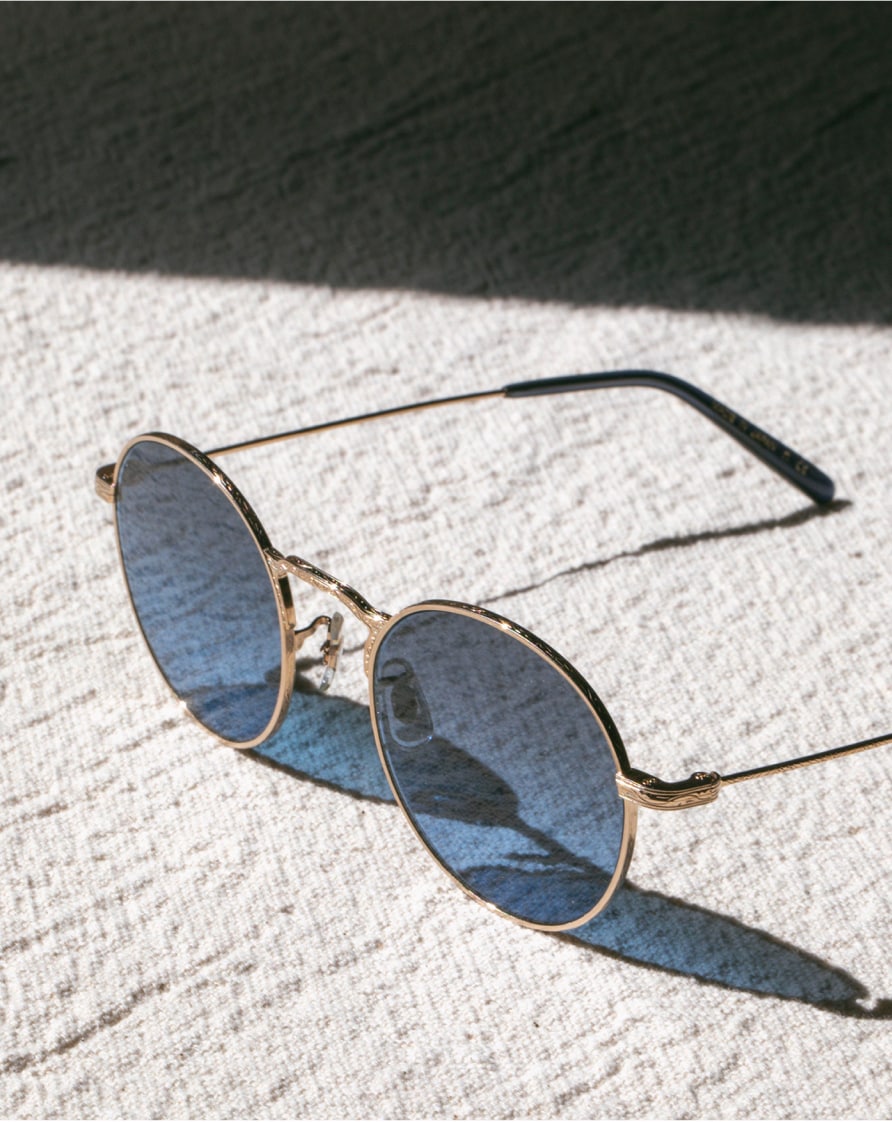 Weslie Sun is shown with a Dark Azure Gradient.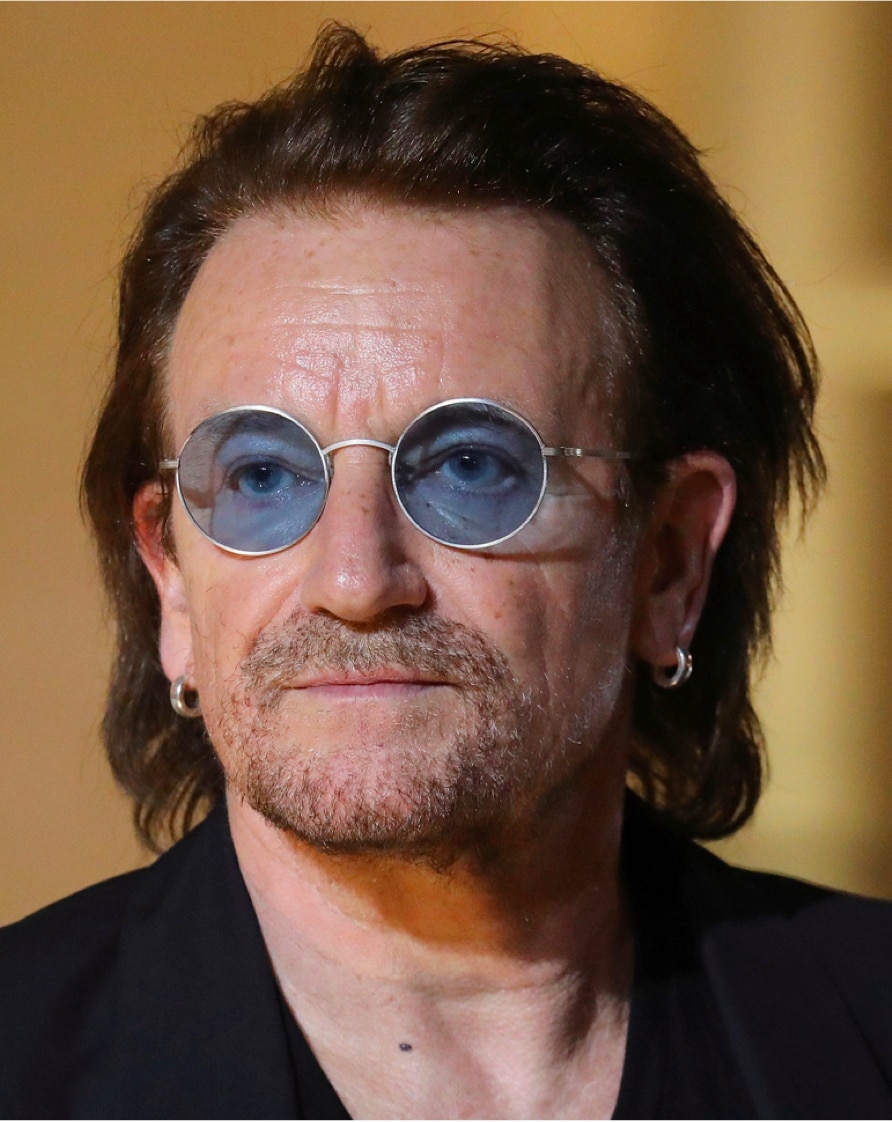 Bono as seen in his iconic, custom The Row After Midnight sunglasses with Blue Wash lenses.
A washed lens is not solely reserved for these celebrity moments. The design detail is ideal for everyday life – whether it be an overcast day or an early evening where a sun lens feels too dark. Through the use of color, a washed lens has the power to elevate a look.
For something as personal as a pair of glasses, selecting a washed lens, whether it be in the general design process or for a custom order, is a chance to show creative expression. And perhaps an opportunity – in a thoughtfully, subtle way – to feel a little different than the crowd.