Campaigns | Craftsmanship
Oliver Peoples Deconstructed
With refined details in focus, a contemporary, minimalist aesthetic shapes the Fall 2023 campaign and collection.
13 Min Reading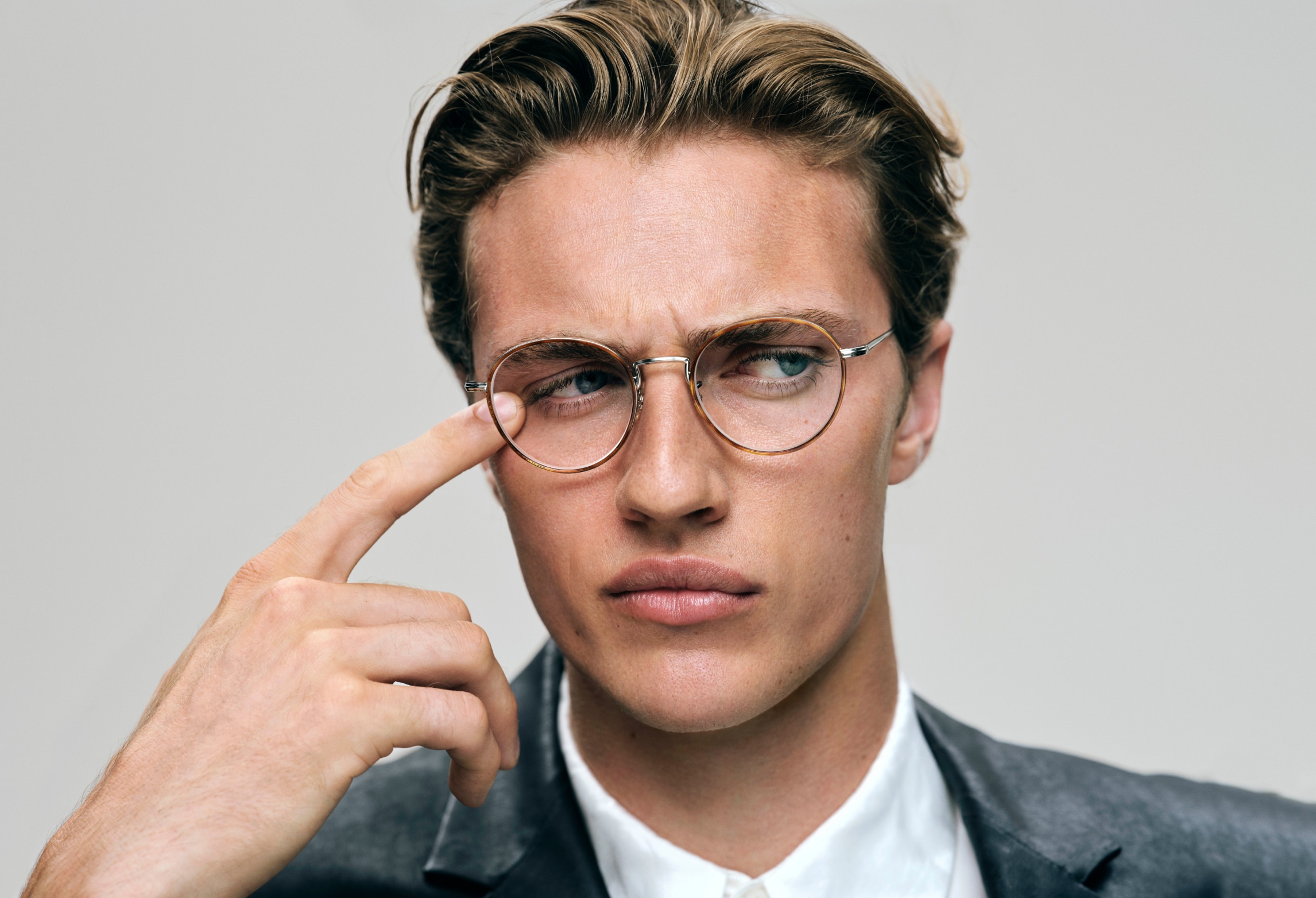 A modern interpretation of a classic metal style, Sidell, features a thin acetate insert and discoverable details.
Confident, bold, and sincere, Oliver Peoples' Fall 2023 collection celebrates the elegant simplicity and intentional details at the core of the brand, with a campaign that draws inspiration from the effortless, classic styling of the late 1990s and early 2000s. Titled Deconstructed, it stands in contrast to OP's recent narrative-driven campaigns, which have situated sunglasses and optical styles alongside LA's iconic architecture, glittering beaches, and emblematic landmarks. Deconstructed showcases this season's frames with honest, straight-forward naturalism, capturing models in close-up against a white studio backdrop to highlight the individual attitudes behind this season's eye-catching styles.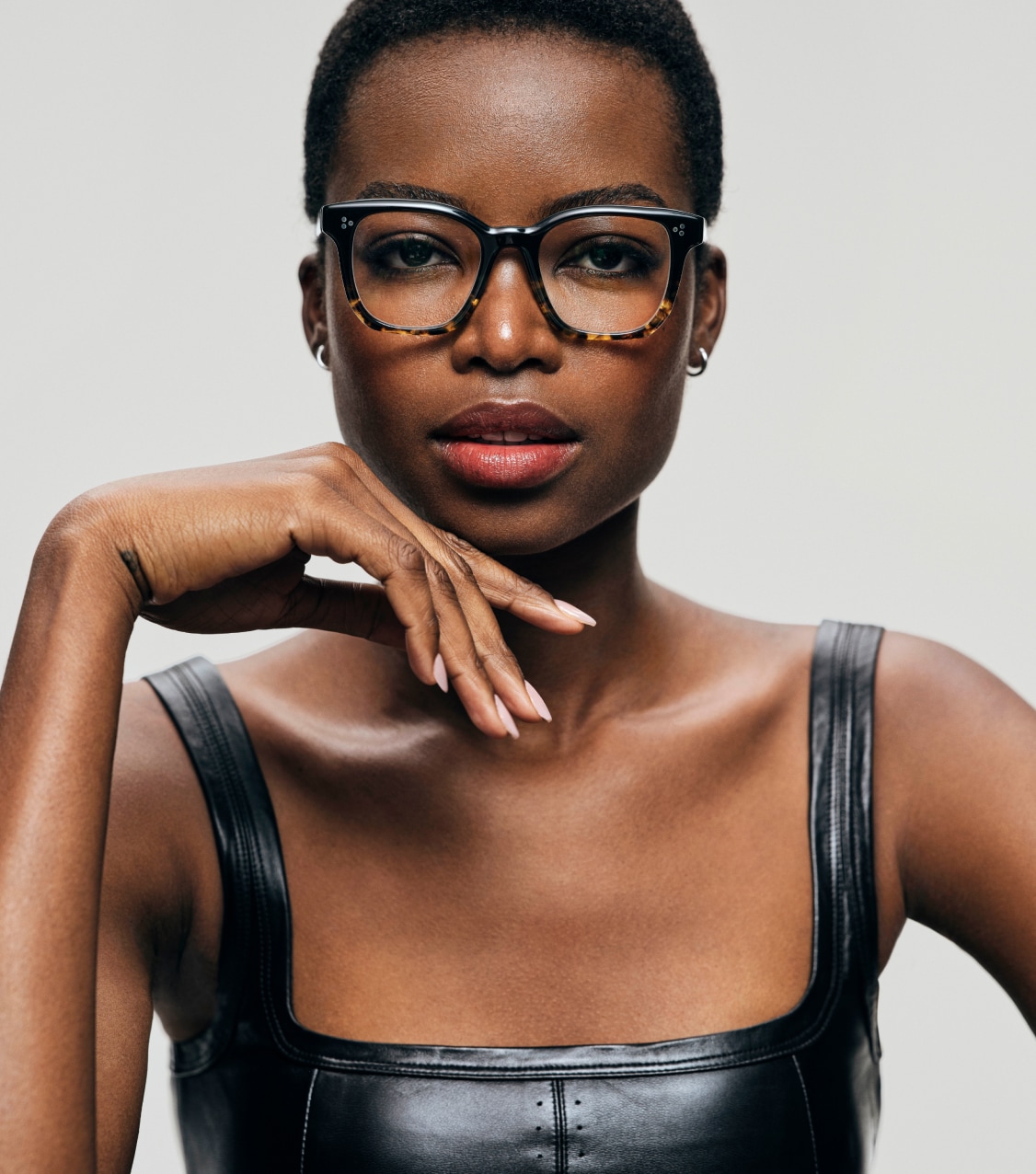 Lianella is a bold, upswept acetate frame with a daringly oversized lens shape.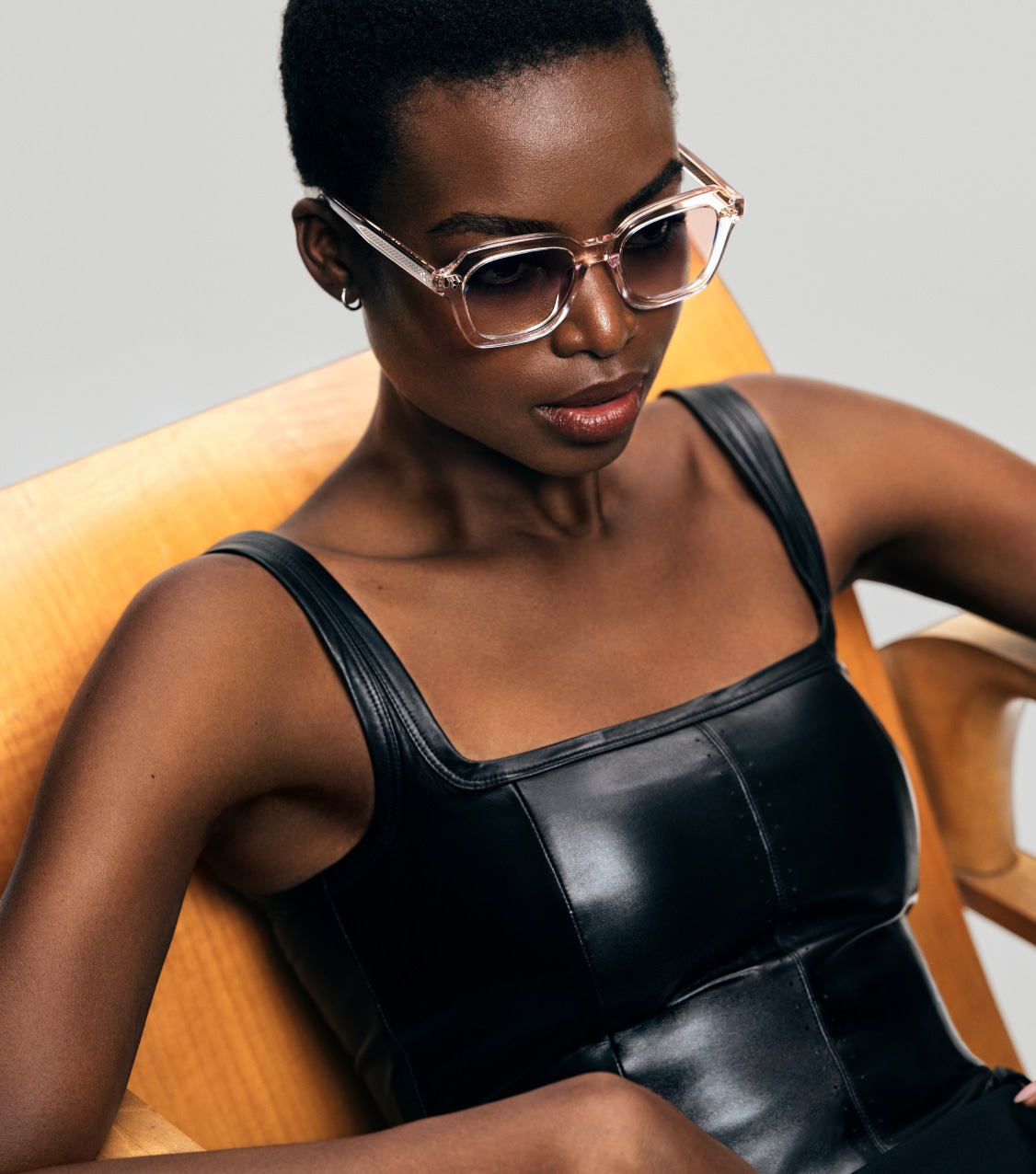 Statement-making, Kienna, is marked by a vintage argyle corewire filigree.
The campaign applies a contemporary minimalist aesthetic to the Hollywood iconography Oliver Peoples is known for, evoking the inherent glamour, fearlessness, and authenticity of a 1990s fashion editorial to mirror the chic effortlessness of the fall collection. Here, impeccably crafted sunglasses in new, creative shapes are presented alongside updated vintage-inspired optical styles with discoverable features such as corewire filigrees and custom hinges. This is OP stripped down to the function, ease, and refined details foundational to the brand, photographed to best highlight the vintage-inspired designs and modern acetate shapes that define this season's styles.
"Instead, we see the subtle, discoverable design codes inherent to the brand in close-up, highlighting the meticulous craft and functional ornamentation emblematic of OP."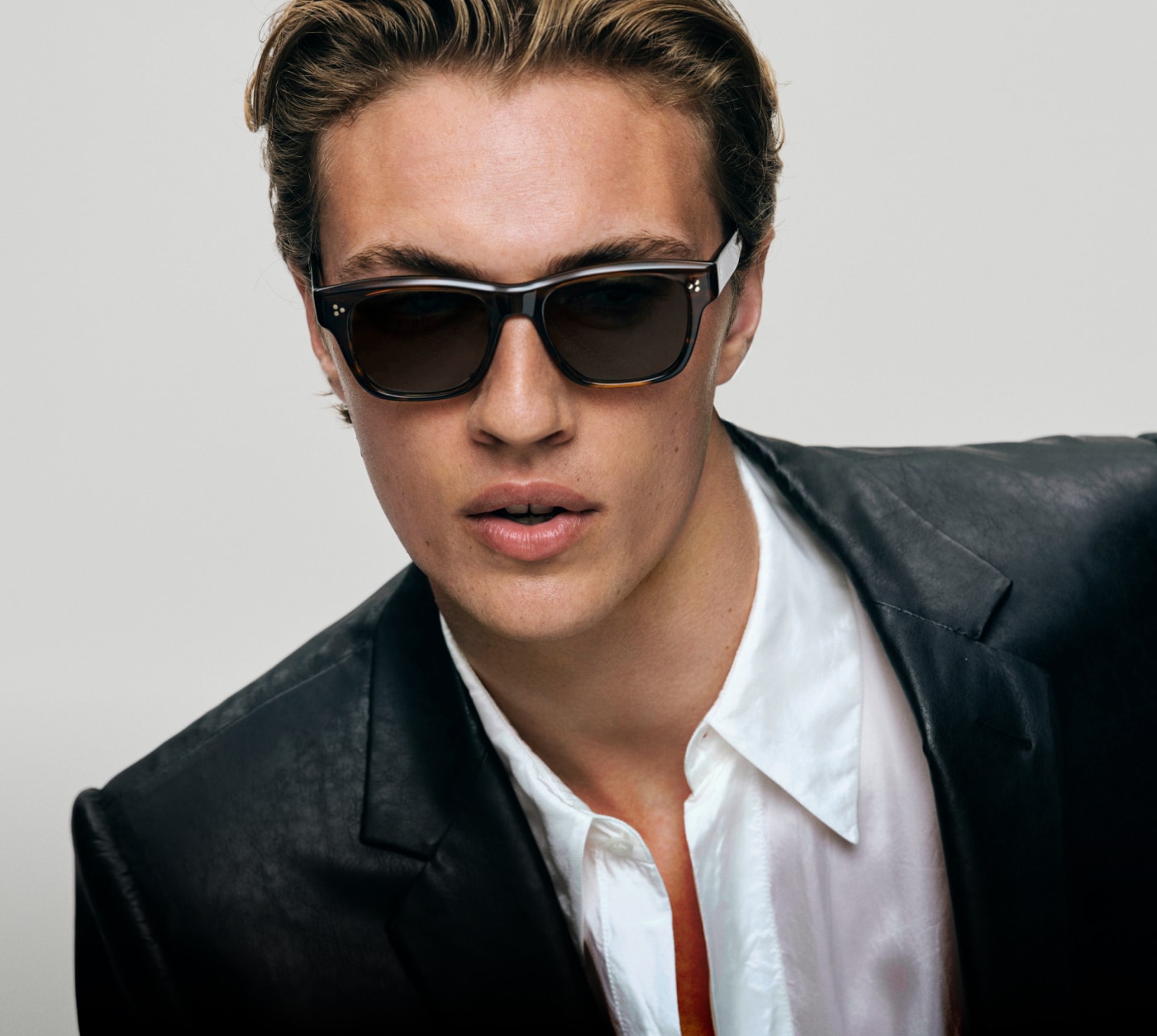 For the bold, Birell Sun is a quintessential OP acetate shape with custom details.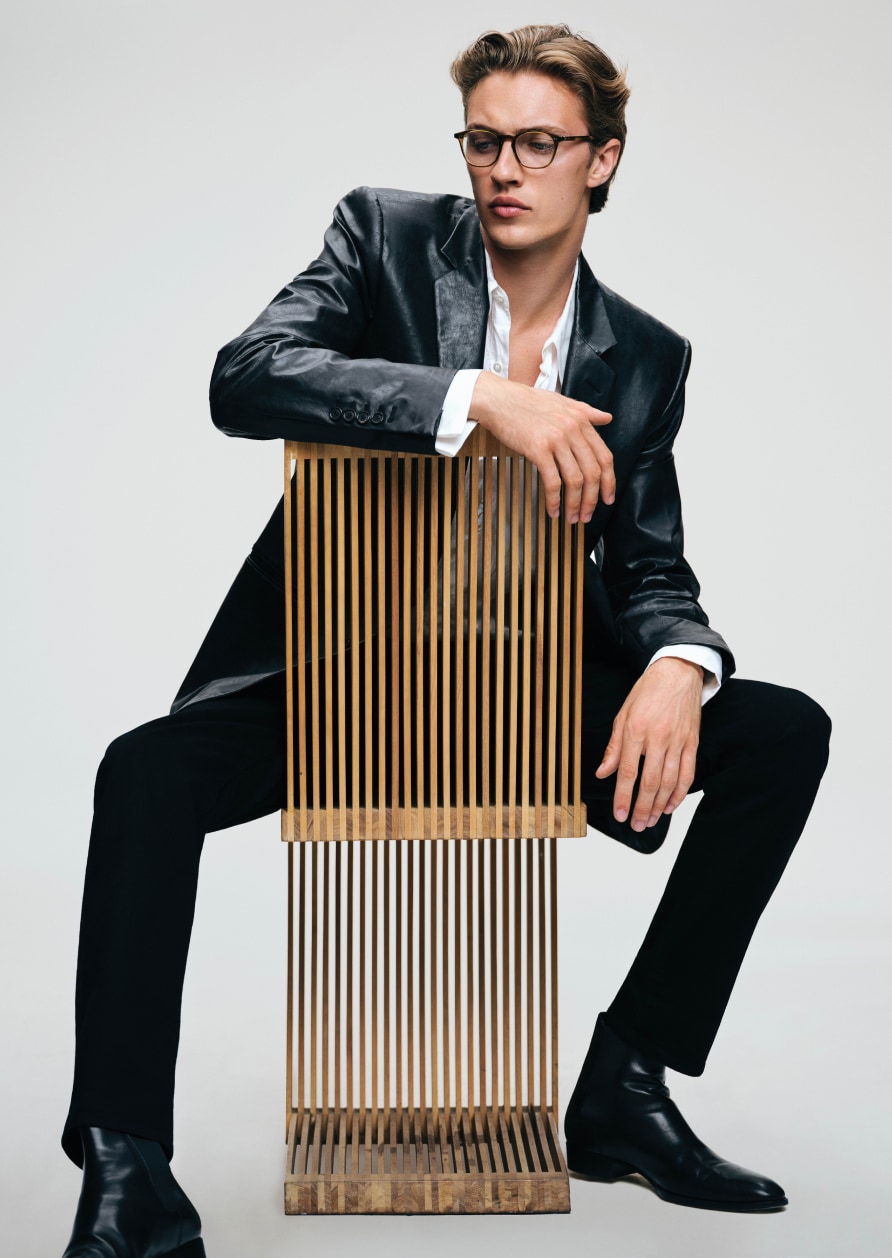 Ronne is a classic vintage shape with modern touches, including a deeper lens shape and thin acetate eyewire.
Taking a page from the distinctive realism of Richard Avedon and Peter Lindbergh, Deconstructed draws inspiration from the monochromatic form and function of Helmut Lang. These references mirror the effortless glamour and inherent sophistication of the frames, reinforced by each wearer's individual style and attitude. One shot captures a model sporting the bold, timeless, and quintessential Ronne, while sitting in the equally bold, Gerrit Rietveld chair that mimics the thin acetate eyewear. Ronne's deeper lens shape with functional dual pins is a vintage-inspired frame made modern, available in classic OP colors like Dark Mahogany and elegant blue Denim.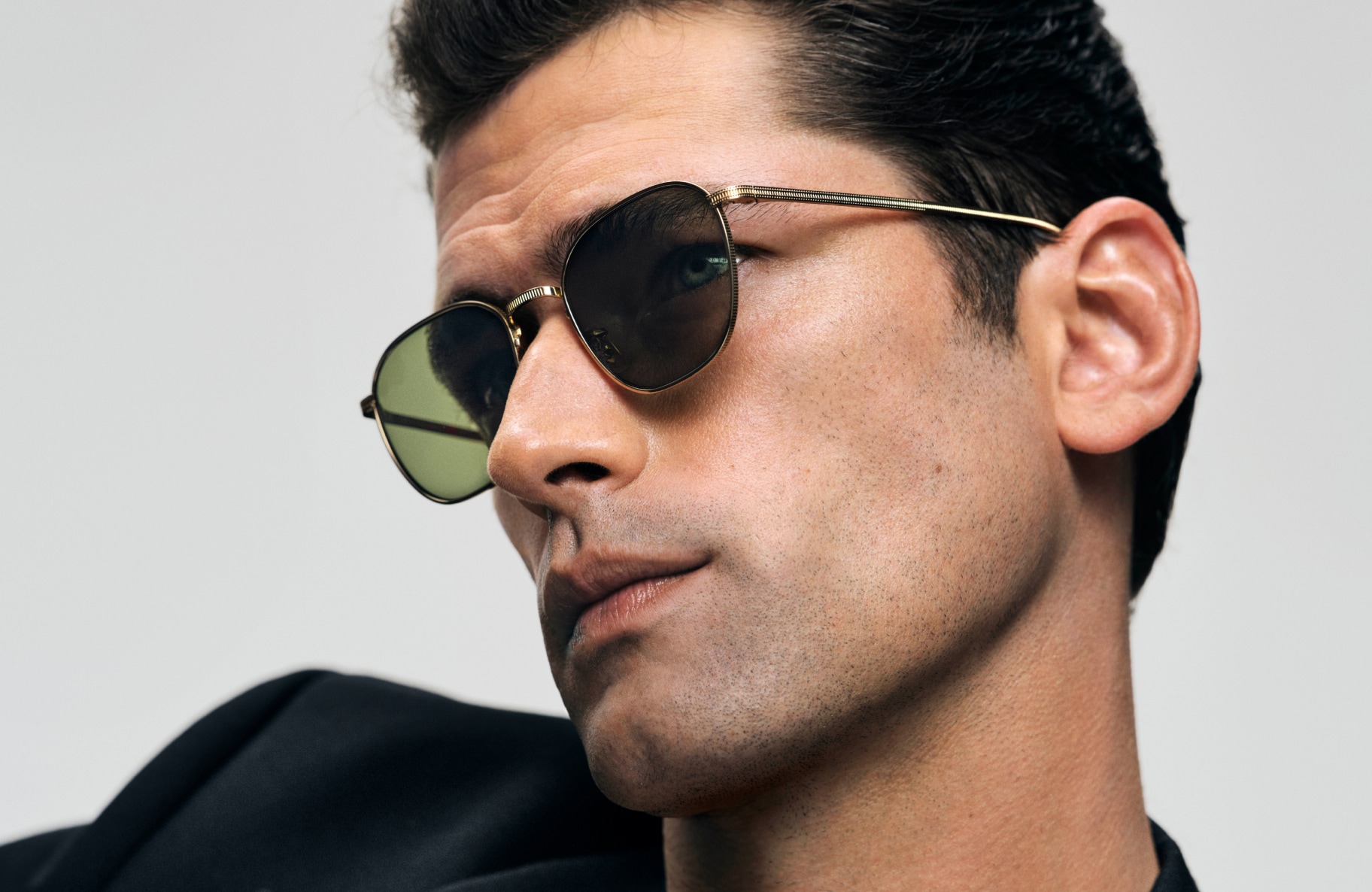 Rynn, a square lens metal sunglass style, stands out with a brand-new filigree inspired by the Golden Gate Bridge.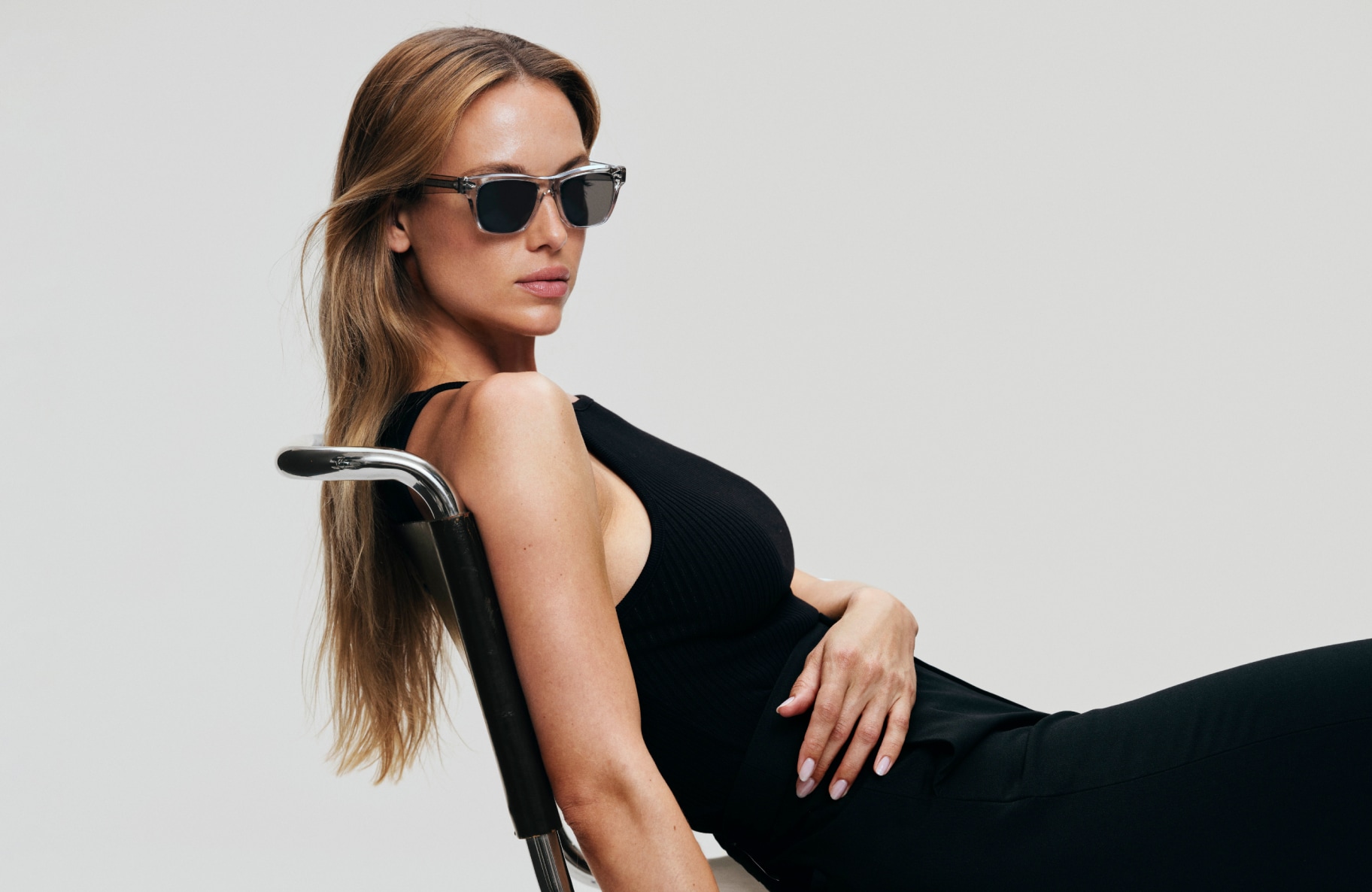 Oliver Sixties Sun features a drastic angled bevel in rich acetate colors.
Here, true design lies in the details, a reminder that Oliver Peoples has opted against conspicuous monograms and flashy logos for 35 years, long before the term "quiet luxury" was popularized. Instead, we see the subtle, discoverable design codes inherent to the brand in close-up, highlighting the meticulous craft and functional ornamentation emblematic of OP. The resulting aesthetic is Straight Out of Camera; using minimal intervention, the eyewear models are captured naturally and intuitively, in portrait lighting that highlights the distinctive features that make each optical style so unique.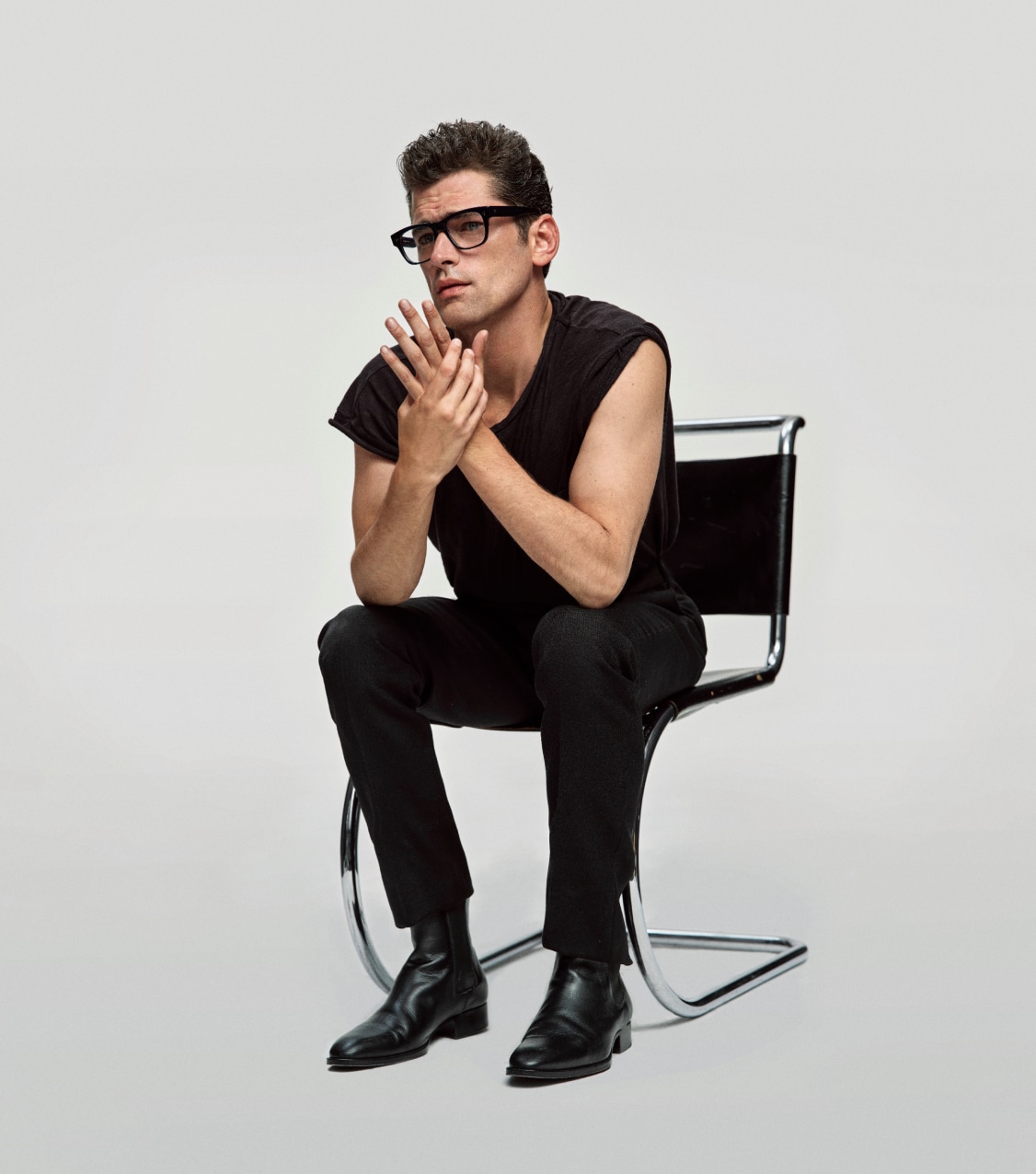 The bold Birell style comes with functional pins for added strength.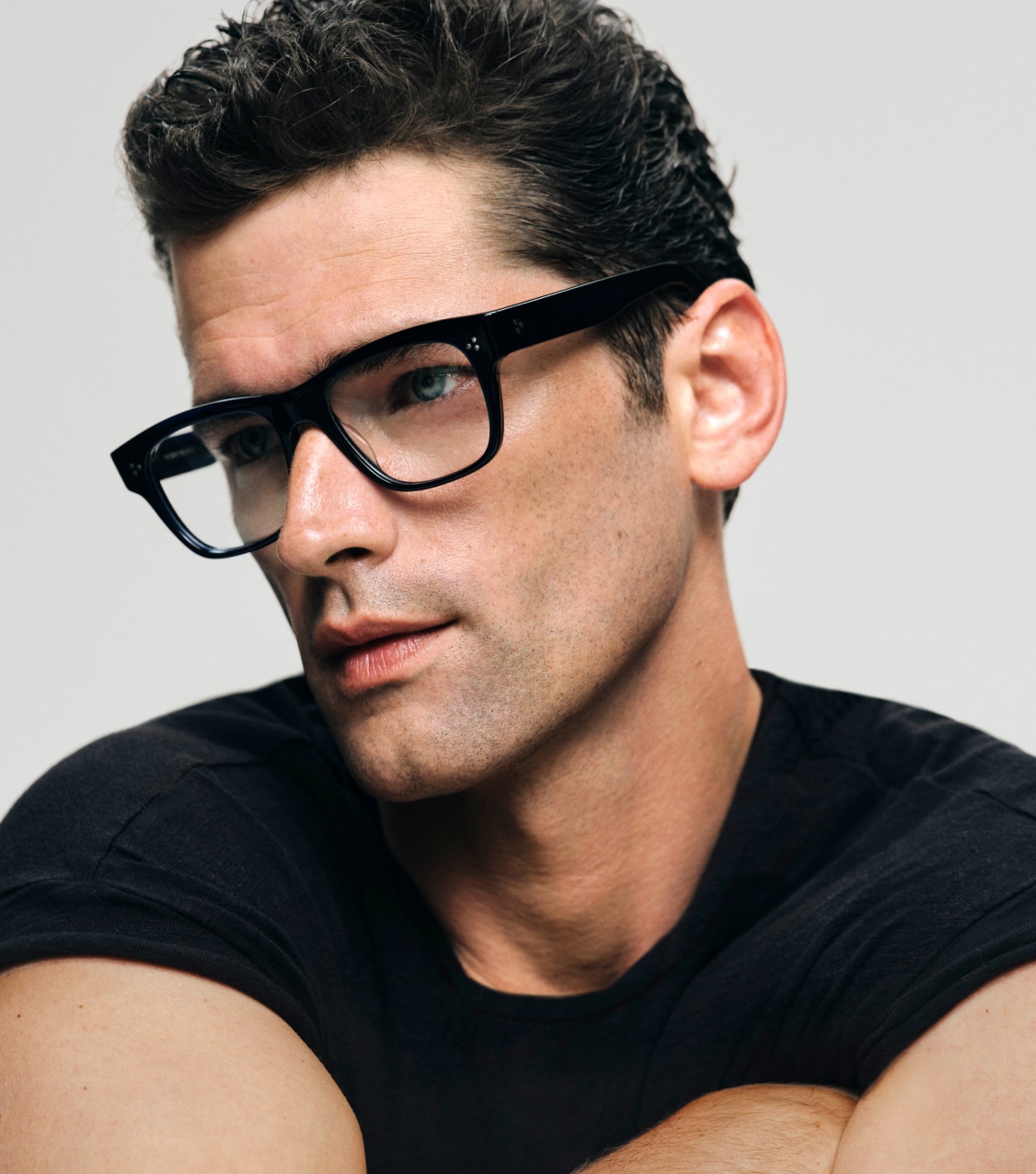 Oliver Sixties Sun is emblematic of the understated simplicity and updated vintage elegance of this season's collection. With its drastic angled bevel, custom plaque and unique hinge shape, the frame enhances the classic Oliver with exclusive 1960's details to create a stylish, contemporary wayfarer. They're a striking pair of sunglasses that still feel sophisticated, grounded in a bold timelessness meant to enhance one's facial features rather than overpower.
As is always the case at OP, this fall's frames do not rely on trends or gimmicks, but instead showcase creative shapes, masterful craftsmanship, and classic styling without commentary. With this straightforward, effortless presentation comes a quality of disruption: what happens when a campaign opts for indoor portrait lighting in lieu of the seductive Los Angeles sun? What are the essential qualities of the product that lie beneath a glamorous location and evocative wardrobe? Deconstructed deploys a clean, minimalist aesthetic to best highlight this season's bold frames, intellectual styles, and creative vintage-inspired shapes.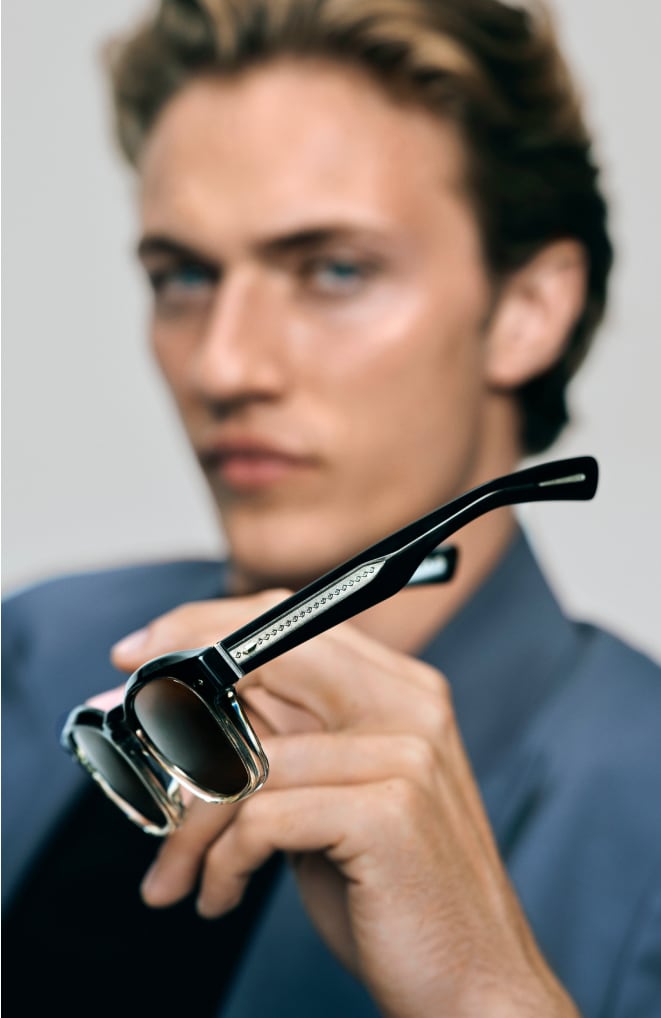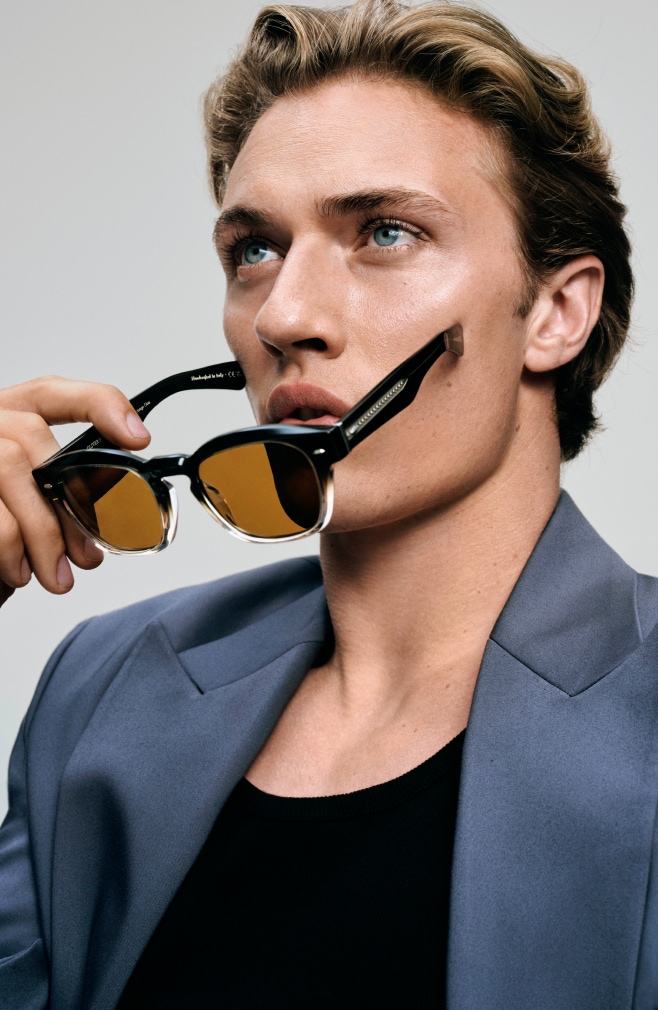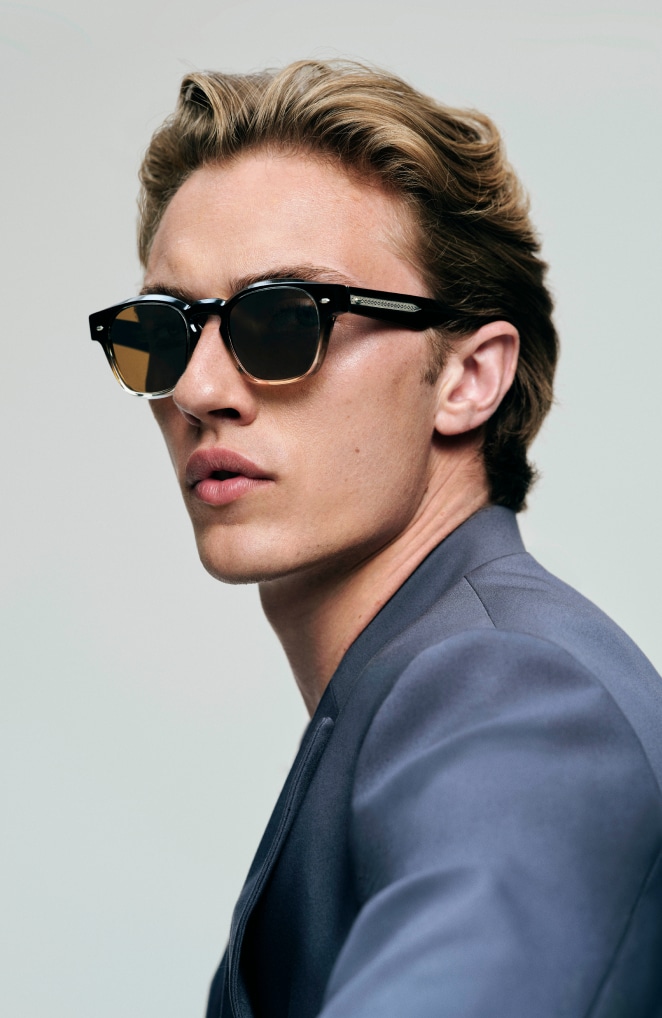 Maysen's angular frame front is available in a warm Kona gradient, complimented by coffee-colored True Brown acetate.
Gleaning inspiration from bold optical shapes and exacting craftsmanship through the ages, the Fall 2023 frames cut across the most refined looks of each decade, from the 1960s to today. These unique optical styles gesture towards the elegance and simplicity of the past, constructed using OP's proprietary lens technology, in a juxtaposition that shapes a contemporary vintage aesthetic unique to Oliver Peoples. Seated in an architectural Marcel Breuer chair, a model sports the bold and singular acetate Birell, in a classic, minimal image that could have equally been shot in the 1960s, early aughts, or today. The aesthetic motivation behind both the fall collection and Deconstructed lies in the emphasis of elegant simplicity to reinforce the essential qualities of Oliver Peoples eyewear since 1987: effortless cool glasses, incredible craftsmanship, creative shapes, and discoverable design details. No labels, all luxury.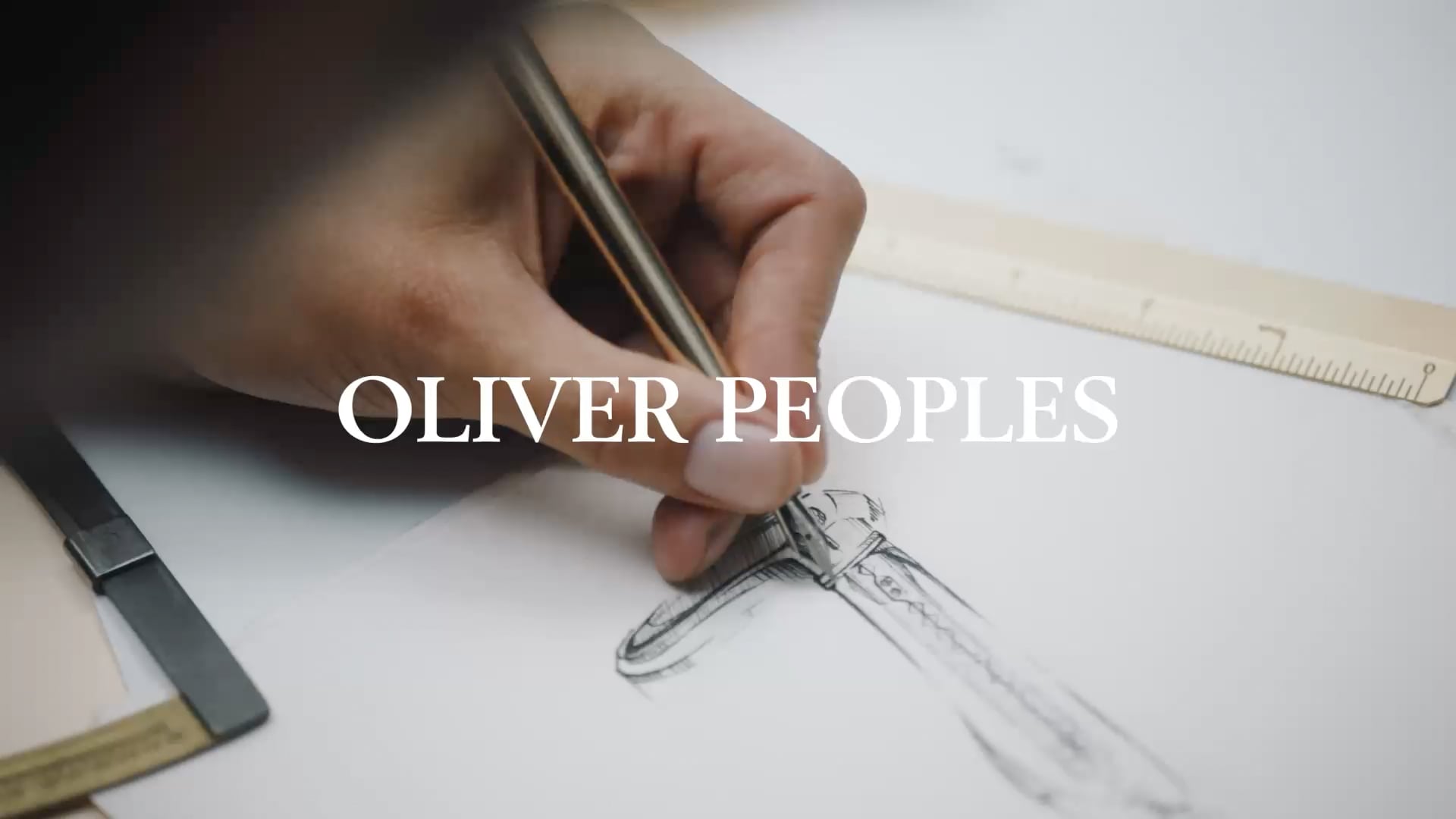 PHOTOS: Zoey Grossman
WORDS: Maddie Phinney
VIDEO: Michael Rizzi