MORE TREES
Capsule Collection to Help Support Forest Development and Conservation Efforts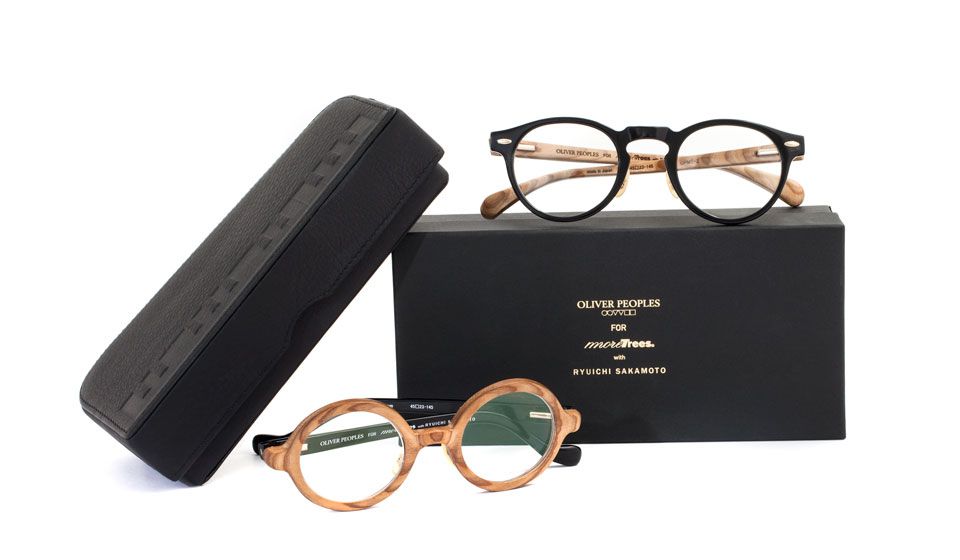 Oliver Peoples is proud to partner with Japanese environmentalist and musician Ryuichi Sakamoto's foundation, More Trees, to develop a unique and philanthropic capsule collection. The limited-edition collection includes three, distinctive styles handcrafted of environmentally conscious, precious materials. The collaboration frames will be available for purchase beginning in August 2014.
In 2007, Sakamoto founded More Trees, a general incorporated association, alongside Haruomi Hosono, Yukihiro Takahashi, Shinichi Nakazawa and Moichi Kuwahara, with the mission to advocate the growth and nurture of natural forestation. Sakamoto is most well-known for his success as a musician, mastering the piano and keyboard to record, compose and produce internationally recognized electronic and contemporary-classic music. While always concerned for environmental issues and peace activities, Sakamoto was especially moved by his realization of the imperative need to recreate natural forests with the aid of forestation in order for life on Earth to continue. More Trees, as its name suggests, is a global initiative to spearhead the maintenance and conservation of forests globally, during a time that deforestation has accelerated to reach a critical point.
Supporting a sustainable forest requires that the tree population be systematically "thinned," so that the floor underneath the dense canopy of trees can absorb vital nutrients from the sun. Without thinning, dense areas of forest become malnourished and weak. Traditionally, trees that have been cut during the thinning process are discarded in the surrounding mountain areas. More Trees offers an alternative, sustainable solution by covering the cost of transporting, processing and utilizing the woods for various high-end consumer uses in cities, such as the Oliver Peoples for More Trees capsule collection.
The three collaboration styles are each constructed of recycled and natural materials that, when renewed into eyewear, make a bold and progressive statement. The OPMT-1 optical frame features a round lens shape constructed of Japanese cedar wood from fallen timbers. The unique frame also showcases curved temples of bio-acetate, which is a durable, ecofriendly plastic developed by Mazzucchelli. By contrast, the OPMT-2 style utilizes the bio-plastic for the retro-inspired, P3-shape frame front, and the rich, natural cedar to compose the temple arms. Both of these optical styles are handmade in Sabae, Japan.
The third style, the OPMT-3, offers an alternative to the wood-crafted styles with the use of bio-acetate and metal. The combination frame comes in four colors and showcases a beautifully filigreed nose bridge true to the vintage aesthetic and fine detailing of Oliver Peoples Eyewear.
The environmentally conscious, custom packaging culminates the exclusive collection. Each style comes with a branded cleaning cloth and a substantial, luxurious case made of high-quality Japanese deerskin, a material promoted as environmentally friendly by the More Trees Foundation. The eyewear case is designed in the motif of a piano to signify Sakamoto's passion for music.
A portion of retail proceeds from the Oliver Peoples for More Trees capsule collection will be donated to the foundation in order to help support its forest development and conservation efforts. The three styles will be available in limited quantities in Oliver Peoples boutiques and select retail stores in Japan beginning in Summer 2014.