OLIVER PEOPLES AND BYREDO
Joint Perception of the Senses

This summer we are pleased to announce a partnership with Ben Gorham's Stockholm-based fragrance house, Byredo, for a compelling collaboration that explores the intersection between sight and scent. Sharing a dedication to an understated approach in the niche segment of our respective industries, Oliver Peoples and Byredo is an ideal combination of two brands focused on craftsmanship and quality. Together we have created a limited edition sunglass and fragrance that effortlessly complement one another.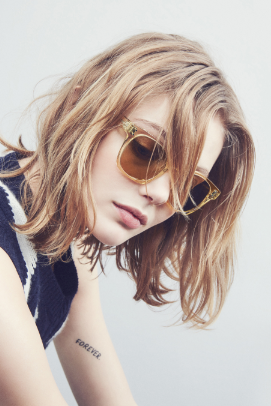 THE CONCEPT Inspiration for the alignment between Oliver Peoples and Byredo originates from the phenomenon 'synesthesia,' which is the joint perception of senses, whereby the stimulation of one sense can involuntarily produce an association with an entirely different one.
"Ben and I share a similar view on brand positioning and aesthetic and have always wanted to do a project together, says David Schulte, Oliver Peoples CEO. "About a year ago he called me and said the word "synesthesia" which I never heard of. I loved it, of course, and from there we developed the concept of uniting sight and smell around an influence of LA. Oliver Peoples has never done anything but glasses, so for us to venture out and do a scent is a very big deal. I can't think of anyone better than Byredo to do it with."
The conception of the collaboration was achieved through Byredo's master perfumer perceiving the sights of Los Angeles through different colored lenses, and translating them into various smells, therefore producing a multi-faceted fragrance. This unique effort results in an original frame designed by Oliver Peoples, through which the color of the lenses correlate with the aroma of the custom-blended fragrance by Byredo.
THE FRAME AND FRAGRANCE
The unisex, acetate sunglass is available in two frame color ways, Semi Matte Black and Beige Crystal, with three different photochromic lens colors, including Indigo, Champagne and Green. The fragrance and sunglass will be sold separately, as well as in a bespoke box set with a custom-made case and pouch. The fragrance bottle – which naturally matches the lenses and also is available in indigo, champagne and green – will correspond with the chosen lens color.
"I have always admired Oliver Peoples for as long as I can remember and felt their approach to product was similar to ours at Byredo. It was important for me that this partnership had a true reason for being and synesthesia and the idea of joint perception became that. I have met artists, musicians and perfumers that display traits of this so-called disorder, and I have always been fascinated by the clarity of their descriptions," said Ben Gorham, Creative Director and Founder of Byredo.
The Box Set is now available exclusively at Barneys New York. The limited edition Oliver Peoples and Byredo sunglass and fragrance will arrive in select stores spring of 2015.