OLIVER PEOPLES X PUBLIC SCHOOL
A Partnership with CFDA Award Winners Public School on an Original Collaboration Sunglass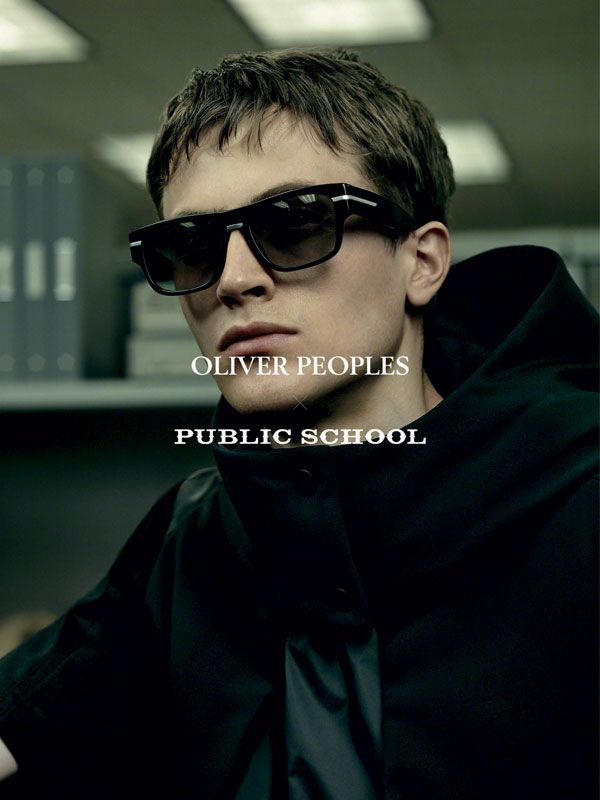 Oliver Peoples is pleased to announce a partnership with CFDA award winners Public School on an original collaboration sunglass. Created in 2008 by Dao-Yi Chow and Maxwell Osborne, Public School is highly regarded for an innovative eye in fashion and use of high quality materials. Similar brand core values and design philosophies led to a natural partnership to collaborate on a sunglass that will accompany their 2015 Fall collection.
Inspired by their hometown of New York, Public School merges the modern and urban culture of the city, such as art, fashion music and more into their designs. Southern California based Oliver Peoples, shares an identical inspiration source using the unique Los Angeles lifestyle as a foundation for their eyewear. With both brand's design influences stemming from personal surroundings and experiences, Oliver Peoples and Public school have aligned in true collaborative spirit – fusing New York and Los Angeles' distinct cultures – to create a capsule sunglass collection.
Taking inspiration from the classic Wyler frame, worn personally by Osborne, the Public School designer's worked together with Oliver Peoples to create a frame that would naturally complement the aesthetic of Public School. The bold acetate frame takes on a slightly sporty aesthetic while maintaining a high fashion edge. A long, linear metal detail runs from the temples and through the bridge, creating an illusion of one connected piece. The collaborative sunglass was created to accompany the evolved looks of the 2015 runway show where debuted, and is suitable for every day wear, much like the Public School collections.
"I've been a fan of Oliver Peoples for a while now," says Osborne. "We wanted to create something that felt like a true blend of both brands –a juxtaposition of classical tailoring and modern edginess. The Public School fall 2015 collection draws inspiration from the early 90s club scene, and we felt these glasses perfectly complemented our direction for the season."
The Oliver Peoples x Public School sunglass is available in three color ways. Coinciding with Public School's predominantly black palette, two different black versions – matte black with midnight express lenses and shiny black with obsidian mirror lenses – are offered in addition to a neutral Grey with opal flash electric lenses.