Craftsmanship | Collaborations

15 Min Reading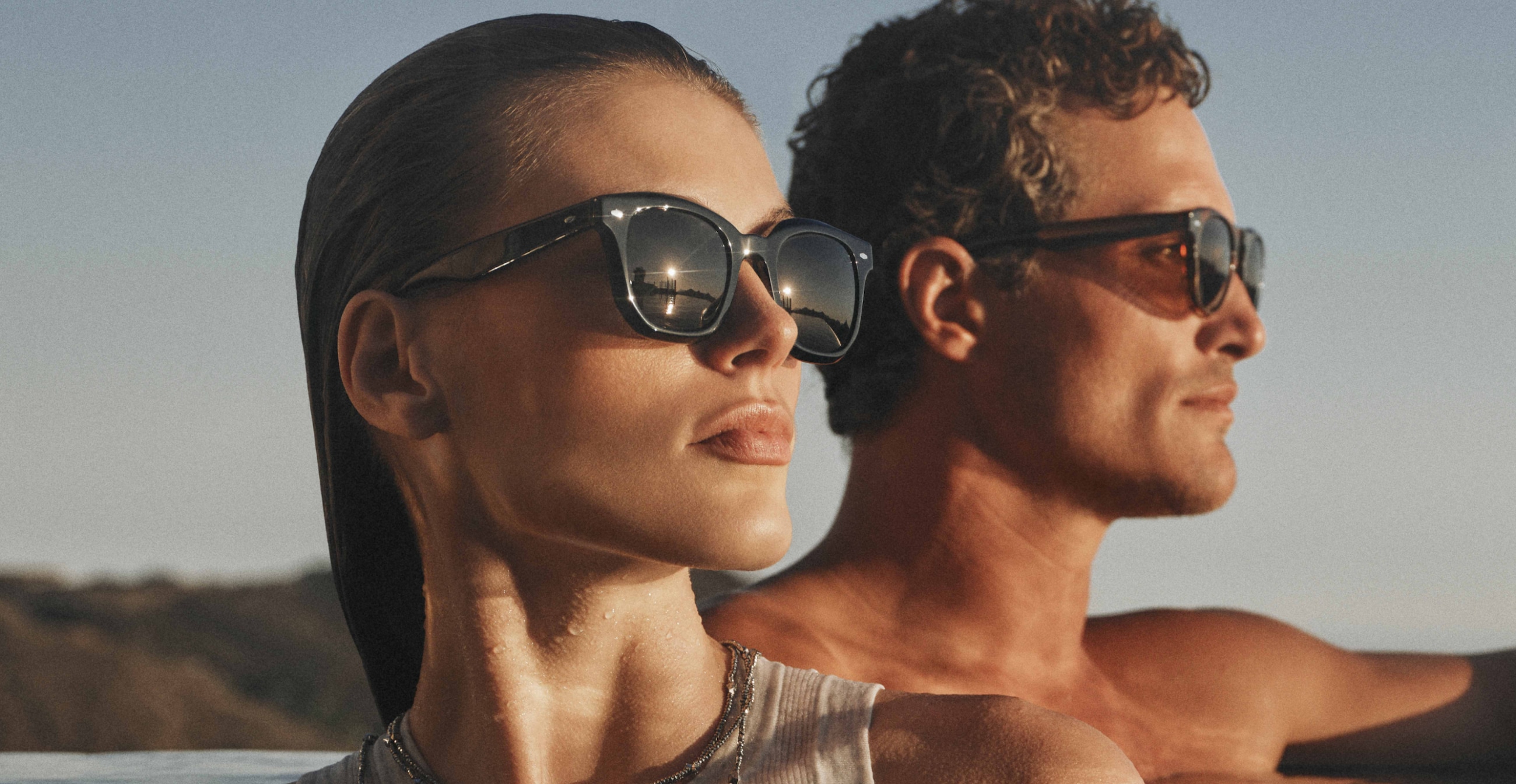 Oliver Peoples & Brunello Cucinelli Collaborate on an Exclusive Collection
Oliver Peoples proudly launches the first collection in collaboration with Brunello Cucinelli. Founded in 1978, Brunello Cucinelli finds its heart in Solomeo, Italy – a small medieval hamlet, where humanity and nature coincide in perfect harmony. Deeply rooted in the spirit of California, Oliver Peoples looks to elements of film, art, architecture, music, and fashion as influence that remain at the core of the brand DNA. Together, a profound connection to place of origin uniquely weaves through every facet of the Oliver Peoples and Brunello Cucinelli collection.
Exclusively made in Italy, all five collaborative styles incorporate artisanal and custom attributes throughout the frame. Starting with the lenses, every style features a custom Oliver Peoples Brunello Cucinelli breath logo. Uniquely, the Oliver Peoples symbols are found on one lens and a skyline rendering of Solomeo can be seen on the corresponding lens.
For the acetate frames, there are two custom corewire designs. The first being a Monili pattern as an ode to the core design pattern in Brunello Cucinelli women's collections. The second is a custom pattern inspired by the look of layered arches, so often seen in the architecture of Solomeo.
For the metal styles, the standout detail is a genuine horn inlay on the temple. With variations in color and pattern on this inlay, each piece is truly unique. As an added branding moment, every style features the signature Brunello Cucinelli crest on one of the temple tips.
"For the design process, working with Cucinelli's team was seamless," Giampiero Tagliaferri, Creative Director at Oliver Peoples, says. "We spoke the same design language as we both champion the process of crafting something simple yet incredibly special –through the use of purposeful materials and intricate details. For this reason, the collection is characterized by a luxurious simplicity."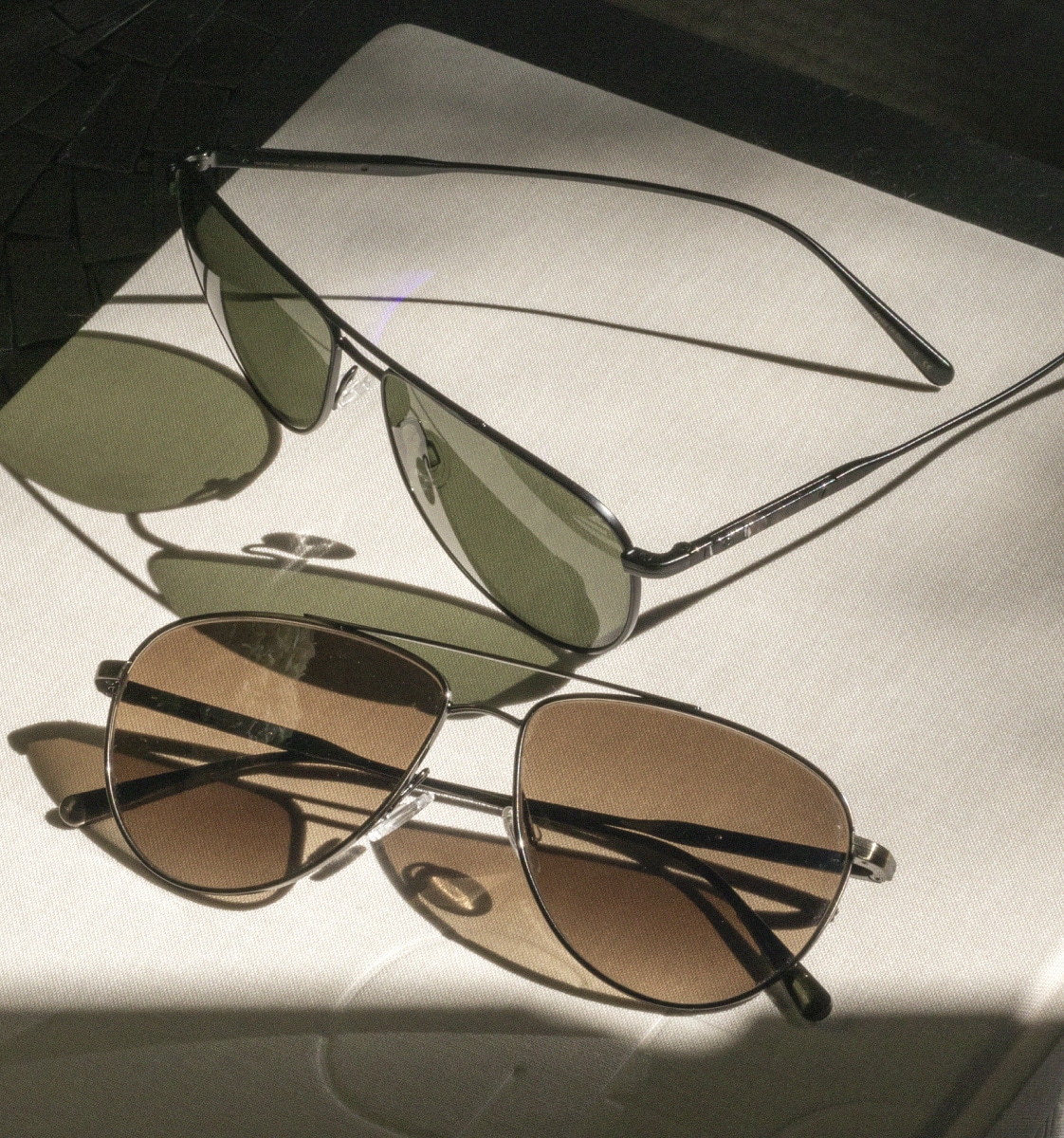 Disoriano seen in Matte Black G-15 and Antique Gold Chrome Amber.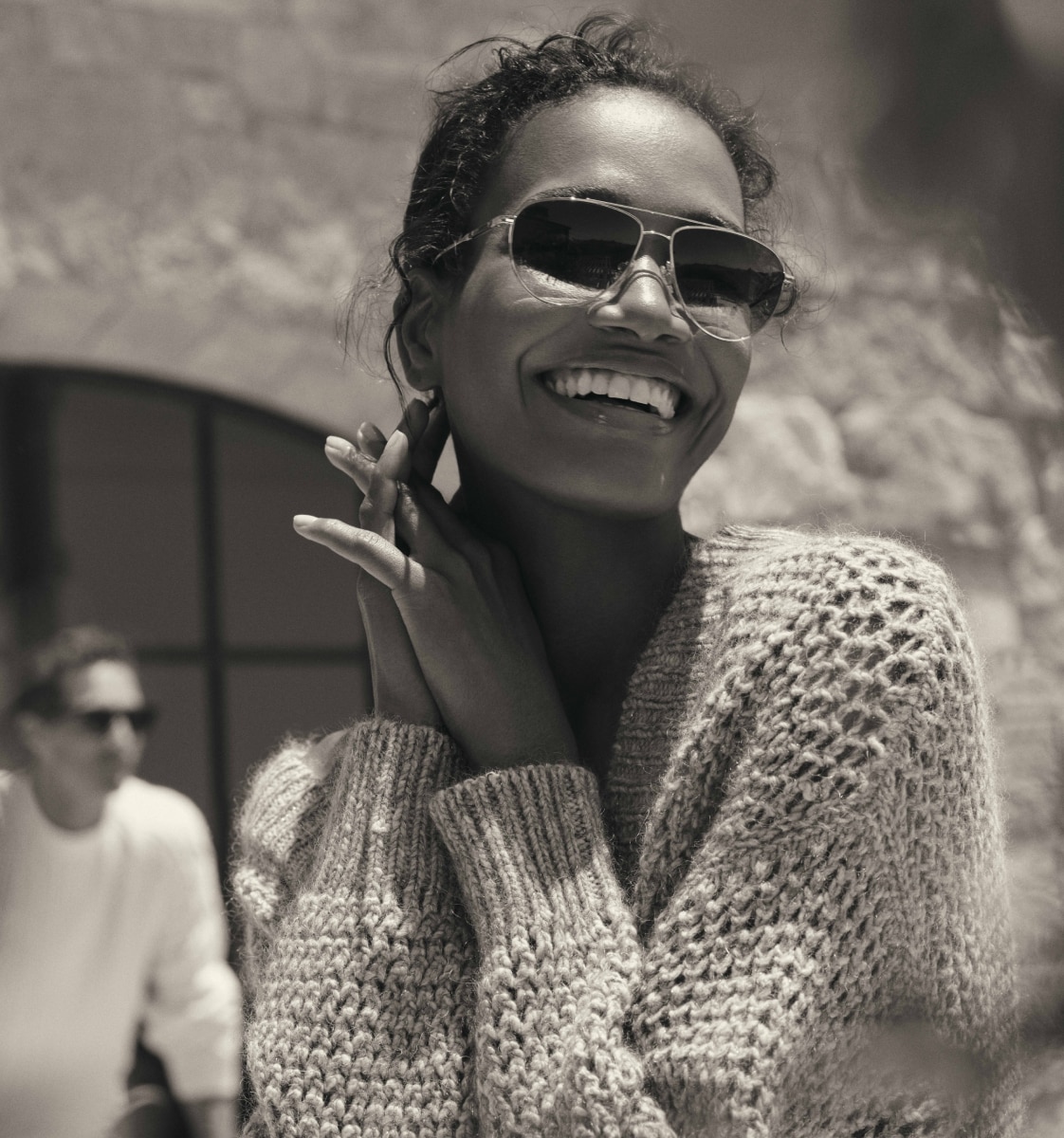 A classic teardrop sunglass, Disoriano is offered in a luxuriously neutral color palette.
When it comes to the specific styles, every silhouette and corresponding colorways was as thoughtful and intentional as the custom details that define the collection. With the pilot-style, Disoriano, like all the frames in the collection, invokes a signature earthy palette that aligns with Brunello Cucinelli attire.
The metal frames have been enhanced with the genuine horn inlay, discreetly engraved logos on the temple tips, and dedicated custom breath logos on each lens.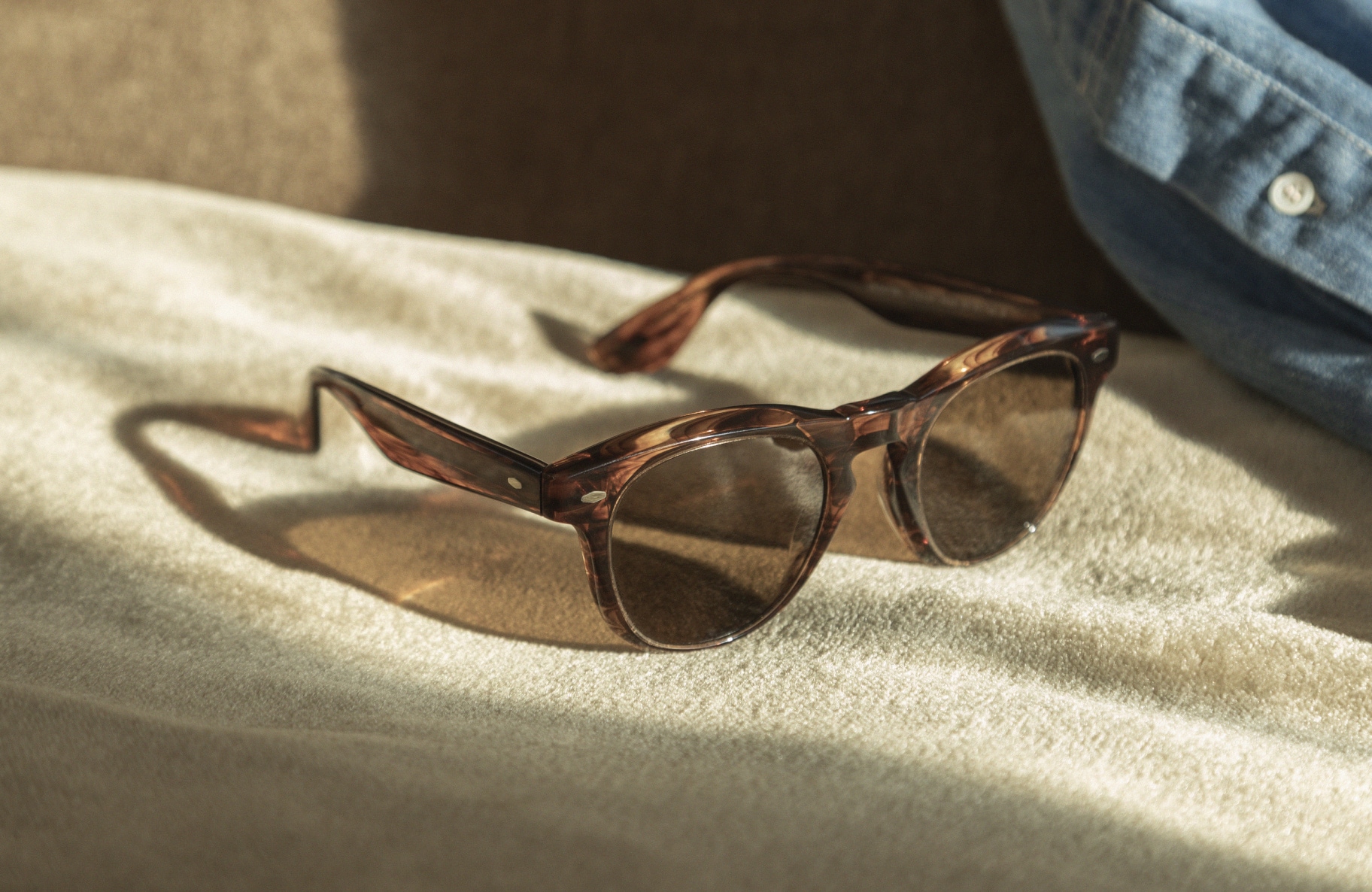 Nino is very much a vintage inspired design enhanced with custom details.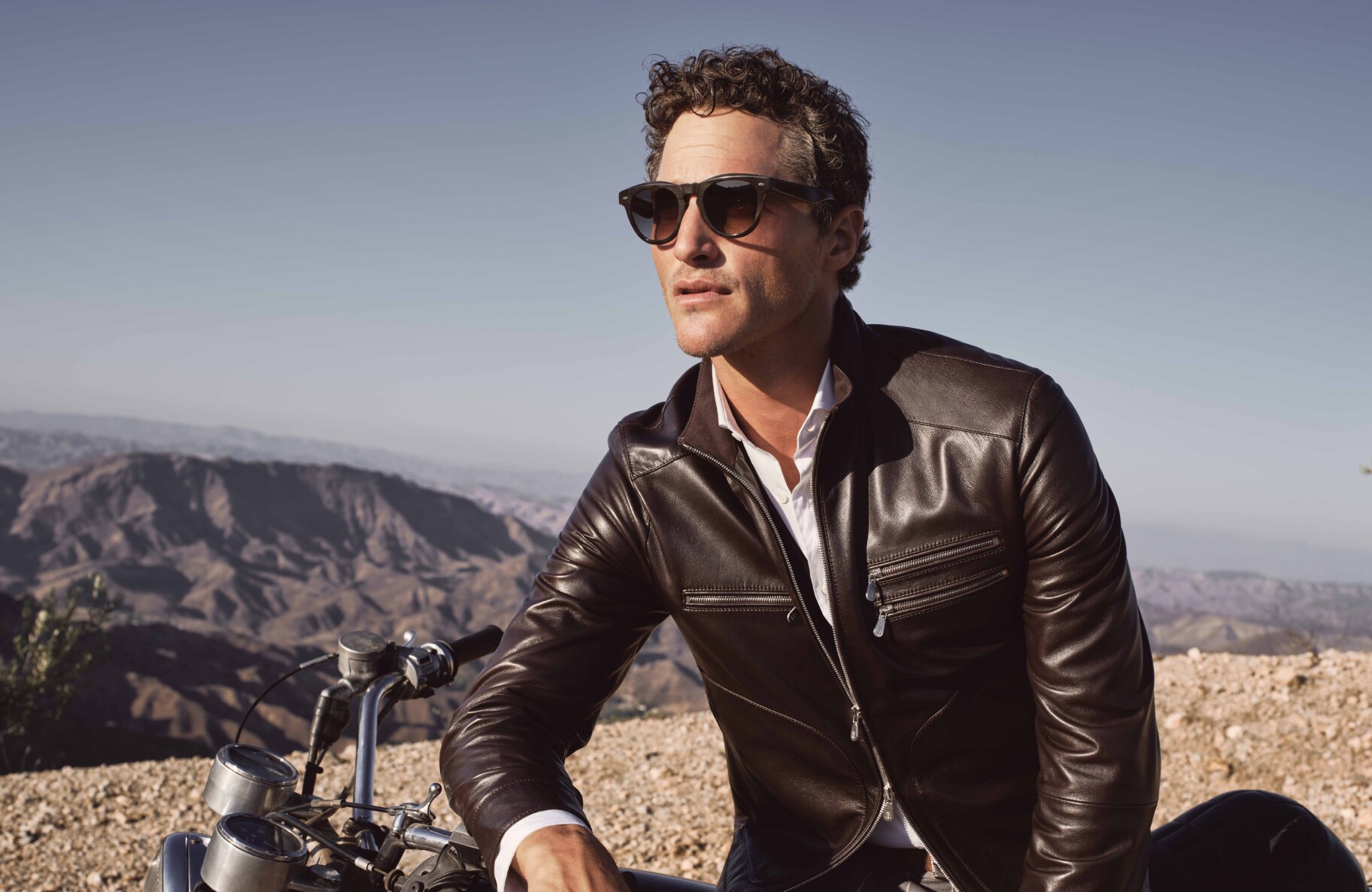 Nino is seen in Olive Smoke with Chrome Olive lenses.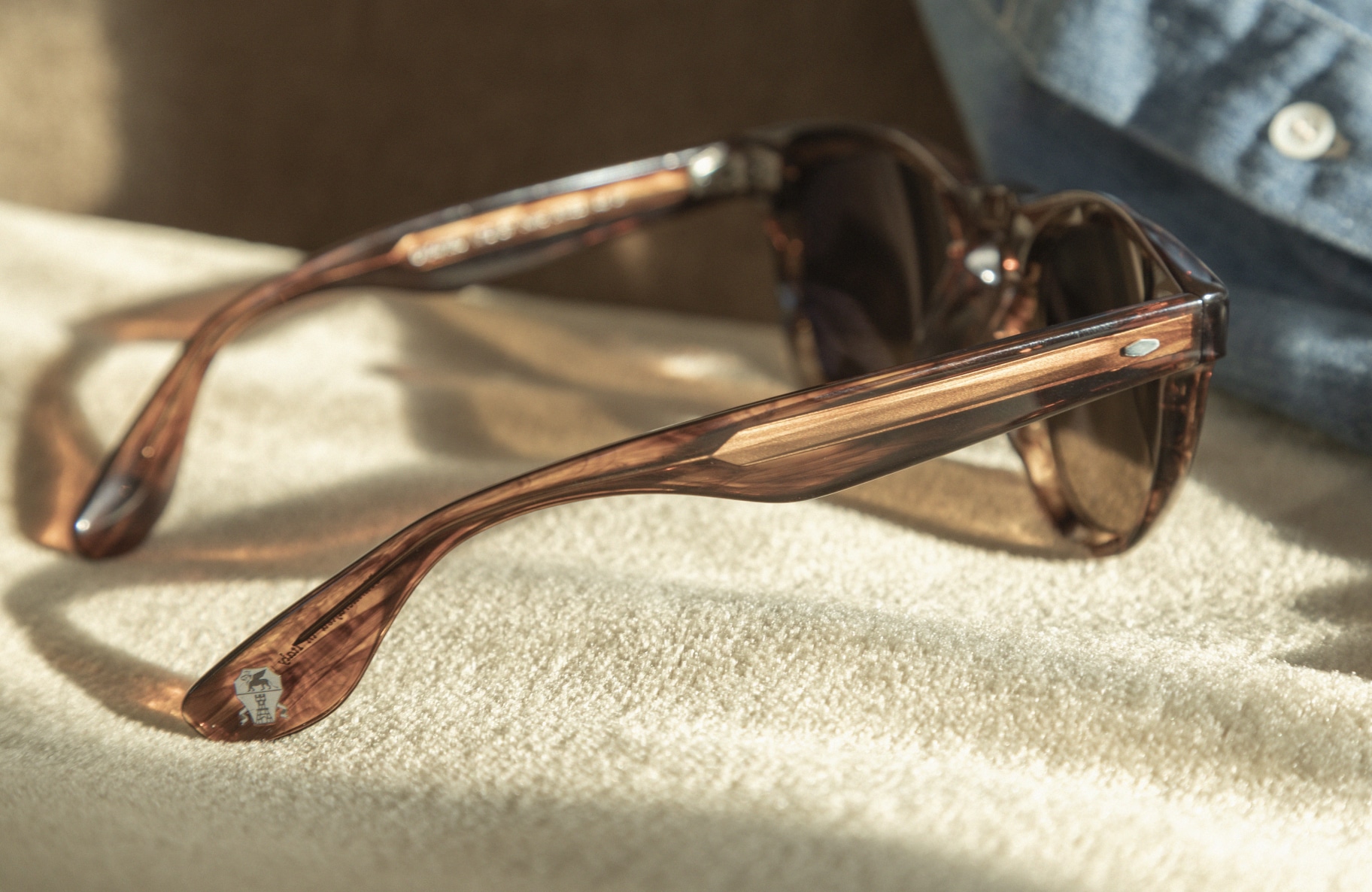 The beautiful, exclusive filigree can be seen on the custom corewire.
The timeless Nino adds an old-Hollywood and Dolce Vita aesthetic to the collection. This acetate frame comes complete with custom plaque, filigree and logos, but it's also accompanied by the launch of two alluring new colors, Olive Smoke and Dark Amber Smoke, with all the lens colors harmonizing with each unique frame.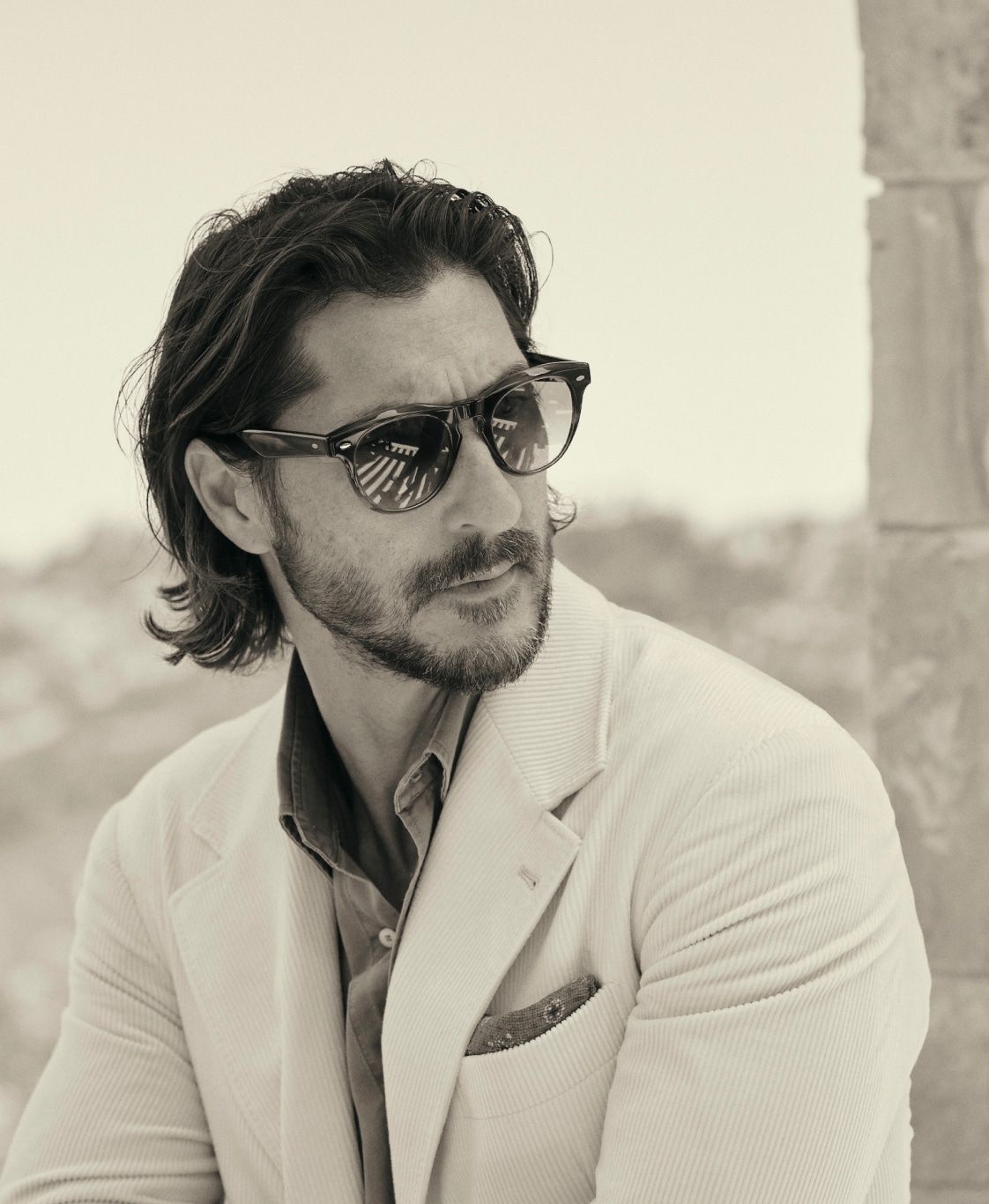 With a distinct keyhole bridge, Nino is a bold acetate look.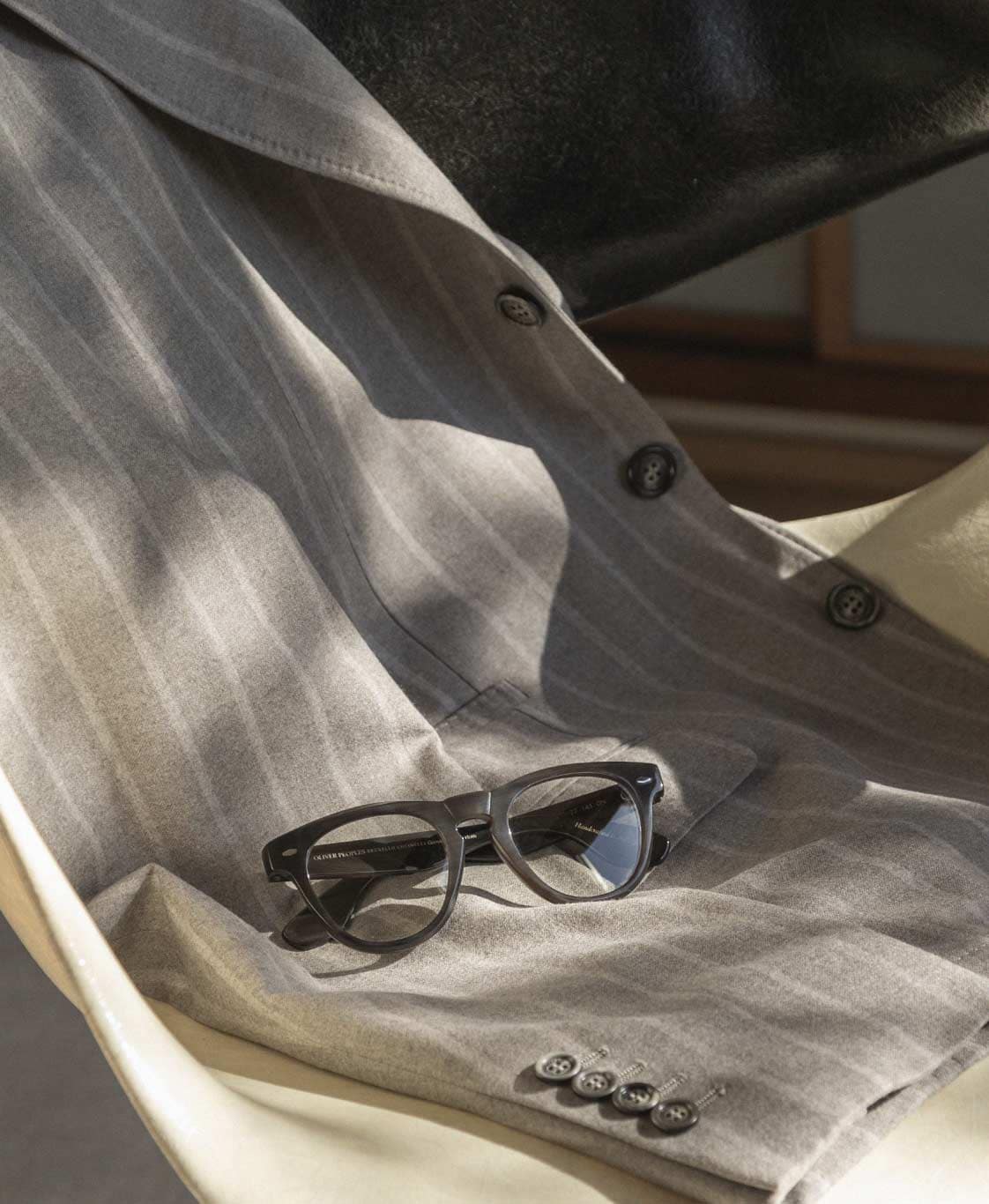 Nino Horn seen in Light Brown Horn with innovative Blue Light Filter.
Furthermore, Nino is also available in sustainably sourced genuine horn – making each piece one of a kind.
This elevated offering complements Brunello Cucinelli's appreciation of premium materials.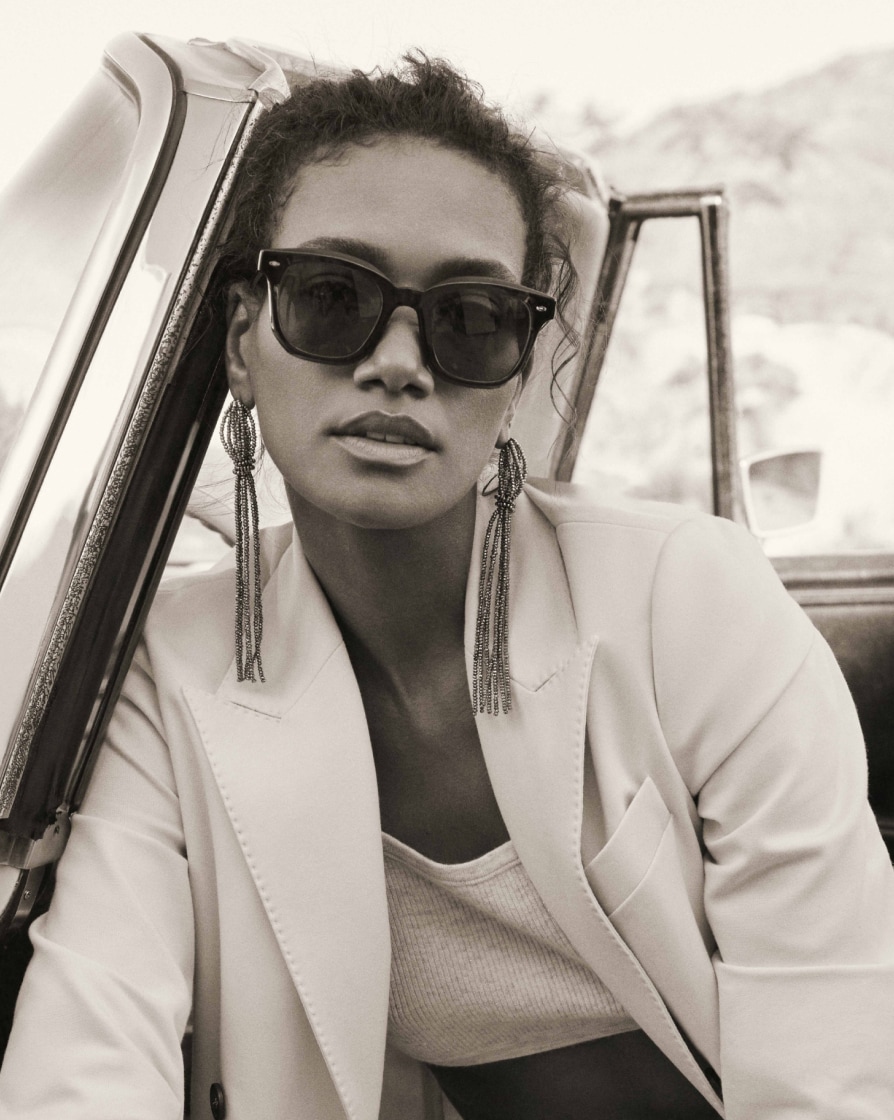 Filu' feels classically glamorous in Black Midnight Express Polar.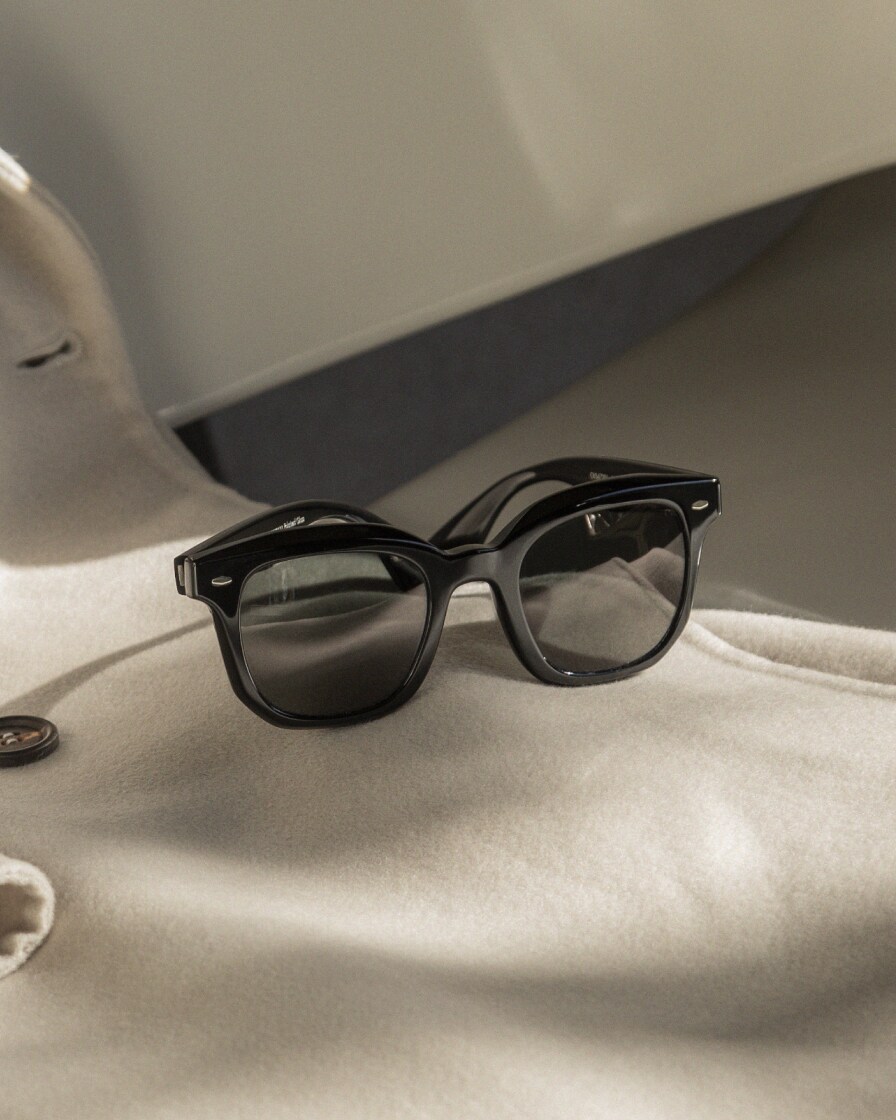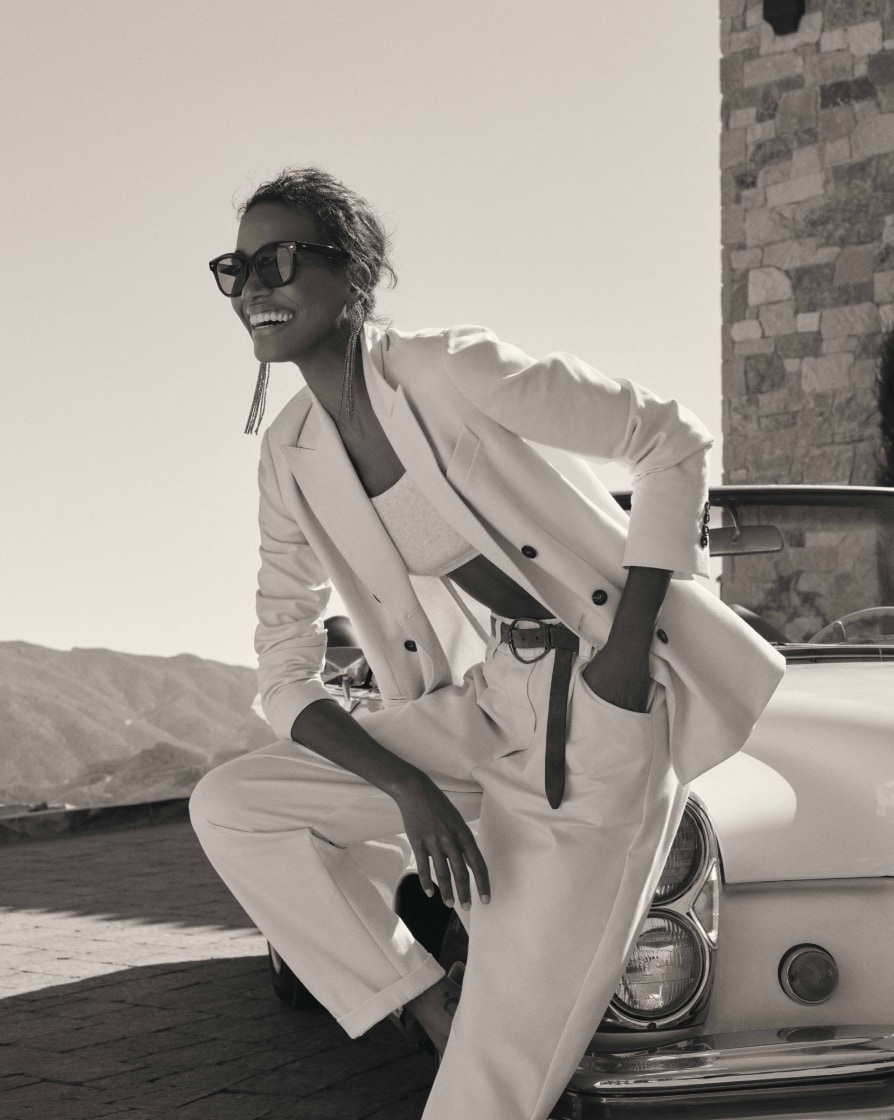 The look of Filu' feels effortless, yet distinctively stylish.
The bold, angular and comfortable Filu' features thick temples and temple tips. The vintage-inflected acetate frames bring their colors to life—though, the translucent iteration also reveals the custom "Monili" filigree within. The Taupe Smoke acetate makes its exclusive debut here, among many classic options.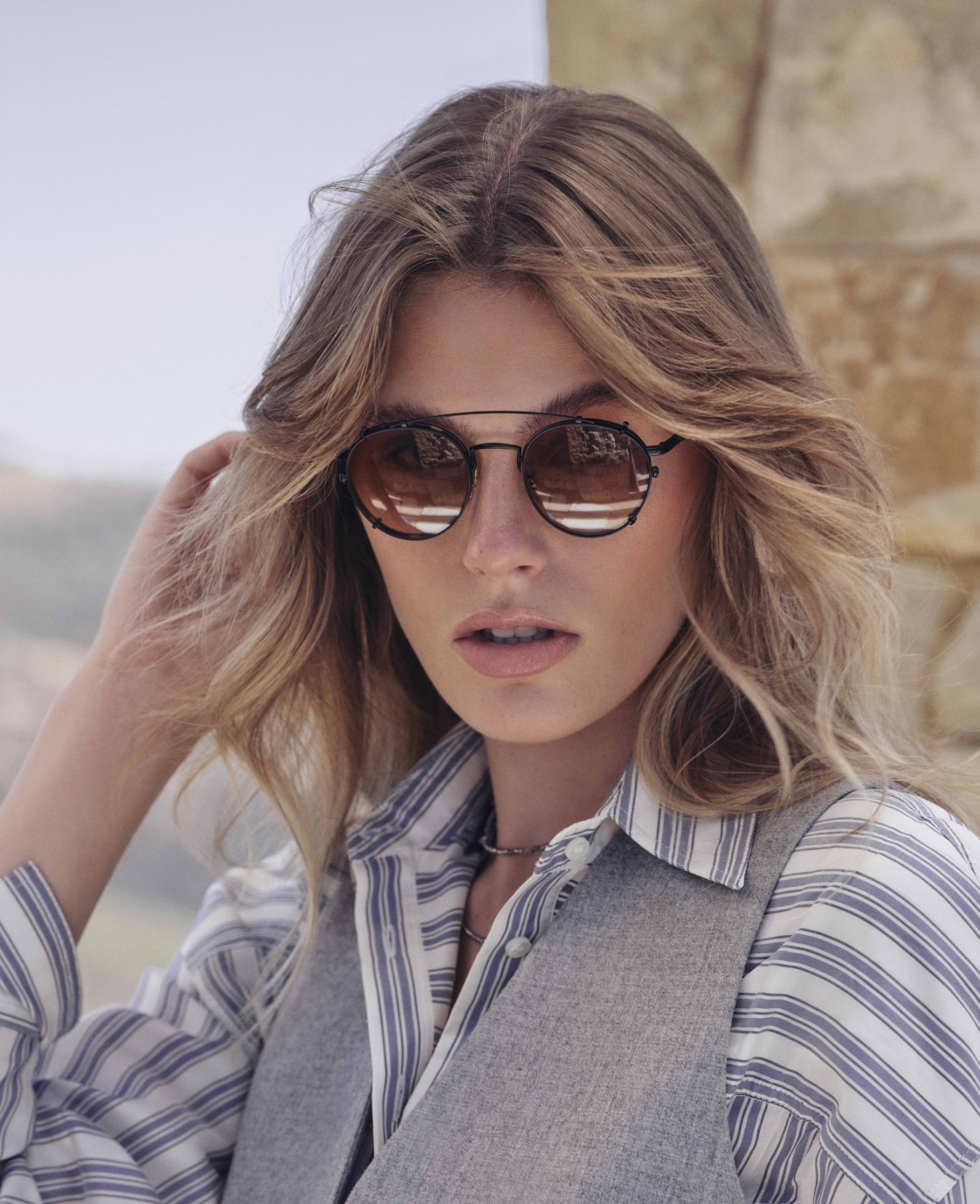 Artemio shown in Antique Gold with Grey Gradient Mirror.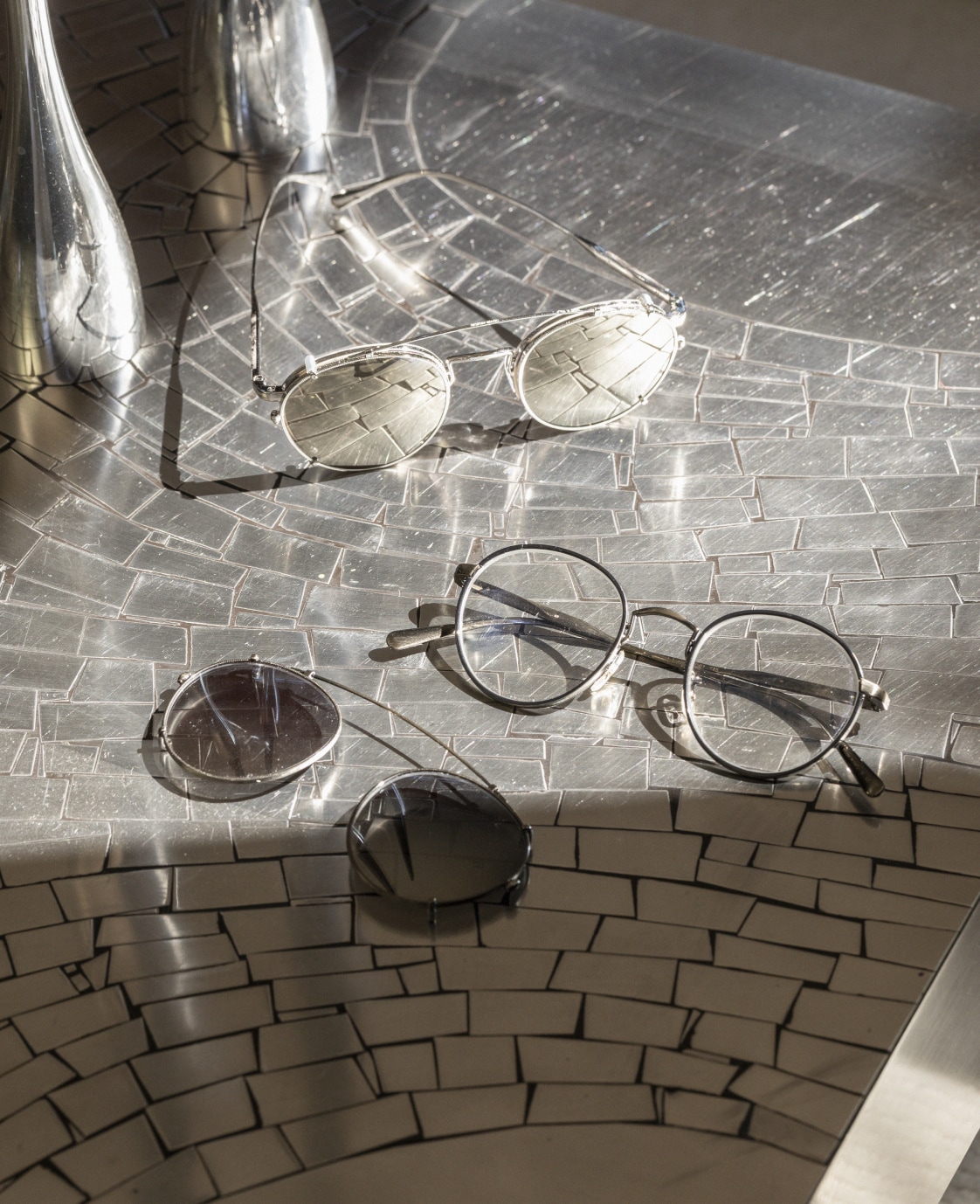 Whether worn with or without the clip, Artemio is an innovative, heritage look.
The Artemio style represents two looks in one—an optical and sunglass with a dedicated clip. This vintage-inspired panto frame pairs quintessential Oliver Peoples details with this collection's genuine horn temples and dual engraved logos. Blue light-blocking technology has also been incorporated for the lenses.
One final addition, an exclusive colorway of the Oliver Sun, completes the collection. It's a cherished frame, in the new Olive Smoke colorway, selected by Mr. Brunello Cucinelli himself. Each item comes in dedicated collaborative packaging that's been crafted from exclusive materials, including Cucinelli's own flannel. These details emphasize the depth of the collaboration, and the unique way both brands came together to represent their values.
"It is an immense honor to collaborate with Brunello Cucinelli," says Rocco Basilico, Oliver Peoples CEO. "As two brands who are defined by craftsmanship, find value in tradition, and seek inspiration from our history and surroundings, the pairing was a natural fit."
From Brunello Cucinelli's beloved "Monili" pattern translated into corewire, to Solomeo's skyline transformed into a signature breath logo, to the iconic crest reimagined, Oliver Peoples looked to the Italian brand's history and tradition for nuanced additions. The collection as a whole represents a harmonious expression of both, underscored by meticulous attention to detail.
WORDS: David Graver
CAMPAIGN PHOTOS: Dennis Leupold
Oliver Peoples & Brunello Cucinelli present the Autumn 2021 Campaign.