Craftsmanship | Culture
From Antiquity to Hollywood, Gold's Inspirational Influence
10 Min Reading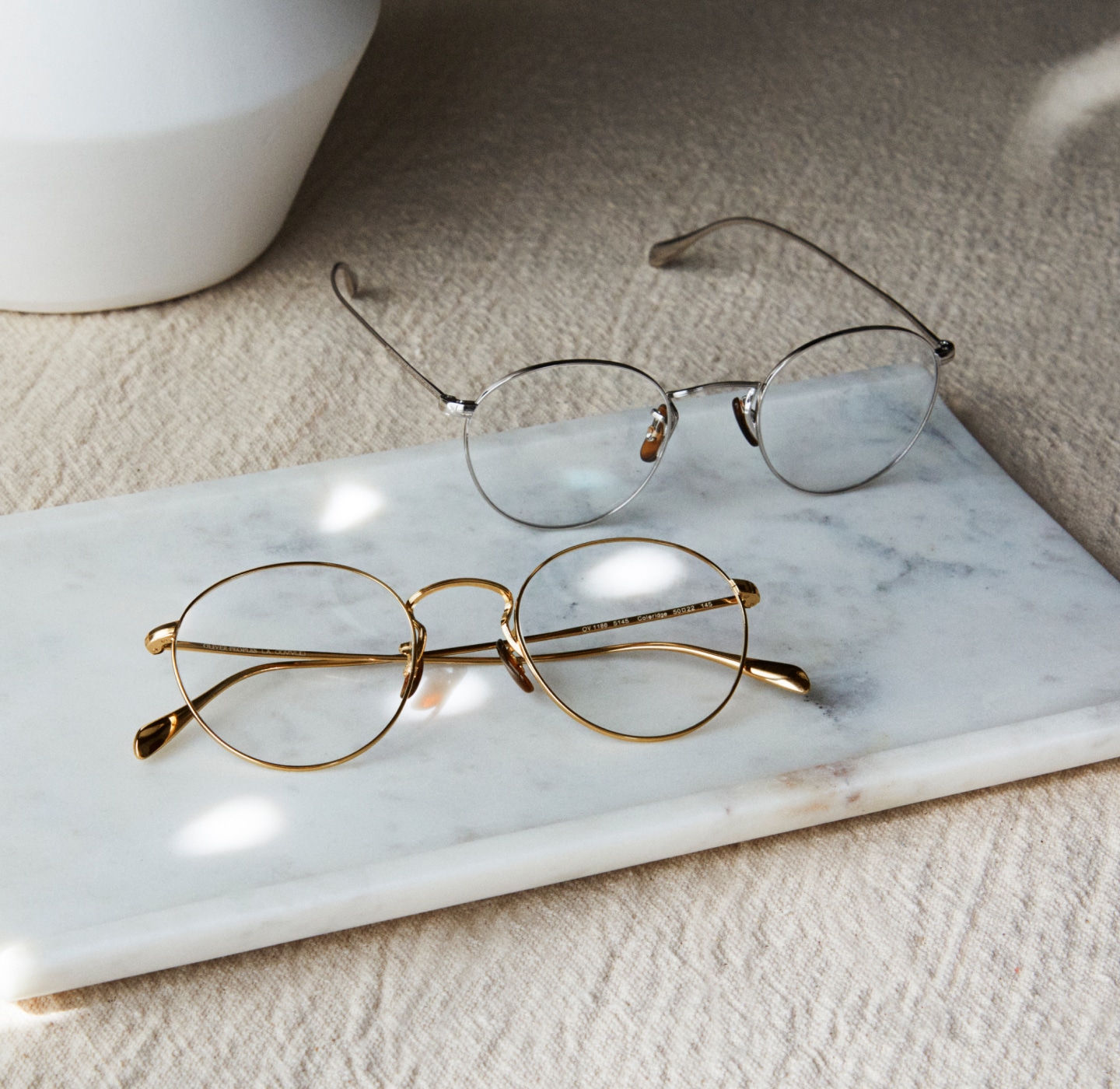 To celebrate the launch of the solid gold Coleridge, Oliver Peoples looks at culture's fascination with the precious metal.
A glint, a glimmer—that unmistakable glow of gold in the sunlight. It's something that's transfixed civilizations since the dawn of antiquity. Gold has been shaped into coins and other forms of currency and crafted into jewelry and ornamentation. This precious metal has accented monuments and formed the backbone of national economies and international trade.
Gold is cherished to the extent that scientists have dedicated lifetimes to finding ways to turn other metals into it, and adventurers traveled the world in search of more. Its mystery is so strong, and its reputation so ingrained within our collective fascination that we understand its value every time we see it utilized in fashion, pop culture, art, architecture and even throughout Hollywood. As Oliver Peoples releases their celebrated Coleridge optical in solid 18K yellow and white gold, the frame harnesses this inspirational role the noble metal plays.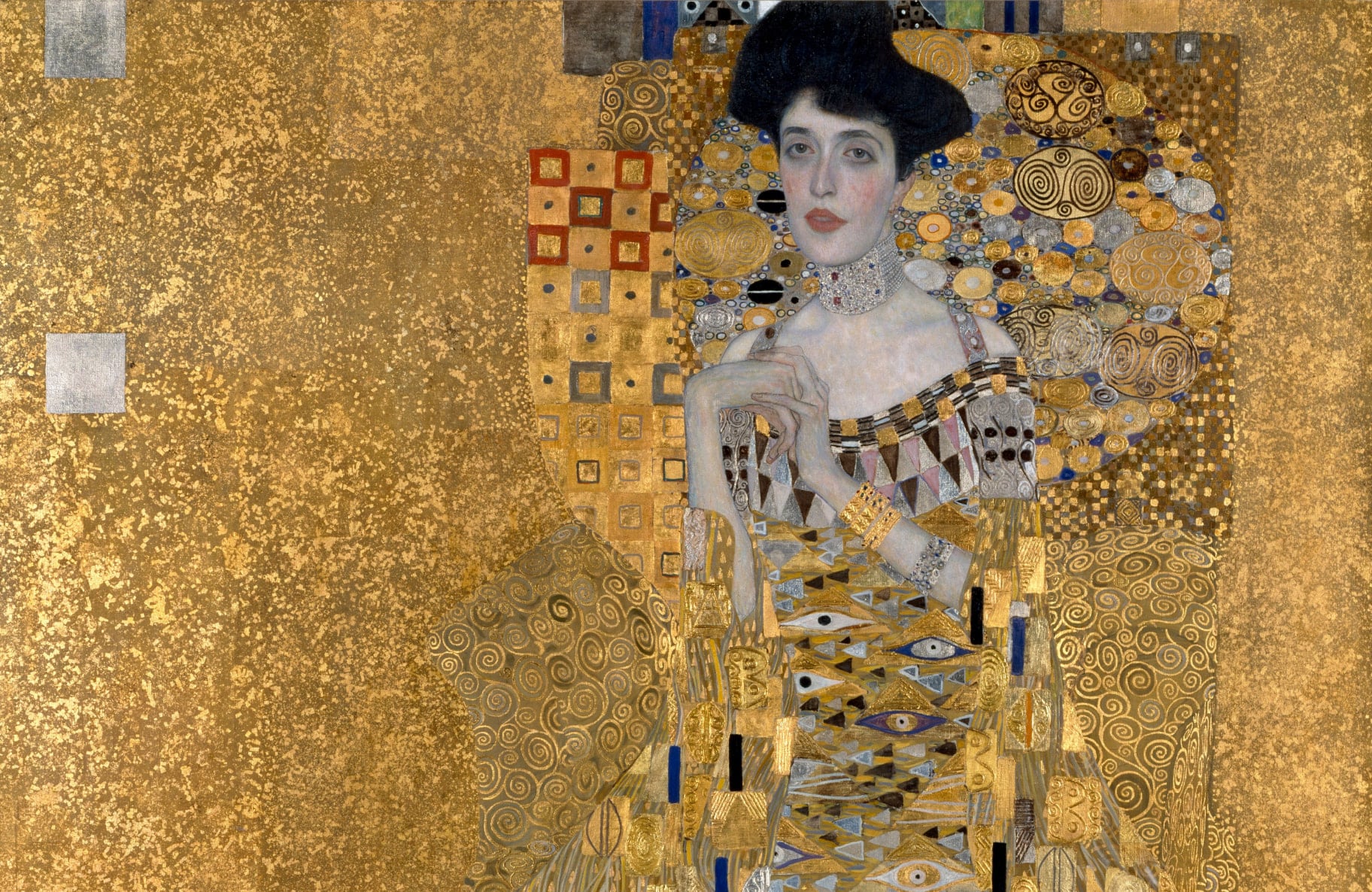 Portrait of Adele Bloch-Bauer, 1907, Gustav Klimt. Photo by Leemage/Corbis via Getty Images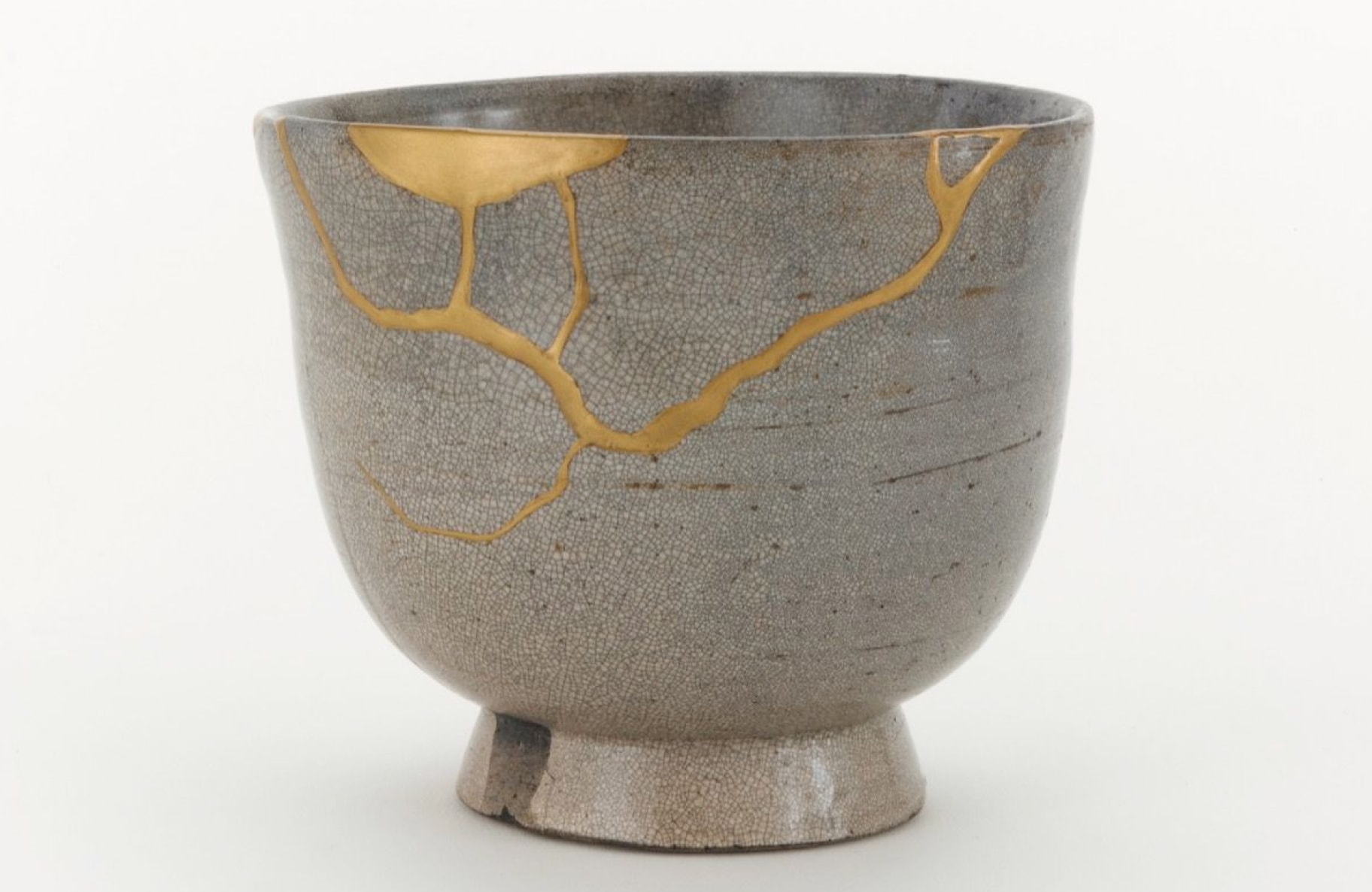 Tea bowl, White Satsuma ware, Japan, Edo period, 17th century. Photo by Freer and Sackler, Smithsonian.
Due to gold's malleability, its role in fine jewelry developed over centuries, with the incorruptible material woven into fantastical designs. Scarcity reinforced its value. Gold also found its way in art and decor across eastern and western cultures. The ancient Japanese art of Kintsugi found artisans transforming powdered gold into a lacquer to mend broken pottery. Rather than conceal a break, the artisan wrote the history of the piece—damage and all—into it forever. This golden joinery craft, still prevalent today, has inspired many other art forms, as well. Gold and the fractal effects of gold leaf play an integral part within the stunning works of Austrian artist Gustav Klimt's gilded, golden phase as well as mesmerizing pieces by Yves Klein, Robert Rauschenberg, Donald Judd and even Maurizio Cattelan. These artists invoke the meaning of gold for its relationship to reverence, even when their aim is subversion. These modern and contemporary art examples are a far cry from the millennia of religious iconography that invoked gold to impress people.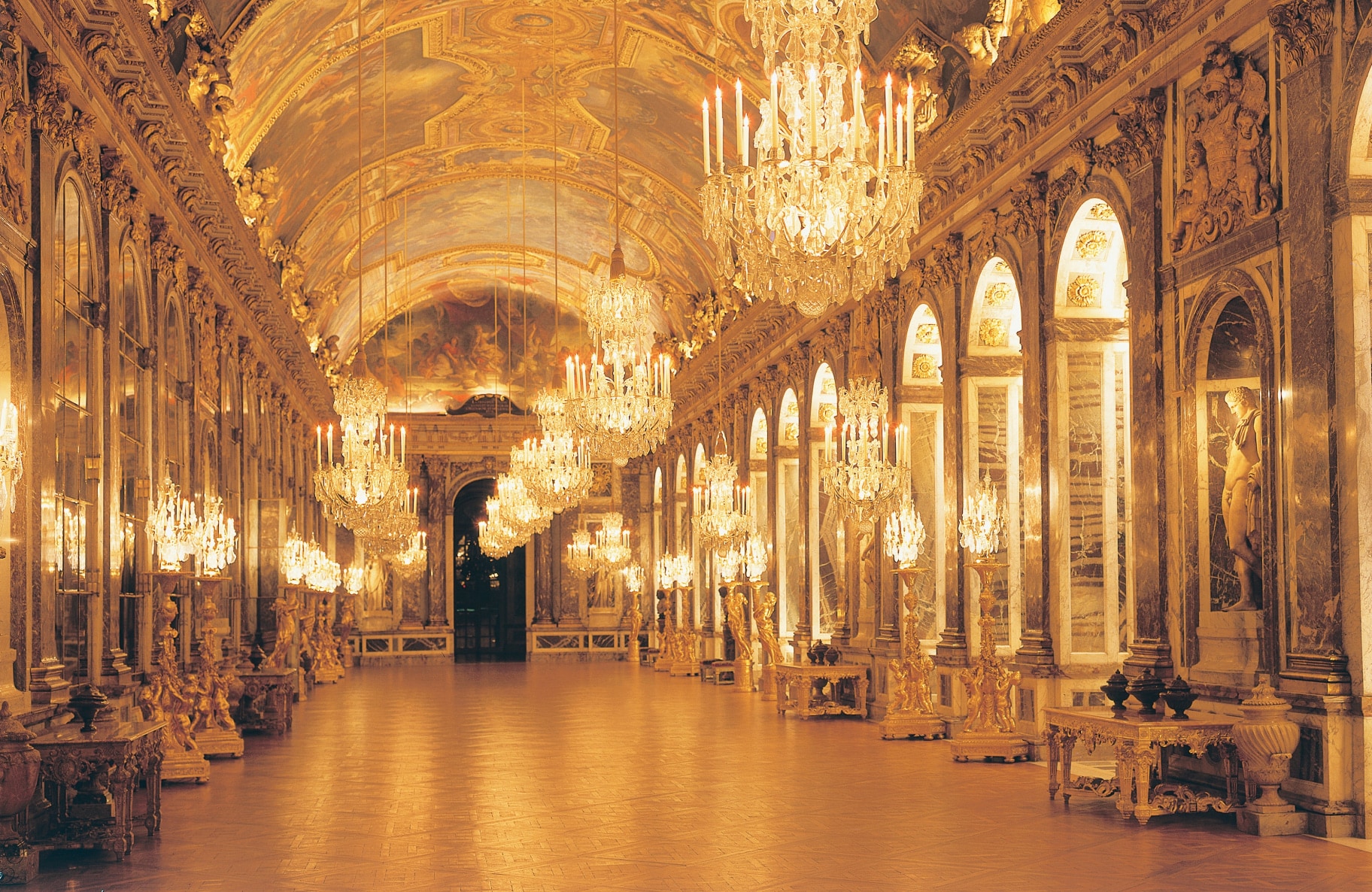 Hall of Mirrors, Palace of Versailles (UNESCO World Heritage List, 1979). France, 17th century. Photo by DeAgostini/Getty Images
Gold amplifies the power of architecture. Evidenced by the gold roof accents used atop buildings in the age of imperial China and the opulent halls of Versailles, which epitomizes societal fascination with gold. France's Louis XIV, known as "The Sun King" for his proclivity toward all that glistens, used gold everywhere. This is visible from the resplendent Hall of Mirrors—with 12-foot-high frames, which were each gilded with 1,000 three-inch square sheets of gold leaf—to the Queen's glorious golden bedchambers. When the gates to Versailles were restored in 2008, it required 100,000 gold leaves. Walking through these gates today still imparts the same magnitude as when Versailles first opened them.
California claims its fair share of diverse golden architecture. Two examples underscore the way that gold channels the vision of the architect. American architect, Robert Stone, invites the desert colors of Joshua Tree into his mirage-like vision, Acido Dorado. of "acid-tinged" metallic gold, Stone's geometric oasis embraces its surroundings even as it defies them. In contrast, the golden glow within Los Angeles' Frank Lloyd Wright-designed Hollyhock House is a gentler, more emotional representation. Gold, as a color, infuses the very light.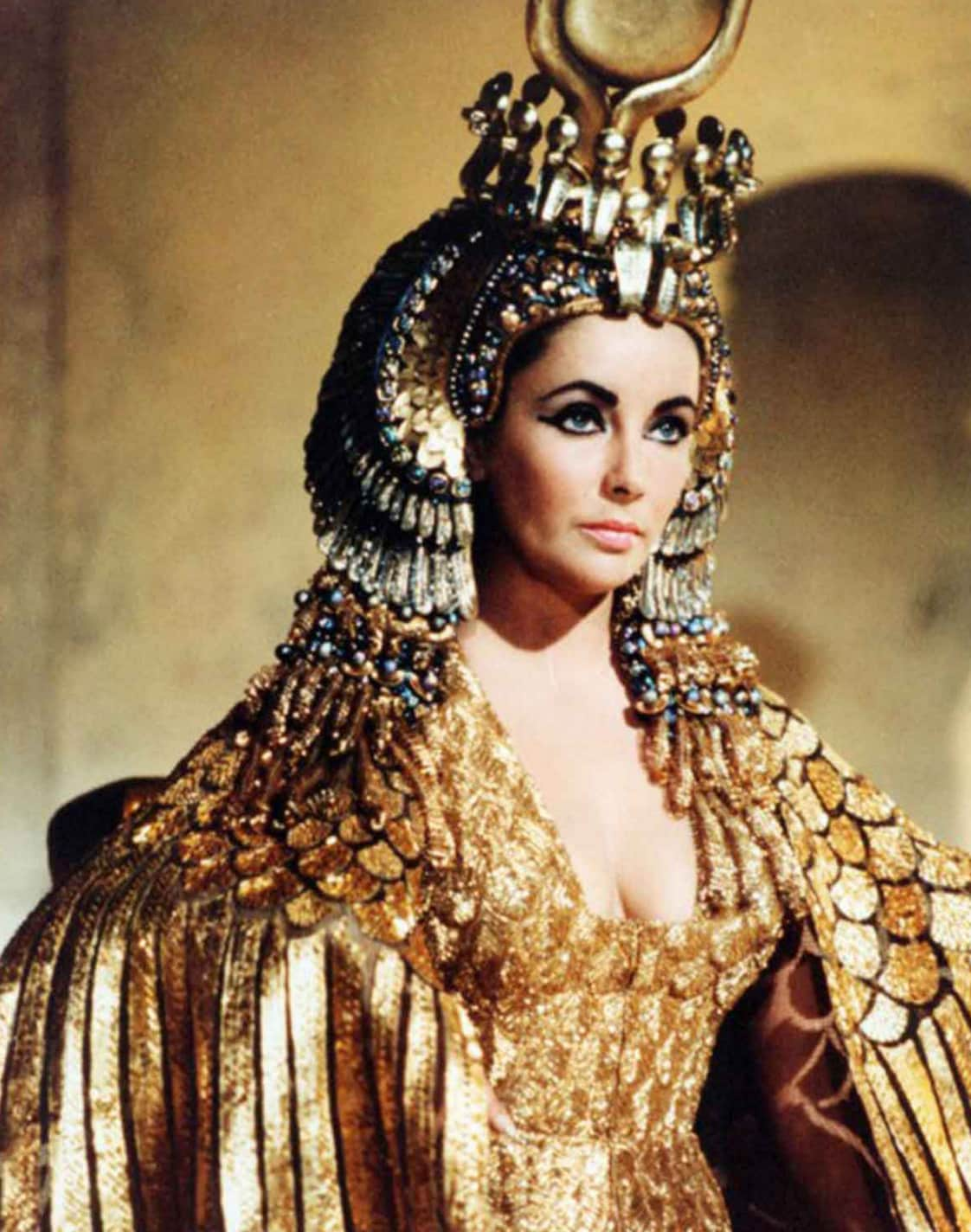 Elizabeth Taylor as Cleopatra in the 1963 epic drama film directed by Joseph L. Mankiewicz. (Photo by: Universal History Archive via Getty Images)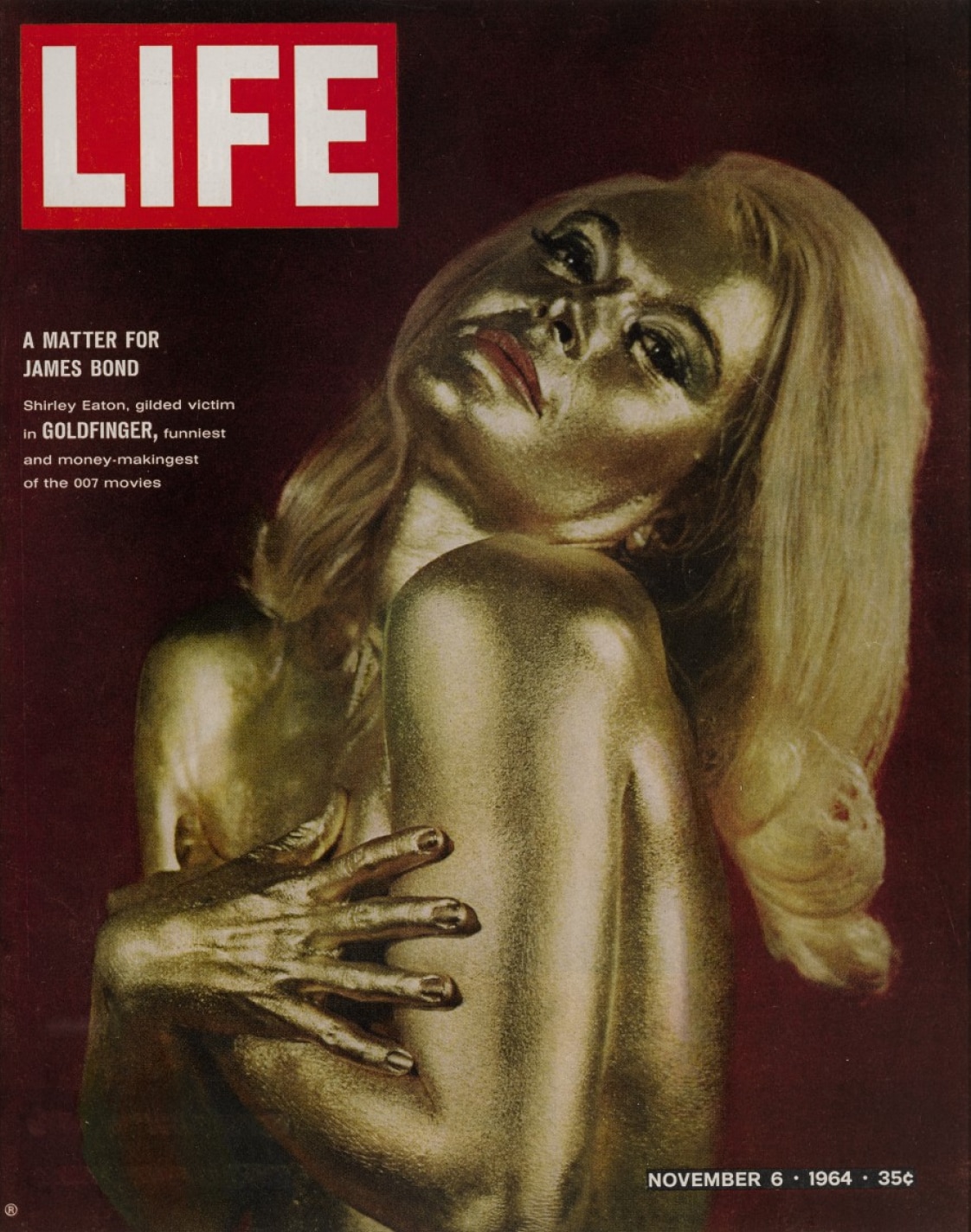 Goldfinger (1964) Life Magazine Cover.
A thread of gold runs through Hollywood, too. This includes icons like Marilyn Monroe, who donned an unforgettable golden sunburst gown, in Gentlemen Prefer Blondes to Elizabeth Taylor's continuous golden costume changes in Cleopatra, which varied from a 24-carat gold cape to lavish gold headdresses. When it premiered in 1963, Cleopatra broke records for costume changes and corresponding budget—but the golden outfits are far more meaningful, used to identify Cleopatra's powerful role as queen, and used as armor against the unfolding romance, as well. The all-encompassing power of gold factors into other iconographic scenes of the power of women, stretching to the outer reaches of science fiction with Princess Leia's gold bikini in Return of the Jedi to the seductiveness of Sharon Stone's sheer, form-fitting gold dress in Casino. As a counterpoint, gold plays a deadly and villainous role in James Bond's Goldfinger.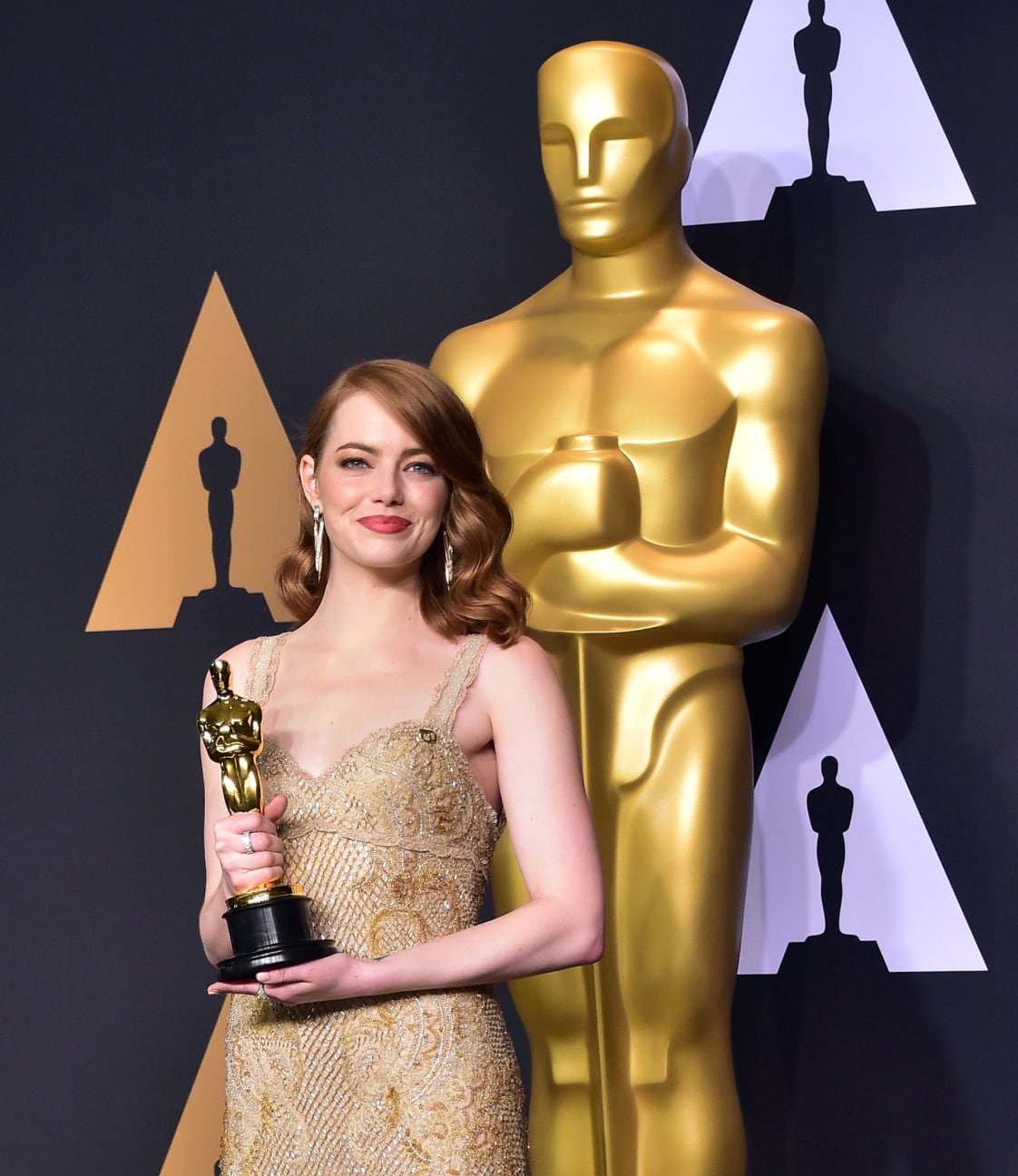 Emma Stone wins the Oscar for Best Actress for La La Land during the 89th Academy Awards, 2017. Photo by Bill Nation/Sygma via Getty Images.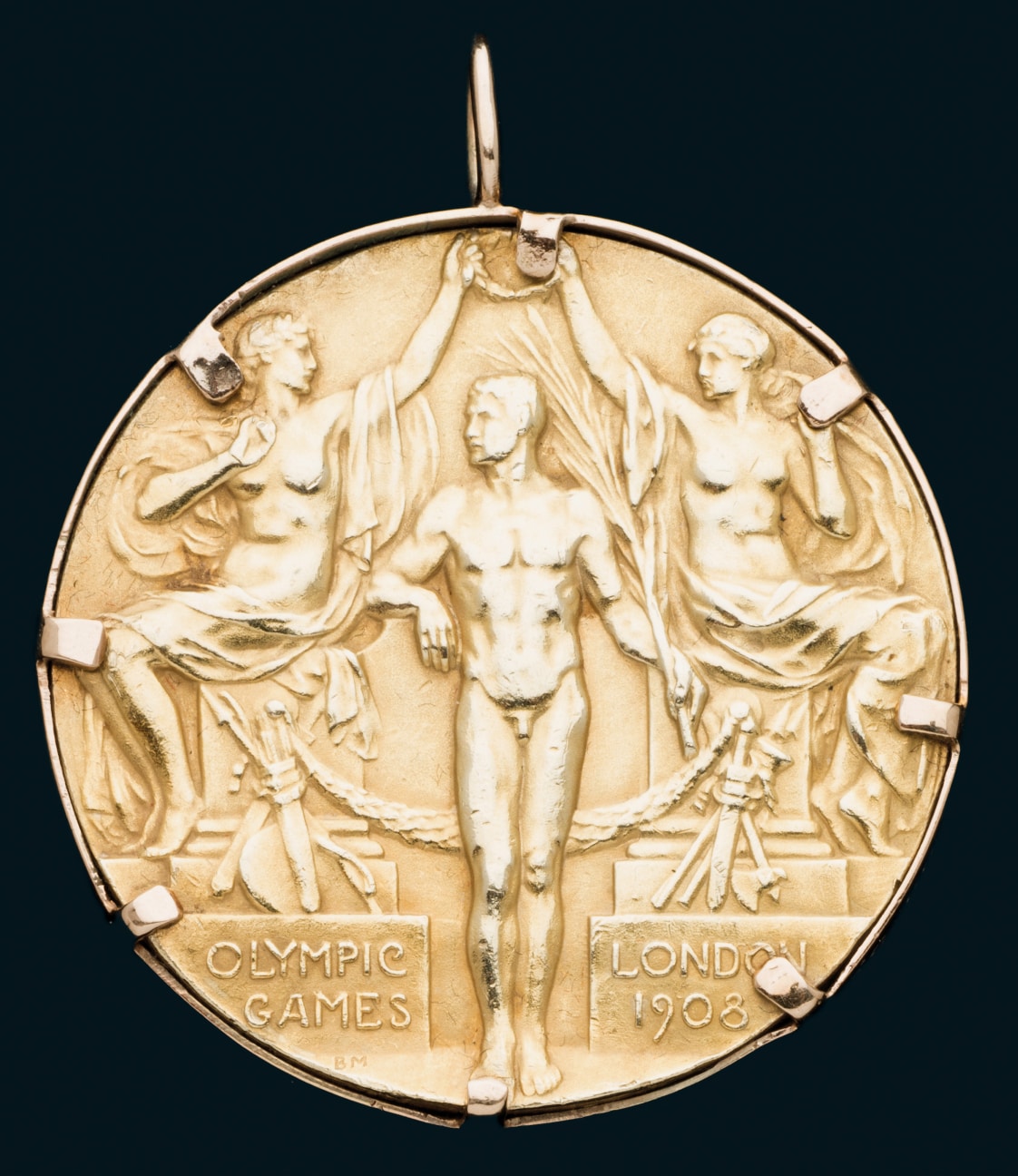 London 1908 Olympic Games gold prize winner's medal. Photo by Popperfoto via Getty Images
From this diverse catalog of golden associations comes the highest accolade in Hollywood, an Academy Award, which itself involves a luster of gold. The Oscar statuette represents the greatest level of achievement in all areas of cinema. But as a pinnacle prize, it does not stand alone. From the Golden Globes to the Emmys and others, industry-leading awards shows call upon the material to appoint their highest honors. But perhaps there's no greater symbol of excellence in competition quite like the Olympic gold medal. It's an honor understood by citizens in every country of the world and although the medal itself contains only six grams of the precious metal, it means something more than the material itself. Winning gold means dedication, hard work and triumph. It stands for victory at the highest level, as a reward for an indefatigable commitment.
For the Coleridge Solid Gold optical, Oliver Peoples will release two limited quantity versions, one in 18k yellow gold and another in 14k white gold. These handcrafted frames feature a custom filigree pattern at the temple and a custom embossed insignia at the temple tip. The inspirational history of gold runs through its elegant geometries. Despite all that we know about gold, and its role in art throughout the ages, there's also something undefinable that we cannot attribute to history or chemical number, like the weight it offers in our hands, or the sensations of warmth and majesty it brings to a wearer. Perhaps that mystery is what comprises the true value of gold—and what empowers it.