Gift Guides | Culture
OP Five | Five Manhattan Cafés and the Frames to Match
11 Min Reading
Five Manhattan cafés that offer more than just a good cup of coffee paired along with frames to inspire your gift-giving this season.
New Yorkers may be spoiled for choice when it comes to cafés, so we're highlighting a few enduring favorites. We visited each with an Oliver Peoples frame befitting of each café or neighborhood's personality.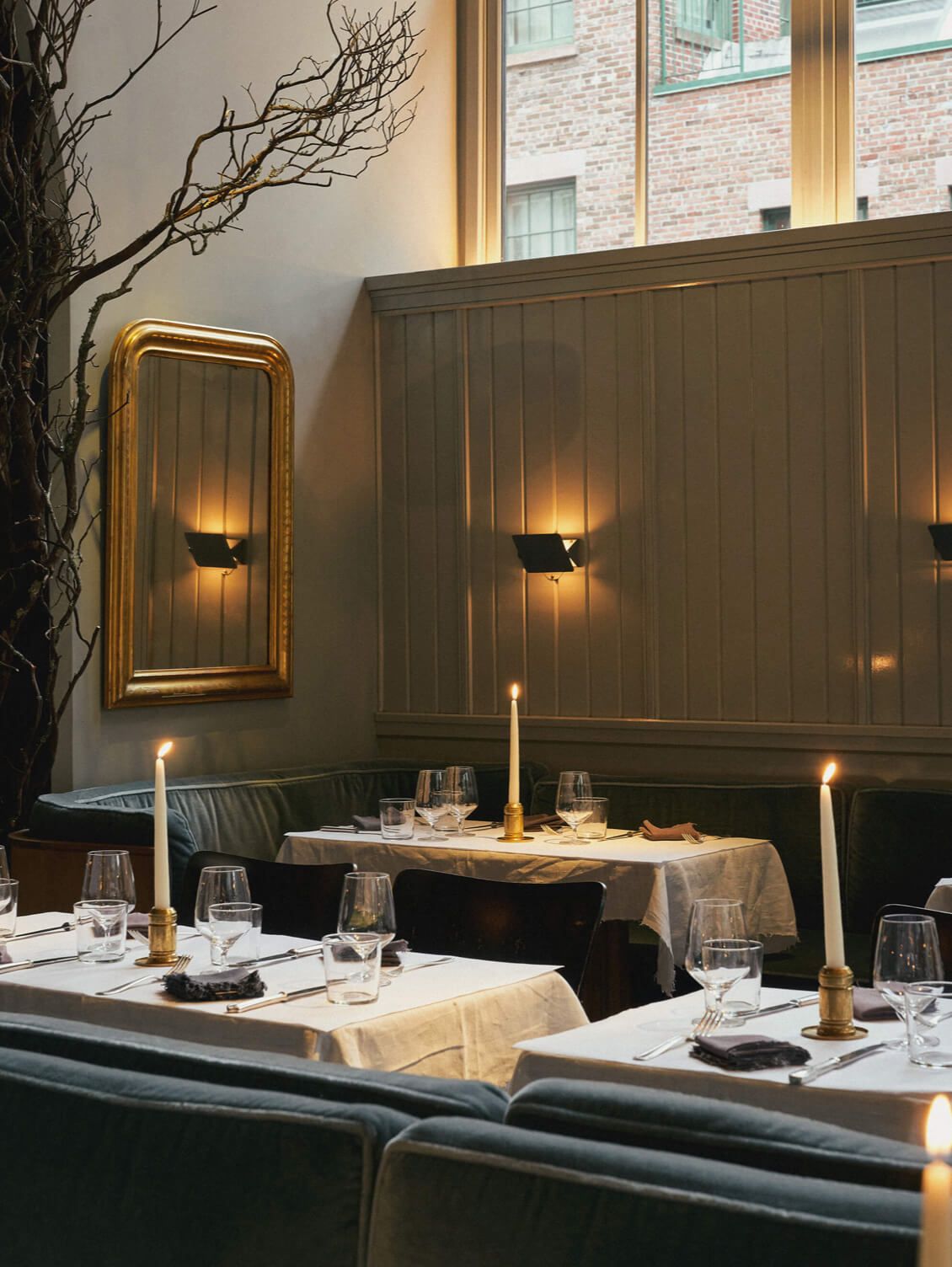 Velvet blue banquettes encourage you to linger at La Mercerie.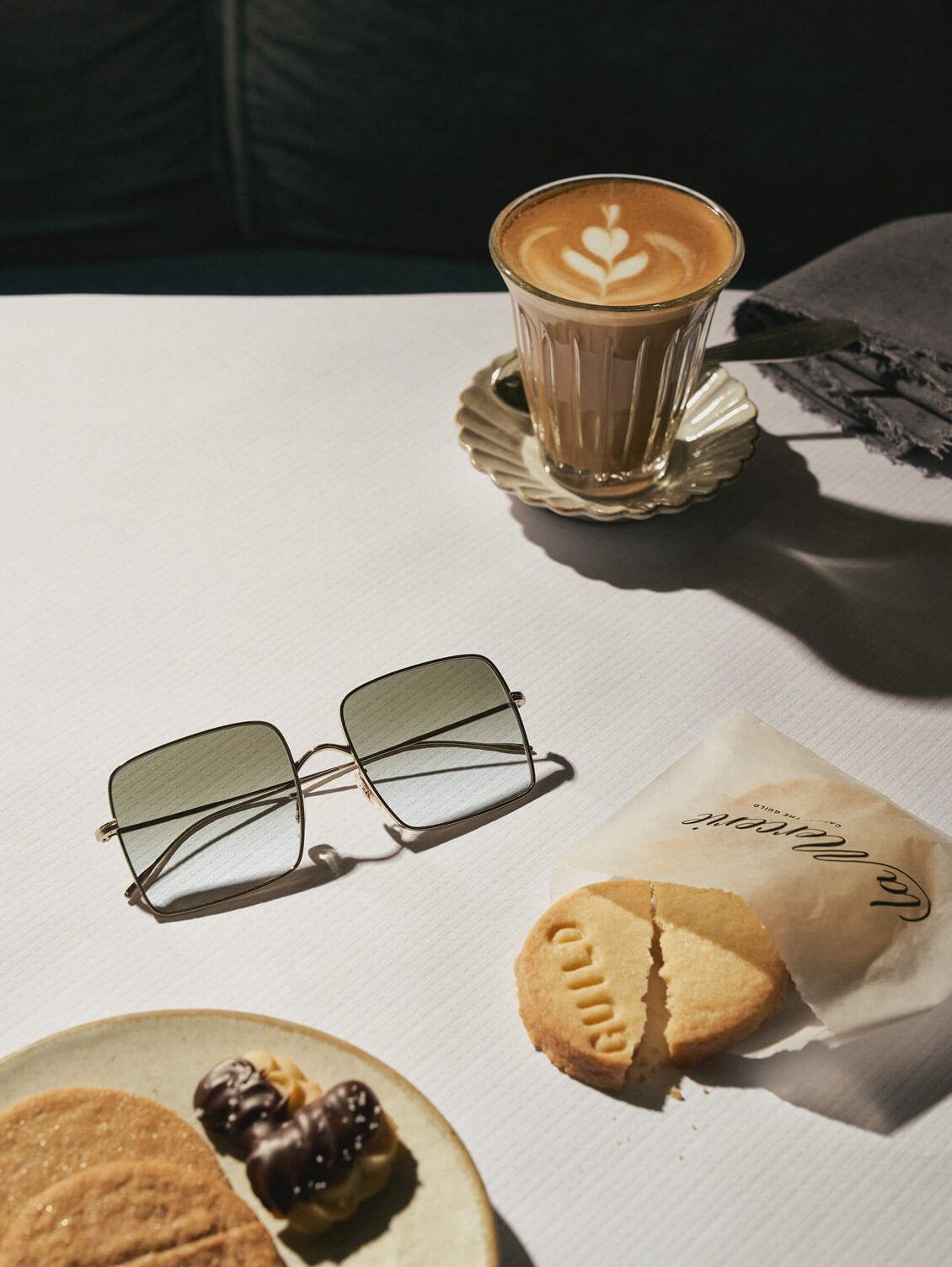 The Rassine frame in Gold + Olive Gradient fits right in with the usual soigné suspects.
On the cusp of SoHo and TriBeCa, a grittier area that feels classically New York, lives La Mercerie—one of those spots that exudes a je ne sais quoi in its dreaminess. This is an all-day café designed by celebrated firm, Roman and Williams where hours may go by without you noticing. Lush velvet blue banquettes and classical arches that lead to the adjoining retail space, The Guild, are perhaps the most eye-catching design elements of the space. It's a delightful place to linger on chilly days with one of La Mercerie's addictive butter cookies and a warm drink, served in the most beautiful glassware. Spend an afternoon here and you can easily take care of all of your holiday shopping, or just treat yourself. The Rassine frame, which the usual soigné suspects of La Mercerie would love, is a perfect gift for that friend with effortless flair. And with its oversized proportions, this frame has a lot of glamour with a hint of bohemian panache—a superb fit for La Mercerie.
Bar Pisellino, West Village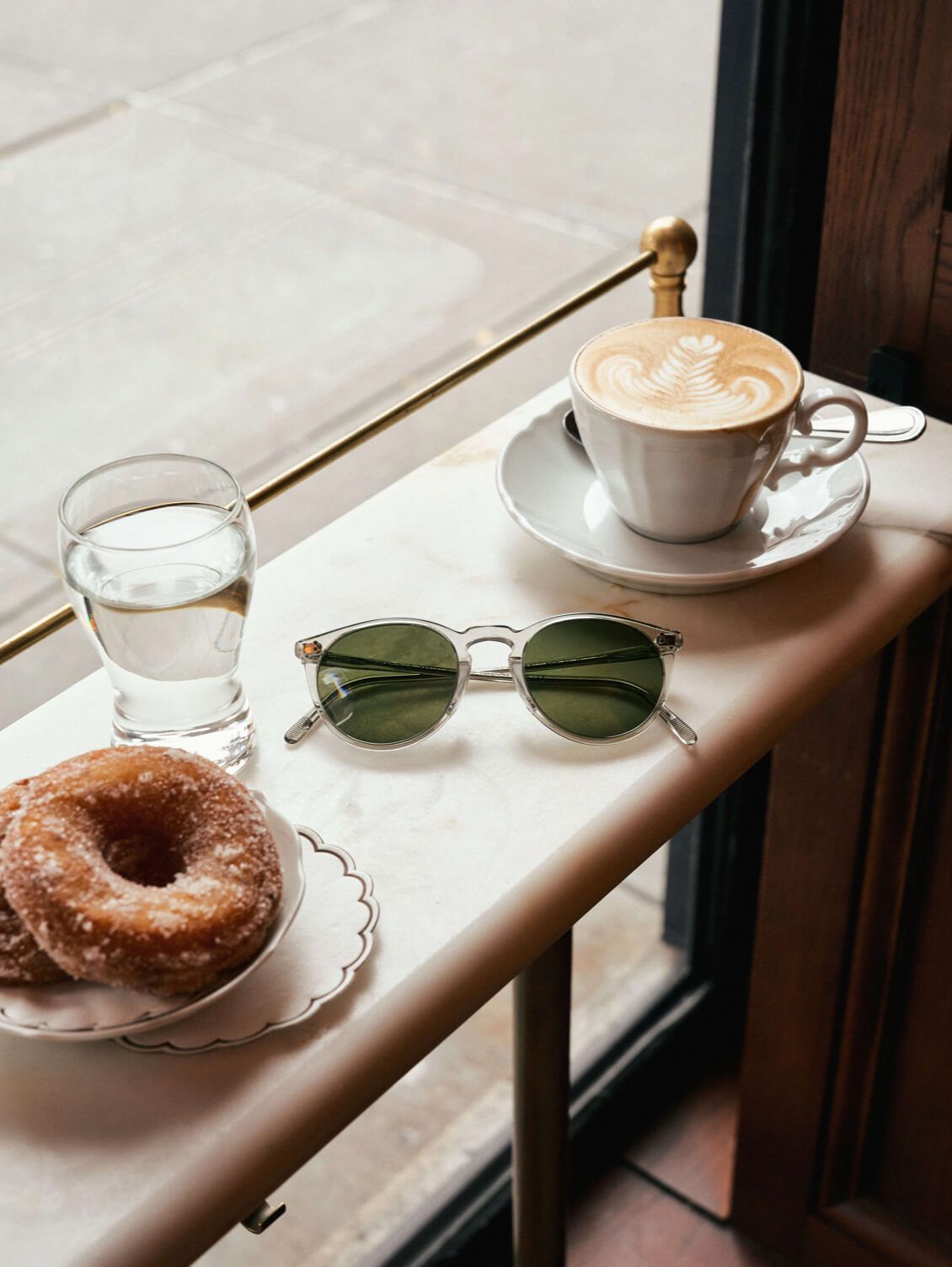 The iconic O'Malley Sun will always be in style much like Bar Pisellino.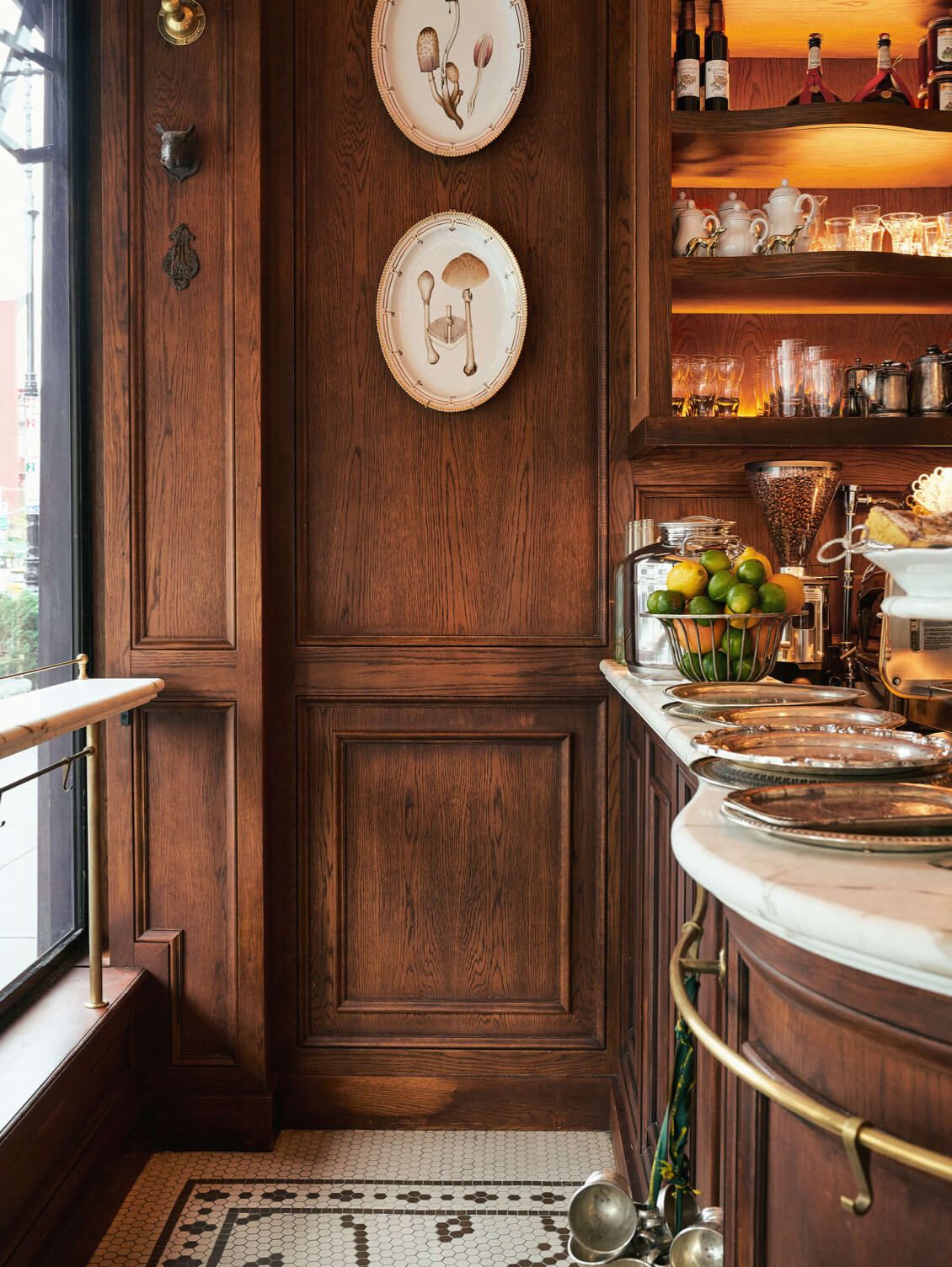 At Bar Pisellino, dark wood paneled walls, marble countertops, and hex tiled floors add texture to this all-day Italian café.
Chances are, you can't just fly to Italy for the afternoon for your espresso and aperitivo fix. Luckily there's Bar Pisellino, the West Village all-day corner café and next best thing to Italy. Quaint streets—some even cobblestoned—and old buildings contribute to one of New York's most picturesque and desirable neighborhoods. Bar Pisellino gets all the decor moves right. Every inch is well-considered and ties into this quintessential Italian café concept.
Even though this spot is shiny and new, there's something nostalgic and transportive about it. Bar Pisellino also manages to transcend overt trendiness and already feels like a longstanding neighborhood spot, a testament to the strength of the brand. The iconic O'Malley frame feels right at home in the West Village—or on a joyride through the Italian countryside.
Black Fox Coffee, Financial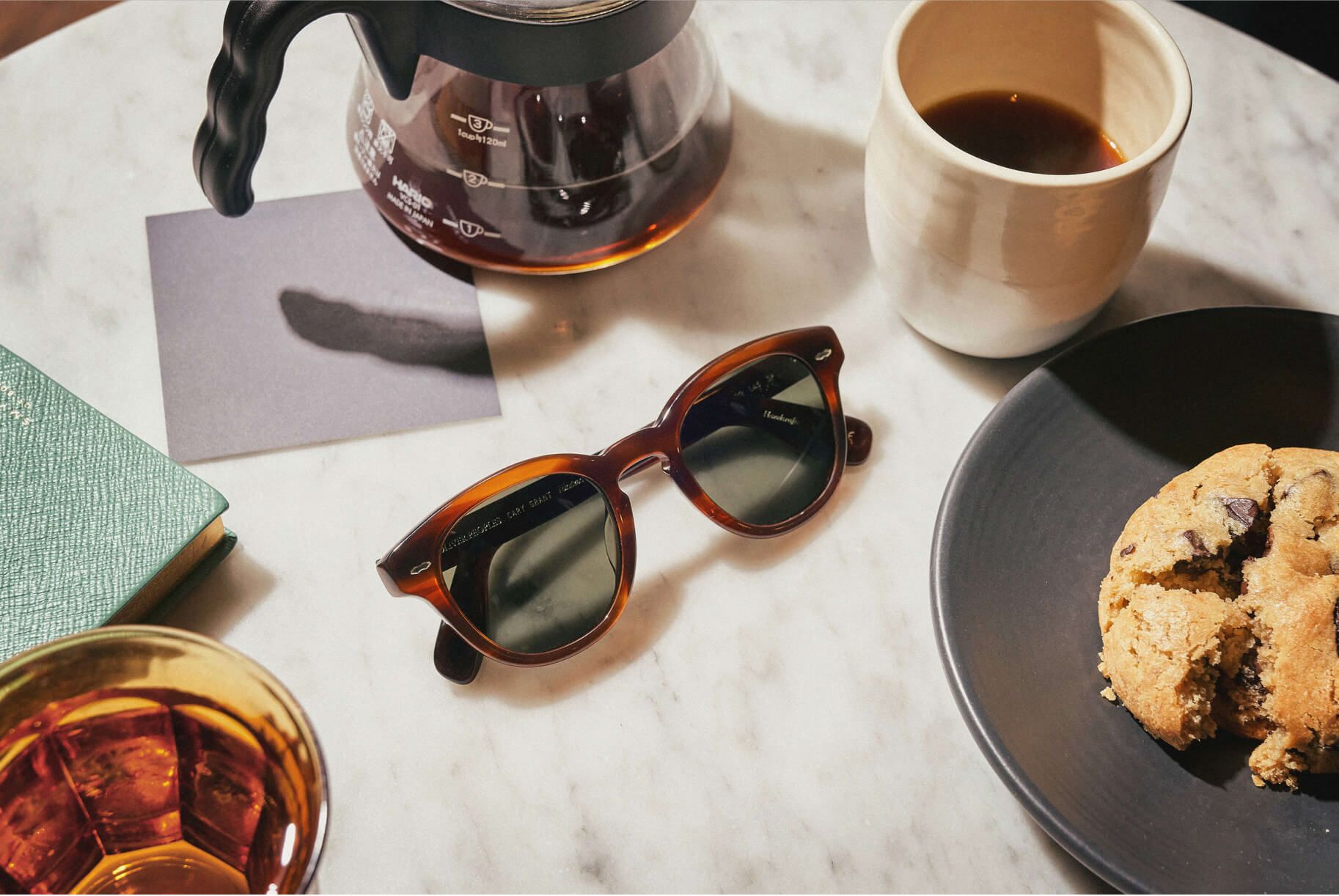 Sophisticated always, the Cary Grant Sun can stand its own anywhere—but looks particularly dapper at Black Fox Coffee in the Financial District.
The Financial District has a reputation for being bustling with bankers on the weekdays, yet too sleepy on the weekend. Luckily, places like Black Fox Coffee are helping to change that. Among a sea of lackluster chain spots in the neighborhood, Black Fox Coffee emerges as a diamond in the rough. There's a lived-in, homey feeling to this Aussie café thanks to walnut seating and angled wood grain panels—a nod to the Art Deco-style building the café is housed in. Because of its unique offerings, Black Fox stays busy throughout the day. Like the Cary Grant frame, Black Fox brings a dose of sophistication to the neighborhood. There is an understated elegance to this frame and it would look dashing on any of the debonair suited-up folk who work in the area.
Bourke Street Bakery, NoMad
At Bourke Street Bakery, your friendly neighborhood café, all the baking is done on premises with carefully sourced ingredients.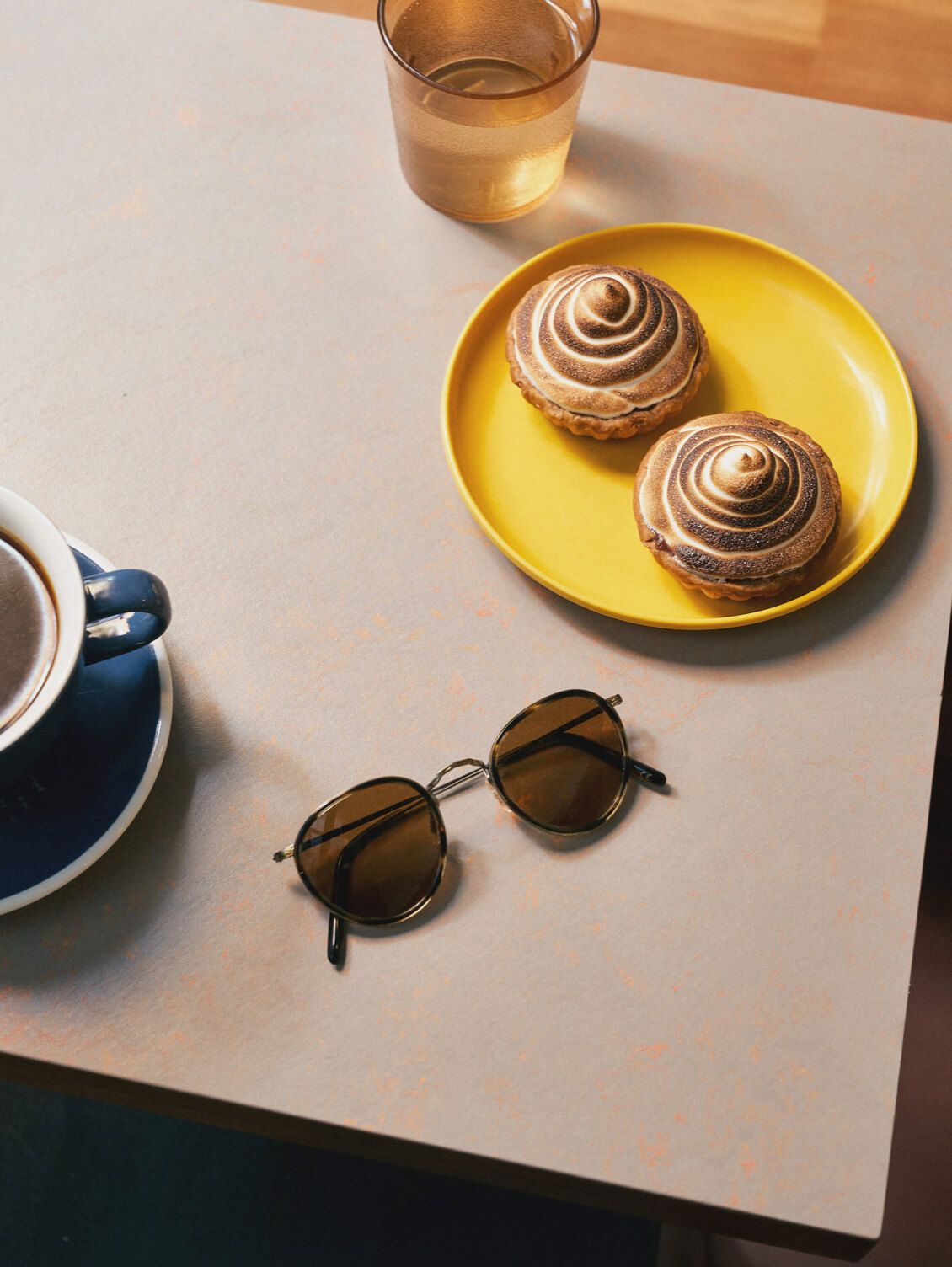 Sharp and intellectual with subtle vintage details, the MP-2 Sun dresses up any occasion.
New York's NoMad neighborhood has seen rapid change in the past ten years. Though it's a small area, there is a high density of new hotels and trendy restaurants catering to a younger traveler. A relative newcomer to the neighborhood, Bourke Street Bakery focuses on rustic baked goods made with carefully sourced ingredients. (They're especially known for their sausage rolls and ginger creme brûlée tart.) Although there are several beloved locations in and around Sydney, this location is their first international outpost.
The space feels warm, cheerful, and inviting with a clear view into the baking kitchen where everything is made on site. Steel beams, cork paneling, cherry millwork, colored concrete, and green accents are all part of the design elements and palette here, and help to enhance the overall neighborhood feeling. Like Bourke Street, the MP-2 frame feels sharp and confident with an intellectual air. MP-2 is the perfect gift for that someone in your life who appreciates a hint of vintage details.
Flora Bar, Upper East Side
The Marianela in this Washed Rose and Burgundy Gold Mirror lens combination is a crowd-pleaser that flatters any face shape.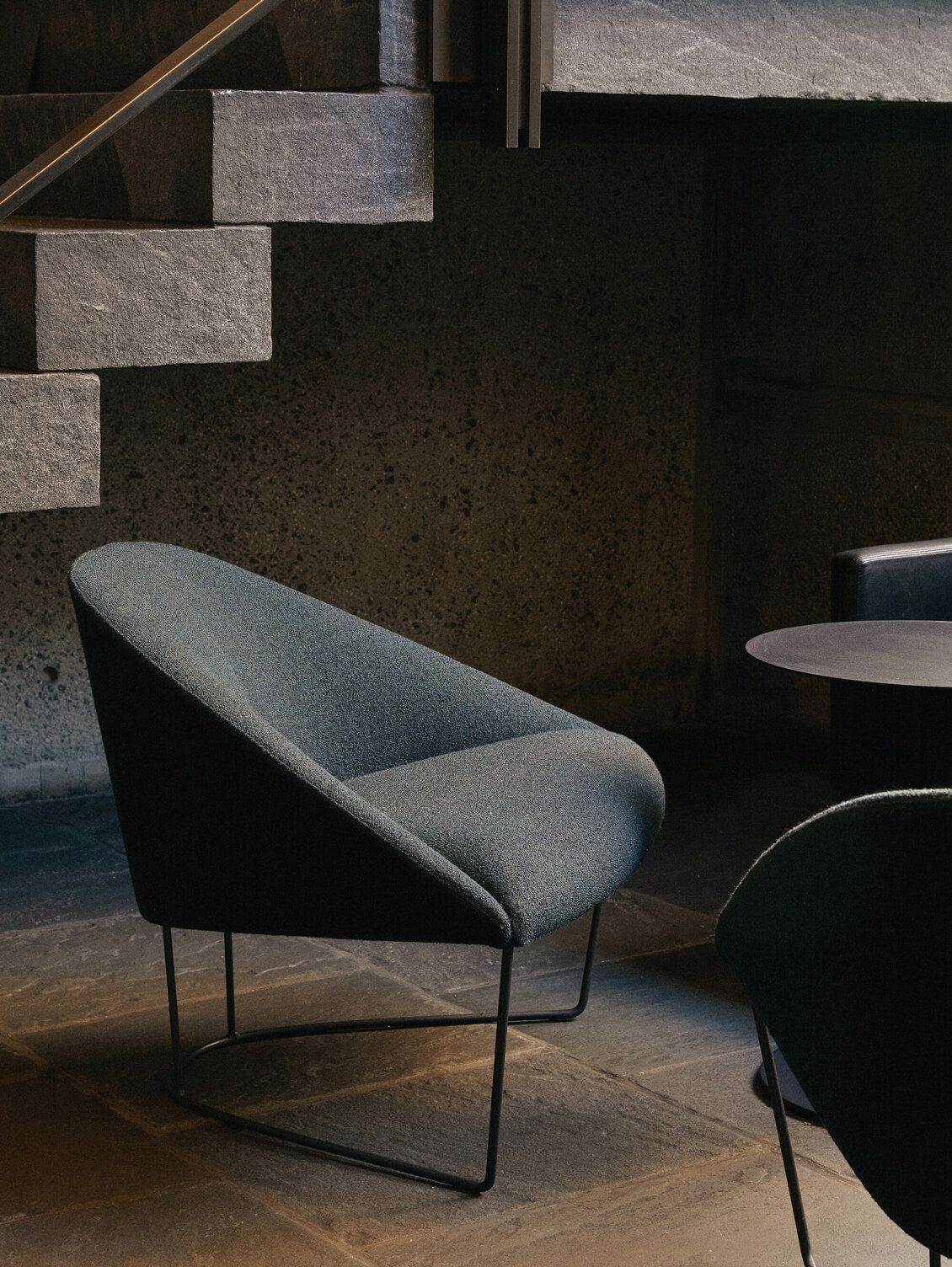 Our favorite seats at Flora Coffee are the lounge chairs along the oversized windows that have a view of the Met Breur's sunken garden.
A trip to Flora Bar is almost synonymous with a visit to the Upper East Side, a neighborhood known for its elegant pre-war buildings, townhouses, and proximity to Central Park. While the restaurant, located below the Met Breuer, is easily a New York favorite, the sleek and minimalistic café in front, Flora Coffee, stands on its own and has the best sticky bun in the city. (Tip: Try to catch one warm out of the oven.)
Flora Bar isn't your typical stuffy Upper East Side joint—the atmosphere is always warm despite its supremely elegant interior, particularly during the holiday season. Similarly, the Marianela frame aims to please, thanks to its contemporary take on the cat-eye silhouette. It's a bold, oversized frame that suits all face shapes, making it the perfect gift.
WORDS & PHOTOS: Alice Gao