GIFT IDEAS
2022 Holiday Gift Guide:
Sounds of the Season
A curated selection of styles seen in four harmonious moments of music.
9 Min Reading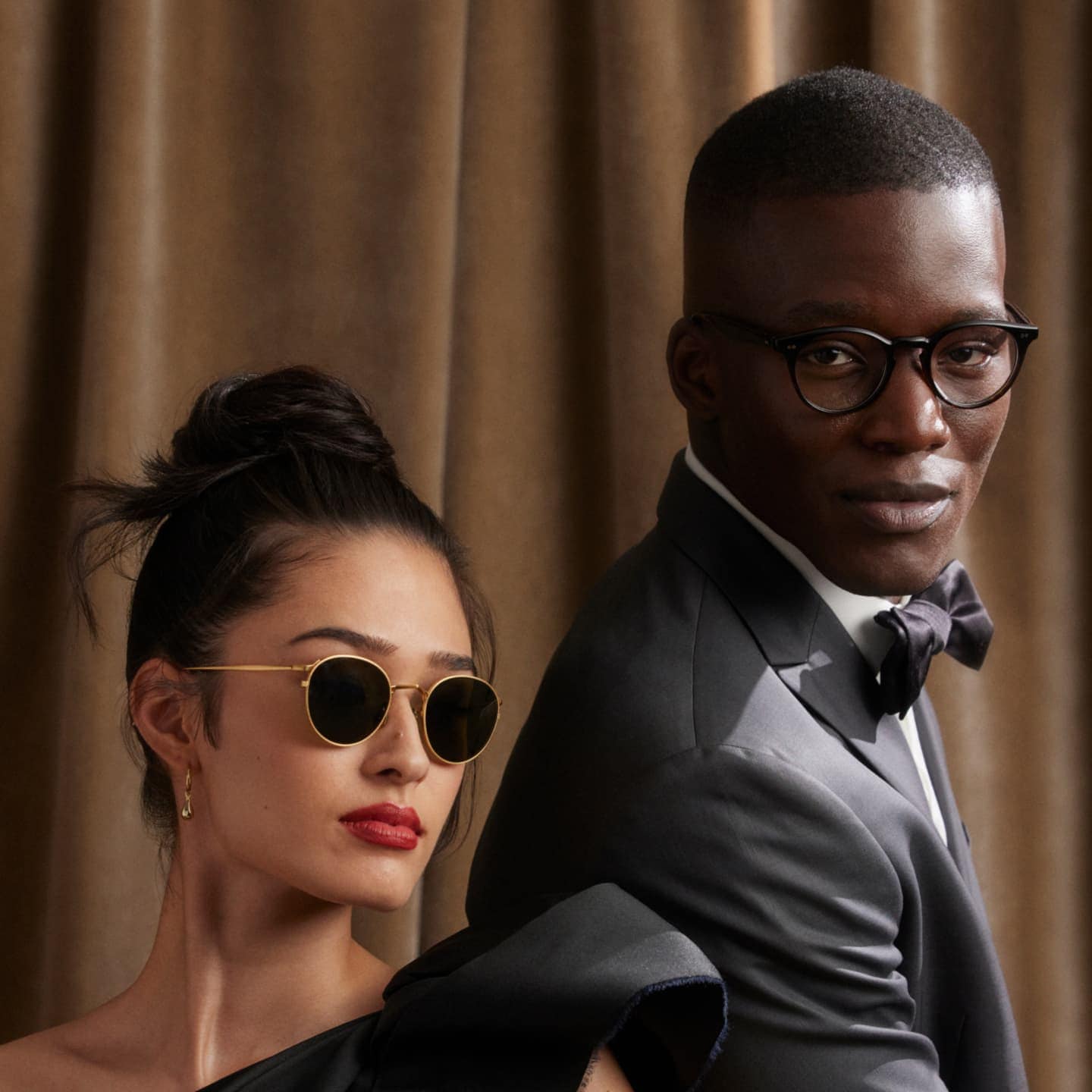 Music has a profound presence over the holiday season. It's a gateway to nostalgia and years of fond, festive experiences. It also provides a soundtrack for present-day adventures and memories to come. The opening notes of a familiar tune can wrap a couple in warmth, even on a cold day. A song's chorus can inspire an outpouring of joy among family members. It's the sensory ribbon on a celebratory gathering. Music channels wonder—and this carefully curated Oliver Peoples gift guide pairs eyewear with four moments where the sounds set the stage. Each distinct event, from the kismet to the classic, provides options that are certain to please this year.
Op Sounds Vol 14: Sounds Of The Season
Jazz Club
In the chic, intimate environs of a jazz club, music takes on a life of its own. Free-flowing interpretations imbue seasonal songs with new energy. Dressed up in evening wear for the enticing occasion, a sophisticated duo ease into an emerald green leather banquette and order classic cocktails. For their elevated yet enjoyable night out, she has paired the luxurious Eadie with a slinky dress. He accents his silk wool blazer, in a luscious tone, with a pointed pocket square and the bold acetate of Merceaux with vintage-inspired Persimmon lenses. Even the low light, emanating only from one geometric fixture, supports the sultry, magical scene and mesmerized couple within.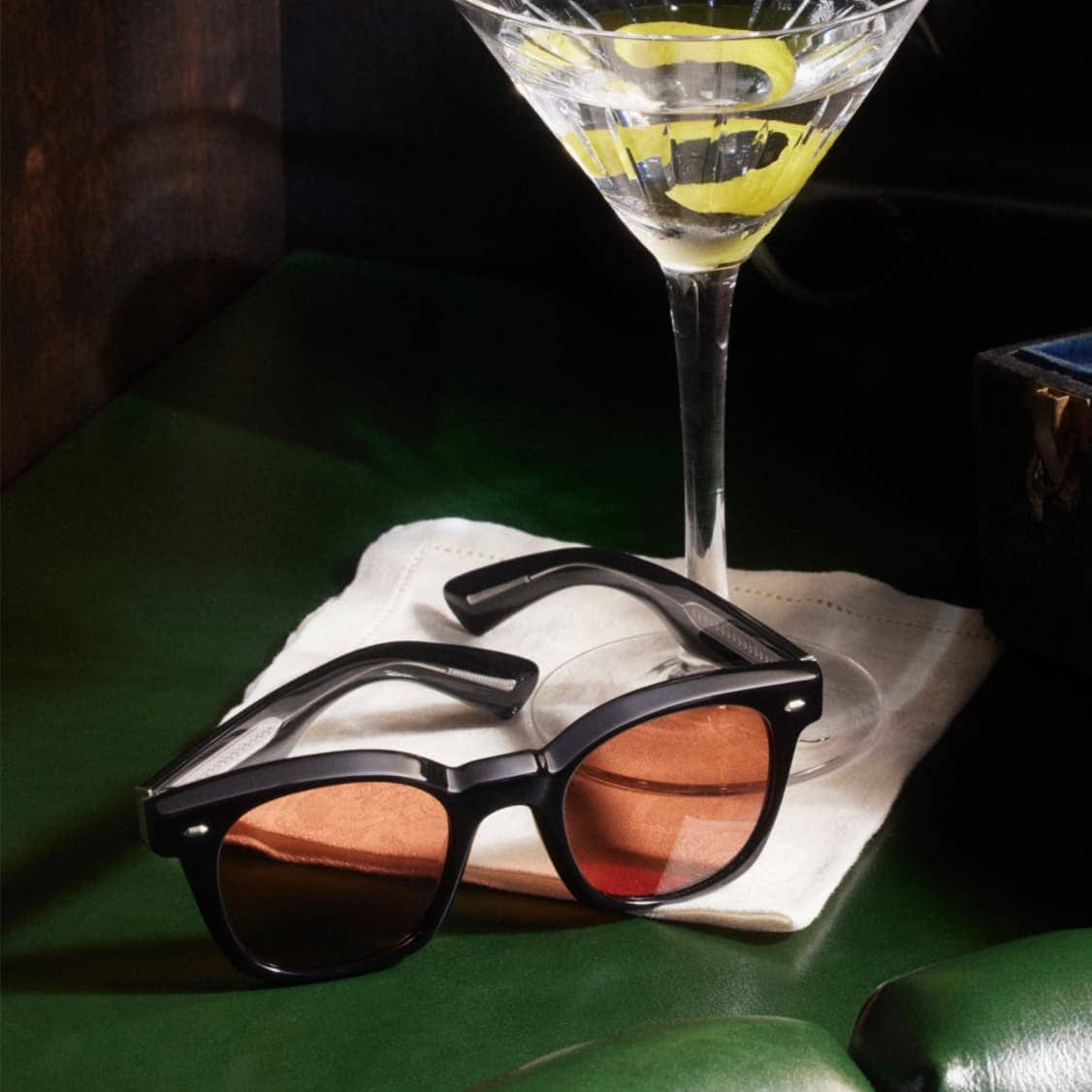 The bold design of Merceaux plays into his modern suiting.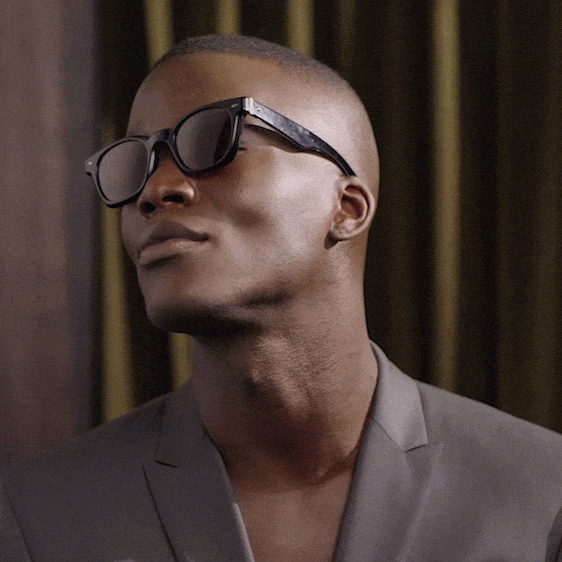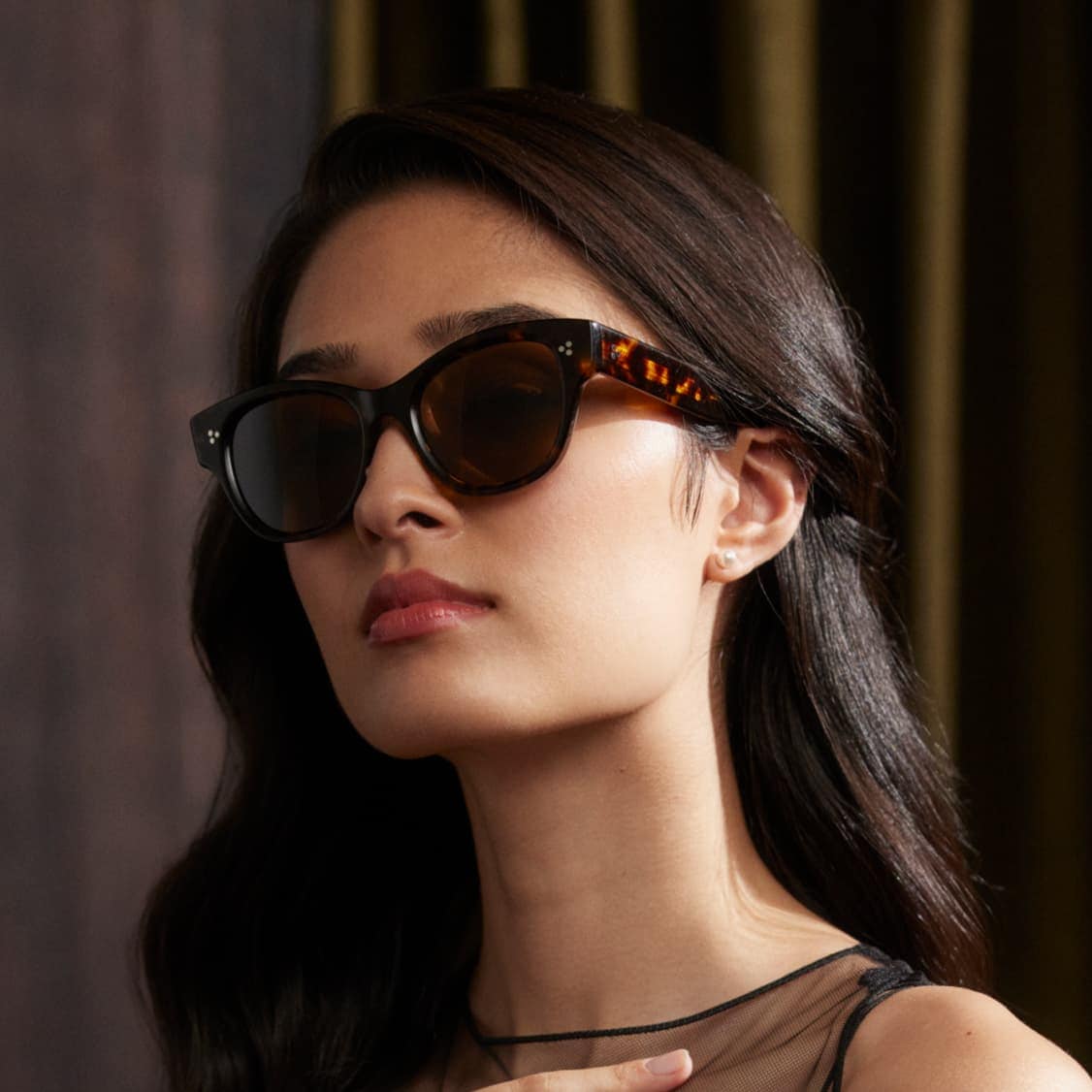 She settles into the evening lights - wearing her Eadie sunglass.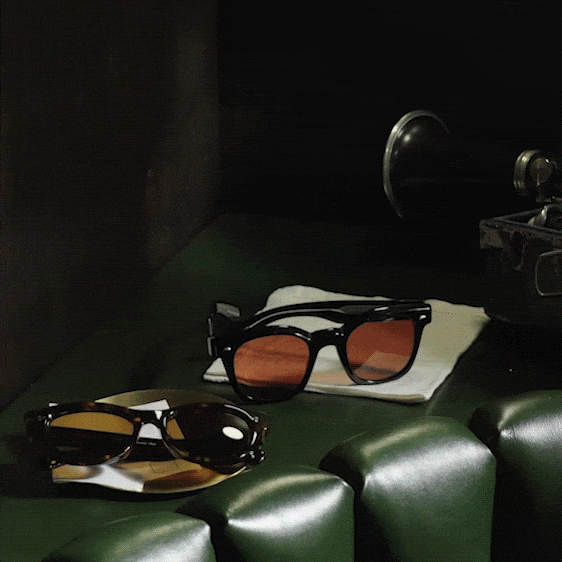 Orchestra
Few occasions portray the grandeur of music on par with a night out at Orchestra. A concert hall fills with the rustling of sheet music and the foretelling sounds of bombastic instruments warming up. The conductor's baton swoops—mirroring the curved frame of a cello. Soon after, waves of sound wash over an audience dressed to the nines, including a couple who look forward to this annual tradition. For her, it's always an opportunity to indulge in high fashion. She's paired an asymmetrical ensemble with geometric G. Ponti-4 sunglasses. His classic gray tuxedo, with a perfect pocket square and a charmingly imperfect bow tie, balances well with the retro essence of Romare frames. Their eyes widen and hearts begin to patter as a crescendo approaches.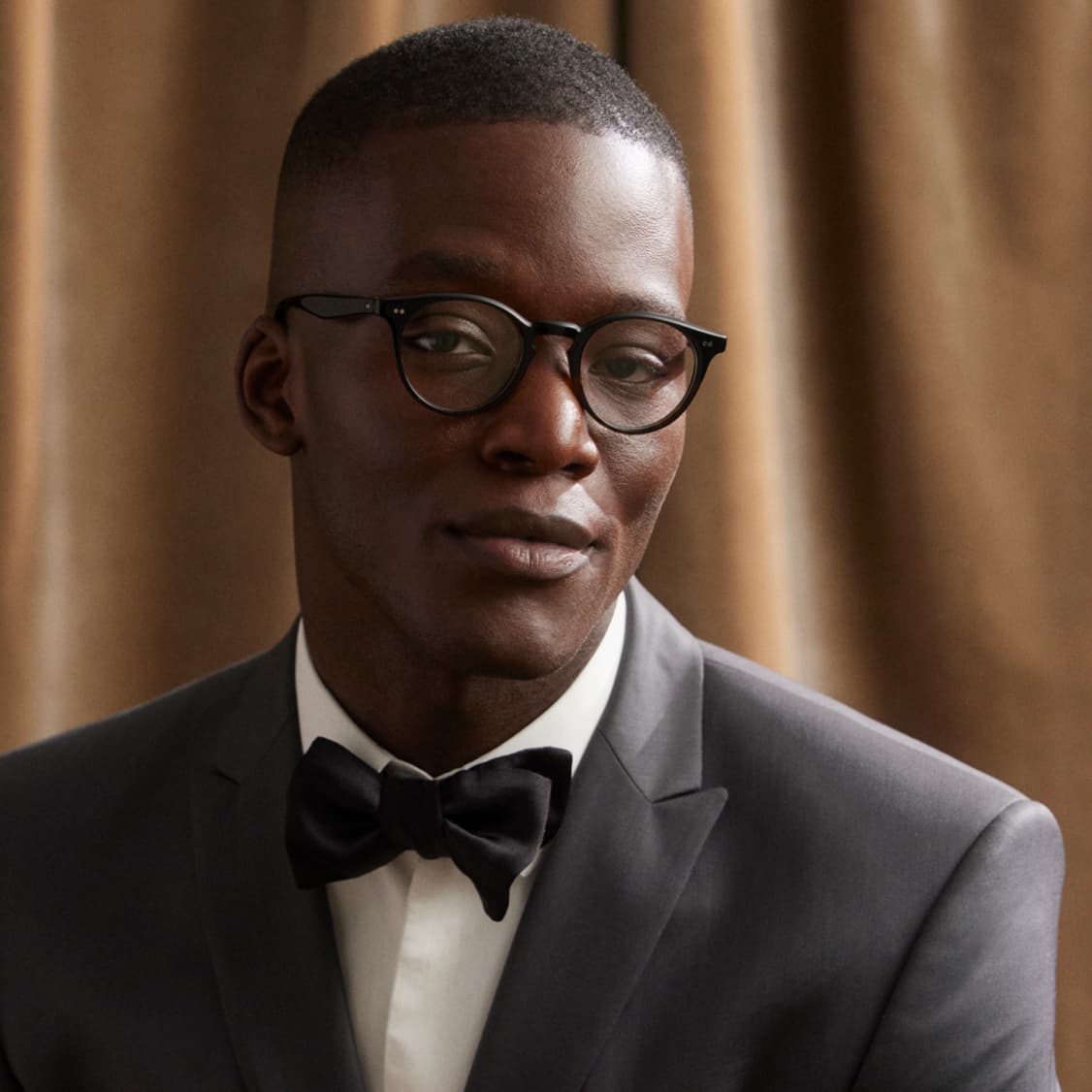 He elevates his classic tuxedo with the timeless design of Romare.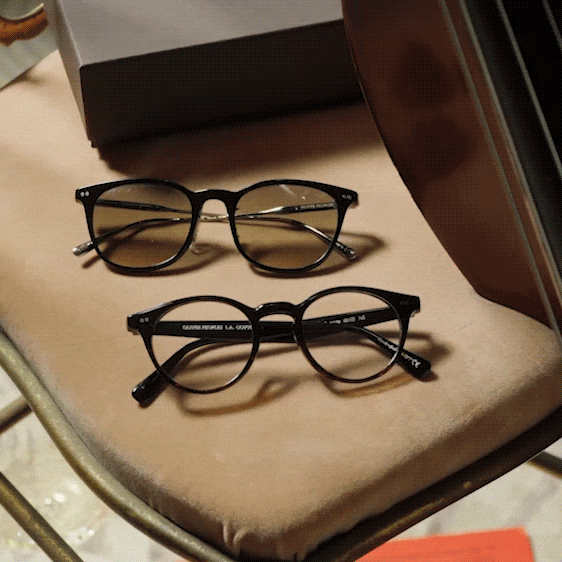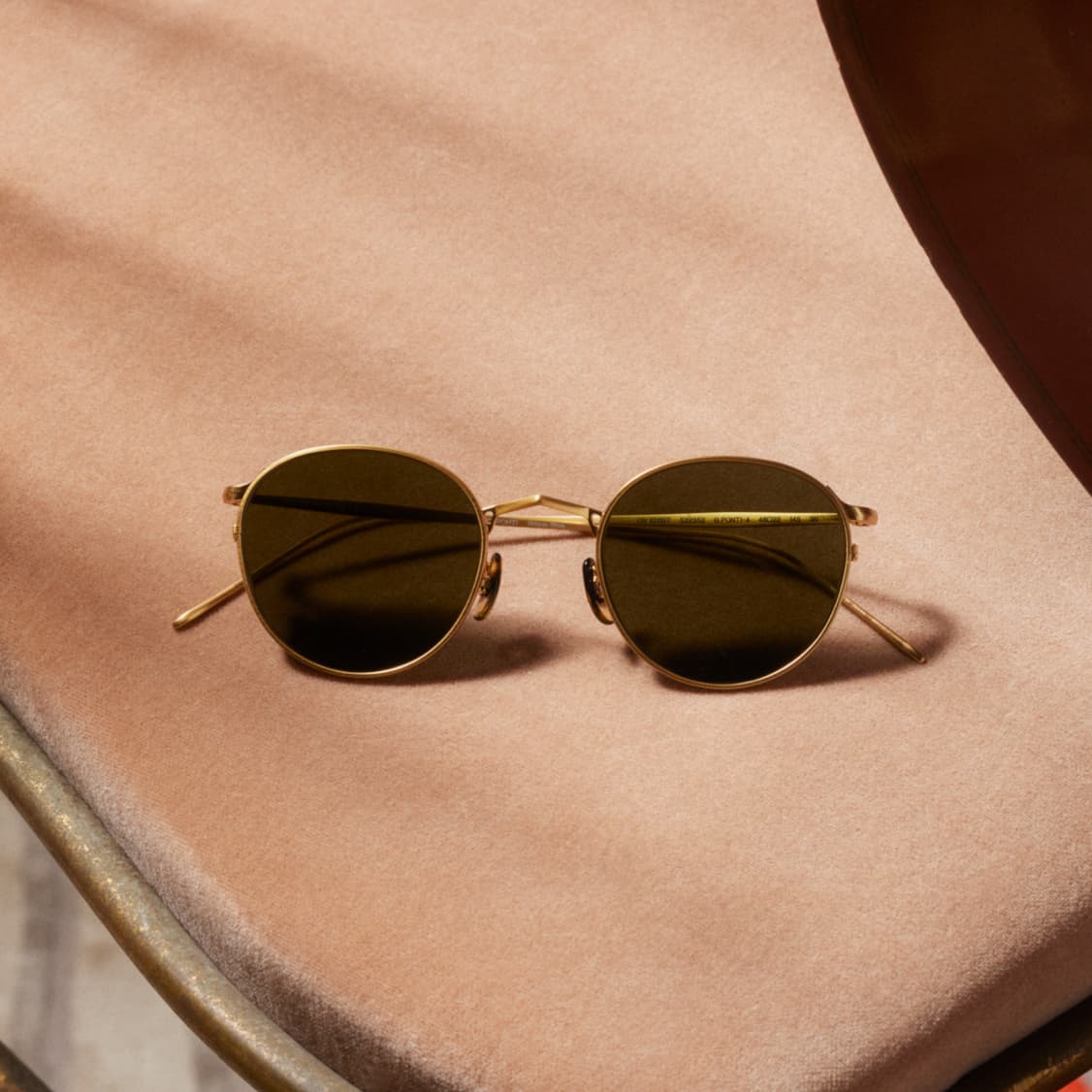 The bold, metal design of G. Ponti-4 aligns with the angles of an instrument.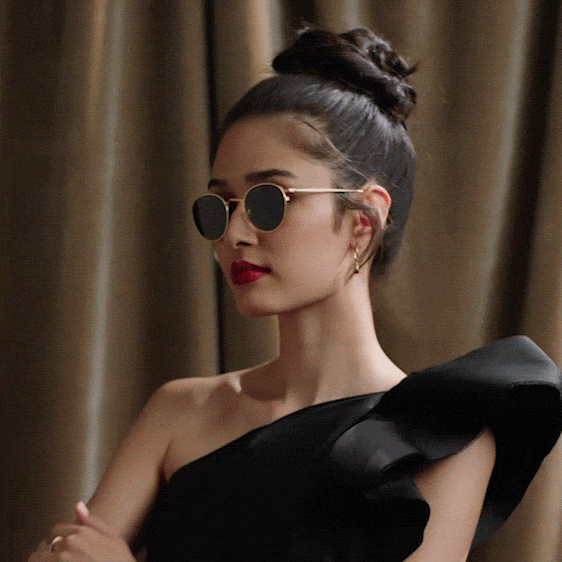 Street Musician
There's an arrangement of chords heard from afar. A couple pauses on their wintry walk to place the direction of the notes. Hand in hand, they pursue the harmonious sounds amidst the clatter of the city until there, in the distance, sits a street musician plucking away a spirited song on his guitar. The enamored couple sits upon a park bench, agreeing to enjoy the music for a little while longer. In a turtleneck and overcoat, she's prepared for the cooler temperature with a classic ensemble. For eyewear, she sways between Finley 1993 as an optical and with a sunglass clip accessory, which she often stows in a slender genuine leather case with plush lining and a pinch closure. His look—a warm shearling jacket accented by statement-making Desmon Sun—is the perfect complement to hers.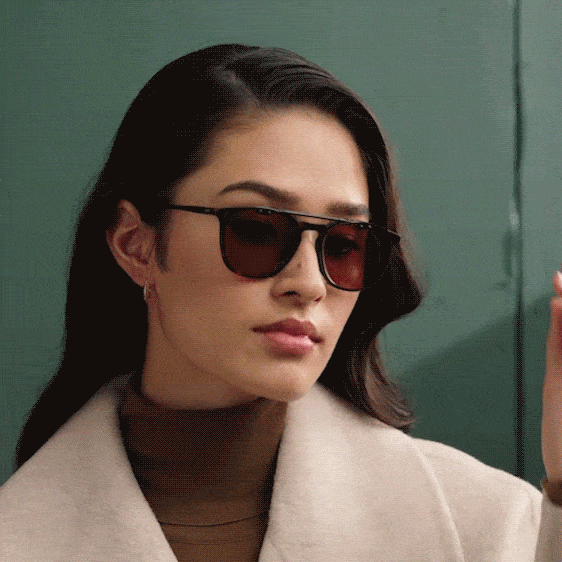 Finley 1993 with a sunglass clip fits the moment as the crowd lingers longer to hear the sounds of the street musician.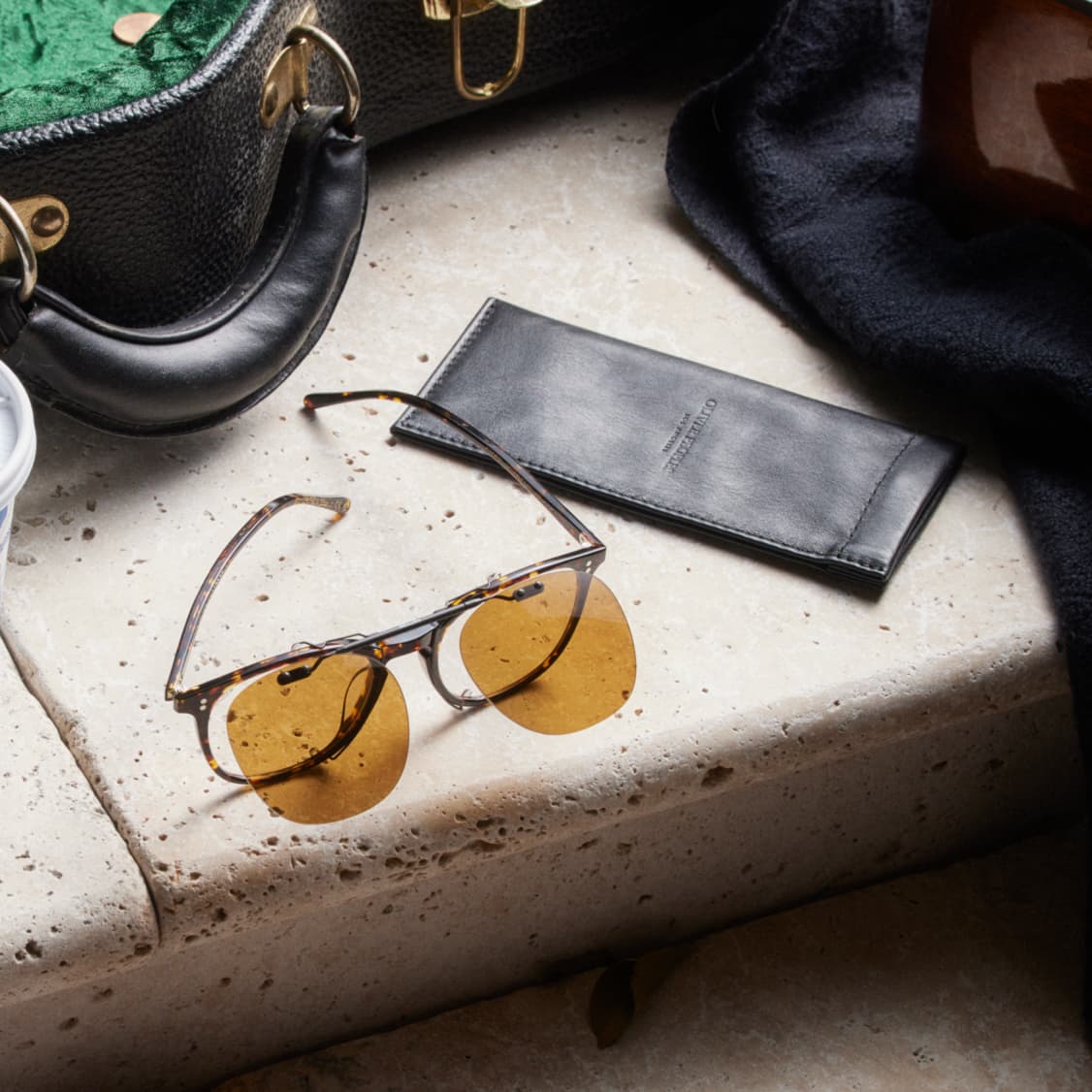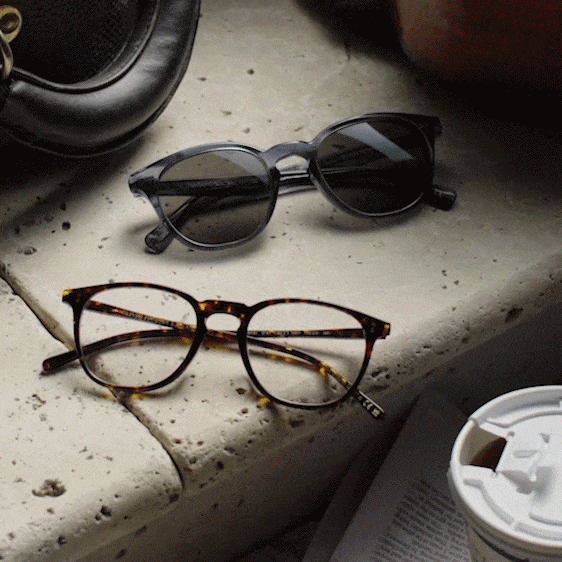 Amidst the wintry afternoon, he enjoys the musician's set wearing the heritage style of Desmon Sun.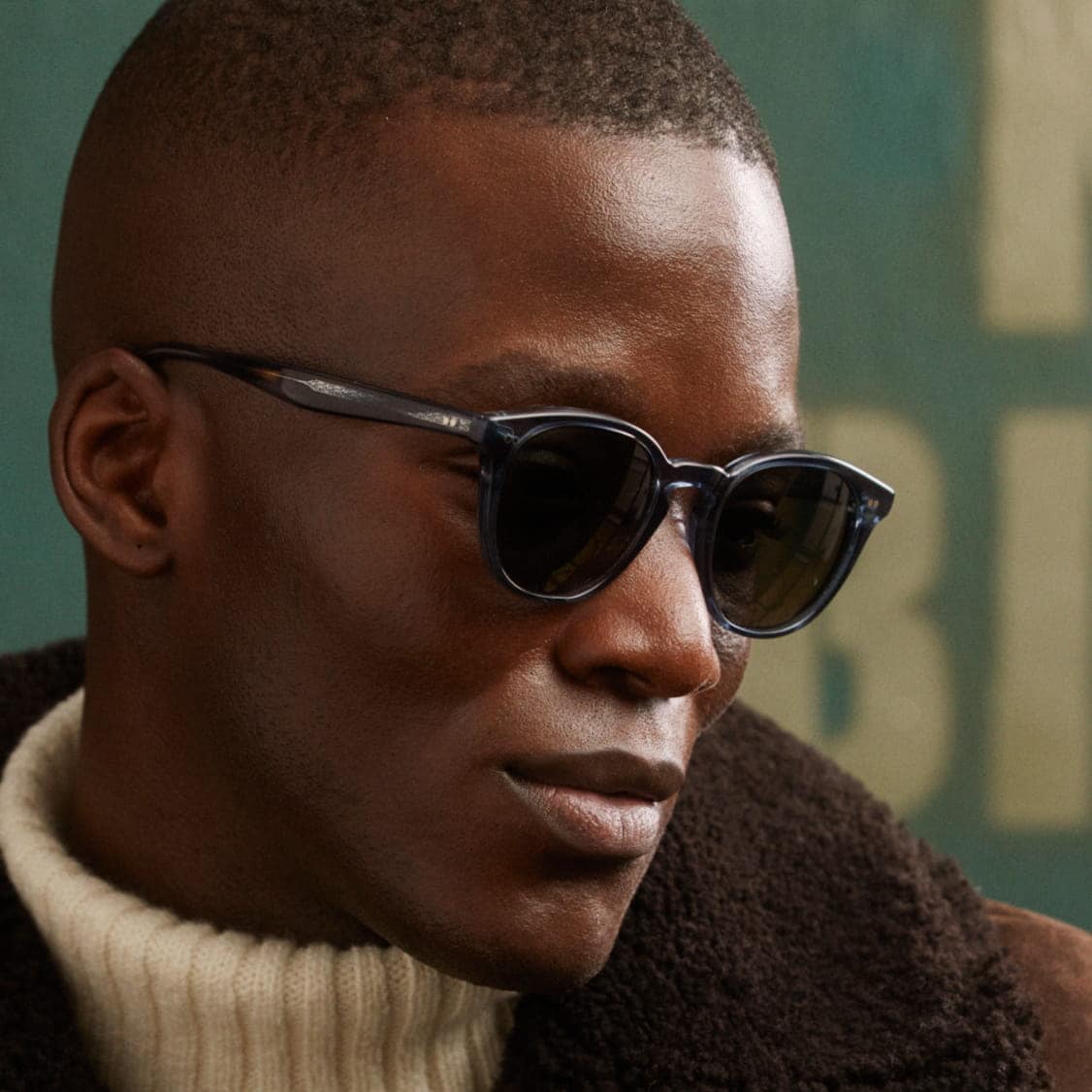 Listening Room
In the quiet moments toward the end of a holiday party, when friends and family are not quite ready to leave, a couple settles into their listening room at home and nostalgic tunes begin to cascade from their record player. Both have changed from the outfits they greeted guests with hours before and now they're dressed for comfort, adorned with cozy cashmere turtlenecks befitting the seasons. She also dons the Carling Brushed Gold/362 optical to sift through vinyl. He quietly contemplates his appreciation for each guest while wearing the distinct Romare Sun. Set against the textures of their house, the couple's geometric genuine leather two frame case rests, waiting to store their eyewear again.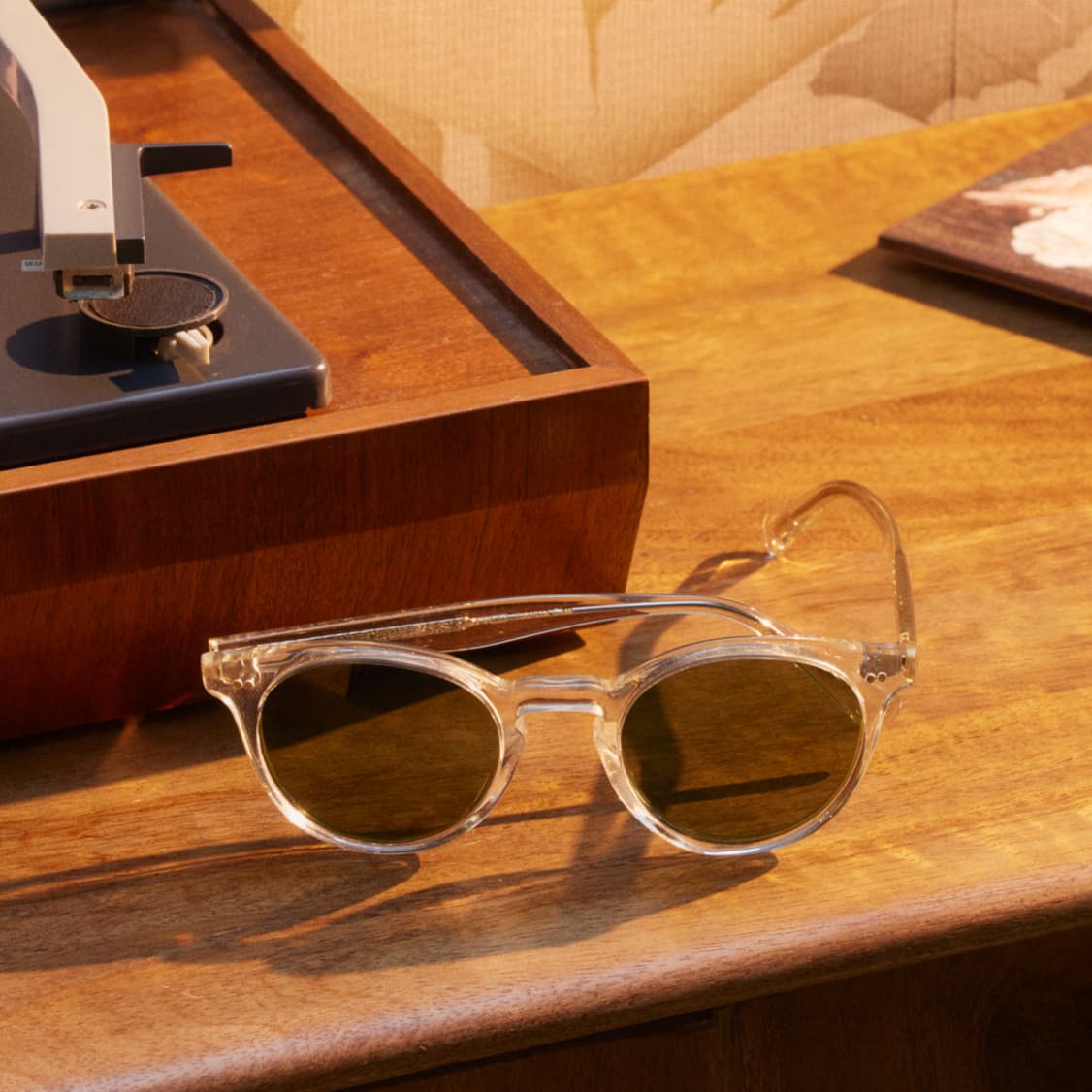 The evening unwinds with a Romare Sun and vinyl on repeat.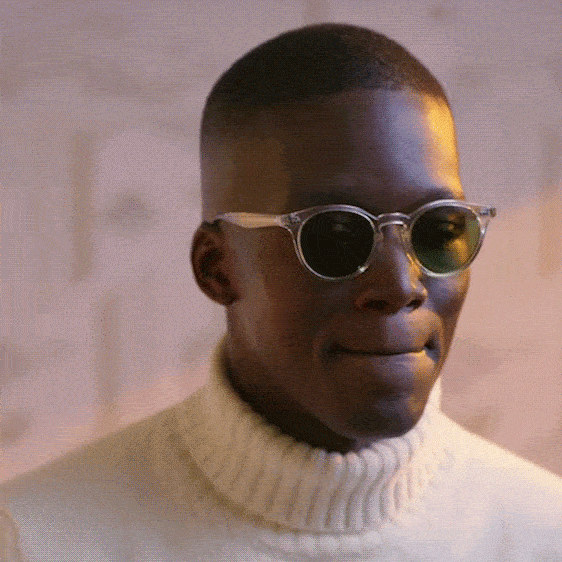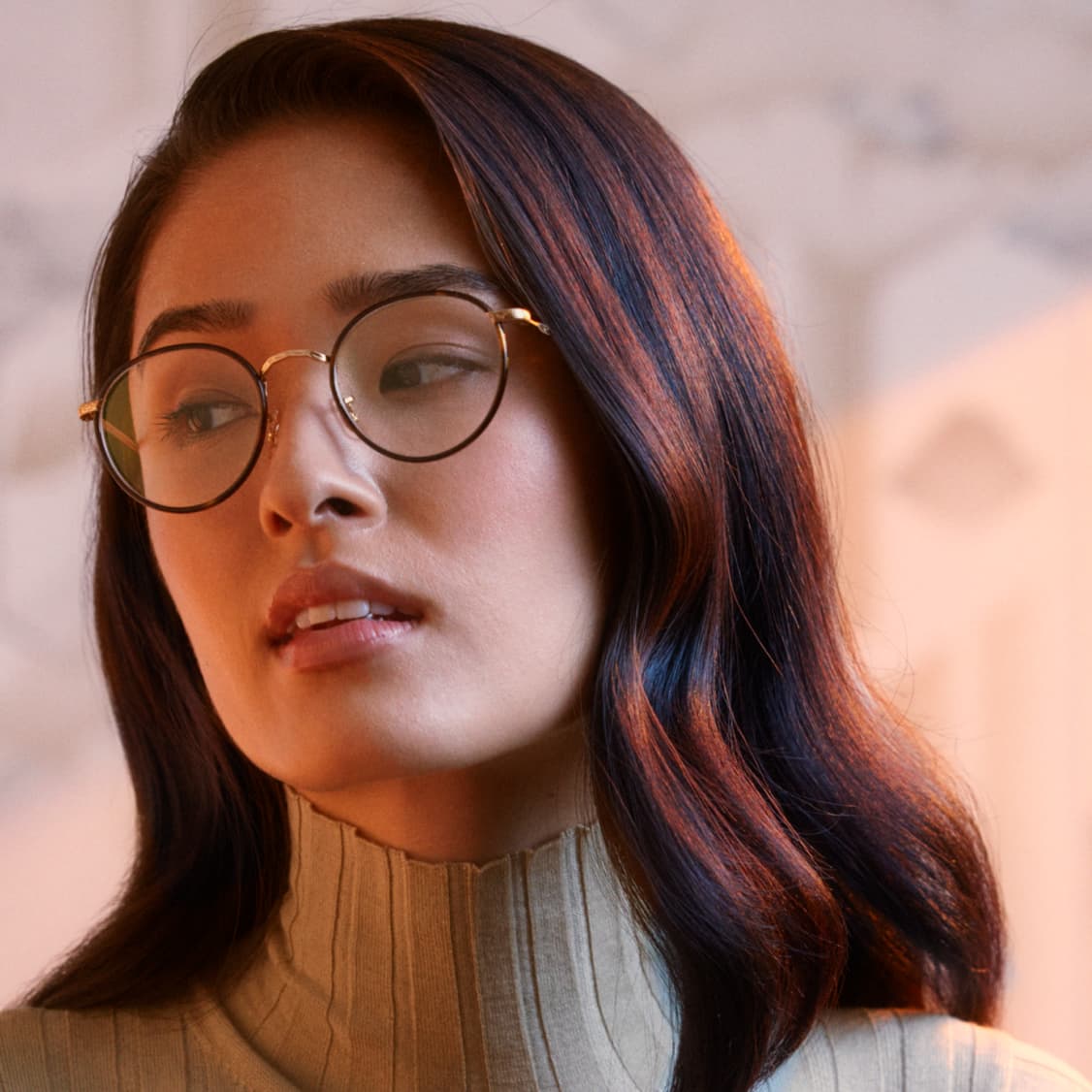 She throws on her Carling glasses to contemplate the next musical selection of the night.