COLLABORATIONS | CONVERSATIONS | CULTURE
The Man Behind the Frame: Gregory Peck
12 Min Reading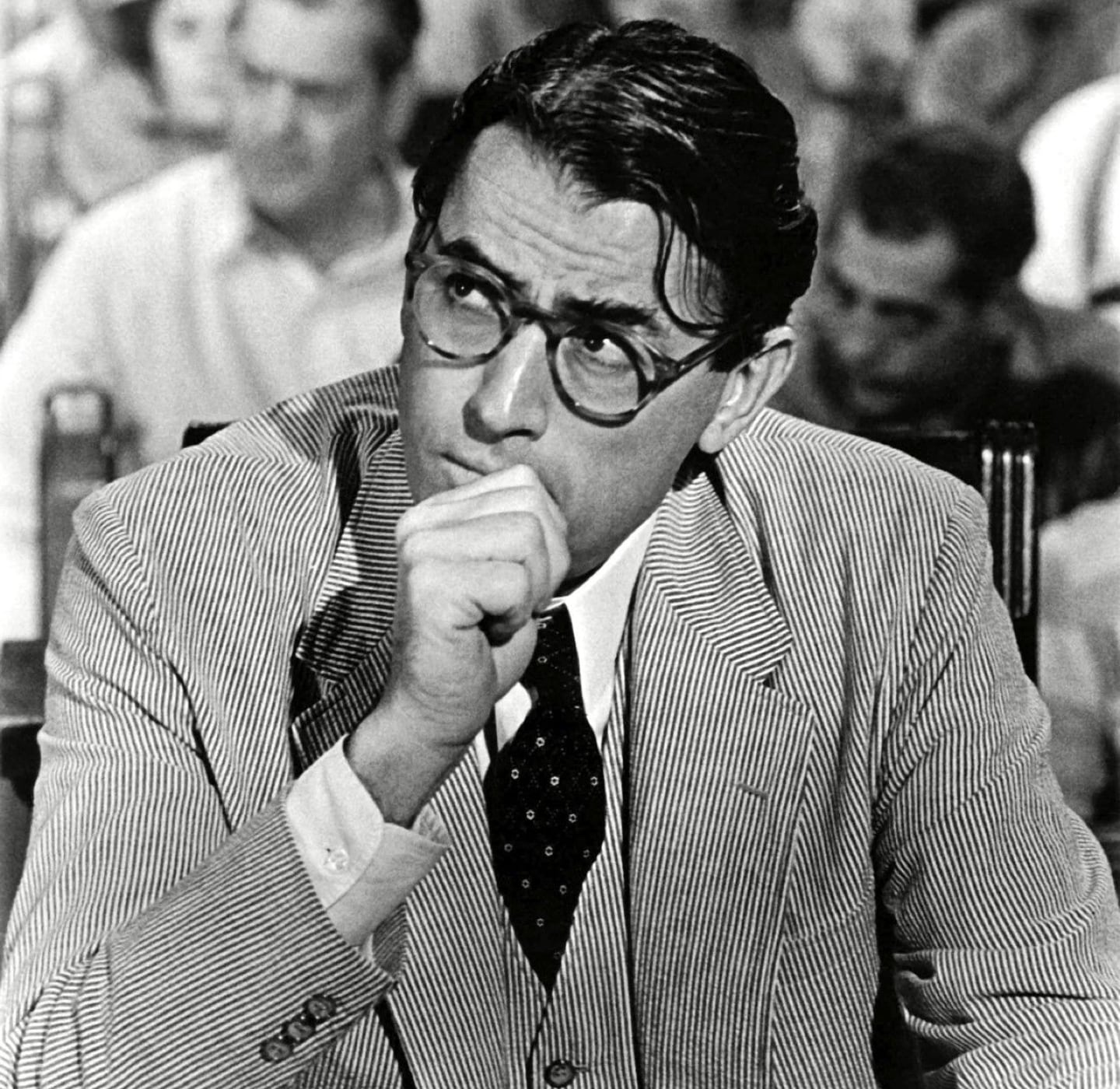 Exploring the iconic actor's love of craft, his timeless style, and approach to a life well-lived.
A few years prior to the 50th anniversary of the theatrical release of the film adaptation of Harper Lee's To Kill A Mockingbird, Oliver Peoples connected with Anthony Peck over the idea of re-interpreting the iconic frames his father Gregory Peck wore as Atticus Finch in the film. "I wasn't familiar with the history of Oliver Peoples, but intuitively understood that they appreciated retro-looks," says Anthony when thinking back to the events that led first to an optical frame named for his father and subsequently a sun frame on the heels of the success of the former. Now, 8 years later, the hugely popular Oliver Peoples frame named after the actor is getting an update in the form of four new colors, two for sun and two for optical, as well as a new 50mm size for both that will include the classic color options as well. The timing for the refreshed line couldn't be more appropriate given that the themes running through To Kill A Mockingbird and legacy of Peck himself are relevant as ever.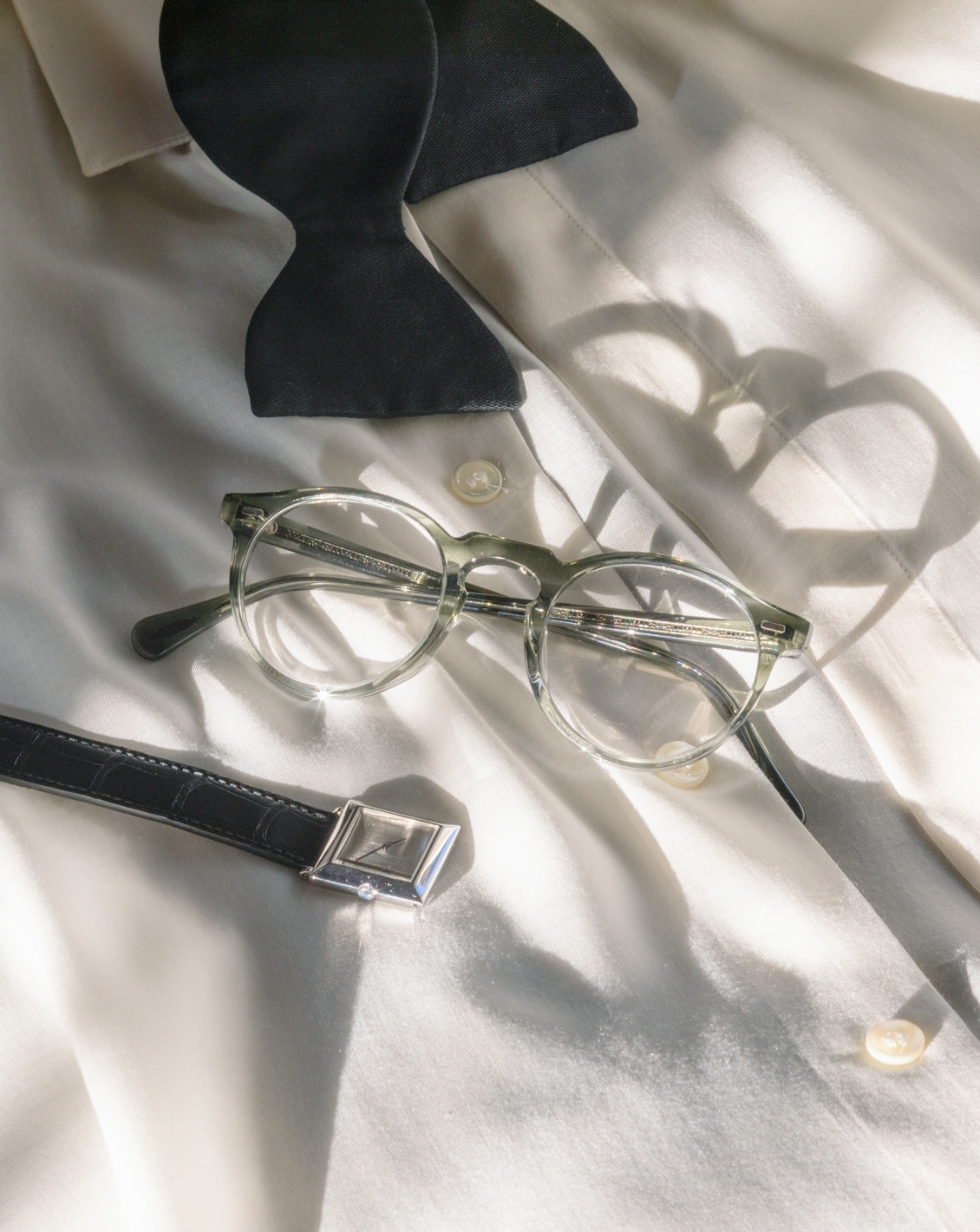 Gregory Peck in Washed Jade among Peck's personal watch and bowtie he wore during his Oscar win in 1963.
Gregory Peck holds his Academy Award for Best Actor for To Kill A Mockingbird while photographed with Sophia Loren, 1963. Photo by Bettmann via Getty images.
At a moment in history when the global community has been given a chance to reflect on what's important looking to an iconic figure such as Gregory Peck for inspiration on how to approach life makes a great deal of sense. This is especially true as Peck isn't an icon simply because of the many larger-than-life characters he portrayed on screen, but because of the quality of his character off-screen. Asked about what in particular made his father an icon, Anthony says, "Greg was true to himself to the last. Wasn't seduced by trends, not just in a fashion sense, but in life as well. He was a good father, a good husband, and a good citizen". It's notable that he doesn't point to his father's many successes as an actor, in particular his Academy Award win for portraying Atticus Finch, as one of the reasons for his achieving and maintaining icon status all these years, but learning more about Gregory Peck, the more that makes sense.
Born in La Jolla, California in 1916, Gregory Peck was raised by his grandmother who took him to silent movies every week, planting the seeds that would later be watered while Peck was pre-med at UC-Berkeley.
Unable to ignore the pull of the stage, Peck skipped graduation in 1939 and set out for New York City with $160 in his pocket and a strong belief in himself. Tall, ruggedly handsome, and charming as could be, his bet on himself paid off. Having cut his teeth at The Neighborhood Playhouse, on Broadway, and studying acting with Michael Checkov, Peck quickly found himself a steadily working actor in 1940s Hollywood. By the 1950s, he was a bonafide star with three Academy Award nominations and a Golden Globe win for The Yearling in under his belt. Thriving in the popular Western, military, and far-flung adventure films of the day, Peck was known for bringing a great degree of authenticity to his roles, thus raising the quality of any film he was in. In short order, he worked repeatedly with Alfred Hitchcock, Ingrid Bergman, and Ava Gardner, and became close with many of his peers that would go on to be lifelong friends such as Cary Grant, Frank Sinatra, Fred Astaire, and Clark Gable. In 1952, Peck got the chance to show a different side of himself in William Wyler's classic, Roman Holiday, starring alongside Audrey Hepburn in her first feature film, for which she would win an Oscar.
"Greg was true to himself to the last. Wasn't seduced by trends, not just in a fashion sense, but in life as well. He was a good father, a good husband, and a good citizen".

– Anthony Peck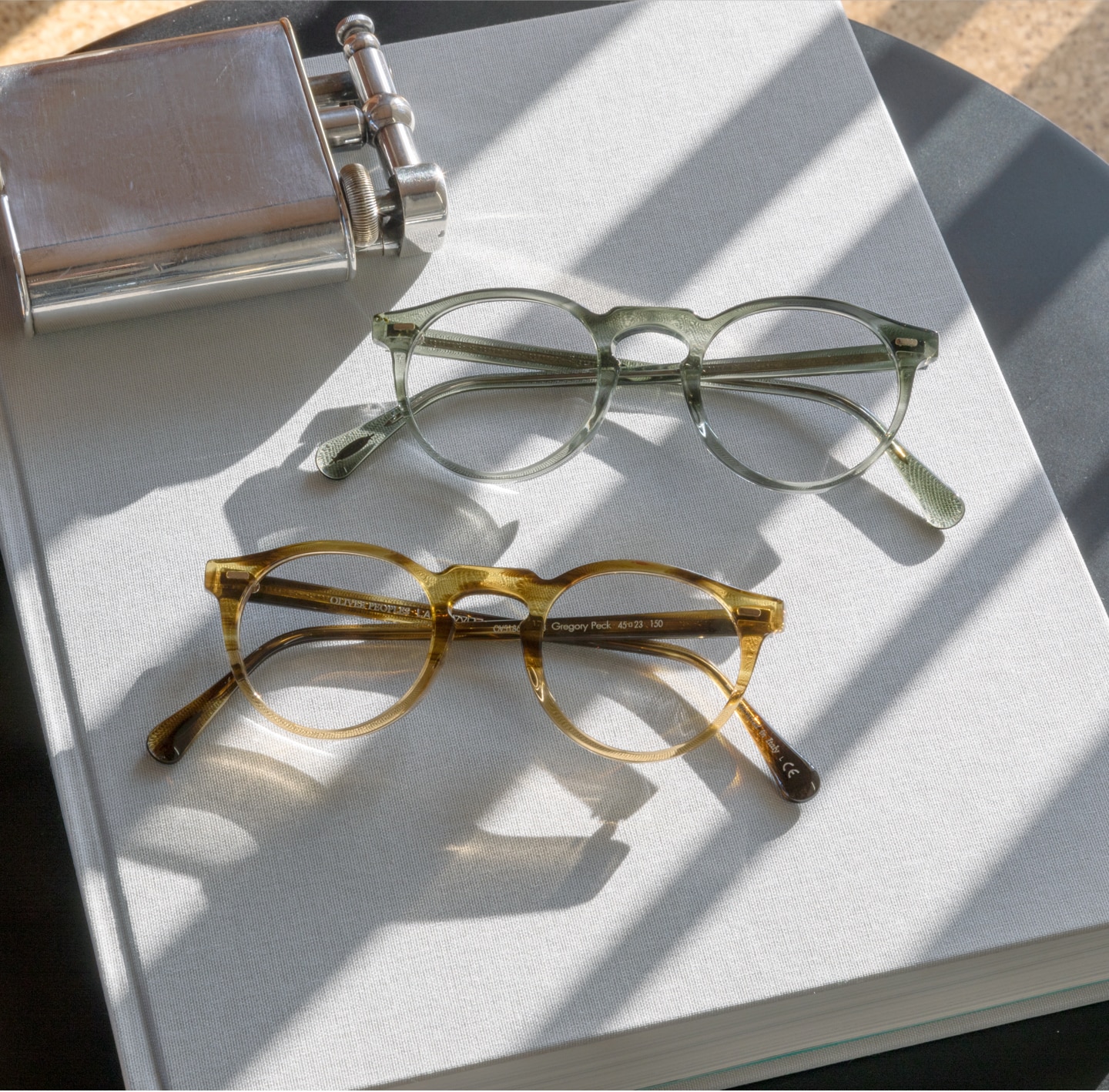 As Anthony shares, "my father had an extraordinary sense of humor. He was witty and irreverent, but never at anyone's expense". The notion that Peck was always serious and carried a heaviness within him isn't hard to grasp given what he is most known for; however, one only need watch Roman Holiday to see just how light and jovial he could be. With his status as a leading man cemented, he was able to pick only the projects he was genuinely interested in, something Anthony points to as a cornerstone of his father's personality. "He had to do what he believed in, he never worked for the money, it was always for the love of the craft". Indeed Peck's love of the craft is apparent in Roman Holiday, particularly through paying close attention to his comedic timing, but it's not just there in his work, it's also apparent in the way he dressed and what he valued in life. Anthony recalls that "he saw craft everywhere and gave me a great appreciation for it in all things.
He would take me to see Sandy Koufax pitch just for the technique".
For Gregory Peck, it led him to the forefront of his generation of actors and established him as a singular personality with great credibility. Equally interested in a great pitcher like Sandy Koufax or a violinist like Issac Stern, whom Peck admired greatly, it comes as no surprise that Anthony recalls his father telling him "I rehearsed the courtroom speech some 500 times so that I could do it anyway I wanted and it would come out right". In theory, this might imply the pursuit of perfection, but in practice, it is about adaptability. Pitchers, violinists, actors, all the great ones are well prepared and that preparation leads to great performances. That relentless fascination with craft and technique is shared by Oliver Peoples, and it underpins the process by which frames are designed and manufactured.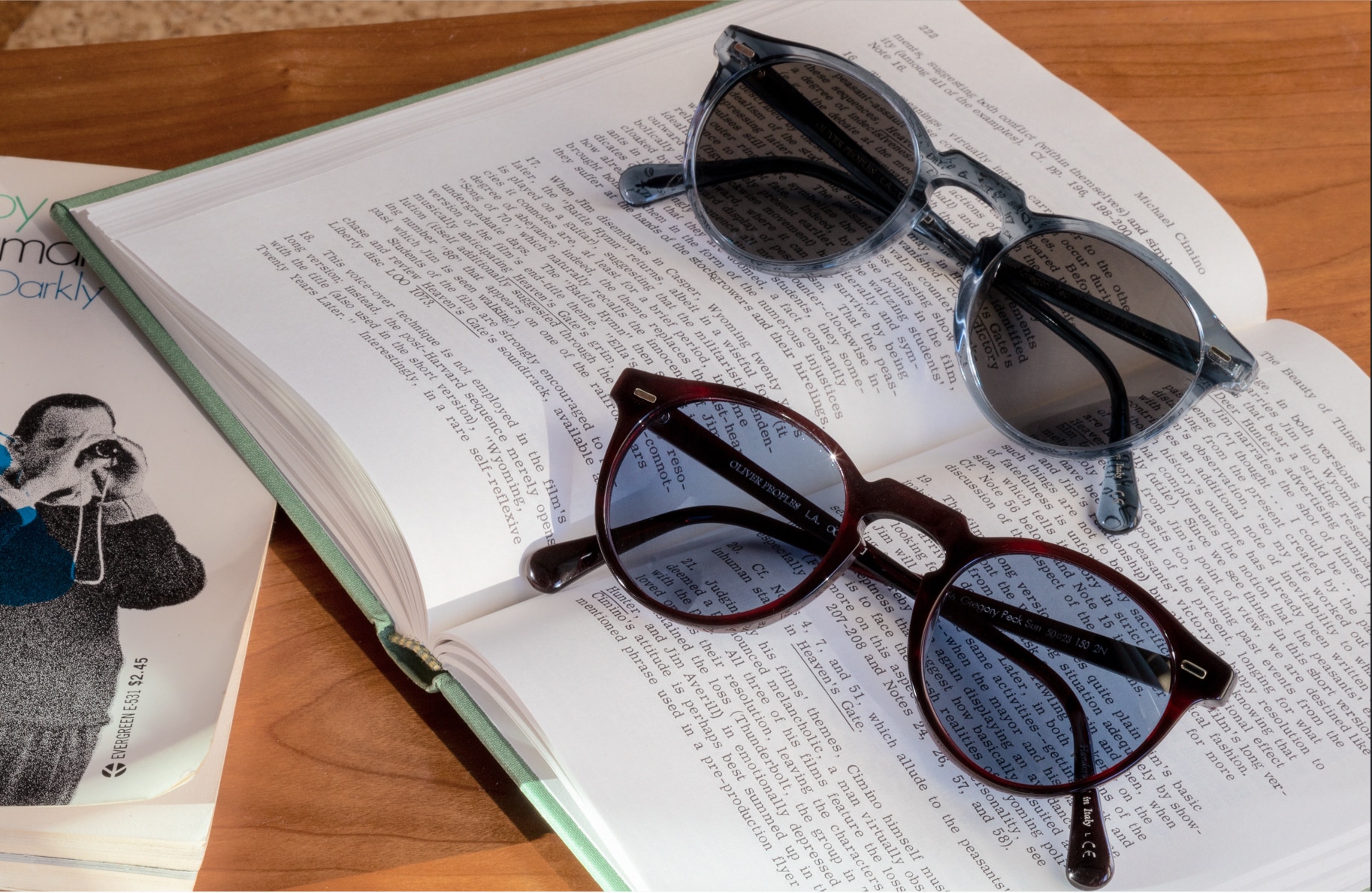 Gregory Peck in Washed Lapis + Carbon Grey and Bordeaux Bark + Cobalto.
Although Gregory Peck passed away prior to Oliver Peoples developing the frame which bears his name, Anthony imagines that his father would have "absolutely have worn them and appreciated the level of craftsmanship involved", adding that to him "...acetate is such an interesting material, I love that it stems from a natural source and love that I can wear almost exactly the glasses my father wore". Interestingly, even for the era in which he was at the height of commercial popularity, Gregory Peck was a classical figure, "professorial and trust-worthy" preferring Savile Row suits by Huntsman, the shop known for dressing British country gents and bankers rather than the more contemporary tailors and youthful styles explored by many of his peers. "His style was influenced heavily by the Brits, refined, but not stuffy and it was an outward reflection of who he was on the inside", said Anthony when asked about his father's specific clothing choices. "He dressed with an understated elegance in everyday life, absolutely imbued the frames and suits he wore with his qualities. He wasn't a clothes horse, he was simply an elegant dresser" Anthony continued.
"He was the same at home and behind closed doors as he was publicly. There was no concern for what the consequences might be for doing the right thing".

– Anthony Peck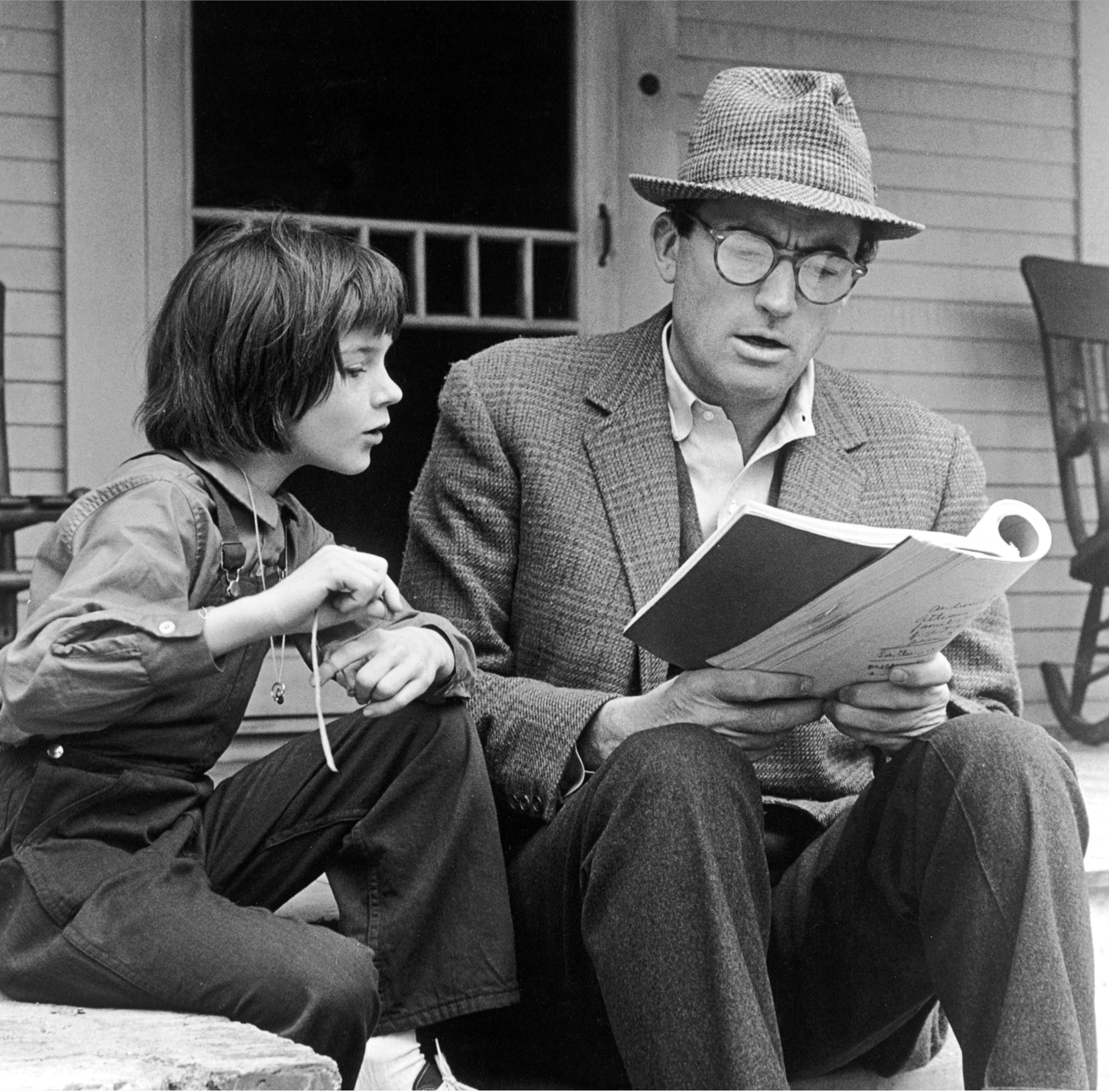 With all that in mind, it's easy to understand why the author of To Kill A Mockingbird, Harper Lee, is quoted as having said "Atticus Finch gave him an opportunity to play himself" in reference to Peck. Anthony agrees with that notion saying, "He was the same at home and behind closed doors as he was publicly. There was no concern for what the consequences might be for doing the right thing". That's easy enough to say, but to consistently be on the right side of history, to have such a strong moral compass and the backbone to follow it, that's incredibly rare, especially for individuals with very public lives in positions of privilege. Still, looking at his life as a whole, it's clear Gregory Peck is deserving of the reverence so many have for him.
Politically progressive, he was active in anti-war protests, the civil rights movement, fought for workers' rights, and appropriately was awarded the Jean Hersholt Humanitarian Award by the Academy of Motion Picture Arts & Sciences in 1967, and the Presidential Medal of Freedom in 1969. Peck himself said of his portrayal of Atticus Finch, "I put everything I had into it – all my feelings and everything I'd learned in 46 years of living, about family life and fathers and children. And my feelings about racial justice and inequality and opportunity". Echoing that sentiment Anthony says "there isn't a decision I make in life where I don't ask myself what he would have done".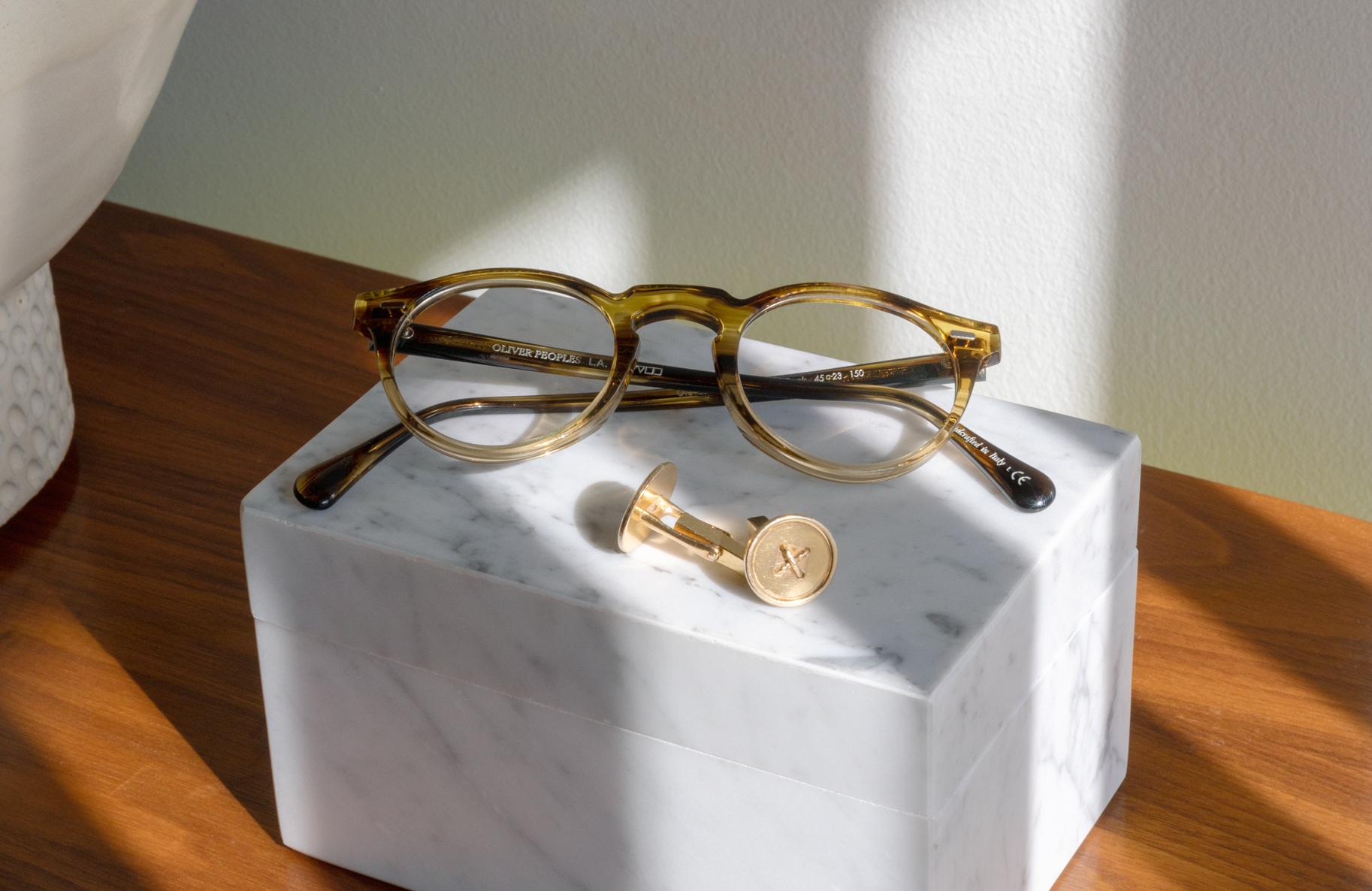 Gregory Peck in Canary Wood Gradient with Gregory Peck and Anthony Peck's cuff links. Gregory and Anthony each wore one of the other's.
With these lofty ideals and qualities in mind, Oliver Peoples offers the Gregory Peck optical and sun frames as an homage to the character of Atticus Finch, but also as a point of entry to the personality of a true icon. Given the way that distinction is increasingly tossed around, perhaps it's worth re-considering what qualifies someone to be defined as such. Movie stars are particularly prone to being confined to the period in which they were most dominant at the box office and for many that leads to simply popping up when that era is in fashion, and dropping off when it is out.
In Peck's case, he remains perennially relevant because his style and personality transcend the era he is most associated with. He is, in every sense of the word, timeless. Once again his son Anthony provides some insight into how his father gained such distinction "He retained a childlike wonder and healthy curiosity all his life. He never ceased to learn and grow, all the while remaining authentic and true to himself". Conviction never goes out of style, that's why To Kill A Mockingbird remains important today and why we can still learn from both Atticus Finch and the man who so fully embodied the character on film.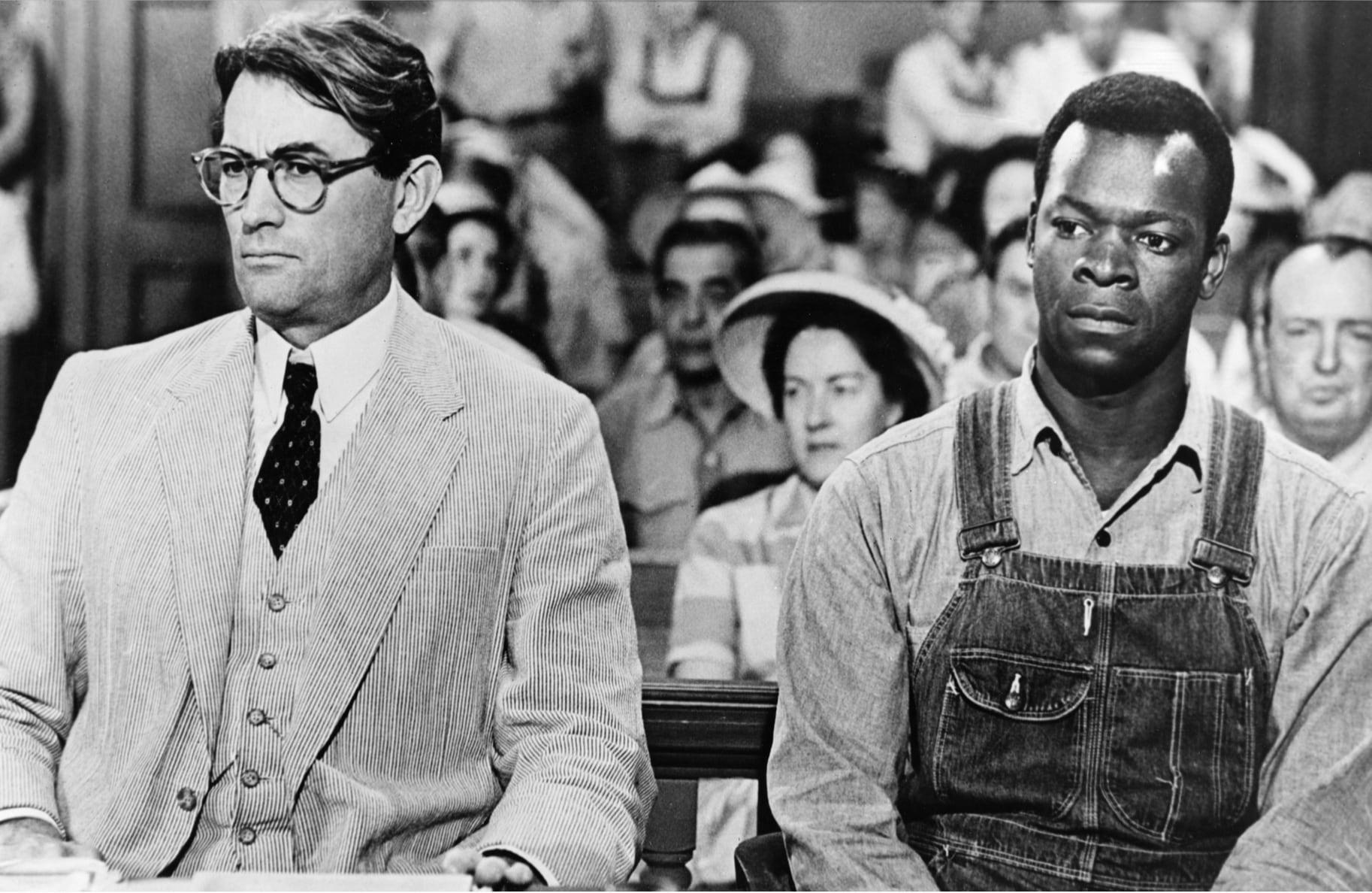 Gregory Peck as Atticus Finch and Brock Peters as Tom Robinson in To Kill a Mockingbird, 1962. Photo by Silver Screen Collection/Getty Images.
It is not only the style of Gregory Peck that's aspirational, but the values and approach to living that underpin it as well. That's the very definition of style and substance. Watching Peck act, you are acutely aware that every choice made was a conscious one in service of the performance. This is true of the costuming as well, as Anthony shared "I recall costuming design coming over and giving options, everything would have been carefully considered". Through a combination of an impressive method and costuming Gregory Peck fully embodied the characters he played, bringing them to life in a way only the great actors can. Atticus Finch was not only Peck's most notable role, but also his personal favorite. That the frames he wore in the film became symbolic in their own right and are enjoyed by a new generation is wonderfully appropriate.
Eyewear can easily function as the cornerstone of an outfit or transform someone's appearance, but in addition to literally changing the way we see the world, could it do so to figuratively as well? What if donning a pair of Gregory Peck frames it wasn't simply about borrowing some of his timeless style, but taking a moment to think about his personal character? We can all enjoy the confidence boost of donning frames that make us feel a little sharper, walk a little taller, give us a bit more of the je-ne-sais-quoi that icons possess. But what about frames that inspire us to think critically, act gracefully, and invigorate our sense of citizenship? By our estimation that would be an incredible way to honor the memory of Gregory Peck, carry on his legacy, and look good doing it too.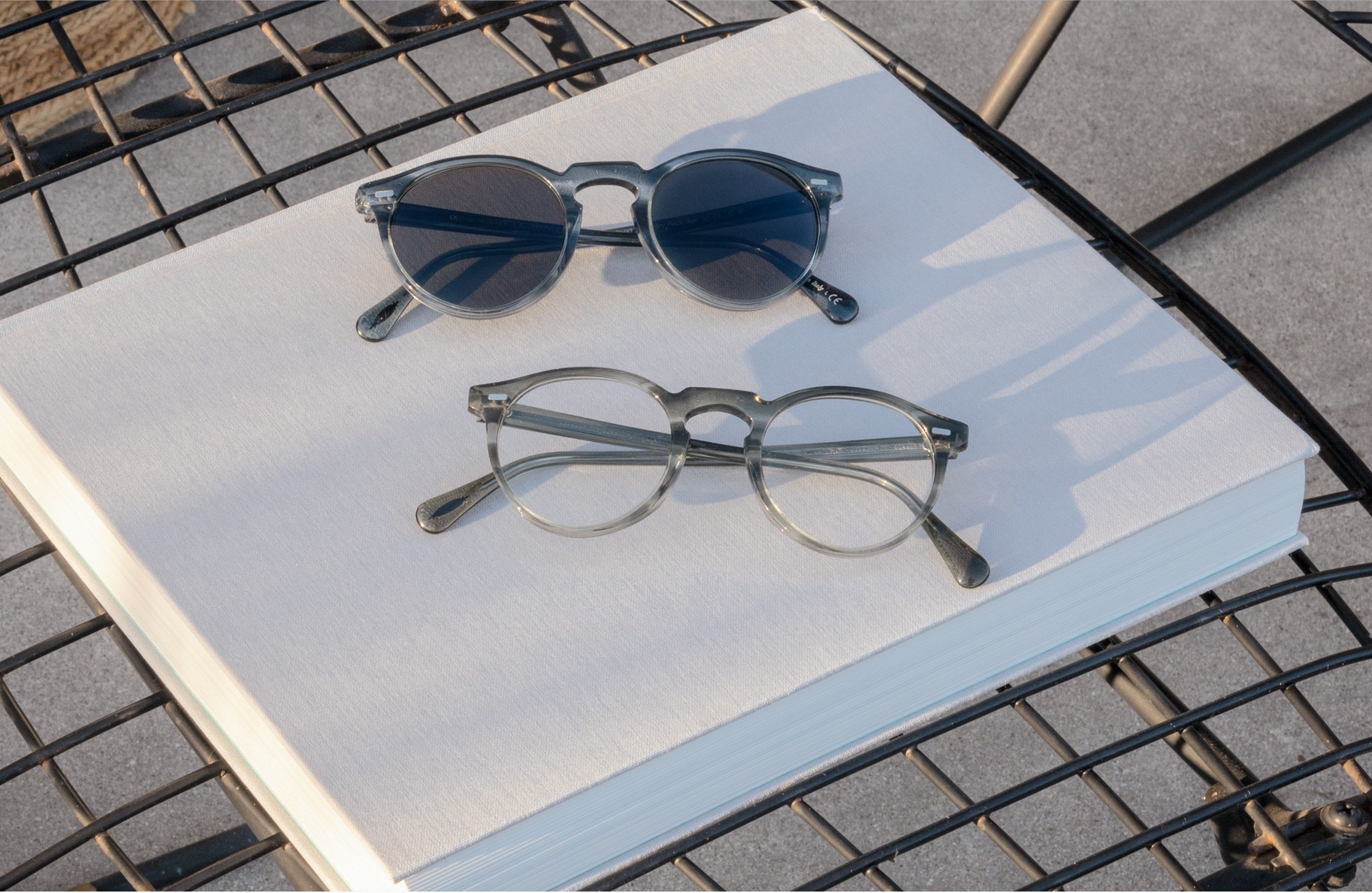 Gregory Peck Sun in Washed Lapis + Carbon Grey and Gregory Peck optical in Washed Jade.