Culture | Conversations
On the Farm With Isabella and Roberto Rossellini
5 Min Reading
Oliver Peoples met up with Isabella and Roberto Rossellini in Brookhaven, New York to learn more about their latest projects, life on the farm, the importance of family, style, and staying curious.
Isabella Rossellini has never been one to sit on the fence—or sit around for that matter. The daughter of Swedish actress Ingrid Bergman and Italian filmmaker Roberto Rossellini, Isabella has set the world alight on the movie screen, up on the big stages, and a great many Vogue covers like few others in her generation. After some 30 years in the spotlight, however, Isabella decided to give her keen curiosity freer rein and, all the while pursuing a childhood penchant of hers, she has in later years forged a new, exciting path for herself and her family.
Today, Isabella pursues a simpler life together with her daughter, food editor and writer Elettra Wiedemann and her son, photographer and model Roberto Rossellini Jr., on their Brookhaven farm, a 28-acre property in Long Island, New York. Here, they not only grow their produce alongside chickens and turkeys, goats and sheep, and numerous dogs of various breeds but also explore creative approaches to learning and living.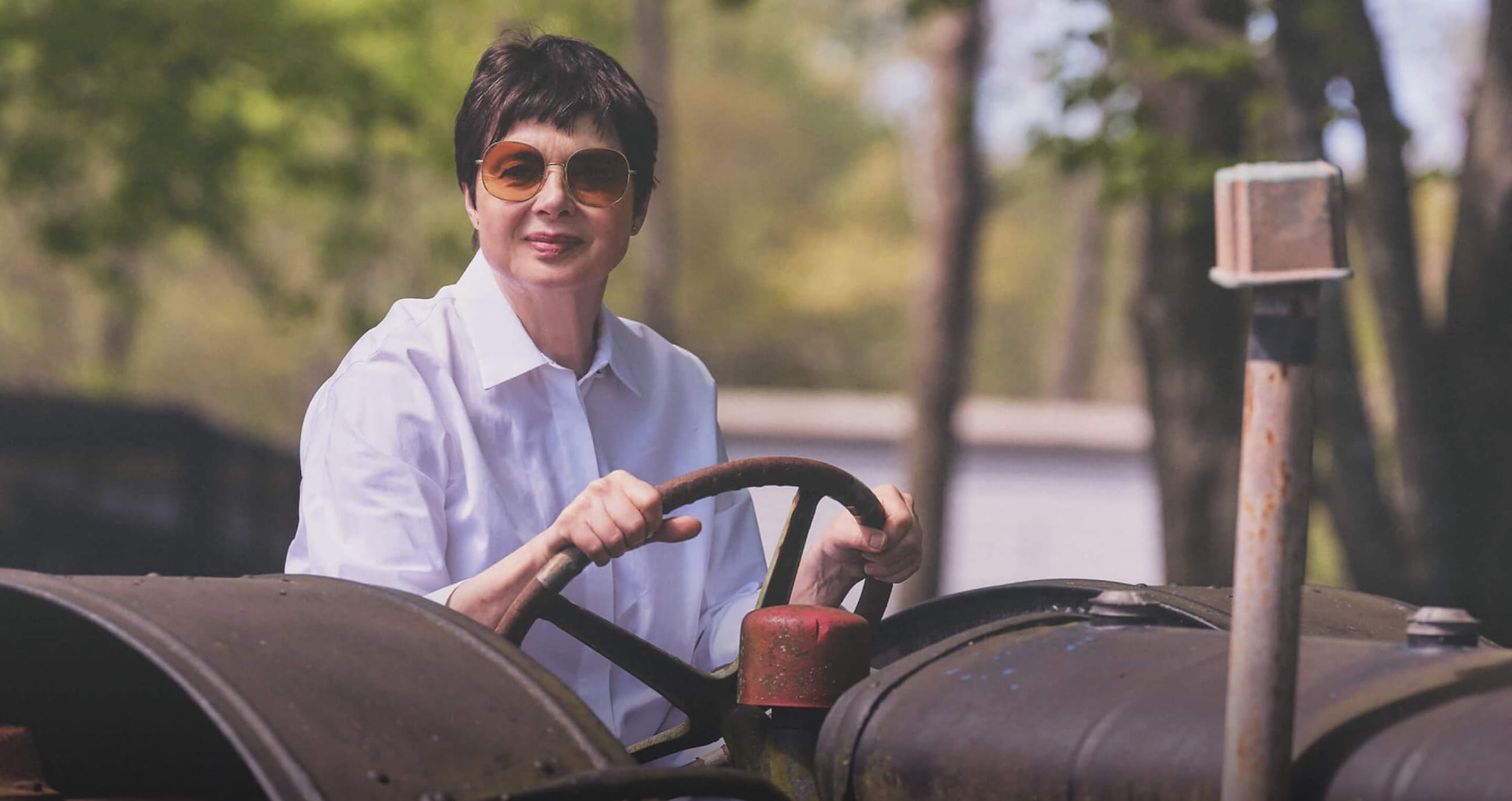 Is there a more chic way to drive a tractor?
Isabella, having spent most of your adult life in big cities and the entertainment industry, what was it like to settle down on a farm?
It was a big transition, of course. But it was not as dramatic as it might sound, because we left New York City for Roberto's sake. He was having a difficult time in New York, and one day after school, he came home and told me, to my surprise, that he wanted to move to the countryside. And then we ended up moving to Brookhaven, and Roberto went to high school here before going back to the city again. Although I have always enjoyed spending time in the countryside, I must admit that I liked life on the farm much more than I thought I would.
Roberto, do you ever feel like you want to go back to live on the farm now that you are based in New York City?
If it weren't for work, I would absolutely move back. Growing up here with my mom, surrounded by nature and animals almost every day, had a significant impact on my life and taught me a lot about self-sufficiency and how we as human beings are not detached but an essential part of nature. I still take great pleasure in the simpler lifestyle when I'm here and when in New York, I can't wait to be around animals again and feel that connection with nature.
"Living in the country is full of learning possibilities and I always find that pursuing your curiosities and being adventurous in the sense that you seek something instead of just watching and relaxing, you can do that easily at home."
Isabella Rossellini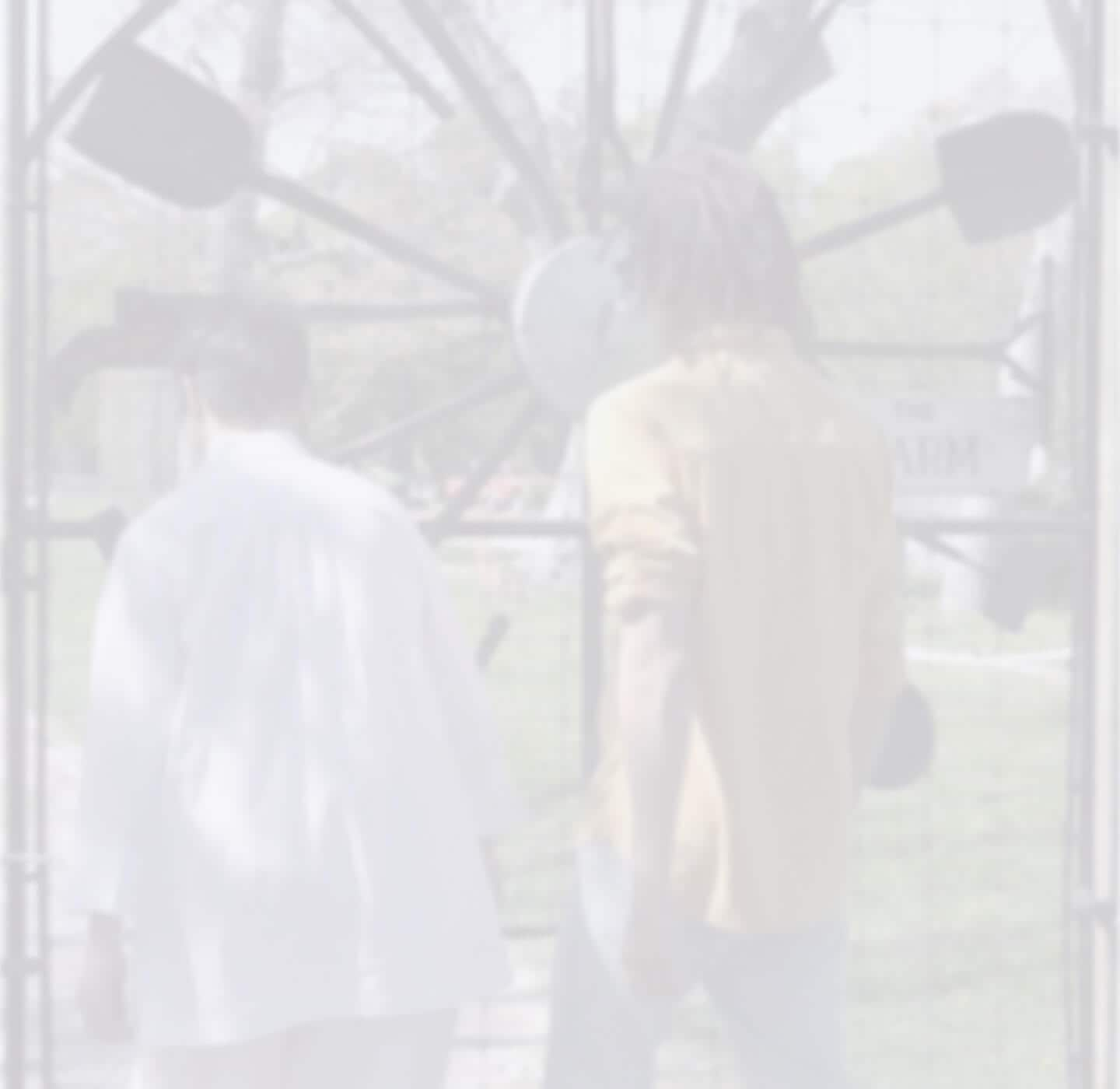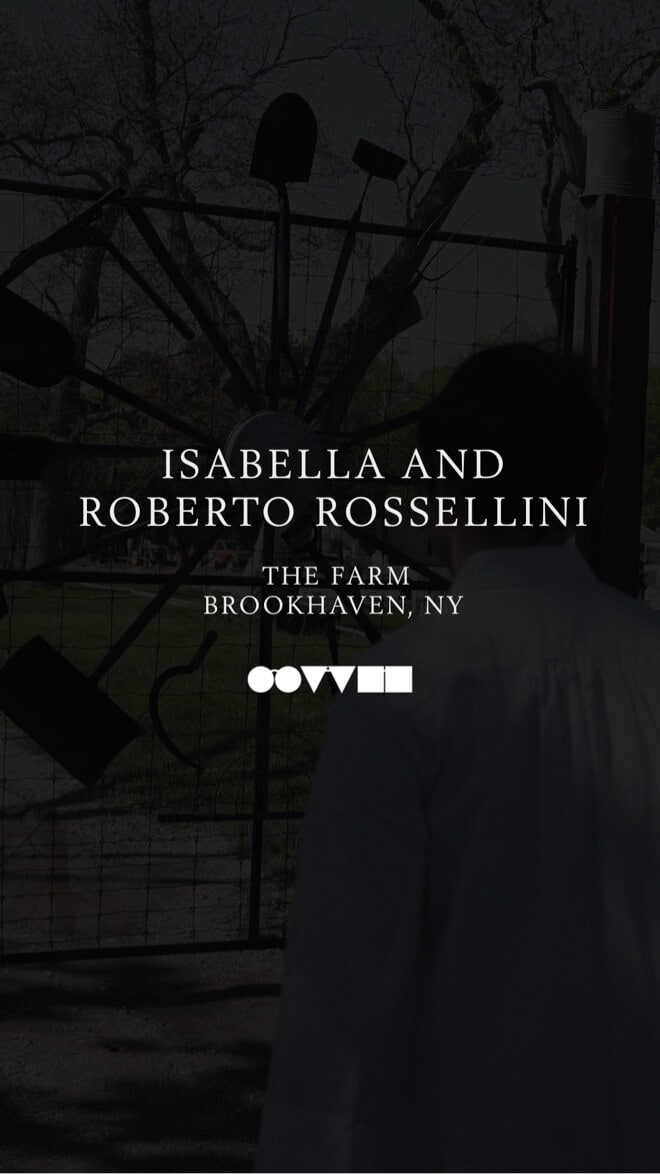 Did you also have the countryside close at hand growing up, Isabella?
Absolutely. I grew up in Italy, close to many farms. In Europe, where the division between city and countryside is not as sharp as in many parts of America, I could, like most Europeans, get the best of both worlds without having to travel very far.
In recent years, you returned to school to study animal behavior, and not long ago you earned a master's degree in animal behavior. It must be great to be able to live what you have learned?
Animals and their behavior is something that has intrigued me ever since I was a little girl. But when I was young, not only was I a very bad student with little faith in my intellectual abilities, but the subject itself didn't exist in the way as it does today. But when I moved to the farm, I decided it was time to give myself a second chance. And yes, to live on the farm while studying animal behavior has been incredibly helpful.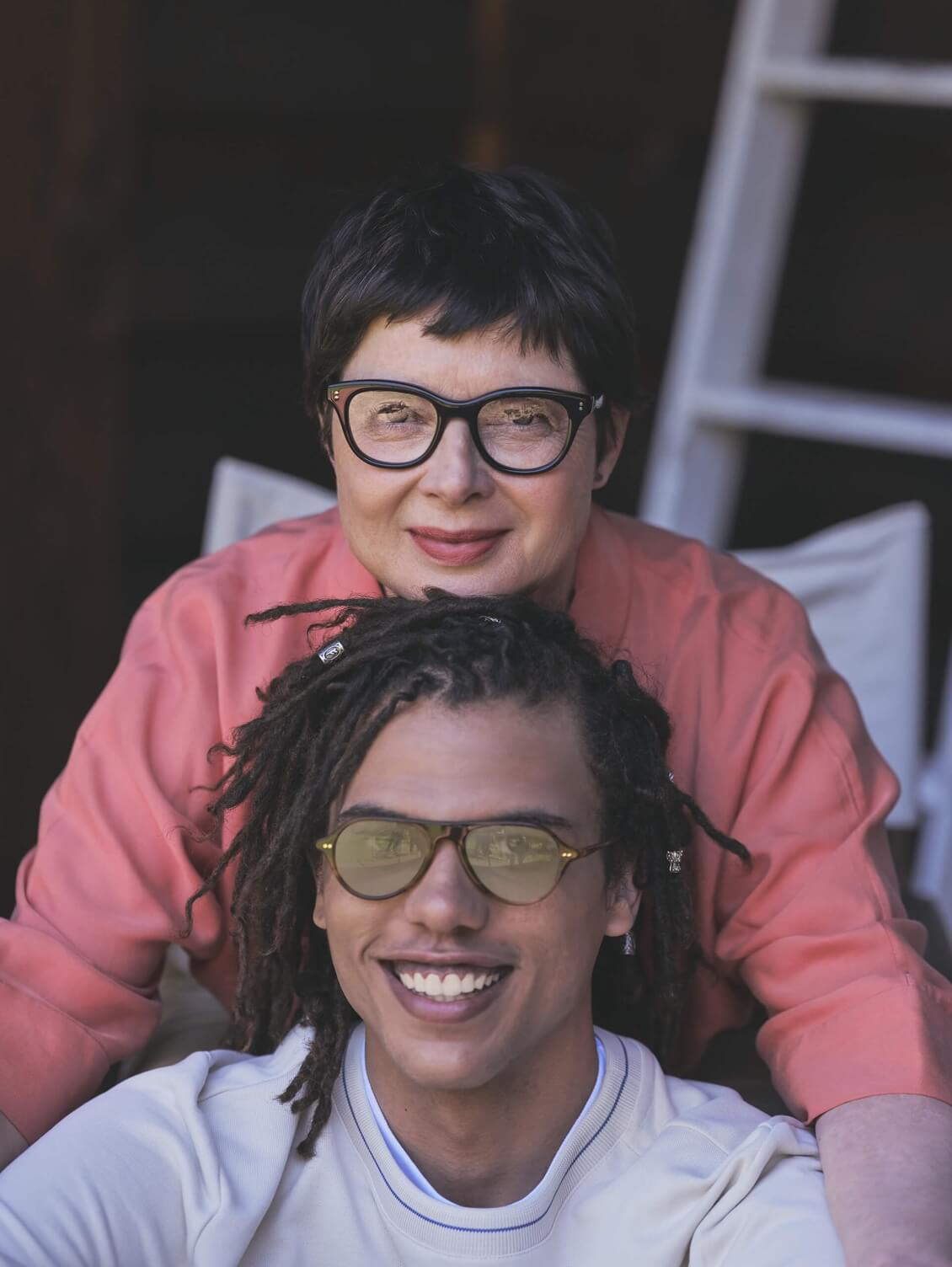 Isabella wears Netta and Roberto wears Emet with custom Green wash lenses.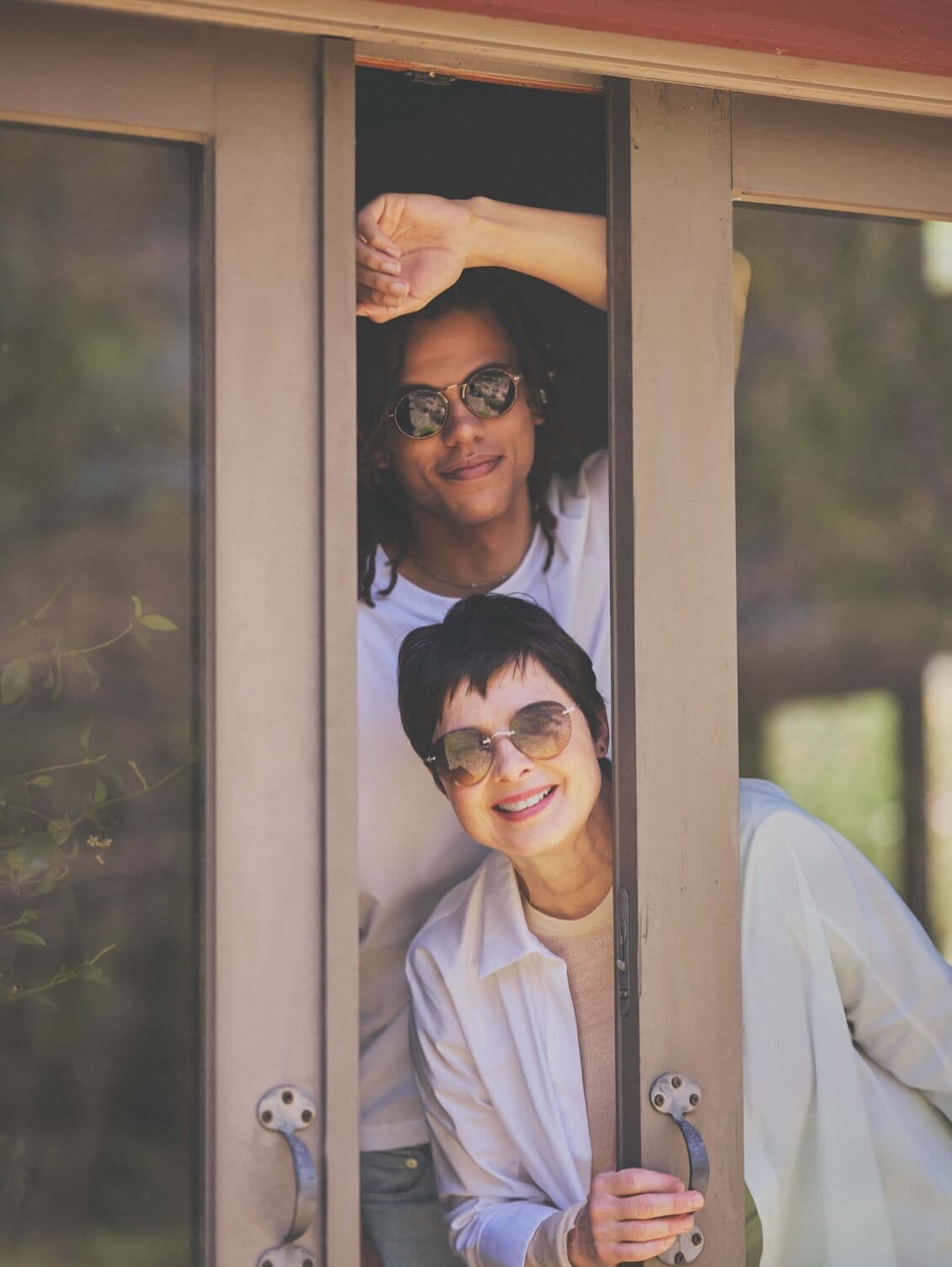 Isabella wears Coliena and Roberto wears Kosa.
Please tell us more about your current work on the farm.
A lot of what we do on the farm comes down to trying to promote and preserve the biodiversity of both animals and produce. We are a small and organic farm, and we do this by having rare breeds of, for example, chicken, spinach, and asparagus. We are also collaborating with Livestock Conservancy, a nonprofit organization which is working to protect breeds of livestock and poultry from extinction.
How do these experiences on the farm relate to your recent traveling show 'Link Link Circus'?
The show draws on what I learned about animal behavior at Hunter College, and it came to be because, being an actress, I couldn't help myself but funnel my new knowledge into a narrative to share with others. So the show is an entertaining way for me to talk about fragments of what has most surprised me and amused me during my master's studies. It's a bit like a circus, but instead of showing that men dominate animals, it's a circus where I tell you about the things that I've learned and that animals, too, think and feel.
Roberto, what is the most valuable piece of advice you have received from your mom?
Apart from pushing me to never give up no matter what, my mom has truly inspired me to develop my personal style. She has also encouraged me to take her classic, understated elegance a step further and be more daring in how I dress and how I choose to present myself to other people. In my photographic work, I also try to do this for African Americans, especially rappers, to give them a voice to define their sense of style beyond the prejudice and judgments they often face.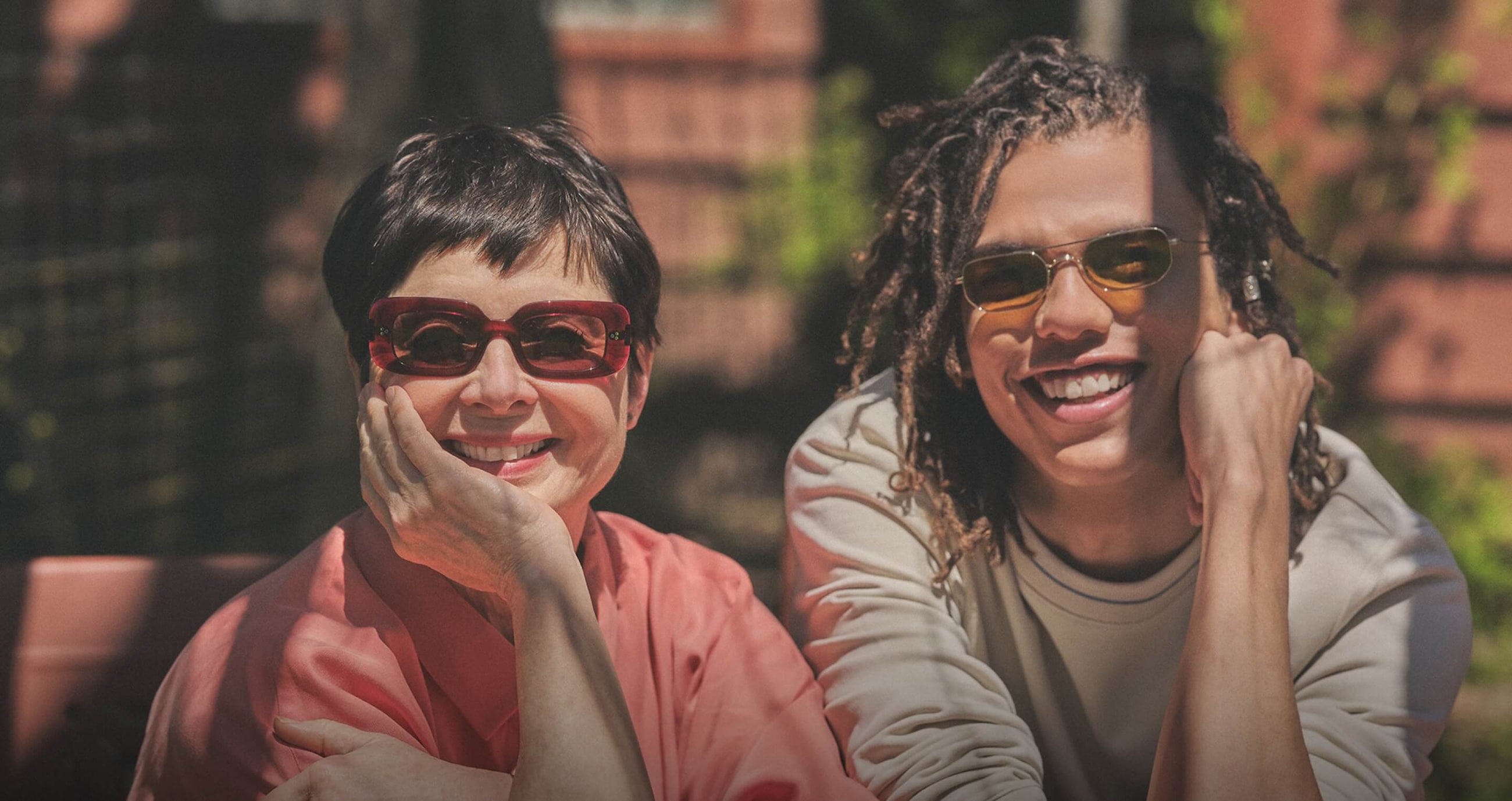 A moment from our interview with Isabella and Roberto.
Could you tell us more about this approach to photography?
Since I first picked up a camera in high school, I have wanted to dig deeper and capture images that say more than the imagery that often accompanies celebrities in popular culture in general and artists and musicians of color in particular. So I am interested in who they really are, their unique ways of communicating, their gestures, and what style means to them.
This resonates with your approach to style too, doesn't it Isabella?
I think that style is to define it for yourself. This is how you find your personal style and how you want to present yourself in dialogue with other people to show, 'here's who I am and here's how I want to be perceived.' Style is a real conversation, and it is important to have a voice, an original voice.
Isabella, were you ever afraid of what people were going to think when you decided to do something different?
I have found that with age, you do more and more of what rings true to you, and sometimes you only. In our culture, there's a lot of emphasis on wrinkles and the downside of aging and less focus on how older age often allows people to become more curious and to pursue what they want to do more freely. I think that later in life many people care less about what people think and more about what excites them.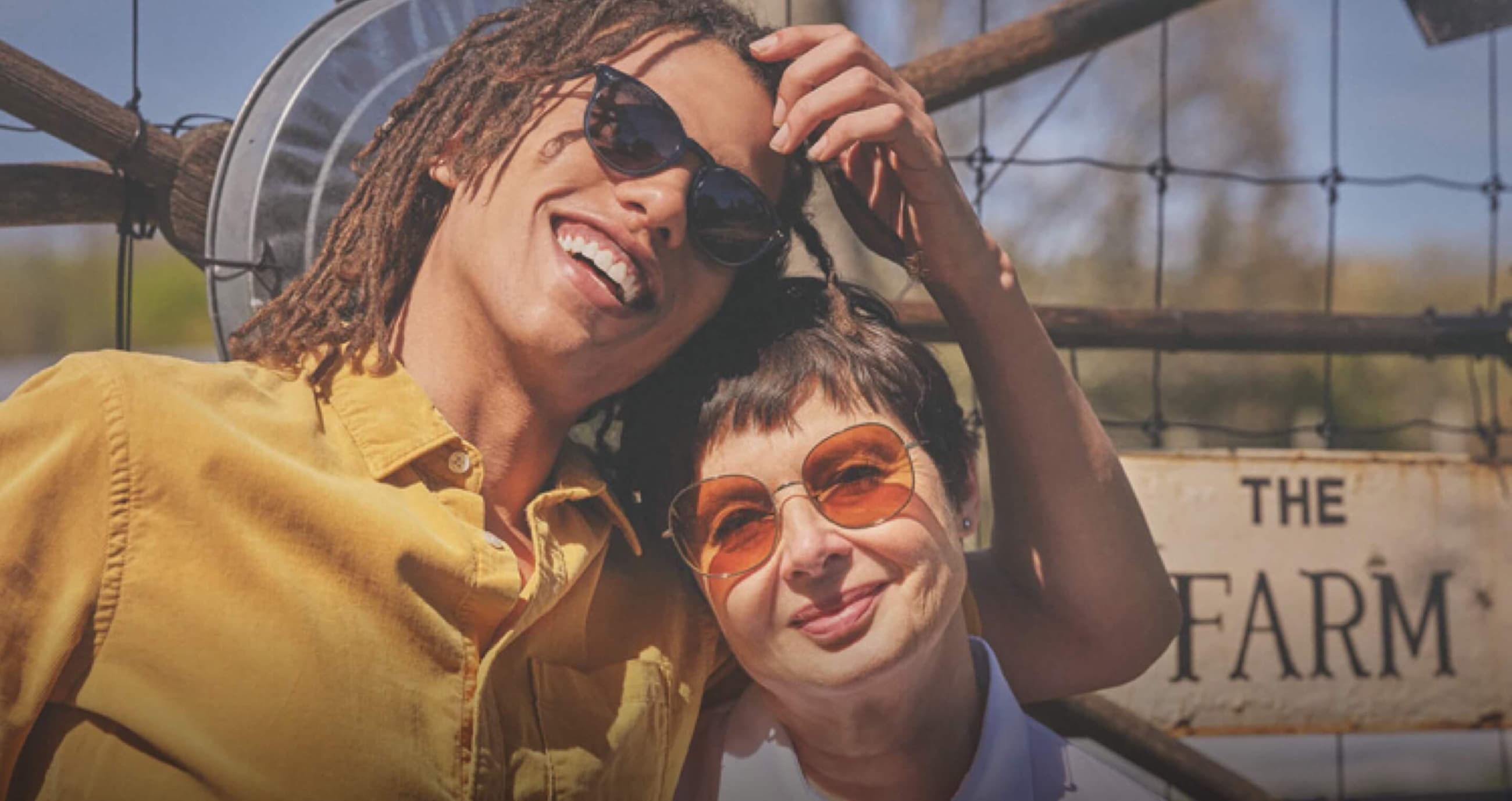 A fond farewell from the Rossellini's.
Do you agree Roberto, that your mom has become more curious and free as time has passed?
There's no doubt about it. I've seen her go from big city life to a way different lifestyle out here and it's almost as if she has become a different person. Going back to school, taking on the farm, doing important work for biodiversity and animal welfare. But this is what she wants to do now, and that is the only thing that should matter.
Is this something that you also feel Isabella, that you have become a different person later in life?
Perhaps. But I have always found it incredibly rewarding to pursue your curiosities and being adventurous in the sense of always seeking out new things in life. I was never one to sit back to watch and relax, and here on the farm, life is full of learning possibilities. The confidence to pursue my curiosities rather than fame or fortune is something I got from my parents, and with my children, too, I try to keep things engaging and adventurous.