Campaigns | Craftsmanship
The Walker House & California's Intrinsic Connection to Japanese Design
6 Min Reading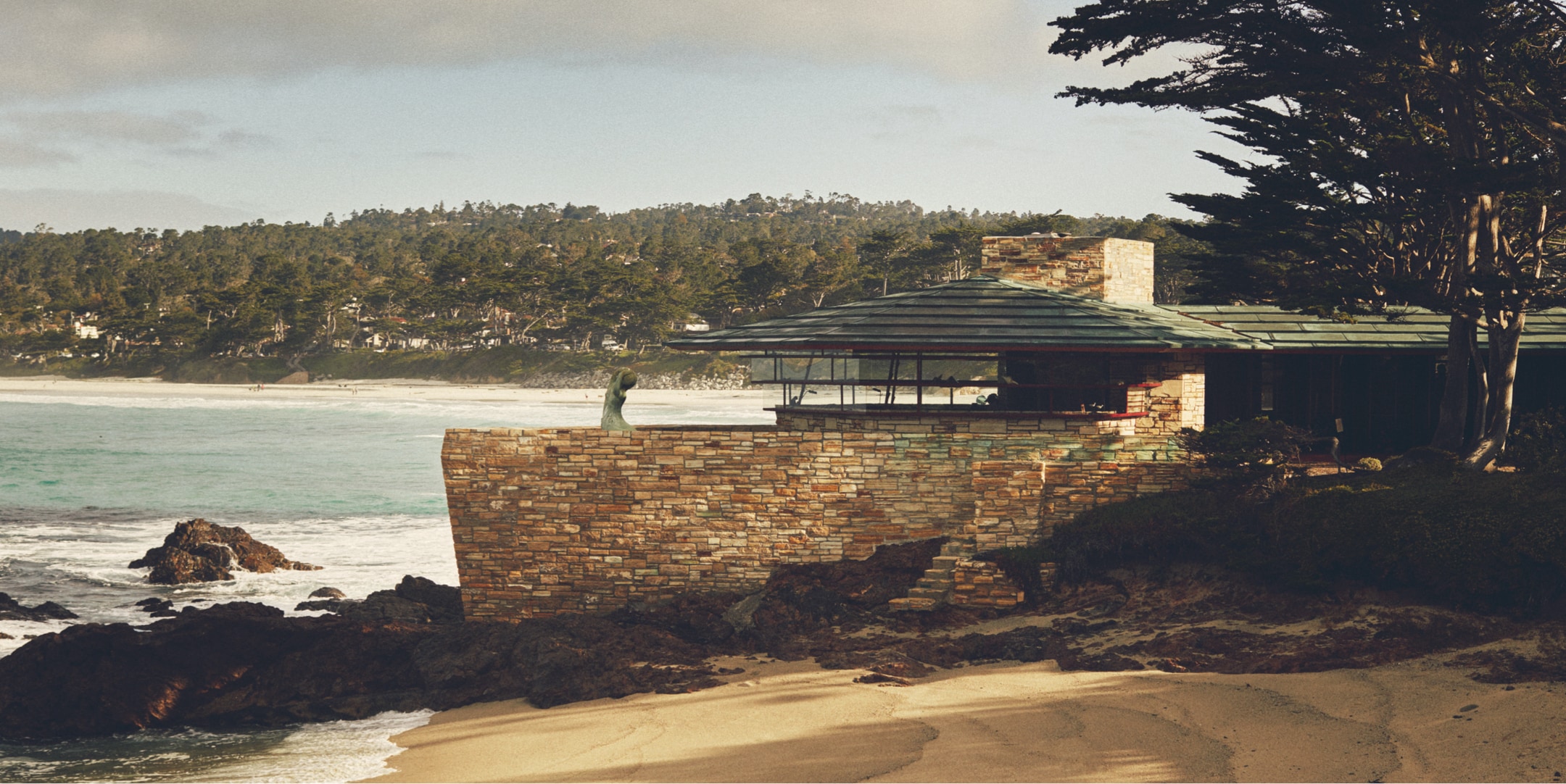 Oliver Peoples' admiration for Japan's ability to transform the simple into the sublime inspired their new titanium collection, Series I.
On June 13, 1945, widow Della Clinton Walker wrote Frank Lloyd Wright with a humble request: I own a rocky point of land in Carmel, California extending into the Pacific Ocean. The surface is flat and it is located at the end of a white sand beach. I wish protection from the wind and privacy from the road and a house as enduring as the rocks but as transparent and charming as the waves and as delicate as a seashore. You are the only one who can do this—will you help me? It is a poetic proposition and one that must have intrigued Wright thoroughly. The American architect—well established around the world by this point in history—was famed for his ability to marry the natural world with his manmade structures. Within three years of Walker's initial letter, Wright had settled on the home's design, and, in 1951, the building was completed.
The Walker House, as it is known, served as the shoot location for Oliver Peoples' latest titanium collection, Series I. The capsule fuses Japanese design principles with the brand's heritage to create eyewear made with an elevated attention to detail and an enhanced appreciation for artisanry. Here, modern techniques blend with vintage sensibilities for eyewear that is undoubtedly timeless. From the delicate geometric filigree to the tortoiseshell weighted tips, every component—no matter how small—was considered. Each pair has been designed using the highest quality materials, and with deep consideration for how it is seen not only on the face but within the world.
A stone promontory, the furthest point of the house, is topped by a squat wall of tiered windows and a low-lying roof. Its integration into the earthly landscape is seamless, aided by Wright's employ of local materials. Walls of Carmel stone, in shades of cream and eggshell, seem to disappear into the sand, and a copper roof, pale green with patina, mirrors seafoam. Placed at the intersection of land and sea, the Walker House belongs, almost impossibly, to both. The aesthetic for which Wright became known is attributed, in part, to Wright's obsession with Japanese art—woodblock prints, in particular. Known as Ukiyo-e, meaning "pictures of the floating world," these prints communicated simply but beautifully, trusting the viewer to insert meaning in the absence of excessive detail. Through Ukiyo-e, Wright developed a philosophy of organic architecture based on what he called a Japanese "elimination of the insignificant," a less-is-more kind of credo that he would go on to apply to structures he built around the world.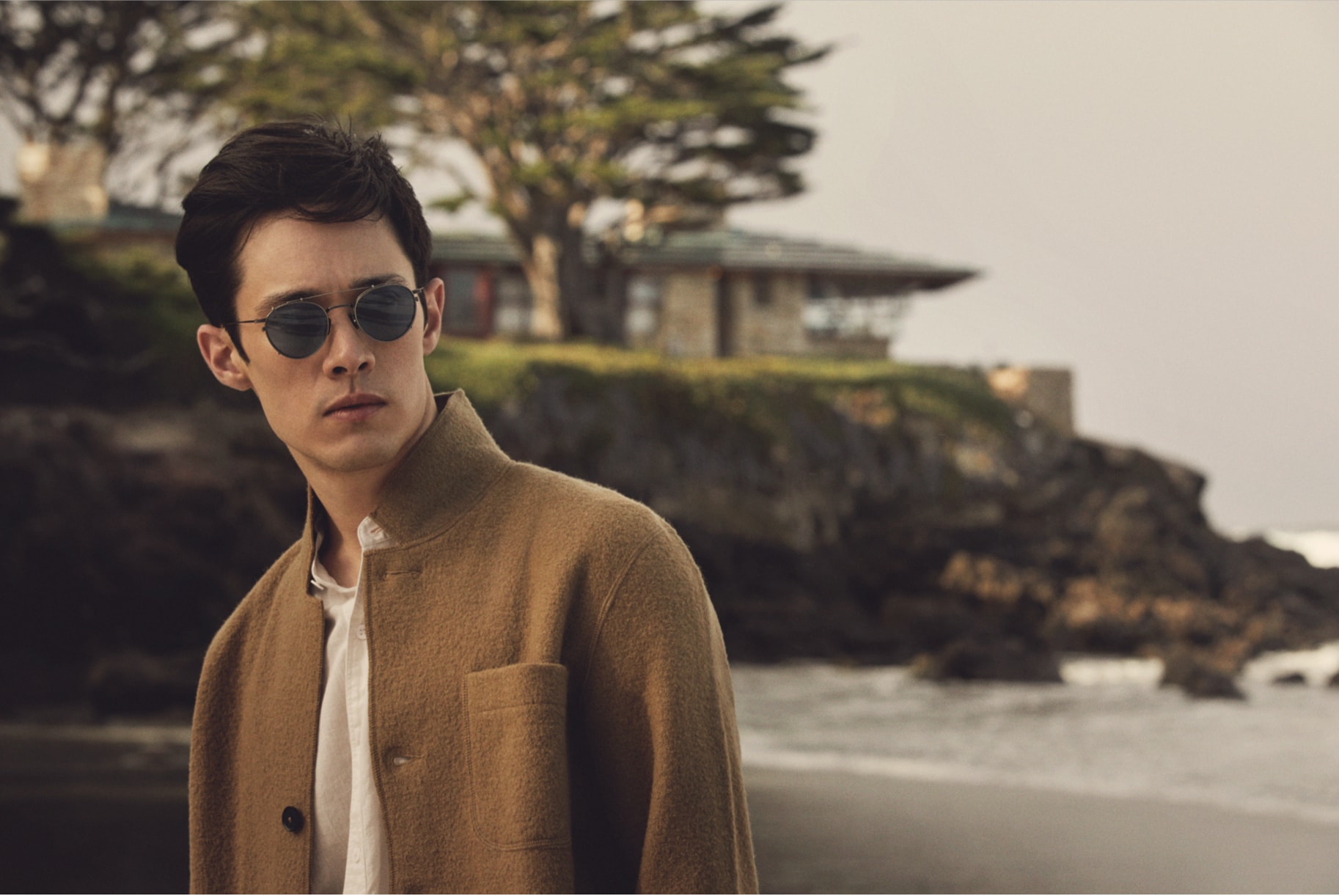 An enhanced appreciation for artisanry defines both Series I and Frank Lloyd Wright's architectural masterwork, the Walker House in Carmel, California.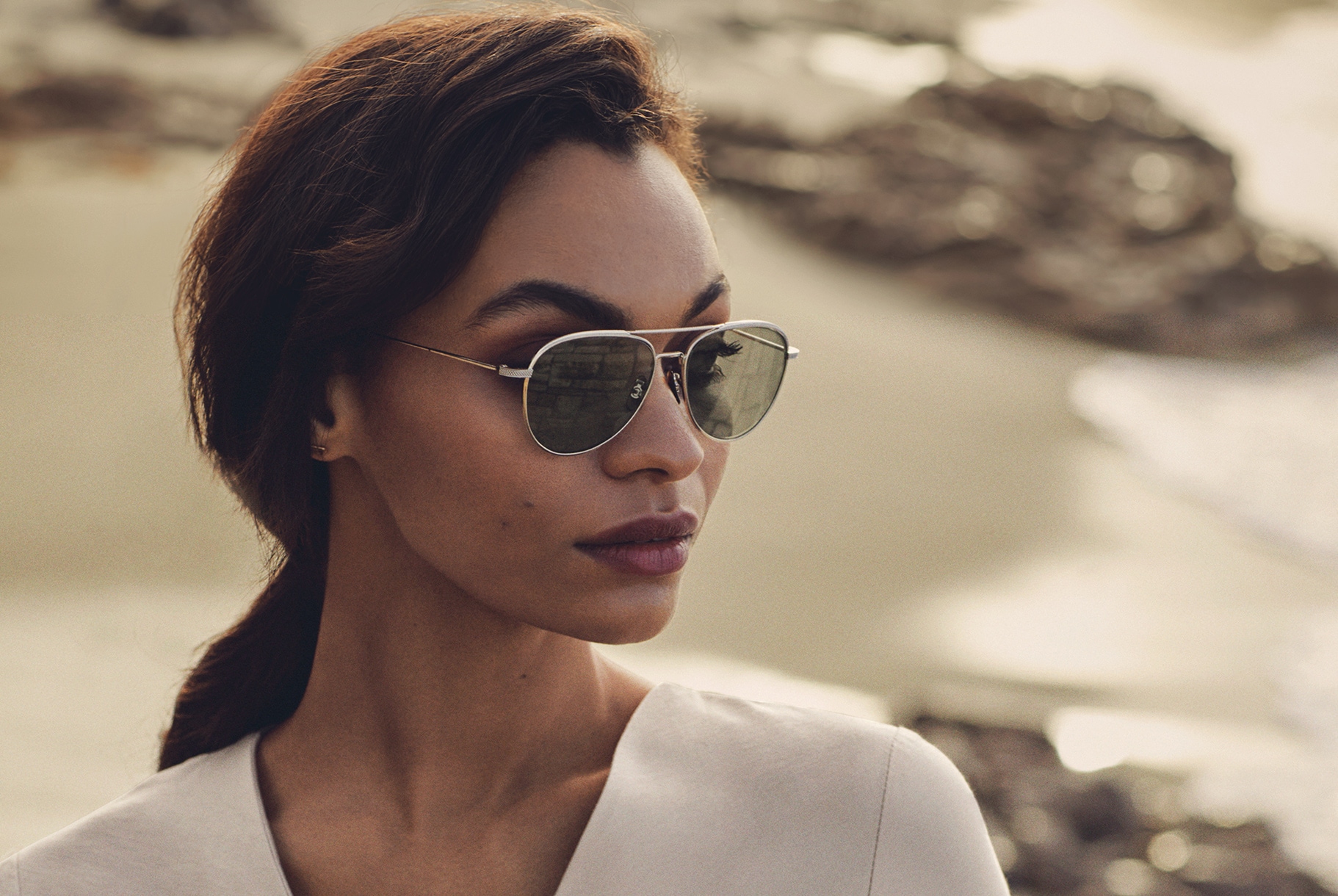 The unique bridge weld of TK-3 in Brushed Silver + Ash Blue Photochromic is a demonstration in thoughtful, handcrafted detail.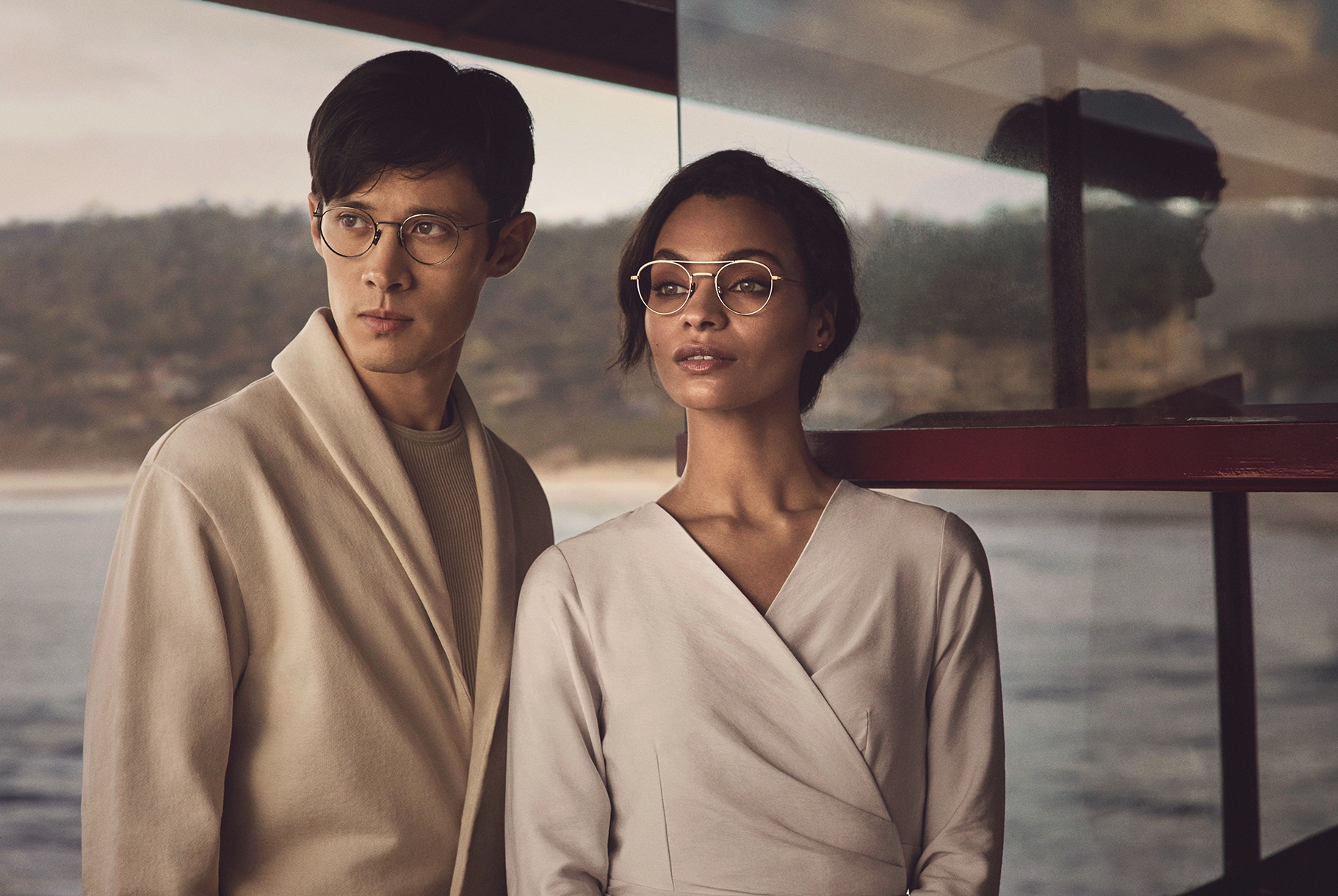 These made in Japan titanium frames create a look of refined minimalism.
On a table in the Walker House, one can find more literal evidence of Wright's love for woodblocks: an old book, its cover a white space adorned simply, with a red square.
Though Wright made sure to express that he took influence from Japanese art, not architecture, his structures bear remarkable similarities to the Japanese in his respect for natural materials, the consideration of landscape, comparative simplicity, and human scale. Wright's buildings, like many in Japan, were designed to exist in spiritual commune with their surroundings and the inhabitants found therein. From the outside, the Walker House appears simple yet striking. From the inside, it is a place of calm refuge.
Though the building can be appreciated, in some way, by all, there is a beauty reserved specifically by the owner. Like holding an exceptionally crafted TK style in hand and noticing the unique bridge weld or perforations along the eyewire, the Walker House is a revelation—the experience of small, almost imperceptible details that reveal the artisan behind the piece over time.
Wright, of course, was not the only architect to take inspiration from the Japanese. Throughout the States—and along the West Coast, in particular—structures were erected that paid homage, subtly and otherwise, to the Land of the Rising Sun. Wright's contemporaries Richard Neutra and Rudolph M. Schindler both incorporated Japanese elements,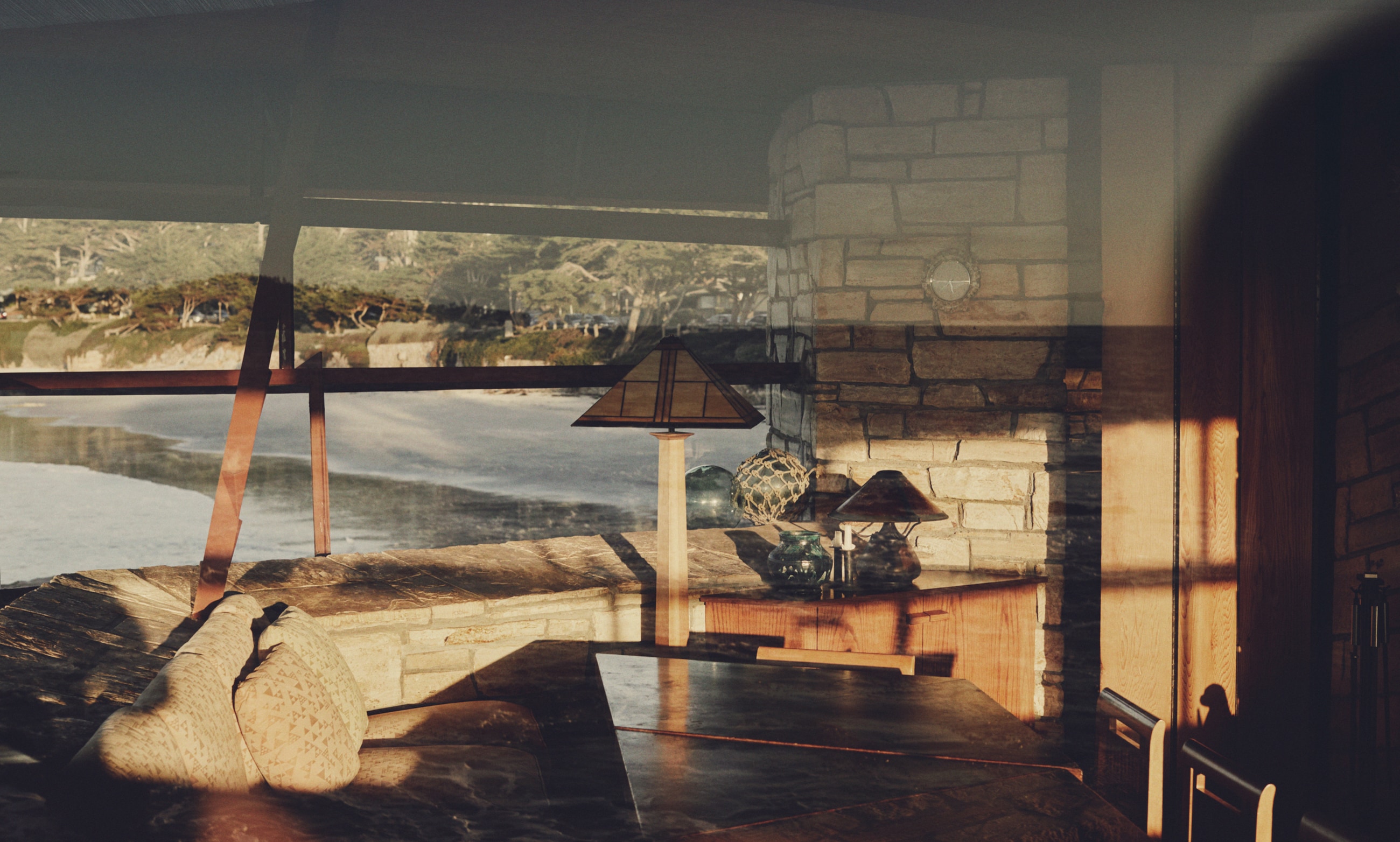 Wright employed local Carmel stone to the home's interior and exterior for a truly seamless effect.
such as sparse adornment and the manipulation of light, into their work. Together, Wright, Neutra, and Schindler came to define a distinct vernacular known as California Modernist—a movement that owes no small debt to Japan.
One wonders just why, exactly, California has proven such fertile ground for Japanese design philosophies. Perhaps it's in the shared ocean, the similar stretches of rugged coastline, the earthquakes that tremble underfoot. Maybe there is something to be said for the shared histories of isolation: Japan, an island truly removed, and California, the proverbial last frontier, a place where people went to escape bad weather and staid tradition. It could be argued that distance from immediate influence allowed both Japan and California the freedom to cultivate new and spectacular ideas, ones that would go on to influence each other, and the world at large. Of course, Japan's impact on California extends well beyond the realm of architecture and into art, culture, food, and fashion. The founding of Oliver Peoples itself is deeply intertwined with the country. When its founders were first introduced to Japanese eyewear in the late-1980s, they immediately acknowledged a refined aesthetic and superior expertise unique to the country. Such craftsmanship demanded a wider audience. OP's first boutique, located on the Sunset Strip, launched in 1987 with frames produced exclusively in Japan. Two years later, the enthusiasm proved mutual; Oliver Peoples opened its second location, a boutique in Tokyo.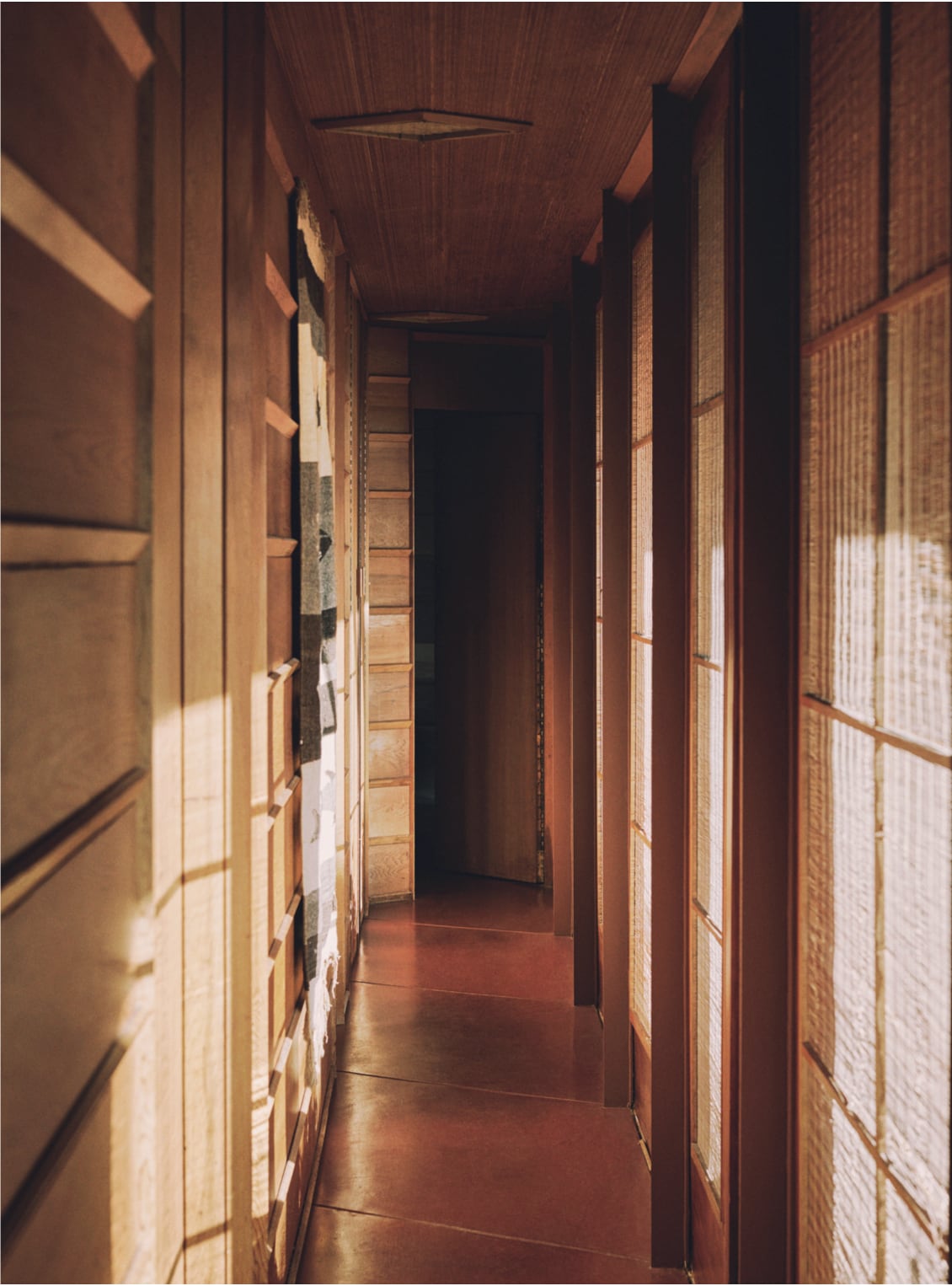 The Walker House is an exercise in restraint, wherein color is applied thoughtfully and with purpose.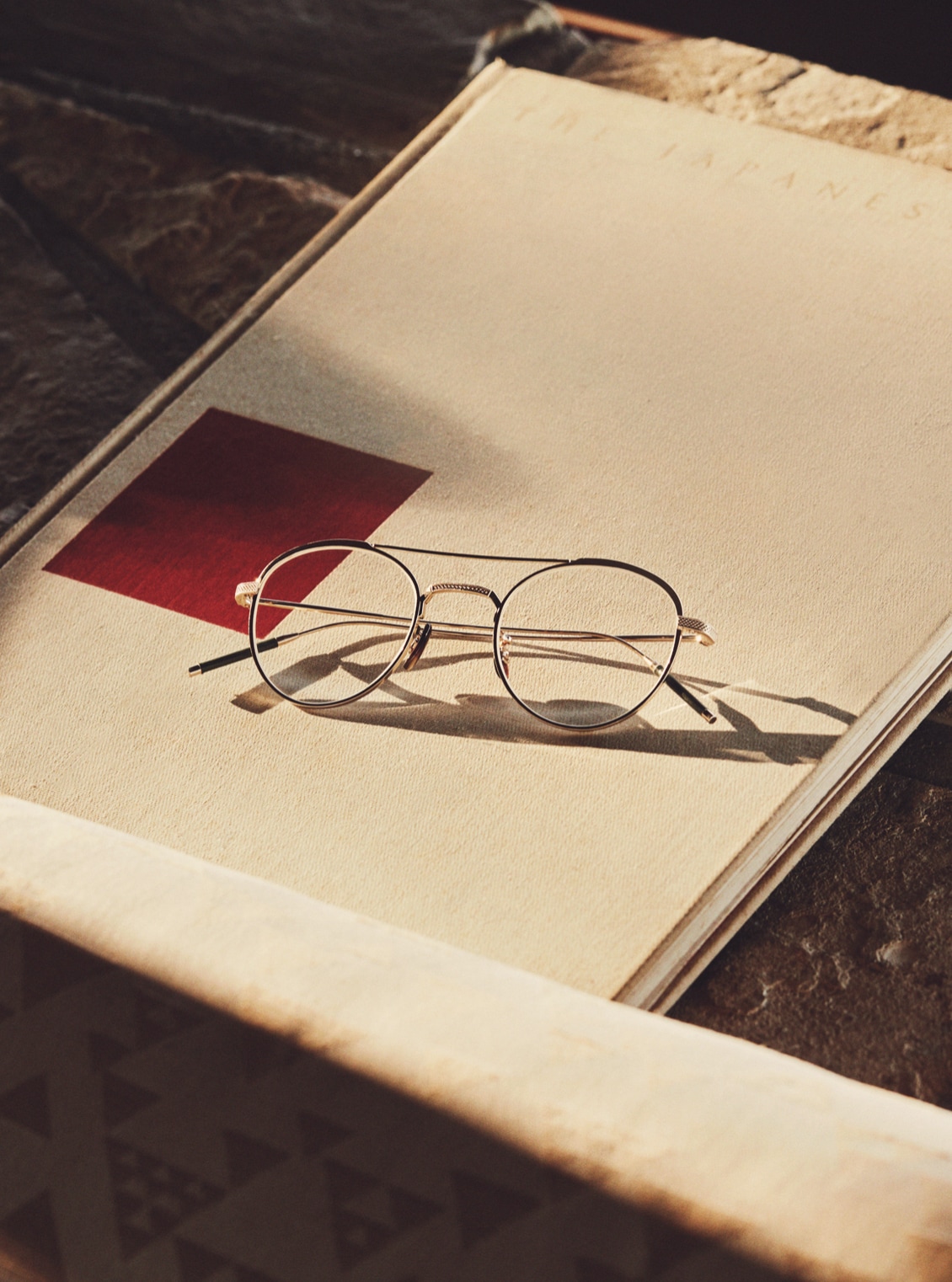 TK-2 in Antique Gold sits atop a book of Japanese wood prints, a nod to the architect's love of the artform.
Like Frank Lloyd Wright, Oliver Peoples has long been attracted to Japan's ability to transform the simple into the sublime. Boldness exists in the subtlest of details, and beauty need never be obvious; it can be found in the small curve of filigree, in the smart shape of a lens. Ostentatiousness does not equate value, and materials play an invaluable role in the end result. For perfection to be achieved, even the tiniest screw cannot be ignored. Frank Lloyd Wright, one could suppose, would not be Frank Lloyd Wright without his Japanese woodblocks, and Oliver Peoples could not be Oliver Peoples without its exposure and access to Japanese craft.
Compared to the extravagance of the landscape surrounding it, the Walker House feels respectful—tame, even. Its simplicity is apparent. Its scale is humble. The home does not dominate the landscape but exists within it.
Thousands of miles away from the country where Wright discovered the design philosophies that would inform his work, the "elimination of the insignificant" lives on here, and manages to feel at once deeply California and inherently Japanese. In Wright's work here, the two are intrinsically tied, so much so it is difficult to see, at times, where one ends, and the other begins.
A similar sense of intrinsic influence lives in the Oliver Peoples Series I made in Japan capsule. The brand's decades-long connection to Japan is evident in every last detail. Designs dreamed up in Oliver Peoples' California studios come to life in the hands of Japanese artisans, who render each frame with an almost indescribable perfection. Like Wright's Walker House, an underlying ethos places equal value on each frame styles' individual components. Together, these exquisite yet subtle details work to produce a quiet charisma—eternal as the tide and as enduring as stone.
Oliver Peoples TK: An Homage to the Brand's Heritage and Japanese Craft