CRAFTSMANSHIP | COLLABORATIONS
Vintage Design and Hi-Fi Technology Meet in a Collaboration with Master & Dynamic
8 Min Reading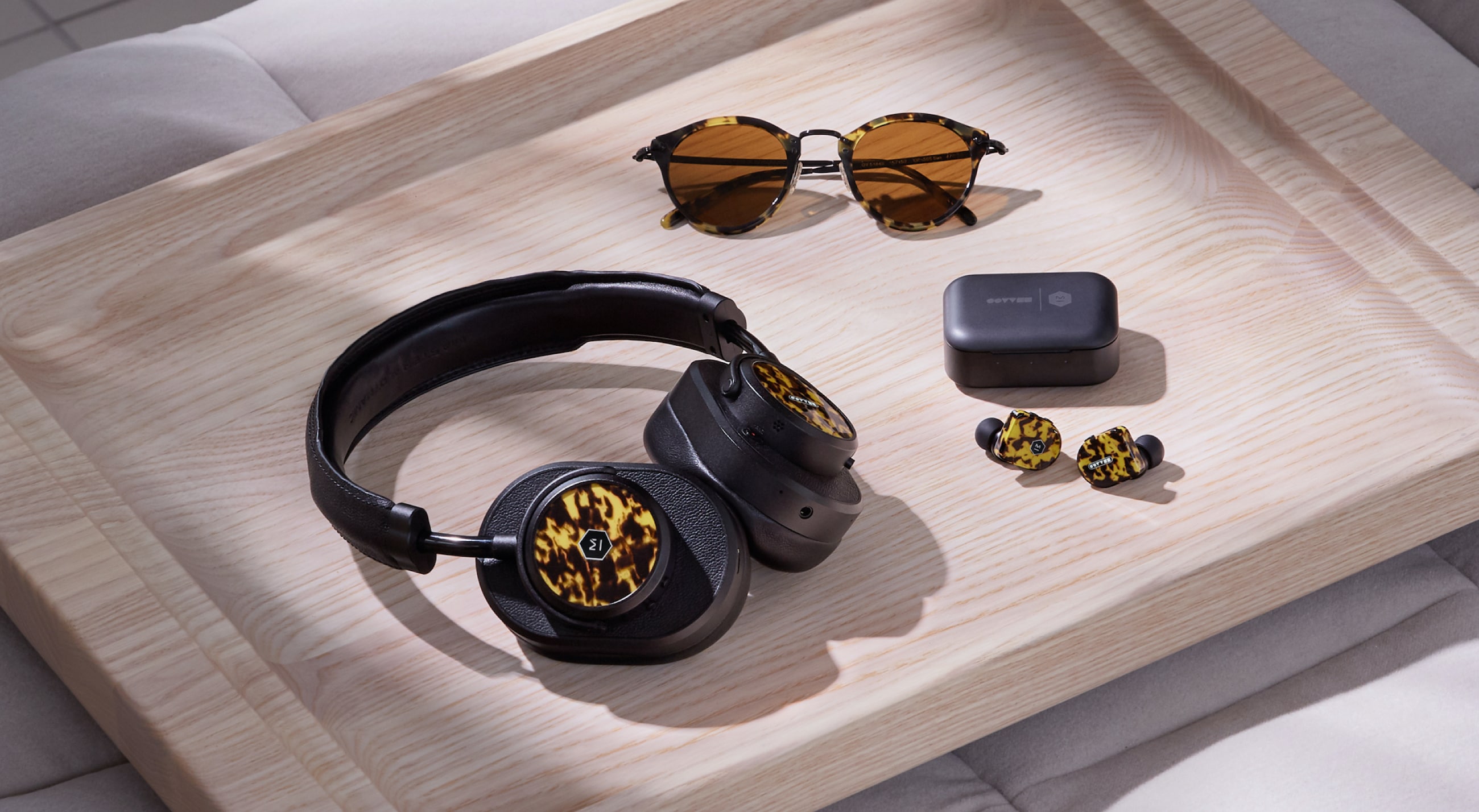 Oliver Peoples brings iconic, custom acetates to the modern design of Master & Dynamic audio.
For a product to stand the test of time, it requires two things to be taken into consideration – thoughtful design and functionality. With Oliver Peoples' exclusive collaboration with audio brand, Master & Dynamic, things are no different. The limited-edition collection brings together striking, custom Oliver Peoples acetates to the high-performing Master & Dynamic MW65 Active Noise-Cancelling Wireless Headphones and MW07 PLUS True Wireless Earphones alongside a new release of the iconic OP-505 sunglasses.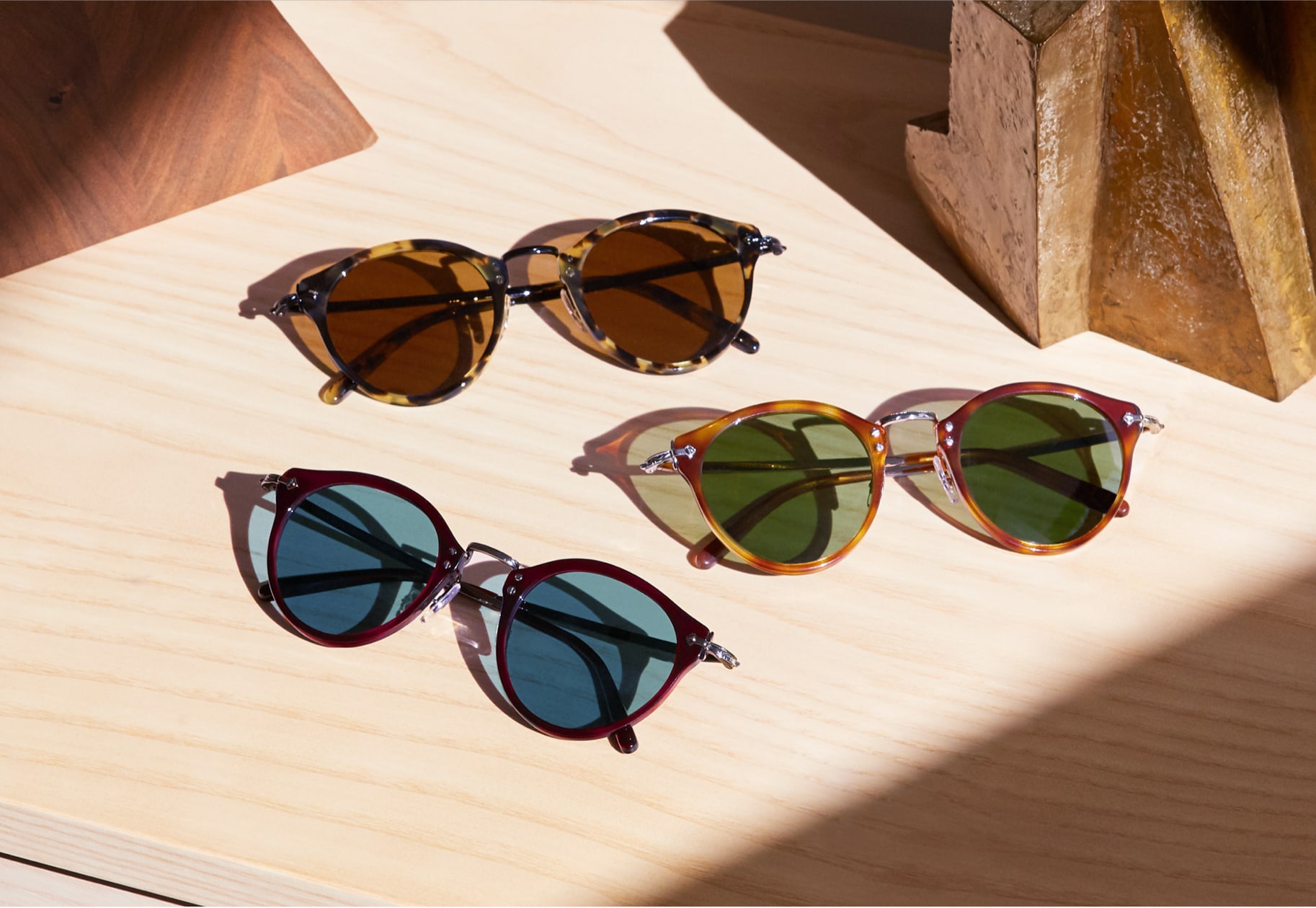 Launched in 1987, the OP-505, is reimagined in custom Vintage DTBK, LBR, and Bordeaux Bark acetates.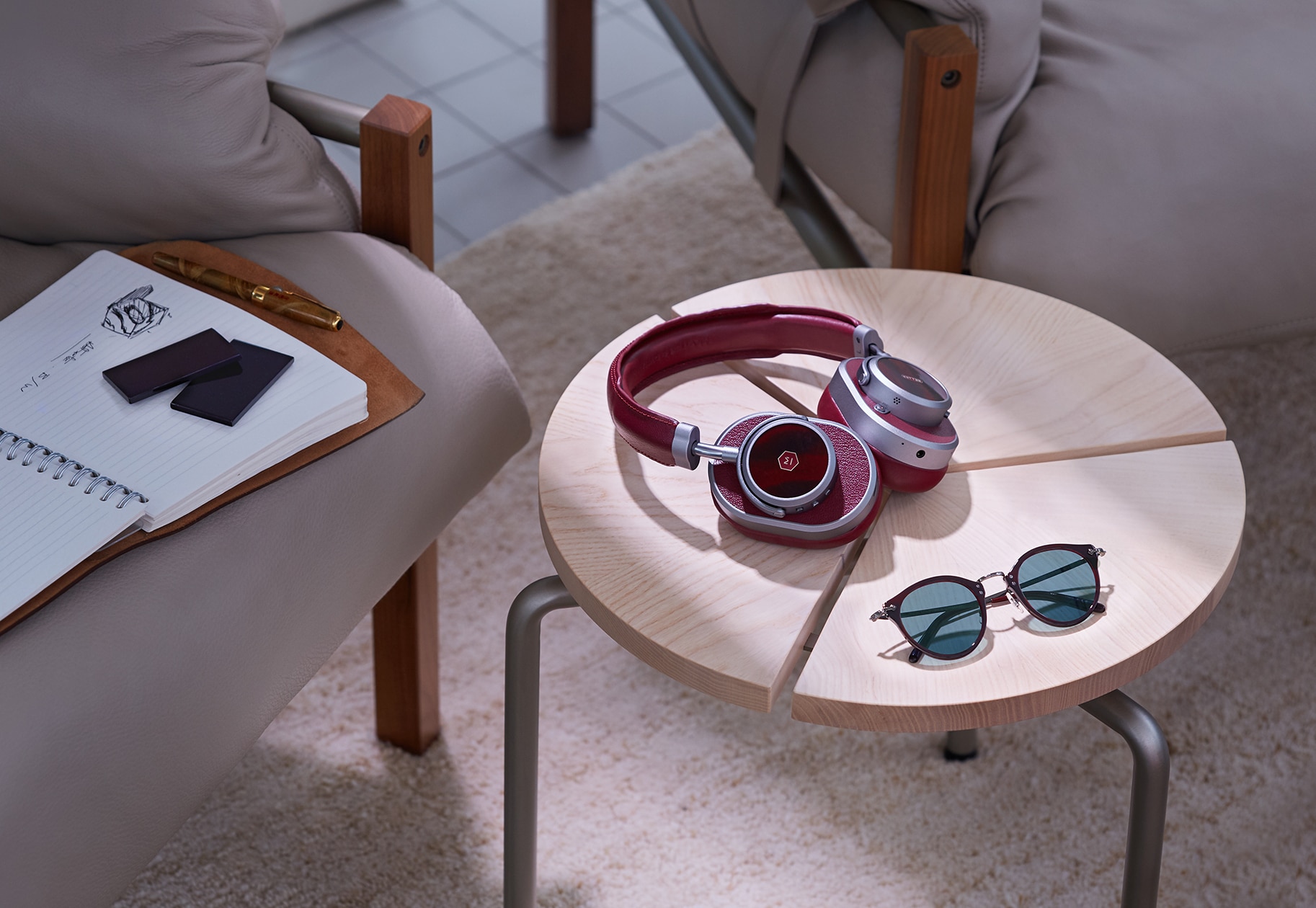 Inspired by the deep burgundy hues of vintage cars, the custom acetate, Bordeaux Bark, has become an Oliver Peoples modern classic.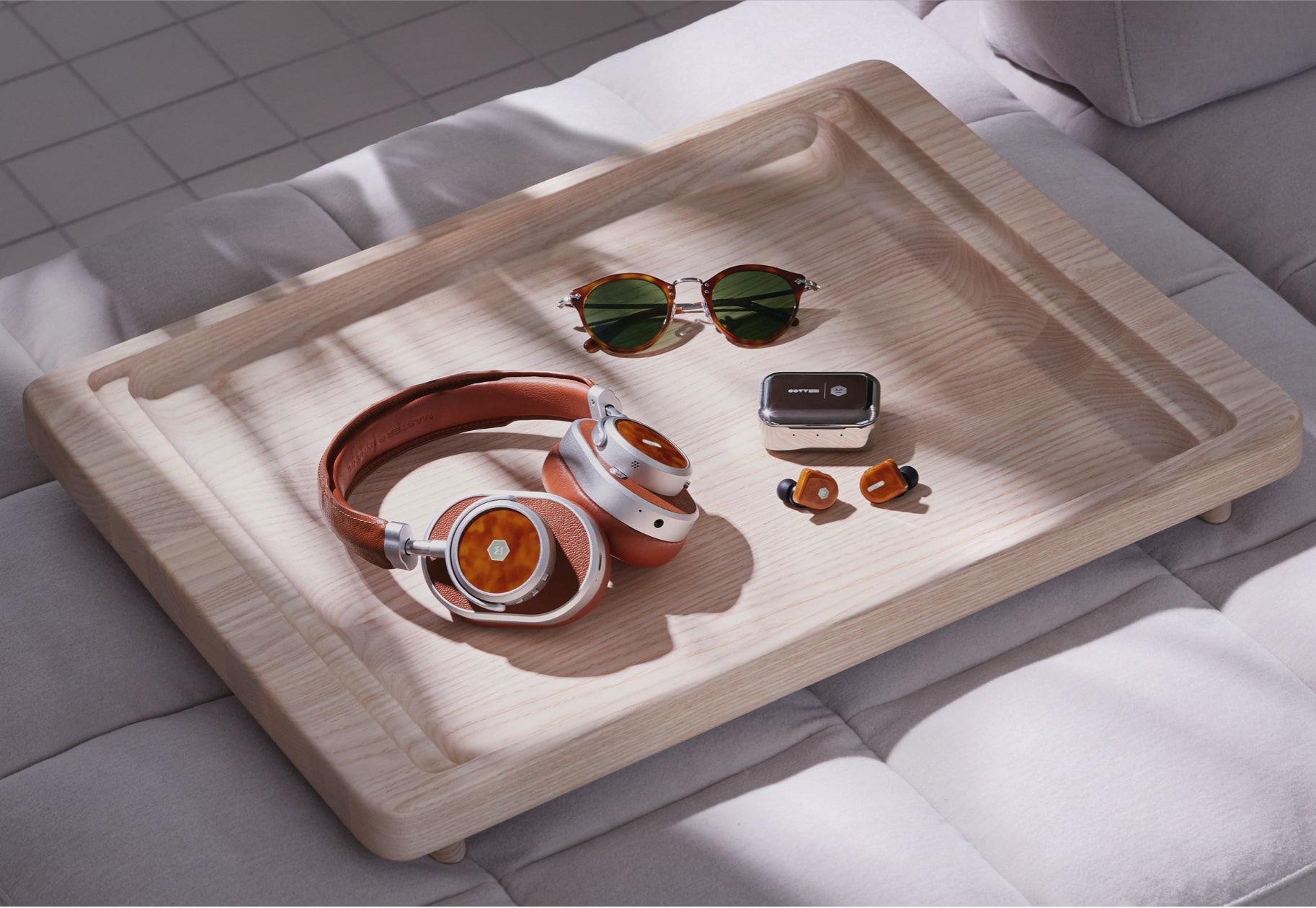 LBR is paired alongside silver hardware and Green C lenses for a relevant aesthetic that takes cues from the past.
The collaboration is a bi-coastal blend of New York-based Master & Dynamic, combined with the sophisticated, California aesthetic of Oliver Peoples. The partnership is a natural fit given that both brands are inspired by vintage design and aim to create products that will always remain in style. In fact, both brands were created out of deep appreciation for vintage craftsmanship. For Master & Dynamic, this revelation came through seeing a pair of WWII aviator headphones in a museum, and for Oliver Peoples, it was through an estate collection find of vintage American-made eyewear.
When bringing together the two brands, it was key to focus on the strengths and similarities of both while also highlighting the core products that defined each. For Oliver Peoples, that meant featuring the OP-505 frame. Inspired by machine age design, the OP-505 was the first frame to launch the debut Oliver Peoples collection in 1987, and with this, ignited the trend of vintage eyewear. Today the frame remains one of the most identifiable Oliver Peoples styles. For this reimagined Master & Dynamic edition, the OP-505 features three exclusive acetate colorways paired with glass sun lenses, classic custom filigree details, and a limited 18k gold plated offering.
For Master & Dynamic, it felt most fitting to offer a classic headphone and modern earphone in the collaboration. With this, the MW65 Active Noise-Cancelling Wireless Headphones and MW07 PLUS True Wireless Earphones were the premiere choices — known for their design as much as technology. Specifically, the MW65's use lightweight, anodized aluminum alongside fine leathers to be the lightest over-ear headphones in the entire Master & Dynamic product line. In addition, the MW07's are the most technically advanced earphones offered by the brand and include a sleek, stainless-steel charging case for optimal aesthetics. For these exclusive Oliver Peoples editions of the MW65 and MW07 – iconic, custom acetate details are featured throughout in addition to dual branding on alternating sides of both the headphones and earphones. For the MW65's the collaboration will be the first-ever offering of acetate detail in any Master & Dynamic headphone, and the style is complete with classic leather pairings in Black, Bordeaux, and Cognac to match the eyewear.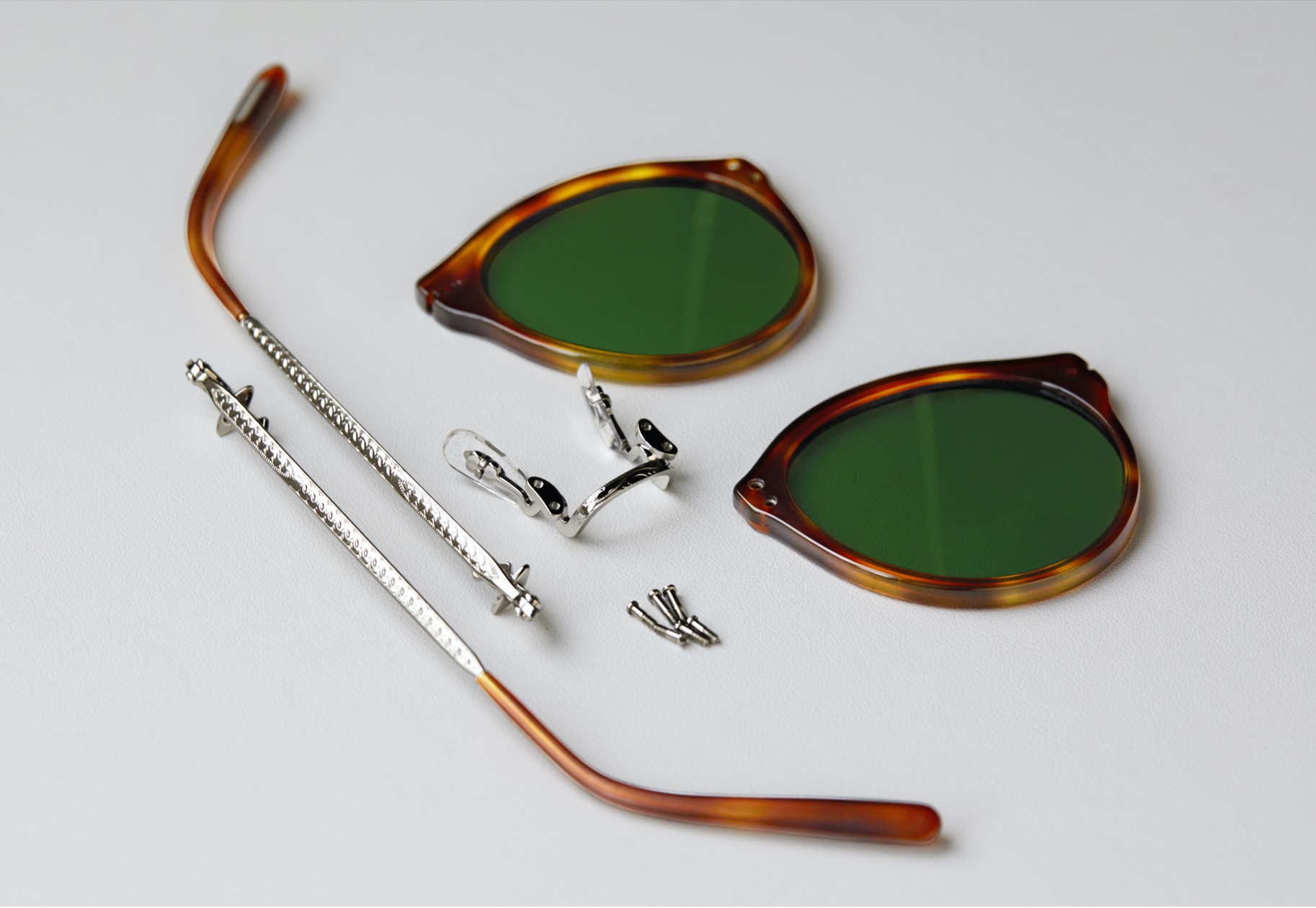 With custom filigreed temple and bridge reminiscent of machine-age craftsmanship, every detail in the OP-505 is unique and identifiably Oliver Peoples.
The collaboration's acetate color offerings of Vintage DTBK, LBR, and Bordeaux Bark are rooted in the concept of heritage meets vintage modern. Aligned with this aesthetic, each custom colorway has its own elements of style fit for each unique wearer. For instance, Vintage DTBK is for the person who appreciates timeless design and values classics over trends. A tortoise acetate, like DTBK, has been a key color for Oliver Peoples since the 1987 launch. During this era, the colorful hues of the 80s dominated fashion. It wasn't until the release of a tortoise acetate featured on the iconic OP-505, that the eyewear market was exposed to this look. Since then, it has become one of the most classic colors for Oliver Peoples and can be found today on the custom acetate, Vintage DTBK, alongside a Brown or 18k gold plated lens for a truly elevated aesthetic.
In comparison, for someone who wants a heritage-feel with a bit more edge, the LBR is the way to go. Established with the debut collection, LBR is a custom, warmer shade of a tortoise acetate. For this Master & Dynamic edition, LBR is paired alongside silver hardware and Green C lenses for a relevant aesthetic that takes cues from the past. For those who want a statement piece, Bordeaux Bark is the right pairing. Though it is a newer custom acetate, Bordeaux Bark – inspired by a burgundy hue featured on vintage cars – has already become a modern favorite – often found on product packaging. To bring this color to the OP-505 sunglass, the frame features gunmetal hardware with vivid Cobalto glass lenses – for a modern, innovative look.
Each of the custom acetates is made through a highly hands-on design collaboration with Italian manufacturer, Mazzucchelli. Since 1849, the Mazzucchelli family has been a world-wide leader in acetate production – known for creating products that are highly technical yet beautiful. Both Oliver Peoples and Master & Dynamic already had well-established working relationships with Mazzucchelli separately, so this collection was very much a natural merger. The design team thoughtfully collaborated with Mazzucchelli to ensure every acetate color was achieved exactly as imagined and one-of-a-kind. Specifically, the craftsmen at Mazzucchelli use a process known as blocked acetate. With this, the acetate is produced in a block shape where the pattern has a naturally occurring look of strong depth and dimension throughout. When cut, each part of the acetate block features a distinctive, different angle of the pattern. In turn, every piece of acetate featured in the collection is unique.
Though this is the first official collaboration with an audio brand, music has always been a part of the Oliver Peoples identity and history. Born at the heart of West Hollywood on Sunset Boulevard with the launch of its first boutique in 1987, the brand has always been at the Los Angeles epicenter of music. On the street where Whisky a Go Go, The Roxy, and Gazzarri's discovered and defined the artists to watch, Oliver Peoples always stood alongside, and more times than not, outfitted the musicians that defined eras.
To this day, as the way we consume music has vastly changed, it feels fitting to take it all in with the same level of aesthetic and purpose that has been a part of the West Coast scene for so long. And that is with custom acetate details, vintage inspired-design, classic colorways, and for the modern era, the highest level of technology in wireless noise-cancelling headphones alongside sunglasses with sophisticated, California aesthetics to match.