Culture
Oliver Peoples Milan: An Ode to Milanese Design
4 Min Reading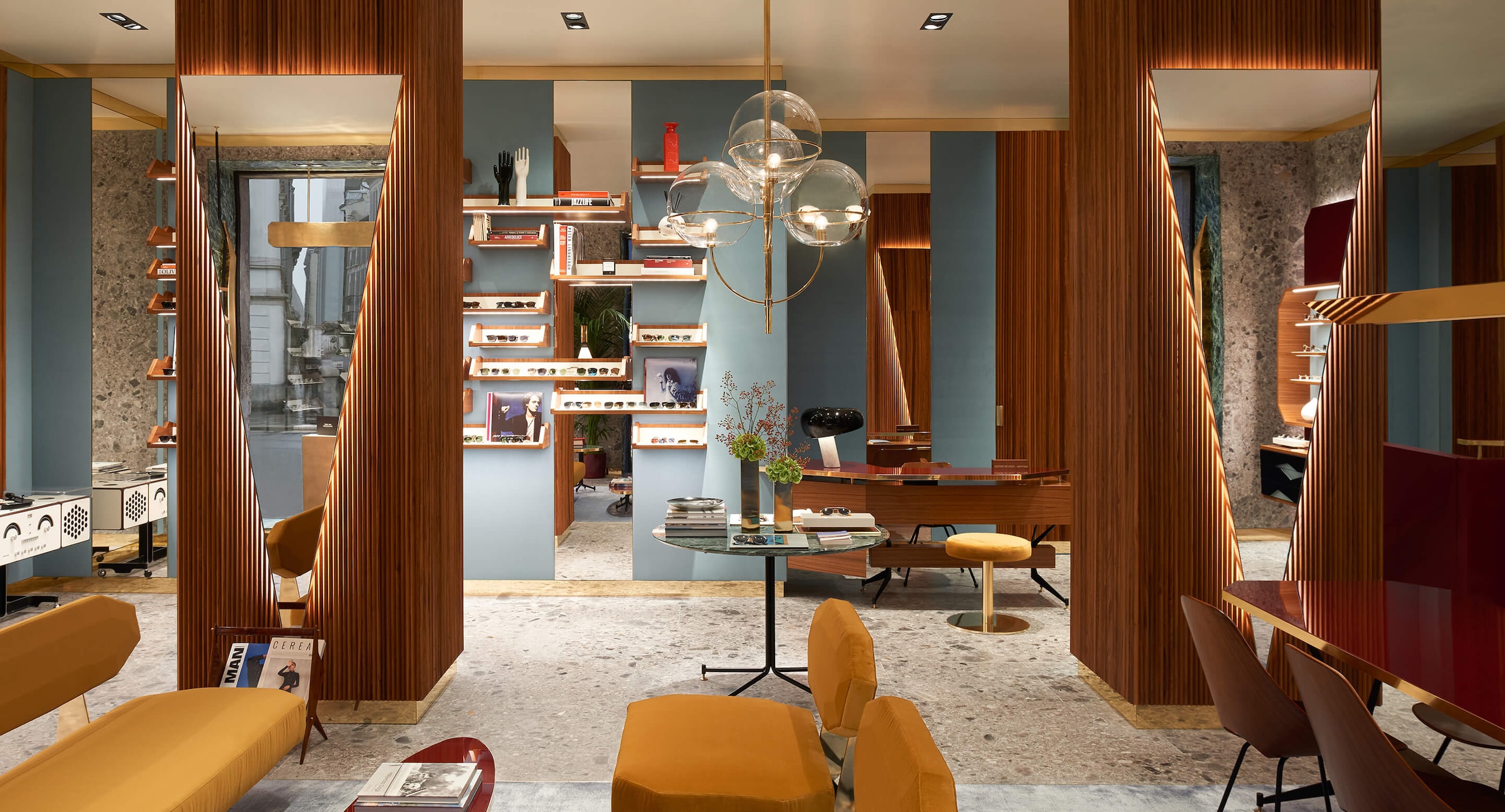 Opening its first boutique in Milan, Oliver Peoples celebrates the city's rich architecture and design history.
In the world of design, there is no city more intimidating to work in than Milan; yet there is no city more inspiring to work in. Milan has been called "The design city, an extraordinary lab where there is an indissoluble link between the city and the industrial fabric. It is central to the world of design and architecture from the mid 50s to the present day and, no doubt, beyond," Marco Sammicheli, The Design City: Milan. Milan is sometimes referred to as the New York of Italy. Rome might be for relaxation, indulgence and hedonism. Milan is for working, creating and producing. If distilled to a single essence, Rome might be one big museum; Milan might be one big workshop. Unlike Rome, where so much beauty is right in front of you, Milan's treasures are a bit more hidden through secret corridors, obscure entrances and rich interiors. You sometimes have to work and sleuth to find the rewards, know someone, or train yourself to recognize these hidden gems.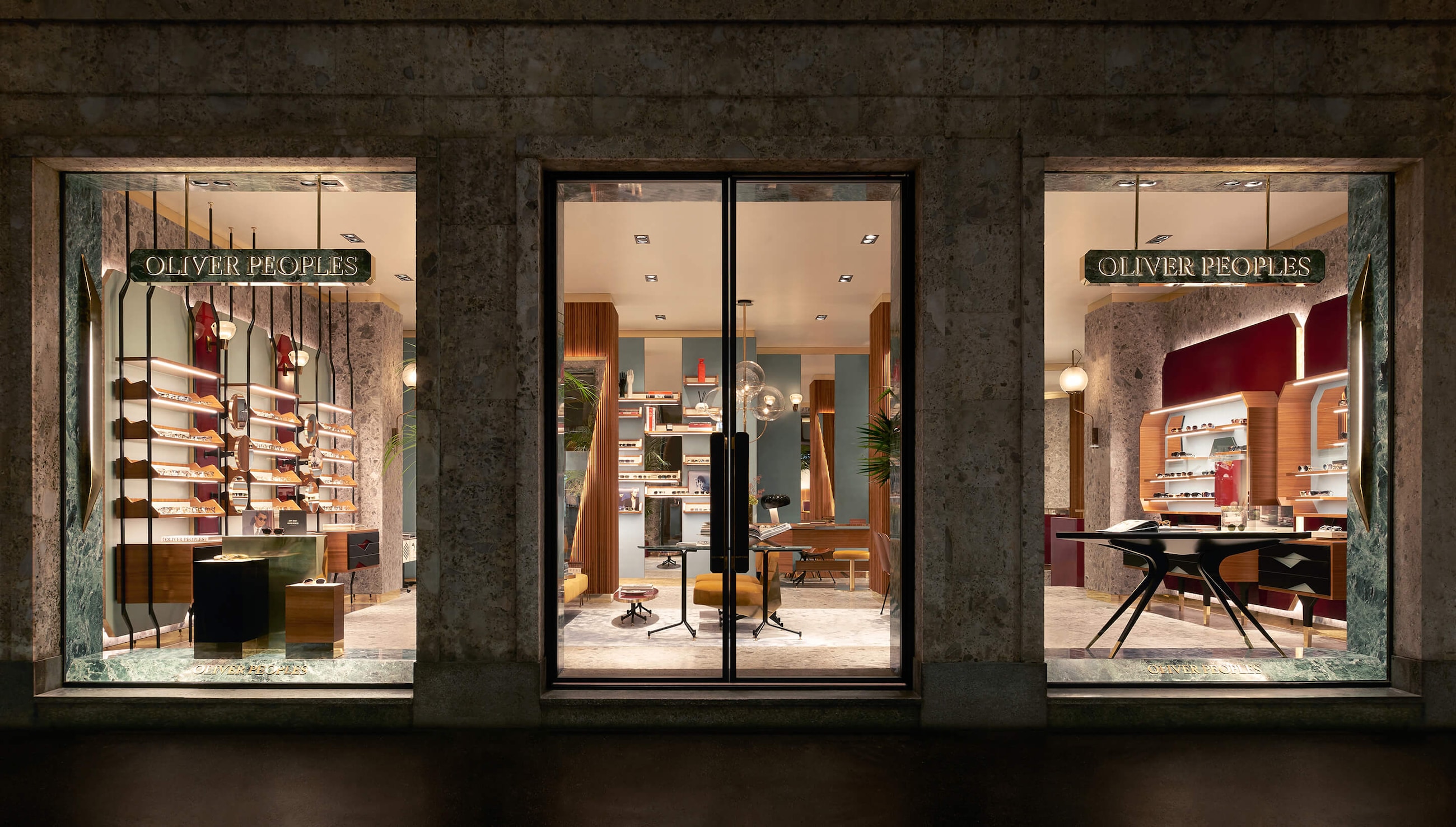 The boutique is inspired by the design of a 50s Milanese apartment.
Italy's dominance in all fields of design since WWII is undeniable. For instance, in the realm of fashion—Armani, Prada, Versace. Automobile design—Pininafarina, Bertone, Giugiaro. Interior design—Gio Ponti, Gae Aulenti, Franca Helg and Franco Albini. Furniture and lighting design—Vico Magistretti, Achille Castiglioni, and Ettore Sottsass—all have achieved Olympian heights of admiration and worldwide lasting influence.
Flashback to early postwar Italian furniture design which was all about quality and craft, an emphasis on rarified and precious materials, unique pieces handmade by skilled artisans at ateliers and studios. The country labored to rebuild itself (remember, so many of the large factories had been destroyed). Italian design, due to cost and scarcity, was almost elitist.

Conversely, the U.S. invented assembly line production and used it to produce vast quantities of furniture and home goods with precision at the lowest price for the then booming middle class.
It wasn't until the 60s that the Italian furniture companies that dominate the market today came into their own. Today, most internationally known high-end Italian furniture companies are based in or near Milan.
Each year at the Salone di Mobile (informally known as the Milan Fair), influential attendees from around the world flock to get a glimpse of the new designs from the very best furniture and home accessories companies. The press quickly pick their favorites, celebrate or condemn; counterfeiters rush to copy. Each spring, new designs are born and written into the history books and displayed in our homes and offices…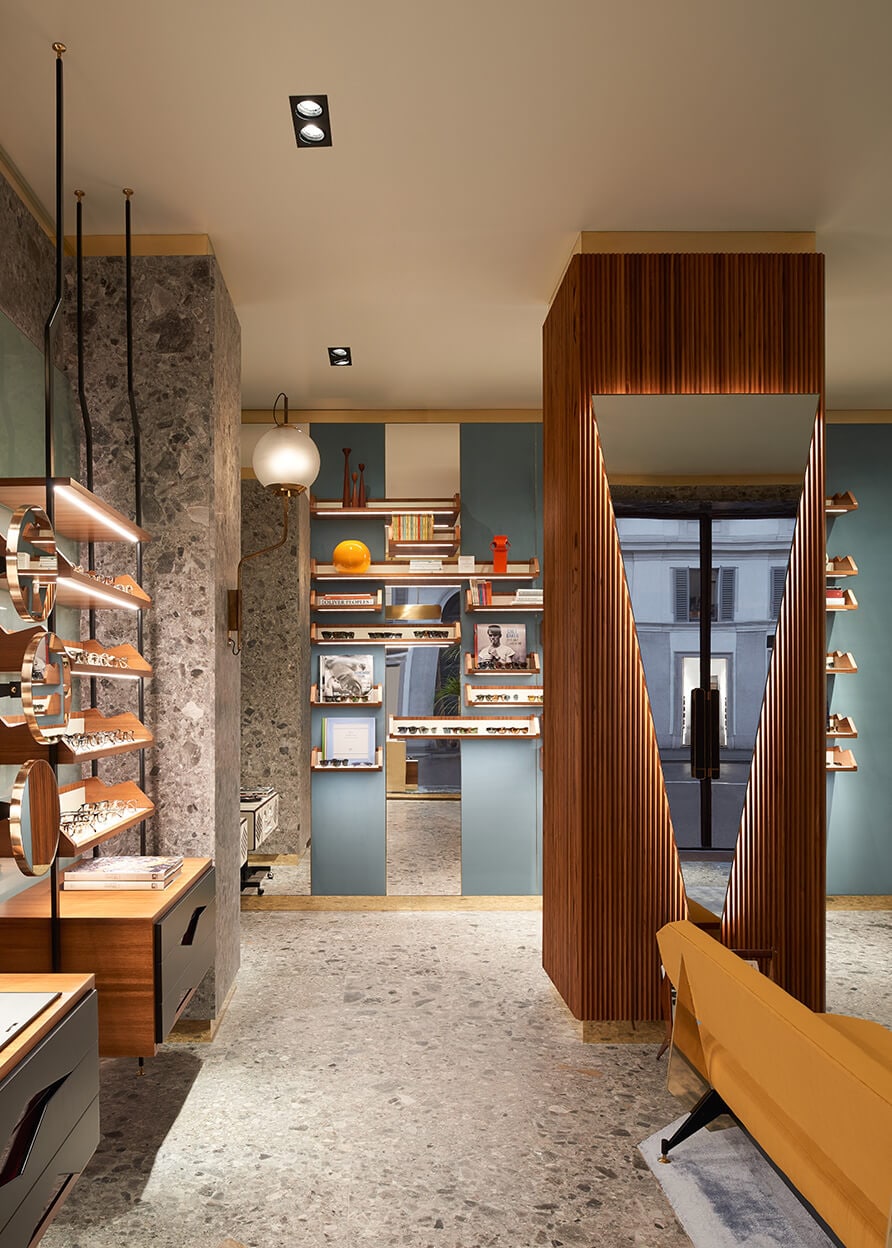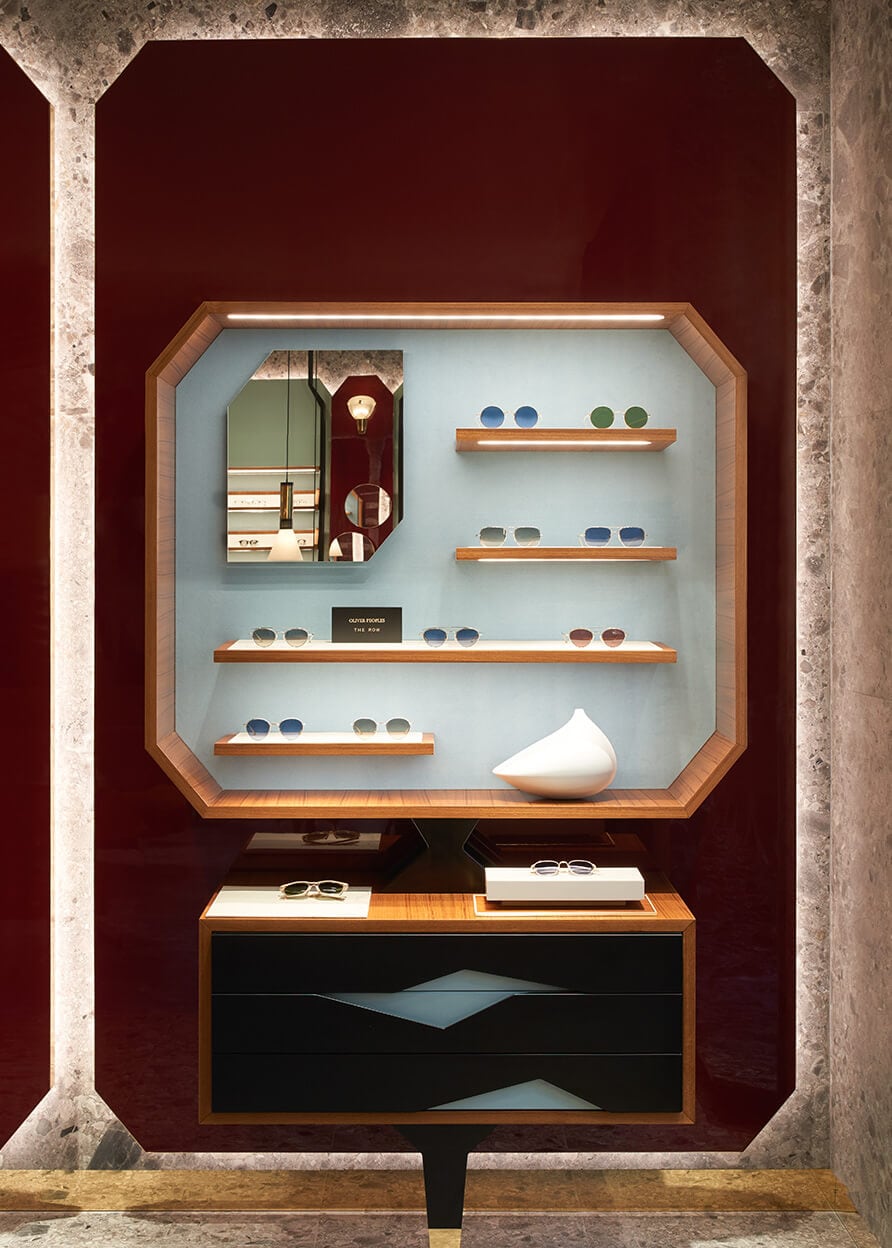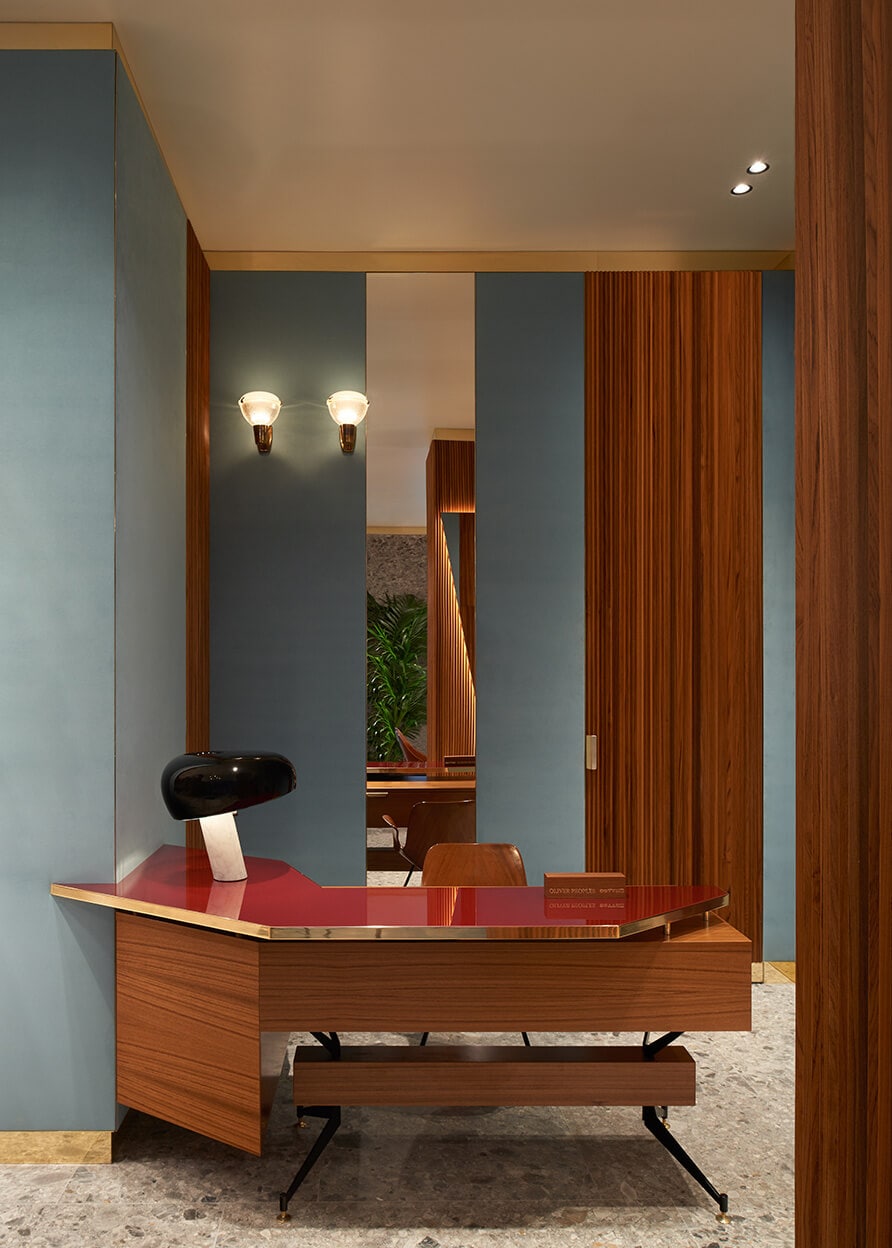 Entering OP's Milanese boutique is like walking into the middle of a residential dream world of post-war Italian design…
or relegated into the obscure and arcane trash bins and back-to-the-drawing board phylum of failures and misfires.
The Italians prove year after year that design is not merely an inducement to consume but a celebration of beauty and prove great design can be not only a status symbol but also challenging, exciting and life enhancing.
Milan is now the site of Oliver Peoples' 40th location. Creative Director, Giampiero Tagliaferri has orchestrated and created his most refined, sophisticated and detailed boutique to date.
The location could not be better, Corso Venezia #12, right in front of Via Della Spiga, in the famed Quadrilatero della Moda. This "square" surrounding their new boutique includes iconic architectural landmarks and elegant boutiques such as Nilufar Gallery ("the epicenter of achingly expensive mid century gems and the hottest contemporary designs" — Wallpaper Magazine). Even the Villa Necchi Campiglio, that unforgettable home featured in the film I Am Love, is within walking distance, you will possibly pass out from the overabundance of perfect architectural and interior style at the villa…. or just plain house envy. Take your Santa Maria Novella potpourri, to revive yourself.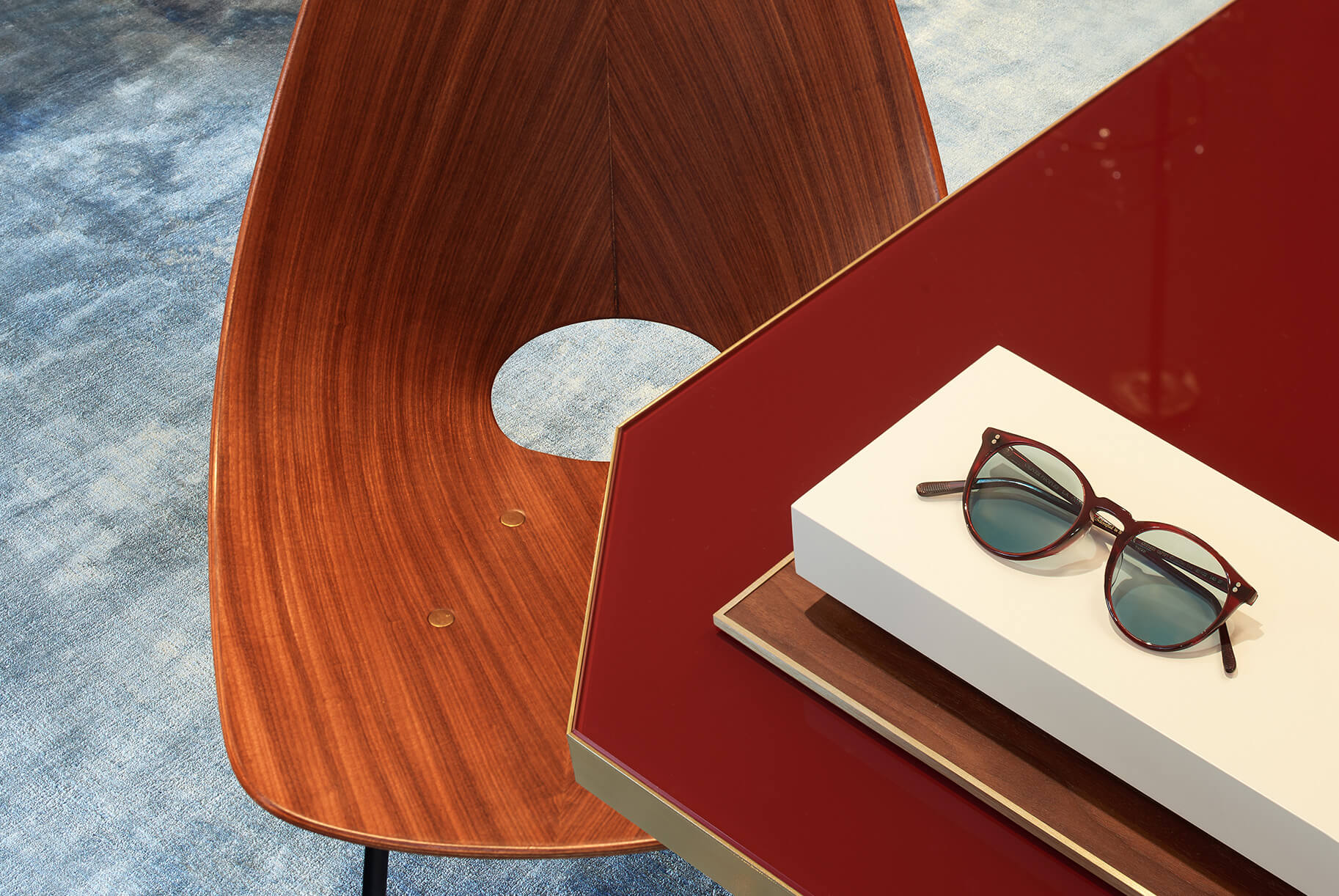 One of twenty-five exclusive O'Malley Suns created to celebrate the boutique opening.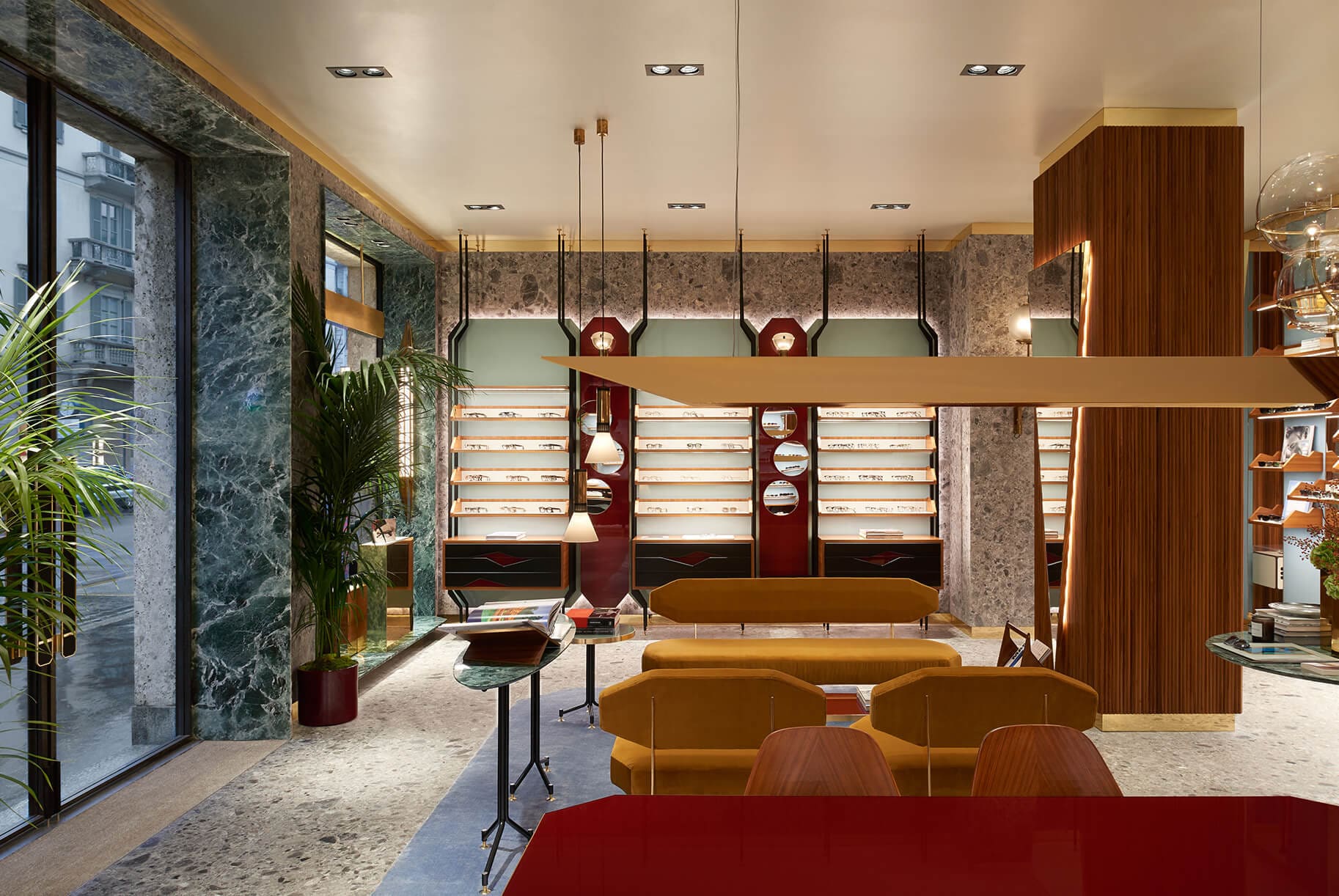 Blending rich colors and sophisticated materials to create the warm feeling of being at home in Milan.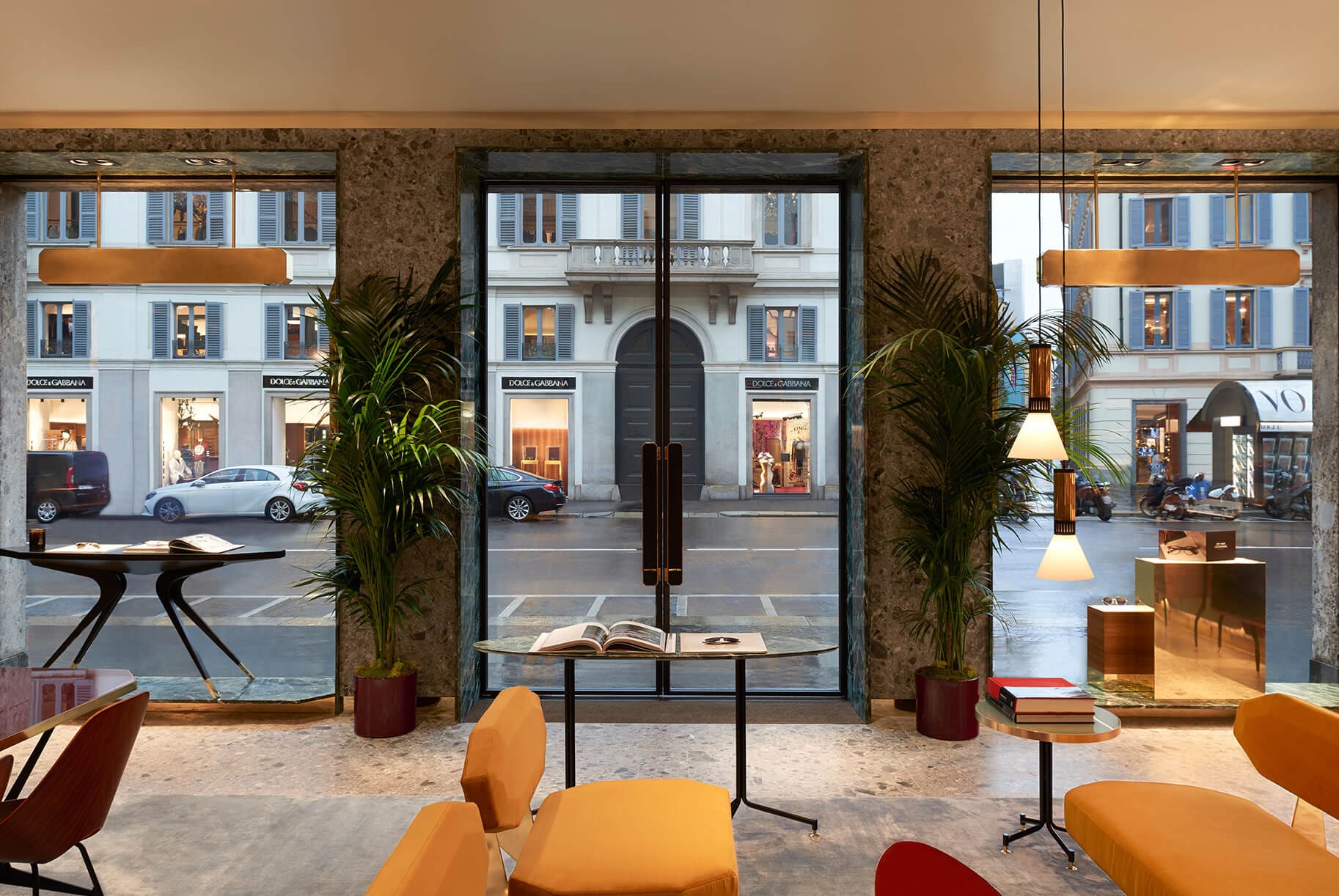 Looking out to Corso Venezia.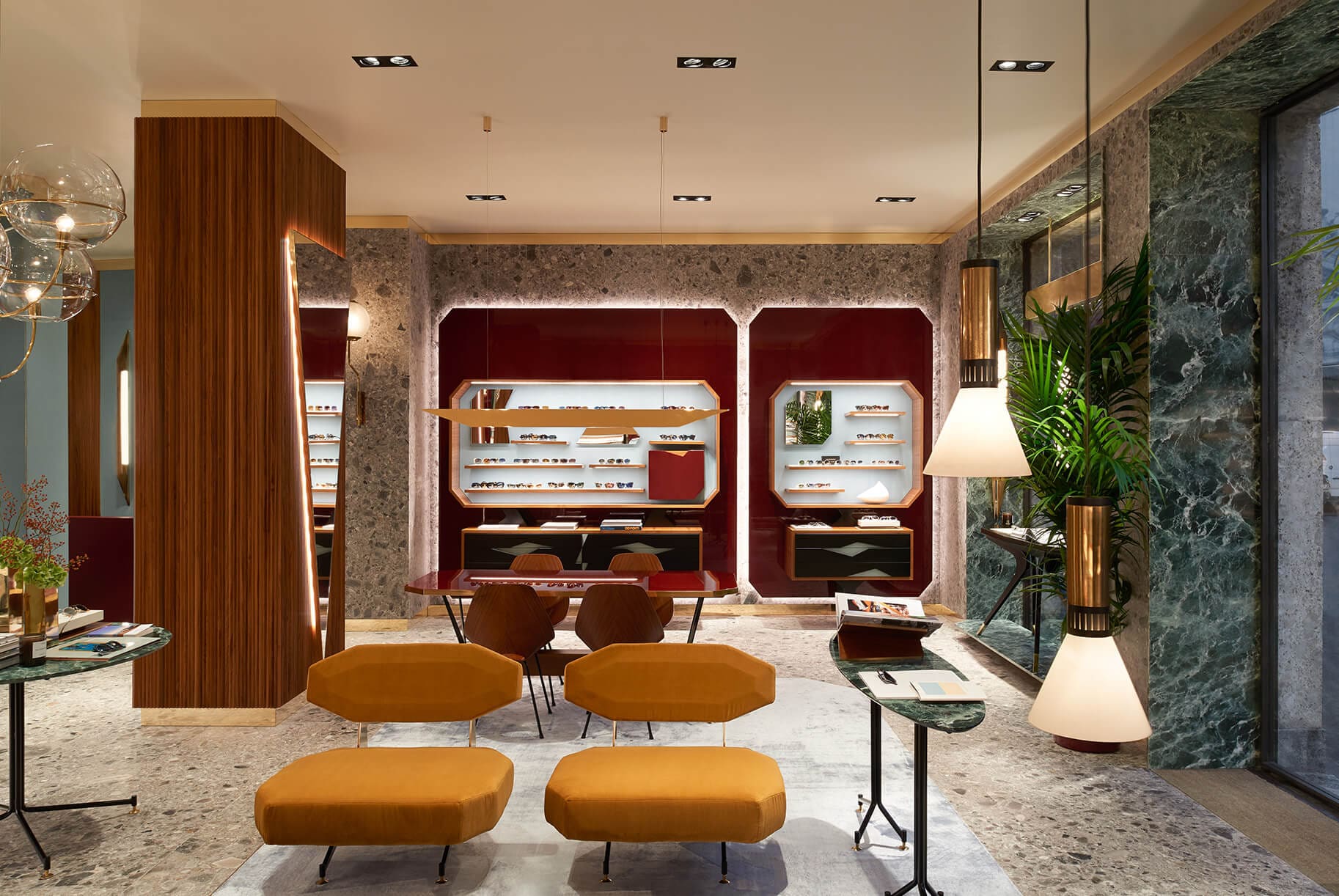 The boutique features a curated selection of custom designed furniture and vintage pieces.
Oliver Peoples has now joined the exclusive club that is this rarified neighborhood. Housed in a classic Italian prewar commercial building designed in the Rationalist style.
The architectural look is characterized by a mix of modernity, symmetry, simplicity and pared down classical elements.
The street level of the building is stylishly cloaked in slabs of Ceppo di Gre' marble, a stone used often around Milan and identified by its warm grey and oyster white aggregate chunkiness. It's almost terrazzo-looking and quarried exclusively in Italy, near Bergamo. This stone is looking particularly relevant, modern and "right" these days.
Entering OP's Milanese boutique is like walking into the middle of a residential dream world of post-war Italian design. It is a contextual celebration and statement. The Ceppo di Gre on the outside of the building is now applied on floors and walls of the interior, conjuring a seamless visual connection when entering. An impressive blend of vintage furniture mingles alongside custom showroom fixtures—eyewear displays evoking Italian midcentury design classics morphed into clever shelves, vitrines and tables. To each recognizable design, your heart will melt and pledge allegiance, declaring "ti amo" over and again.
The concept for the new boutique was based on an initial idea for it to be the "chicest fictional Milanese apartment in the 50s."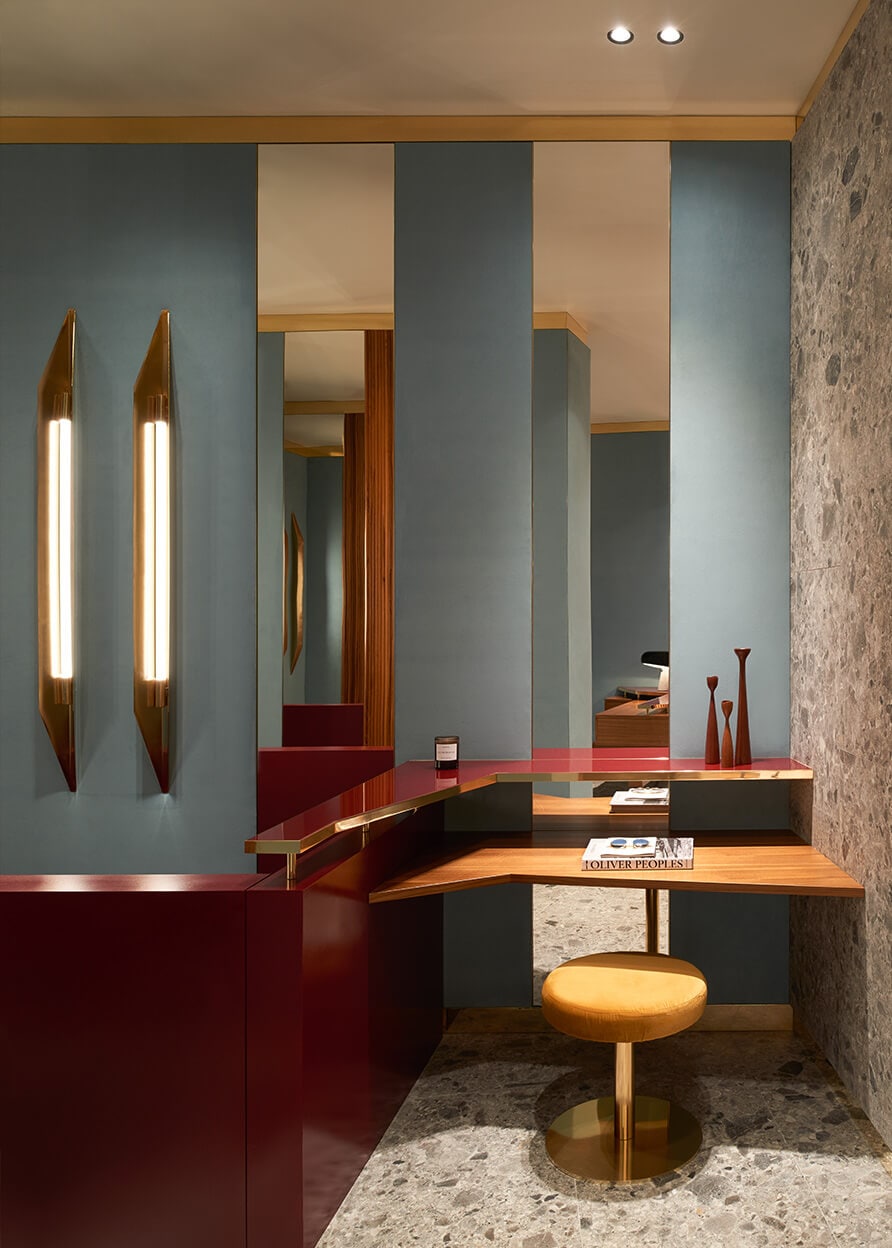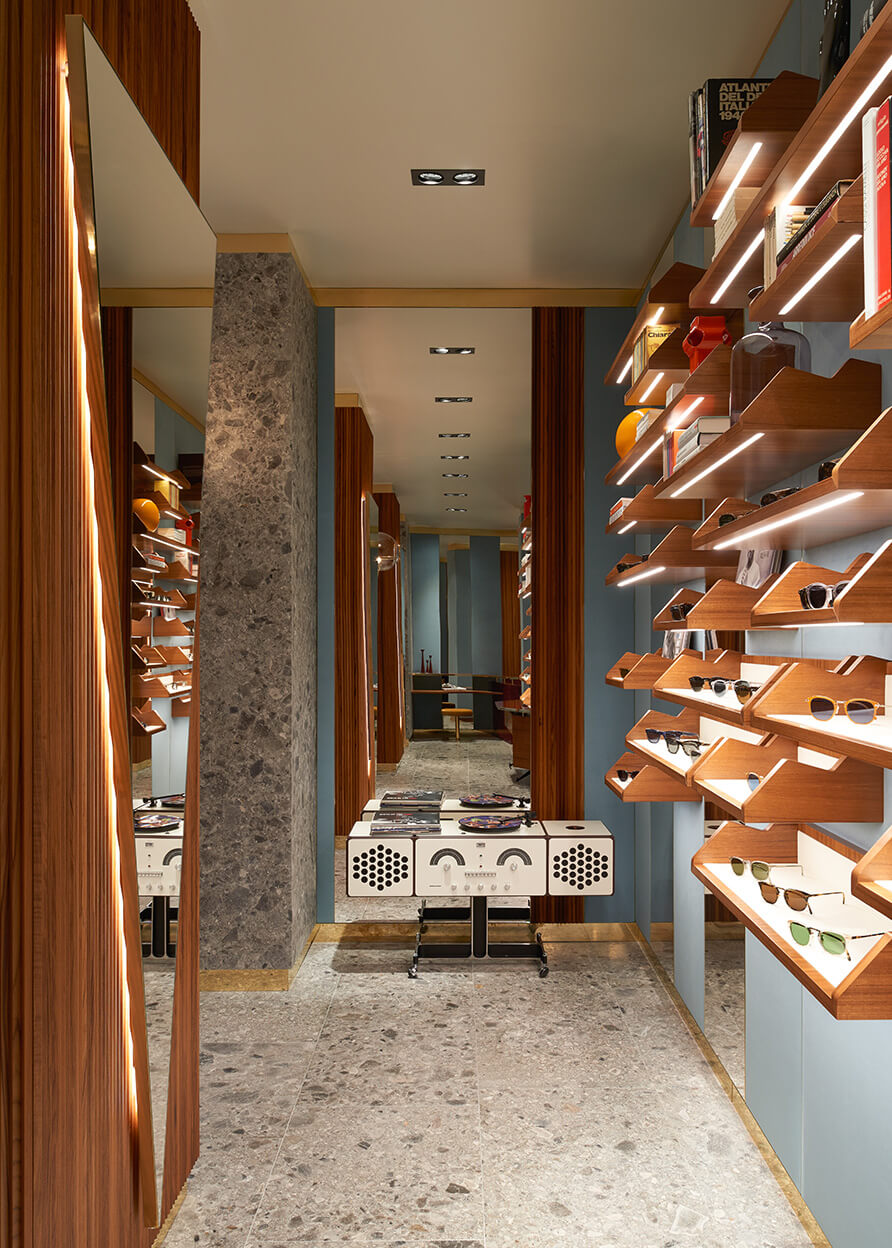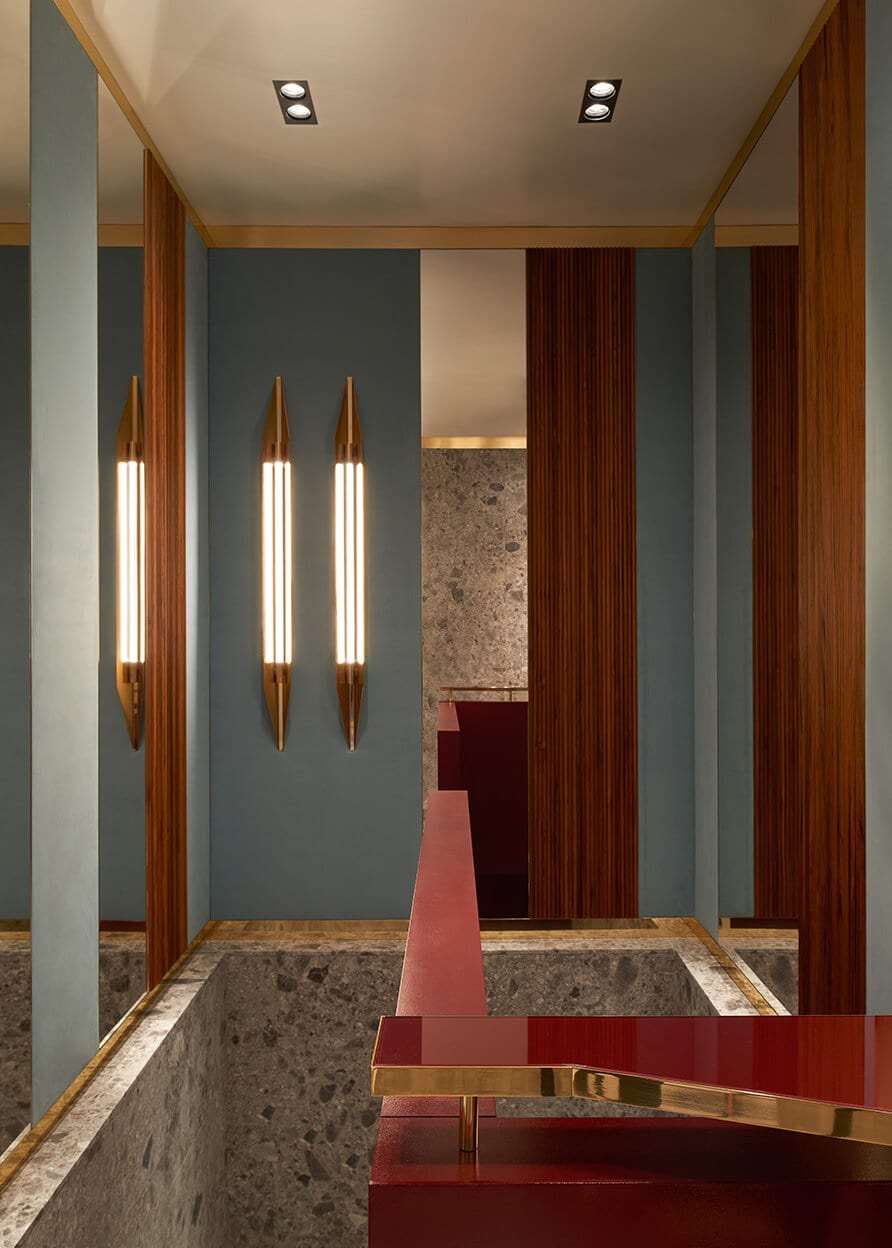 The architectural look is characterized by a mix of modernity, symmetry, simplicity and pared down classical elements.
When you walk in, you are on one side of your "living room" with bookshelves, sofa and seating. On the other side is the "dining room" with a table, chairs and credenza. In the back, behind two imposing triangular mirrors and teak clad columns, there is an area like a "study", where transactions are completed.
The bespoke silk carpet, woven in India, is flushed into the floor—as beautiful as it gets—and nothing takes color better than silk. Speaking of color, perhaps one of the most impressive and sublime successes is the interior color combinations and choices on walls and furnishings—dusty blue, mustard yellow, rich burgundy and warm grey—a period perfect Italian palette.
Gio Ponti, Ico Parisi, Vittorio Nobili, Luigi Caccia Dominioni, Osvaldo Borsani and many others are represented with their designs or cleverly referenced for the retail fittings—a veritable tribute to mid 20th century Italian design.
To further enhance the perfect mood, and looking more handsome than ever, the Castiglioni brothers-designed 1965 Brionvega stereo, the coolest record player ever designed, alongside a specifically curated vinyl collection for your visual and aural enjoyment.
No one sports eyewear or sunglasses better than Italians. Just mentioning this does your mind not go to images of Marcello Mastroianni or Sophia Loren? And no one loves, appreciates or understands eyewear style (all style!) more than Italians. So it is only fitting that Oliver Peoples has their largest boutique in Milan, the capital of design….if this isn't a match made in heaven, or Milan, I don't know what is.
Discover Oliver Peoples Milan